50+ adorable happy 16th birthday wishes, quotes and images
Turning 16 is a big deal to any teenager. It is the age when a teenager feels almost fully grown up. Sixteen is a fascinating age; it is the pre-stage of adulthood, which means taking certain decisions and own certain things. Have a look at some adorable happy 16th birthday wishes to send to your loved ones.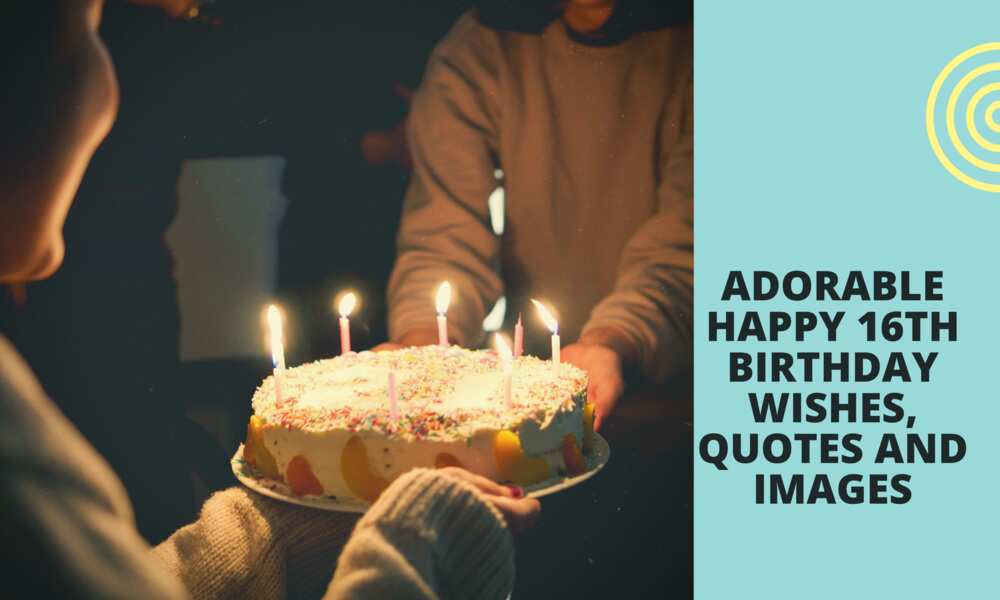 If your loved one is turning 16, then you must wish them a happy 16th birthday. Wishes to your favorite person show how much you love and care for them.
You can also choose to send them happy 16th birthday images with heartfelt messages for their birthdays.
Adorable happy 16th birthday wishes
Here are some beautiful wishes to send to a friend, cousin, brother, sister, son, or daughter.
Before, your parties are all about magic shows and mascots; now, it is about crazy dancing and music! Go wild! Happy sweet sixteen.
Each day with you is a blessing, and 16 is no exception. Have fun on your birthday and enjoy each gift the day has in store for you.
May this day be filled with many blessings and joy. Have a fruitful birthday.
Being 16 is characterized by magnifying emotions, so you have to start training to control that. Enjoy your day perfectly.
Wishing you a happy 16th birthday, and I hope you will grow up a kind and wise person.
Your life has hundreds of pages. You are going to start a new white page called adulthood. Happy sweet 16!
As you turn a year older, I wish you all the best life can offer. Happy sweet 16.
Sugary-sweet and delightful: it must be your special day! Congratulations on turning sixteen!
This is the year to be thankful to God for what He has done in your life. Happy sweet 16 birthday!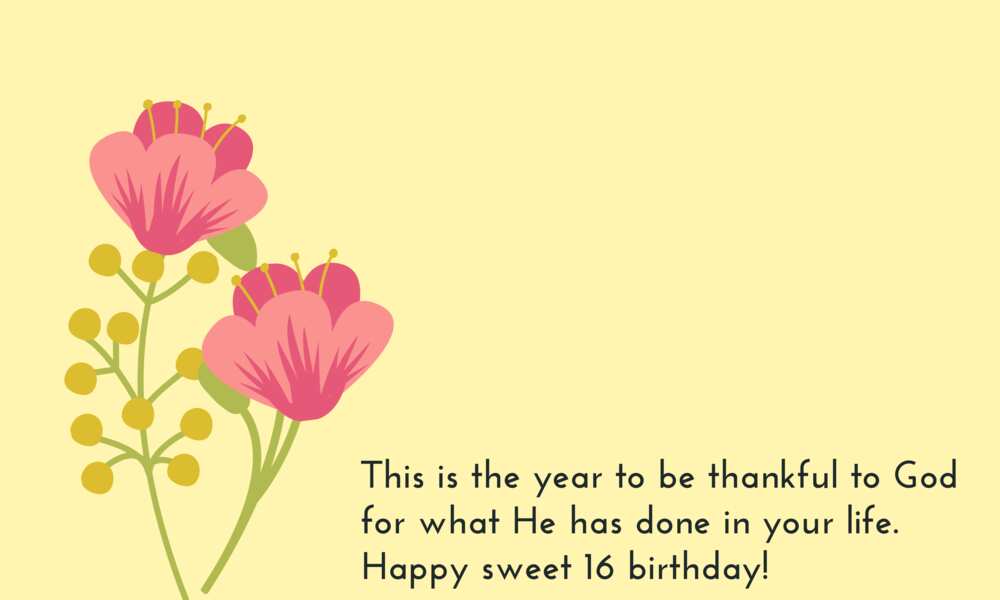 Happy 16 birthday quotes
Here are some sweet 16 birthday quotes to send to your loved ones.
I can not lose my party. It is my sweet sixteen. It is the only birthday that has its adjective. - Eileen Heisler
A sweet sixteen party is one of the most important and exciting events in a teenage girl's life. - Rosa Rodriguez
The more you praise and celebrate your life, the more there is in life to celebrate. - Oprah Winfrey
When I was young, I thought that money was the most important thing in life; now that I am old, I know it. - Oscar Wilde
And in the end, it's not the years in your life that count. It's the life in your years. - Abraham Lincoln
Don't just count your years; make your years count. - George Meredith
Sixteen candles make a lovely light but not as bright as your eyes tonight. - Luther Dixon
Age is a case of mind over matter. If you don't mind, it doesn't matter. - Satchel Paige
How far that little candle throws his beams! - William Shakespeare
I wanted to buy a candle holder, but the store didn't have one. So I got a cake. - Mitch Hedberg
Happy 16th birthday son wishes
Sending your son a happy 16 birthday wish will make him happy.
Wow! It is unbelievable you are 16 now! May you grow to become a very important person in this world—happy 16th birthday. God bless you.
You have grown from a little boy to a very brilliant young man. May your days be filled with blessings my son.
On this day, be filled with God's unchanging love and the good plans He has for you. I love you son.
Sixteen is a wonderful age, my dear. Live it to your fullest and be happy.
I could not have asked for a better son. I love watching you grow up, and it is my prayer that all your dreams will come true. HBD!
You are my son, and you are also my sun that has brightened my day for the past 16 years.
There is no sweet sixteen for boys, but I wish that you will be just as sweet as always.
Young man, now you are 16, becoming closer to tasting your independence. Just remember, we will always be here for you through thick and thin.
A billion kisses to my birthday boy. Thank you for being a great son. I want to wish you all the best in life as you turn 16.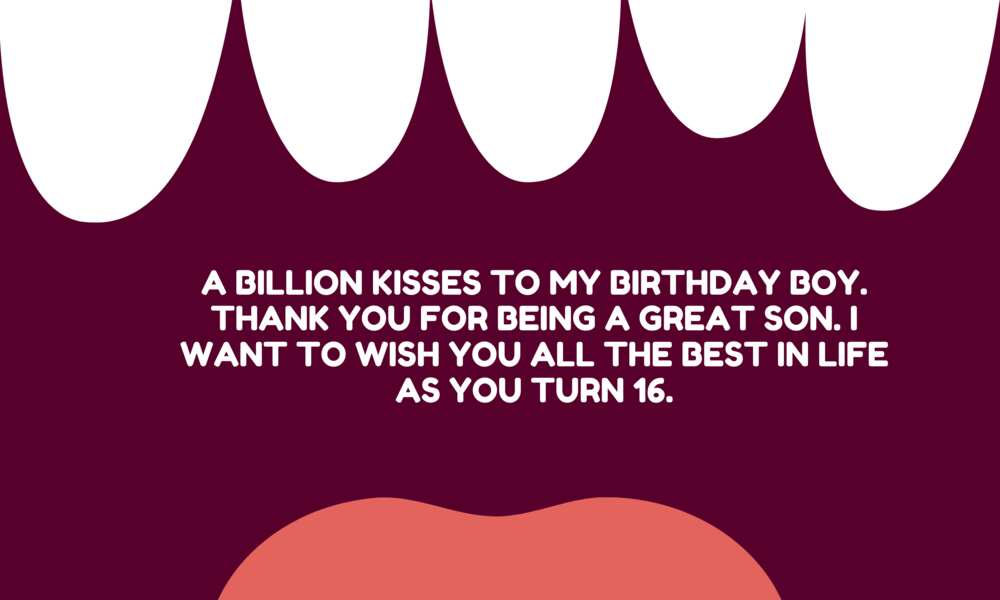 Happy sweet 16 birthday wishes for a daughter
Turning 16 is a great age for your sweet girl. It is an age where she starts to learn and explore various things in her life. Send her one of these beautiful sweet 16th birthday wishes to show her how much you love her.
I wish you nothing but the best, dear. I will deal with anyone that makes you cry; you have my word. May this new year be rosy and fulfilling. You got this girl.
Happy birthday sweet 16. May your future be as bright as your smiles today and forever.
I am super excited about this particular time because even though there are many people in this world, I was lucky I found you.
Words can express a little of how much I am happy and delighted to have you as my daughter. Have gladsome jubilation, dear!
I wish you a beautiful and bright life this new life, and just as you have touched my heart in so many ways. I pray that you will experience nothing short of the same.
Happy 16th birthday! You are turning into such a smart, talented, and lovely young lady, but you will always be my baby as far as I am concerned.
For you, it is more than a birthday party. It is an event. I am happy everyone came around to make you feel right. Happy 16th birthday, daughter.
Happy birthday to a young, beautiful and pretty lady that I know for a while now; you have all that you need to become a woman that will cause a great change to this world. May God guide you through.
It was a pleasure to see you from a girl to an imaginary young woman. You deserve the best that the world offers you. Happy 16th birthday.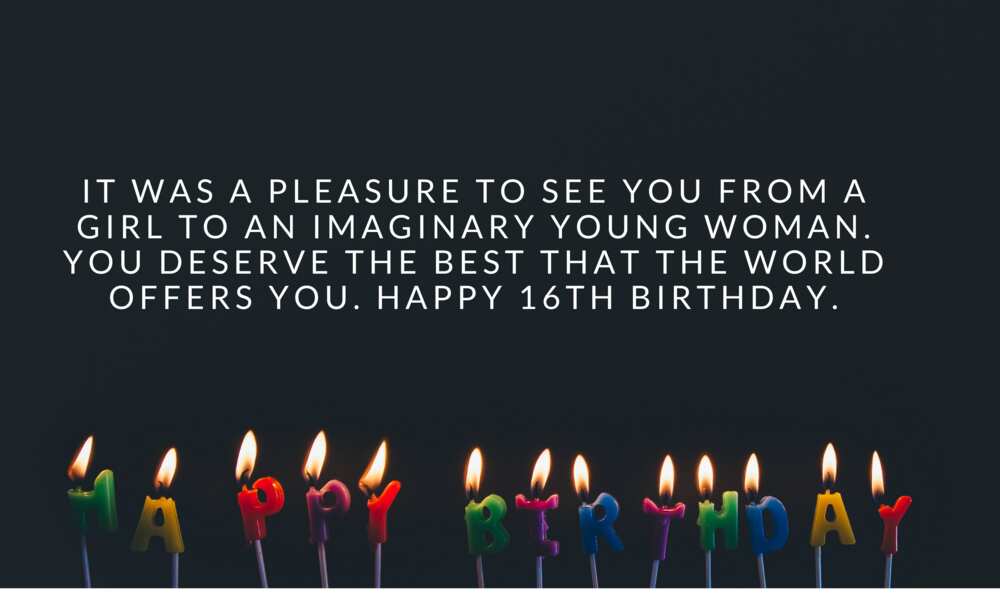 Beautiful happy 16 birthday niece wishes
If you have a niece who is turning 16, consider sending her one of these wishes to fulfill her day.
Having a niece like you is a blessing in itself, and we are so thankful to God. Happy 16th birthday, my beautiful princess.
Happy birthday to the girl who has the only birthday I can remember without being notified by Facebook!
After waiting for this special day for a whole year, I pray that it will be the most memorable one. Happy birthday, niece
Happy birthday my angel niece. May this special day be a reminder of the gift that you are to us.
These are special years now, where you are neither very, very young nor very, very old. But for you, I hope that they are very, very happy.
As you celebrate this day may God always protect you my lovely niece.
Happy birthday to my cute little niece! May the Lord guide and protect you always as you grow every year. May peace, love, and joy be your portion.
Congratulations on turning 16! May your future be as bright as your smiles today.
There is nothing more significant than having been blessed with a wonderful cousin like you. Well, I guess you know that too. Enjoy your special day, niece.
Blow all those 16 candles for you are all grown now. Cheers!
It's time to blow out your 16 candles and make some wishes! It's time to get this party started! Love to you, my favorite niece!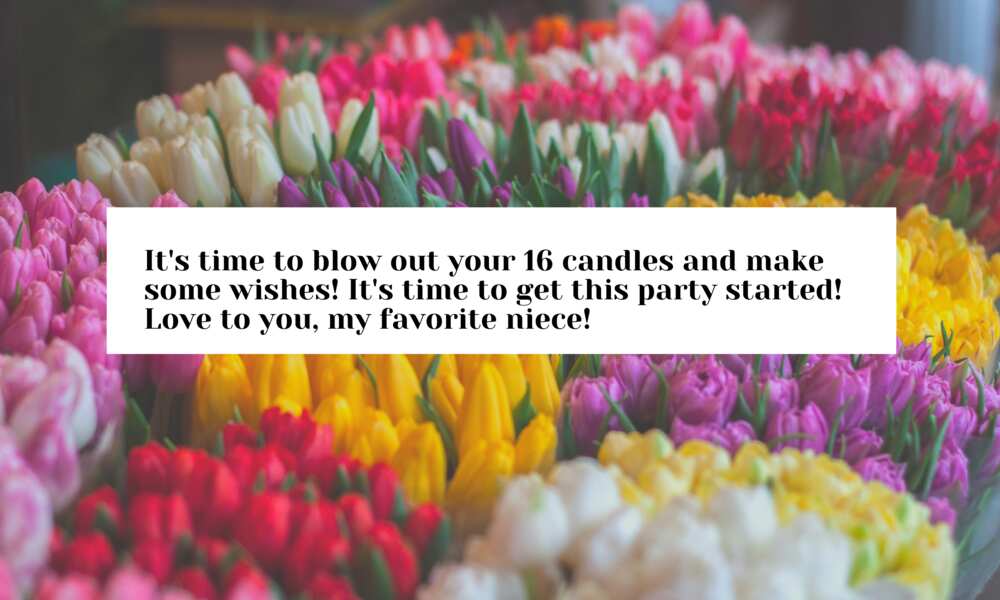 Happy 16th birthday nephew wishes
Birthdays come once a year; therefore, they are a special day to show how much you love your nephew. Here are some beautiful wishes you should consider sending him.
On this day, I pray that you will continue to shine brighter like the pretty shining star you have always been.
Although you are so tiny, my dreams for you are so big. I know you'll do great things in life.
To the most amazing nephew around, let this special day be a source of joy and happiness as it has always been. Happy birthday!
I hope you have a beautiful birthday nephew from my heart.
As your favorite aunt, I have the duty to wish you as the very first person on your most special day. Wishing you the best birthday, my darling!
Happy birthday to the world's best nephew! Remember the lessons we received on sharing as we grew up and keep a slice of cake for me. Love you!
Happy birthday to the world's greatest nephew. When your parents say you can't, call your favorite aunt!
You are so precious to all of us. Always stay happy, my nephew. Your smile is very important to us. Happy birthday sweet sixteen.
You become more special each day, but today you shine more than all the stars in the night sky on your birthday.
As you grow older, you'll let go of your mischievous days and innocent ways. But please don't let go of your cuteness, which gives me nothing but happiness. Happy birthday.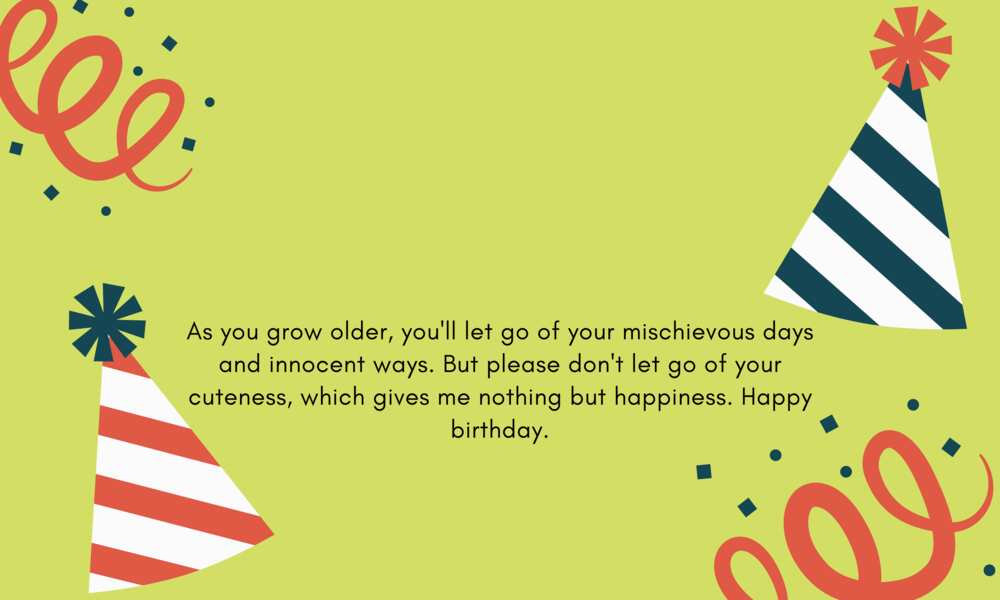 For your loved ones, make their special day memorable by sending them these adorable happy 16th birthday wishes.
READ ALSO: 50+ cool happy 18th birthday wishes, quotes, images, and memes
Legit.ng recently published an article on cool happy 18th birthday wishes and quotes to send to your loved ones.
Turning 18 is a big milestone, and it should be treated as such. Show that special person that you remember them on their big day by sending them one of these well-crafted 18th birthday quotes.
Source: Legit.ng