50+ fun happy 30th birthday wishes, quotes, sayings, and memes
Turning thirty is a significant milestone in life, and one that can come with a lot of pressure. When one hits this age, they feel the weight of responsibility on their shoulders. It can be quite helpful to make this day a cheerful and memorable one for a dear person in your life. One way of doing this is by sending them fun happy 30th birthday wishes and images.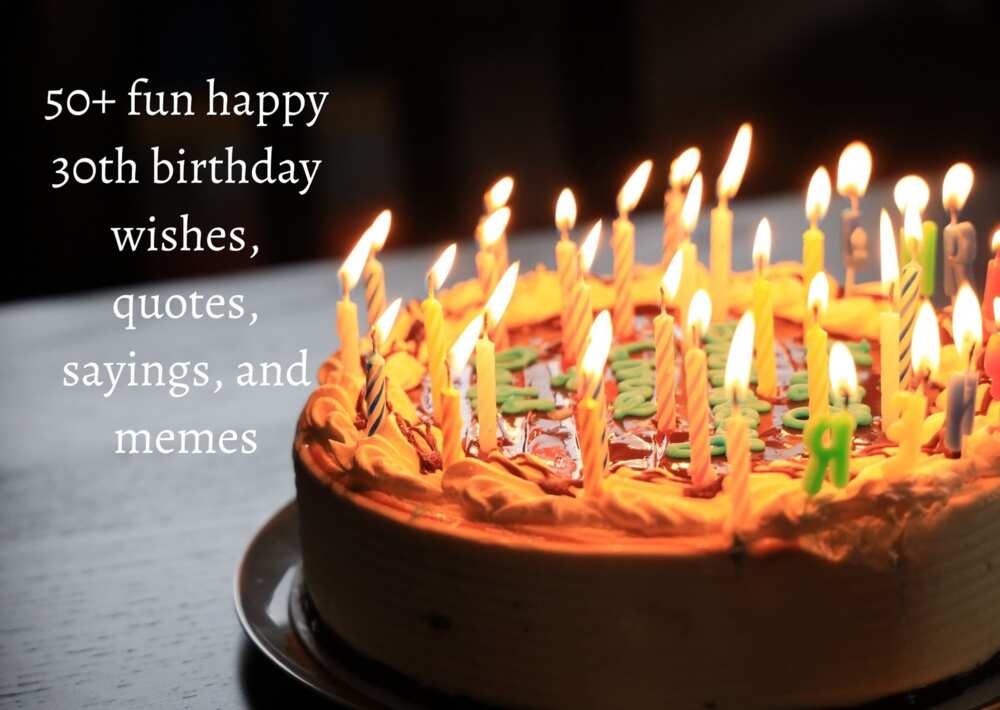 To remind them to celebrate the far they have come and look forward to a promising future; you can send your loved ones beautiful messages. If you have been looking for the most amazing 30th birthday wishes and messages to send your special one, check out this collection of the most heart-felt birthday quotes, turning 30 memes, wishes, and messages.
20 happy 30th birthday quotes
A 30th birthday is a huge milestone in one's life, and this calls for a celebration. You can share lovely quotes with a friend or family member to make their day memorable and full of joy. You can also choose to send them happy 30th birthday images with heartfelt messages.
Turning 30 is a reason to have a great party. You are becoming more and more smart and mature. Happy one, my friend!
God has created you a person of a kind heart, generous soul, and presentable appearance. Enjoy it with all of your passion! Now you turned 30, and that's awesome. Have a great one!
All the best time in your life is only beginning. Never regret the past; enjoy your present moment. Have a brilliant day!
You turned thirty today. My congratulations! Let the joy and happiness settle down in your home.
Turning 30 is a milestone that allows you to feel more confident in your abilities and continue to go after what you want. My wish for you, dear friend, is that your worth is acknowledged and the drive that you have never ceases!
Life is too short to be spent worrying about fears and insecurities. Now that you're 30 years old enjoy the ride and take it one day at a time. Make the best memories with your loved ones and look forward to the future. The best is yet to come!
Happy birthday. Welcome to 30. The age when you should know better, but really don't.
I am so glad that I met you. Let this day be like no other day. I love you being near to me. Enjoy your special day!
Kisses and hugs are not enough to express how I adore you. My gift to you will speak louder than words. Happy one, my dear!
Do you know what turning 30 means? It means that you are growing up. It's a privilege to be here still.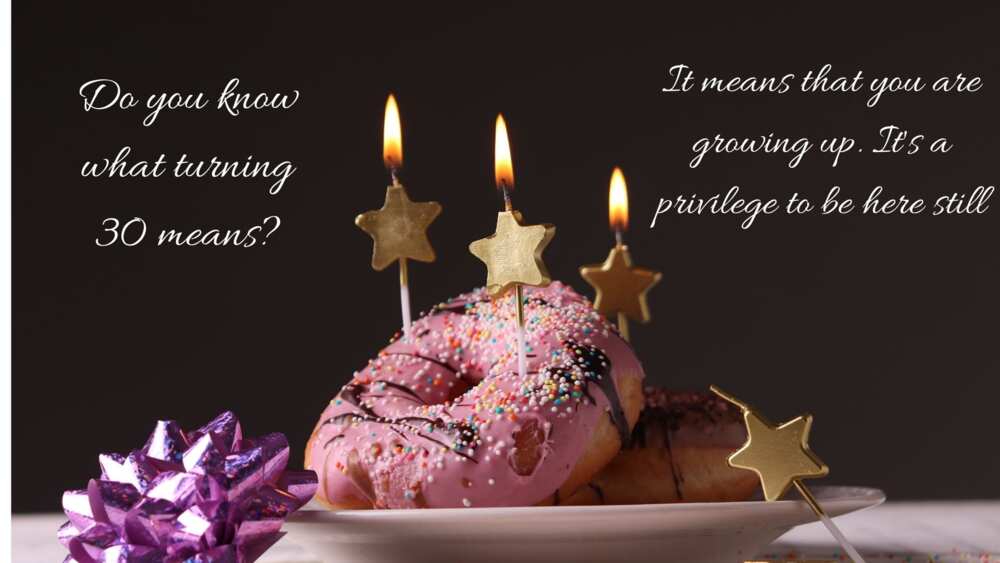 The road might be challenging, but you have to keep moving to achieve your goals. Have a truly blissful celebration.
I hope that this day turns out to be more wonderful than you expected, that you are surrounded by people who love you, and that you will receive the best surprises. Happy 30th birthday!
For three decades, you have beautified this world with your presence. If the world had more people like you, nobody would crave paradise because we would have had paradise right here on earth. Happy thirtieth to the most loving and caring person.
It was just like yesterday when I said happy 29th birthday to you. And now, you're already 30! I won't be tired of saying happy birthday to you, my dear friend.
Your birthday is a special day to me because of how dear you are to me. I wish you all the blessings that life can offer. Happy thirtieth sweetheart.
This day is special for you: you are now in the age of becoming a wife and mother. No matter if you are afraid of children. Please don't be scared, for I know that you can handle it! Have a spectacular year!
Thou shalt not stress over becoming 30 years old today, for there are other ages worse than 30, such as 40 or even 100. Happy thirtieth!
Come on, friend, relax: life is only beginning. All the good things are about to come. Congratulations on your special day!
Happy 30th birthday to a wonderful man/woman who belongs to the generation whose baby pictures were never taken on phones.
At thirteen, you were officially a teenager. At twenty-one, you were officially an adult. But at thirty, you are unofficially old. Happy 30th birthday.
20 beautiful 30th birthday sayings
Many people start feeling that they are becoming old when they turn 30. Some don't even celebrate well because of the realization that they are now fully independent adults. You can lighten up the day of your 30-year old loved one by sending them some beautiful birthday sayings.
Happy birthday! I hope when you look back on your first 30 years, you can appreciate how much you've touched other people's lives – including mine!
Happy birthday to a fantastic person. I can't wait to see what you do with your next 30 years!
Your 30th birthday is a great time to look back at your life. Just remember that you're still young and can go anywhere from here. Wishing you all the best on your birthday and in the years to come.
Say goodbye to your 20s, and hello to the adventures and opportunities of your 30s. I will be there to celebrate with you, now and always.
Don't worry; you're just as fabulous at 30 as you were at 29. Happy birthday!
Hope you have a fantastic 30th birthday. Three decades on the planet is a pretty incredible milestone.
In your 20s, you learned a lot, grew as a person, and had tons of fun. Now keep that up. Oh, and happy birthday!
May memories of your 30th birthday be reflected on, in the coming years, with joy and laughter!
Here is to the 3rd decade of your life being full of happiness and progress. Happy birthday!
Happy Birthday! Thanks for gracing us with your awesomeness for the past 30 years.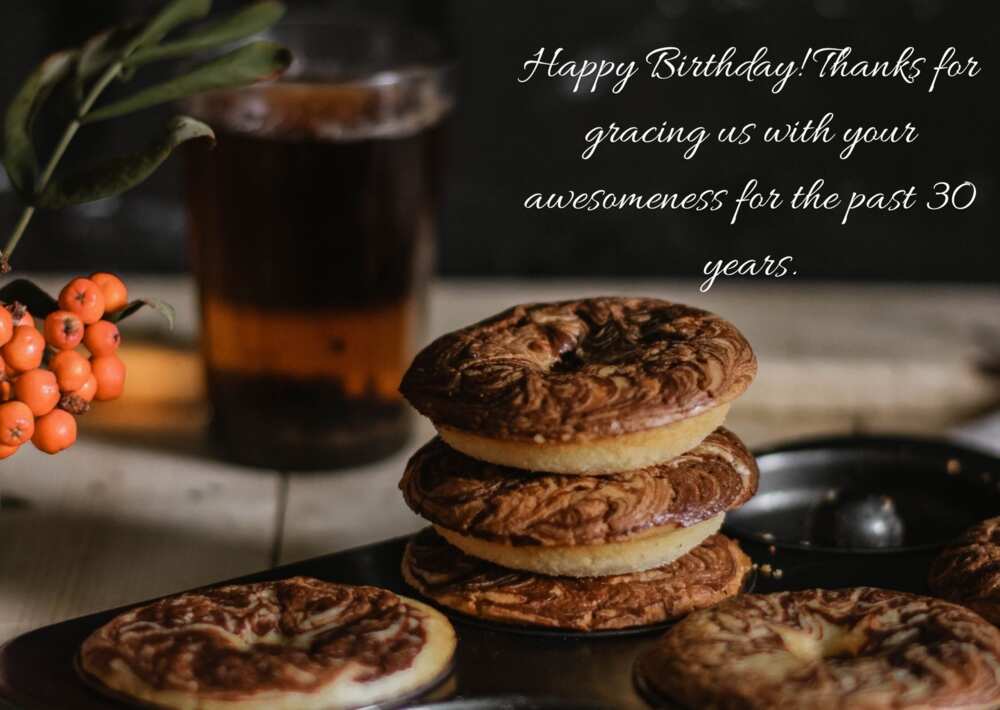 The 30th year of your life is rich with significant changes. My wish for you is that everyone makes you smile!
You have always dreamed big and focused on the future. May your thirties exceed all of your expectations!
Some people believe that the most critical events in life occur before 30. You and I both know that each life is unique, and often, the best is yet to come. May your 30th birthday bring more possibilities for the future!
The fact is, you've never been stronger or wiser or more ready than you are now. Welcome to your prime time.
You're not aging my friend, just upgrading. 30 looks good on you!
May the candles on your birthday cake shine brightly as you celebrate 30 years of an extraordinary life!
As you mark your 30th birthday, I pray that the good Lord will grant you good health, happiness, and long prosperous life. You are special, have a great year.
Congratulations on turning 30 today! As you celebrate this milestone, it is my prayer that you'll never have any worry in this new phase of your life. God bless you, my dear friend. Happy birthday.
Being 30 is a milestone that allows you to be more confident in your abilities and continue to go after what you want. My wish for you, dear friend, is that your worth is acknowledged and the drive that you have never ceases!
Thirty is an attitude. It says you know what you're doing and you've got what is takes to get where you're going.
Count not the candles…see the lights they give. Count not the years, but the life you live. Wishing you a wonderful time ahead. Have a great one!
20 great 30th birthday wishes for a friend
Friends make our lives richer and more beautiful. If your friend is turning 30, likely, you are also headed there, if not already there. Share the cheerfulness with them on their special day for a lasting and unwavering friendship.
Hello, friend! Today you became richer in one year. I am so happy that we have been friends with you for such a long time. I treasure you, my dear!
Isn't it a miracle that our friendship has survived in such a hurry-scurry of life? Wish you surround yourself only with good things, and of course, with good people. Happy thirtieth darling!
Life should be lived with a smile on your face and no one does a better job of putting one on my face than you. You are truly special, happy thirtieth!
You and I, we're like stars in the sky: we shine bright! It's you who helped me with my stuff, and it's me who helped you with yours. You are the one to rely on permanently! Have a blissful celebration my friend!
Age is only a number. You still look as sweet and as young as ever. Happy celebration my darling!
Today you became one year wiser. Wish your dreams come true and your goals to be achieved! Happy celebration!
They say you lose your memory as you grow older. I say forget about the past and live life to the fullest today. Start with cake.
Try the best things in this life because it's only given once. Celebrate your special day like you never did! Happy birthday dear friend!
At 30, you're old enough to look back and young enough to look forward. Have an awesome celebration.
A very big milestone has been reached, many great memories have been made, and good times are on their way. Enjoy!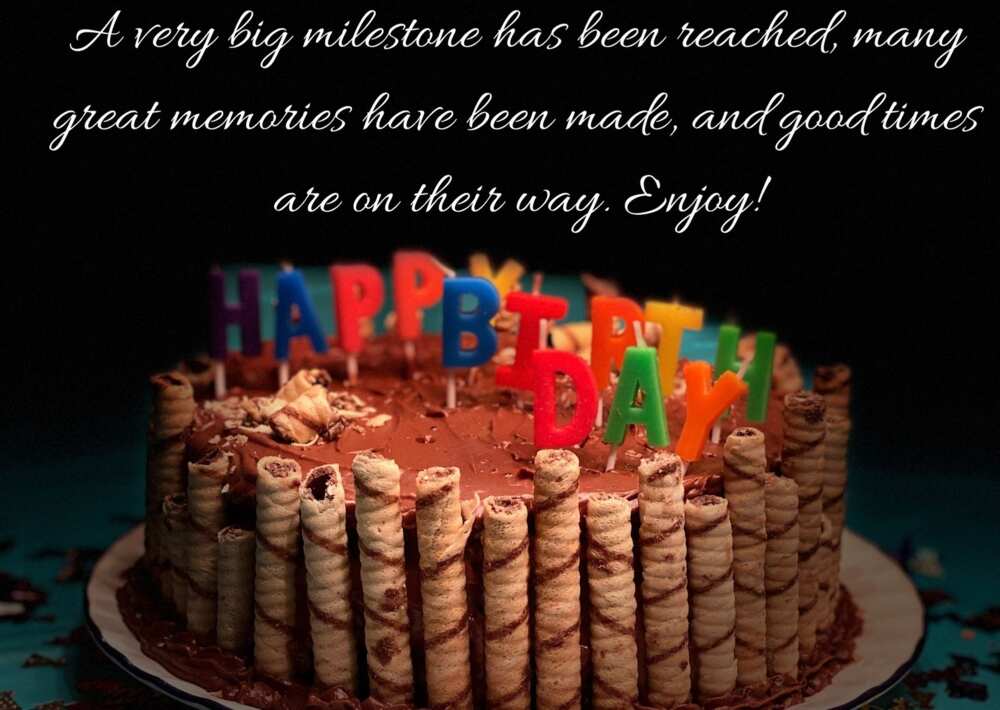 Now you are not a teenager, and you are allowed to do many things, but you would better think twice before you do them. Have a truly outstanding day and year.
I hope this day will bring you an extra share of all that makes you happiest. May your day and year be exceptional. You are a great friend, happy thirtieth!
God has given me you, and I am thrilled that we are friends. But let's meet up more often. Happy thirty!
Your 30's will be an exciting time of your life if you allow it to be. Treating it like a death sentence is no way to live your life. Enjoy this great day.
I have a strong feeling that this new age will be the happiest age of your life so far. Happy 30 bday, friend!
Happy 30th birthday to a friend who can transform the saddest of days into a beautiful day. I'm so lucky I can call such a magnificently wonderful person like you a friend. God bless you.
A friend is someone who understands your past, believes in your future, and accepts you just the way you are – even if you are getting older. Thank you for being that friend, I love you!
I've had numerous friends over the years, but none has ever touched my life in such a positive way as you have done. So on your 30th birthday, I want to express my gratitude to you for always having my back. Enjoy it dear.
I'm super lucky to find a friend in the whole world in such a wonderful person like you. Today, I thank you from the depths of my heart for being in my life and filling it with immense happiness and warmth. I adore you.
Ever since we were little, you've always been there for me. I'm so glad we're still friends, and I bet that one day we'll be sitting side-by-side in our rocking chairs at the nursing home laughing at all of our crazy times together.
Happy 30th birthday memes
Getting to your 30th birthday is a big deal and should be a time of joy. Sharing 30th birthday memes with a dear one on their special day will cause them laughter and joy, creating unforgettable memories.
1. How one feels on their birthday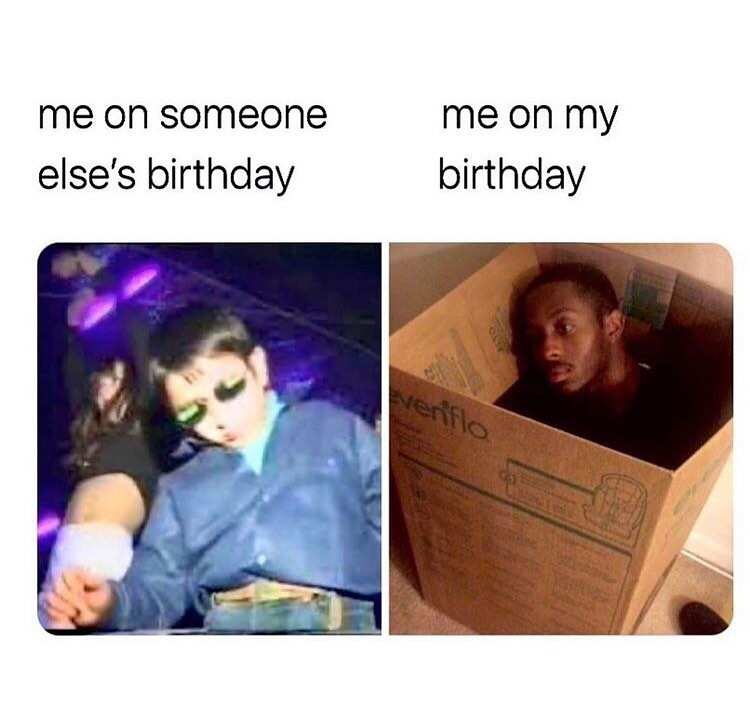 During one's birthday, one gets to think about their lives, how far they have come and the dreams they want to achieve. It is a defining moment.
2. What most friends do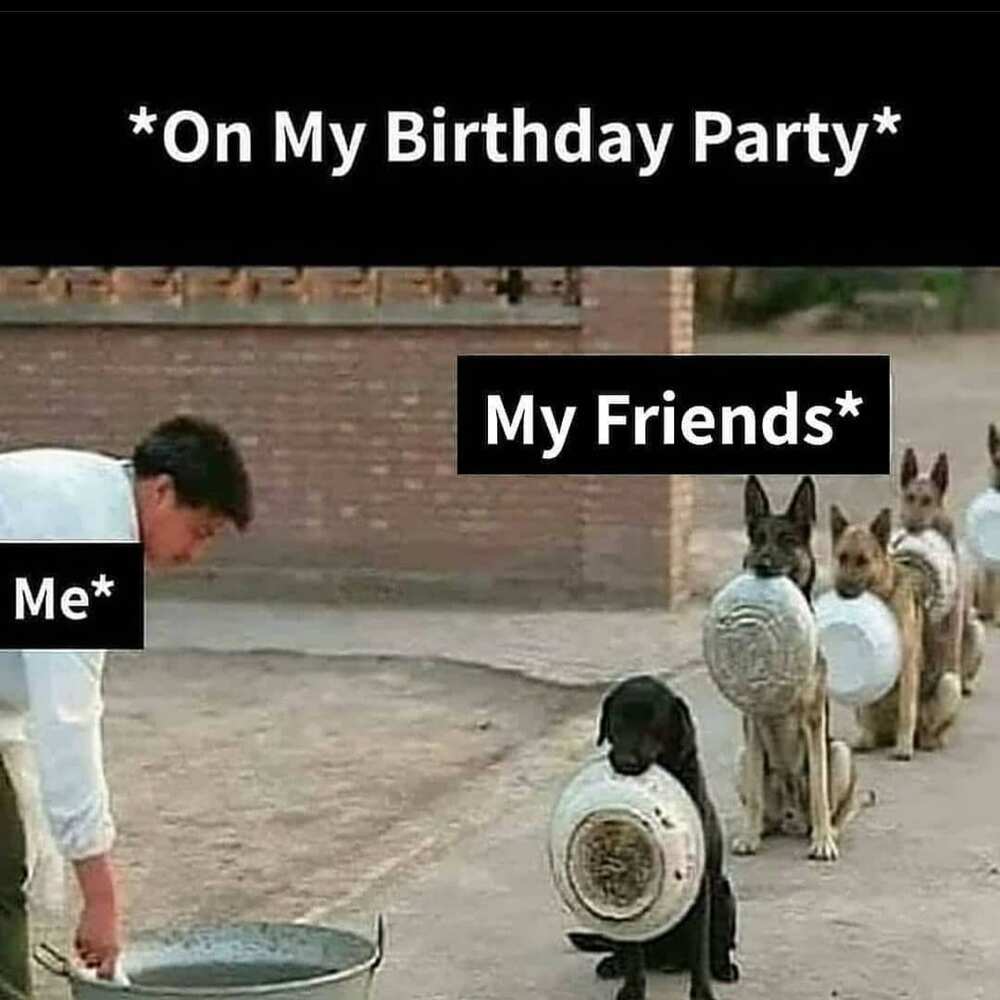 Most friends love attending birthday parties. But coming with gifts? Only a few do. But the celebration should not stop!
3. How strangers and people you don't talk to post happy birthday wishes on your Facebook wall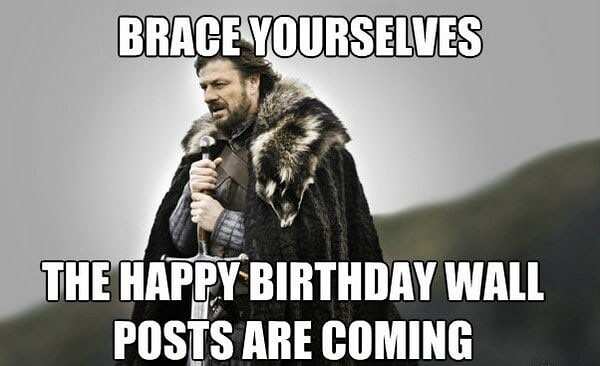 Facebook birthday reminders work wonders, as people one hasn't heard from for ages show up with birthday wishes on one's timeline.
Happy 30th birthday celebrations are defining moments, and it is crucial to show up for your friends. Appreciate them by sending them gifts, reminding them of how important they are to you, and being present for them when the parties are over.
READ ALSO: 50+ great happy 50th birthday wishes and messages to send to friends
Legit.ng recently published an article on the great happy 50th birthday messages that one can send their friends. When someone exists in the world for half a century, you know that they have seen a lot of what life has to offer. Sending them happy 50th birthday wishes is not only kind but also shows that you truly appreciate this person.
Depending on the recipient, you can choose to send them happy 50th birthday images with heartfelt messages. This is more applicable when done digitally as you can create a beautiful collection of their photos, or your photos together, and write your message on them. You can also make their day better using funny 50th birthday sayings and quotes that you will find most suitable for them.
Source: Legit.ng