50+ inspiring happy 80th birthday wishes, quotes and images
Is someone you know turning 80 soon? Are you worried that you might not have the right words to wish them the best on their big day? Worry no more, because this page contains all the best happy 80th birthday images, wishes, quotes, and messages that you can use to wish them a splendid day.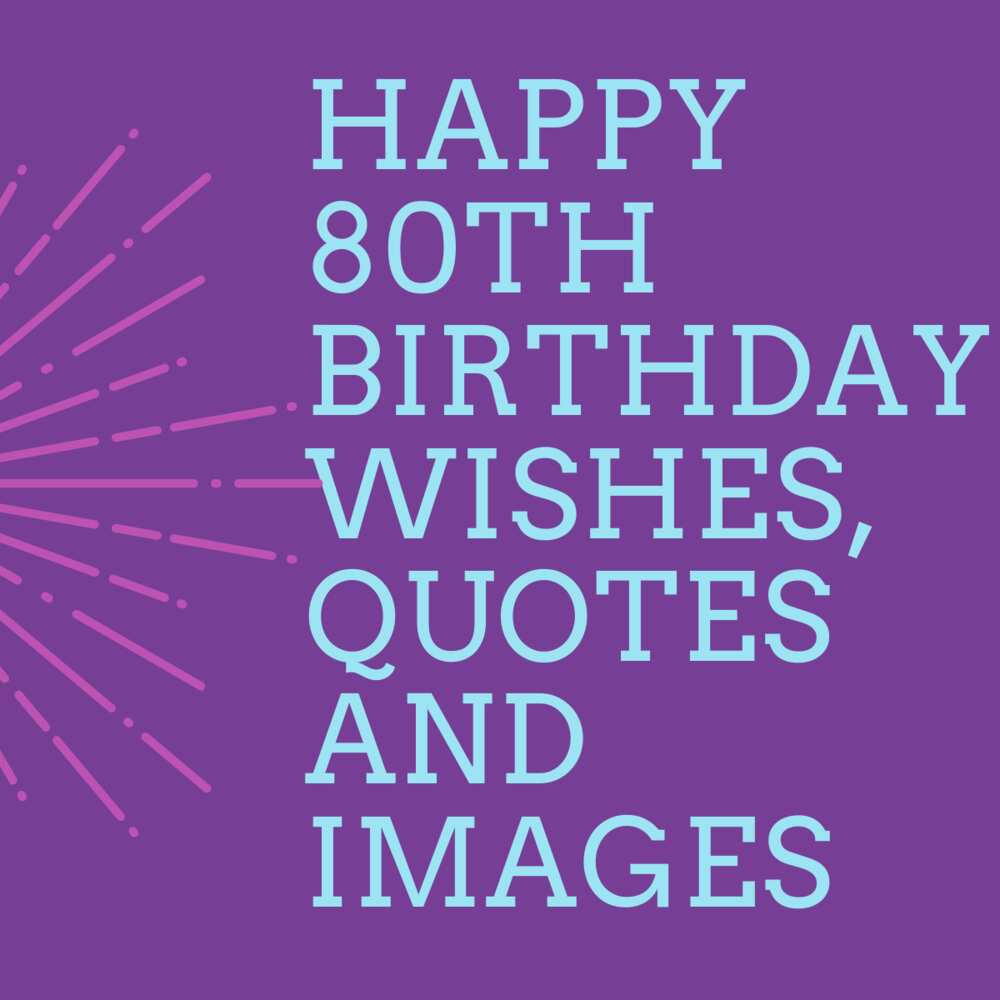 Check out this collection of inspiring happy 80th birthday wishes, quotes, and images.
Happy 80th birthday quotes
Here are some cool 80th birthday quotes inspirational that you can share with your loved one:
Remember, 80 is just a number – a BIG, round number. Have a great birthday, and congratulations on reaching a major milestone.
Wishing you a gloriously happy 80th bday. Being able to spend this special day of your life with you makes me feel like I'm the one receiving the gift.
Congratulations on eight decades of life! You've seen the world change tremendously, been through many personal hardships and triumphs, and guess what? You turned out all right.
I wish your 80th birthday proves to be as sweet to you as your presence has to the lives of those you've touched.
Calendars were invented just to remind mankind to honor special people like you. Happy 80th bday, dear friend and mentor.
Happy birthday to the youngest 80-year-old I know. Maybe by the time you're 90 I'll be able to keep up with you!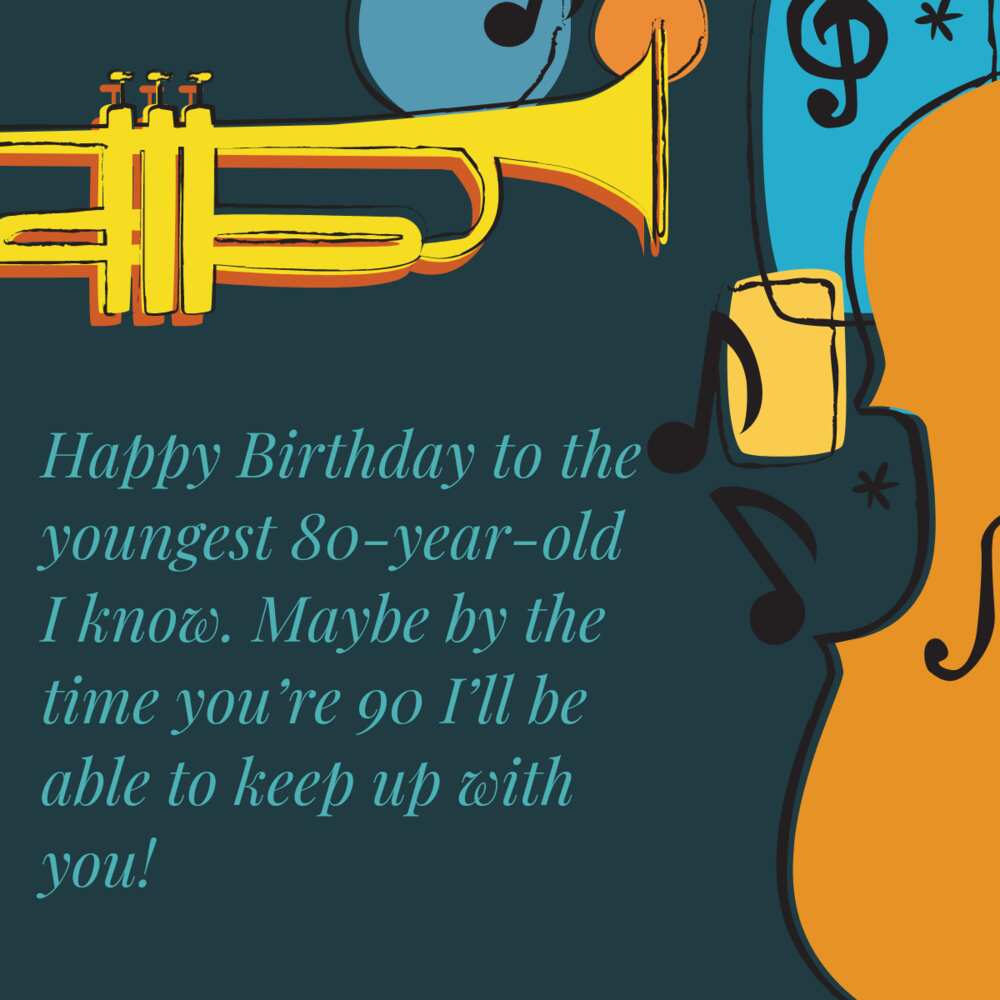 I woke up today happy, knowing that no matter what happens I'm going to see you smile, hopefully a thousand times. Have a joyously spectacular 80th birthday. May you always feel true bliss in your heart.
My earnest desire for you this coming year is that it proves to be the happiest, most fruitful and prosperous one you've ever experienced.
On your 80th birthday, I wish you a life filled with the happiest form of happiness. Hope your special day goes down in history as one of the greatest birthdays ever!
You are such a delightful person that the whole world should be celebrating today! Have yourself a truly happy 80th bday.
May an increase in your age also coincide with an increase in your happiness and health. Wishing you a truly happy 80th bday.
Happy 80th birthday wishes for grandparents
Here are some quotes that you can share with your grandparents:
80 years old, and still the same ornery, hilarious, inspiring, mischievous grandpa that I've loved my whole life. Happy birthday!
From your lovely recipes to your cute life stories, your time tested advice to your delicious brownies – having a someone so sweet as our loving grandmother, is a beautiful pleasure of life like no other. Happy 80th bday.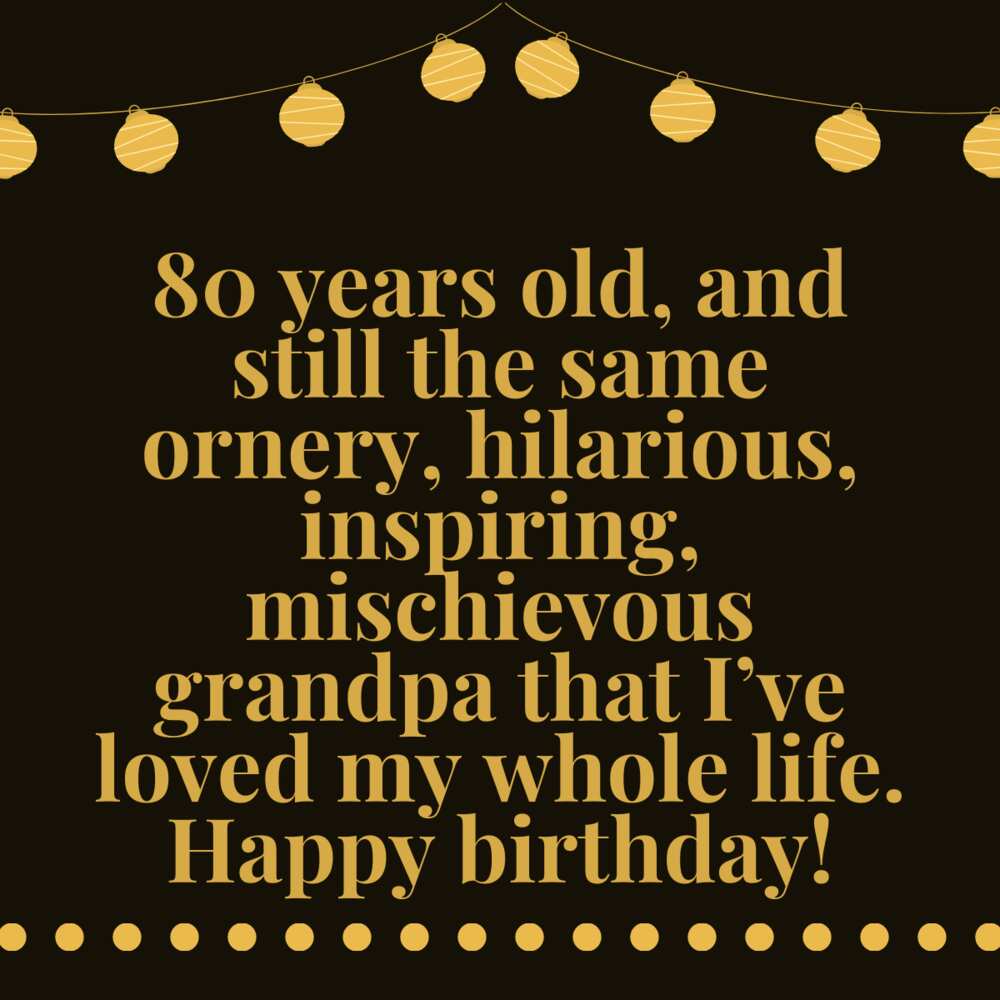 You are the icing that adds an extra layer of sweetness to my life. May you experience countless more birthdays to also bring the same flavor to innumerable others. Enjoy your 80th bday to the fullest.
Everyone can turn eighty but very few people can turn eighty with grace and a legacy like yours. Happy 80th birthday to our loving grandma.
Happy 80th birthday, Grandpa! Hope you're planning to stick around, because I'll be needing you in my life for many years to come.
Your 80th birthday is a national holiday in the kingdom of my soul. May you experience many more. I wish you a beautiful, happy and prosperous life.
Happy 80th bday to my sweet, fun, and all-around amazing Grandma!
I don't need books and teachers to tell me how to live my life when I grow up as long as I have a wise grandma to give me the best life lessons that anyone could ever get. Happy 80th birthday granny.
Hey Grandpa, what did the pirate say on his 80th birthday? Aye Matey! Get it? I'm eighty!
Happy 80th birthday, grandma! Will I get to be as cool as you when I'm your age?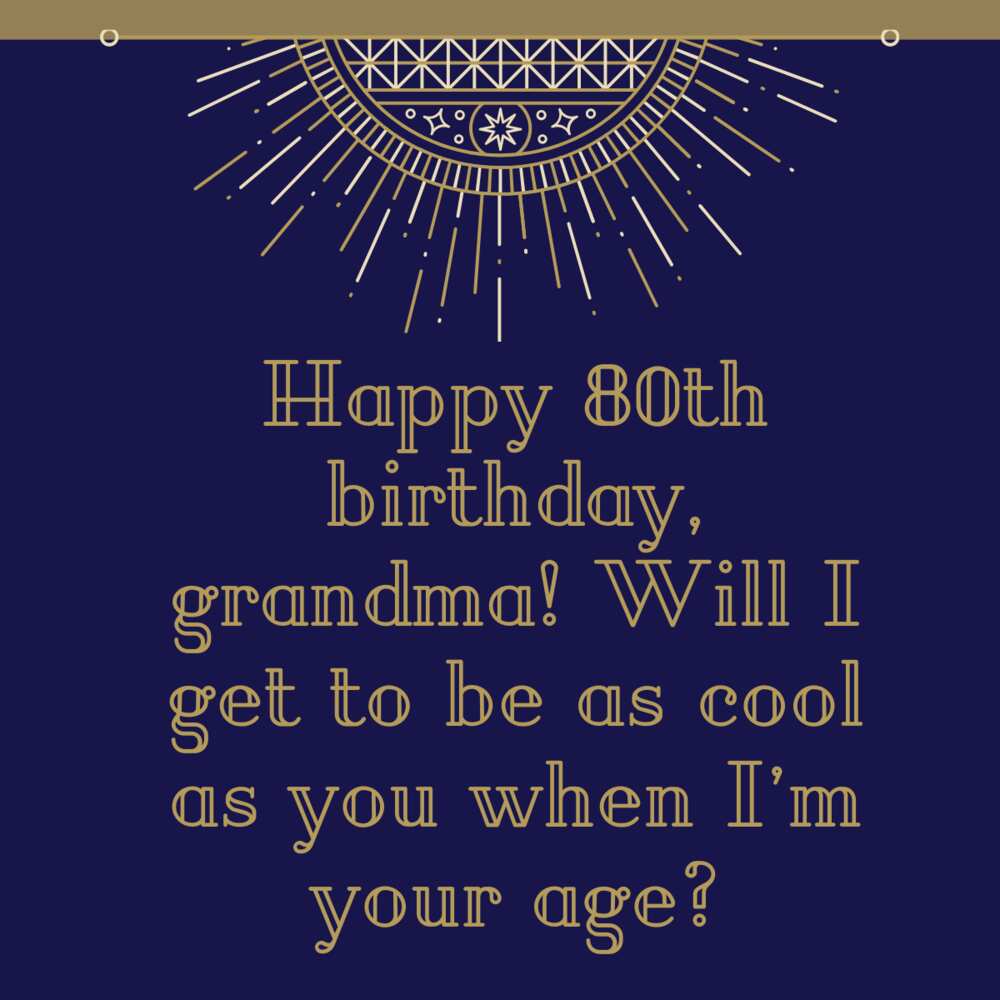 Happy birthday to the cutest 80-year-old lady in town. I guess spoiling your grandkids is one way to stay young.
Your warm personality and amazing humor are what has made all of these family gather-ups and event to remember! Like the sage to a castle, you are the backbone of the family, and for that, we thank you. Happy birthday!
Dear Grams, you've always done well, meant well, and have accomplished things throughout the expanse of your life that I could only dream of. Thank you for being a wonderful Grandmother, and Happy 80th birthday!
To my Grandfather, Happy 80th birthday, and I hope that it is every bit as wonderful as you deserve, and you certainly do deserve a whopper of a great one!
Ever since I was a child, I've been hearing endless stories about you when you were younger. Today, that legend from the stories turns 80! Ready to conquer more adventures Happy 80th birthday!
To my Grandmother. You have been a staple of my life since my earliest memories, and you're constantly in my heart. Happy 80th Birthday!
Happy 80th birthday to someone who's been there all of my life. When I was young, your advice and wisdom were annoying. Now that I'm older, I know just how right on and wise those words were. You are certainly someone special, and I lend to you my best bday wishes!
Your wisdom is the reason that everyone in the family knows the value of life. Happy 80th birthday to our wise grandma.
Happy 80th birthday mom
Appreciate your mom on her big day by sending her one of these 80th birthday wishes:
Happy 80th birthday to a lady who could probably still run me down and smack me if she had a mind to.
80 years old and still the prettiest mom in the world. Happy bday!
A very special lady is turning 80. Happy bday, Mom!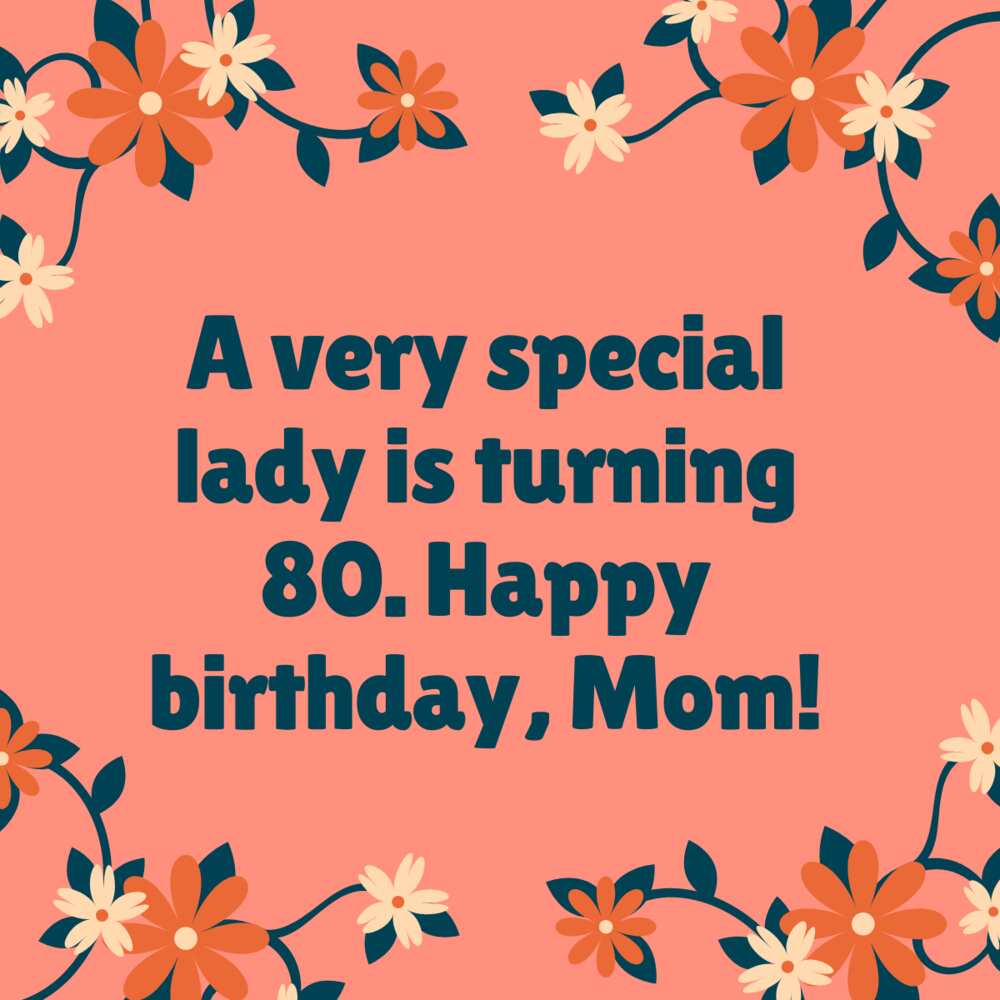 Celebrating your 80th birthday is like celebrating my own, because I wouldn't be here without you. Happy birthday, mom.
Happy 80th birthday greetings for your dad
You can send your dad one of these to remind them how much you love them:
Happy 80th birthday, Dad! I feel blessed that I've been able to have you in my life all these years, and I look forward to many more.
Happy 80th birthday to the man who taught me everything I know… which sadly, isn't much. Clearly your teaching skills aren't the best, but you're a great dad anyway!
Congrats on turning 80, Dad! I'd tell you to slow down, but I know you wouldn't get the message due to that selective hearing problem you have.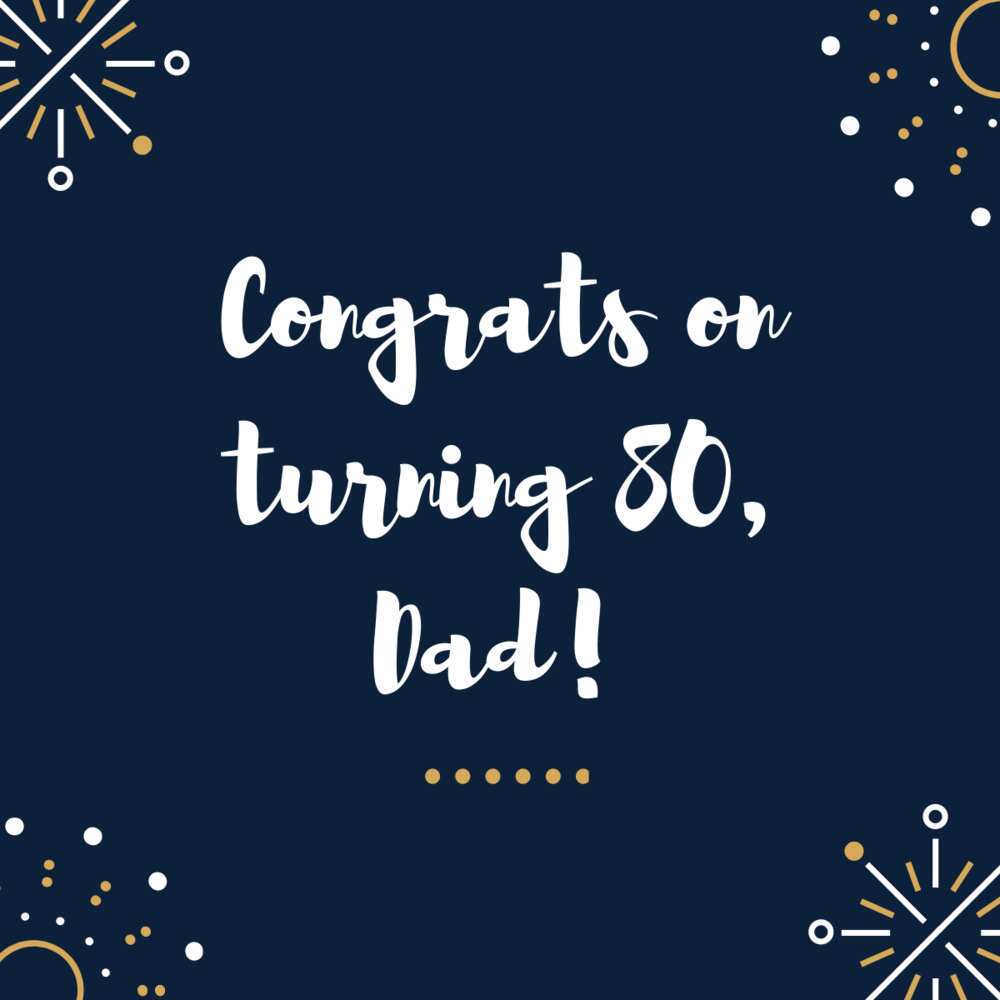 I've never been more proud to be related to someone before, you're truly a special person and above all, a fighter. You've gone through 80 years of rough moments, bad experiences, sadness and grief, and pushed through with a smile For that, I congratulate you. Happy 80th birthday!
May your 80th birthday be as unforgettable as your existence has been to our lives. I have no idea what we would have done if you were not here. Thank you, and happy birthday!
Funny happy 80th birthday wishes
Add a touch of humour into your birthday wish using funny these messages:
Lucky for you, vintage is in. Happy 80th birthday!
You're not old, you're a classic.
Like a fine wine, we get better with age…or rather, we feel better about our age with lots of wine. Happy 80th birthday!
Happy 80th birthday to my best friend! Here's to another year of laughing at our own jokes and keeping each other sane!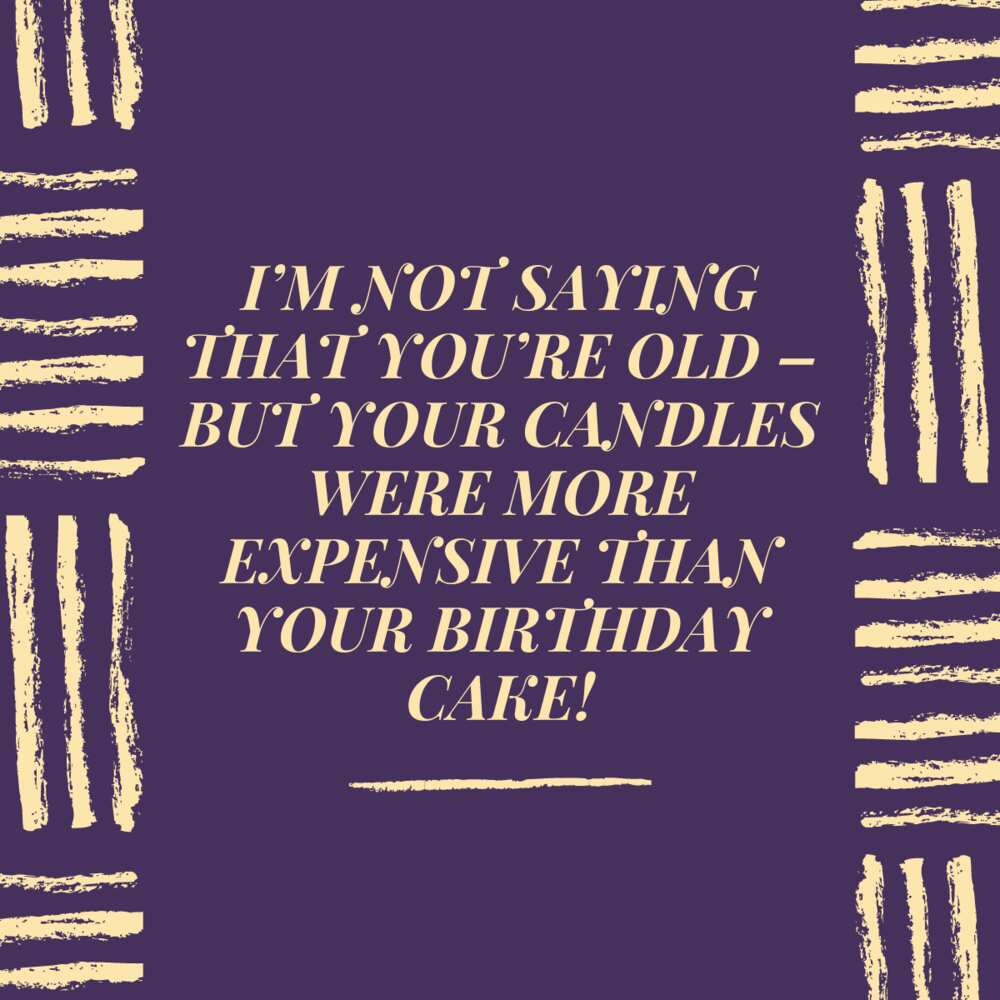 I'm not saying that you're old – but your candles were more expensive than your birthday cake!
It's your 80th birthday – feel free to wine if you want!
Everyone gets to be young once. Your turn is over!
May your 80th birthday be filled with magic moments – and lots of merlot.
What do you write in an 80th birthday card?
Here are some short lines that you can write in their card:
At 80 years old, I am sure that you don't want to waste a lot of time reading a long message in your card, so I will keep this one short. You inspire me!
How much would you be worth at your age if you were wine? Not as much as you're worth to me, my friend.
They say that wisdom is not measured in years, but there is a wealth of wisdom to be found in the 80 years that you have as experience.
You have experienced a lot. If there is something to learn, you have learned it. The key now is trying to remember it all.
You have done so many remarkable and unforgettable things in your life. I simply want to wish you a remarkable and unforgettable 80th bday.
Remember when you were hitting your first milestone at 10 years old? I don't. I wasn't even born yet.
I was just thinking how funny it would be to watch you attempt to blow out 80 candles, but I decided to let you slide on this one. Having successfully endured 80 years has earned you a pass.
You definitely wear 80 well. Reaching 80 is a great accomplishment, but you make it seem easy and effortless. Enjoy your special day!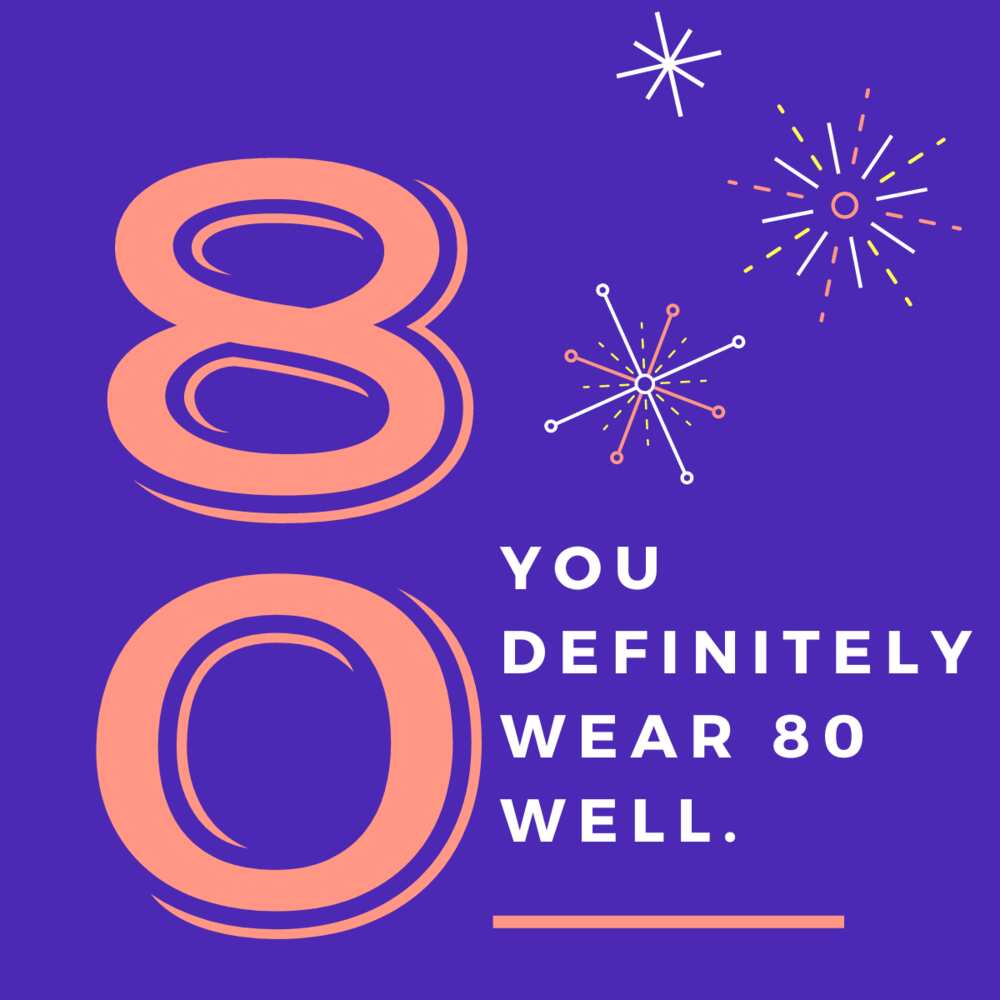 At your age, you no longer want to hear, "You look good for your age." That's not saying much at 80.
It's a good thing you've had 80 years to develop your sense of humor because I'm relying on you to say something funny.
You are 80 today, but you don't look a day over 60. Your joy and passion have preserved you well, and I wish you many more wonderful years.
Don't let anyone in their 90s tell you that you're too young to do anything. You have a maturity beyond your years despite your youthful looks.
A lot can happen in 80 years. You have written many stories over your life, but you are not finished yet. Enjoy your 80th bday and preparing for the next chapter.
They say that age is just a number, but it is so much more than that. Your 80 years are especially remarkable. You have taught me many lessons, simply by the way you live your life.
Ideas for 80th birthdays
There are many things that you can do for an 80th birthday party, such as:
Throwing a tea party
Having an outdoor evening celebration
Throwing an 80's themed party
Having a garden party
Throwing a party at a restaurant
In your opinion, which of these happy 80th birthday wishes is the most inspirational? Or funny? Let us know in the comment section below.
READ ALSO: 50+ adorable happy birthday grandma wishes for your meemaw
Legit.ng reported that there are many wonderful things that you can write to wish your grandma a happy birthday.
If you have been looking for the most amazing wishes and messages, find out the best happy birthday grandma wishes ever! Check out this collection of the most heart-felt quotes, wishes, and messages.
Source: Legit.ng