Seth MacFarlane biography: Age, height, partner, net worth
Seth MacFarlane is known for writing, animating and producing the hit TV show Family Guy and for directing comedic films like Ted. The celebrity is an actor, animator, writer, producer, director, comedian, and singer with more than 20 awards to his name.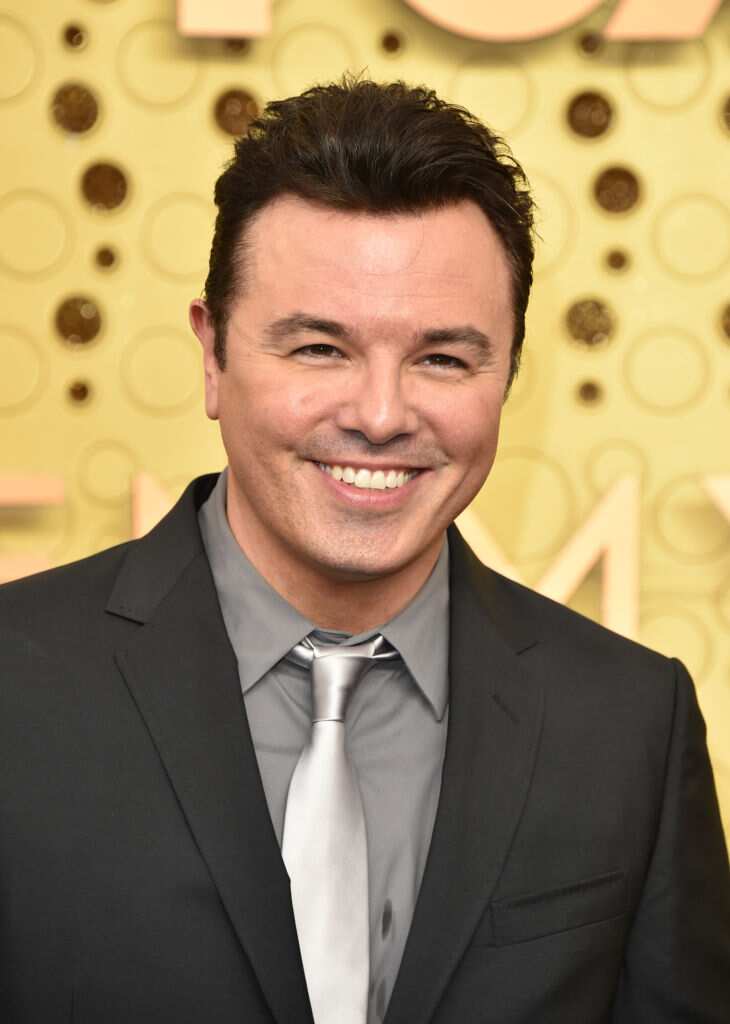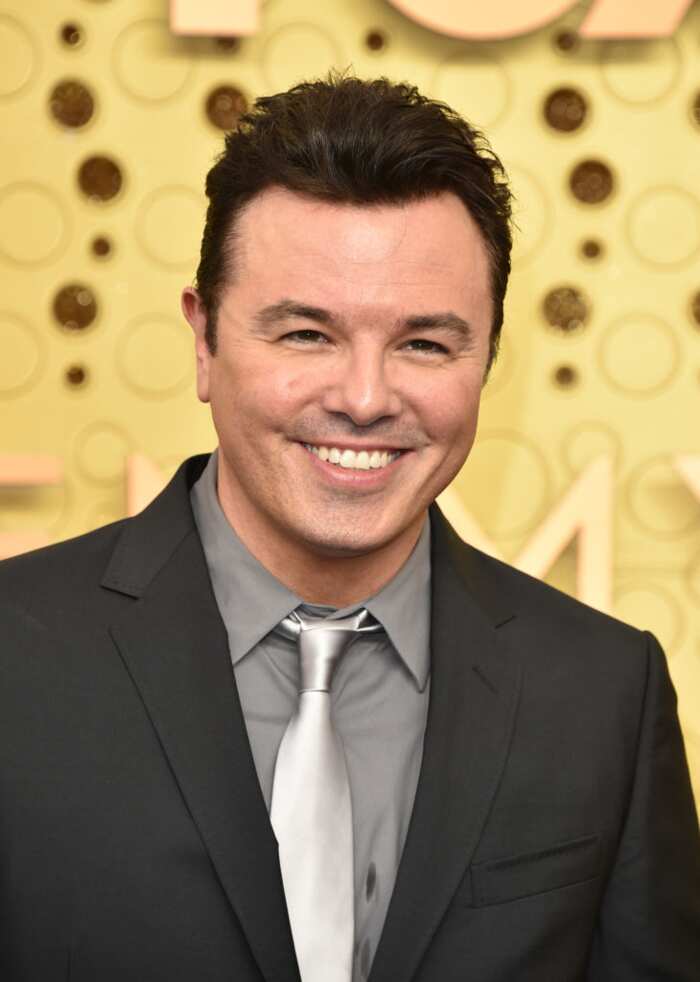 Everyone knows or has at least heard of Family Guy, the epic animated series that chronicles the adventures of the Griffin family. The man behind the iconic TV show is MacFarlane. Here is his biography.
Profile summary
Full name: Seth Woodbury MacFarlane
Date of birth: October 26, 1973
Birthplace: Kent, Connecticut, USA
Age: 47 (as of 2020)
Zodiac sign: Scorpio
Occupation: Actor, voice actor, animator, writer, producer, director, comedian, and singer
Seth MacFarlane height: 5' 11" (1.81 m)
Seth MacFarlane biography
Check out the biography of the iconic actor.
How old is Seth MacFarlane?
The American animator was born on October 26, 1973. This means that Seth MacFarlane age as of 2020 is 47 years.
Family
The celebrity was born in the small New England town of Kent, Connecticut, where he lived with his mother, Ann Perry (Sager), an admissions office worker, his father, Ronald Milton MacFarlane, a prep school teacher, and his sister, Rachael MacFarlane, who is now a voice actress and singer.
He is of English, Scottish, and Irish ancestry, and descends from Mayflower passengers.
A budding love for animation
The soon-to-be animator was drawing cartoons like Woody Woodpecker and Fred Flintstone at the age of two, and inquiring about the mechanics of animation as soon as he could talk. He remembers,
"When I was old enough to ask the question, I was asking, 'How are cartoons made? How do I do one of these?'"
He got his first paying job at age 8 when he began publishing his own comic strip in the local Kent newspaper.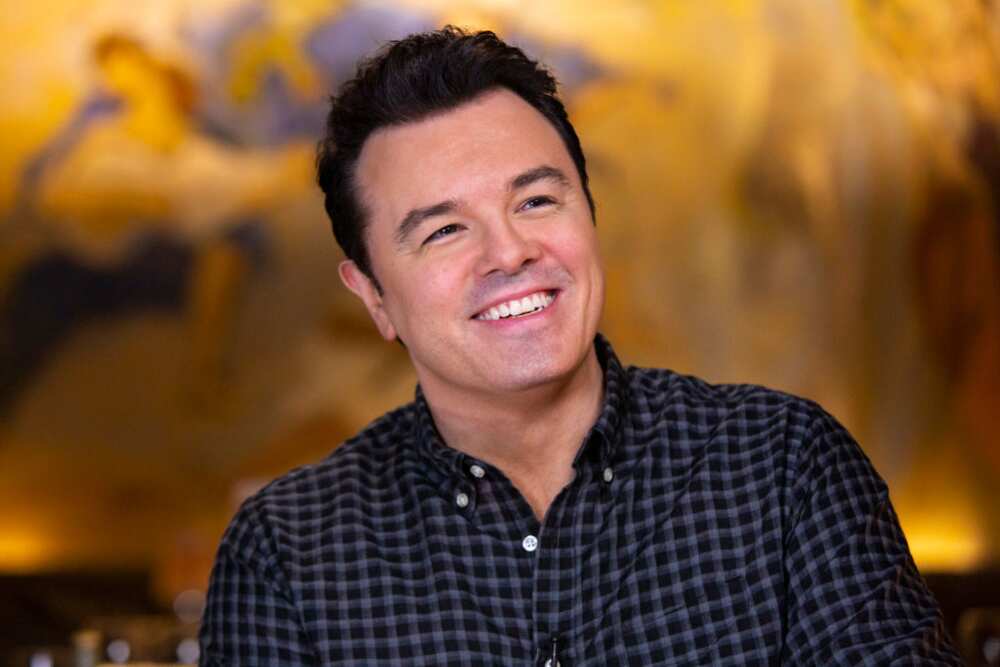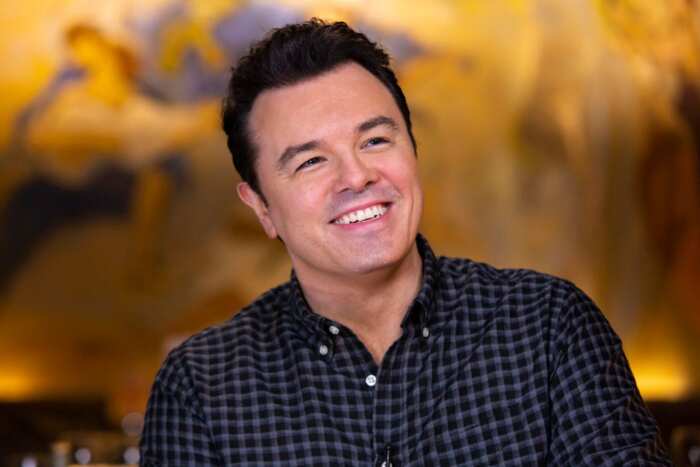 Education
The American celebrity graduated from Kent School, the same high school which Ted Danson, Treat Williams, Peter Farrelly and Sebastian Siegel attended.
He then graduated from the Rhode Island School of Design in Providence, Rhode Island, with his Bachelor's degree in Fine Arts (1995).
He has also received two honorary degrees, the first from Harvard in 2006 after delivering the Class Day Speech as several of the characters from Family Guy, and also from his alma mater, the Rhode Island School of Design, in June 2007.
Career
After he graduated, he was hired by Hanna-Barbera Productions (Now called Cartoon Network Studios) working as an animator and writer on the TV series Johnny Bravo and Cow and Chicken. He also worked for Walt Disney Animation as a writer on the TV series Jungle Cubs.
He created The Life of Larry (1995), which was originally supposed to be used as an in-between on MADtv (1995). Unfortunately, the deal fell through but, a few months later, executives at FOX called him into their offices and gave him $50,000 to create a pilot for what would eventually become Family Guy.
He also voices roles on Family Guy. His major Family Guy roles include Peter, Brian Griffin, Stewie Griffin, Glenn Quagmire, Tom and Jake Tucker, Dr. Elmer Hartman, Carter Pewterschmidt, Kool-Aid Man, God, and Jasper. He also voiced Jesus Christ before Alec Sulkin joined the show after the revival.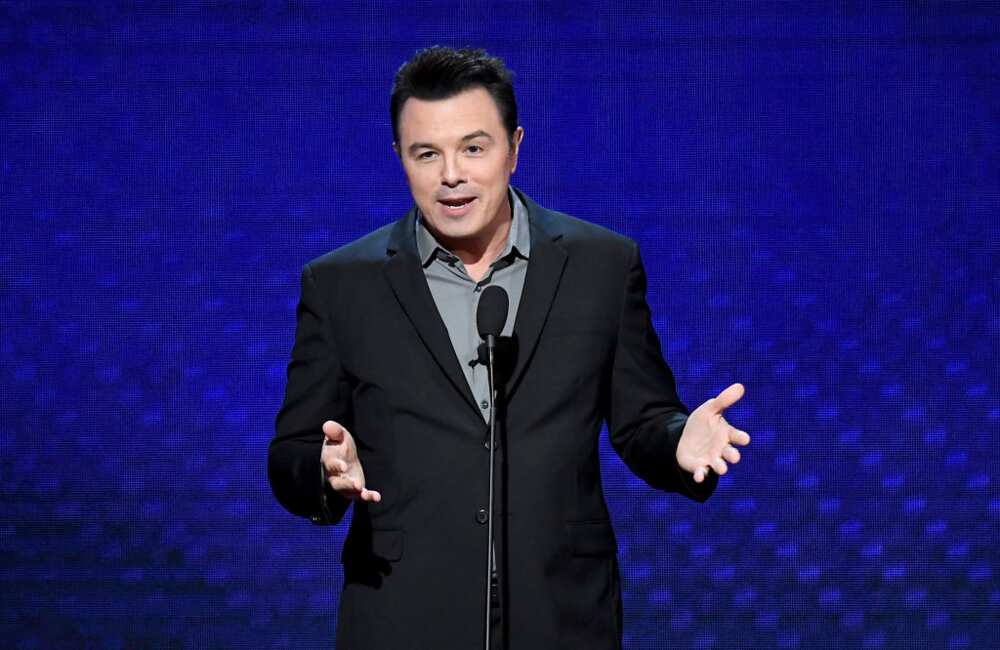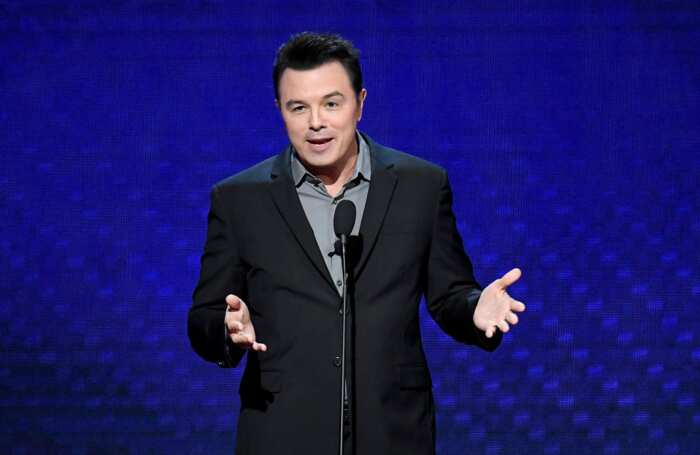 He has gone on to create other television shows -American Dad! and The Cleveland Show.
He also voices Stan Smith and Roger the Alien on American Dad!, and Tim on The Cleveland Show. The three characters have crossed over into Family Guy.
Seth is also the creator and executive director of The Orville. While he primarily plays the role of Captain Ed Mercer, he also secretly performed the voice of Lieutenant Unk in the episode Primal Urges. Seth is the Chief Executive Officer of Fuzzy Door Productions, the production company for the show.
In total, he has written over 30 shows.
Seth MacFarlane movies and TV shows
He has acted/voiced characters in the following movies and TV shows:
2021- Sing 2 (filming) - Mike (voice)
Star Wars: Detours (post-production) - Emperor Palpatine (2012) (voice)
2017-2020 - The Orville - Capt. Ed Mercer
1999-2020 - Family Guy - Peter Griffin / Stewie Griffin / Brian Griffin / ...
2005-2020 - American Dad! - Stan Smith / Roger the Alien / Greg Corbin / ...
2019 - The Loudest Voice - Brian Lewis
2012-2018 - Jimmy Kimmel Live! - Peter Griffin / Stewie Griffin / Ted
2017 - Logan Lucky - Max Chilblain
2016 - Sing - Mike
2016 - Bordertown - Peter Griffin
2015 - Ted 2 - Ted (voice)
2005-2014 - Robot Chicken - Lion-O / Santa Claus / Hermey the Elf / ...
2014 - A Million Ways to Die in the West - Albert
2014 - Cosmos: A Spacetime Odyssey - Giordano Bruno
2013 - Futurama - Seymour - speaking
2013 - The Simpsons - Ben
2013 - Movie 43 - Himself
2012 - Lovin' Lakin - Himself
2012 - Ted - Ted (voice)
2009-2012 - The Cleveland Show - Tim the Bear / Additional Voices / Peter Griffin / ...
2011 - A Better Place - Mitch
2010 - Robot Chicken: Star Wars III - Emperor Palpatine (voice)
2010 - Phineas and Ferb - Jeff McGarland - TV Executive
2008-2010 - Seth MacFarlane's Cavalcade of Cartoon Comedy - Dog / Scottsman / Martin /
2009-2010 - Flashforward - Agent Jake Curdy / FBI Agent
2010 - The Drawn Together Movie! - Intelligent Smart Robotic Animated Eraser Lady (voice)
2010 - Tooth Fairy - Ziggy
2006-2009 - Late Show with David Letterman - Stewie Griffin - Top Ten List Presenter / Peter Griffin - Top Ten List Presenter
2009 - Bones - Stewie Griffin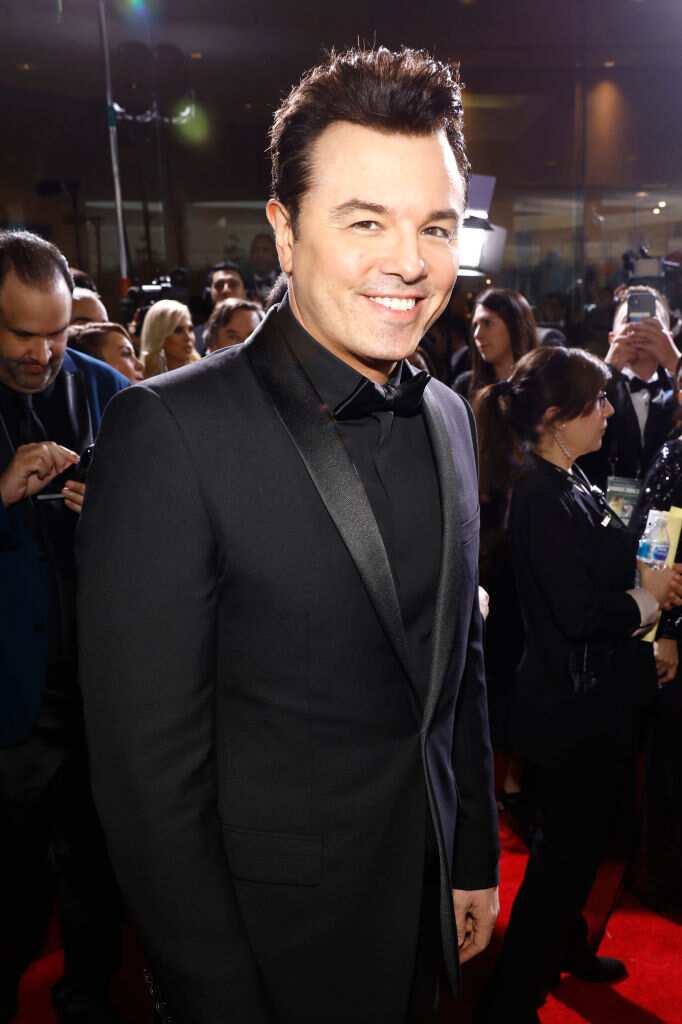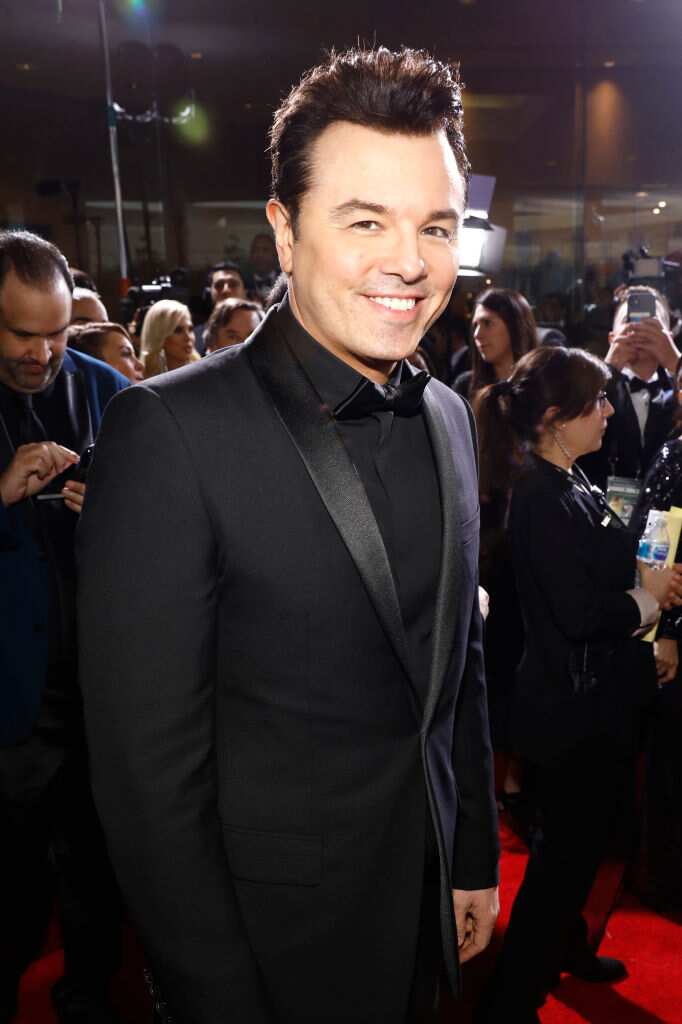 2009 - Futurama: Into the Wild Green Yonder - Mars Vegas Singer (singing voice)
2008 - Yin Yang Yo! - The Manotaur
2008 - Robot Chicken: Star Wars Episode II - Emperor Palpatine / Dr. Ball / Figrin D'an (voice)
2008 - Hellboy II: The Golden Army - Johann (voice)
2008 - The Negotiating Table - Alan Richdale (voice)
2007 - Robot Chicken: Star Wars - Emperor Palpatine (voice)
2007 - Family Guy: Up Late with Stewie & Brian - Stewie Griffin
2007 - Help Me Help You - Seth
2006 - MADtv - Seth MacFarlane / Peter Griffin
2006 - The War at Home - Hillary's date
2006 - Life Is Short - Dr. Ned
2003-2005 - Crank Yankers - Rogers / Arthur Johnson
2005 - Stewie Griffin: The Untold Story - Stewie Griffin / Peter Griffin / Brian Griffin / ... (voice)
2005 - American Dad: The New CIA - Stan Smith / Roger the Alien (voice)
2004-2005 - Star Trek: Enterprise - Ensign Rivers / Engineer
2004 - Johnny Bravo - Scott / Bird Foreman / Mr. Magician
2003 - 3-South - Max
2002-2003 - Gilmore Girls - Folk Singer / Bob Merriam / Zach
2003 - Aqua Teen Hunger Force - Wayne the Brain
2003 - The Pitts - Radio Voice / Movie Dad and Son
2003 - Will & Grace - Pencil Sharpener
1997 - What a Cartoon: Larry & Steve - Larry / Steve / Old Man / ... (voice)
1997 - What a Cartoon! - Larry / Steve / Old Man / ...
1995 - The Life of Larry - Seth MacFarlane / Larry Cummings / Steve / ... (voice)
1987 - Untitled Star Trek Fan Film with Seth MacFarlane (Short)
Awards and nominations
The actor has won 24 awards and has received 60 nominations, including an Oscar nomination for Best Achievement in Music Written for Motion Pictures, Original Song.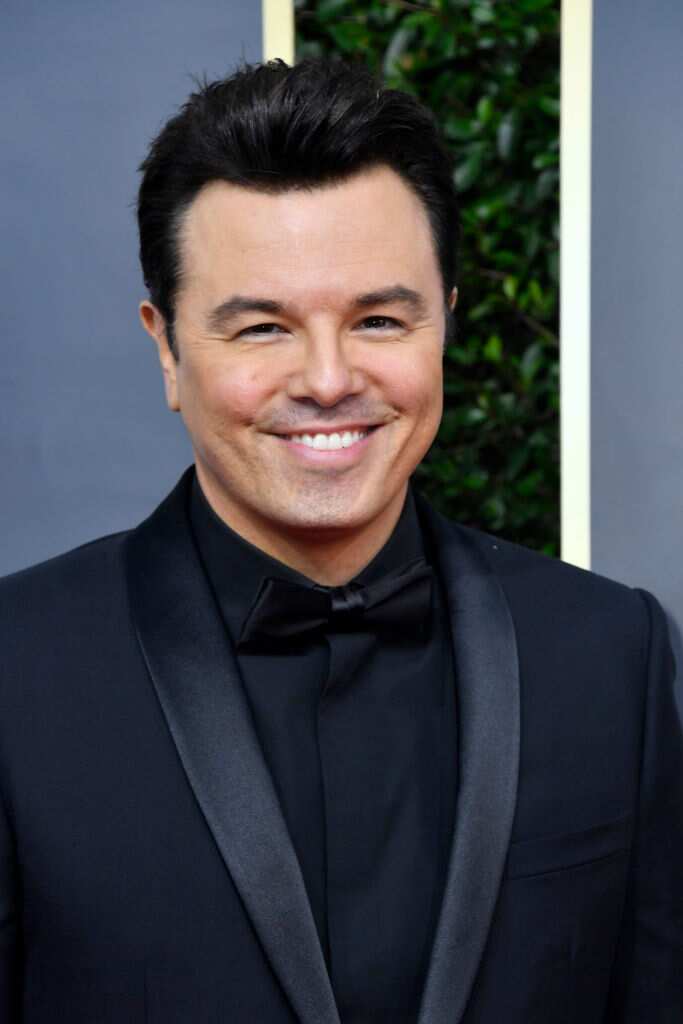 Music and albums
The celebrity released his Grammy-nominated debut album, Music Is Better Than Words, in 2011.
He has also released the albums Holiday for Swing (2014), No One Ever Tells You (2015), In Full Swing (2017) and Once in a While (2019), collaborating with artists like Norah Jones and Sara Bareilles and picking up two more Grammy nominations along the way.
How much is Seth MacFarlane worth?
According to Celebrity Net Worth, Seth MacFarlane net worth is guesstimated at $300 million.
Who is Seth MacFarlane dating?
In 2004, Seth noted that he shares many similarities with the character Brian Griffin from Family Guy. He told The Daily Princetonian that his love life is similar to Brian's:
"I have some Brian type issues from time to time – looking for the right person – but I date as much as the next guy."
In general, Seth has dated some high-profile celebrities, including Game of Thrones star Emilia Clarke.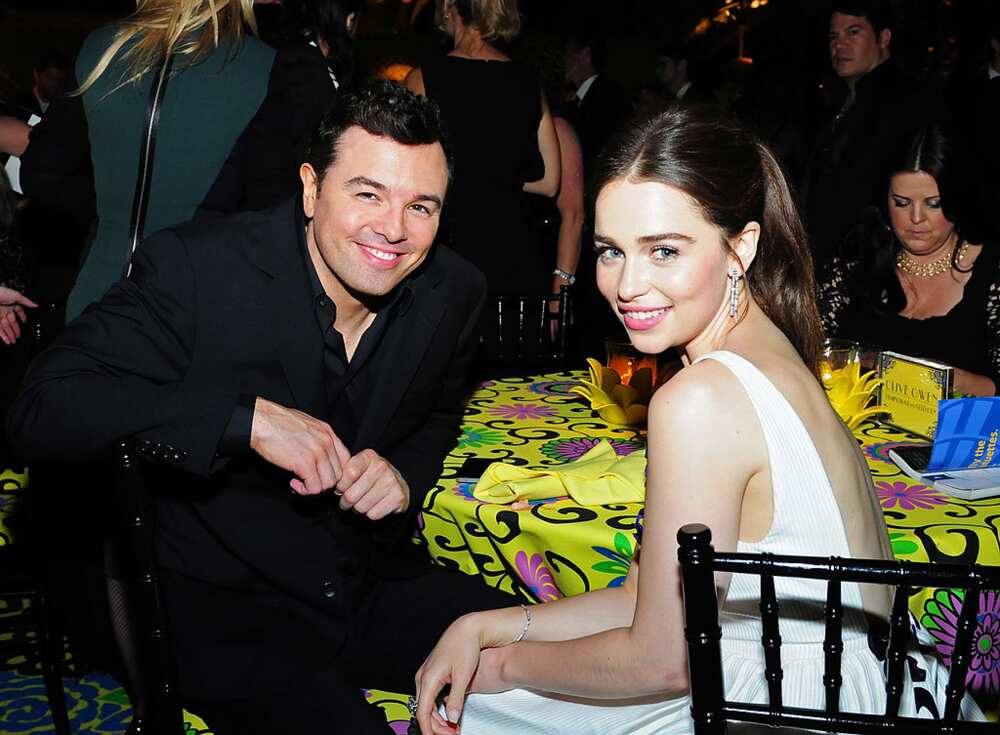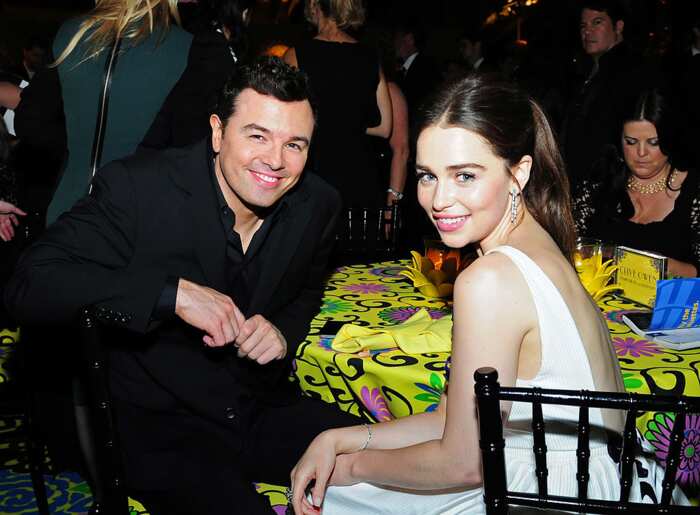 Seth started dating the Mother of Dragons in 2012. Their relationship lasted for one year, and the duo broke up in March 2013. The couple blamed the long distance between them for the failed relationship.
After his brief romance with Clarke, it was rumoured that Seth MacFarlane girlfriend was Halston Sage. In 2018, Halston Sage and Seth MacFarlane were spotted on a dinner date. Neither Halston nor Seth officially confirmed their relationship, though.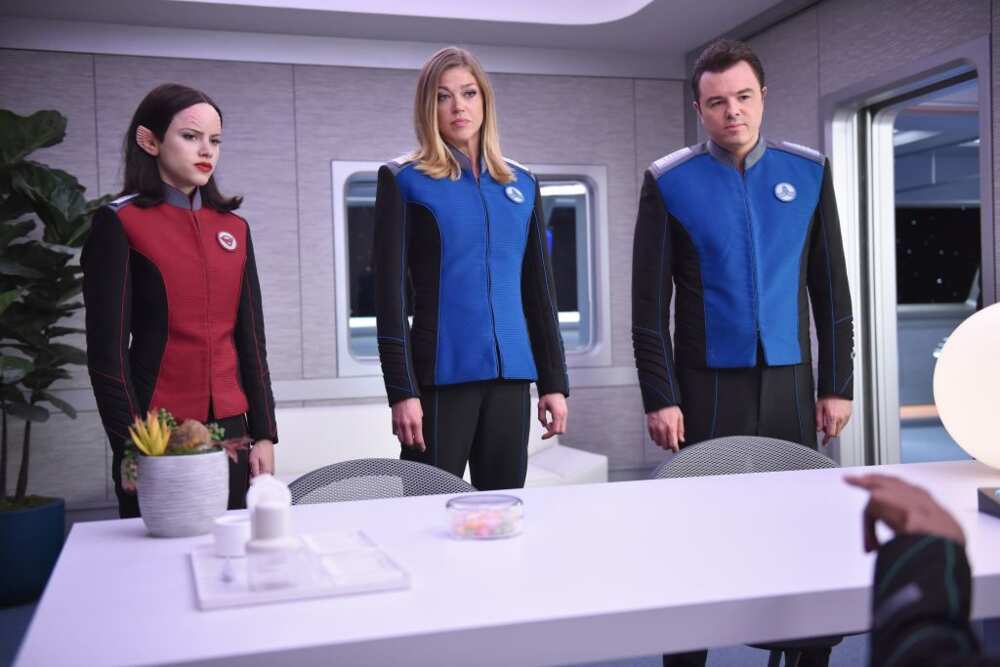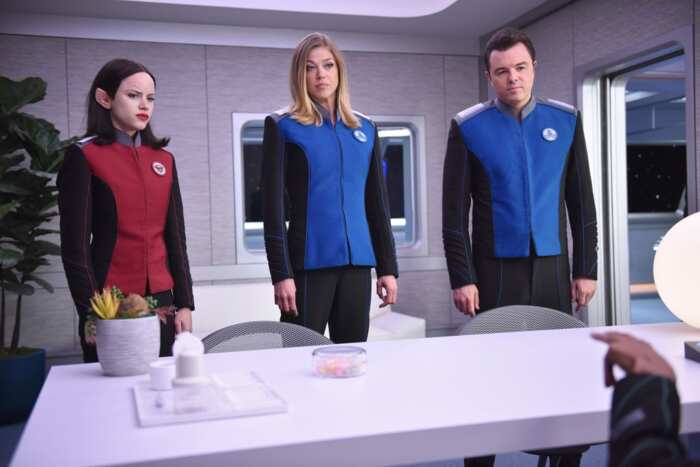 The Seth MacFarlane Halston Sage relationship was short-lived, though, as Halston moved on to Zac Efron.
Is Seth MacFarlane married?
No, the animator is not married, so no lady currently bears the title "Seth MacFarlane wife".
A Star Trek-watching, show tune-singing, entertainment-obsessed fanboy, Seth MacFarlane began drawing cartoons at 2 years old and was publishing his own comic strip in his hometown newspaper by the age of 8. Today, he is one of the richest people in the entertainment industry, and he has earned his place among the big wigs of comedy.
READ ALSO: Ryan Reynolds biography: Age, height, net worth, wife, kids
Legit.ng recently reported about the life of Ryan Reynolds. The Canadian actor is known for being charismatic, quirky, and quick-witted.
The actor has appeared in films such as Definitely, Maybe; The Proposal; Safe House; and Van Wilder and in 2016, he starred as the titular character in the superhero film Deadpool.
Source: Legit