Aisha Umaru "Kaisha" bio: BBNaija season 5 contestant profile
Aisha Umaru "Kaisha" is a 25-year-old entrepreneur from Sokoto State, Nigeria. She is among the young Nigerians currently competing in the Big Brother Naija Lockdown reality show, and she is already a fan favourite. She was up for eviction on the 9th of August 2020, but she luckily made it through.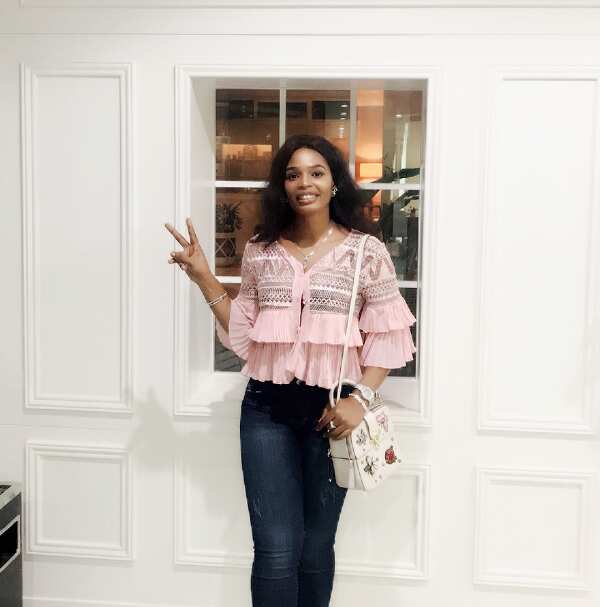 Aisha Umaru is a 25-year-old entrepreneur from Sokoto State. This adventurous young woman considers herself a great team player who gets along with people.
Profile summary
Name: Aisha Umaru
Date of birth: 1995
Age: 25 years
State of origin: Sokoto State
Nationality: Nigerian
Ethnic group: Hausa/Igbo
Occupation: Entrepreneur
BBNaija Aisha Umaru "Kaisha" bio
Aisha Umaru "Kaisha" is an entrepreneur from Sokoto State, Nigeria. Her mother is from Orlu Umuaka in Imo State. She is the only female Hausa BBNaija season 5 contestant in the house.
BBNaija Kaisha age is 25 years. She describes herself as being independent and a go-getter.
According to her, the new skill she acquired during the COVID-19 lockdown was talking to herself. When asked about her boundaries, she replied,
I don't think I have any boundaries I'm really open to do anything. I am actually adventurous, so, I don't think I have any boundaries. I try as much as I can to enjoy my life fully.
Her favourite words to live by are:
"Never give up, you never know what might happen. Keep trying and keep pushing."
On the 23rd of July, the housemate trended on social media due to her impressive travel history. The housemate revealed that she had been to at least five countries including Ghana, India, Poland, and Germany during the contestants' travel story task.
Educational background
Details of Kaisha Umaru's high school and university education are not public knowledge yet. However, she told some of her fellow housemates that she has no plans of going to school.
Kaisha said that instead of going to school, which according to her is not her thing, she would rather do business and make money.
The 25-year-old Lockdown housemate said she has Igbo blood running in her veins, which makes her think only about business.
During a conversation with another housemate, she further revealed that her trip to Germany was just a tour and not to learn anything. She said,
I've not really achieved anything serious, my going to Germany was just a tour. I didn't go there to learn anything. I'm not a school person. I'm not really a school person. I just want to do business and make money, I have Igbo blood in me.
Career
Aisha Umaru is a businesswoman with her own brand of skincare products. She is the owner of the Kaisha Luxury Skincare line.
Biggest achievement
According to Kaisha, finishing her skincare line was her biggest achievement. She said,
"When I finished my skincare line, I was really proud of myself."
Kaisha's BBNaija teary diary room session
The Big Brother Naija Lockdown housemate was in tears in the diary room during a one-on-one session with Big Brother. The young entrepreneur from Sokoto alleged that there were a lot of fake people in the house.
When Big brother asked her about her opinion of other housemates and how they were getting along, she replied,
Everyone is fake here, they are all just acting up. They would be nice today and the next thing they are not nice. It is just three days and all these things are happening. Fake friendship, laughter, conversation for me....At first, I thought Erica was cool with me but then she changed towards me. Right now, I'm not bonding with anyone. It is making the house tense and that's not what I expected. I expected the house to be fun but clearly, it's not.
She, however, expressed optimism that things would get better as the show continues. Biggie advised her to learn to adapt and strive despite all odds.
First Big Brother fine
Big Brother Naija housemate Kaisha became the first housemate to be fined in this year's BBnaija show.
On Tuesday, the 4th of August, she received the first BBNaija Lockdown punishment from Biggie after waking up late and being locked out of the arena room for the early morning exercise.
BBNaija Kaisha's dating history
Aisha Umaru is single at the moment, and unlike some other housemates, she has not shown any interest in starting a relationship since she entered the Big Brother house.
The housemate told Praise about an ex of hers whom she dated for three years. She ended the relationship because her ex did not propose to her even after they had been together for years.
Also, she said that she would love to be married in five years but she is not into any relationship at the moment.
More facts about Kaisha
She was once a fool for love.
She likes a man that can stick to one woman, a guy who is truthful.
She also does not like fake people.
She doesn't want to emerge as the winner but would like to be among the top 5 contestants.
At 25 years old, Aisha Umaru "Kaisha" already has her own business and has visited different continents around the world. Umaru is an entertaining BBNaija 2020 contestant and she continues to bring her A-game to the reality show every week.
READ ALSO: BBNaija: Kaisha labels Lucy an old cargo as they become second set of housemates to quarrel in the house (video)
Legit.ng reported that female housemates Kaisha and Lucy became the second set of housemates to get into an ugly exchange and resorted to hurling abusive words at each other. The fight started after Kaisha complained about sleeping in the dark and Lucy came after her.
Lucy, who seemed to have had enough of her fellow housemate's complaints, tried to get her to stop talking about it but this got the Hausa beauty riled up.
Source: Legit.ng