50+ fun newlywed game questions: how well do you know your partner?
There are several ways of spicing up your relationship; answering newlywed game questions is one of such. Whether you just got married or you are about to, you will find this game worth playing.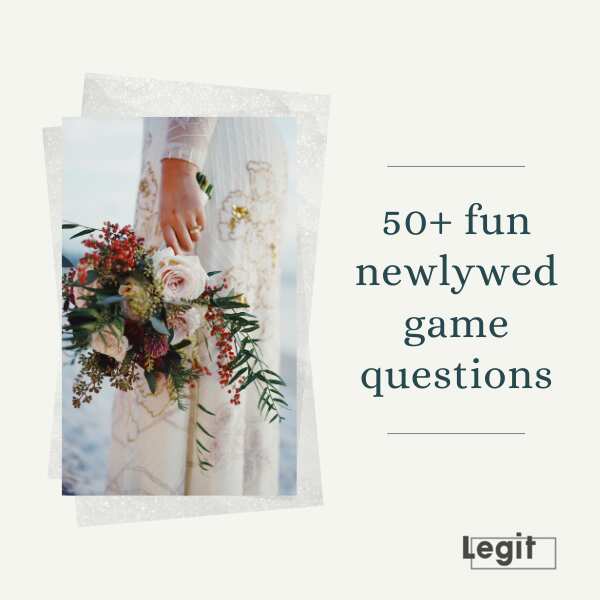 The questions vary from puzzles about personalities to perspectives about life. To have a more enjoyable session while playing the game, balance the questions asked to incorporate different life areas.
Although the chosen questions are usually not so serious, the excitement and intimacy that the game builds are worth appreciating. They are also part of the reasons why the exercise has gained attention.
How well does the bride know the groom?
A relationship is a medium for partners to know and understand their differences, similarities, and compatibilities. It is an opportunity to explore your partner that should not be taken lightly.
Are you thinking of playing the newlywed questions game? Or do you need newlywed game questions bridal shower to brighten the day? Look no further.
All you need to do is to print two copies of the questions below. Provide the questions to the bride at the party and get her to answer them. Similarly, give the second copy to the groom to answer separately. This will show how well the bride knows her groom.
What is my greatest insecurity?
What is your partner's love language?
How does your partner react when they are under pressure?
Where would your lover choose to go on a vacation?
What is your partner's dream job?
What phrase describes your partner in the bedroom?
What word changes the mood of your lover from bad to good?
What are your spouse's favorite meal and drink?
If your house caught fire, what one thing would your spouse grab before leaving?
What one thing can't your husband do/live without?
How well do you know your spouse game questions
Is the saying "a spouse can never know all about their partner no matter how long they have been together" a myth? Sometimes, you will not know how much of a thing you know until you test your ability.
With this variety of questions, you are on your way to finding out how much you know your partner.
Who wants the highest number of children?
Who is the neatest?
Who is the first to reach out after a fight?
Who drops their gadgets after purchase?
Who is the better cook and lover?
What is your spouse's most embarrassing moment?
How will you rate your partner's kissing proficiency on the scale of one to ten, and who is the better kisser?
What color of footwear did your spouse wear on your second date?
What did your partner do, and when did you decide that your spouse is the special one made just for you?
Whom did your spouse last date before you met them, and what led to their breakup?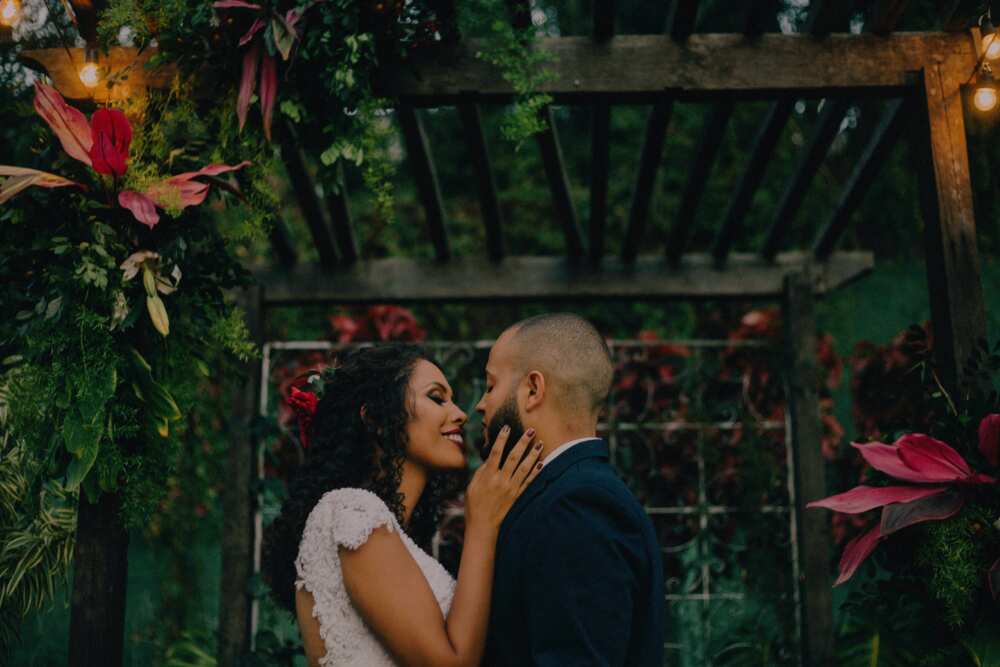 How well do you know the bride questions
How do you feel when you cannot fathom your wife's response at a particular time? I bet it feels like you barely understand her. Every woman can be likened to an onion. She is full of magnificence, but it is in layers.
When you can not understand her at some point, it might be due to the evolution of a new layer. So, do not freak out. However, you must always strive to know her and every little detail of her life. Check your knowledge of your partner with these simple questions.
Who is her celebrity crush?
How does she react when she is angry?
What is her favorite movie?
What memories would she love to experience again?
What is the first thing she does when she wakes up?
What sentence can lighten up her whole mood?
What is her favorite hairstyle?
How does she react when she is faced with disappointment?
What is her life's mantra?
If she wins the lottery, what would be the first thing she will buy?
What questions to ask your partner game
There are one thousand and one things to do with your partner on a date. Asking questions is one of such things. It has proven to help relationships and strengthen their bond. Are you worried about what questions to ask your partner?
Are you looking for do you know your spouse questions? Go through this comprehensive list of well-selected questions to help maximize your time with your partner.
What is the most appealing thing about your spouse?
What item would you like your partner to get rid of?
What do you recognize as a fascinating thing about me?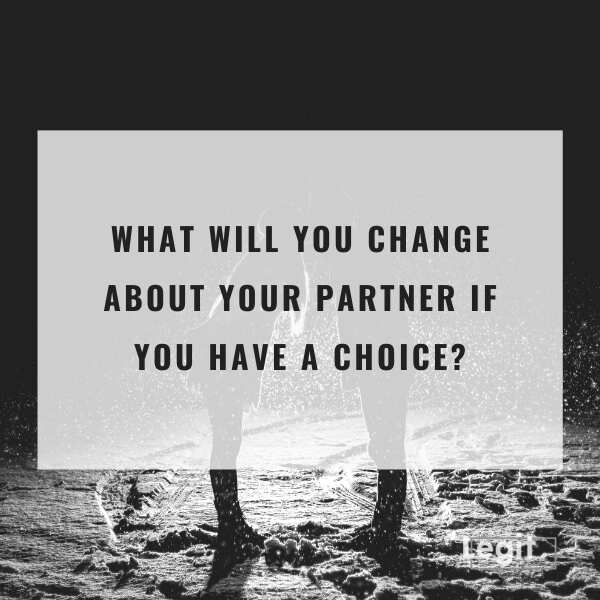 What will you change about your partner if you have a choice?
What is one of your traits that fascinate your spouse the most?
Who loves to sleep with clothes and the lights on?
If you have the power to change your spouse into an animal, what will it be, and why?
If your wish will be granted, what would be your wish for your spouse?
What secret are you afraid to tell me about?
What changes do you look for in me in the next couple of years?
Funny newlywed game questions
Marriage is a new phase of life for the newlywed, and sometimes, it takes a lot of time to adjust to this new life. Are you a married person who wants to find out about your lover's assessment of you? This is the way to go.
Who takes more time to finish dressing up?
What is the most disgusting thing you have done around your partner?
What was your last date spot?
What is your partner's lingerie size?
Which of your partner's physical features do you love the least?
What is the special memory of your partner you can never forget?
How many pairs of shoes does your spouse have?
What is the one thing your spouse can not do without?
Who is more touchy?
Do you believe in happily ever after?
What would you do fun questions for couples
Remember, this is a game, so have fun.
What would you do if your spouse wanted to relocate to a rural area?
What would you do if you woke up one day and found out that your lover is gone?
How would you react if you found out that your partner is an ex-convict?
What would you do if your spouse bans your pet from entering the house?
How would you react if you found out that your spouse built a house for you?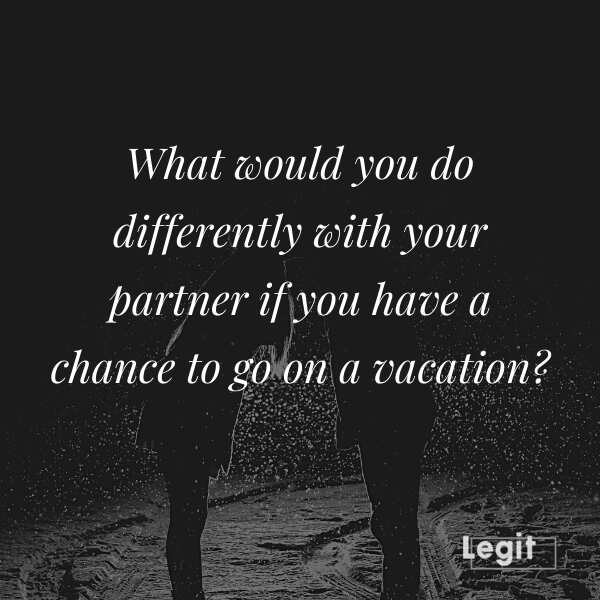 What would you do differently with your partner if you had a chance to go on a vacation?
How would you react if your partner does not want kids?
How would you react if you are to go plenty of miles away from your partner?
What would you do if your spouse wants to adopt children while you don't?
How well do you know me questions
Everyone loves to boast about how much they know their special one. This is logical because they spend more time with them than any other person. However, you will never find out how much you don't know about your partner until you attempt to answer pivotal questions.
What is my favorite TV show?
What do I cherish about my body the most?
What song will make me rush out of the bathroom just to increase the volume?
What is the pet name given to me by my parent?
What is my favorite hang out spot?
What is my favorite catchphrase?
Who is my best friend?
What is my greatest achievement?
Who is my role model?
What is my greatest regret in life?
What are the most hilarious questions for married couples
No matter how quiet some couples might be, they have beautiful moments that you might never have thought of. Beyond the fresh looks of a couple, there are many behind the scenes that you can glean from. Explore this beautiful part of their lives by asking them some of these questions.
Who tends to fart in the dining room?
Who forgets special memories and events?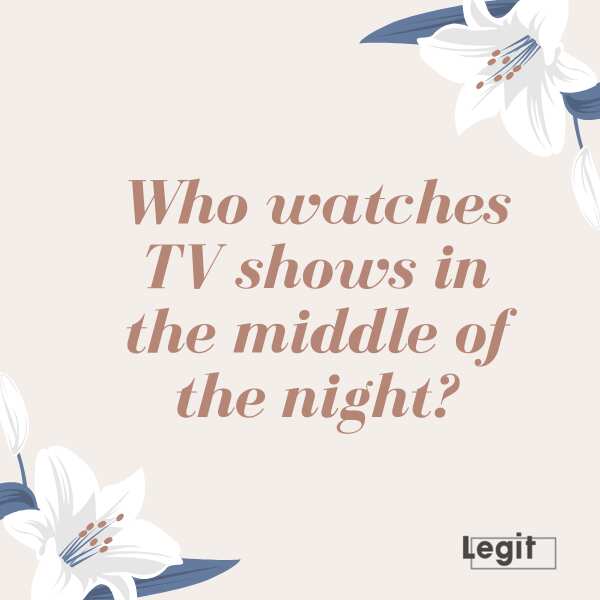 Who is the more hilarious spouse?
Who loves to stay indoors the most?
Who loves to party all night?
What is your spouse's idea of romance?
Who makes the final decision on crucial matters?
Fun questions to ask your spouse
What one question have you been willing to ask your partner? Are you thinking of how to craft the questions, but you are stuck? Go through these game questions to have an idea of how to start.
Were you scared when you walked up to me the first time?
For how long had you been willing to kiss me before you finally mustered the courage to do so?
What is your unforgettable memory with your ex?
How scared were you the first time you met my parents?
What comes to your mind whenever I do not pick your calls?
What sentence of mine freezes your mind?
Did you ever feel like ending things with me? Why?
How do you play the newlywed game at a party?
Apart from the couple playing the game, you also have to get someone who will record the scores and another person who will serve as the host. The host will be in charge of asking questions and coordinating the activities during the game.
So, to play the game, the steps involved include the following:
Let either of the partners leave the place where you are hosting the game.
Ask the other person the questions quietly and have him or her answer them on a piece of paper. Alternatively, you can have someone else document the answers as they are answered.
Once done, let the other partner come back and ask them the same questions.
Compare the answers given with what their partner answered initially to find out who is correct.
Repeat the same process for the other partner who stayed in the room earlier.
Building intimacy should be one of the primary goals of every couple. This is because many other things in their marital journey are dependent on it. Once they know each other's likes and dislikes as well as their love languages, there will be minimal crises in the union.
It is essential to know that the newlywed game questions you choose should not be too serious. Know your audience, and be mindful when picking them or making up your own. The main aim is to have fun and get to know yourselves better.
Source: Legit.ng