Katie Cassidy bio: age, height, partner, plastic surgery, net worth
Katie Cassidy is a multi-talented woman whose skills cut across different segments in the entertainment industry. She worked as a songwriter, actress, and also modelled for brands, including Abercrombie and Republic clothing lines.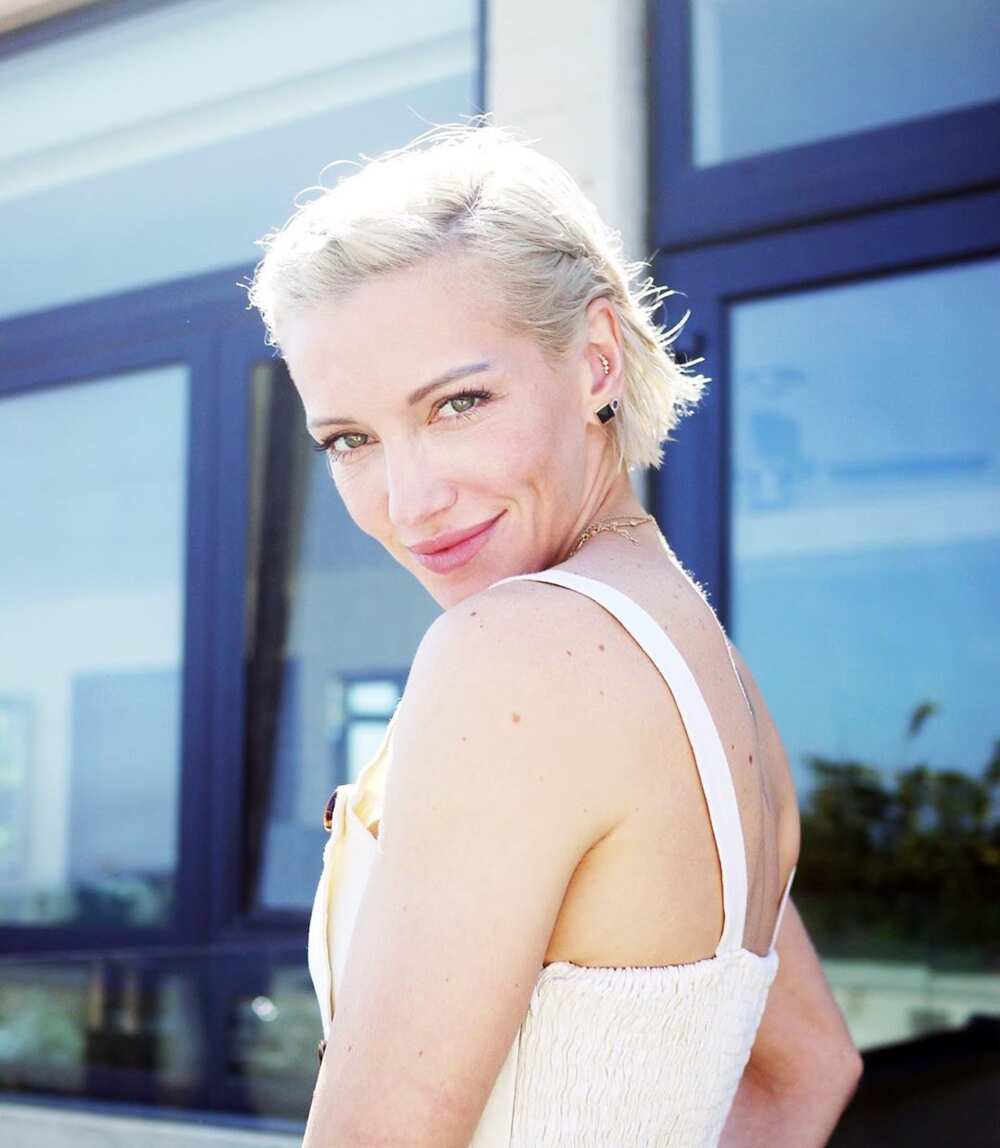 As a trained vocalist, in 2004, the actress worked with Joel Diamond, a music mega-producer, for the release of her first single. Before she graduated from high school, Katie was already working as a model.
Profile summary
Full name: Katherine Evelyn Anita Cassidy
Nationality: American
Ethnicity: White (German, Irish, English, and Swiss-German)
Birthdate: 25th of November, 1986
Age: 33 years old
Birthplace: Los Angeles, California, USA
Profession: Actress, musician, and director
Katie Cassidy height: 5 feet and 7 inches
Weight: 54 kilograms (119 lbs)
Education: Tisch School of the Arts
Religion: Roman Catholic
Eye colour: Green
Hair colour: Dyed Brown
Body build: Slim
Sexual orientation: Straight
Relationship status: Married
Spouse: Mathews Rodgers
Parents: Sherry Williams and David Cassidy
Horoscope: Sagittarius
Siblings: Beau Cassidy (half brother), Jenna Benedon (half-sister), and Jamie Benedon (half-sister)
Net worth: $3 million
Who is Katie Cassidy?
Katherine Evelyn Anita Cassidy is the daughter of actor David Cassidy and fashion model Sherry William. She is the only daughter her parents had before their separation. After the duo separated, Katie Cassidy mother married Richard Benedon. Richard and her mother raised the young actress.
The actress has three half-siblings: Jenna and Jamie (stepsisters), and Beau. Beau was born in 1991 after her dad married Sue Shifrin. Katie's grandparents were actors Evelyn Ward and Jack Cassidy. She is the fraternal niece of the television producer Shaun Cassidy, actor Patrick Cassidy, and Ryan Cassidy.
Katie's father once admitted that he does not have to assume the position of her dad because he did not raise her. However, he is proud of her, and he asserts that she is very gifted.
Katie has German, English, Irish and Swiss-Germany genealogy. When she was a child, she explored music and learned how to play the piano and guitar. She also took gymnastics and acting classes.
She attended Calabasas High School, where she was California Flyers' cheerleader. Afterwards, she went to Tisch School of the Arts.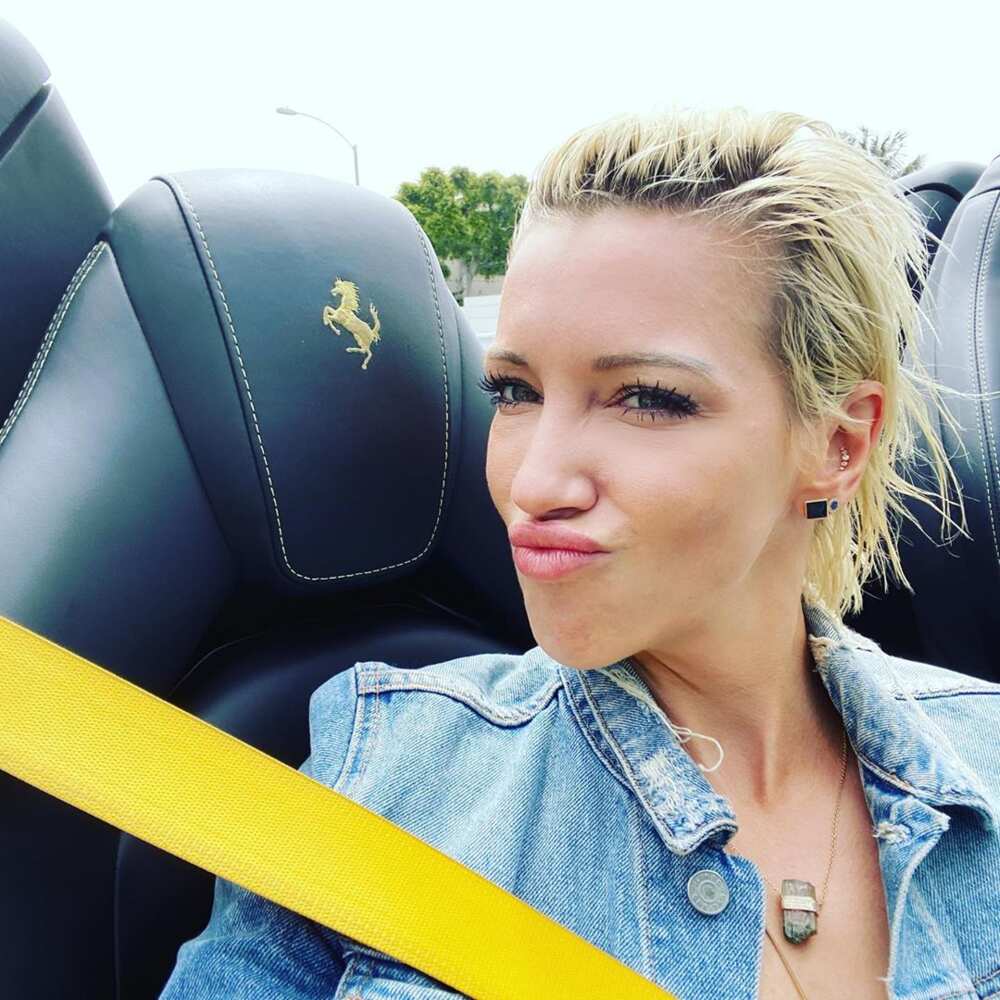 How old is Katie Cassidy?
The gorgeous Katie Cassidy age is 33 years. She was born on the 25th of November, 1986, in Los Angeles, California, USA.
What are Katie Cassidy measurements?
Katie Cassidy hot body measures 32B for her bra, while her breast size is 34 inches, and her waist is 24 inches. Also, for her hips, she measures 34 inches, and she weighs 54 kilograms. So, how tall is Katie Cassidy? She is 5 feet and 7 inches, an equivalence of 170 centimeters in height.
Acting career
Cassidy made her television and acting debut in 2003 in an episode of The Division. Afterwards, she played a character in a few episodes of 7th Heaven and Sex and Love & Secrets. In 2006, she featured in When a Stranger Calls and The Lost.
Cassidy also played the role of Ruby in the horror television program Supernatural, which ran from 2007 to 2008. Additionally, she appeared in Spin and Live the same year.
In 2009, she featured as Patricia "Trish" Wellington in horror mystery TV series Harper's Island. The same year, she joined the cast of the drama Melrose Place.
She starred in the film remake A Nightmare on Elm Street in 2010. In it, she played the character of Kris Fowles, a high school student who became a victim to Freddy Krueger. Based on the success of the film, the star actress received a nomination for a Teen Choice Award under the category of Horror/Thriller Actress for her role.
From 2010 to 2012, Cassidy appeared in the program Gossip Girl, assuming the character of Juliet Sharp. During that time, she also featured in the film Monte Carlo. Additionally, the actress played Dinah Laurel Lance and Black Canary in the series Arrow in 2012.
In 2014, she played the character of Suki in the thriller movie The Scribbler. After this, she appeared in three episodes of The Flash and two episodes of Legends of Tomorrow. Cassidy also had a voice role in the web series Vixen in 2016.
Katie Cassidy movies and TV shows
The actress has featured in several movies and series since her TV show debut in 2003. A list of some of the movies and television shows where she has featured include the following:
Arrow (2012-2020): She featured in 152 episodes playing the characters of Laurel Lance, Black Siren, and Black Canary
Grace (2018): She took the role of Dawn Walsh
The Flash (2015-2018): Katie featured in three episodes as Laurel Lance, Siren X, and Black Siren
Cover Versions (2018): She was Jackie
Hidden Agenda (2017): In the video game, she played the voice of Becky Marnie
Vixen: The Movie (2017): She played the voice of Black Canary and Laurel Lance in the movie.
DC's Legends of Tomorrow (2016-2017): She acted the character of Laurel Lance in two episodes of the series
Vixen (2016): She was Black Canary and Laurel Lance in five of all the episodes
Wolves at the Door (2016): She took up the role of Sharon
Superhero Fight Club (2015): In the short TV show, she was known as Black Canary
Kill for Me (2013): She acted as Amanda Rowe
Gossip Girl (2010-2012): She played the role of Juliet Sharp in 12 episodes of the television series
New Girl (2011): She only featured in an episode as Brooke
Monte Carlo (2011): Katie was Emma
Georgetown (2011): She performed the character of Nikki Argo
A Nightmare on Elm Street (2010): She acted as Kris Fowles
Melrose Place (2009-2010): She featured in 18 episodes of the television series as Ella Simms
Harper's Island (2009): In the TV series, she starred as Trish Wellington in 13 episodes
Supernatural (2007-2008): She starred as Ruby and Lilith in six episodes
Walk the Talk (2007): She was Jessie
Live! (2007): She played the role of Jewel
Spin (2007): Katie was known as Apple
The Lost (2006): She was Dee Dee
When a Stranger Calls (2006): She played the character of Tiffany
Sex, Love & Secrets (2005): In the television series, she featured in two episodes as Gabrielle
7th Heaven (2005): In the four episodes that she featured, she played the character of Zoe
Listen Up (2005): Katie played as Rebecca in an episode of the TV series
The Division (2003): She took the role of Young Candace 'C.D' DeLorenzo in an episode
Why did Katie Cassidy leave Arrow?
There is no stated reason why Katie left the series for a while. According to showrunner Beth Schwartz, he said, "Katie does not leave the show; she comes back this season. It appears like [she leaves], but it's not true. She's still [part of the show]."
Katie Cassidy tattoos
If you have been watching the actress on the screen, you must have noticed that she has some tattoos on her body. Her love for tattoos is glaring, no doubt. Katie Cassidy tattooed the word "warrior" with a beautiful font on her left hand and another writing on her ankle.
More so, on her finger is inked a flock of birds. She also has an anchor symbol on her ankle and writing underneath her breast. There is an inscription her hip, lines on her forearm and writing on her wrist.
Is Katie Cassidy married?
Kate Cassidy is currently married to her sweetheart Matthew Rodgers. After dating for some time, they became engaged in 2017 and then legally married in December 2018 at Florida. However, their relationship is about to hit bottom as Katie filed for divorce.
According to People, Katie visited the Los Angeles Superior court on the 8th of January, 2020, to annul the marriage, stating irreconcilable differences as the cause. Katie Cassidy husband has not said anything about the new development. Also, news about their eventual divorce has not been shared yet.
However, before her union with Rodgers, Katie Cassidy dating history shows that she had been relationships with several men in the past. Dana Brunetti was Katie Cassidy boyfriend, and they dated between 2014 and 2016. This was after her two years relationship with Jason Garrison ended in 2014.
Other men that she had dated include Jarret Stoll (2010-2011), Sasha Vujacic (2009), Jesse McCartney (2004-2007) and Greg Raposo (2002-2003).
What is the truth about Katie Cassidy plastic surgery?
Fans of Arrow were perplexed considering Katie Cassidy's transformation between seasons 1 and 2. While some kept asking whether Katie Cassidy surgery went terrible or not, some were concerned if she was battling with illness.
Initially, Katie was naturally stunning, but her face later looks unnatural. Unfortunately, neither she nor her representative has responded to the allegations. An unverified report claims that she had a minor nose job.
There is also speculation that Katie Cassidy weight loss seems to be the cause of the change. In the second season of Arrow, she wanted to depict the effect of drug and alcohol on Laurel as practical as possible, so she shed off a ton of weight.
Afterwards, she has been consistent with her exercise, always sharing her workout routine with fans on Instagram, and it seems like she loves her current physique.
What is Katie Cassidy's net worth?
According to Celebrity Net Worth, Katie Cassidy net worth is estimated at 3 million dollars. She accumulated her fortunes by featuring in movies and television shows.
Katie Cassidy has achieved so much since she started her acting career. The 33-year-old actress seems to enjoy her chosen profession.
Source: Legit.ng