June Shannon bio: age, net worth, daughters, transformation
June Shannon does not need much of introduction, especially if you have either watched the television reality series, Toddlers and Tiaras or Here Comes Honey Boo Boo. When she played on Toddlers and Tiaras together with her daughter Alana, she entered into the spotlight. Then, after the TV personality launched the Shannon family reality TV, she became more prominent. However, the unfortunate thing is that fame did not come without unveiling some errors in her past.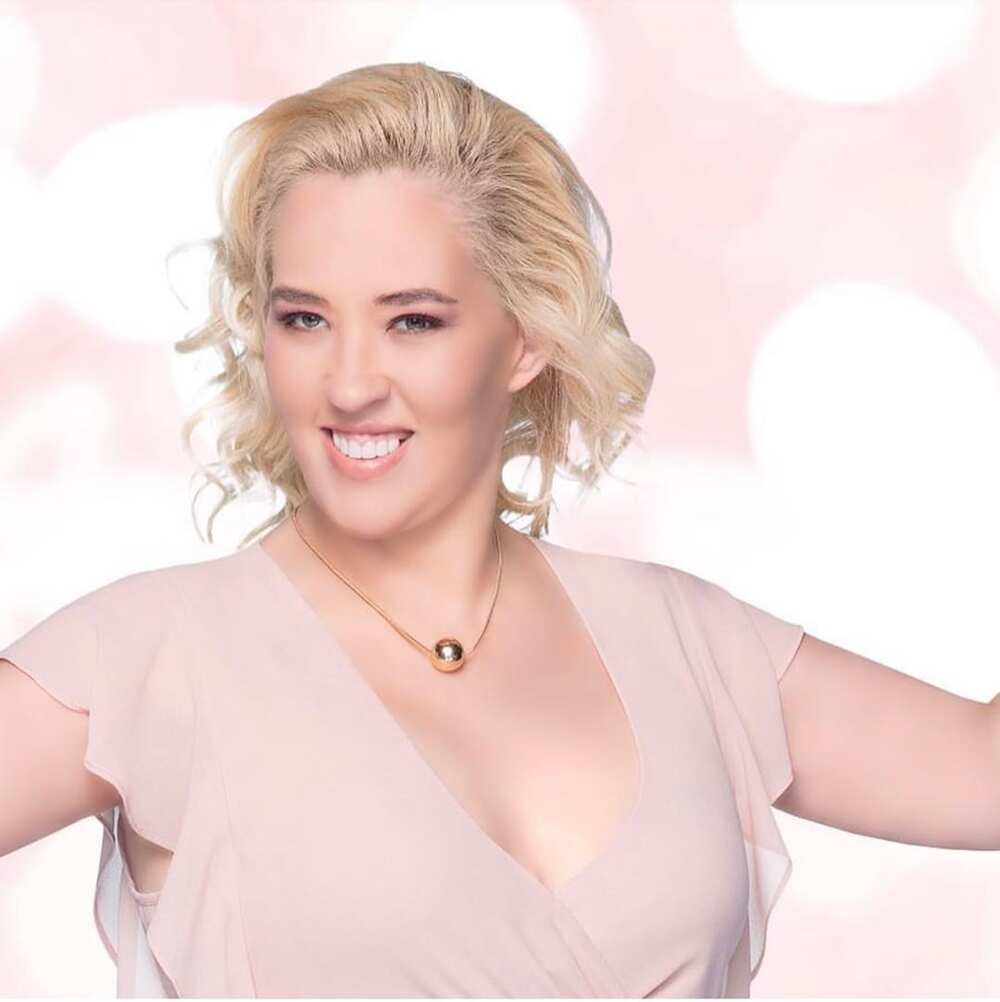 Now being famous, June has gone through some downtimes in life. Apart from her parents divorcing when she was only two years, she was exposed to the wrong side of life at an early age so that while still a teenager, she was already the mother of a child. The following paragraphs discuss her life, career, and who Mama June today is.
Profile summary of June Shannon
Full name: June Edith Shannon
Nickname: Mama June
Date of birth: 10th of August, 1979
Age: 40 years old
Nationality: American
Place of birth: Mclyntre, Georgia, United States
Marital status: Single
Boyfriend: Geno Doak
Sexual orientation: Bisexual
Height: 1.63 m
Weight: 62 kg
Net worth: $1 million
Parents: Melvin (father) and Sandra (mother)
Children: Alana Thompson, Lauryn, Jessica, and Anna Cardwell
Sibling: Johanne, Joanie and James
Half sisters: Michelle and Nicole
June Shannon background
The matriarch of the Shannon family show was born to Melvin and Sandra Shannon in Mclyntre, Georgia, United States of America. She was faced with an emotionally-challenging childhood after her parents separated when she was only two. Honey Boo Boo mom has three siblings: Joanie, Joanne "Doe Doe" and James Edward, as well as two half-sisters: Nicole and Michelle. While schooling, unfortunately for her, June became pregnant and consequently dropped out of high school.
She gave birth to her first daughter at the age of 15. She later got General Educational Development (GED). Afterwards, she was involved in various questionable relationships and came out eventually as being bi-sexual along with her third daughter, Lauryn. Some of them are either ex-convicts or currently serving jail terms. One of them was Mark McDaniel, who has since been convicted of abusing one of Mama June daughters, Anna.
Mama June now has a new boyfriend known to be Geno Doak, and like the rest of the men she had been involved with, he is no saint. The couple was arrested on the 19th of March, 2019. Shannon's arrest was based on suspicion that she had drug paraphernalia and a controlled substance in her possession. At the same time, her boyfriend was cuffed for domestic violence and for possessing a controlled substance and drug paraphernalia.
How old is Mama June?
Mama June age is 40 years. The reality TV show host was born on the 10th of March, 1979. So, by June this year, Mama June Shannon would be celebrating her 41st birthday.
How much is June Shannon worth?
According to Wealthy Persons, June Shannon net worth is estimated at One Million Dollars. Mama June net worth is a cumulation of proceeds of all the episodes of reality shows made by the Shannon family, including her $149,000 home in Hampton, Georgia.
June Shannon career
The first time Shannon would appear on the screen was when she starred in TLC back in 2011. She, alongside Alana "Honey Boo Boo," impressed the show's fans with her activities on Toddlers and Tiaras, an episode in the show. Because of some controversial issues, in 2013, the show stopped broadcasting. However, the matriarch of the Shannon family show and "Honey Boo Boo" had become famous by then. Consequently, they launched their show which was titled Here Comes Honey Boo Boo.
The show started on the 8th of August, 2012, on TLC. Some of the issues addressed through the show include unique family recipes and weight loss challenges. The only problem that the show faced apart from the massive viewership was that it did not get positive reviews from the critics.
The popularity of the television show unveiled some negative things that the television personality had done in the past. After they had recorded four seasons of success, the show came to a halt in October 2014. The reason for this was because of charges that were raised against Mama June from Not to Hot based on her romantic affair with a known sex-offender. But good for her, the charges were denied.
Mama June transformation
The TV reality show star, in her early adulthood, could be described as obese. However, in 2016, in an effort to improve on her looks, she underwent gastric sleeve surgery, after which she lost 300 pounds out of 460 pounds. Interestingly, Mama June before and after physical appearance birthed a new reality TV series titled Mama June From Not to Hot.
Besides, she also had skin removal, which granted her the opportunity of loosing skin of about nine pounds, and breast augmentation, all of which cost about $75,000. When she commented on her transformation journey later, she said:
It's not like I'm Miss Plastic. I don't consider a tummy tuck or face skin removal 'plastic surgery.' I believe it's something that makes you feel better than you did with the skin hanging. I can promise you I'm never going back to my old size. I'm happy where I'm at.
Is Mama June pregnant?
During one of the episodes of Mama June From Not to Hot, the TV reality show star had started a "Mama June pregnant rumour''. Without any pregnancy test, she had subtly announced to her family the likelihood of a fifth child. It was a breath of fresh air to everyone involved when it was later cleared to be a misrepresentation of her recent weight, which had increased from 137 pounds to 210 pounds.
Mama June kids
Mama June's kids are four altogether, and they are all girls. The girls were born to different fathers with only Jessica and Lauryn Shannon sharing the same father, although some quarters have questioned the truth in this. Anna, Jessica, Lauryn and Alana were born in that order and have all appeared in various episodes of the Shannon family reality television series. Alana is the star whose sterling performance in Toddlers and Tiaras shot the family into limelight.
However, things have not been going smooth with the entire Shannon family based on different accusations against the mother. Recently, the TV reality show star took to her Instagram page and posted a picture of herself while lamenting how much she desires a reunion with her kids. According to her:
Well decided to get back at it im not saying im.perfect as everyday is a strugglr [sic] n some days i just want to disappear n even though me n kids arent still seeing each other n its veen [sic] very hard on all of us but i hope one day that will cgange [sic] as i want them to know i miss n love them very much.
It is no more news that June Shannon has gone through a lot within her forty years of living. Since she was a kid, she has faced several challenges in life. While she has managed to achieve fame, her past errors seem to be haunting her life, including her relationship with her current boyfriend. Unfortunately, since she sold her Hampton, Georgia, home in August 2019 for $100,000, a one-time famous June Shannon now lives in hotels.
Source: Legit.ng