Sue Bird is a famous American professional basketball player currently playing for the USA women's national basketball team. She also represents Seattle Storm in the Women's National Basketball Association (WNBA). The veteran guard has enjoyed a successful career in the popular sport, including winning numerous titles and receiving several individual awards.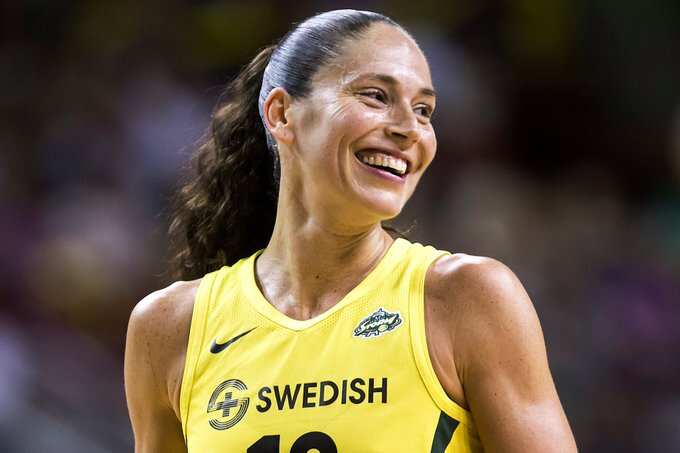 The Seattle Storm legend has also played in the Russian Basketball Super League for three clubs, and also appeared in some television series including Get Up in 2018, and NBA on ESPN in 2019. Sue has accumulated enormous wealth in her career and lives a luxurious lifestyle. What ethnicity is Sue Bird? Here are more details about her biography.
Profile summary
Birth name: Suzanne Brigit Bird
Date of birth: Oct 16, 1980
Birthplace: Syosset, New York, United States
Birth sign: Libra
Nationality: American
Ethnicity: Italian-American
Religion: Christianity.
College: University of Connecticut
High School: Christ The King High School (N.Y.)
Height: 5' 9"
Weight: 68 kgs
Profession: Professional basketball player
Team: Seattle Storm
Drafted by: Seattle Storm, 2002
WNBA experience: 18 seasons
Sue Bird Twitter: @S10Bird
Early life
Sue was born on Oct 16, 1980, in Syosset, New York. Her birth name is Suzanne Brigit Bird. Sue Bird age is 39.
Her father, Herschel Bird, is a cardiologist of Jewish ancestry, while her Christian mother, Nancy Bird, worked as a high school nurse. Sue's elder sister, Jennifer Bird, was an athlete.
The basketball star hailed her sister as her hero and described her as a caring, kind, and intelligent sister.
Where does Sue Bird live? The basketball icon currently splits her time living in Seattle, Washington, and Greenwich, New York.
Sue Bird height and body measurements
The sports personality is 5' 9" (1.75m) tall and she weighs 68kg. Her bra size is 36B. She has body measurements of 37-29-36 inches, while her eye and hair color is dark brown.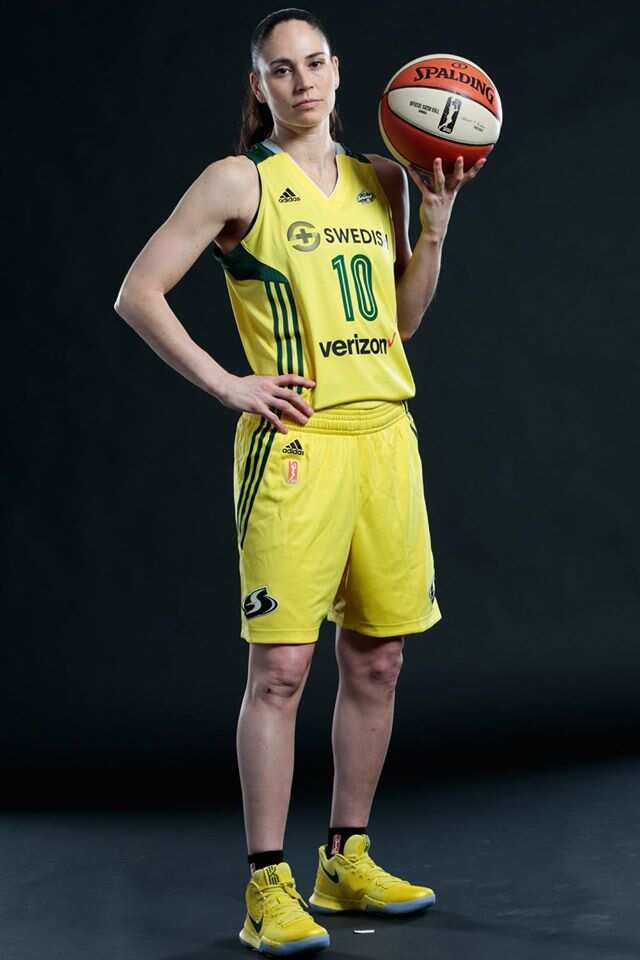 Education
Suzanne Sue Bird first attended Syosset High School for her secondary education. After completing her rookie and sophomore years, she transferred to Christ The King Regional High School in Queens and spent two seasons there.
She later joined The University of Connecticut and graduated with a degree in Communication Sciences.
Basketball career
Bird developed an interest in sports from a young age. She used to play tennis, soccer, basketball, and run track.
Early career
Sue began by competing in numerous basketball tournaments while in high school, including the WBCA High School All-America Game. She received several awards like the New York Daily News Player of the Year and the New York State Player of the Year.
In college, the talented guard continued to showcase her talent and impress her fans. She won many titles, including the Naismith Award as College Player of the Year and the Nancy Lieberman Award in 2000. She also received the Wade Trophy during her 2001–2002 senior season.
Professional career
Suzanne Sue Bird stats for the Seattle Storm and the USA Women national team speak volumes of her talent and success. She kicked off her senior career with the Seattle Storm in 2002.
Seattle Storm
She impressed in her first year in the league, making a career-high score of 33 points for the Storm in a match against the Portland Fire on Aug 9, 2002.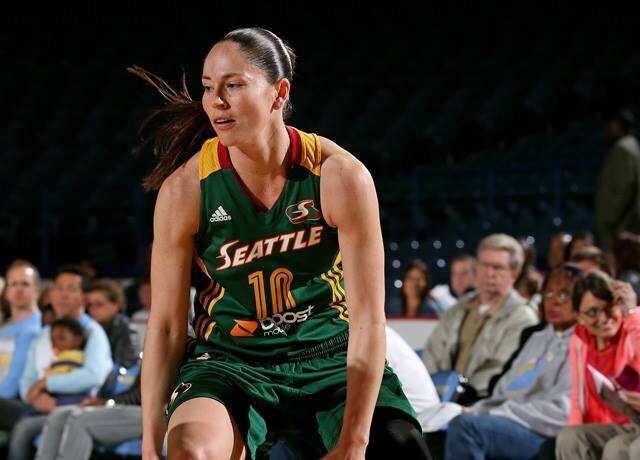 She was also the only Storm player to start in 32 games that year.
Sue Bird was also named in the All-WNBA First Team, and also became the runner-up for the Rookie of the Year Award. In 2004, she helped Seattle Storm win their first WNBA Championship.
The talented guard continued to enthral her fans but she suffered a severe injury setback in her career. She missed the entire 2013 and 2019 seasons after suffering knee injuries.
On July 8, 2018, she scored a season-high 21 points in a match against the Washington Mystics. Seattle Storm won the game by 97–91.
Is Sue Bird retiring? The 39-year-old point guard re-signed with Seattle Storm in February 2020 for her 19th season after recovering from injury.
The Storm also re-signed 2018 league MVP Breanna Stewart to strengthen their squad ahead of the 2020 league campaign. They finished third in the Western Conference, winning 18 games and losing 16.
USA national team
Bird also represented the United States national team. She was part of the 2012 Summer Olympics team that won the gold medal.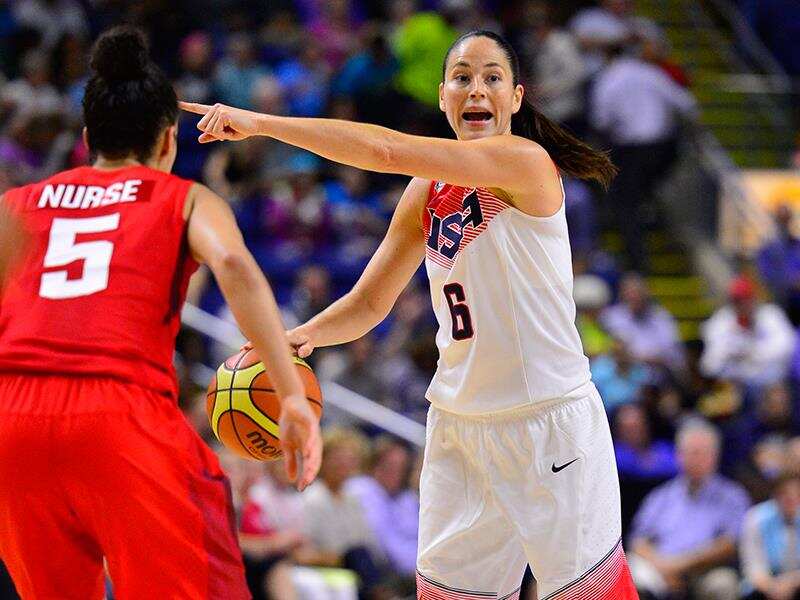 Sue also competed in the 2018 FIBA Women's Basketball World Cup held in Tenerife, Canary Islands, Spain. She has won four World Cup gold medals with the national squad.
Russia career
Sue Bird also played in Russia for three different teams during the WNBA off-season. She represented Dуnаmо Моѕсоw from 2004-2006 and assisted the team in reaching the finals of the Russian Championship.
The point guard later transferred to Spartak Moscow Region Vidnoje and played for them from 2006-2011. She was part of the squad that won the Euro League Championships during the Russian Super League. Sue also played for UММС Еkаtеrіnburg from 2011-2014.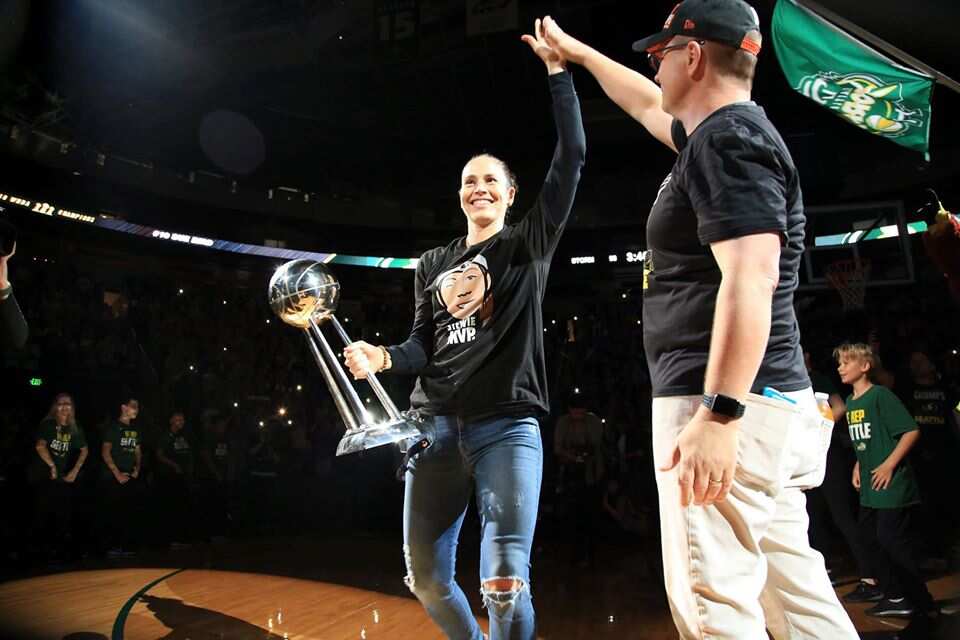 Sue Bird championships
As a professional basketball player, Sue has won numerous championships. She is a three-time WNBA Champion with the Seattle Storm (2004, 2010, 2018), and four-time FIBA World Championship gold medalist with the national team (2002, 2010, 2014, 2018). She is the sixth player to win an NCAA Championship, a WNBA Championship, and an Olympic gold medal.
Back in college, she won two NCAA Championships at UConn (2000, 2002). Sue also won the national high-school championship at Christ The King High School.
Individual records
Sue has bagged several awards as a player and has set remarkable records in the WNBA. They include:
The WNBA's all-time assists leader.
In 2002, she was named Sportswoman of the Year.
She made the WNBA All-Star team for a record eleventh time.
On Aug 5, 2017, she broke the WNBA's all-time career games by starting her 470th career game.
The 39-year-old is also a three-time WNBA Kim Perrot Sportsmanship Award winner (2018, 2017, 2011 co-winner with Ruth Riley).
Sue was named one of the 20 greatest players in WNBA history at the league's 20th-anniversary celebration in 2016.
She became Seattle's all-time leader in field goals at Los Angeles on July 25, 2017.
Bird also become the first player in WNBA history to score 5,000 career points and record 2,000 assists. She achieved the record on Aug 2, 2015, in New York, in front of friends and family.
Filmography
Sue Bird is not just talented at basketball, but she is also a good actress. The 39-year-old has starred in some episodes of TV series as herself, including:
The Shop (2020)
CBS This Morning (2020)
Always Late with Katie Nolan (2019)
NBA on ESPN (2019)
I Love You, America (2018)
Get Up (2018)
2017 WNBA All-Star Game (2017)
SportsCenter (2017)
Rio 2016: Games of the XXXI Olympiad (2016)
Wheel of Fortune (2003)
How much is Sue Bird worth?
The Seattle Storm star has earned a lot of money over the years through her career in WNBA, the US national team, and Russia. She has also made more from her endorsements. Sue Bird net worth is $5.3 million.
She is among the highest-paid WNBA Players, having made around $115,500 in the 2018 season. What is Sue Bird salary? She will be the highest-paid player at Seattle Storms, estimated to take home $215,000 as base salary during the 2020-21 season.
Sue Bird endorsements
The WNBA star signed an endorsement deal with Symetra and appeared in a TV spot for the company's Jibber Jabber campaign. She also signed a contract with Nike back in 2003.
Sue Bird Megan Rapinoe relationship
The three-time WNBA champion is in a relationship with US national soccer team co-captain, Megan Rapinoe.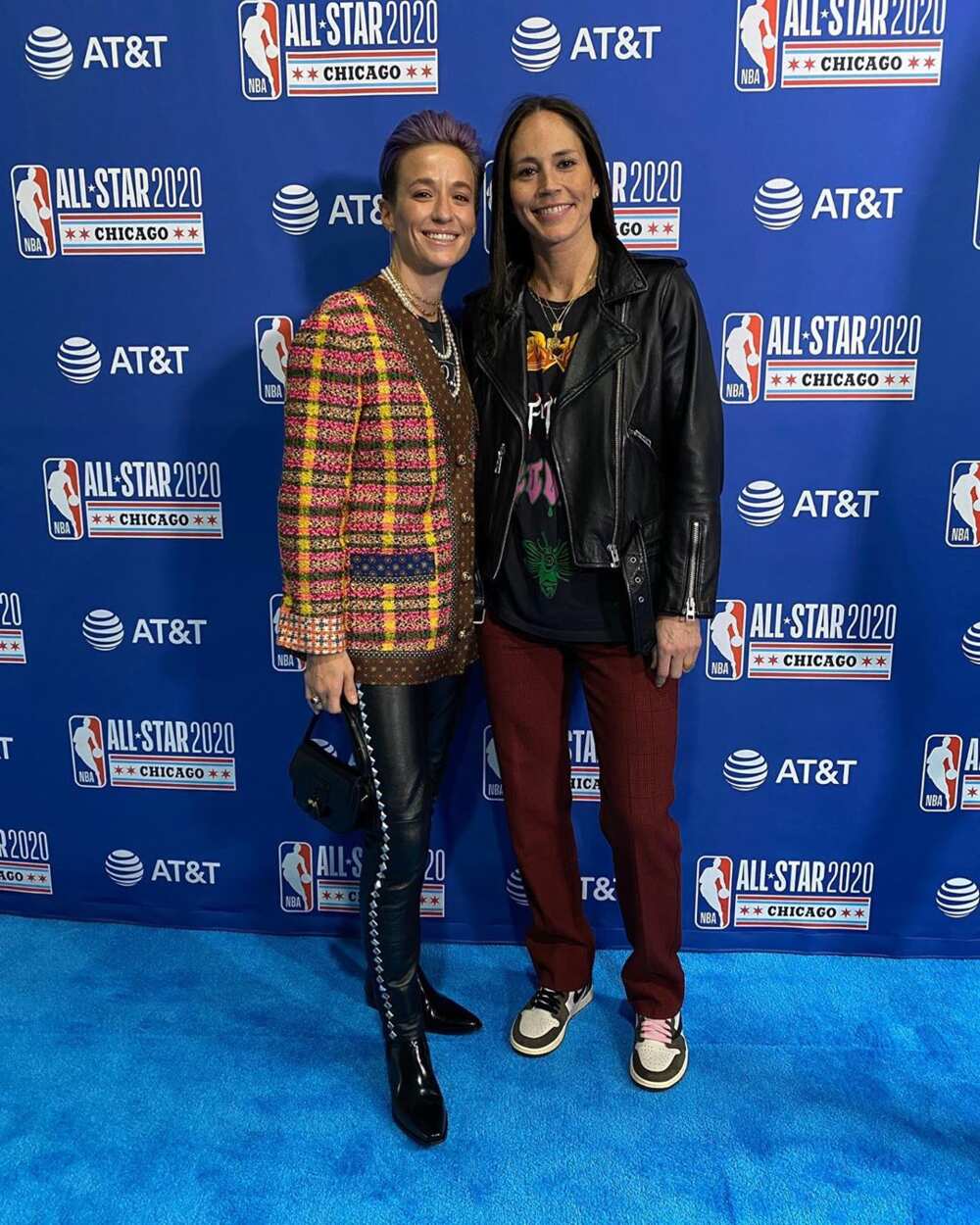 The two sports personalities started dating back in 2016, according to the Seattle Storm star. They dated for nearly one year before making it public.
Rapinoe is the daughter of James and Denise Rapinoe and the youngest of their six children. She has three sisters and two brothers.
Back in high school, she used to compete in soccer, basketball, and track and field. She has two FIFA Women's World Cup titles (2019, 2015), and one Olympics gold medal (London 2012 Olympic Games) with the national team.
Sue Bird and Megan Rapinoe made headlines in July 2019 when they publicly kissed in front of 58,000 spectators after the USA soccer team defended their World Cup title.
Sue Bird wife, Rapinoe, also confessed her love for the basketball icon on Instagram.
Rapinoe and Sue Bird pictures and their love story have drawn mixed reactions from fans and other celebrities worldwide. The two have openly advocated for equal pay and LGBTQIA+ rights, and have spoken out against past police brutality.
Other lesser-known details about the basketball star
Here are some facts about the basketball icon that you also need to know.
Bird wears jersey no.10 because she and her sister were born in October, the tenth month of the year.
She pierced her tongue back in college, which was against the school rules, but later took the piercing it out.
Sue attended the same high school with famous actress Natalie Portman for two years.
She has invested in three restaurants in Boston, namely Five Horses Tavern, Five Horses South and Worden Hall.
Bird holds both American and Israeli citizenship but opted to represent the United States in international competitions.
Soccer was her first love before pursuing her basketball career.
The 39-year-old revealed she is allergic to cats, some dogs, certain nuts, and fruit with skin.
Regarding her music preference, Sue likes hip-hop.
Her favorite basketball shoe of all time is the Uptempo by Nike.
Sue Bird had six surgeries in her left knee and two in her hips (one left, one right).
She also keeps her Olympic and FIBA World Championship medals in a safe deposit box.
Sue Bird Instagram account has 382k followers while her Facebook page has over 100k followers.
After missing the entire 2019 season due to injury, Sue Bird will return for the 2020 campaign to help Seattle Storm reclaim the WNBA title after failing to clinch it last season. Her return is also good news to the USA national team and fans ahead of the summer Tokyo Olympics games.