25 best Tinder bios we would definitely swipe right on
Online dating has quickly become the order of the day for most people. It is extremely important that you know what the best tinder bios should look like, in case you are trying to find a match. With most people taking up more than one job to meet up current lifestyle wants, it is not surprising that people with the most captivating bios are certainly the most attractive for their creativity.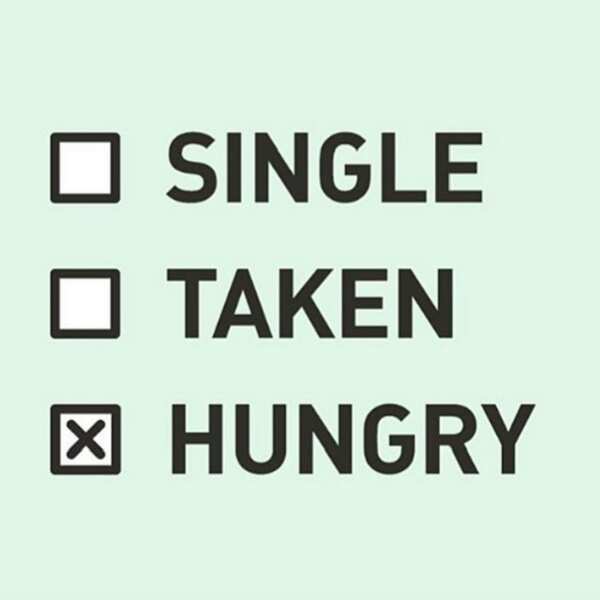 You are likely to get interested in someone whose profile is funny, witty and laid back. The idea is to connect, and if you come across as uptight, the chances are that no one will want to be linked to you. But what exactly is a great tinder bio? Unless you know what this looks like, you are likely to blow it. Consider the following examples.
Good tinder bios that will capture your interest
As you look at the best tinder bios online, a few traits seem to replicate in all of them. In most cases, the person portrays a playful and easy demeanor. Most of the users have a likable and approachable personality. The following 25 examples show what a great tinder bio should look like.
The best tinder bios to check out
This article groups the bios in different categories as follows:
Funny tinder bios
1. Sydney 24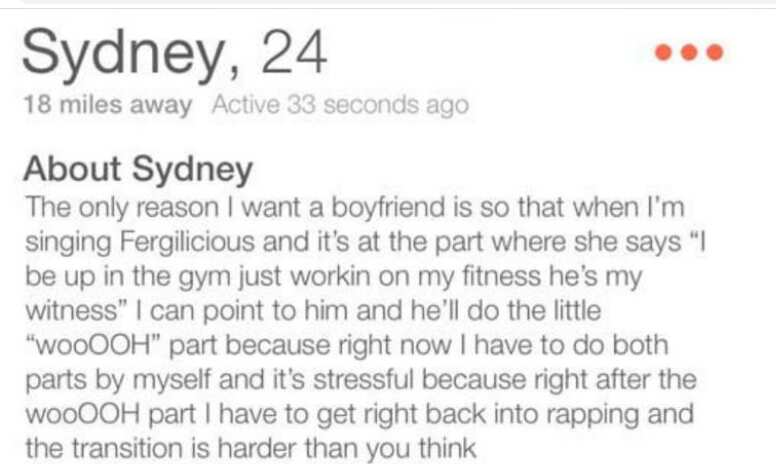 You can tell that Sydney is a girl that does not take life too seriously. She loves to have fun but she is not under pressure to couple up with anyone. Gauging from her bio, one can conclude that she would be fun to hang around. You can tell that she loves music, which would be a deal for other music lovers. The idea of her wanting a partner just to mess around and chill with is perfect. After all, all great love stories start like that.
2. James, 33

James comes off as a hilariously mysterious guy in such love. The fact that he alludes to enjoying long beach walks with a girlfriend makes him sweet. Beyond the joke, he sounds like a guy that can treat a woman right.
3. Matthew, 23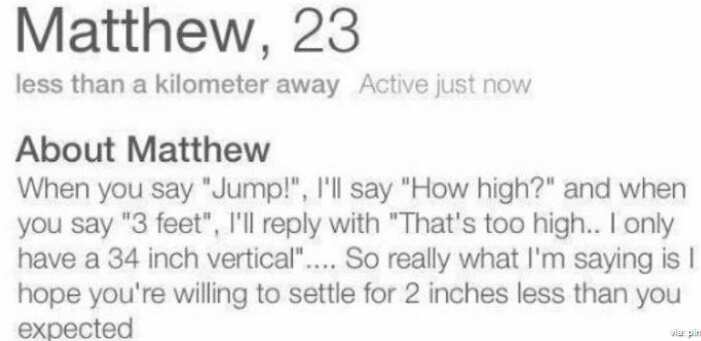 Matthew is a funny guy. He definitely will go a long way to make sure that his partner is happy. However, he expects compromise on the partner's end, in case he has shortcomings. The bottom line is that he will always be willing to oblige to the match's every need, as long as it is within his ability. You will love how he expresses himself in a hilarious way but still manages to put across an important message.
4. Skyler, 22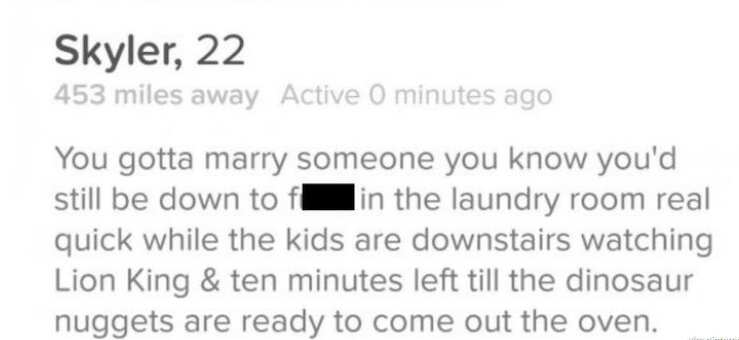 This is downright one of the best and funny dating profiles on Tinder. She does not mince words when displaying what she brings on the table. You will get the urge to marry her as she seems like the real deal. In addition to that, her sense of humor is also refreshing. Add this to all the things she says she can offer, and her humor, every man wants an efficient multi-tasker for a wife.
5. Ryan, 24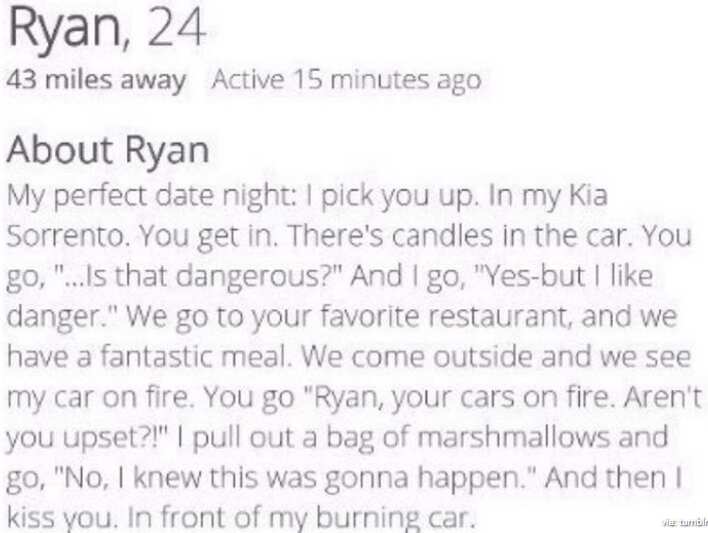 In a hilarious kind of way, you get the sense that this is the guy that will give you all the safety you need. He is the man that will make any woman feel that they are in the right place with him, even if there is danger all around. Most women will definitely want to know more about Ryan for the mere fact that he offers a sense of hope and protection.
6. Rachel, 20

This is what a great and simple profile should look like. Of all tinder bios we have come across, Rachel's is simple and straightforward. In not so many words you get to know that she is a foodie. If you enjoy taking a great meal then she would be a great match for you. After all, you are likely to learn a lot more after this.
7. Laura, 21

You will love the fact that she is clear from the start, she is not a genius and she has made peace with that fact. She wants a man that is smarter than he, of course, since she says that she does not have the energy to try harder.
8. Faraz, 25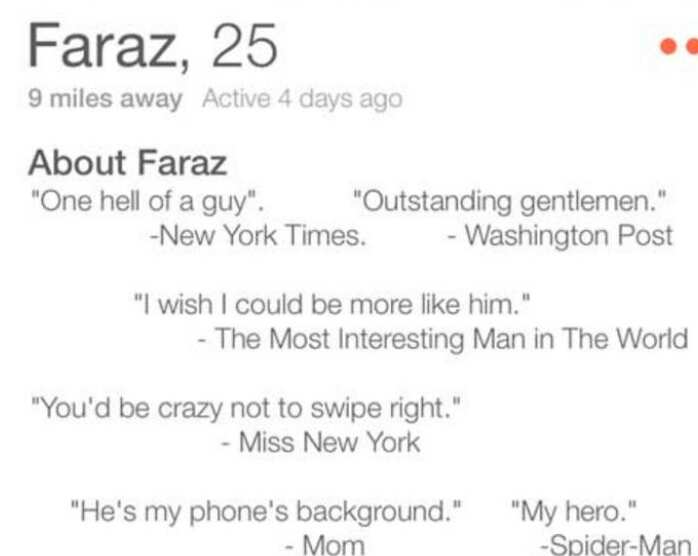 Faraz's profile sells him as a funny guy. He lets you have an idea of what people think about him from those close to him to super heroes. You can tell that you will have a great time with him just by how much he regards himself. He is a confident and hilarious chap, which is good for any man.
9. Dusty, 27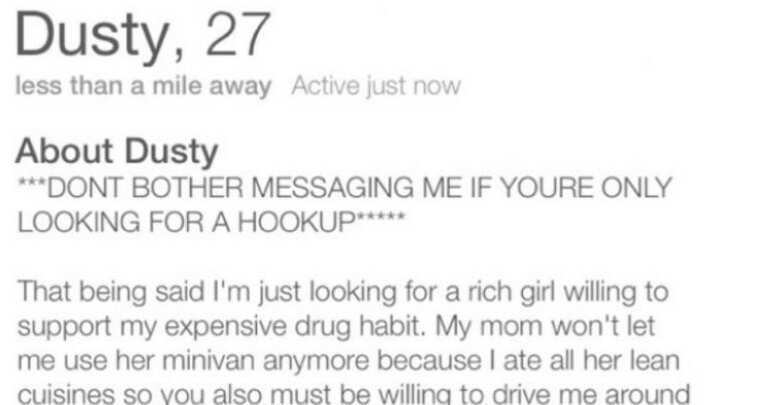 Dusty seems too demanding if only he is serious. The belief and assumption is that he is only joking as he refers to his mother and the things that he expects a woman he would be dating to have. However, unless you have a good sense of humor, he may come off as a no-go-zone.
10. Kayleen, 21

If you love her sense of humor then you will certainly swipe her. She has a lovable attitude considering the fact that she is handicapped and making the most of her situation. You will certainly fall in love with her, and this time around it won't be because of pity.
Next level funny tinder profiles
If you thought the first category of funny bios on tinder was hilarious, then you have not seen how creative people can get. The following examples will make you think about what to put on yours when you decide to create a profile. You have to think outside the box t all times.
11. Kiana, 22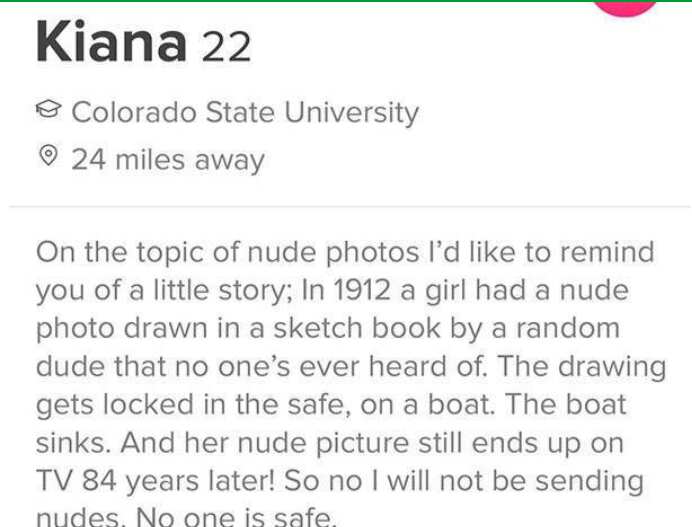 Kiana is actually categorical and smart in her delivery of a message that is important to her. No man interested in her should expect her to send flirty pictures. She has made up her mind, and coming up with a little story to back up her fears is just but a plus.
12. Amanda, 25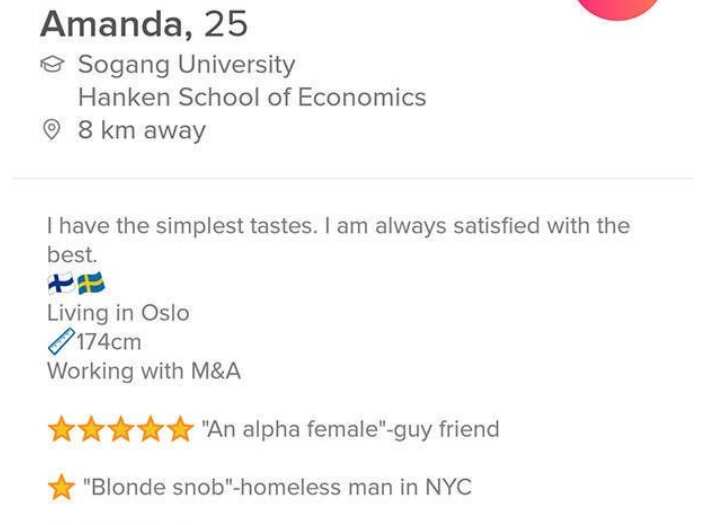 In modern times, communication is key. Amanda makes sure that all who get to her profile know both her strengths and weaknesses. She is a simple girl with simple tastes and preferences. If you are cool and easy to deal with, then you will not have trouble getting along with her.
13. Dre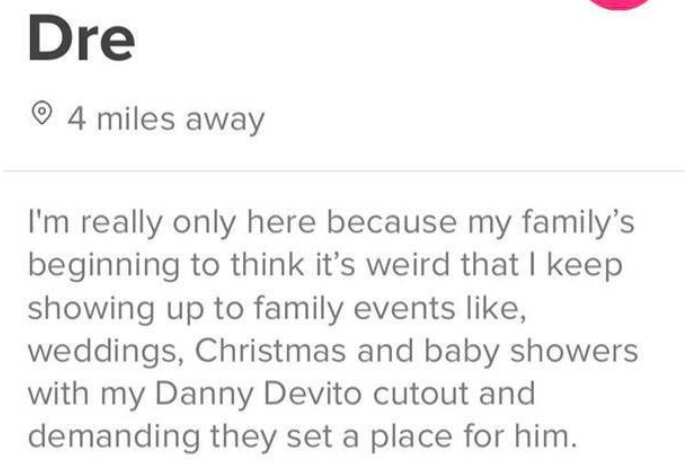 Here is a man that knows what it is to succumb to pressure from family and friends.
14. Sophie, 19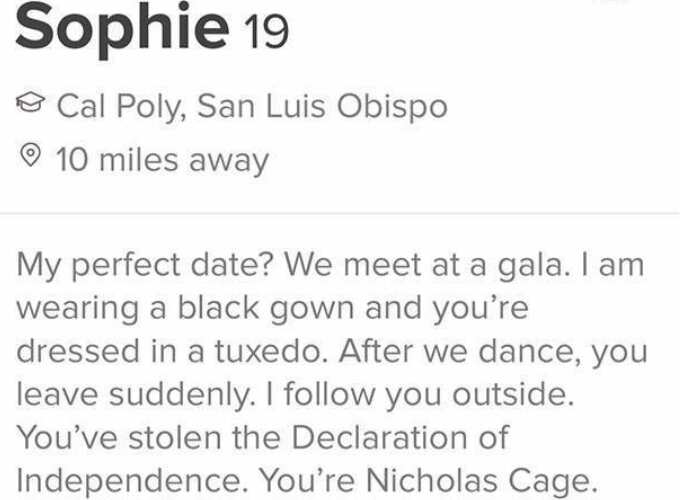 This girl has a fantastic imagination. If you feel that you can match up to her expectations of a perfect date then feel free to contact her.
15. Gabrielle, 26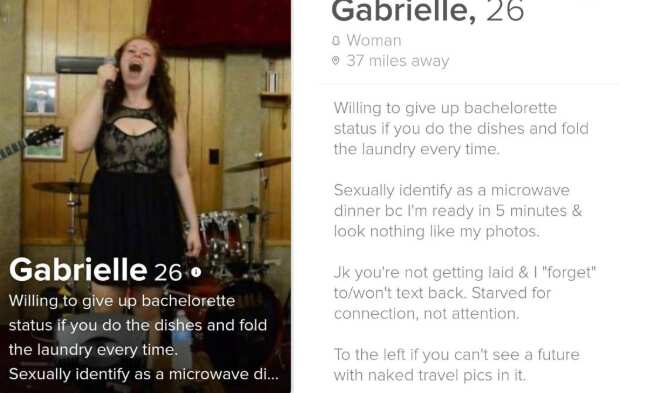 Gabrielle is a funny girl. All she wants in a man is someone to help her do her dishes and laundry. She is also not ready to send flirty pics. She can drop everything about being single as long as she gets the help she needs.
16. Judy, 77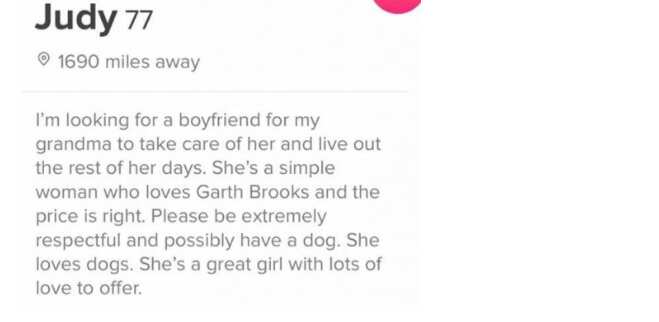 Judy has not allowed age to get into the way of her getting a partner. She may be advanced in age but youthful at heart, and that s what matters in current times. If you are respectful and do not mind spending time with an elderly lady with a lot of love, then Judy is the lady to call.
17. Alexa, 19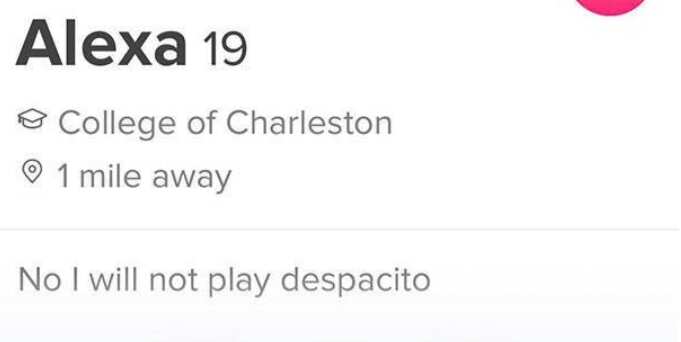 Sometimes you have to be straight to the point when going for what you want. When you know you cannot go beyond a certain point then there is no point beating around the bush.
18. Jessica 22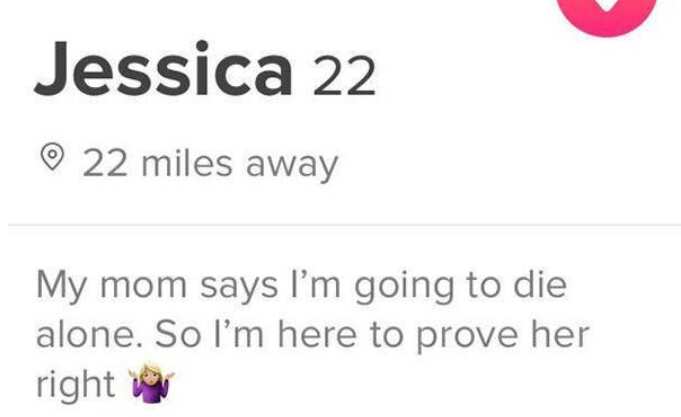 Jessica will make you get interested in her attitude. She comes off as a satirical person that can be fun to be around. Just maybe, her mom is wrong and she will find someone suitable for her.
19. Katherine, 28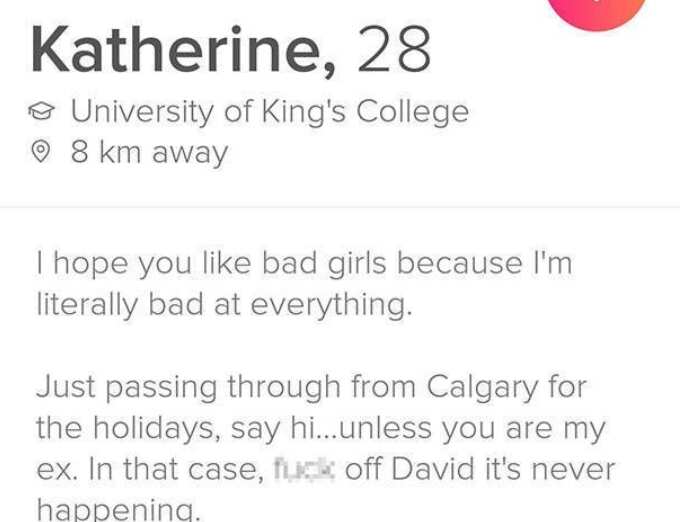 If you want a sassy woman that knows how to be in charge then Katherine may just be it. She plays with words perfectly, sending the message that she is on top of things always.
20. Molly, 21

Here is a funny girl that knows what she wants. If you want to date her, then you must be content with the fact that she will eat her banana unchewed.
21. Taylor, 23

Are you a dog girl? Here is your perfect partner. You bet that you will enjoy walking your pups and doing everything together if you date Taylor. After all, it has been said that people who love dogs are special.
22. Nathan, 21

Nathan just wants a date to stop his family from talking. At first, you may think that everything went wrong with him but that is just his sick sense of humor. If you are a girl that is comfortable with a man with a twisted sense of humor then he is your guy.
23. Evelien, 22

Here is a girl after many men's hearts. You bet she will enjoy the grilled meat you love with your friends more than the girly stuff. She is not the typical mushy woman. Her love for bacon proves that she is not afraid to add a few pounds too. Clearly, she comes off as a woman that would be fun to hang around.
24. Casey, 23
Casey hilariously narrates her last dating experience. Anyone that takes a hint knows that she is cautious but not paranoid. Very serious guy out there would be happy to take her out.
25. Eric, 34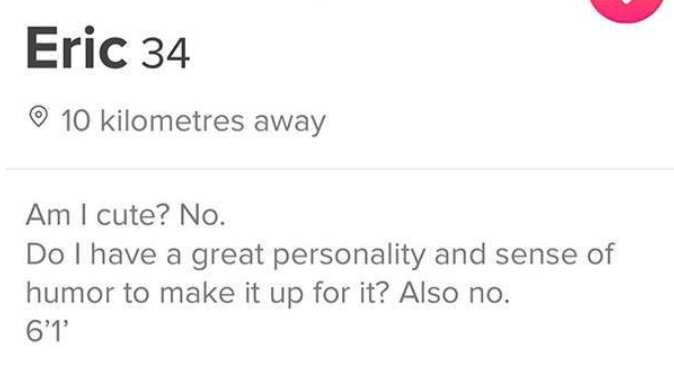 You will love Eric for his sincerity. He does not make you believe in what he cannot offer. He is confident about his height for some reason and knows that it can compensate for other things.
The above 25 profiles are some of the best tinder bios you will come across. You can learn from the ladies and guys that have some of the most hilarious profiles. Check out bios that have been presented in a sassy and exciting manner. This may be the nearest and the easiest way to tell if you will like the individual's personality.
Source: Legit.ng