30 famous Kurt Cobain quotes on love, life, politics and music
Kurt Cobain quotes express his powerful thoughts. The musician whose real name, Kurt Donald Cobain, was an American singer, songwriter, and artist. He is best remembered as a guitarist and frontman of the rock band Nirvana. He was very instrumental in the development of alternative music, especially because he is considered one of the most influential and iconic rock musicians of generation X.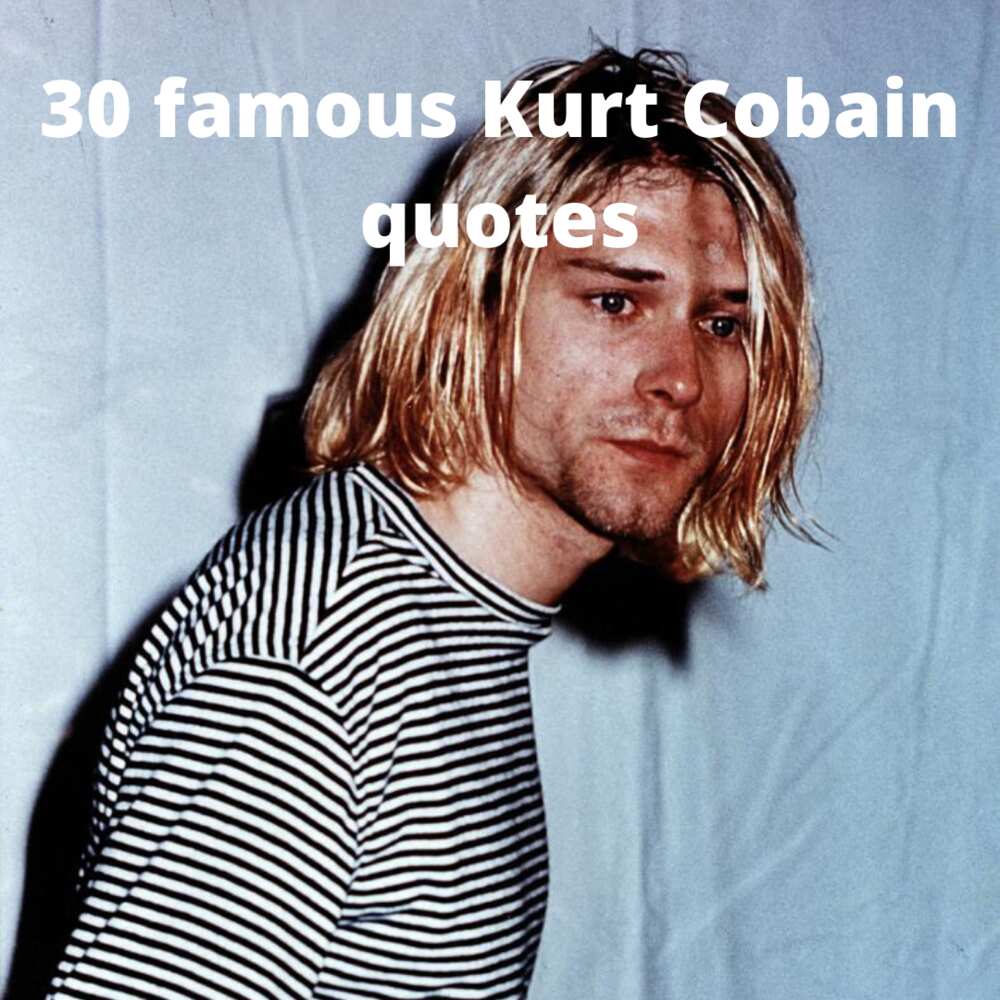 Do you have a popular Kurt Cobain quote? Even if you do not, you probably have heard about his ideas. If not, this article brings to you 30 of the most popular quotes the artists left behind as part of his legacy.
Kurt Cobain famous quotes
Kurt is known for his songs, a good example is Come as You Are. He was talented, and because of his troubled nature, he used music to express his deepest desires. A lot of his quotes capture the great idea he had. They range from general life ideas, to love and politics, not forgetting his first passion, music. Here are examples of his most famous quotes.
Practice makes perfect, but nobody's perfect, so why practice?
Do everything in moderation.
I knew I was different. I thought that I might be gay or something because I couldn't identify with any of the guys at all. None of them liked art or music. They just wanted to fight and get laid. It was many years ago but it gave me this real hatred for the average American macho male.
When you notice that you are not like many people around you, learn to embrace the differences and appreciate your strengths as opposed to hiding. Find something passionate and focus on it instead of dwelling on your difference.
I mean I like to be passionate and sincere but I also like to have fun and act like a dork. Geeks unite.
Geeks have some peculiar behaviors but that is what makes them stand out.
Rape is one of the most terrible crimes on earth and it happens every few minutes. The problem with groups who deal with rape is that they try to educate women about how to defend themselves. What really needs to be done is teaching men not to rape. Go to the source and start there.
No one should entertain rape. It may be about time that men are taught to avoid and desist from this habit.
There are a lot of things I wish I would have done, instead of just sitting around and complaining about having a boring life.
You can change a lot of things as long as you do not sit around and complain.
Kurt Cobain quotes about life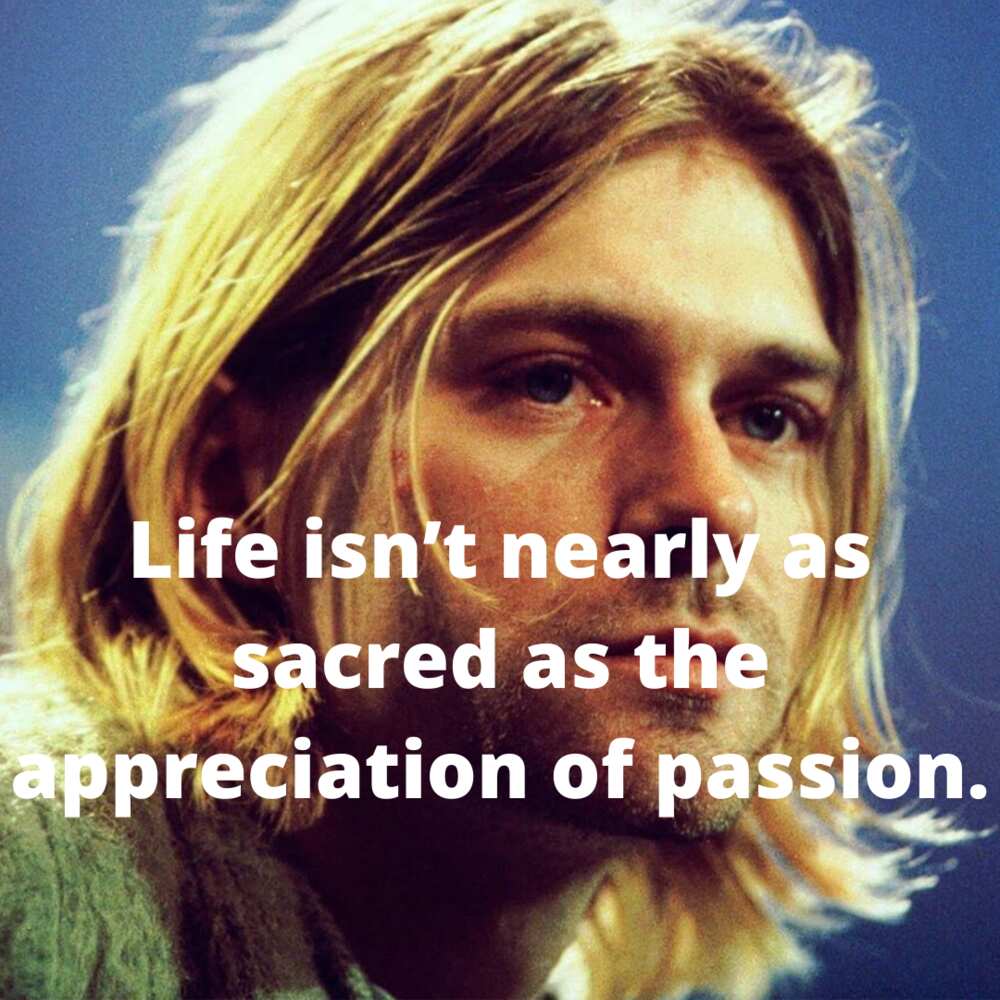 Kurt Cobain quotes on life will inspire anyone who is struggling with issues that they feel overwhelmed about. He was one of the most iconic artists of all time. Despite having died young, he remains a forced to be reckoned with. Here are some of the most popular quotes about life.
We have no right to express an opinion until we know all of the answers.
Unless you have all the facts at hand, you should not be in a hurry to judge or express your opinion blindly.
To be positive at all times is to ignore all that is important, sacred and valuable. To be negative at all times is to be threatened by ridiculousness and instant discreditably.
Find a balance between good and bad. It is in the excesses that life becomes unbalanced.
Throughout my life, I've always been really close with girls and made friends with girls. And I've always been a really sickly, feminine person anyhow, so I thought I was gay for a while because I didn't find any of the girls in my high school attractive at all.
The musician had strange feelings when growing up. He may have been troubled and hid away from the public, not doing what other boys of his age did. He too was convinced that he was gay.
Life isn't nearly as sacred as the appreciation of passion.
When you are passionate about appreciated, your life is complete.
I don't blame the average seventeen-year-old punk-rock kid for calling me a sell-out. I understand that. And maybe when they grow up a little bit, they'll realize there's more things to life than living out your rock & roll identity so righteously.
Kurt never judged those who criticized him, especially when they were young. He understood that the opposers will change their minds over time.
Just because it's all you want, doesn't mean it's all you need.
Remember that wanting something so bad does not necessarily mean that it is all you need.
Kurt Cobain political quotes
Most artists have a thing or two to say about politics in their countries. In fact, some are often so influential that leaders rely on them to influence the masses on their behalf. Kurt was no different. He had a few strong sentiments on politics when he was alive. These include:
The duty of youth is to challenge corruption.
It is the responsibility of the youth of any society to fight and condemn corruption.
I like to have strong opinions with nothing to back them up with besides my primal sincerity. I like sincerity. I lack sincerity.
If you are sincere in your thoughts and opinions, then you have nothing to worry about the strong opinions you have.
I'm a spokesman for myself. It just so happens that there's a bunch of people that are concerned with what I have to say. I find that frightening at times because I'm just as confused as most people. I don't have the answers for anything.
Be bold and represent yourself always. Let what people think about your sentiments not bother you. Everyone is entitled to their opinion.
I like to complain and do nothing to make things better.
Be the person that takes action rather than the complainant without answers.
If you ever need anything please don't hesitate to ask someone else first.
Be the kind of person that reaches out for help before suffering on your own.
The worst crime is faking it.
Anyone that fakes anything is committing a crime upon themselves.
Kurt Cobain quotes on love
Kurt Cobain quotes about love are emotional and moving. He spoke about love in a passionate manner, that most people still identify with his words even today. Whether it was in his singing or thoughts, it was clear that Cobain valued the idea of love. Here are a few quotes that capture his expression of the same.
There's good in all of us and I think I simply love people too much, so much that it makes me feel too fucking sad.
All human beings have a lot of love in them. What differs is how they express it.
No one is afraid of heights, they're afraid of falling down. No one is afraid of saying I love you, they're afraid of the answer.
Many people would easily confirm their love for others. However, what holds most of them back is the possibility of being rejected or not getting a similar answer back.
I'd rather be hated for who I am, than loved for who I am not.
Being true to yourself is more important than being loved for nothing.
My songs have always been frustrating themes, relationships that I've had. And now that I'm in love, I expect it to be really happy, or at least there won't be half as much anger as there was.
Kurt always expressed his feelings in every song he sang. If he was in love he expressed it.
I had a really good childhood up until I was nine, then a classic case of divorce really affected me.
Divorce hurts kids deeper than most parents will ever realize.
Kurt Cobain quotes about music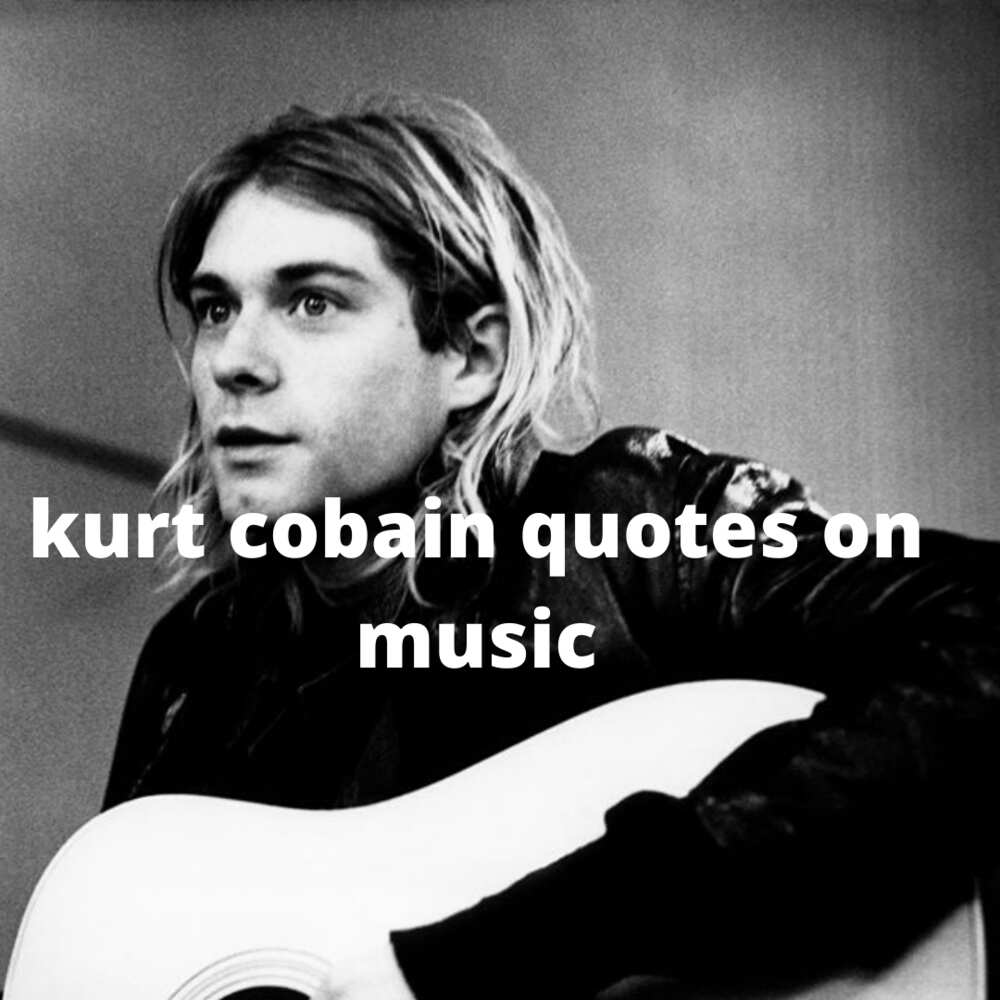 Kurt Cobain quotes on music are probably his major sayings. He was an excellent musician who expressed his feelings and emotions at any moment through his lyrics. He was loved and cherished because he remained true to himself and did not hesitate to make all around him see how passionate he was about his music. Here are a few of his musical quotes you may want to know.
Out of all the guitars in the whole world, the Fender Mustang is my favorite. They're cheap and totally inefficient, and they sound like crap and are very small.
All guitars sound great. Be keen about choosing the right one.
Music is first, lyrics are secondary.
The most important thing is the song and not the words.
Because there is nothing in the world I like more than pure underground music....
Have an appreciation for raw music that many people will easily dismiss.
You know what I hate about rock? I hate tie-dyed tee shirts. I wouldn't wear a tie-dyed tee shirt unless it was dyed with the urine of Phil Collins and the blood of Jerry Garcia
Fashion for musicians was defined in the past. Only those with the power to defy these rules stand out.
Words suck. I mean, everything has been said. Words aren't as important as the energy derived from music, especially live.
Live music is the ultimate form of musical entertainment. Embrace it and enjoy.
Music is energy. A mood, atmosphere. Feeling.
Music is everything. It makes you feel powerful, and full of energy.
The above mentioned Kurt Cobain quotes are the most inspiring quotes from the late singer. He was a passionate singer, a person that lived to honor his talent. He was also real in his thoughts and convictions. He was never ashamed of standing out, even if it meant standing alone.
Source: Legit.ng