Dennis Quaid bio: age, net worth, spouse, children
Making it in Hollywood is hard enough. It is even harder staying relevant once you have achieved stardom. Dennis Quaid has been in the movie industry since 1975 and he is still featuring in movies to date. How does he do it?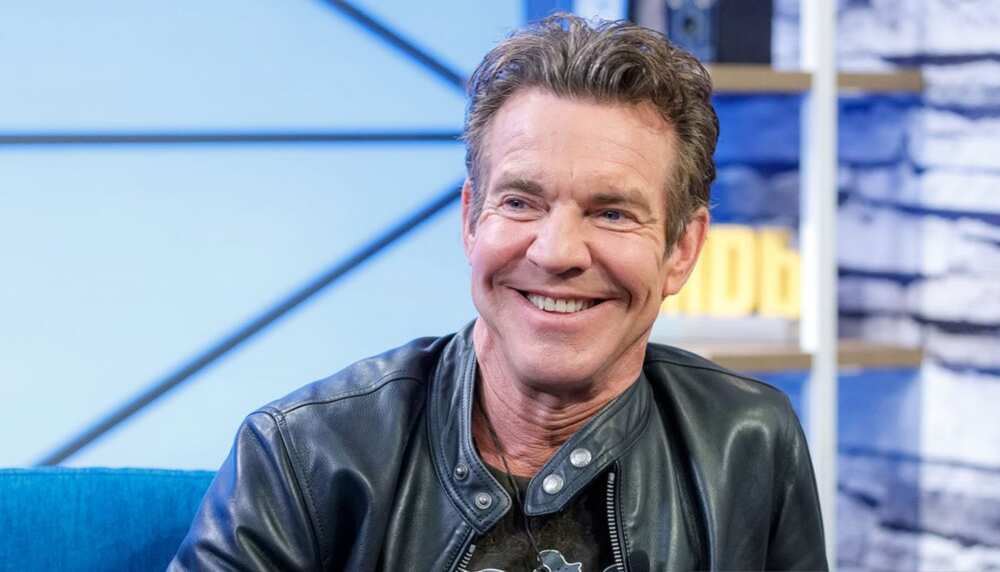 The actor/musician is among the most famous faces and names of our time. Since his debut in Hollywood, he has starred in incredible movies such as The Parent Trap, Breaking Away, Frequency, Enemy Mine and many more. Is he married? How many kids does he have?
Dennis Quaid profile summary
Name: Dennis William Quaid
Birthdate: 9th April 1954
Place of birth: Houston, Texas - USA
Zodiac sign: Aries
Nationality: American
Siblings: Randy Quaid, Buddy and Brandy Quaid
Ethnicity: Caucasian
Dennis Quaid height: 6 ft (183 cm)
Weight: 86 kg (189 pounds)
Eye colour: Blue
Hair colour: Brown
Profession: Actor, producer, director, and singer
Dennis Quaid's background
He was born in Houston, Texas, in the suburban city of Bellaire. His parents, Juanita Bonniedale, aka Jordan, and William Rudy Quaid were a real estate agent and an electrician respectively. Young Dennis Quaid was raised in the Baptist church and he attended Bellaire High School where he studied Mandarin and dance.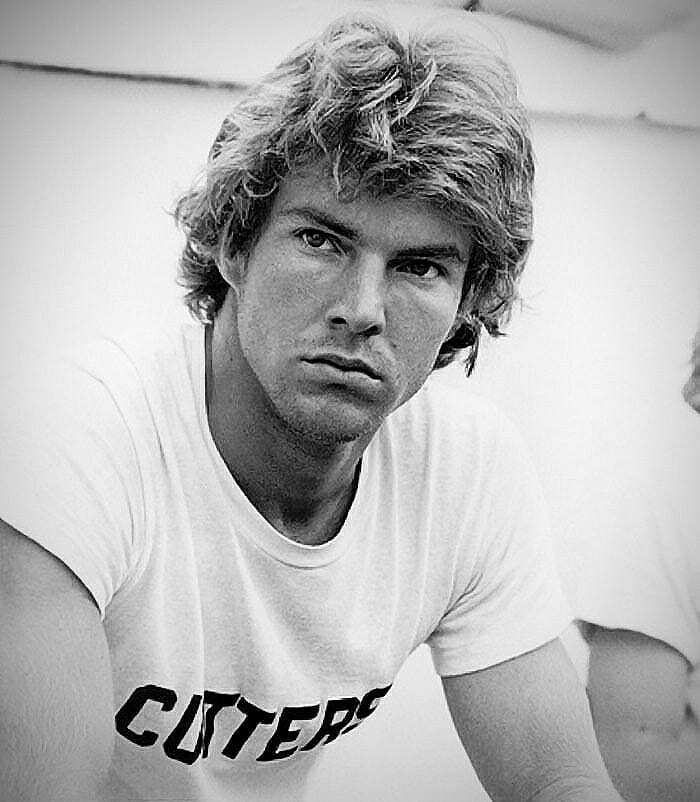 After graduating high school, he enrolled at the University of Houston but dropped out before he could get his degree as he wanted to be an actor. After dropping out, he went to Los Angeles to join his older brother and pursue acting as a career. Despite this bold move, he always feared that he had made a mistake.
Everybody has fear and, of course, I was afraid things wouldn't work out. But I had an even greater fear of being stuck behind a desk my whole life, doing something I hate. So the greater fear won out, and that pushed me to at least try for what I wanted.
This fear and doubt propelled him in his first years in the acting industry. He had trouble finding work but despite this, he continued to put in the necessary time and work. He eventually got his big break in movies such as Breaking Away and The Right Stuff. These roles propelled him to become the great and legendary actor that we know today.
Despite being in his sixties, the star is still a very handsome man. He has always been handsome. In 1987, Dennis Quaid young told The Washington Post that while many considered him a heartthrob, he did not like the term. He felt as if that label would hinder his acting.
The star enjoyed great roles and success in the 1980s but the 1990s were not very good to him. The actor developed an intense cocaine addiction. He would use 2 grams of the illegal substance a day. Thankfully, he eventually got himself into a rehab facility after he experienced a "white-light moment" where he saw himself lose everything he had and his life.
Dennis Quaid age
How old is Dennis Quaid? The star is currently 65 years old. He was born on 9th April 1954.
Dennis Quaid brother
The star's older brother is also a celebrity in his own right. Randy Randall Rudy Quaid was born on 1st October 1950. Randy is an American film and television actor as well as a producer. He started acting in 1971 and is among the most recognized actors today.
Randall has also been recognized for his acting prowess as he has been nominated and even won several awards such as the BAFTA Awards, Emmy Awards, Academy Awards and the Golden Globes.
Despite his incredible movie career, the star has not had an easy life. In 2017, he revealed that he had been sexually assaulted when he was 5-years-old. He has also had a slew of legal problems over the years. The star and his wife had sought asylum in Canada after they believed that they were being targeted but were later deported back to the United States.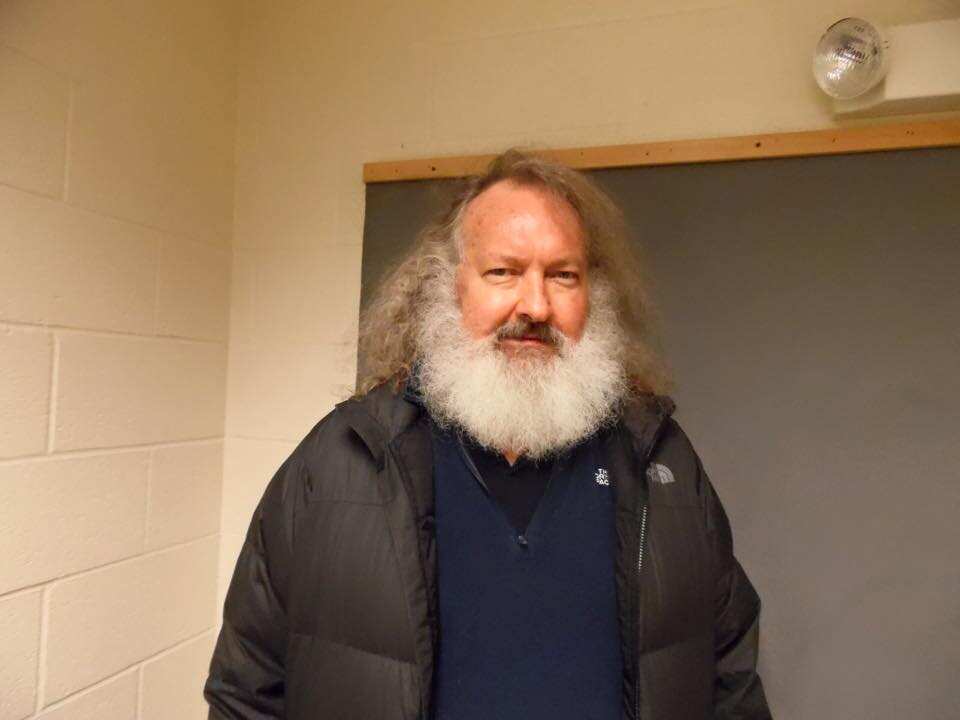 His younger half-brother, Buddy John Quaid, was born on 26th November 1974 and is also an actor by profession.
Dennis Quaid wife
The star has been married and divorced thrice before. The actor and P.J. Soles got married in 1978. She was Dennis Quaid wife from 25th November 1978 until their divorce in 1983.
He married his second wife, Meg Ryan, on Valentine's Day in 1991. They stayed together for 10 years before they got divorced in 2001. Like most Hollywood marriages and divorces, their relationship and the end of it were highly publicized. Five years later, in 2006, Meg spoke about how the publicity affected her. Despite their divorce, the star still has love for his ex-wife. He said,
Sure I still love her. I'm very fond of her and we have a lot of fun. We spent 13 good years together. We had a kid together and we shared so much: she made my life.
In 2004, he married Kimberly Buffington and they stayed together until their divorce last year (2018). In 2012, Kimberly filed for divorce. The documents cited
"The marriage has become insupportable because of discord or conflict of personalities...that destroys the legitimate ends of the marriage relationship and prevents any reasonable expectation of reconciliation."
Dennis Quaid children
From his second and third marriages, the actor was blessed with three children.
Jack Quaid
Dennis Quaid son was born on 24th April 1992. He and Meg Ryan had him before their divorce. He is currently 27-years-old and is an actor like his parents.
Dennis Quaid twins
Thomas Bonnie and Zoe Grace Quaid were born in November 2007. The actor and his then-wife and mother to his children, Kimberly, almost lost them due to a medical mistake. The kids were accidentally given a massive dose of the blood thinner - Heparin and spent days fighting for their lives. They survived and are now their father's pride and joy.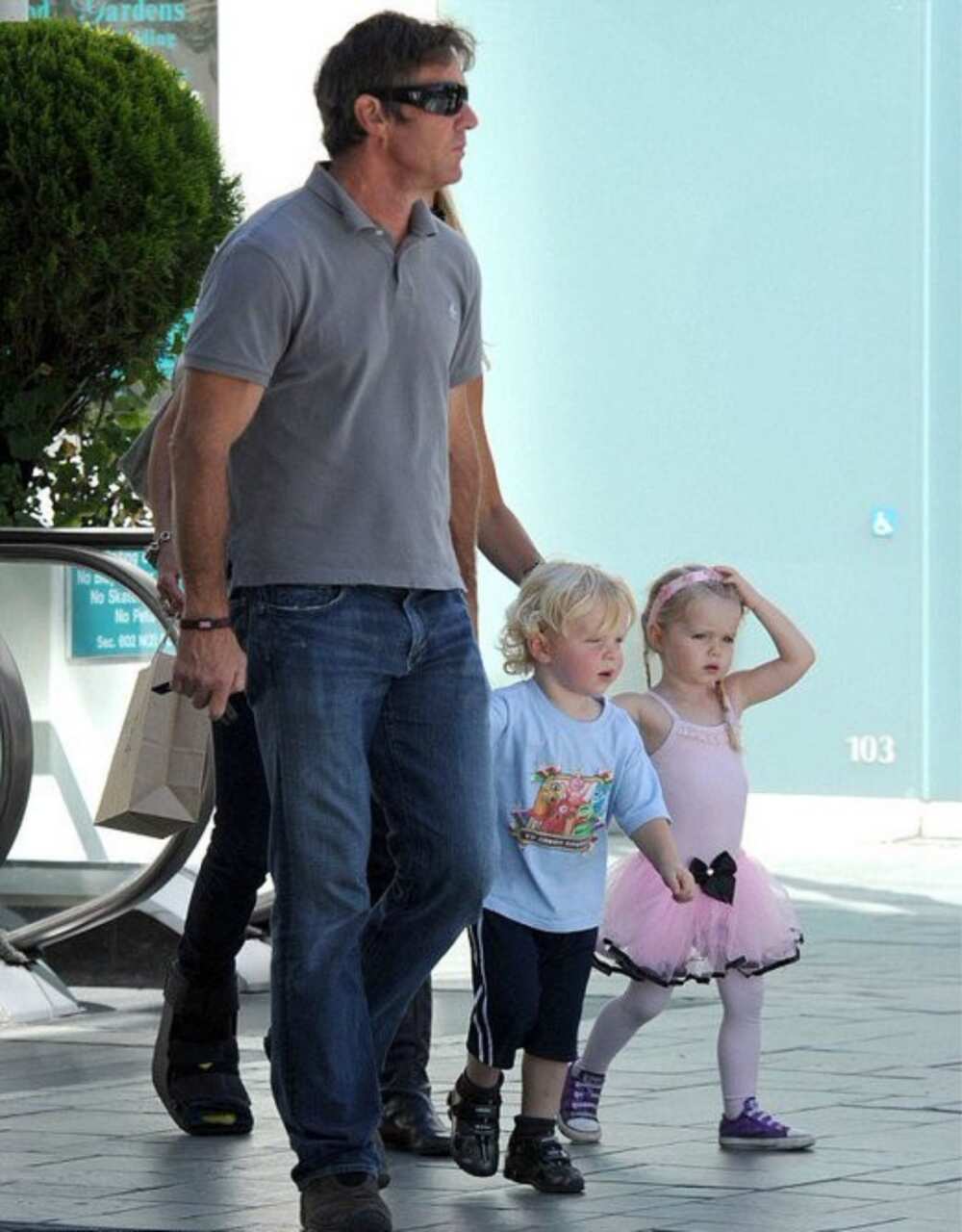 Dennis Quaid spouse
Shortly after his break-up from long-time girlfriend Santa Auzina, the actor started dating 26-year-old PhD student Laura Savoie. Dennis Quaid girlfriend is originally from St. Louis, Missouri. She is a very well-read young woman.
Laura has an undergraduate degree from Pepperdine University, a Masters degree from the University of Notre Dame and is now pursuing her PhD in Accounting at the University of Texas at Austin's McCombs School of Business.
The two got engaged while in Oahu, at Turtle Bay in Hawaii. The actor said that it had been very spontaneous.
I had the ring in my pocket… It has been kind of a month-and-a-half plan… I wanted it to be private. It was very much a surprise. She was taking a selfie of us, and I put the ring in front of her and said, 'Will you marry me?' — and then she fell down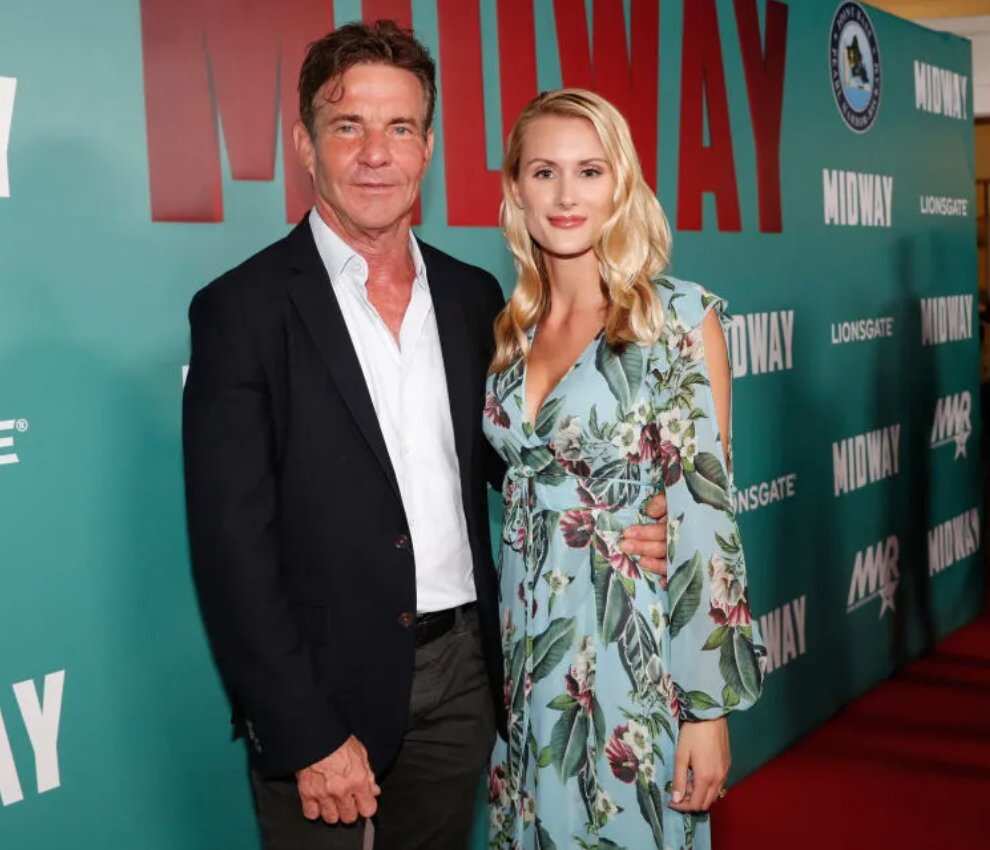 His new fiance is a year younger than his eldest child, Jack.
Dennis Quaid net worth
Like many in his field, the actor gets most of his earnings from his acting. As of 2019, the celebrity's net worth is $30 million. In 2018, it was revealed that the star earns about $1.3 million per year.
He has also had several endorsement deals over the years that have helped him increase his overall net worth. He also does appearances and anyone wishing to hire or book him for an appearance would have to pay $75,000 - $149,999.
Dennis Quaid plastic surgery
While the actor has not spoken publicly about the plastic surgery rumours, people have suspected that the actor/singer has had some cosmetic work done. The only evidence as to him having had work done is that the skin on his face looks very smooth.
The man is in his sixties and skin at this age normally has a lot of wrinkles. His before and after photos also show tightening of the skin and a more pronounced chin.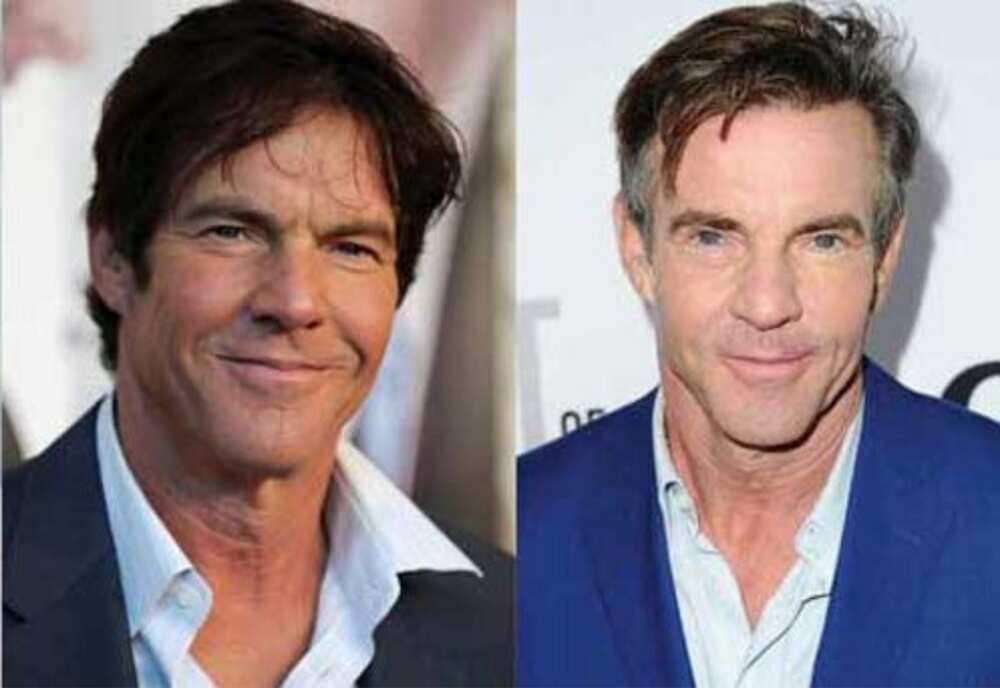 Since there is no solid evidence as to his alleged cosmetic surgery, people suspect that the celebrity got botox - a very common procedure in Hollywood, or he might have gotten a facelift. People also suspect that he had work done to get rid of his eye bags.
Dennis Quaid has certainly gone through a lot in his life, from a low start in his career to a life-threatening drug addiction and publicized divorces. He has seen and done it all. Now as he is sober and getting married again, we wish him the best.
Source: Legit.ng