75 romantic good morning text messages and quotes for her
We all love. We love to be loved and wish to have that one person that loves us back as much as we do them. Love is the feeling that makes the world go round. When in-love we are always thinking about the other person and wish that they are thinking about us too. Good morning messages are a way to let them know that we slept well, dreamt of them and woke up thinking about them.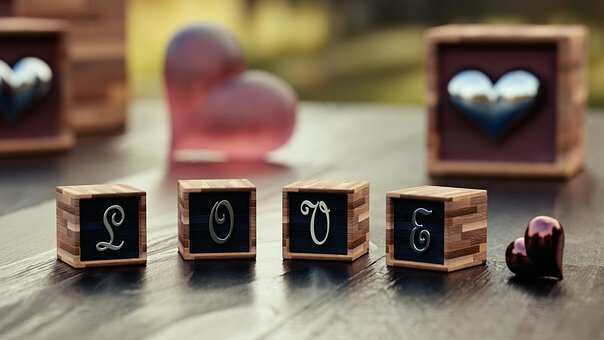 Nothing makes a girl feel special and loved than waking up to a good morning message or quote for her that is romantic. A simple sweet good morning message can brighten her day and have her walking around with a smile and a great mood for the rest of the day. Here are the best 75 romantic good morning texts and quotes for you to send to her.
READ ALSO: 50 happy new month messages, wishes, prayers and quotes
Good morning text messages for her
You are the reason I wake up each day with a smile on my face. I hope that your morning is as bright and gorgeous as your smile.
While the rest of the world prays for wealth and riches, I only pray that you wake up feeling amazing. Good morning, beautiful. I slept dreaming of you. I love you.
I hope your day is filled with as much happiness as you brought into my life when you came into it.
Hey baby. Your thoughts were with me throughout the night that I couldn't wait for morning to tell you how much I miss and love you.
Here is a good morning message to my love. Know that your love gives me a reason to wake up each morning, smile, face challenges and succeed.
Each dawn I thank the lord for two great gifts. My life and you, my love.
Despite what they all say. Our love is proof that true love does still exist.
Just wanted to let you know that my life has become extraordinary because of you. Have a great day ahead.
Every morning I take a few minutes to think about your smile. It is the best part of you. Good morning sweetheart. Wishing you a great day full of your beautiful smile.
Every day when I wake up and remember that you are mine, I feel amazing!! Good morning love.
Sweet good morning messages for her
Good morning angel. I hope your day will be as lovely as you are.
Good morning my queen. Hope you have a marvellous day that is fit for a queen.
I may not really like mornings, but I really like you. Good morning to my love.
You are my wildest, sweetest and happiest dream come true. Have a great day sweetheart.
Since you aren't here, I'm sending hugs and kisses your way this morning. Have a good day honey.
I never want a day to pass without me telling you how much you mean to me. Good morning my love. You are amazing, and I am grateful that you are in my life.
I've made the reconciliation that there is nobody else for me but you. I am so in love with you, and I hope you know this. I want to be with you forever and tell you good morning every day when I wake up.
Mornings will come and go with every sunrise and sunset, but we will always be together. Good morning baby. Have a lovely day.
I no longer crave my morning coffee to properly wake me up. Just the thought of your beautiful face is enough to make me look forward to the rest of my day. Good morning, baby.
Even the brightest of suns cannot compare to your smile. Good morning, my love.
Everything is on standstill because the most beautiful woman on earth is not awake yet, wake up pretty and light up the world with your beauty. Good morning, baby.
If my life were a business then the most profitable decision was loving and marrying you. Good morning, my lovely wife.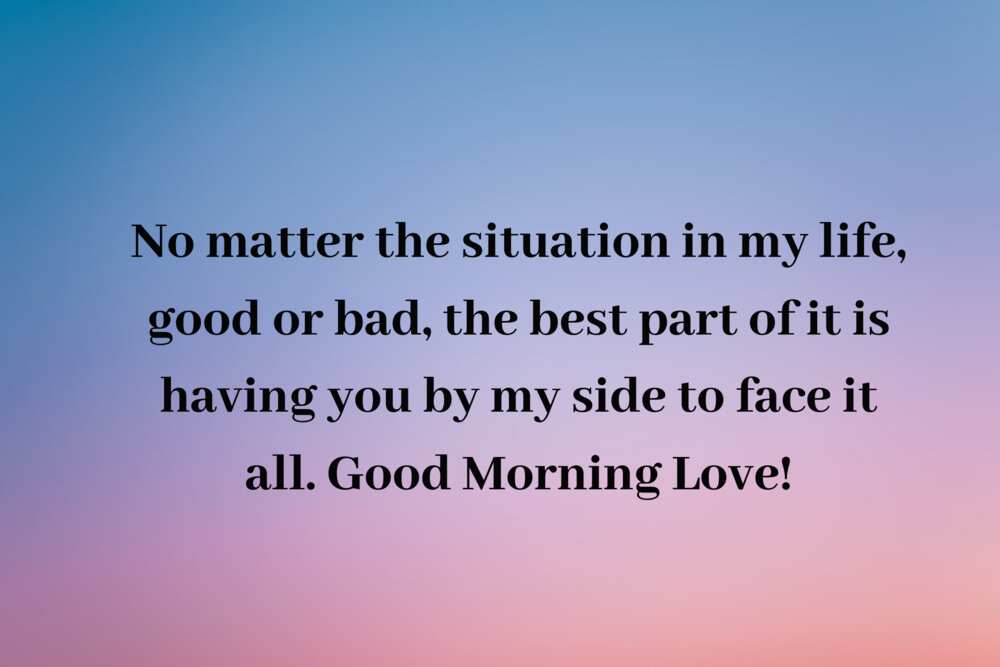 No matter the situation in my life, good or bad, the best part of it all is having you by side to face it all. Good morning, love.
Your sweet teddy bear misses you, I can't wait for our date tonight.
Wake up, baby. Flowers, smiles and laughter are waiting for you.
You are my shining light in the darkness that is the world. I love you, sweetheart.
The best feeling is goosebumps from your kisses, I want to feel them for the rest of my life. Good morning, honey.
The breeze on my face makes me think of you. The warmth of the sun on my skin reminds me of your touch. The bird songs remind me of your voice. Good morning, baby.
Breathing to me is as natural as loving you. Good morning, Hun.
That beautiful bird singing near your window is my messenger who agreed to help me wish a good morning to you.
I fill this day with unconditional love, burning passion, hours of laughter and endless happiness just for you.
Every dawn is a joy because it's another chance to see your bright smile, penetrating eyes and sweet lips.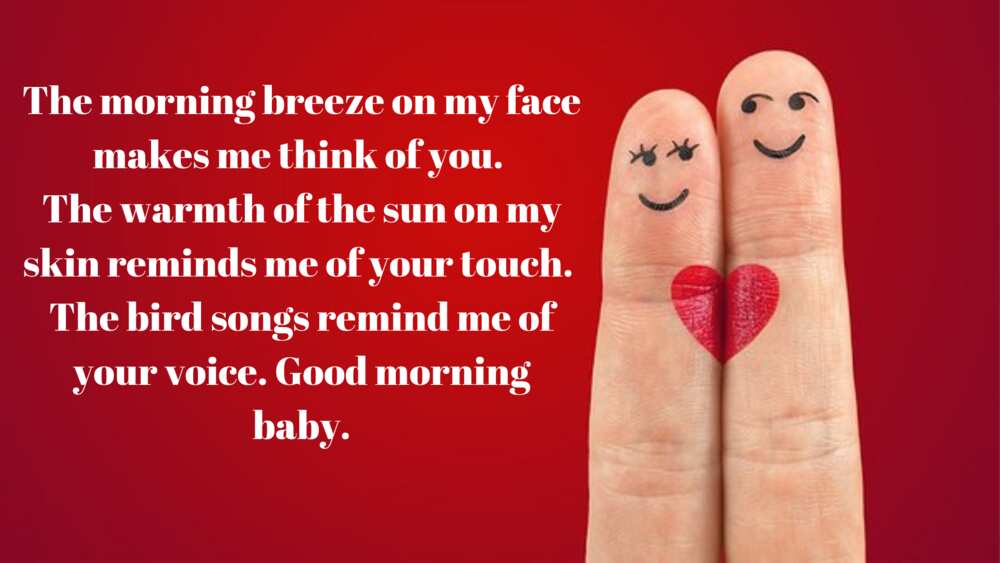 Good morning to the girl of my dreams.
The only reason that the sun rises is to see your beautiful smile.
Good morning dear. I just want to put my heart in writing and express how much you mean to me and how I choose to spend the rest of my life with you.
My soul meets your soul every time I kiss you. Good morning, love.
Just one hour of you and your love is worth an age of dully living on.
I may doubt that the stars are fire, doubt that the sun moves, but I will never doubt my love for you. Have a great day.
Your love for me is pure as snow on a winter morning, warm as the summer and as fresh as spring and beautiful as the leaves in autumn.
I waited all my life to love you and now that I have, I will never let a day pass without letting you know how much I love you. Have a great day, baby.
Whatever our souls are made of, yours and mine are the same. Have a lovely day, pretty.
I thought my life was perfect before I met you. Then I met you. Loving you has made me better. It has made me wiser, lighter and brighter. Now my life really is perfection. Have a great day, honey.
It is better to have loved and lost than to have never loved at all. I am glad to have loved, and I will never accept losing you. Wishing you a lovely day, love.
The flavour of your kiss stayed with me all the way home last night and bled into my dreams. All because of you, I woke up with my head in the clouds and my heart in the sky. Good morning baby.
As the sun's rays creep through the blinds, being with you is the only thing on my mind. I love you.
Morning has come, and I miss you. It's true, and though you're not near me, I'm full of love for you.
I'd like my morning way better if my mornings started with you here with me.
Look at how brightly the sun shines this morning, and you will know the extent to which my love for you shines.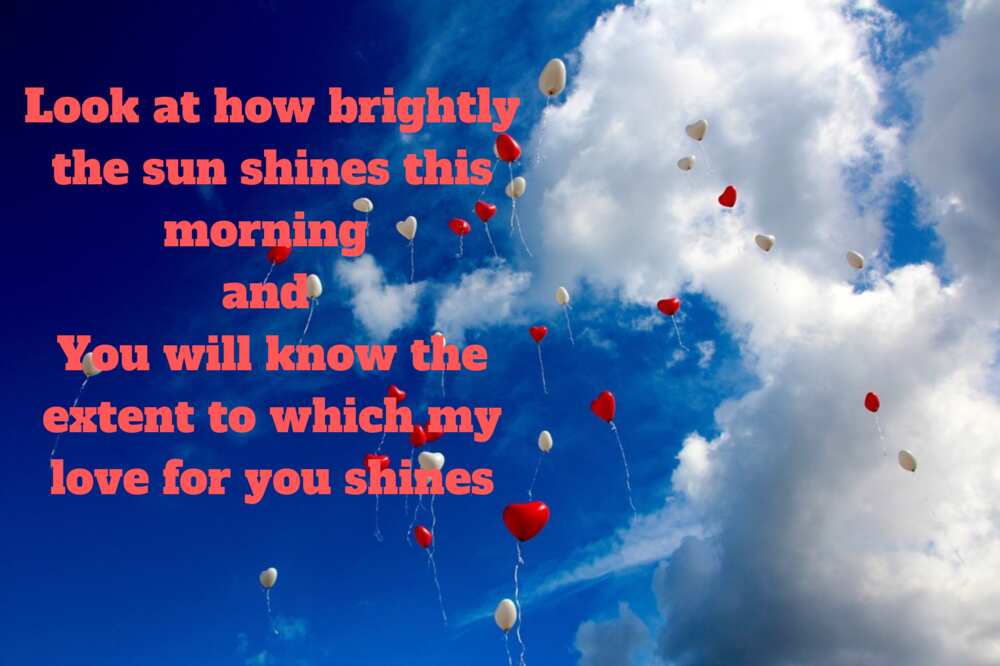 The best thing about this morning is that you're mine. The worst thing about this morning is that I'm so far away from you.
Just as the sun lights up the day, you light up my life.
My precious love, I wish you a beautiful day filled with love, sunshine and loads of luck so that you may return to home with a heart full of happiness and the brightest of smiles.
Sweetheart, before you step out to begin your day, I want you to know that you are the most amazing treasure in my life and I cherish you dearly. Have a fabulously blissful day.
Romantic quotes for her
While romantic text messages are a good thing to wake up to, some girls prefer a beautiful romantic quote. If your girlfriend loves books then she will definitely love the following romantic good morning quotes. They show that you were paying attention when she mentioned the books that she absolutely loves and that you took your time to look them up.
"I would rather spend one lifetime with you, than face all the ages of this world alone" – J.R.R Tolkien
"Morning without you is a dwindled dawn" – Emily Dickinson
"I realized I was thinking of you, and I began to wonder how long you'd been on my mind. Then it occurred to me. Since I met you, you've never left" – Unknown
"You should be kissed and kissed often, and by someone who knows how" – Margaret Mitchell
"I am nothing special; just a common man with common thoughts, and I've led a common life. There are no monuments dedicated to me and my name will soon be forgotten. But in one respect I have succeeded as gloriously as anyone who's ever lived: I've loved another with all my heart and soul; and to me, this has always been enough." – Nicholas Sparks
"In vain I have struggled. It will not do. My feelings will not be repressed. You must allow me to tell you how ardently I admire and love you." – Jane Austen
Good morning. I don't know what is more romantic, the thought of seeing you today or the dream that I had about you last night.
Sometimes I wish that there was no alarm clock because that is the only device that wakes me up when I'm dreaming of you.
Mornings are the start of a new day. I will live each day renewing our love.
"I've never had a moment's doubt. I love you. I believe in you completely. You are my dearest one. My reason for life." – Ian McEwan.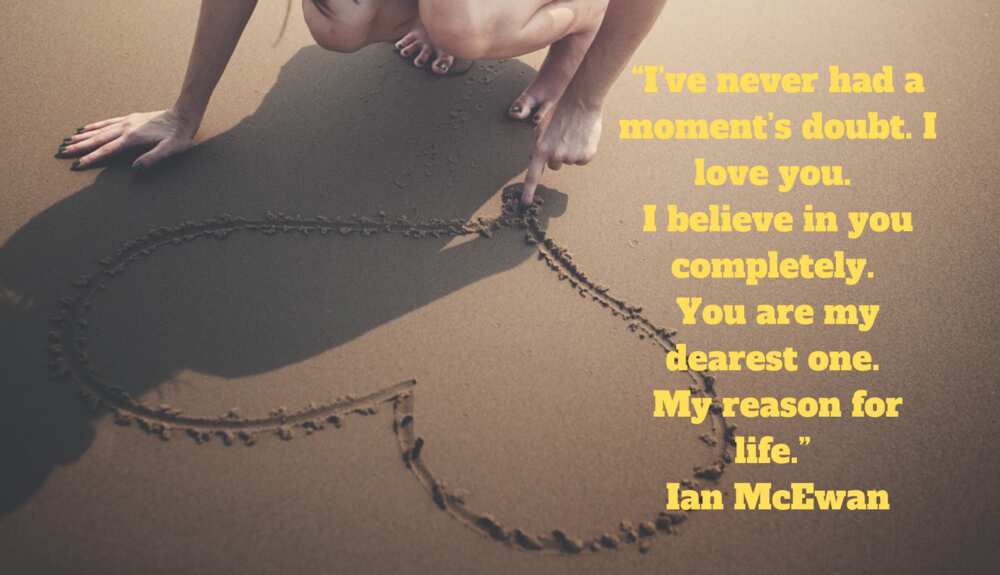 "You are my heart, my life, my one and only thought" – Arthur Conan Doyle
"I can't sleep, I can't eat, I can't do anything but think about you. At night I dream of you, all day I wait to see you, and when I do see you my heart turns over and I think I will faint with desire." – Phillipa Gregory
"You are sunlight through a window, which I stand in, warmed. My darling" – Jessie Burton
"She is a mortal danger to all men. She is beautiful without knowing it and possesses charms that she's not even aware of. She is like a trap set by nature - a sweet perfumed rose in whose petals Cupid lurks in ambush! Anyone who has seen her smile has known perfection. She instills grace in every common thing and divinity in every careless gesture. Venus in her shell was never so lovely, and Diana in the forest never so graceful as my Lady" – Edmond Rostand
"When I first saw you were more than human to me. You were a Fairy, a Sylph, I didn't know what you were - anything that no one ever saw, and everything that everybody ever wanted. I was swallowed up in an abyss of love in an instant. There was no pausing on the brink; no looking down, or looking back; I was gone, headlong, before I had sense to say a word to you." - Charles Dickens
"Every atom of your flesh is as dear to me as my own: in pain and sickness it would still be dear" – Charlotte Bronte
You and I, it's as though we were taught to kiss in heaven and sent down to earth together to see if we know what we were taught
"Now, I'm not going to deny that I was aware of your beauty. But the point is, this has nothing to do with your beauty. As I got to know you, I began to realize that beauty was the least of your qualities. I became fascinated by your goodness. I was drawn in by it. I didn't understand what was happening to me. And it was only when I began to feel actual, physical pain every time you left the room that it finally dawned on me: I was in love, for the first time in my life. I knew it was hopeless, but that didn't matter to me. And it's not that I want to have you. All I want is to deserve you." – Choderlos de Laclos
"I would love to say that you make me weak in the knees but to be quite upfront and completely truthful you make my body forget it has knees at all." – Tyler Knott Gregson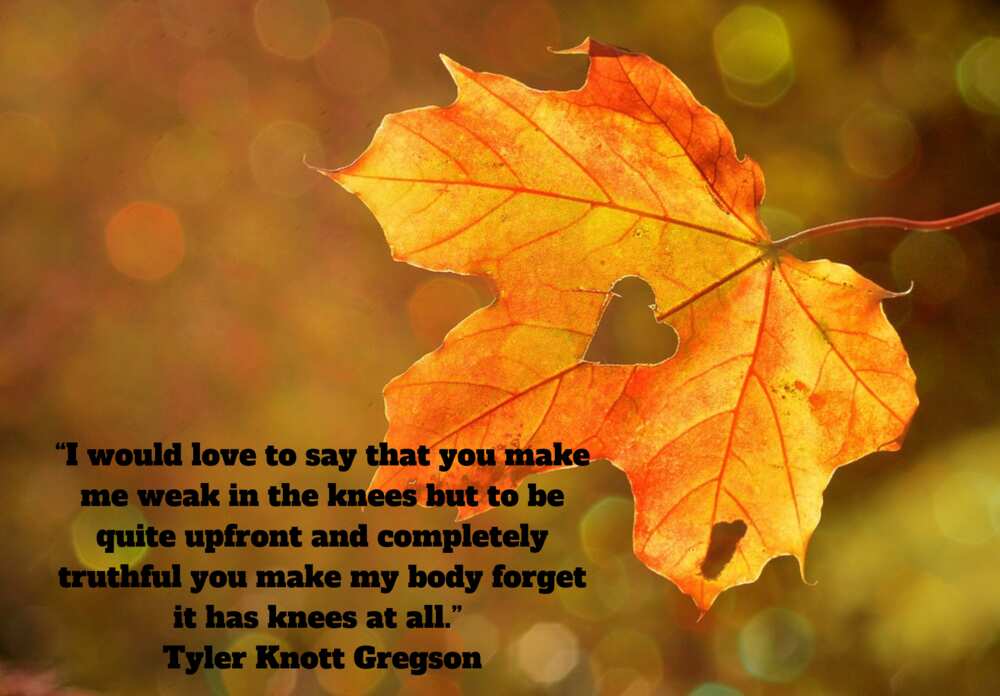 "You may not have been my first love, but you are the love that made all the other loves irrelevant" – Rupi Kapur
"Love starts as a feeling, but to continue is a choice. And I find myself choosing you more and more every day" – Justin Wetch
People think a soul mate is your perfect fit, and that's what everyone wants. But a true soul mate is a mirror, the person who shows you everything that is holding you back, the person who brings you to your own attention so you can change your life – Elizabeth Gilbert
"I fell in love with you the way you fall asleep: slowly, and then all at once" – John Green
These were 75 romantic good morning text messages and quotes for her. Pick one or two, send them to her and believe that her face will light up when she reads your good morning SMS to her. She will love you even more for thinking about her early in the morning and her day will be even better because of you.
READ ALSO: 75 romantic good morning my love quotes and messages
Source: Legit.ng