Long paragraphs for him to show some love for your partner
Having a special man in your life is a great feeling, and telling him how you feel is essential. Men, just like women, love sweet words, especially when they come from the women they love. You can pour out your heart in a text message, post on social media, or send a love card. Use these long paragraphs for him to express your love to your partner.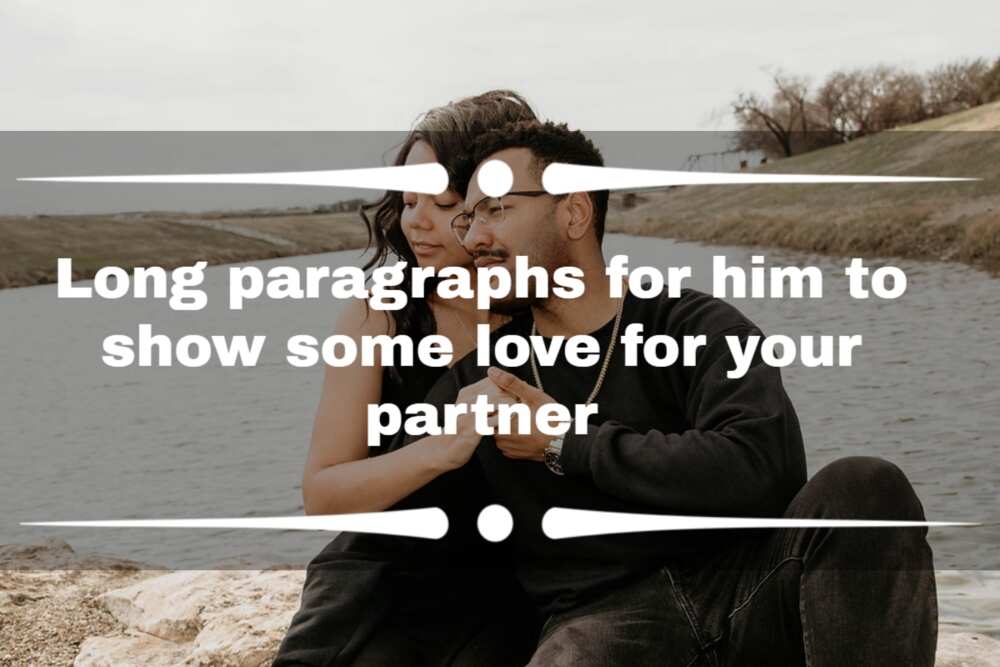 Men like to be romanced by their women as they feel appreciated and loved. One way to let him know you love him is by using words, and what better way than sending him long paragraphs? Whether it's for a special day like Valentine's or his birthday, these adorable paragraphs will make your partner feel special.
Romantic paragraphs for him
Telling your man you love him every day is a great way to affirm him and it leads to a successful relationship. Below is a list of paragraphs for your boy friend to express your love for him.
I don't know where to start! We've been together for the longest time. I've seen you become the great man you are today. I can say without fear that I loved from the beginning, I still love you today, and I will always love you to infinity. There is nothing to compare to the joy and peace I feel with you. I will always appreciate our love because I cherish you with all of my being.
Those moments we spent with each other are memories for me ever. I always tell you that you are the most beautiful person in my life. I can't explain my feeling about you. I always want that my day may start with your wishes and may end with your love. I think I have done good deeds in my previous life because you are in my life. You always gave unconditional love to me. I hope we may always be happy and our lives end happily.
As a child, I always imagined finding my Prince Charming and living in a castle. I may not have the castle, but you are my Prince Charming. You've always treated me like royalty, and I'm grateful to have someone who adores me for who I am.
From the moment I first saw you, I knew we would have something special. You put colour into my world. I feel like I've become a better person because of you, better able to love and care for others. I love you more than you can know.
You are a person who made my life beautiful. I am fallen in love with you. Now I can't imagine my life without you. You are my strength, and you are the one whom I can blindly believe. You are not only my crush. You are my life partner, and thanks for being you. I want to drown in your eyes. You are like an addiction to me.
Sweet love paragraphs for him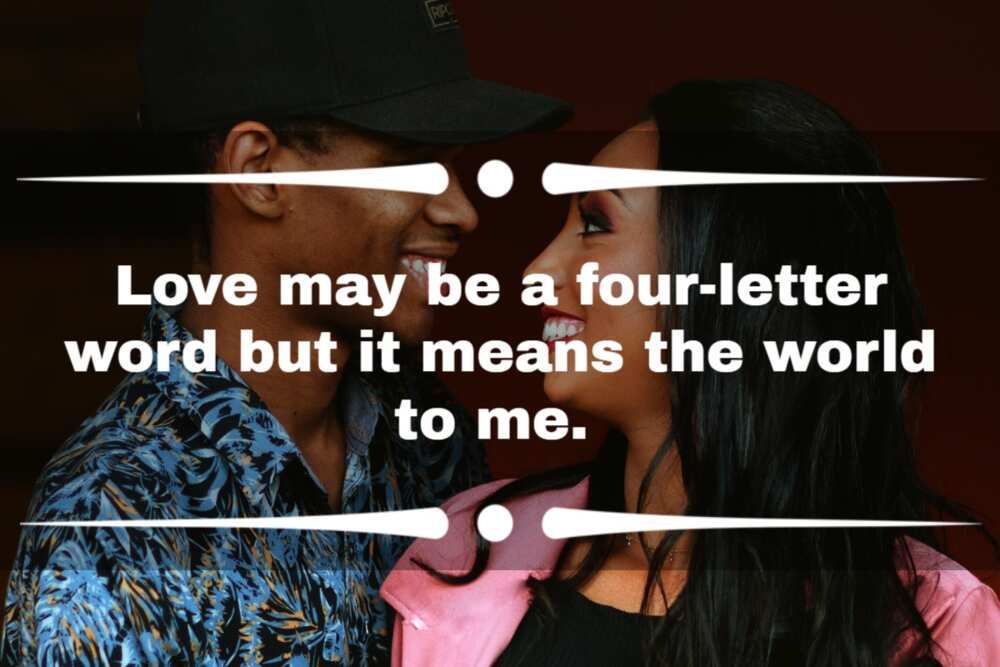 Your special person needs to hear sweet words from you about how much you love him occasionally. Make him feel special with these love paragraphs for your boyfriend to strengthen your relationship.
Love is a great feeling. Everyone wants to do life with someone. After falling in love with you, my life changed. You always made my day beautiful. You made me feel special and that I am the most beautiful girl in the world. Thanks for being my soul mate.
Love may be a four-letter word but it means the world to me. I cant imagine living without you because I can't live with anyone but you. I love you, sweetheart to the moon and back.
You are my heartbeat. You are the one who always complimented me. You are a beautiful personality from inner and outer. I will always cherish you. Thanks, my darling, for giving me unconditional love and care.
Although you don't know, you are my world. I am fallen in love with you. It happens without my permission. I don't know how it happened. But it is a great feeling. You are a fantastic guy. Every girl wanted that you may be her boyfriend, but I am lucky to have you in my life. You are my lover and a friend who always supports me.
Love needs to be nurtured. I am glad to have a partner who is constantly meeting me halfway. Love songs will be written about us. So precious to be able to spend a lifetime with each other. I couldn't have asked for anything better, my dear.
To the love of my life, my best friend and my soulmate, you make me laugh until my stomach hurts. And the best part is: I know that every day with you only gets better!
Cute paragraphs for your boyfriend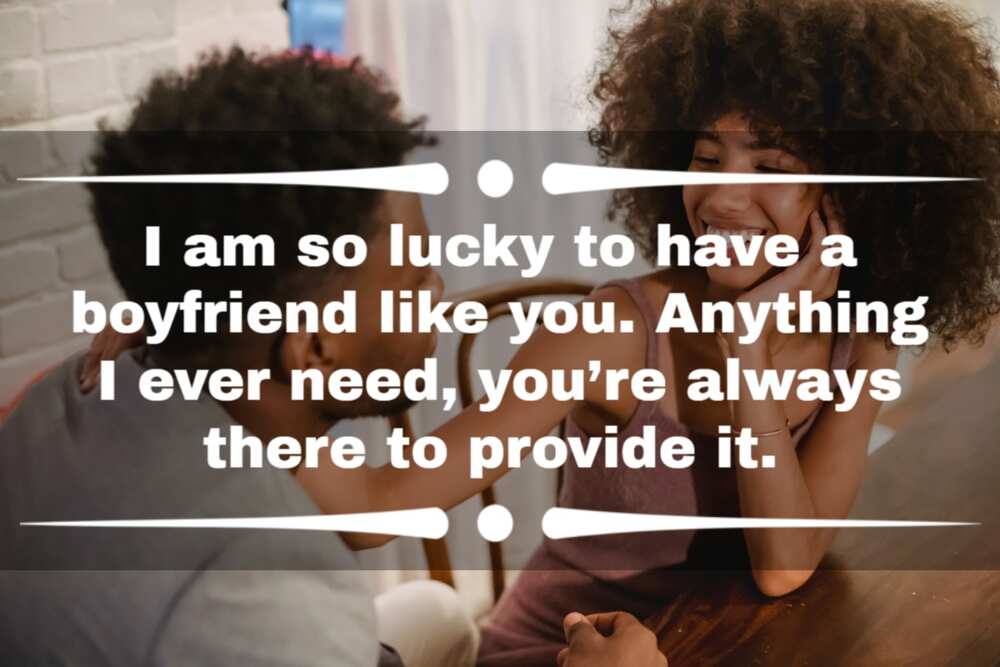 Spicing up your relationship is the secret to a lasting relationship, and what better way to do that than with words? These cute paragraphs for him will help you express feelings of love and keep things interesting .
I am so lucky to have a boyfriend like you. Anything I ever need, you're always there to provide it. You put 100% faith into our relationship as you always do with everything, which inspires me. I think I'm the second luckiest person alive. You are the first (for having me, of course)!
Everyone wants a life partner who stays with her and will understand their feelings and emotions. I am the luckiest girl because you are in my life. You always put a smile on my face.
Being with you is the easiest thing I've ever had to do in my entire life. Nothing has ever felt more natural, and I know our relationship will continue growing and blooming for the rest of our lives.
You made a special place in my heart. You gave me incredible love. I always want that my whole life may spend with you. I want to face the challenges with your support, and I want your support for my entire life. I feel relaxed when I talk to you. You are my heart charger.
You mean the world to me. I deeply in love with you and I want the whole world to know. Life has thrown punches at us but together we have won every time. My life without you is unimaginable. I adore you and I can't explain it! Forever and ever, baby.
Here is never a dull moment with you around! Always on adventures – it does not matter, even if it is a trip to the grocery store. You make everything exciting and fun.
Best long paragraphs for him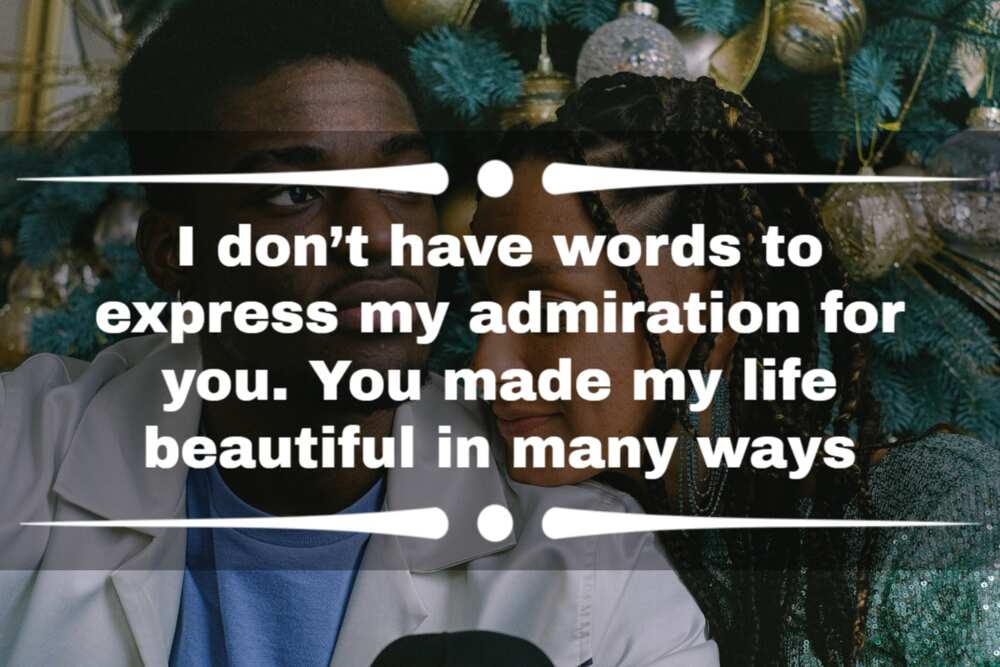 A good girlfriend will always let her man know he is cherished and adored. Below are amazing paragraphs to send to your boyfriend to convey what he means to you.
I don't want to spend a minute away from you because I would be lost. I know, more than ever, that I'm lucky to have you, and I am in love with you. I find bliss in your arms and want to be in them forever because that is where I belong. You make me smile, you make me feel safe, and you make me feel more cherished than I have ever felt. Forever my baby.
We have been in relation for many years. Our relationship stands on belief. You believed in me and me also. Even though we are far from each other today, your care and love will not decrease for me. In my life, you are my goal and my aim. I want you to stay with me because I will not live without you.
Baby, I'm missing you a little more than usual today. You see, it's raining, and the water rubbing against my cheek reminds me of the first time you held my face and pulled me close for our first kiss. I wish you were here because I yearn for your presence today more than yesterday. I heart you, baby. You make me a better person every day.
You are my heart; no one can live without a heart. Whenever I get stuck in trouble, you have always been with me. When you stay with me, I am never afraid of anyone. My feelings can't be low for you. My life's goal is only for you and with you. I always pray to God for your good health. All my prayers to God are only about you: love you, darling.
I don't have words to express my admiration for you. You made my life beautiful in many ways. I always want that you stay with me. With your love and care, today, I am successful in life. This credit goes to you, my darling. You all the time exciting to me for doing face with problems and now I am the strongest girl.
Telling your man you love and appreciate him is a great way to keep the fire in your relationship. One way to express your words is by sending him love paragraphs on text or whispering them into his ears. You could also print them into a gift card and send them on a special occasion. If you are still trying to figure out where to start, the above paragraphs for him are great.
READ ALSO: 90+ powerful morning prayer messages to start your day with God
Legit.ng recently published an article about morning prayer messages. Prayer is essential in life as it is having a conversation with God. Committing yourself and the day before God is excellent as you ask Him for guidance and strength to face the day. Send your loved ones these powerful morning prayer messages and make their day.
Waking up to another beautiful day is a blessing from above, and it is good to pray in the morning. Thank God for the gift of seeing another day and asking for his protection throughout the day. Sharing these messages with family and friends will let them know you care and wish them the best.
Source: Legit.ng