25 galaxy hair color ideas to try in 2019
Dyed hair has always been a trend globally. The trend will never cease to be fashionable. What if you want to take the coloured look to a whole new level? Well, galaxy hair is the best way to express your inner self. It speaks volumes about a person who is not shy about exploring the world and who is ready to live their dreams unapologetically. Get inspired by the Milky Way and try out one of these galaxy styles today!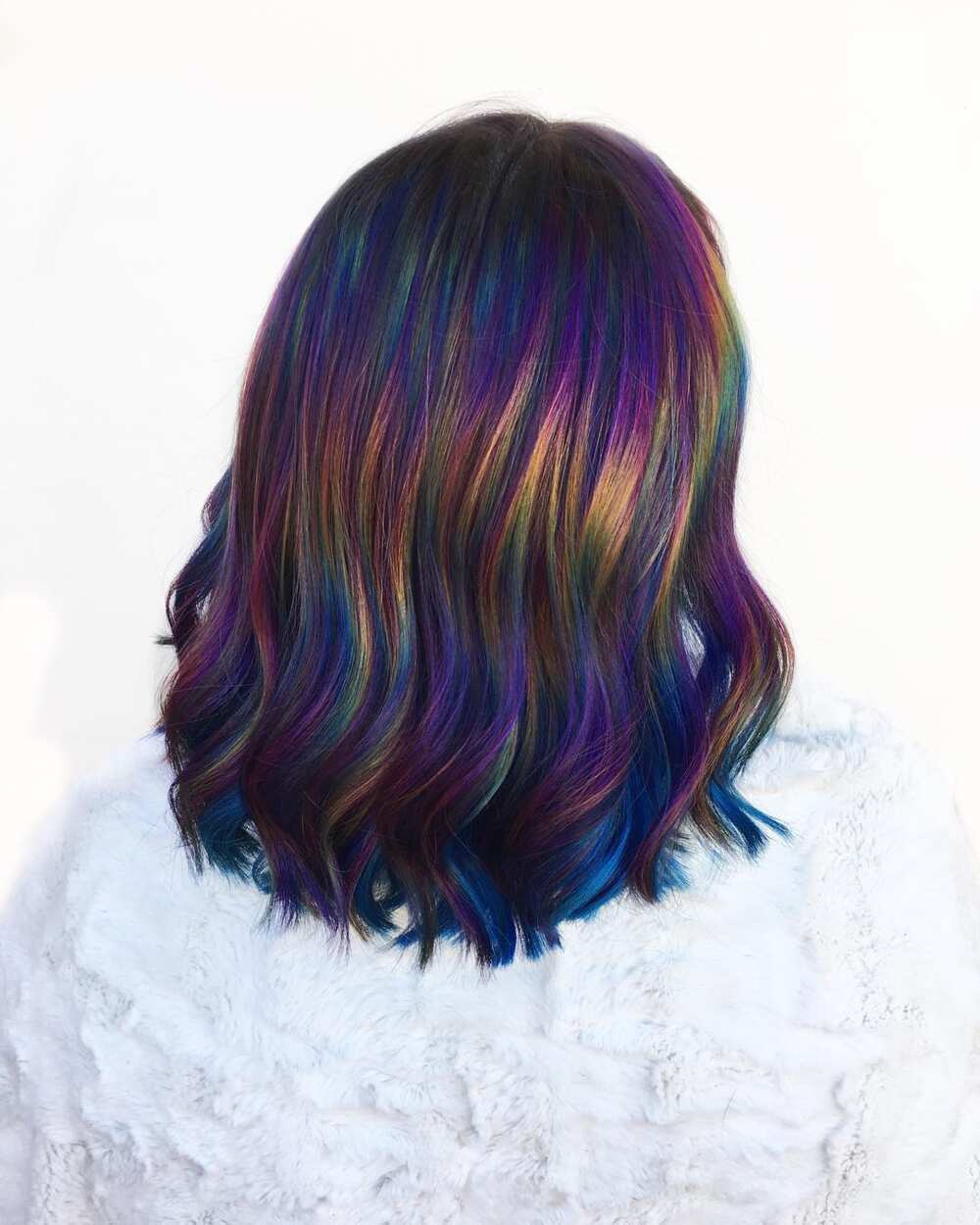 A keen look at the Milky Way reveals that the dominant dyes that make galaxies glow are red, blue, purple and pink. Different shades of these four galaxy dyes and mixed and matched with creativity to give a distinctive look. Other colours may be added to give extra oomph. Having multi colored hair makes heads turn, but creative galaxy hair leaves people in admiration of your hair.
READ ALSO: 25 dirty blonde hair to rock in 2019
1. Wavy galaxy magenta and lavender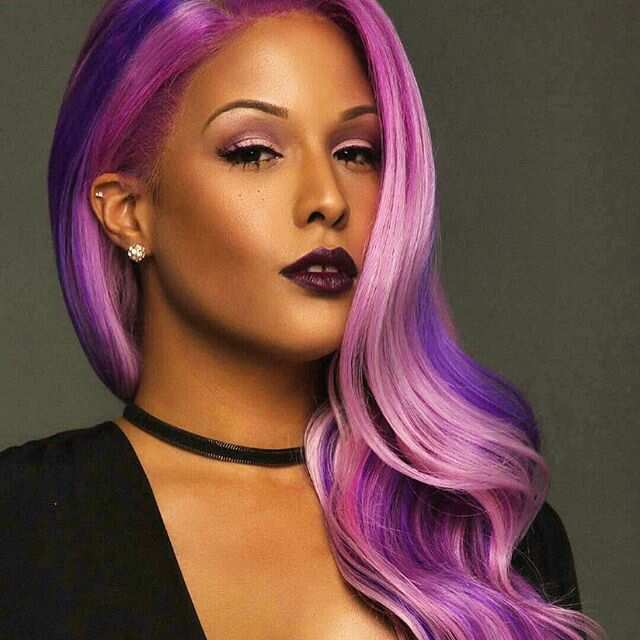 Long hair with galaxy dyes is indisputably trendy. Lavender and magenta are two dyes that blend well to create a multicolored hair masterpiece. The waves add texture and volume to the head. If you do not have long hair, worry not! You can add suitable extensions before using the magenta and lavender dyes.
2. Male galaxy pop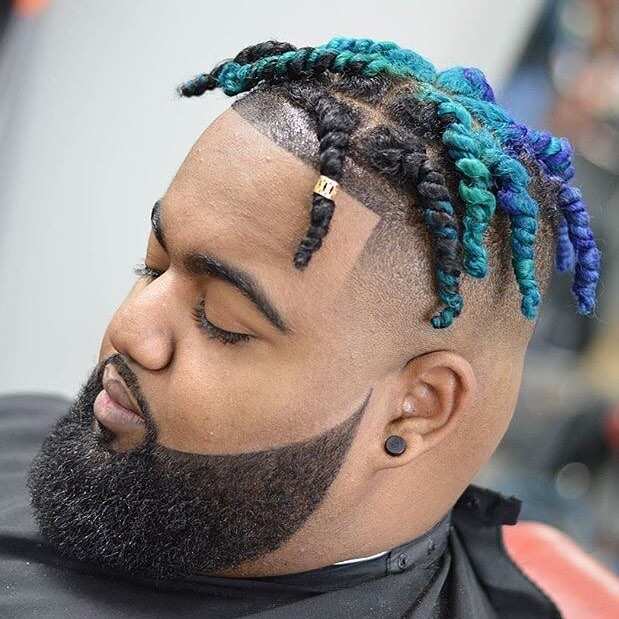 An amazing thing about the galaxy look is that every male can rock it regardless of their age. Men can forego their usual boring cuts and become more classy and trendy using this galaxy short style. The blue and purple galaxy hair color combination not only blends well with people of all complexions but is a cool choice that attracts just the right amount of attention.
3. Aqua in the Milky Way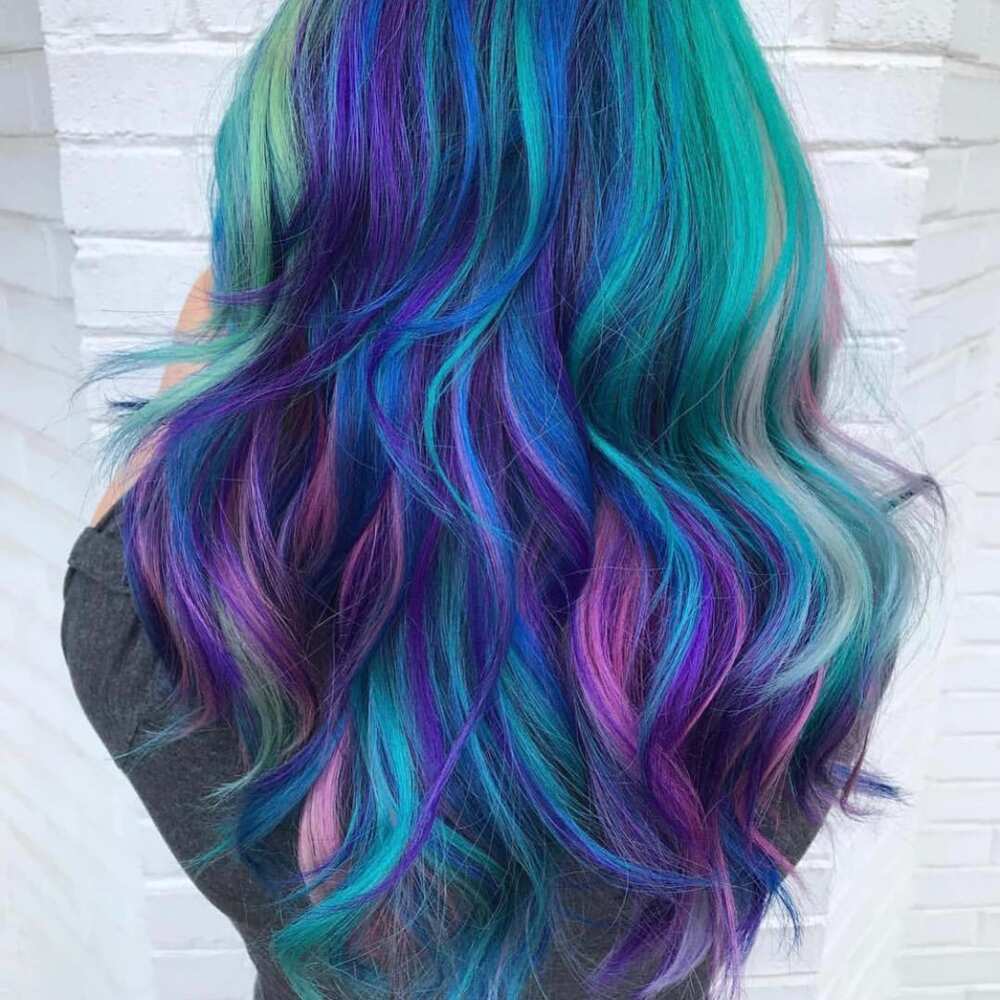 Water in the Milky Way is a gorgeous sight that inspires numerous people. Stylists can re-create the space experience using a carefully selected mix of dyes. The mix always results in a final look that spells out the artist within you. A variety of aquamarine shades among them aero-blue, teal, turquoise, and blue-green are blended with purple to yield a colourful and inspirational head.
4. Celestial colour melt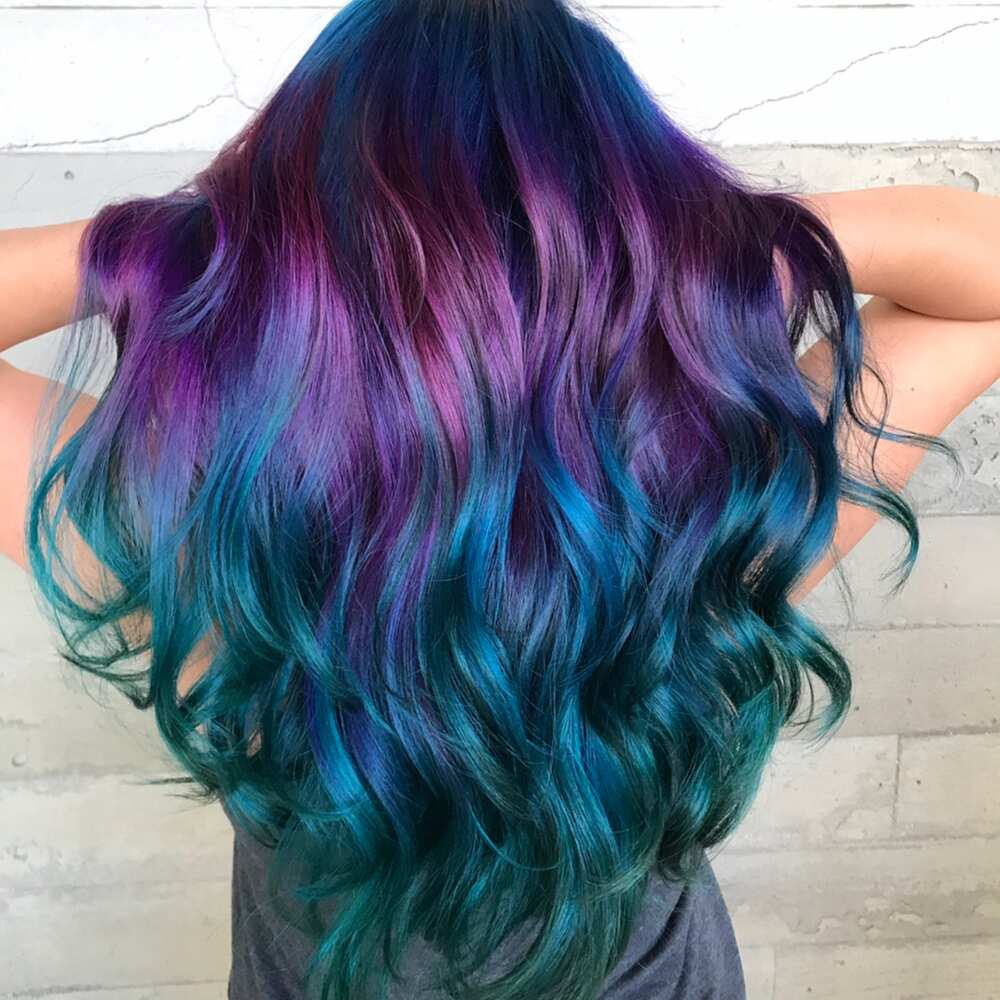 This amazing style uses a transition of dye shades as opposed to the mash-up technique. The fashion is best applied in long lustrous hair. Ideally, it begins with the aqua blue galaxy colour hair at the roots. Towards the middle, bright teal is the dominant dye before a transition to purple towards the ends is witnessed. The transition often shows that the artist within loves order and organisation.
5. Deep and dark galaxy hair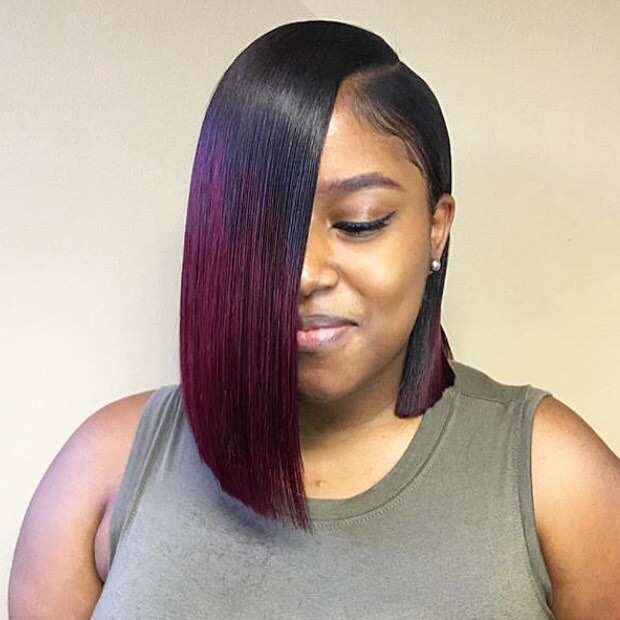 This style works best for shoulder-length straight hair. This galaxy colour look uses the darker shades in the galaxy colour palette to create a look that attracts people without being too shouting. It speaks volumes about the wearer being artistic but also calm and secure in their life. The roots are a dark (natural colour) then the look transitions to a deep magenta with streaks of blue. This hidden galaxy hair is suitable for most official functions.
6. Stellar purple and blue galaxy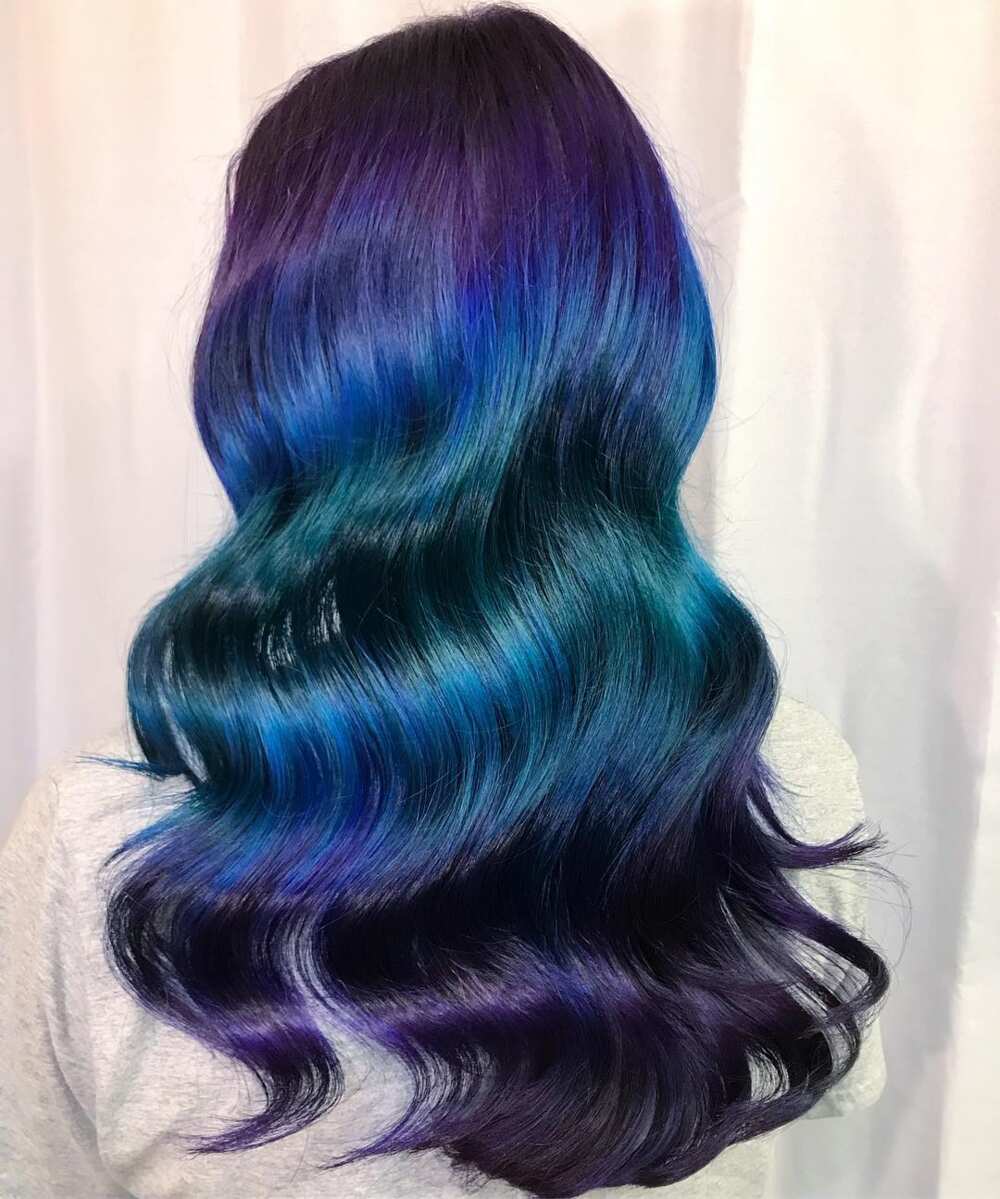 Typically, a blend of blue and purple forms a beautiful indigo galaxy color hair. This style is suitable for hair that is long and wavy. These two dyes blend well to form a stunning result. The roots are blue, the middle section is purple, and the ends of the hair are a mix of blue, purple and black. The waves separate the colours in a neat fashion.
7. Just like the stars- blue and black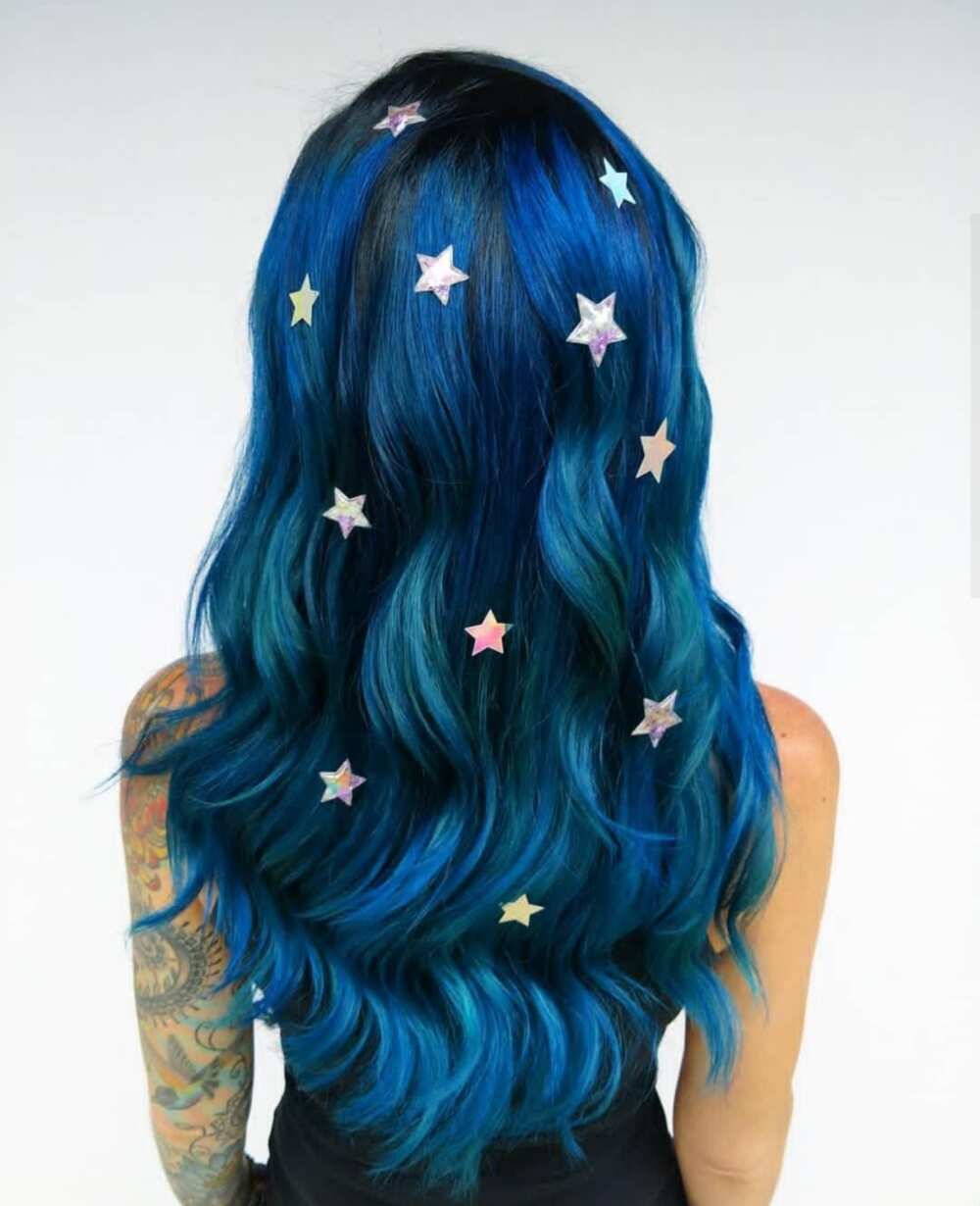 This style is perfect for all complexions. The tones used are only two, a deep blue and teal. The dyes mash-up in a beautiful manner. The roots are black, so people with black hair do not get to make excessively many visits to the stylist to retouch the roots. You save money! Accessorising with shiny stars completes the final look.
8. Pastel bob in space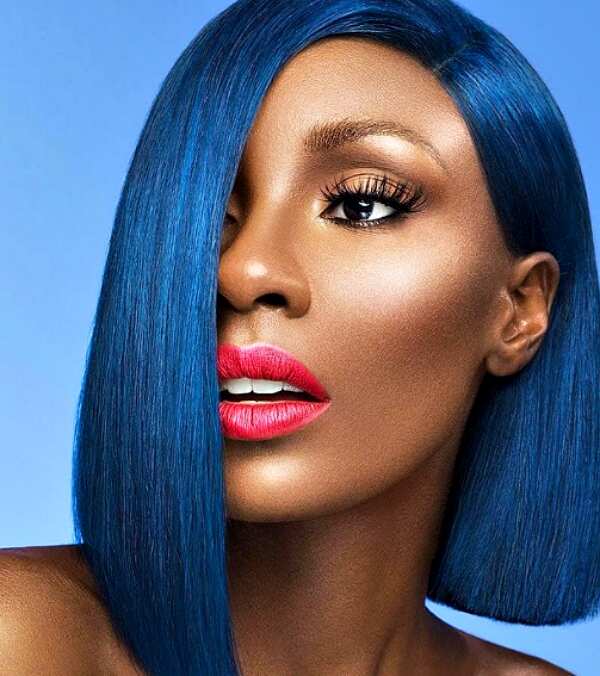 This fabulous galaxy hair short style is a complete change for people with very short bob cuts. It also goes well with medium-length bob cuts. The roots are either black or a deep blue. The seamless transition them welcomes a lighter pastel blue colour with streaks of a deep purple. The blend is spectacular!
9. Astral magenta and teal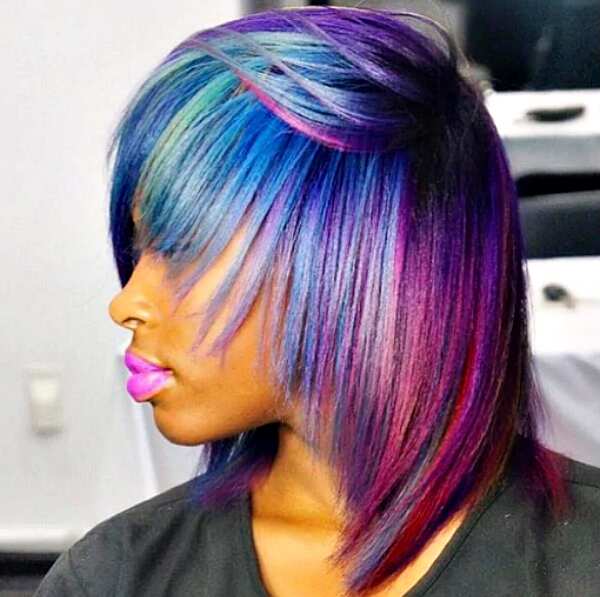 This is one of the most versatile galaxy coloured hair trends that is suitable for almost anyone who is out to explore new things. It works best for medium-length hair that is straight. Rich galactic dyes are blended artistically to create an eye-catching final look. The roots are dark and natural, so you will not have to visit your stylist's store very often. Teal and aqua blue dominate the middle region of the head before it tapers off to a rich magenta in the ends.
10. Magnificent galaxy layers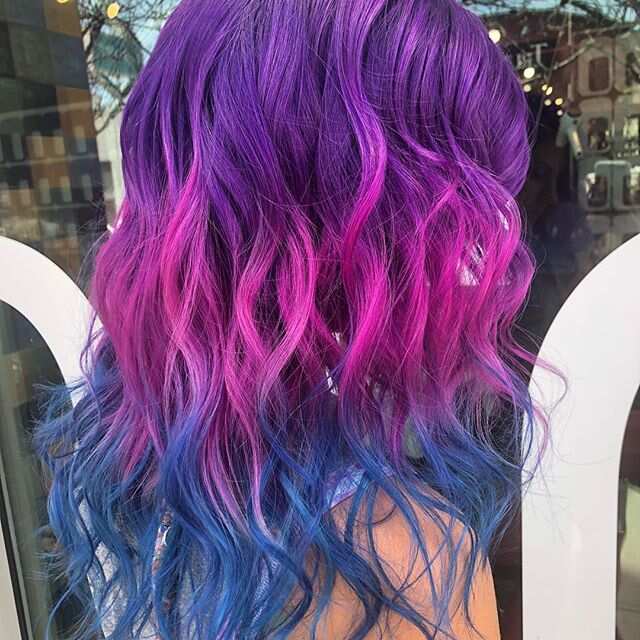 The separate layers of dyes make this style distinctive. Ombre dyes are used. The roots are purple followed by a second layer of magenta. The final layer is a deep blue dye that blends well with the magenta and purple.
11. The futuristic galaxy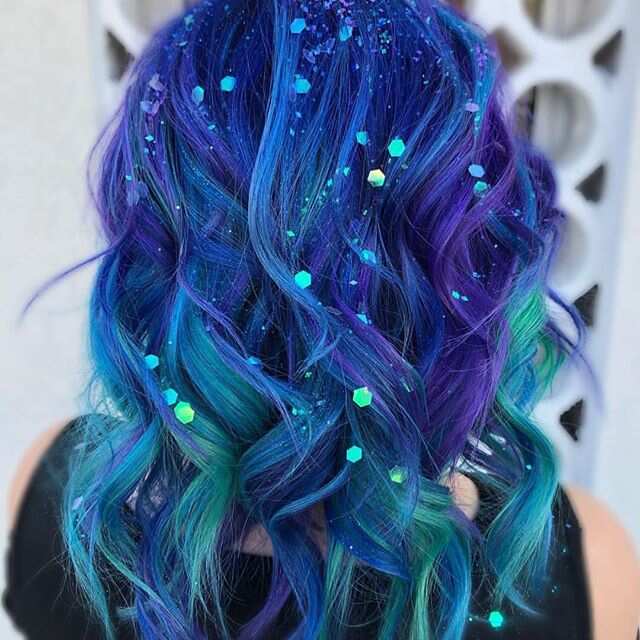 The futuristic galaxy is for the trendy and sassy soul who loves being unique. Best applied in medium to long hair, this style begins with deep purple roots. The rest of the hair has blue streaks in varying shades. There are also a few white highlights that make the entire look more fascinating.
12. Splendid galactic cut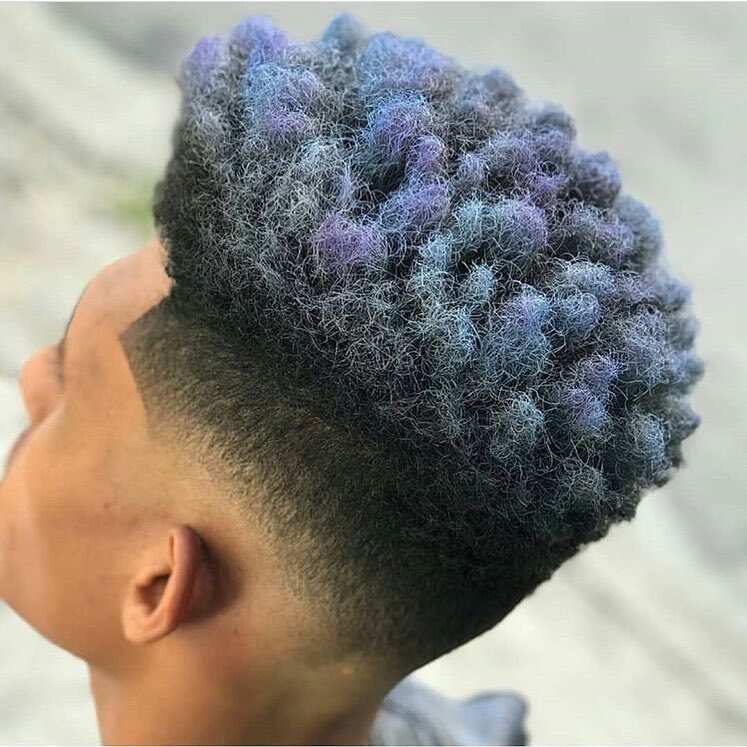 This is a must-try for fashionable males with short cuts. The look retains the natural colour of the hair at the roots. Towards the tips, pastel colours of blue and purple are applied. The choice of colours that are not too bold makes the style one of the simplest galaxy trends to attain. The dyes give a stunning colour combination that will make heads turn!
13. Unicorn in the galaxy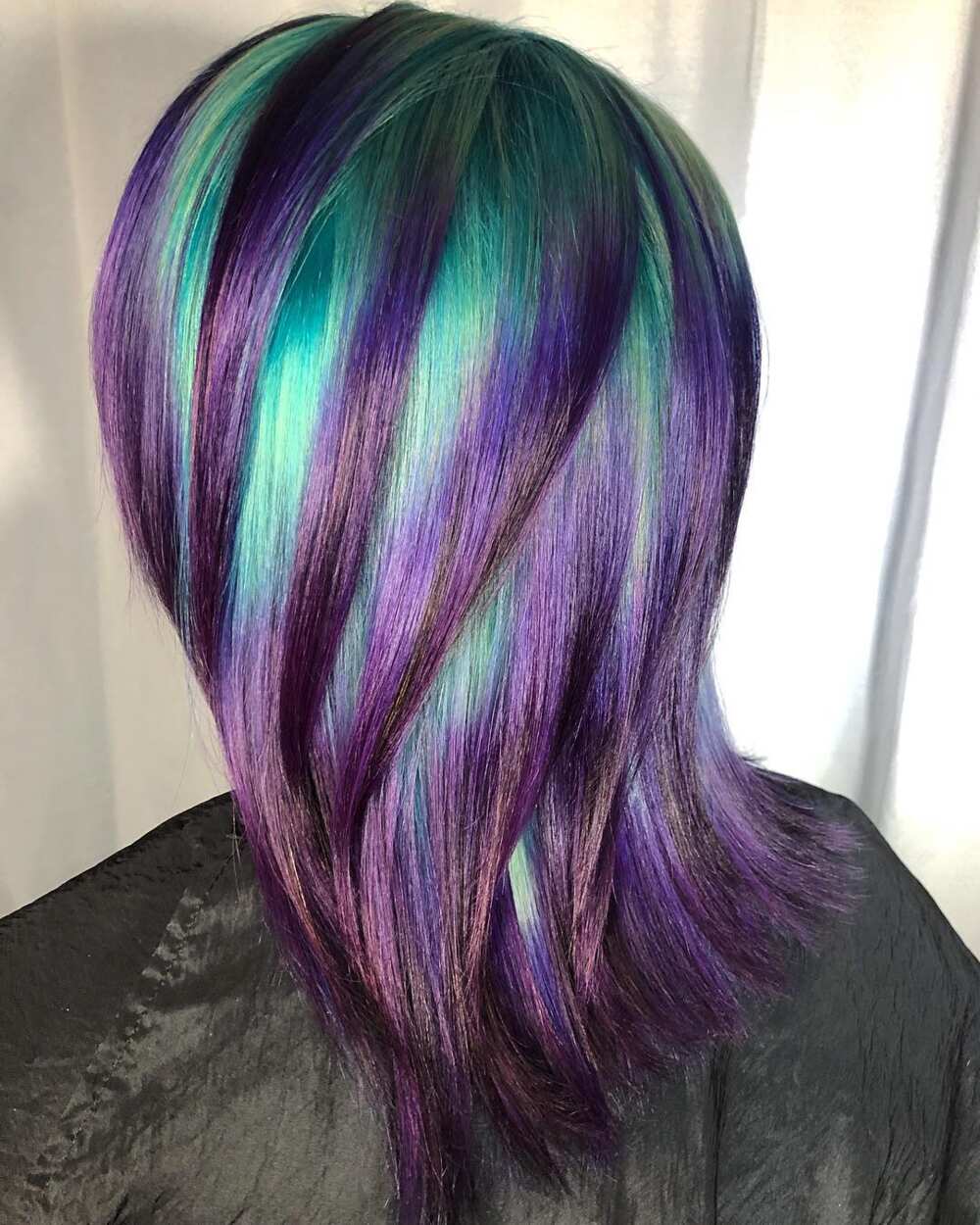 Unicorn in the galaxy is a style that is suited for medium-length hair. The roots are teal, and the rest of the hair alternates between electric purple and teal. There are streaks of natural hair that is not dyed to break the monotony of the two colours!
14. Afri-stunner braids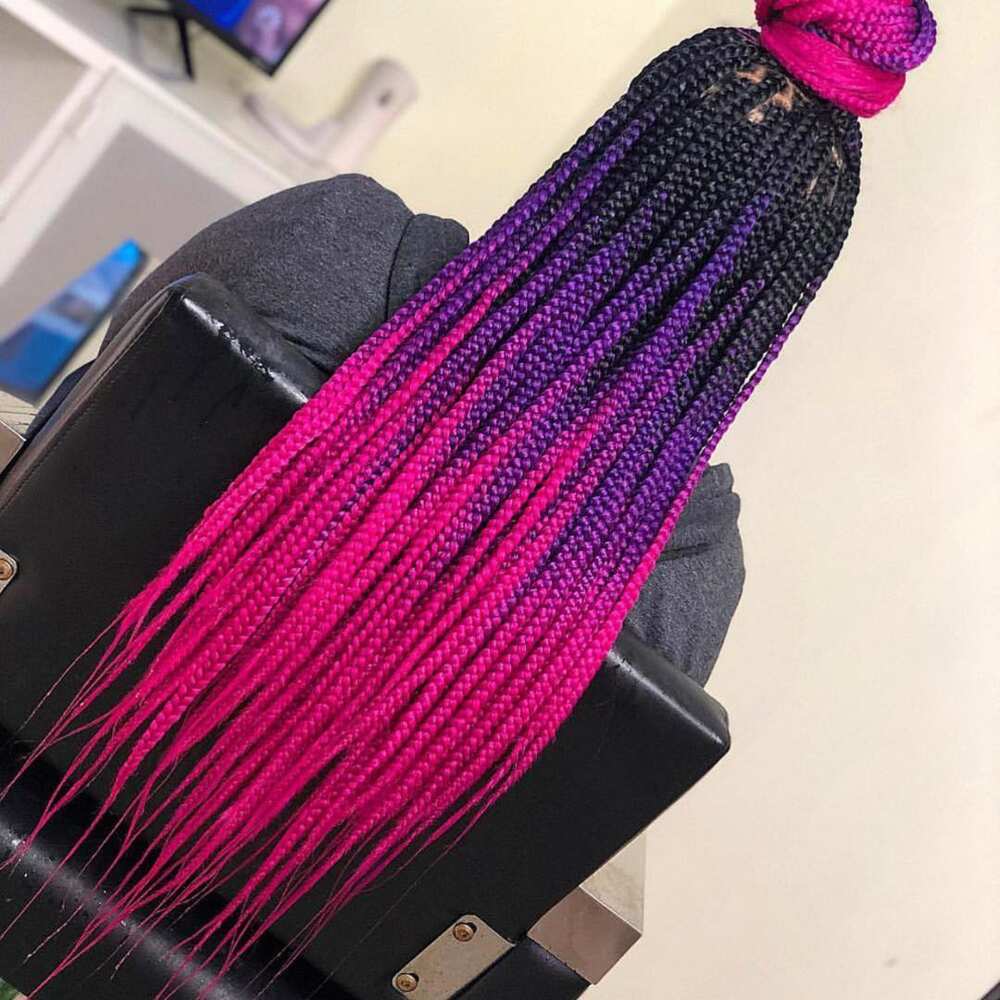 Who said that dyed braids are not gorgeous? Well, they are! In this style, braids that are pre-dyed during manufacture in shades of purple and magenta are used. You can also select braids that are ombre purple in colour. The best aspect of this style is you do not have to dye your natural hair! Alternatively, the stylist can dye the braids to your desired colours after plaiting.
15. The cosmological braided peacock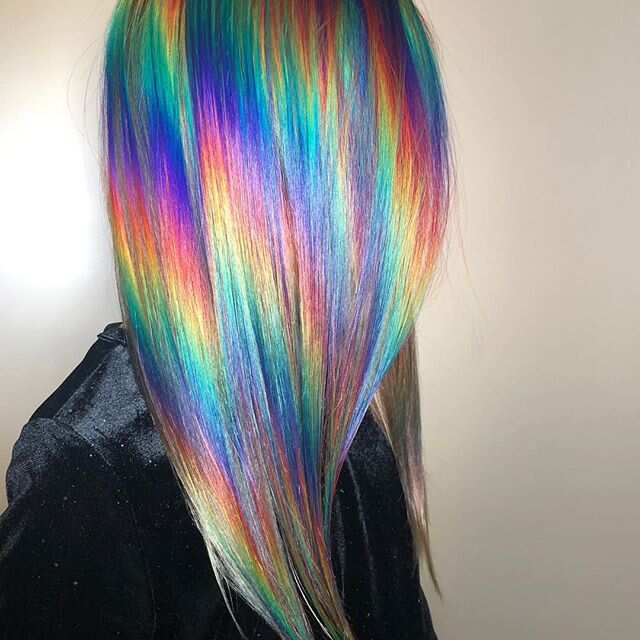 A peacock is ordinarily beautiful, but what happens when the peacock in all its glory is placed in the gorgeous Milky Way? This style is fairly easy. The hair is coloured in purple, green, magenta, blonde, yellow and aqua. These dyes are blended creatively to create a casual yet appealing look.
16. The astral bow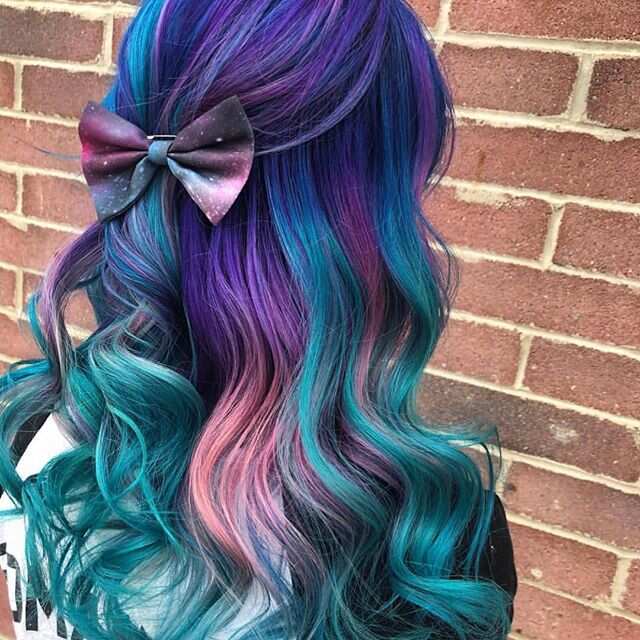 Hair bows will never run out of fashion! Whether they are for little girls or grown ladies, a well-selected bow always makes the ensemble pop! This style involves colouring the hair in an ombre style that alternates the blue and purple colours. A matching bow is used to secure the hair at the centre.
17. The alluring galactical blue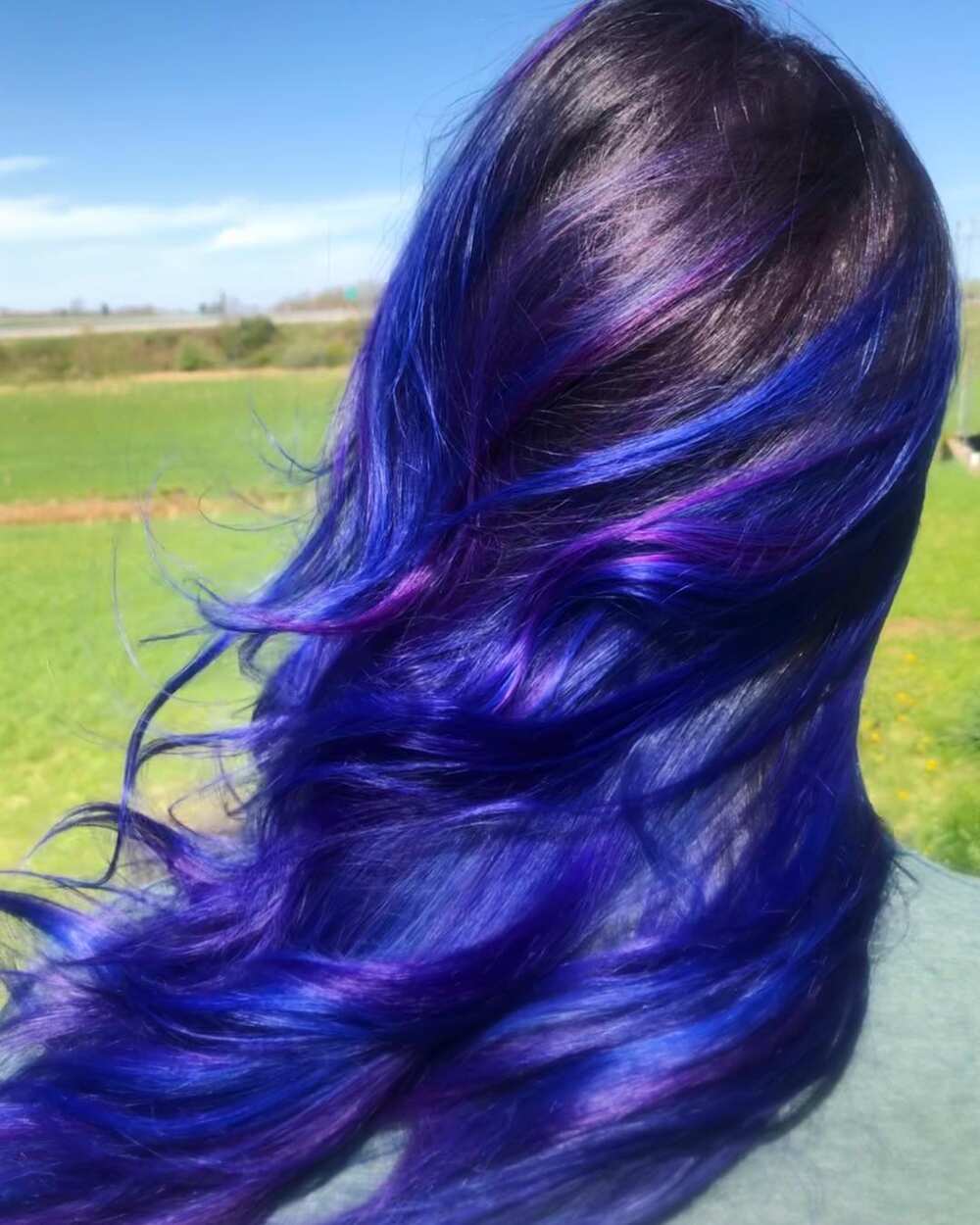 This unique style is creative and fascinating. It entails leaving one half of the hair (lengthwise) in its natural state and colouring the other half in deep blue. Streaks of purple are added to add to the allure. The resulting combination is mesmerising, especially if the hair is long and wavy.
18. Light waves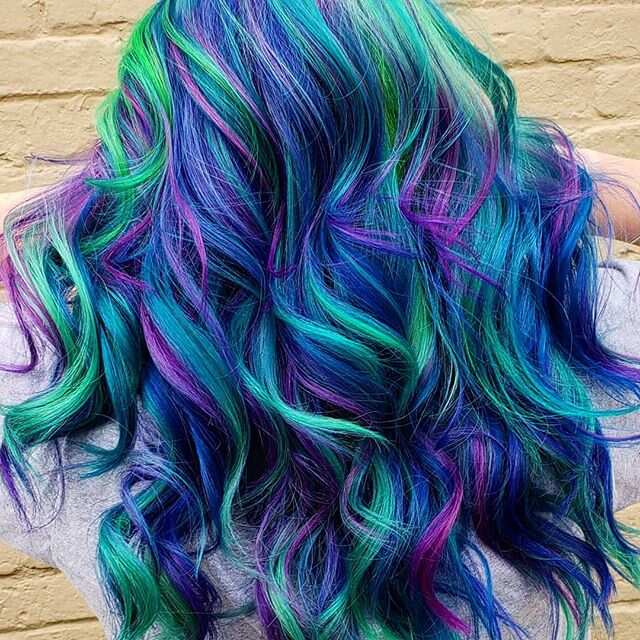 As the name suggests, this style incorporates the galaxy rainbow combinations in electrifying shades to create magic. One will require regular visits to their stylists to maintain this look that is suitable for both long and short hair. The predominant colours are teal, magenta, green and purple, all of which are bright to create the illusion of illumination.
19. Teal light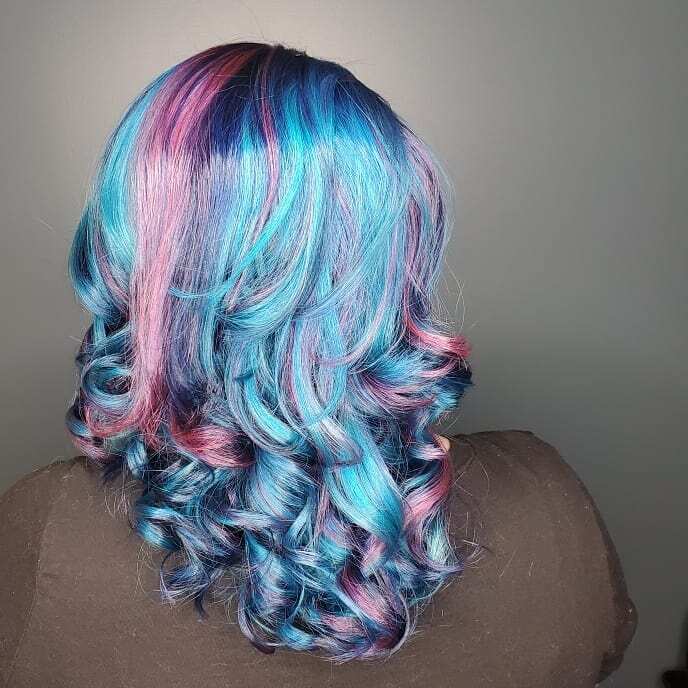 This style predominantly features the colour teal. The roots have a deep teal colour which fades and brightens towards the ends. Different shades of teal are used in a way that allows perfect blending. Pink is used to break the monotony of the teal. The style lights up the world and is for an adventurous person.
20. The dreadlocks galaxy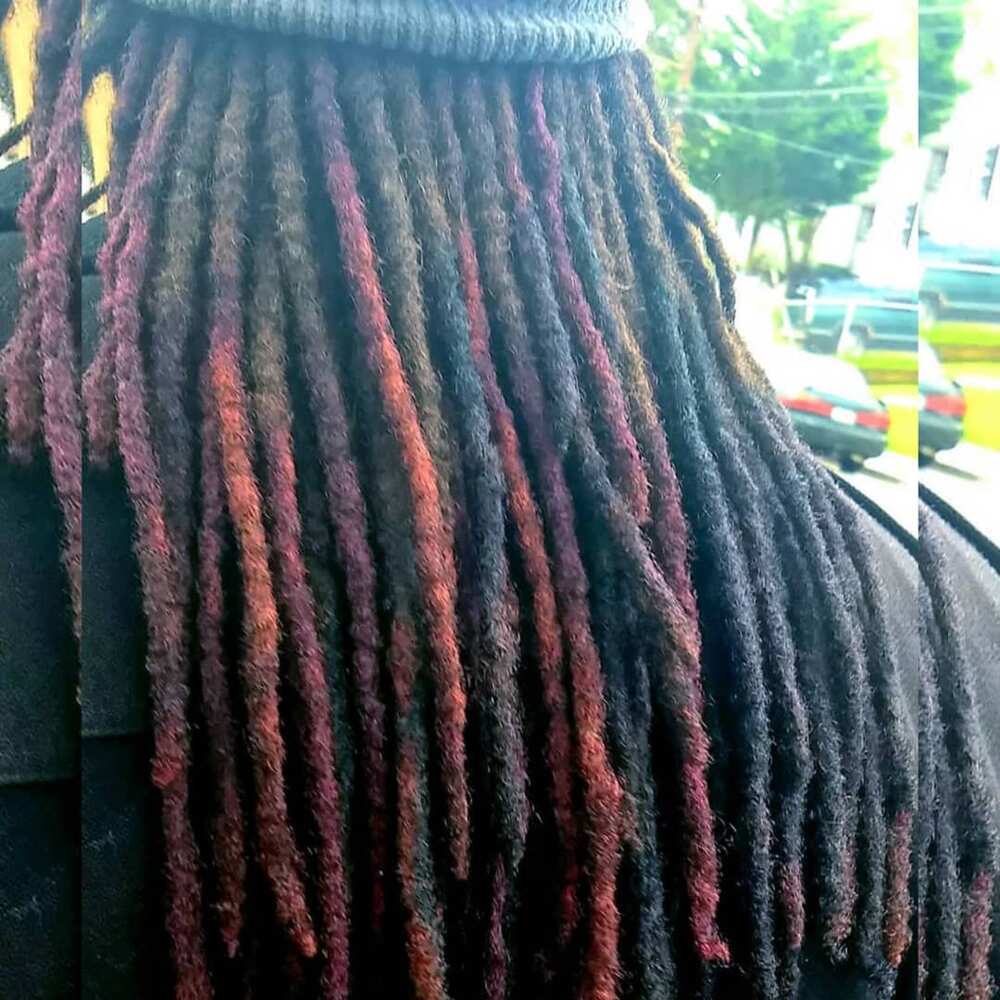 Have you desired galaxy dreadlocks for ages but are afraid of too much colour? This is the style for you. It incorporates colour but also remains hush. It works best for longer dreadlocks. The roots are kept dark to avoid frequent trips to your stylist.
21. Mind-blowing galaxy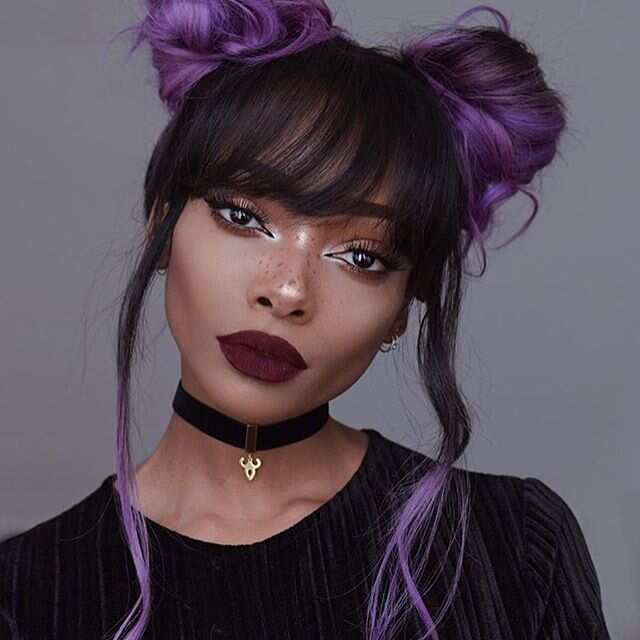 Purple is a to-go-colour choice for pretty, bold and fashionable ladies. For this style, one retains their dark brown or black hair. Highlights of a deep purple dye are applied. They are slightly toned down by a lighter purple dye towards the ends of the hair. The result is a perfect blend of highlights that add pomp and colour to the natural look.
22. The neon show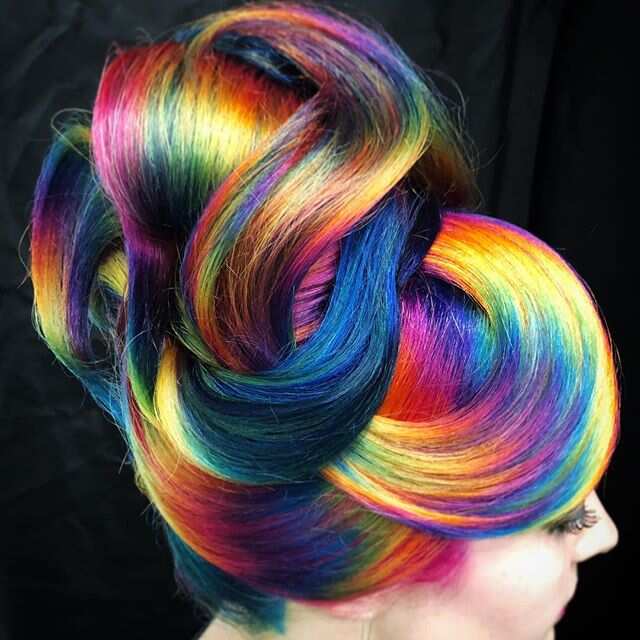 Who would not love matching their neon nails with neon galaxy hair? This style requires long wavy hair and the sass to match! Electric blue and electric purple are the dominant colours. They are broken down by light streaks of magenta. When paired with well-selected clothes, this style is the bomb!
23. Galactic rainbow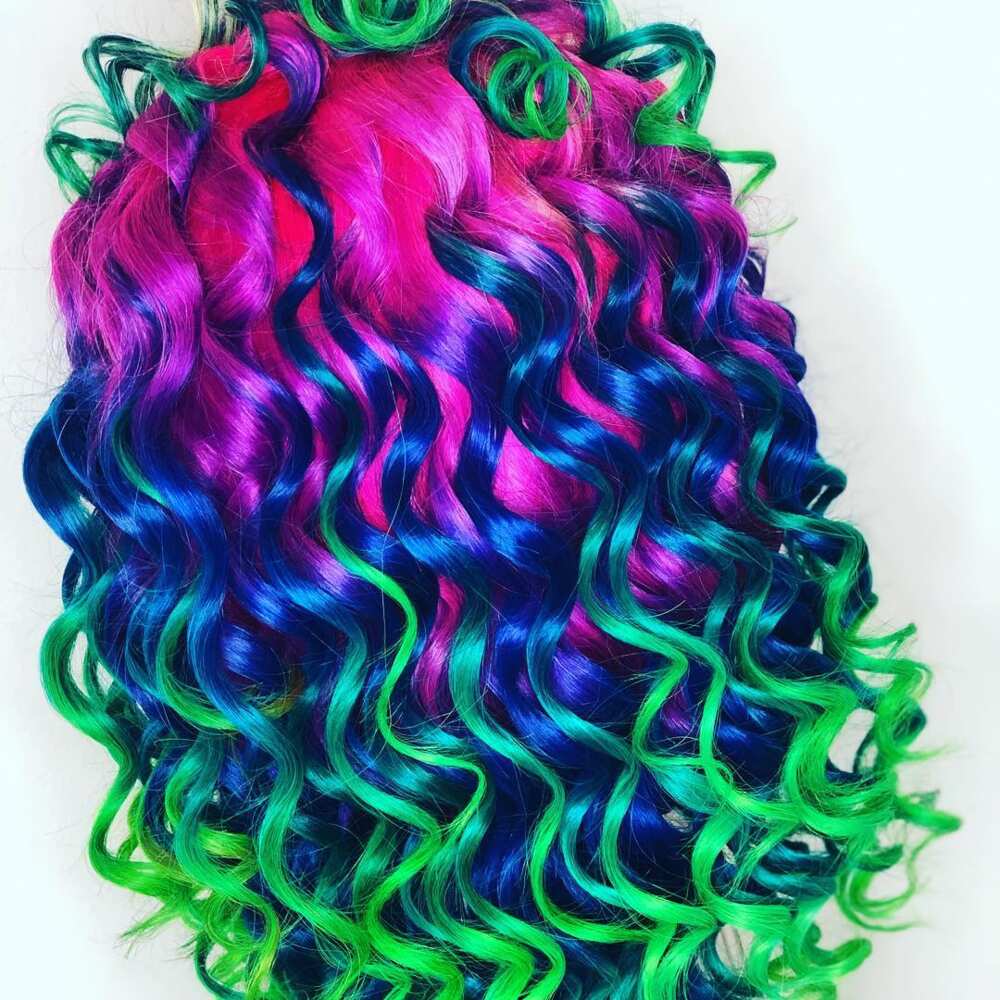 When two or three colours do not suffice, go for more! This bold style incorporates more than three electrifying colours that are well blended to create the ultimate look. In addition to the typical galaxy colors that are different shades of magenta, blue and purple, this style features streaks of yellow and green.
24. Out of the ordinary galaxy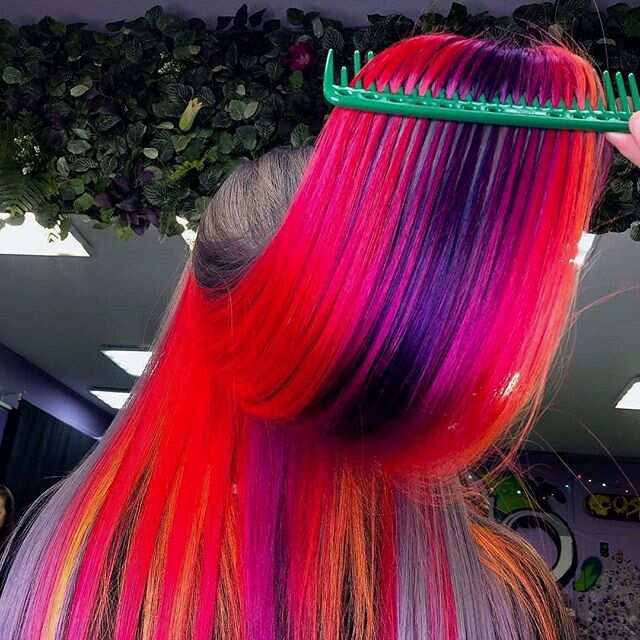 The ultimate galaxy color look is created when the standard rules are broken, and creativity is allowed to reign. In this artistic look, different layers of colour are visible. You can never go wrong by expressing your authentic self with this blend of colours!
25. Free in space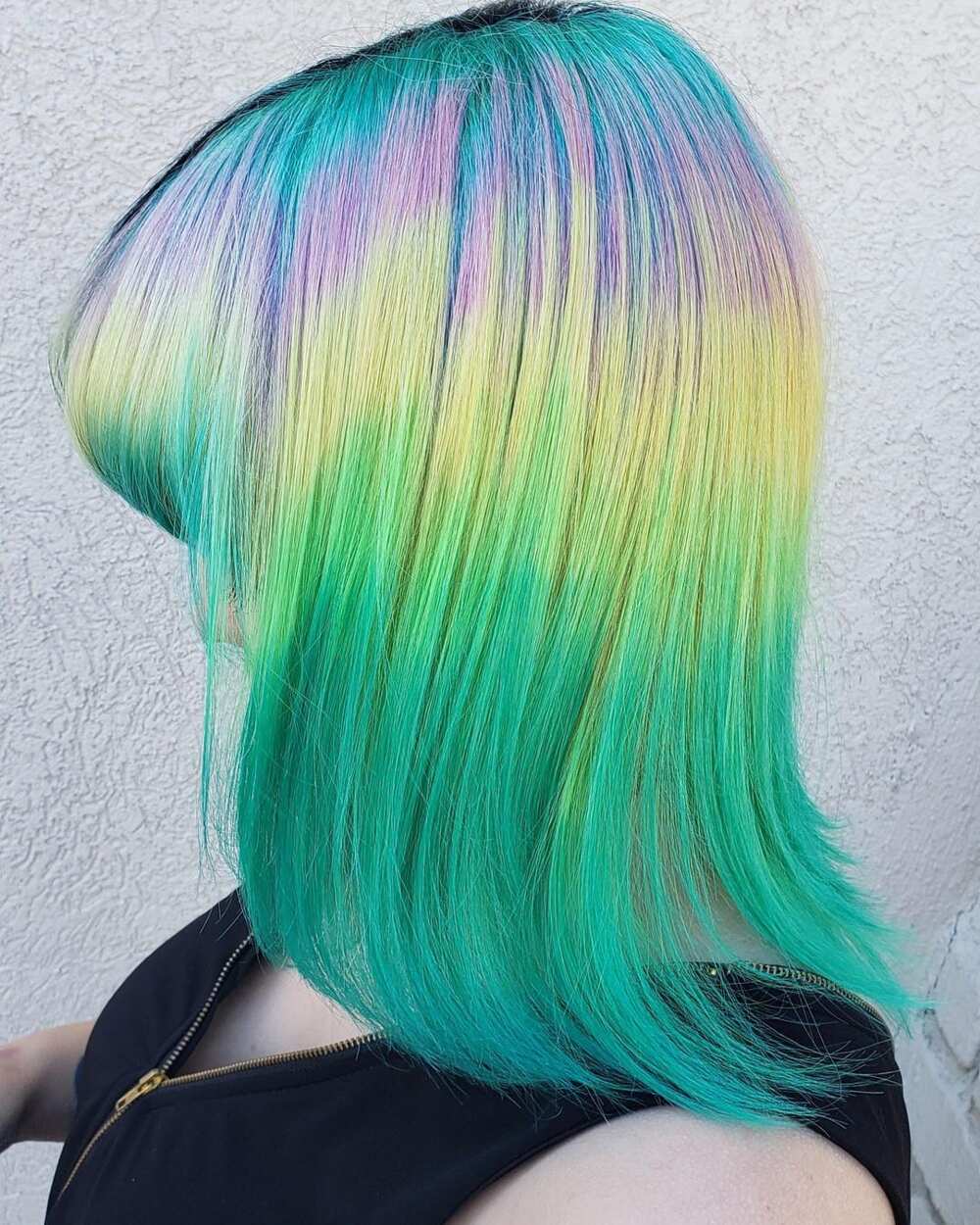 Express your inner self with this atypical style. In this style, the roots are dyed whitish-grey in the top section of the head. The middle is dyed an electrifying blue with streaks of purple while the back of the head remains dark brown or black. When combed back, the look has beautiful whitish-grey, blue and dark layers that are breathtaking.
How can I get these fantastic galaxy styles?
Getting the galaxy hair is easy. All you need is to visit a seasoned stylist whose work you have seen before. Knowing that the stylist is experienced assures you that you will get high-quality services and a lovely result.
Can I do galaxy hair at home?
The galaxy look is easy to do, so you can get it done at home. As a beginner, go slow and use darker colours. Once you are confident in your ability to do it at home, you can proceed to take on the bolder and more electrifying colours. To achieve the galaxy look at home, you will need a couple of hours as well as these items:
Your preferred hair colours
Combs and brushes for each colour
Mixing bowls (One for each colour)
Hair clips
Blow dryer
Plastic wrap
Procedure
Prepare your hair by cleaning using a suitable shampoo, condition it then blow dry it.
Section the hair into small parts and hold each portion with a hair clip to make dye application easier.
Colour each section of hair using your selected colours and depending on your desired style. Be creative!
Any part that you wish not to colour should be tied with a plastic wrap to prevent contact with any colour.
Allow the colour about 45-60 minutes to dry. Give the hair a cold rinse before treating it.
Check out your final galaxy look in the mirror!
CAUTION:
Before attempting DIY galaxy hair, you should consult with your hair expert to get tips and advice.
You must also use the colours with caution since bleaching the hair may cause damage.
It is also necessary to note that the colours are not permanent and may fade each time you shampoo your head.
Galaxy hair is trendy and artistic. It is an all-season style that will not become extinct anytime soon and is suitable for both genders and both long and short hair. The versatility of the galaxy look means that you will not tire quickly as there is always something new and exciting to try. Become trendy today by trying out one of these styles!
READ ALSO: How to use chebe powder for hair growth
Source: Legit.ng