30 skin fade hairstyle ideas for men
The skin fade is a popular hairstyle for guys, and the trend does not look like it will become outdated anytime soon. What makes this hairstyle popular with guys of all ages is that it incorporates a bit of long hair on the top of the head with a shaved side. This particular feature makes it unique and attractive. Did you know that this style can be done on any hair type or length and compliments almost any other haircut? Need proof? Here are 30 skin fade hairstyles that every guy should try in 2019.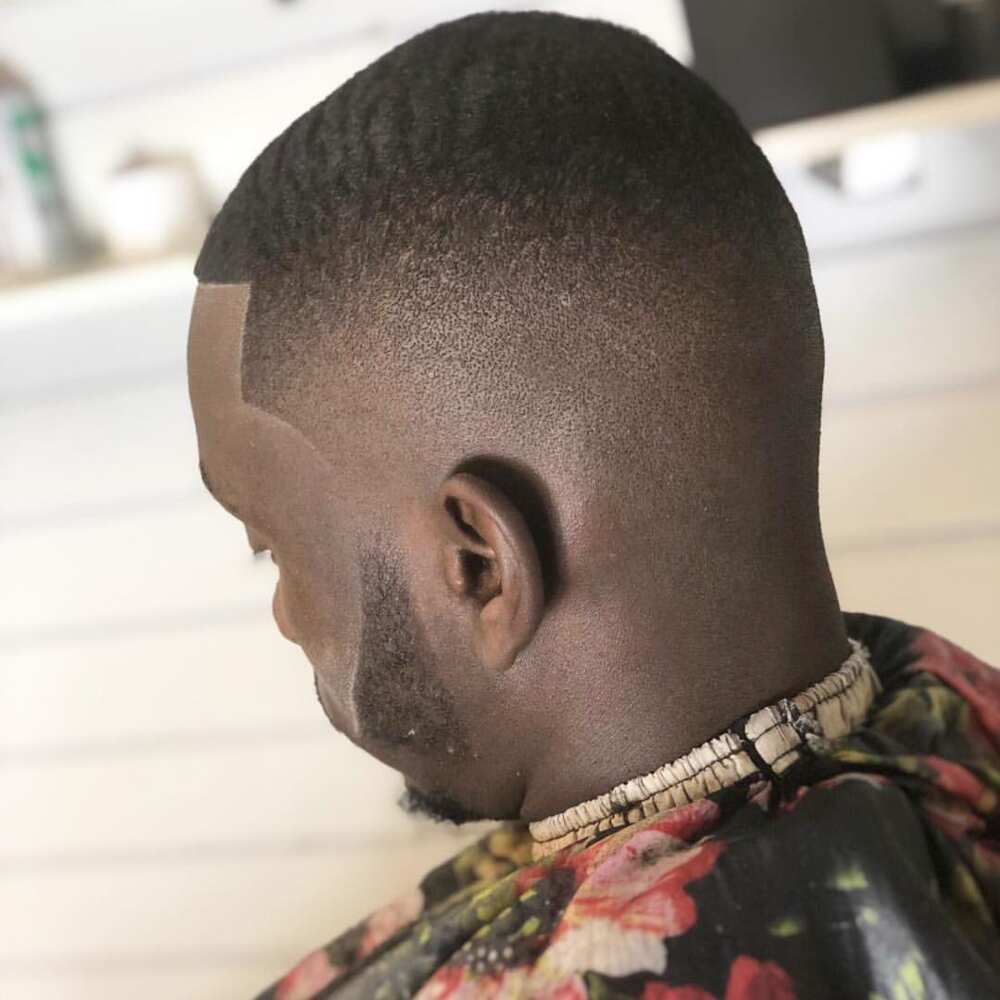 Skin fade, also known as bald fade, is achieved when the size of the hair is reduced as it moves towards the neck. In addition, getting perfect haircut designs require an experienced barber or stylist who is familiar with different haircuts.
30 skin fade haircuts that every guy should try in 2019
In most cases, you will see different guys with extremely short shaved sides. This is because some people want to have a shorter clipper setting of either #3 or #4, others go for as short as #2. The length of the clipper setting is the significant determinant of the appearance of your haircut; therefore, you should be conversant with a particular setting that suits you.
Notably, you should also consider the degree to which your hair diminishes gradually. For instance, a skin-tight fade that begins at a clipper setting #5 and reduces up to the skin level would suit a specific face shape but not another. Whether you need a cut with part or with curls, here are the top 30 skin fade haircut designs to try in 2019.
1. Skin fade with blonde highlight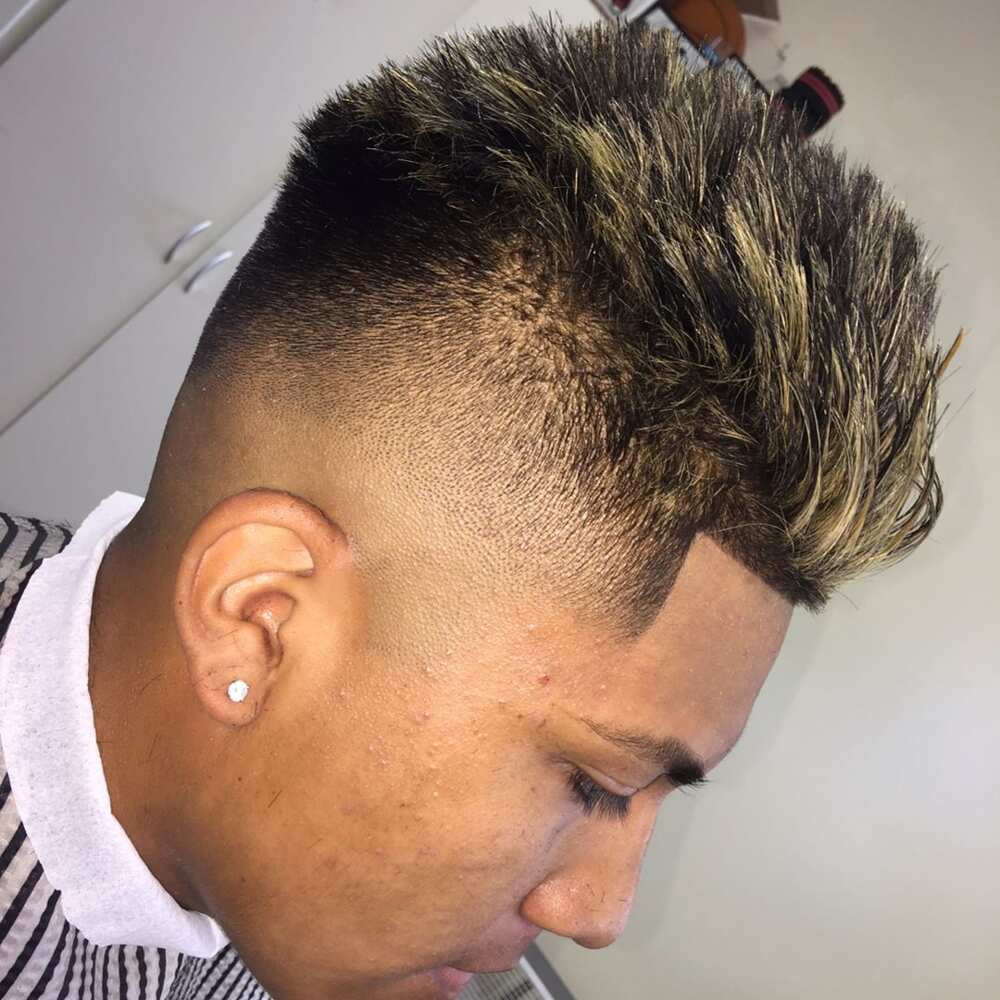 Bright hair dyes do not just look good on women; men too can show their fun side by using hair dyes. This brown shade is proof that even men can look dapper with bright hair colours.
2. Bald fade with part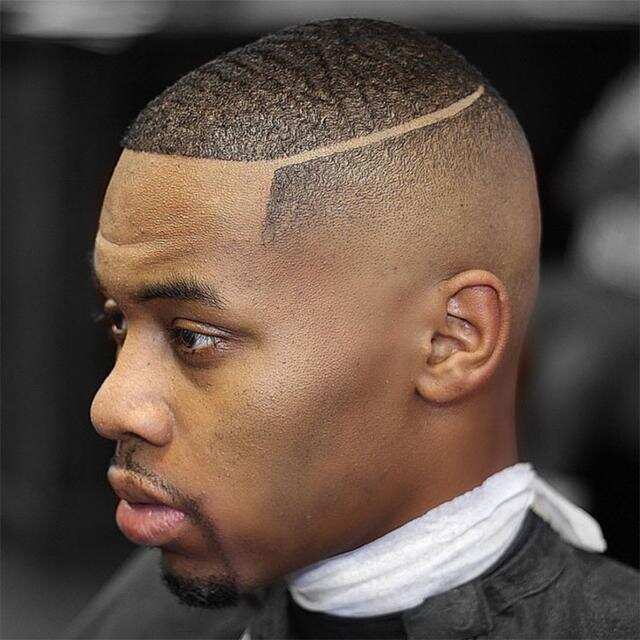 This classic haircut is ideal for a conservative work environment. It combines a contemporary fade with a retro side part to create an eye-catching style that will complement all face shapes. With such a hairstyle, you are likely to get many admirers.
3. Skin fade with pompadour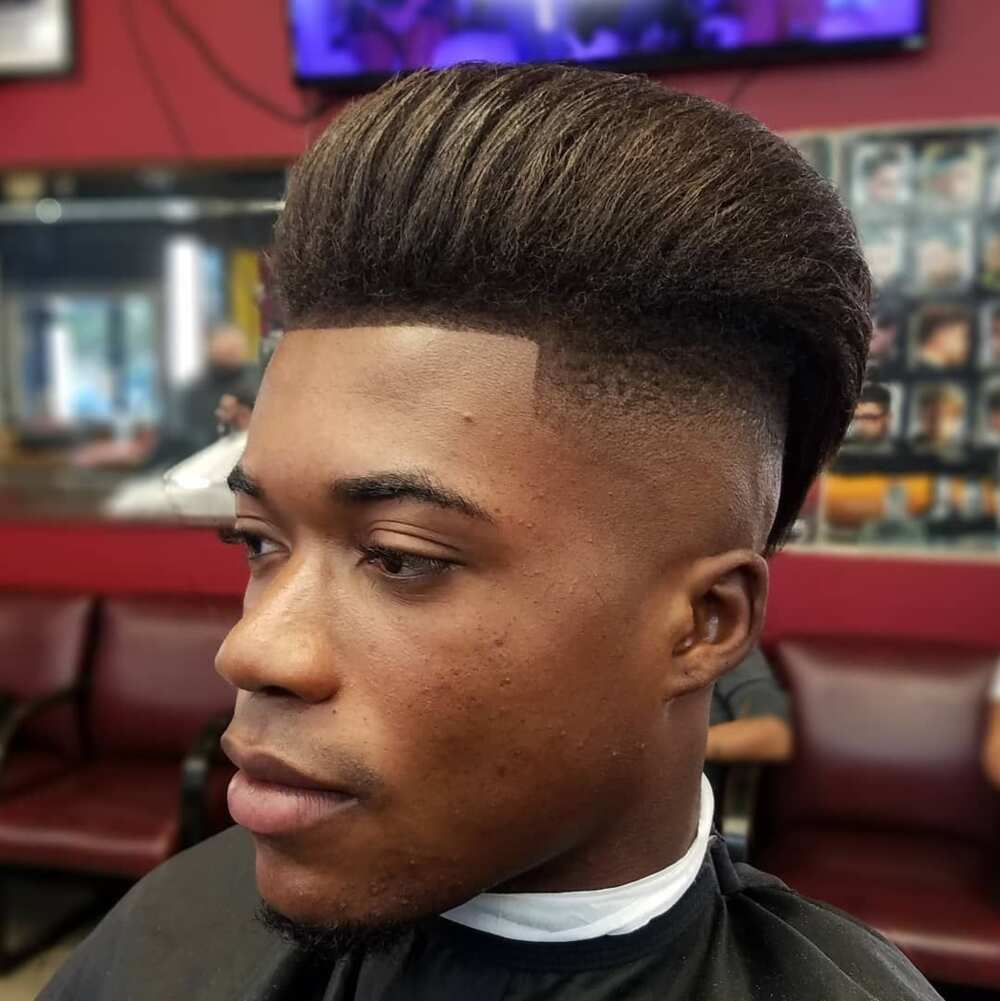 Pompadour was a popular hairstyle to many in past years, but it is still embraced today. It also blends the old hair design with a new one to create a versatile look. This type of style is a combination of the high skin fade haircut and a pompadour. For its maintenance, you only need to get a regular trimming.
4. Mohawk with a skin fade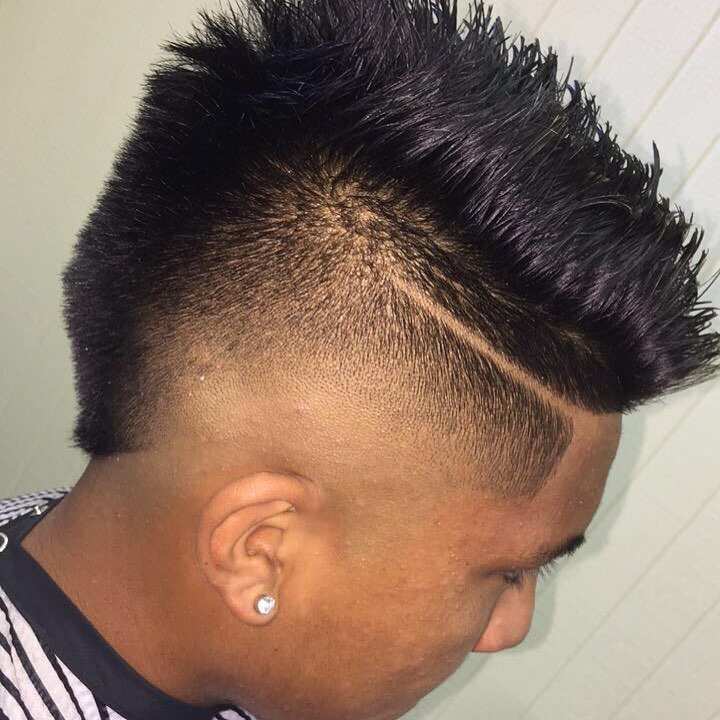 It is an ideal bald fade haircut for individuals who require a modern punk appearance. If you want to express your rebellious nature, then this is a perfect haircut for you.
5. Low bald fade with waves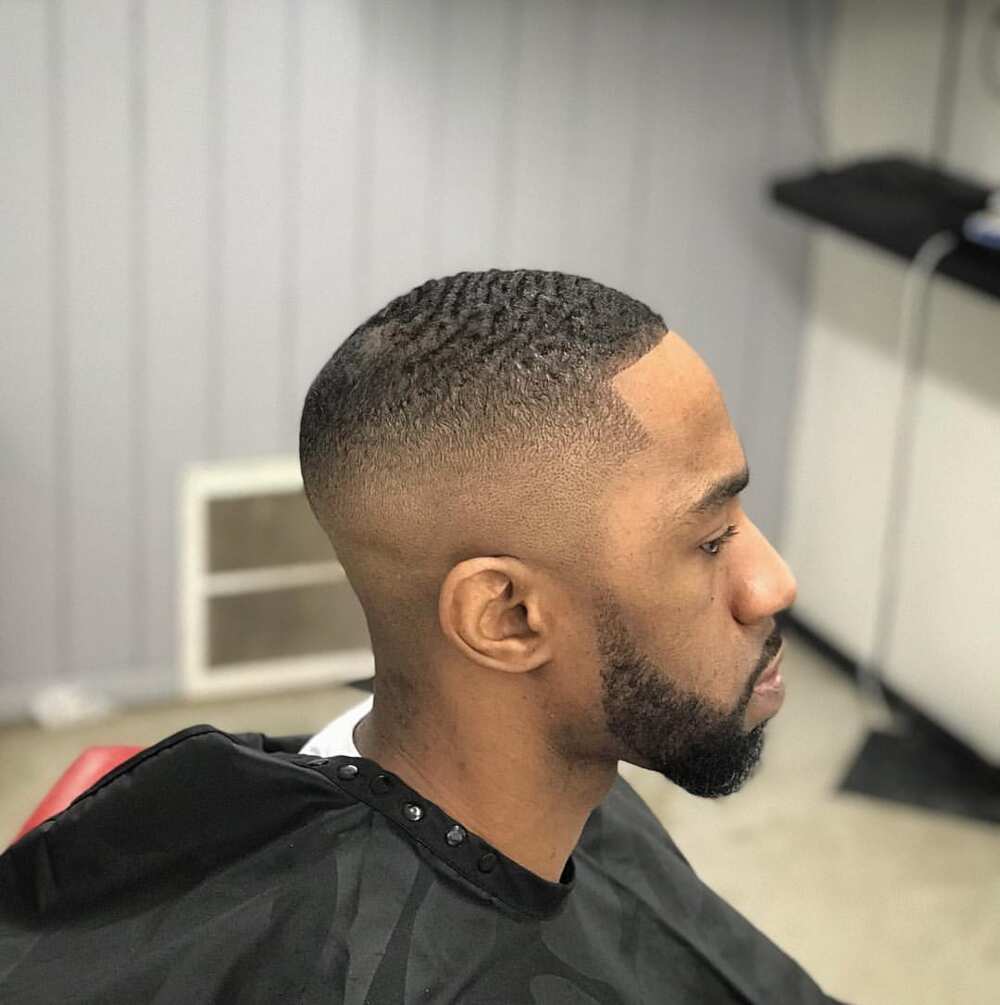 This haircut is one that can improve an individual's look. It is a compelling design that is achieved by creating a clear distinction between the beard and hair.
READ ALSO: 15 mohawk fade haircut ideas for men
6. Drop fade with a vanished neckline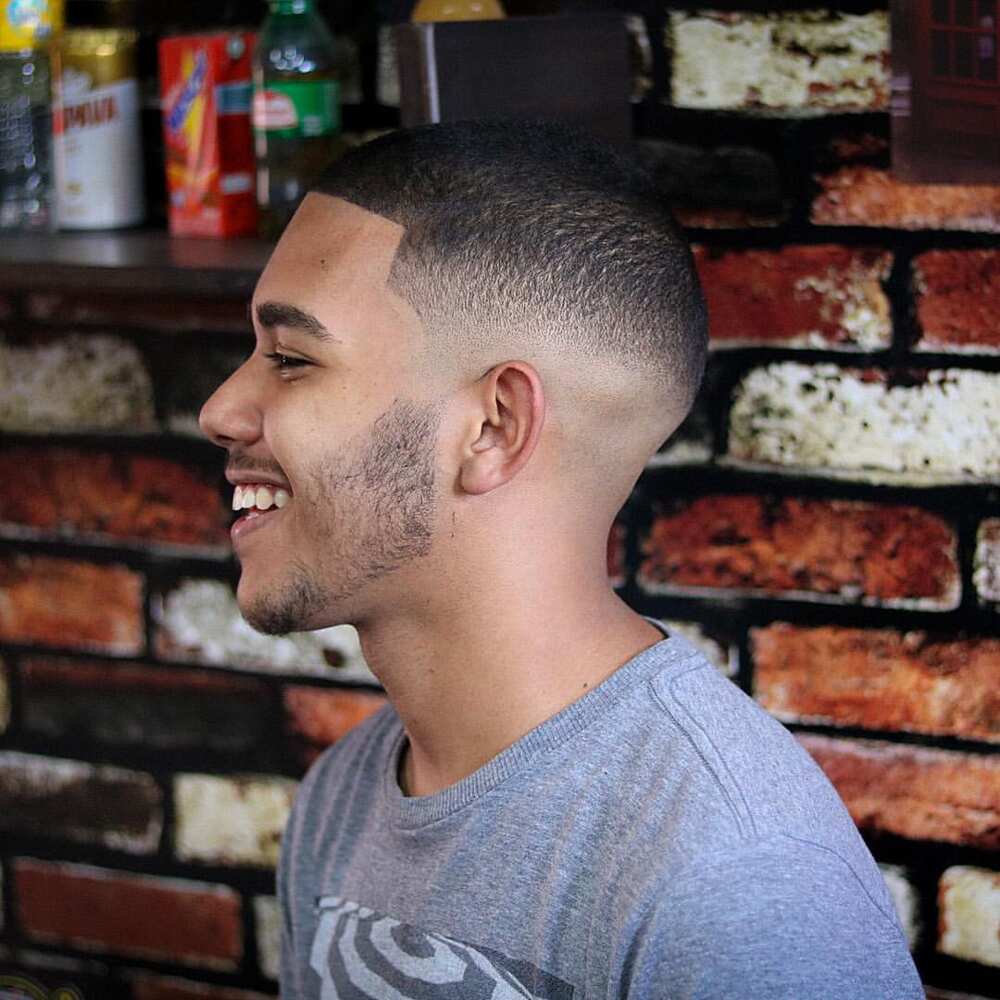 For this hairstyle, the vanishing sides begin at the temple and declines back behind the ear and down to the neck region. The vanished neckline makes this haircut appealing. Since the style requires short hair, the maintenance is also low.
7. Low skin fade with line up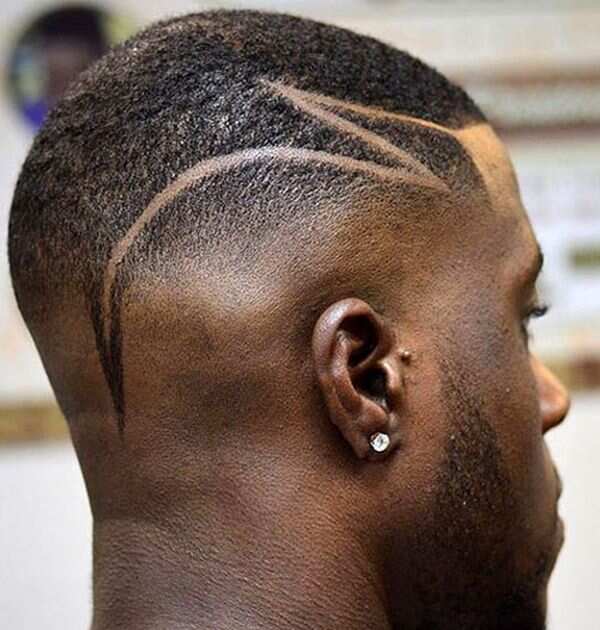 Give your hair a wow effect by opting for a drop fade. It works with every hair type, and you are bound to be the centre of attention everywhere you go. The hairstyle, design, and pattern to choose will depend on your preference and the skills of your barber.
8. Well-styled dreadlocks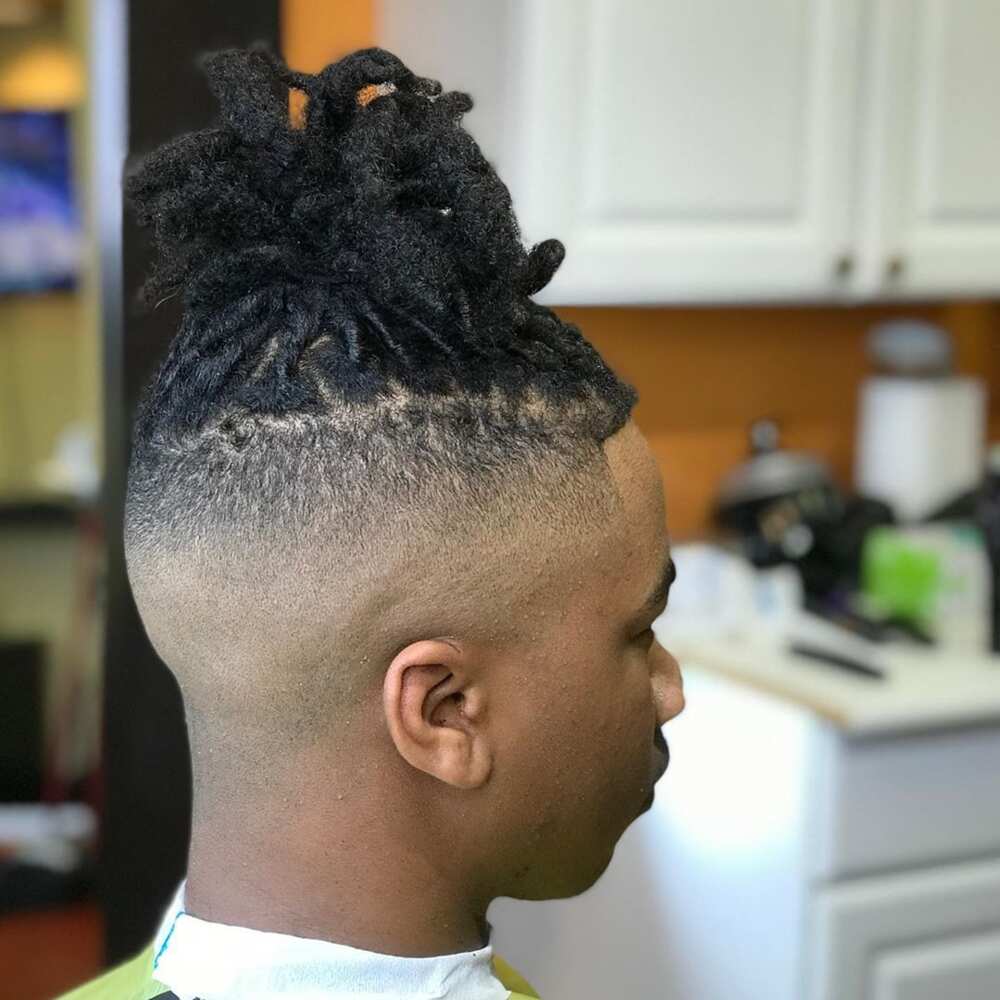 What makes this style neat and trendy is that it incorporates dreadlocks at the top with shaved sides and back. You do not have to use a lot of money to maintain this look, and if you do not want the dreads to fall on your face, you can tie them into a ponytail with a hairband.
9. Ponytail inspired hairstyle for men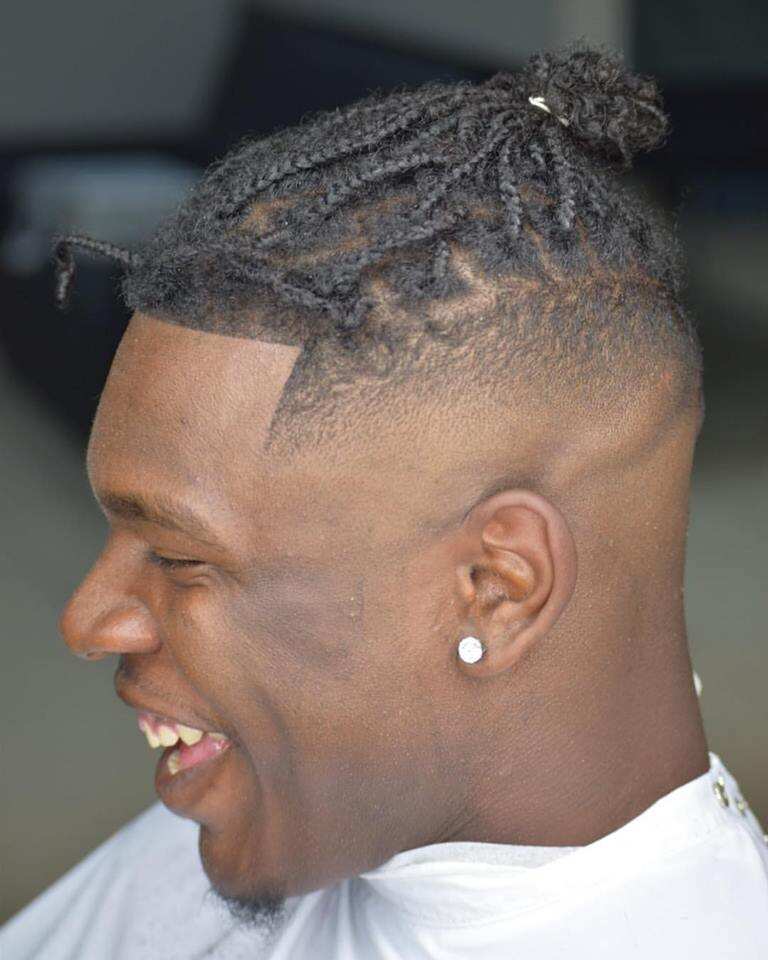 The medium to long hair suits this particular haircut because it helps the design to stand out. What makes it great for men is that the hair is tied in a sleek ponytail which works to frame the face.
10. Bald fade with beard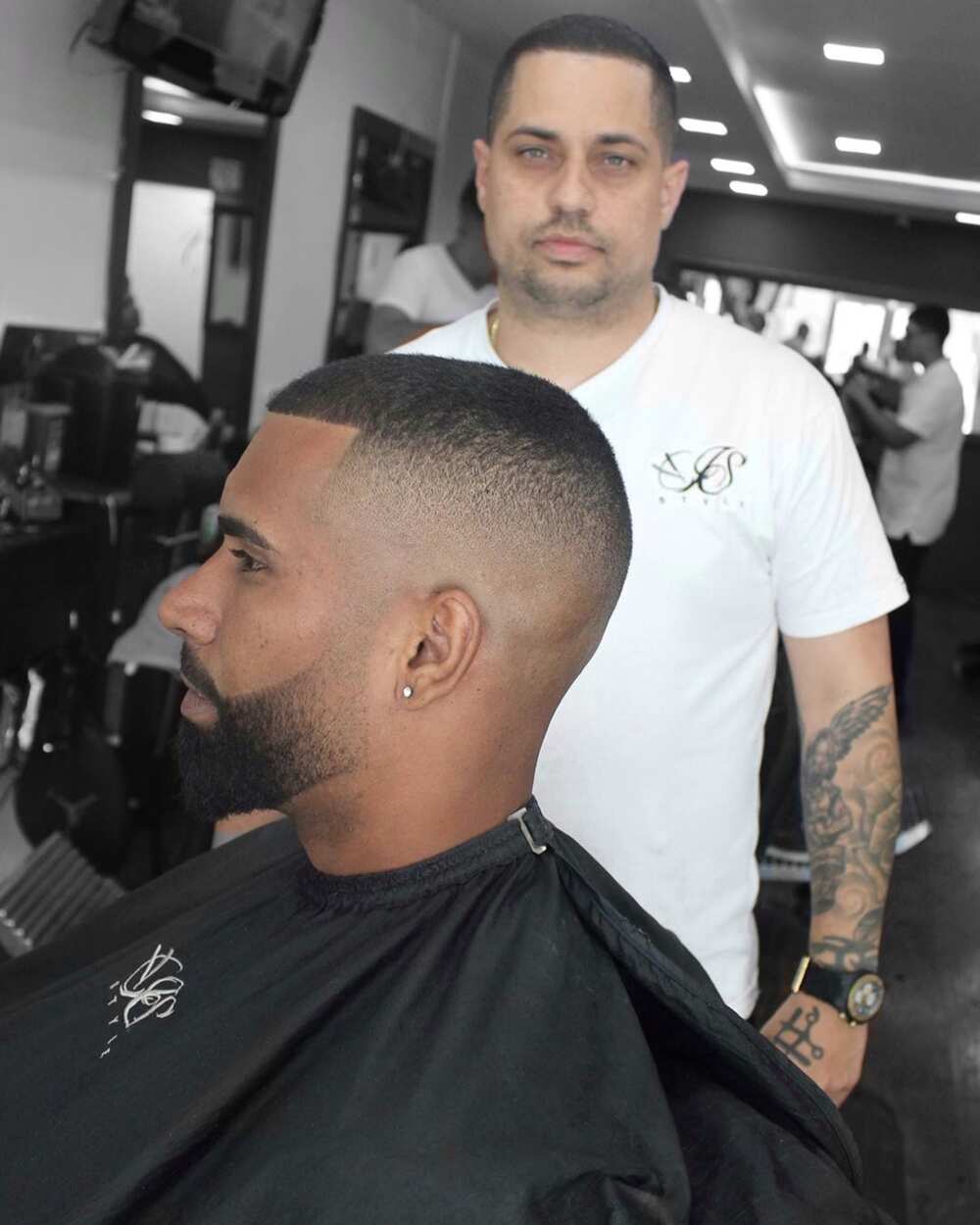 If you love pairing your hairstyle with a beard, then go for this design. The hair is cut in such a way that the top is of proper height to balance the well-trimmed beard.
11. Disconnected buzz cut with beard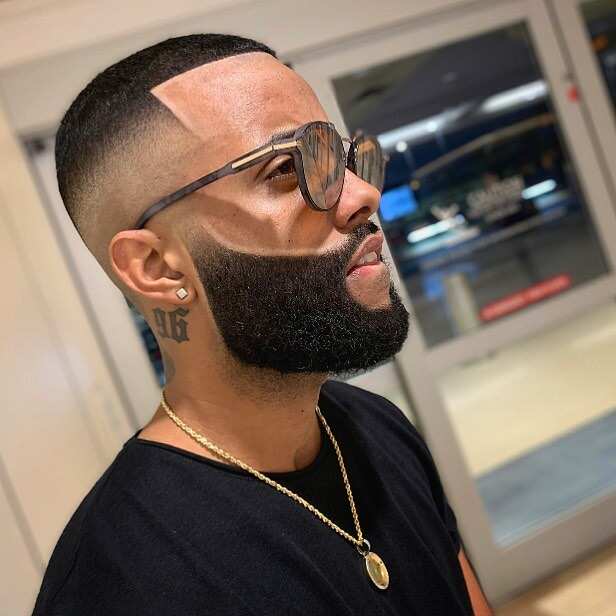 To obtain a perfect buzz cut in this hairstyle the hair is trimmed with #1 or #2 clipper setting. For the sides, the hair will be reduced steadily from the temples downwards to form a curved line at the darkest point of the fade.
12. Spiky texture with vanished neckline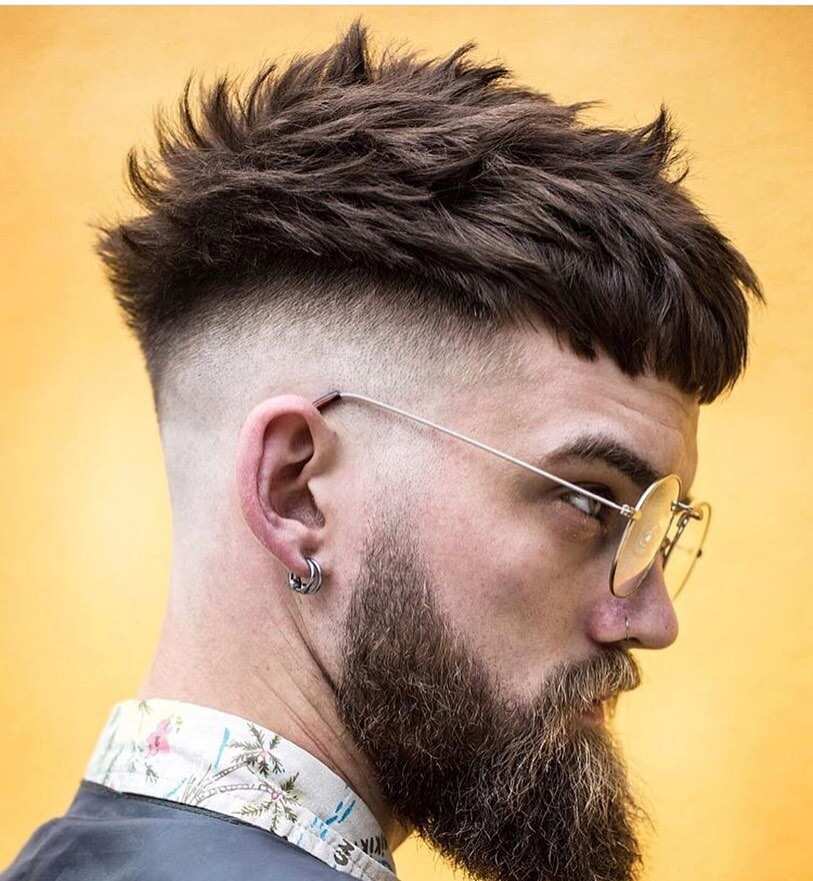 This style suits those with short to medium hair because the weight may also prevent the style from staying up. While you can apply hair gel to make the hair spiky, using wax from the front to the back of the head keeps it more attractive.
13. Burst fade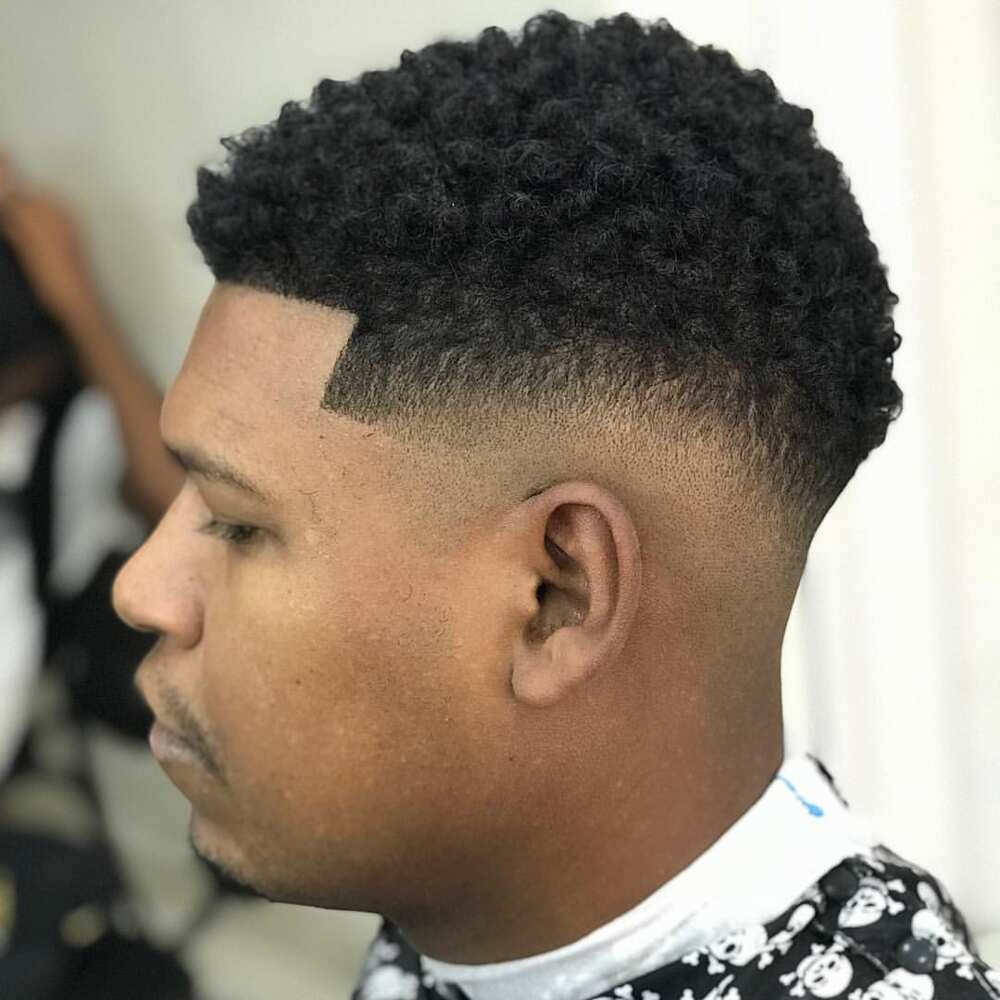 It is a form of mid skin fade where the gradient spreads out from the ear region to form a semicircle shape. The shaved part can develop from any point on the temple towards the sideburns.
14. High skin fade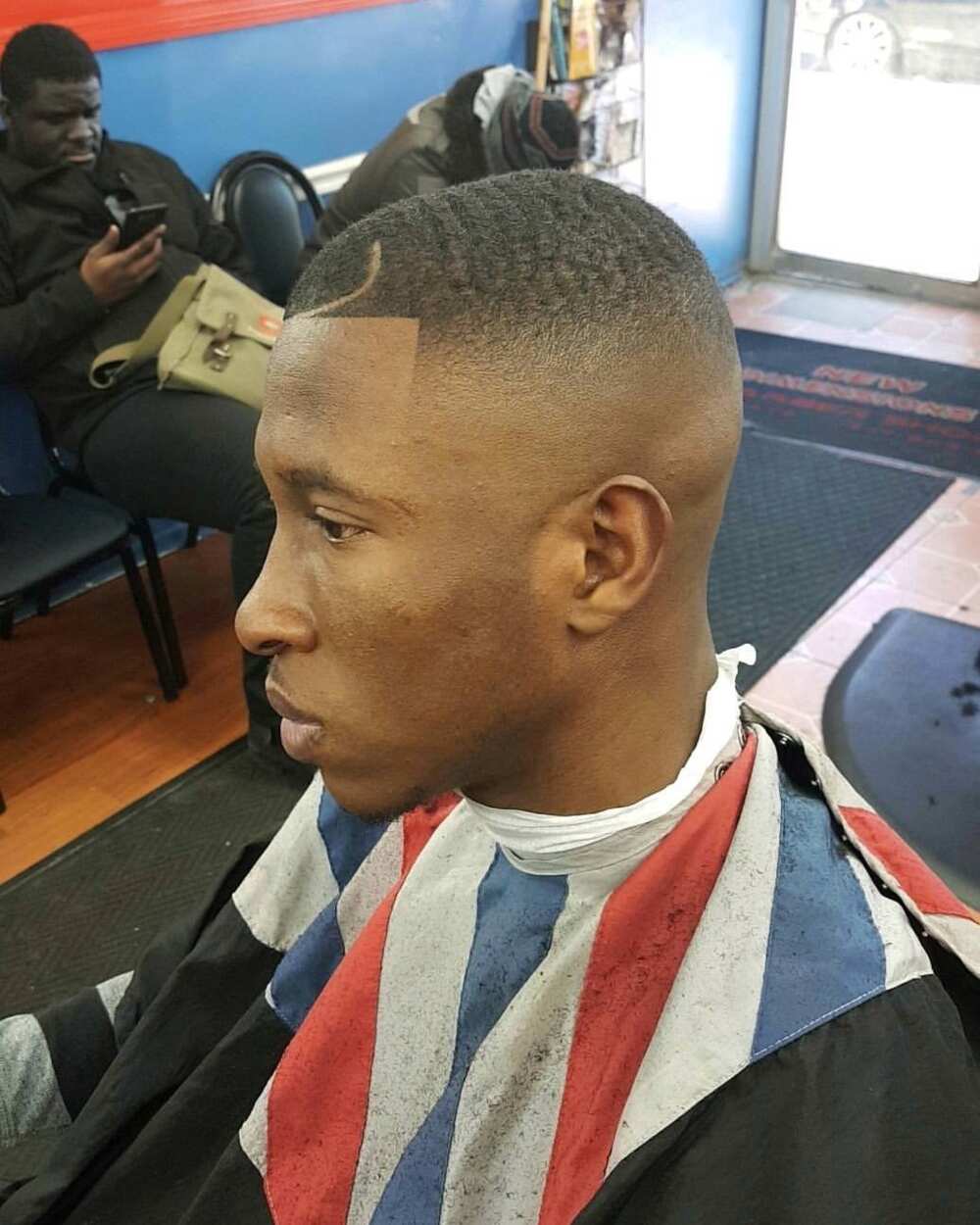 This type of cut leaves less hair as most of it is shaved off and only a small section is left at the top. The contrast is what gives this haircut an edge. This cut is ideal for a conservative work environment.
15. Skin fade undercut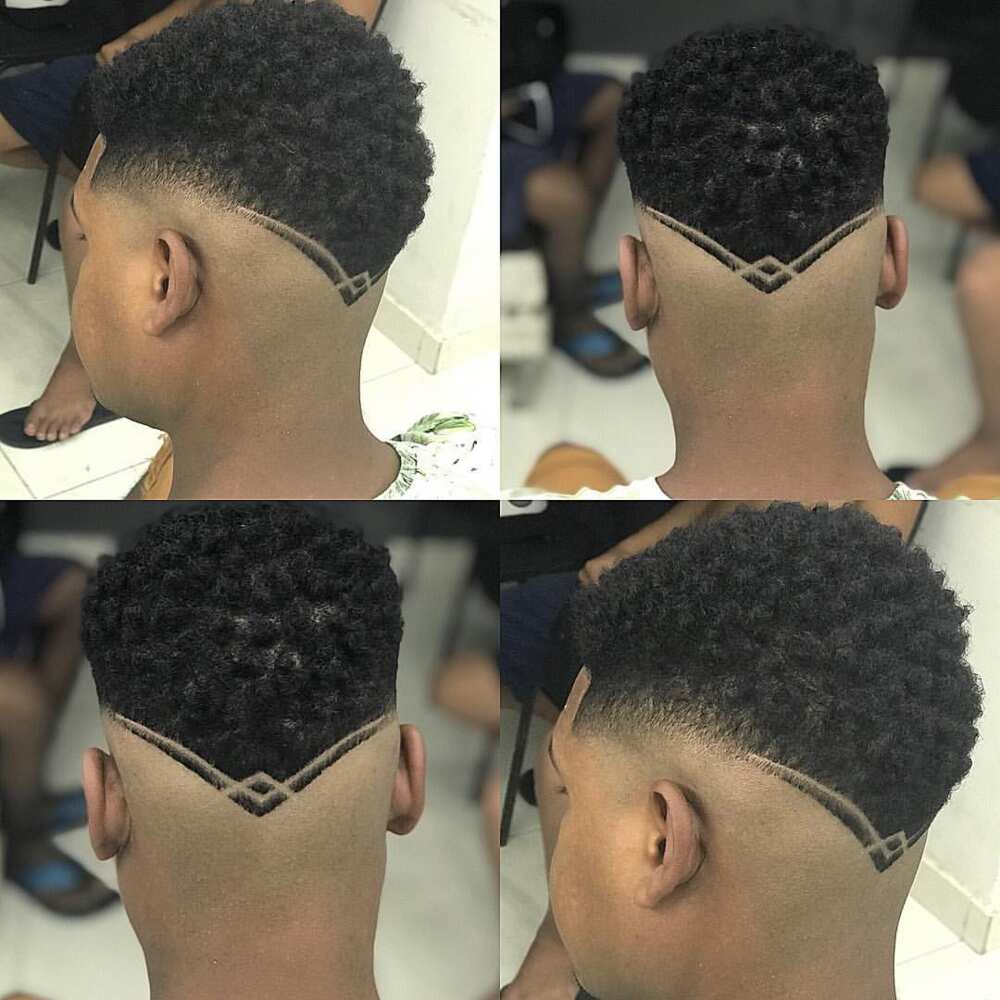 This design involves a beautiful combination of the undercut, which gives this hairstyle an edge and makes it easier to stand out from a crowd.
READ ALSO: Dreadlock styles for ladies and gentlemen
16. Medium skin fade with afro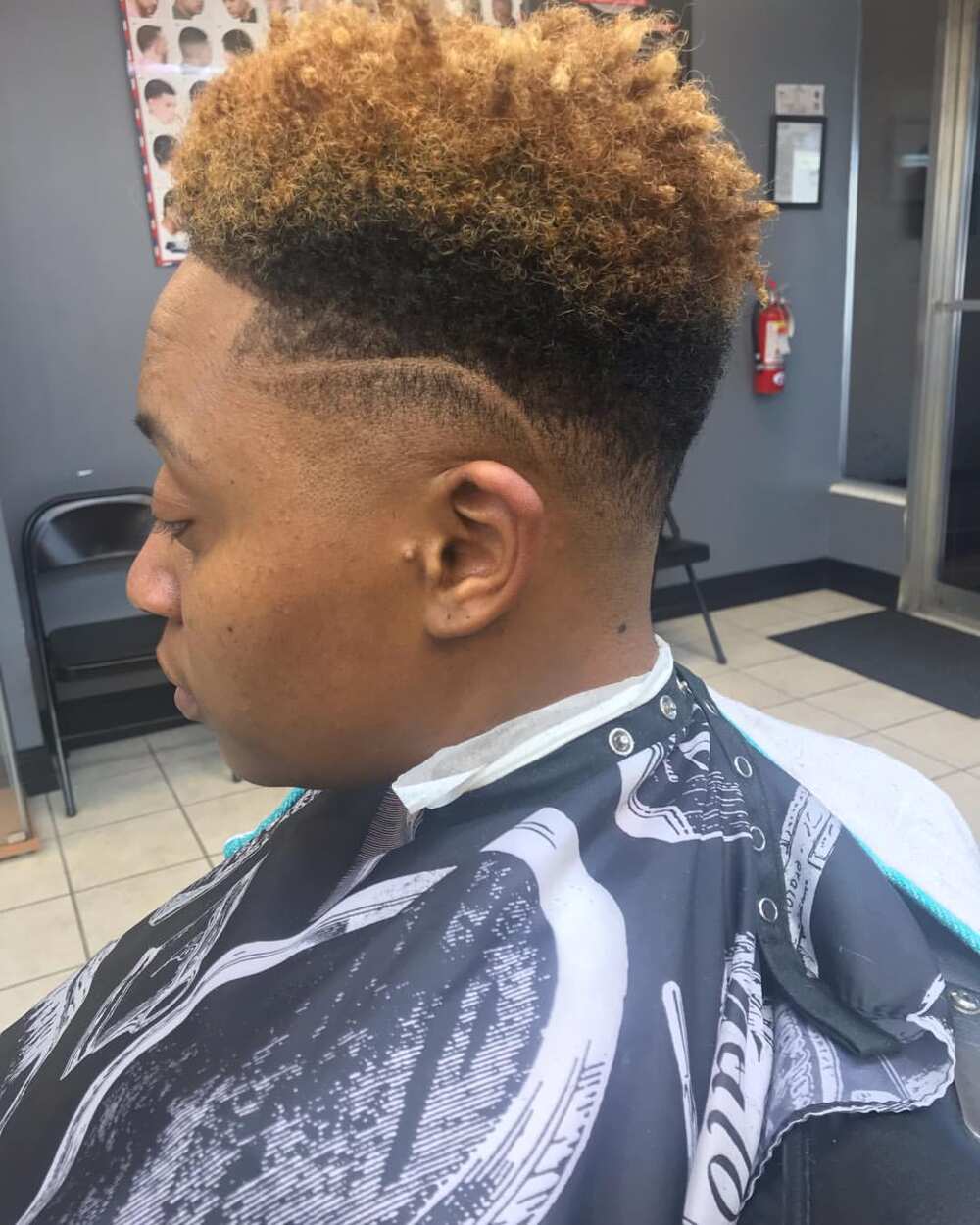 If you are undecided on whether to go for a low or high cut, then a mid fade might be what you need. The cut emphasizes the long hair on top and is ideal for all hair texture.
17. High bald fade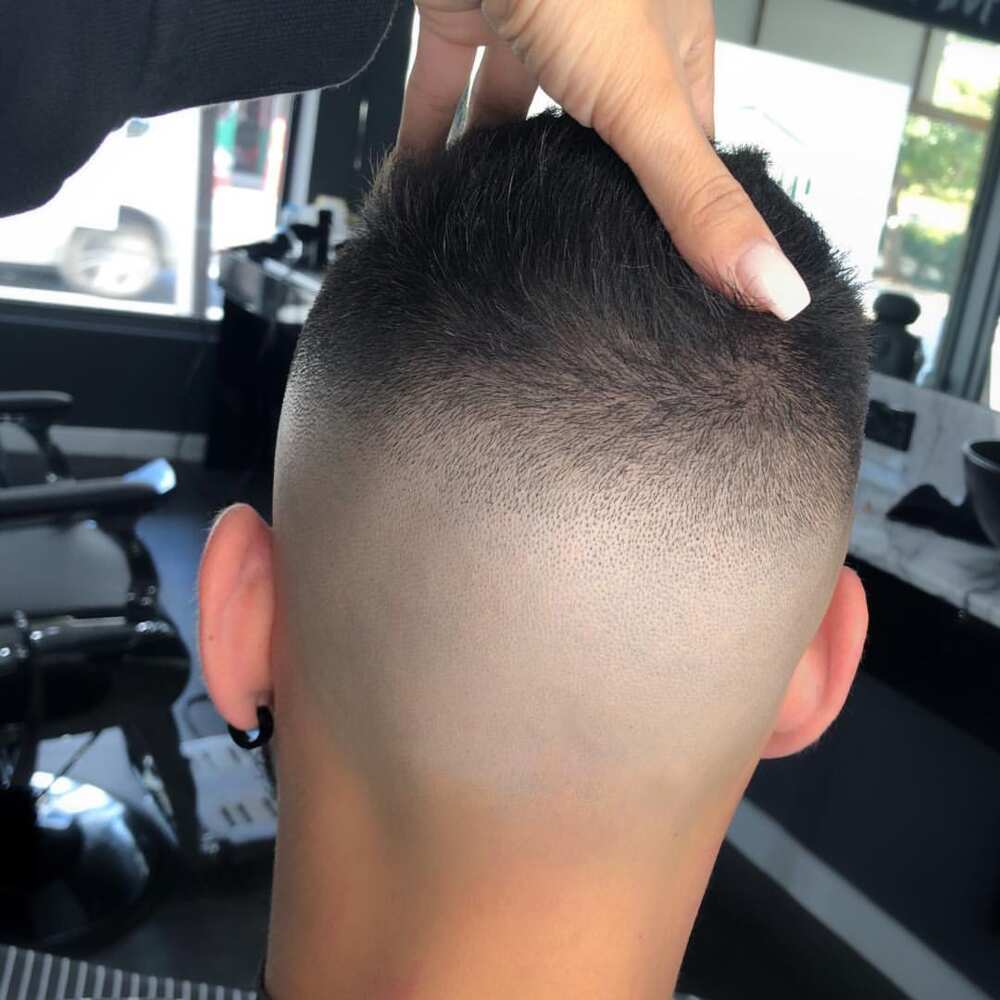 For a contrast appearance that takes you fashion to the next level, this form of cut would be the best for you. This cut is all about shaving the hair up to almost 2 inches above the ears.
18. Skin fade taper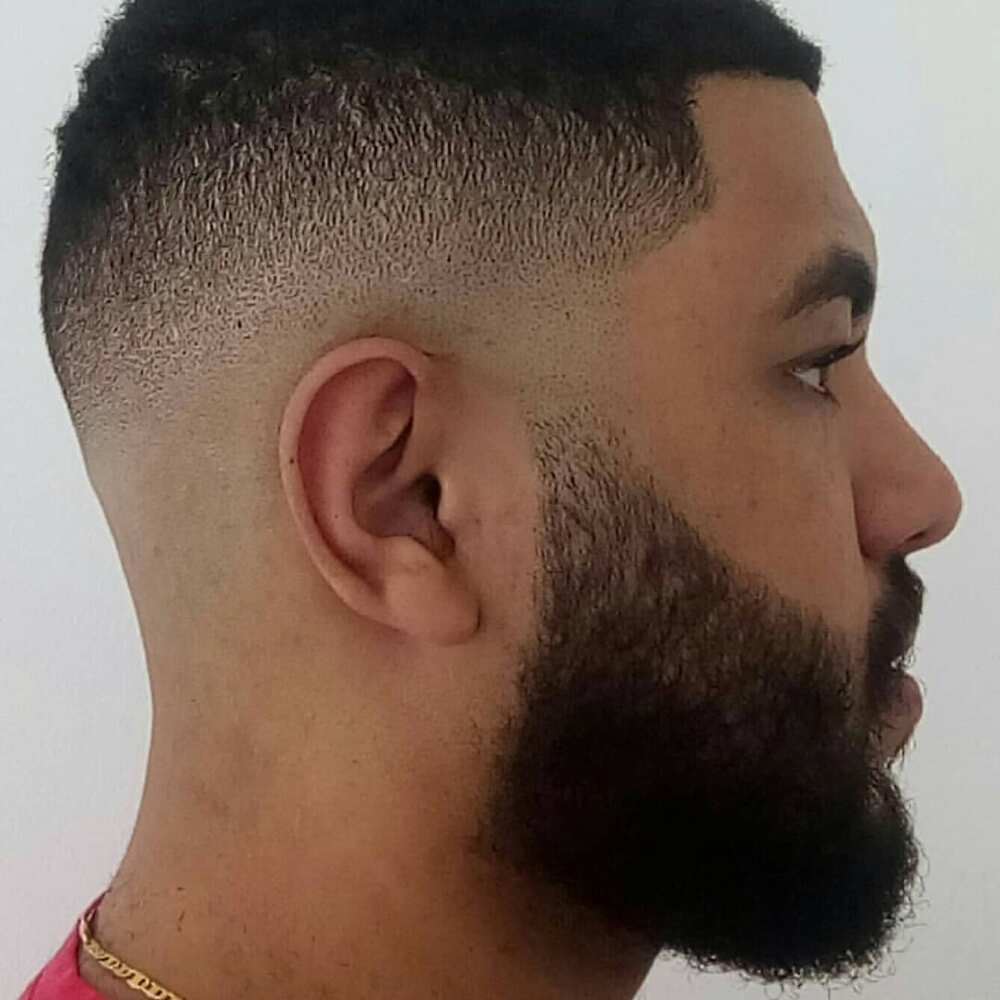 Clippers are used to achieve this haircut, and the scissors are also used to create a distinct transition between the long and short hair.
19. Two-tone dreads mid skin fade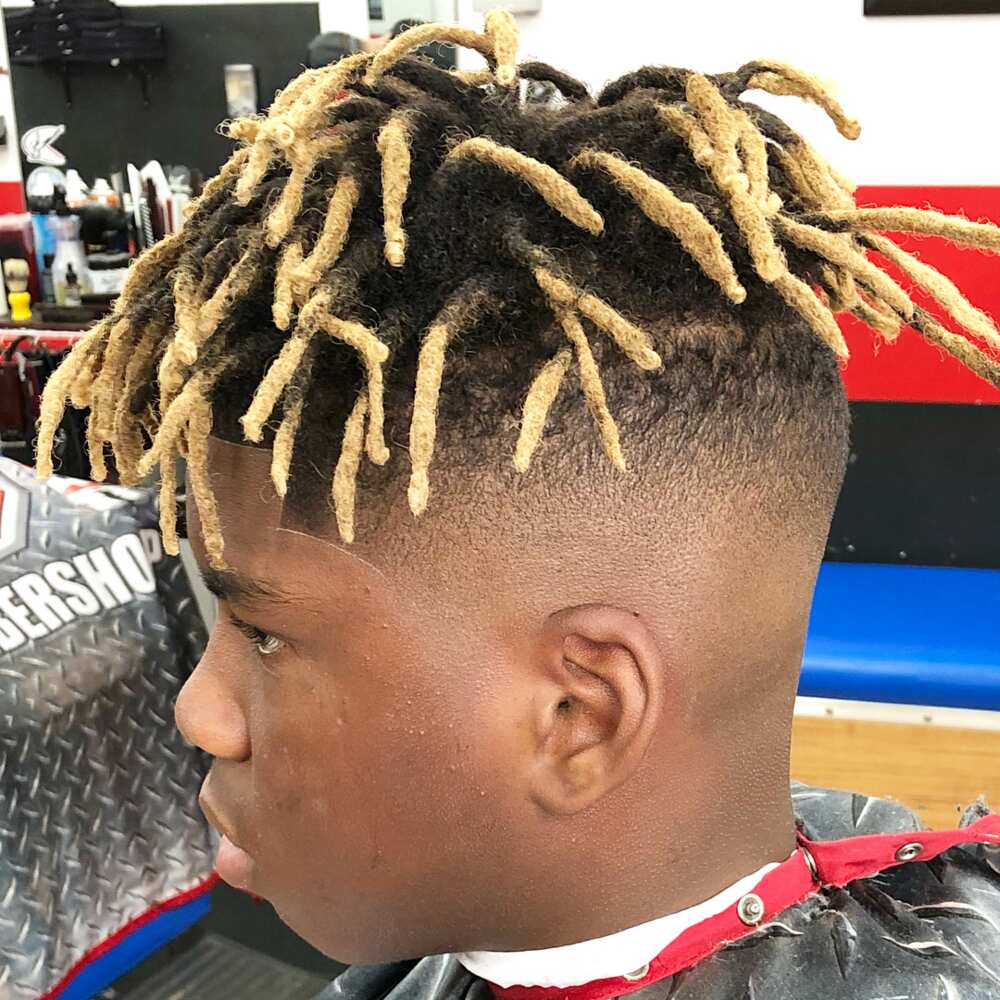 With the skills of a good barber, you can combine two trendy haircuts and rock all of them at once. This hair design is an excellent example of that.
20. Mid bald fade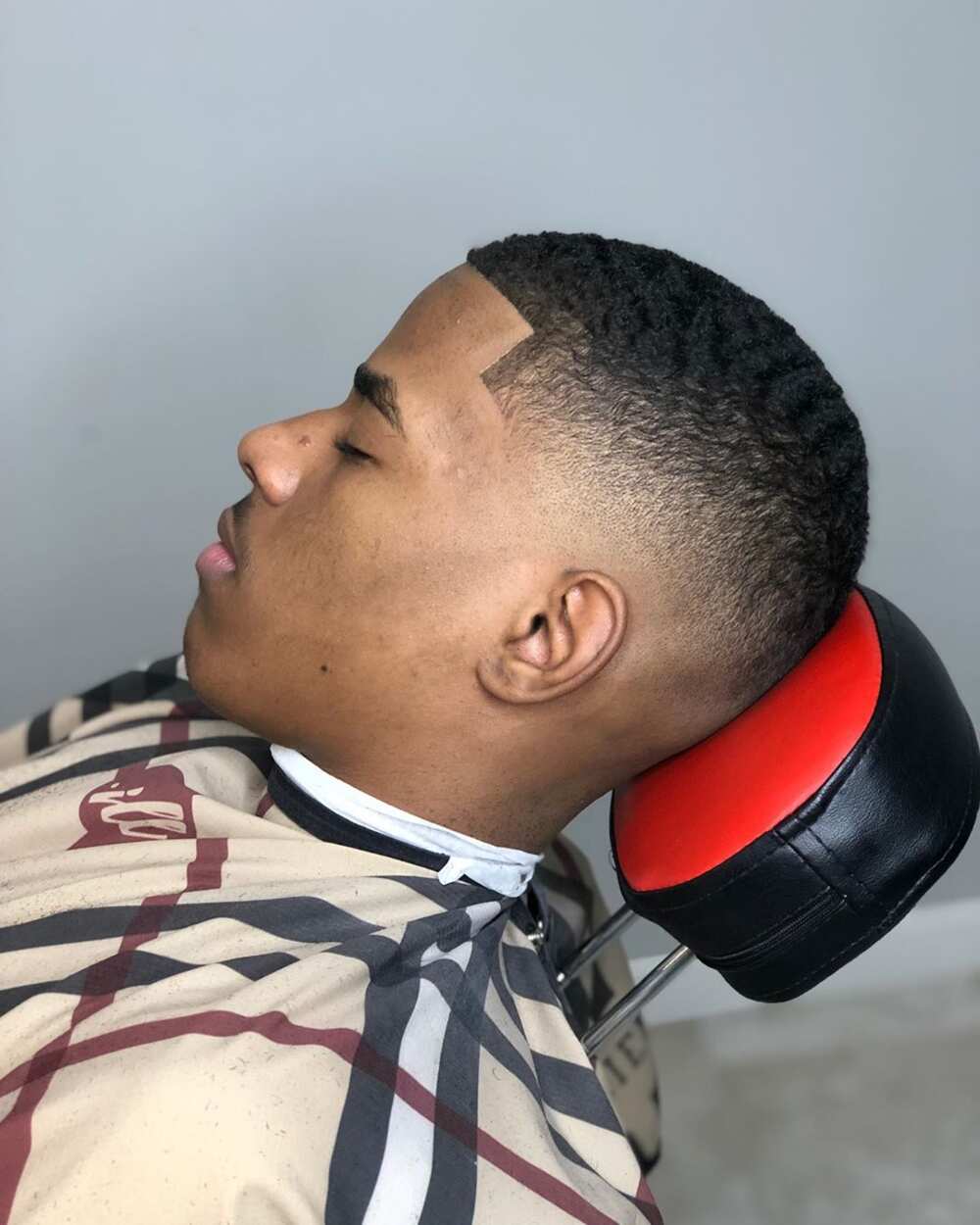 This is one of the latest hair trends for guys of all ages. It is popular because of its modern look and low maintenance.
21. Full bald fade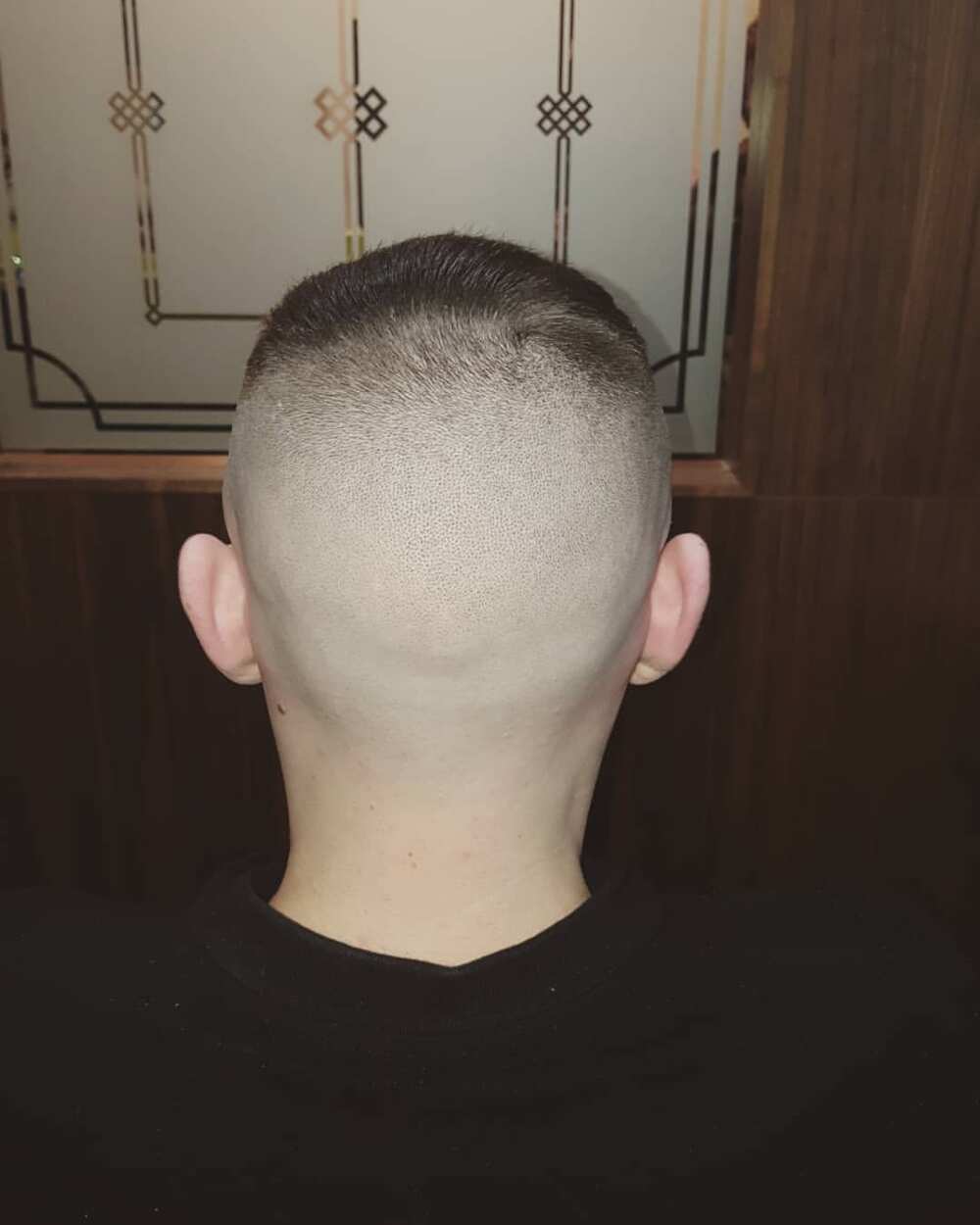 This style has a similarity to that of traditional military haircut, and it looks fantastic on both young as well as mature individuals. Unlike standard styles which require clippers, this design requires a razor to cut the hair down to the scalp.
22. Short afro with a simple part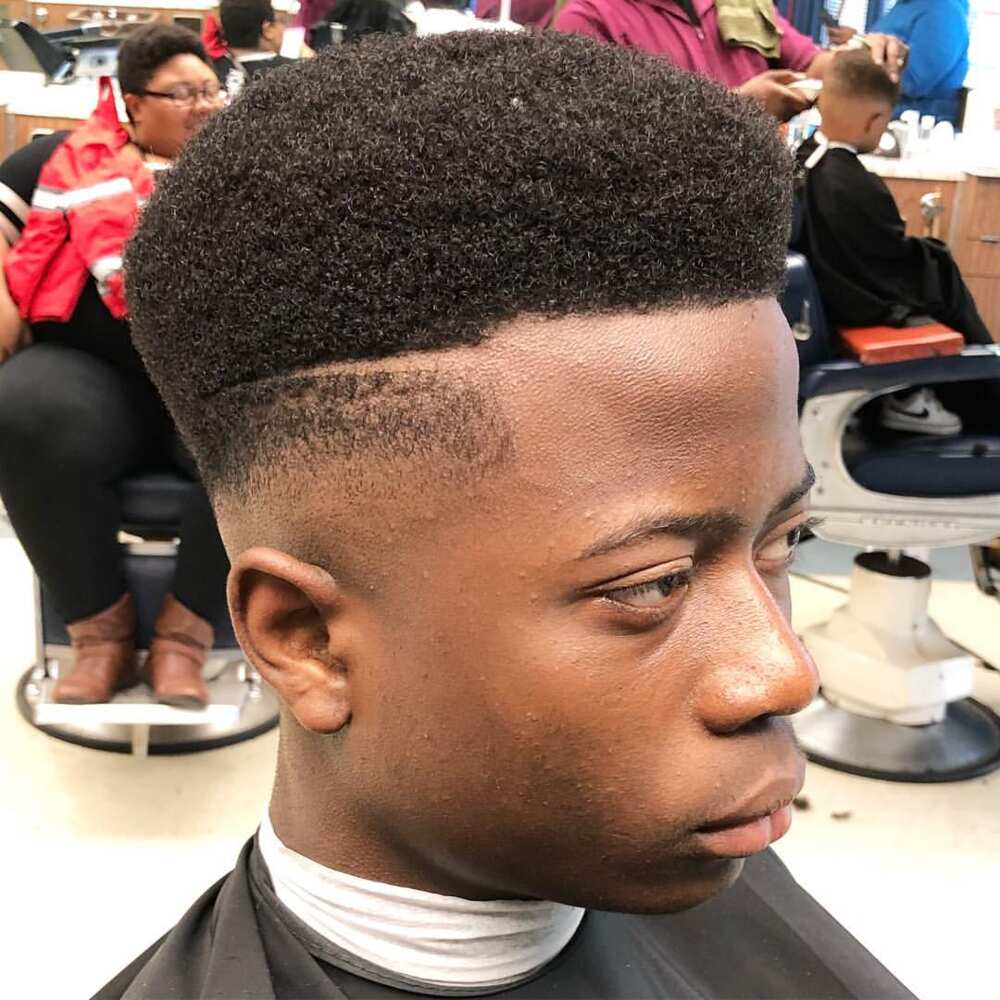 A simple side part is among the best ways to wear your hair. It gives your hair a new look and shows a modern appearance.
23. High flat top skin fade with beard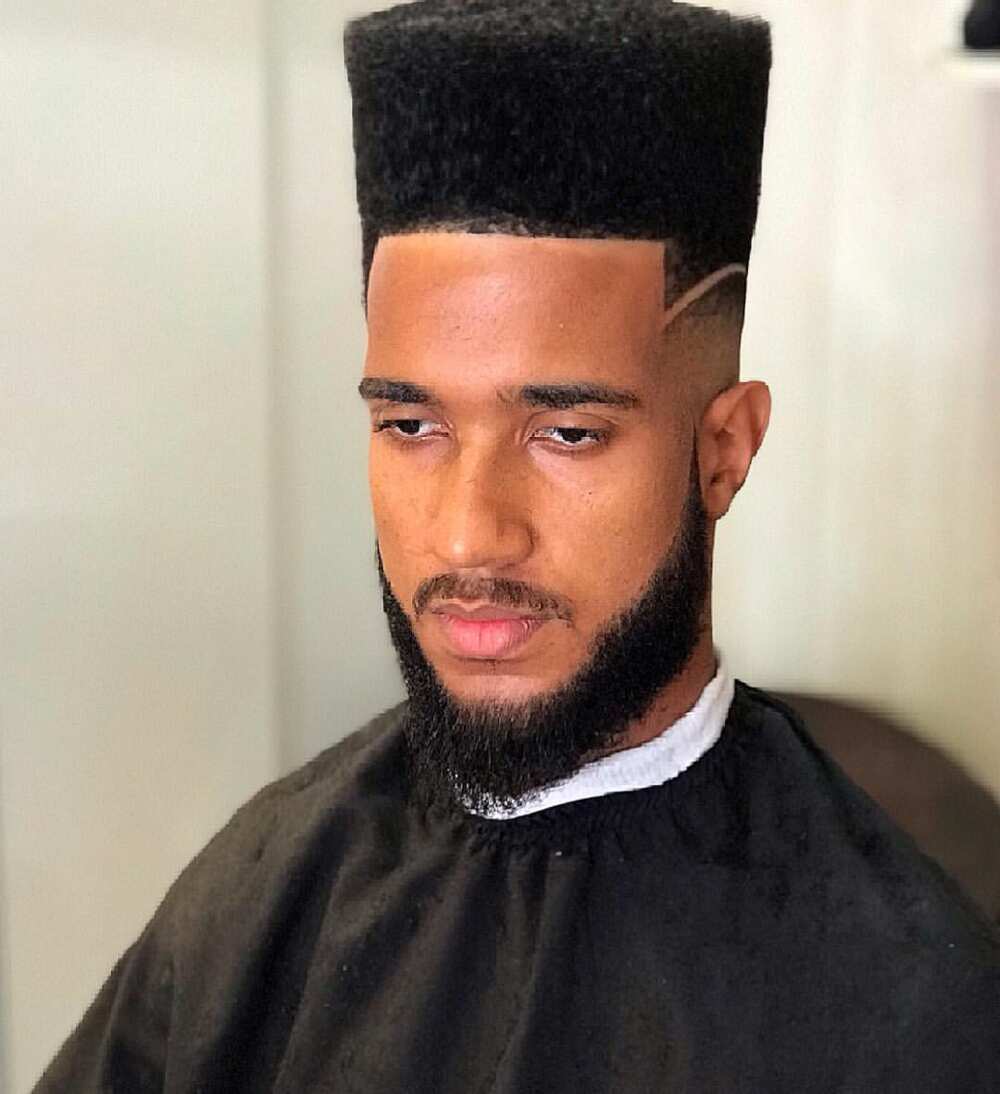 It was a popular haircut in the 80s and early 90s, but it is back and more popular than ever. To rock the cut without looking outdated, keep the top hair long, go for a natural texture and shave the back and sides.
24. Bald fade blowout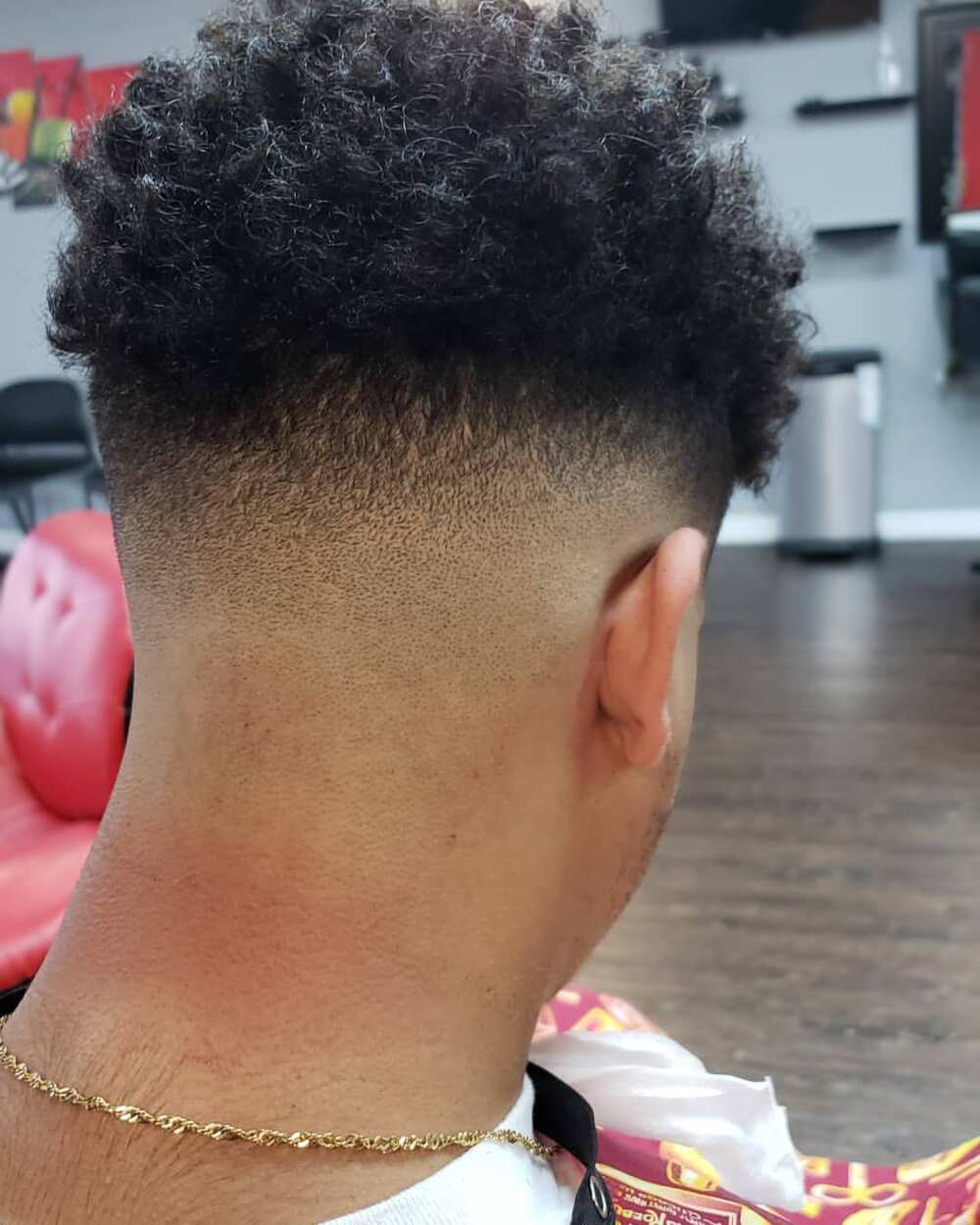 Combining a bald fade with a blowout creates a stylish appearance that is hard to ignore. The trick is to ask your barber to cut your side and back hair closer to the skin and leave the top portion longer to create the blowout effect.
25. Short hair with line up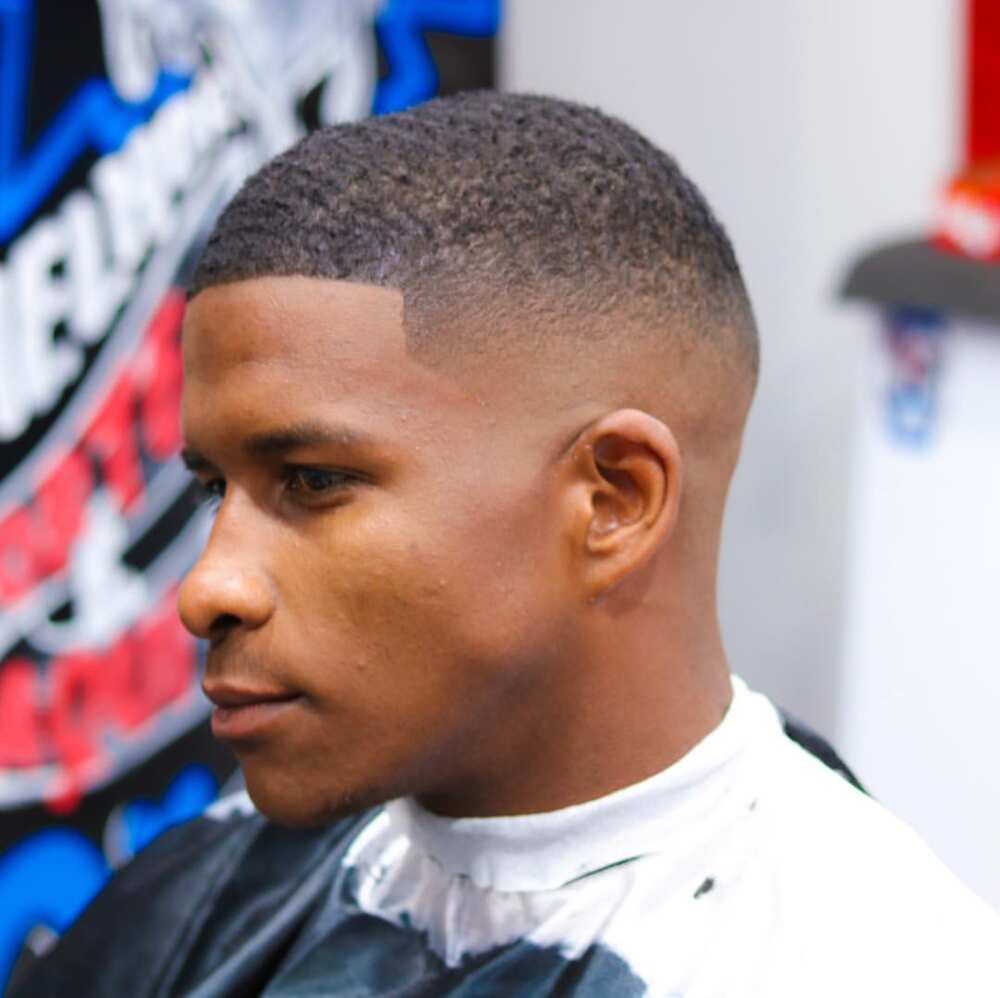 This type of haircut involves starting the cut from the sideburn and gradually decreasing it around the neck. This creates a hair distinction where there is less hair on the bottom, and the length increases towards the top of the head.
26. Line art inspired haircut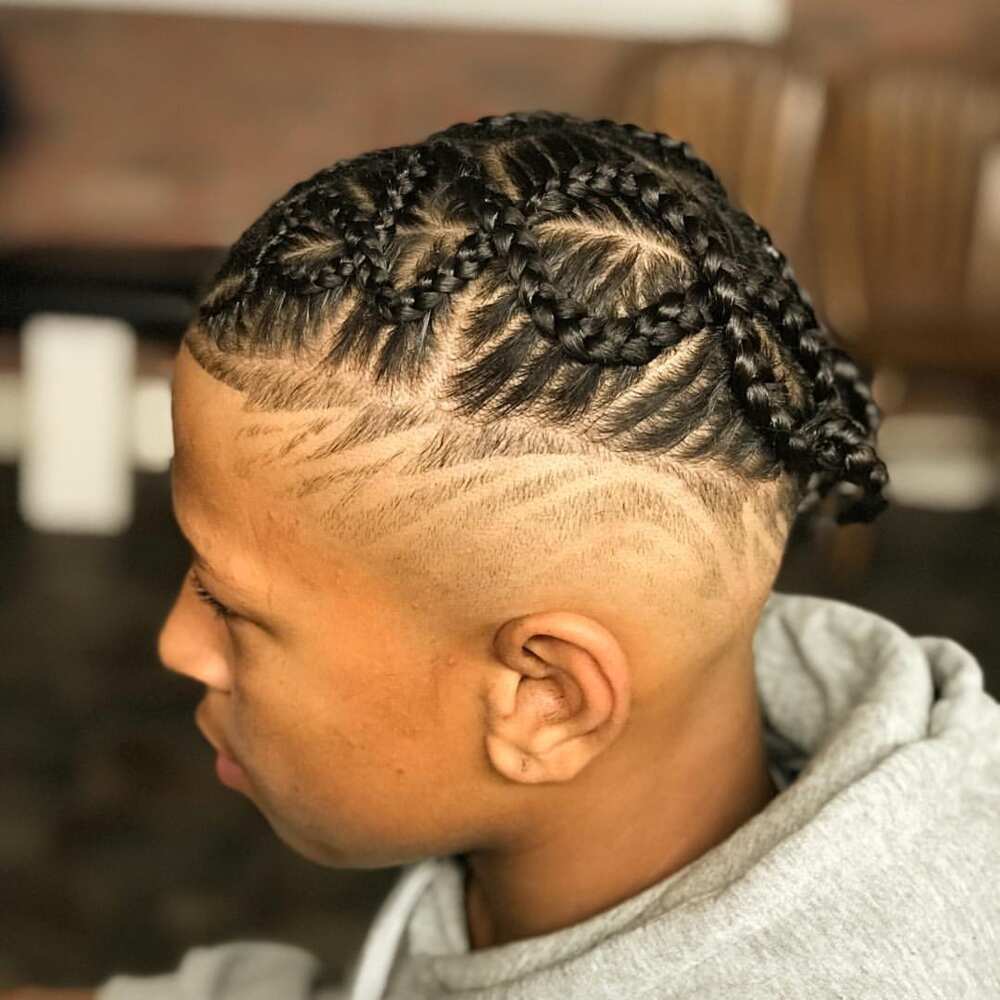 Shaved sides provide the perfect canvas to play around with different line art. If you want your hair to make a statement, then go for hairstyles that include geometric patterns or various curvy lines.
27. Skin fade hard part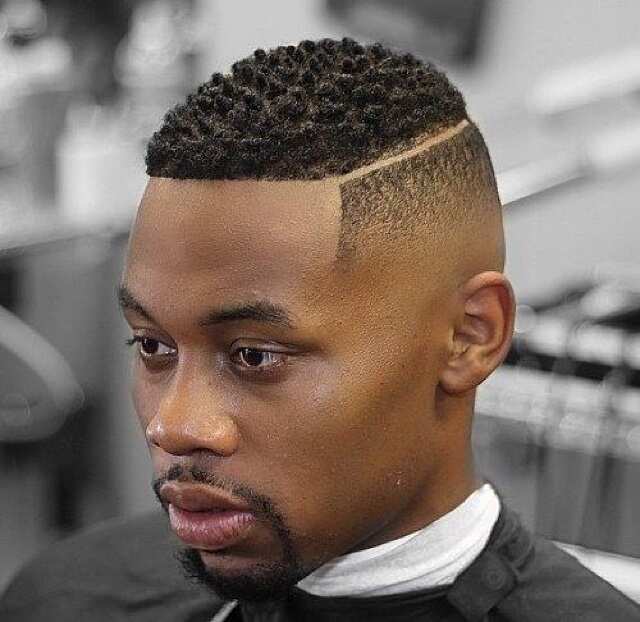 A hard part offers structure and style to thick hair. This hairstyle is easy to maintain and ideal for men who work in professional environments.
28. Faux hawk hairstyle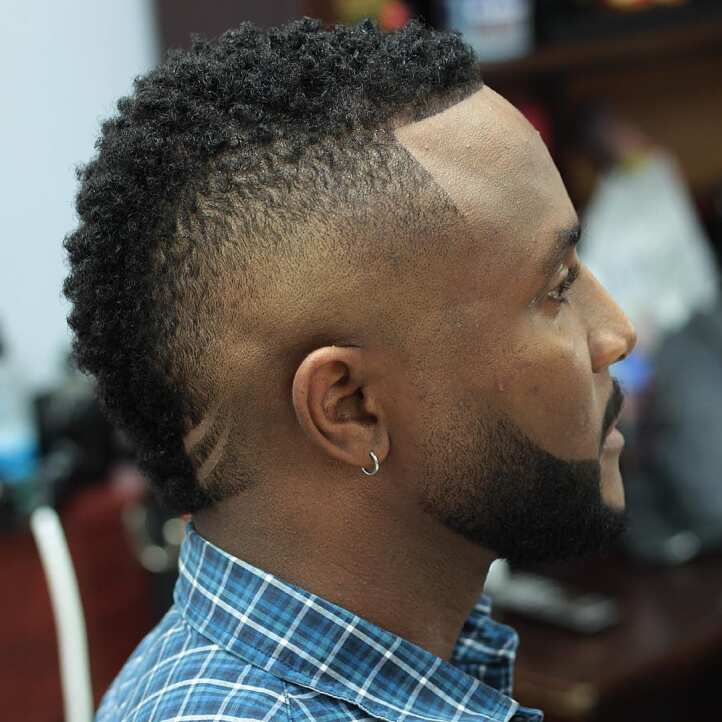 Mohawks have made a comeback, and they do not look like they will fizzle out anytime soon. For guys who prefer a less subtle mohawk then go for a faux hawk and shave the sides.
29. Classy line designs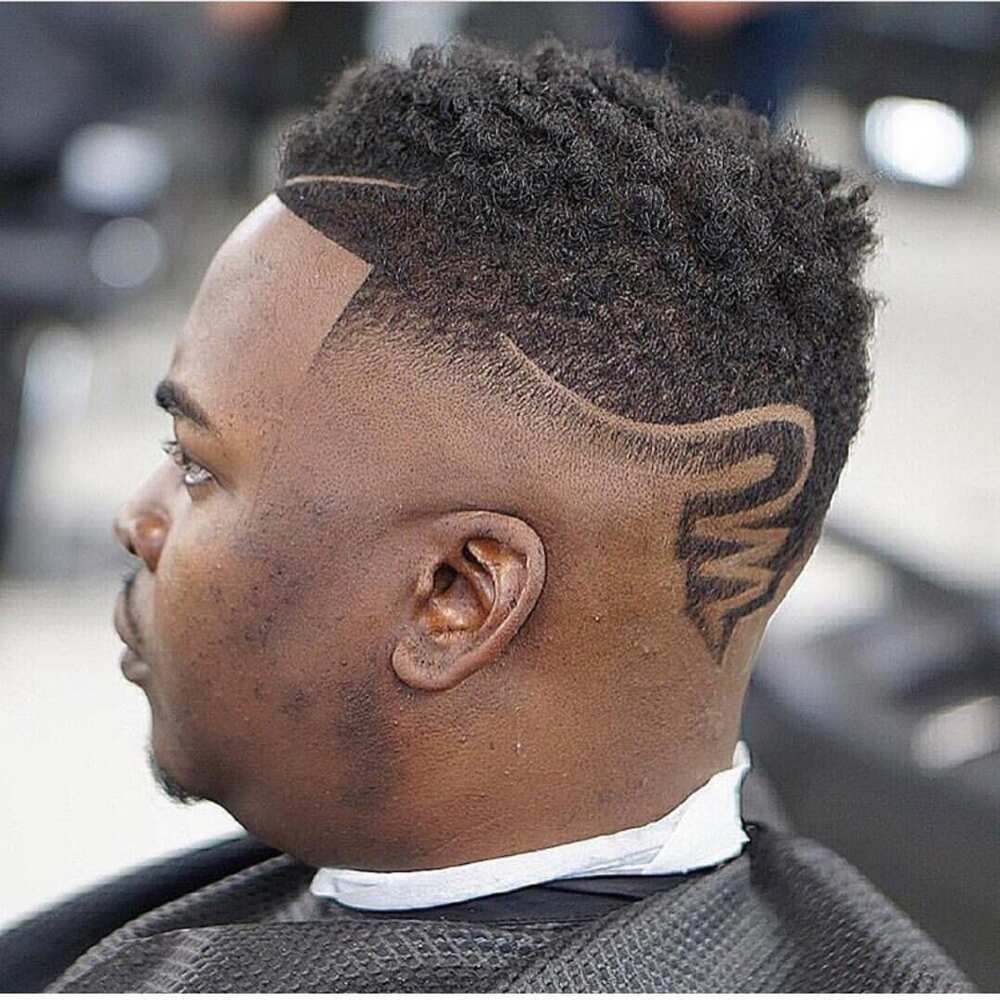 Do you want to grab instant attention? Then add lines or patterns to your haircut. Line haircuts come in handy when you want to do something simple yet edgy. Adding a complicated pattern to the shaved part helps you to stand out from the crowd.
30. Casual haircut with colour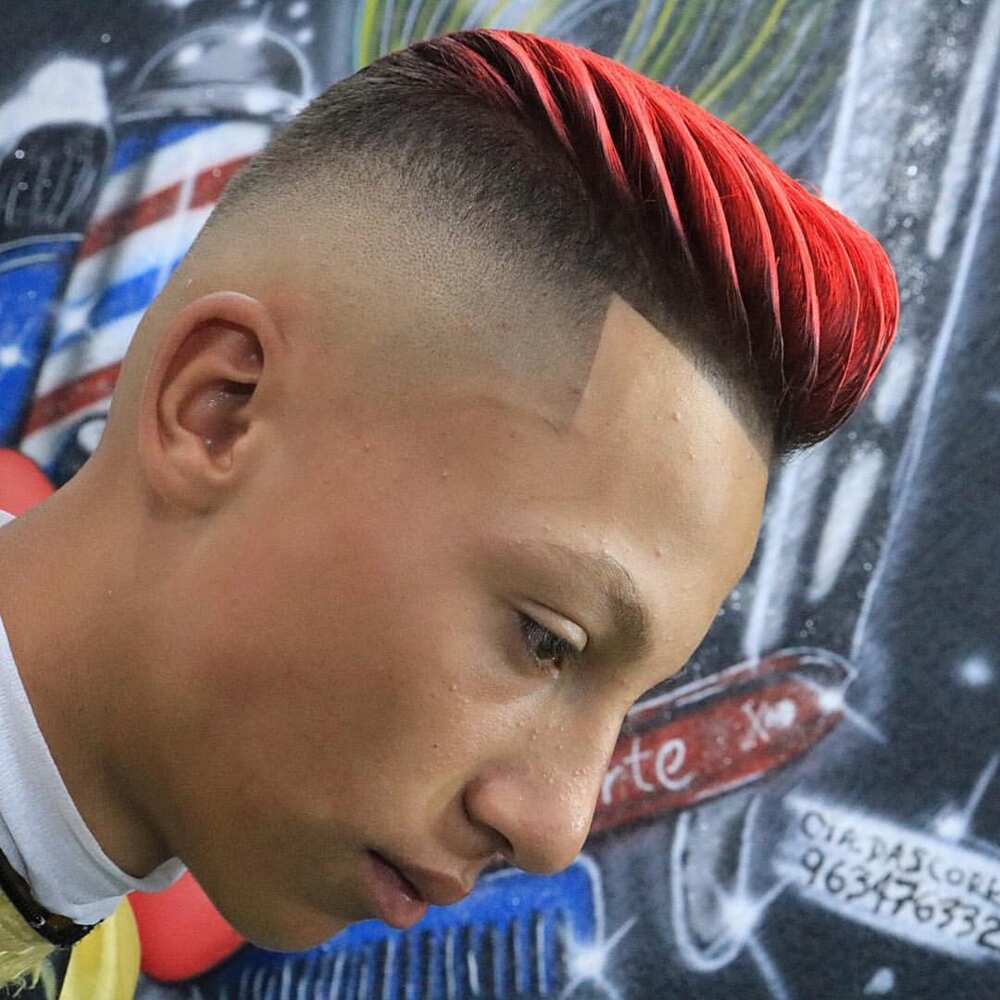 Nowadays it seems that guys are colouring not just their hair but also their beards. If you are not a fan of dyes, then you can start with a few highlights, but for more daring guys, bold shades such as pink, blue or even grey will suit you.
The skin fade is one of the popular hair trends for men. Since it comes in a variety of cuts and is low-maintenance you can try all of the listed above and stick to those which you believe are the best haircuts for you.
READ ALSO: Easy natural hairstyles for short hair
Source: Legit.ng