Native wears for traditional marriage in Nigeria - Best designs
Nigeria is a country with a rich history and culture and they reflect in our dressing, mannerism, ceremonies and many more. Attires of the bride and groom and wedding rituals can differ according to ethnic groups. The choice is truly huge, so you can definitely find the suitable native wears for traditional marriage below.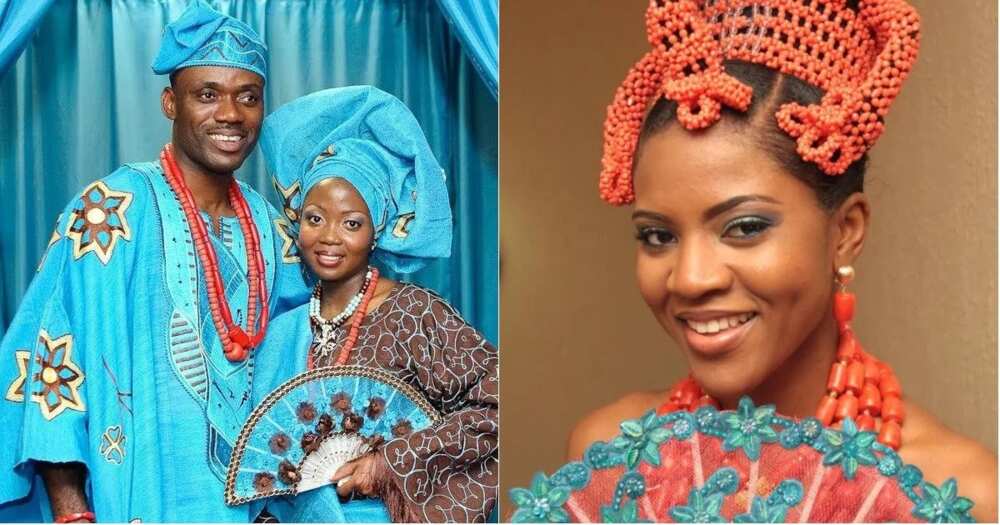 Traditional Nigerian wedding is not just a beautiful ceremony for friends and guests. This is a real pompous festival with a deep meaning. Each tribe has its own ways of making such events truly grandiose and memorable.
In particular, the effect depends on the clothes of the couple in love and their mates. The most important day in the life is an excellent occasion to show your magnificent aesthetic taste and sense of style, pay tribute to the ancient traditions of your people. Let the colors and fabrics merge in the most magnificent way, creating you a wonderful mood.
On a classic white ceremony, the groom should usually be in a black suit and white shirt. Traditional wedding allows he couple to wear more colorful clothes with exquisite cut, bright accessories, and headdresses.
However, the bride still attracts the most attention and wears more dazzling traditional wedding attire. A woman is a beautiful flower that should please surrounding people with its flowering, look like a queen. It is unacceptable for any of the guests to be more stylish and beautiful than she at the ceremony because it is her day.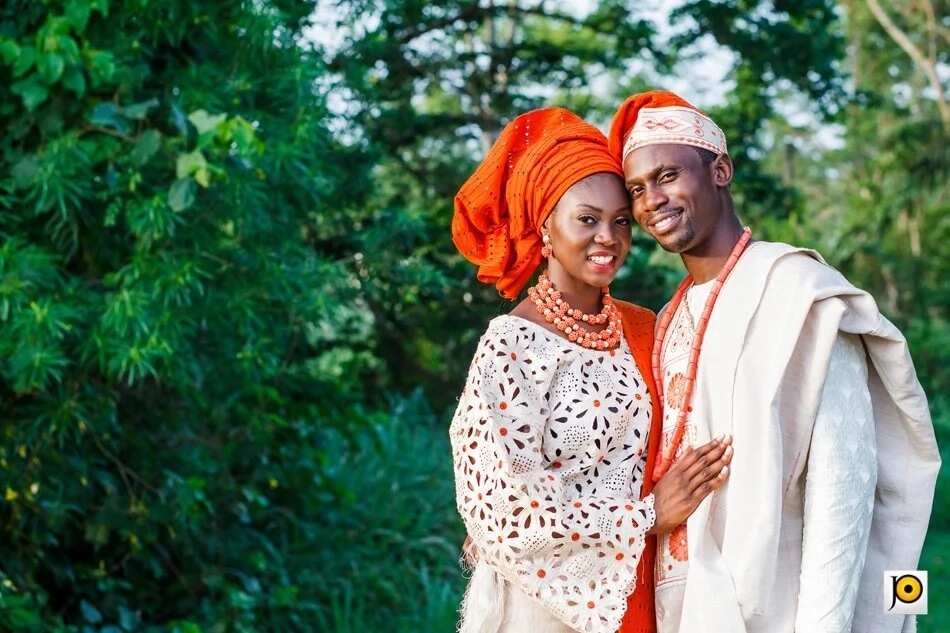 Let's find out what Nigerian traditional wears you can use for your ceremony.
Nigerian female native styles
In accordance with the traditions of the Yoruba people, a wedding should begin with the choice of Aso-Oke. This fabric is used to create a female traditional attire.
READ ALSO: Best photos from Yomi Casual's wedding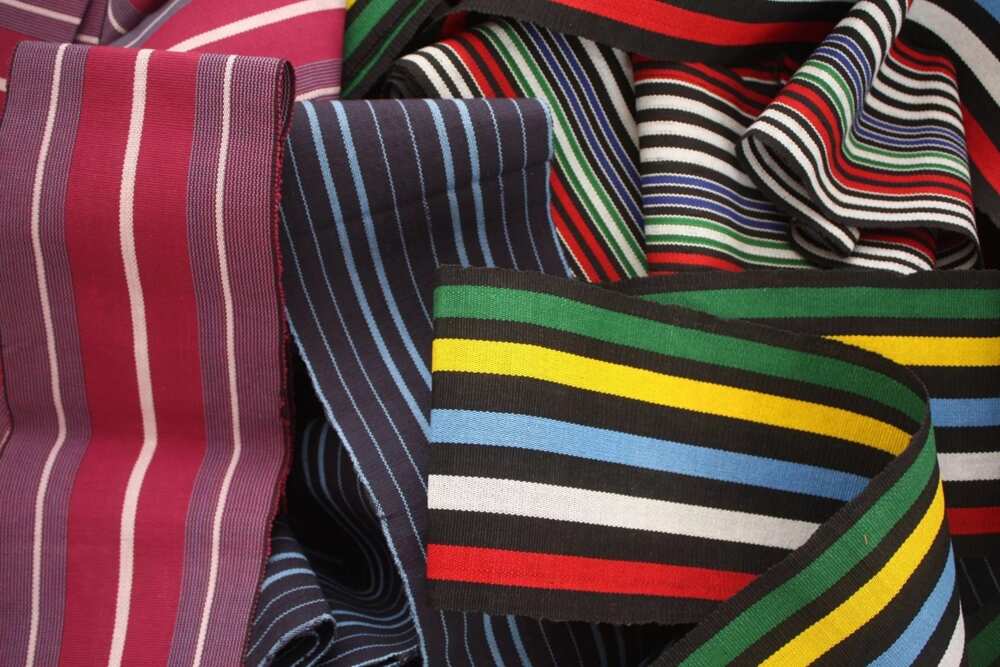 Aso-Oke is 100% natural fabric. Masters weave the fibers manually. Threads are made of cotton or other colored materials. Despite the fact that textile factories use modern technology, Aso-Oke clothing is made exactly as it was centuries ago.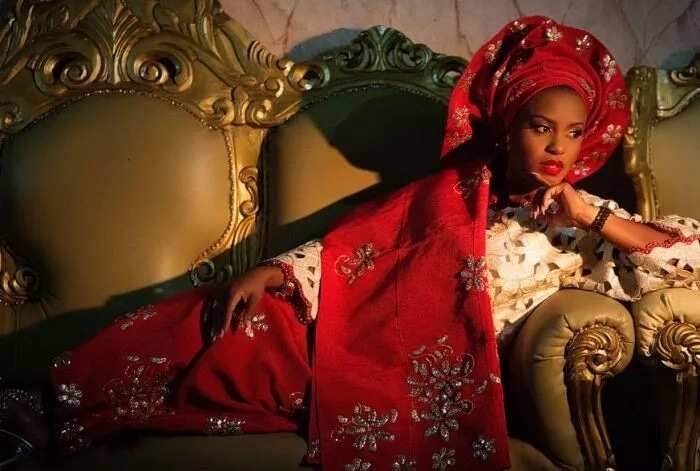 Initially, Aso-Oke could have one of the 3 colors: Sanyan - beige with stripes, Etu - dark blue, and Al'aari - rich red.
Modern brides use a wider color scheme so that you can choose almost any shade from those that you like. There are outfits for every taste and budget on the market. Sometimes there are designs with elegant embroidery.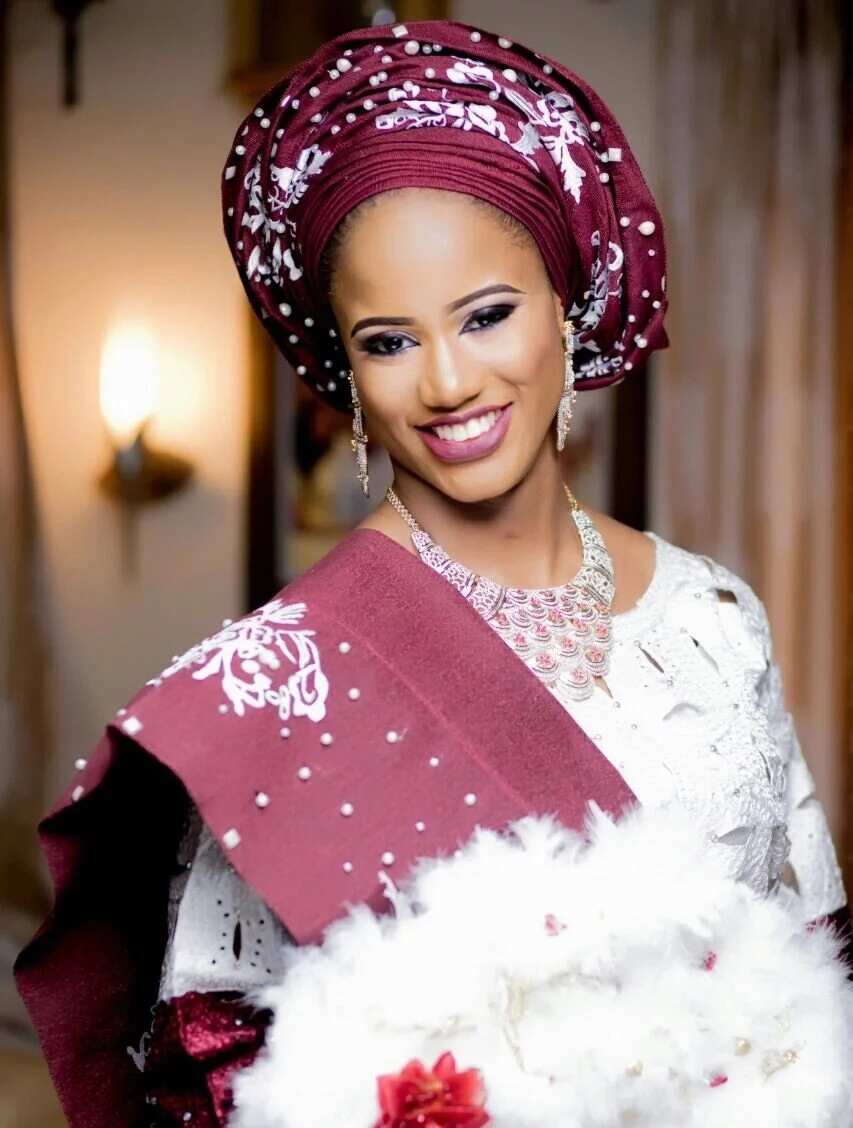 Yoruba attire for bride consists of the following elements:
Iro is a large piece of cloth whose length can reach up to the ankles. Women wrap a large piece of cloth around the waist.
Buba is a spacious blouse with long sleeves.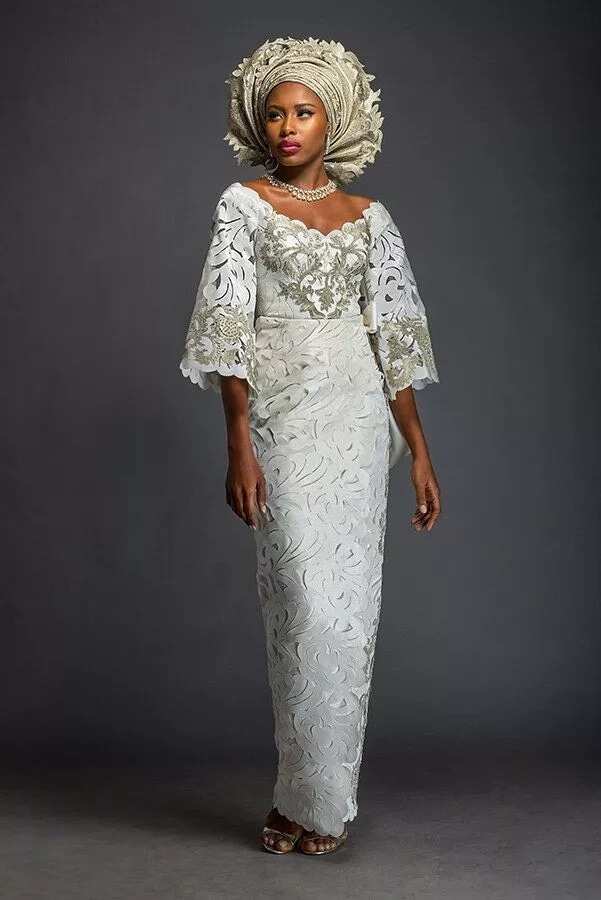 Gele is a beautiful headdress. It is also a piece of aso oke that is wrapped around the head.
Iborun / ipele is aso oke placed on the shoulder.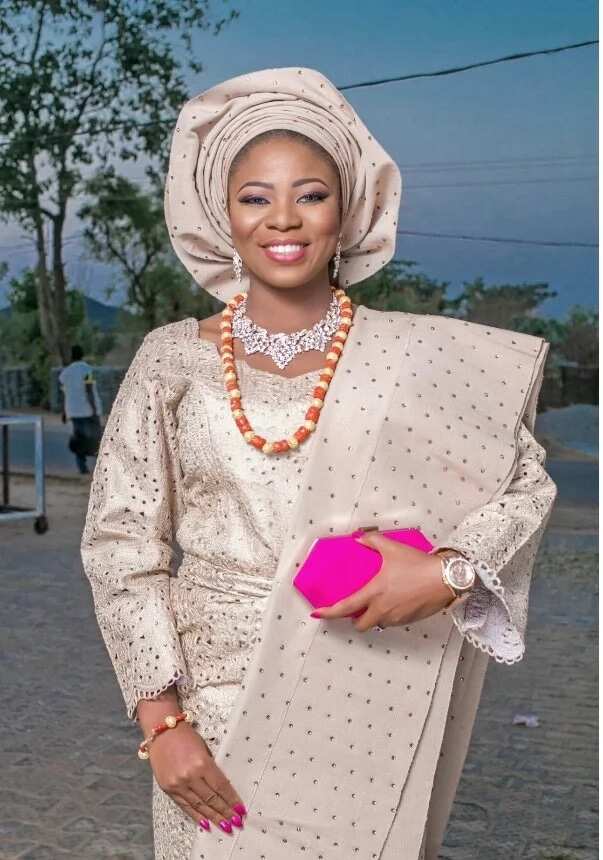 Ileke is a jewelry. Brides wear beads, bracelets, earrings considering modern fashion trends. If you want to support national traditions but at the same time look unusually, originality can be shown in the selection of jewelry. Do not limit your imagination. The main thing is to take into account the overall concept of the attire and keep harmony.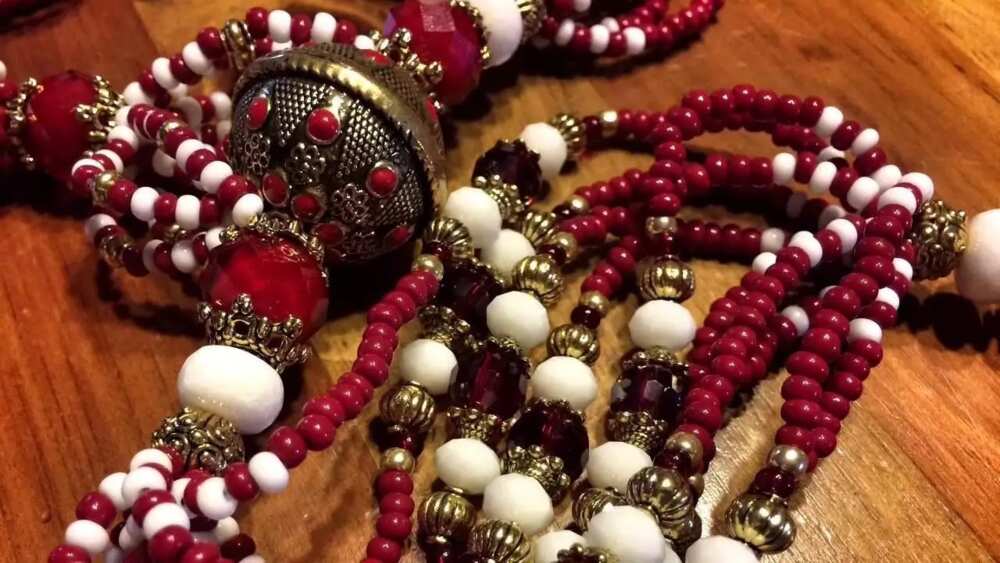 Often the Yoruba brides complement their costumes with beautiful fans - feminine and stylish accessories.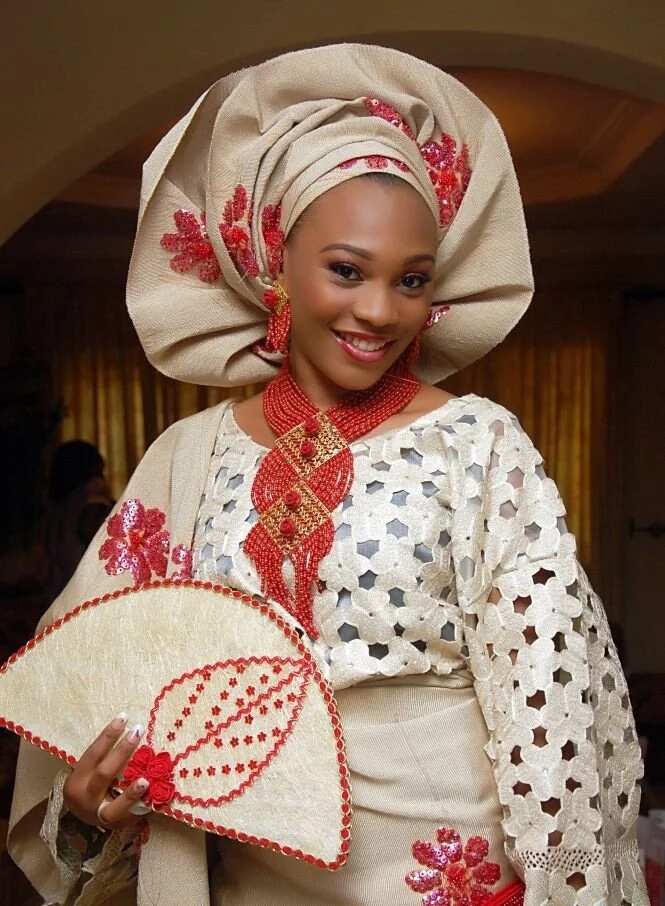 Headgear can have striking design and dimensions.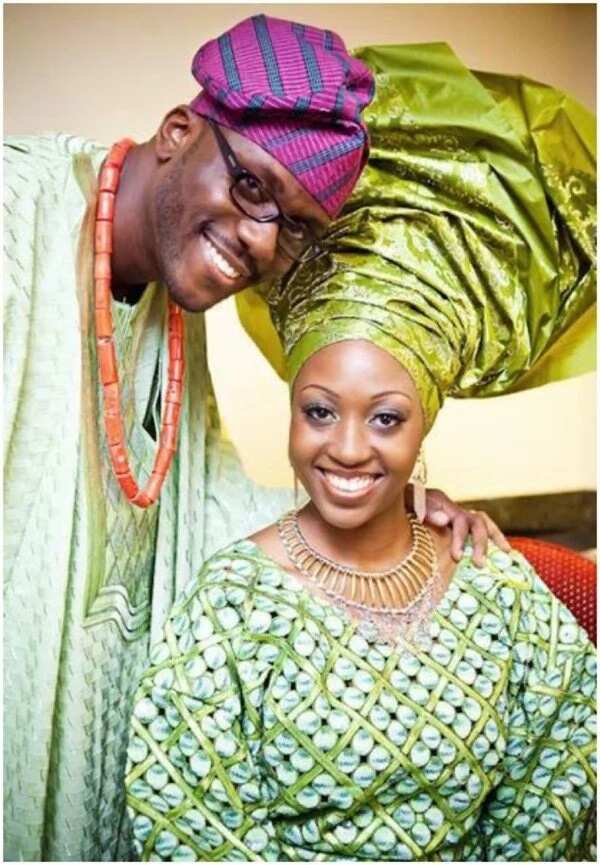 Especially beautiful fabrics decorated with sequins and beads.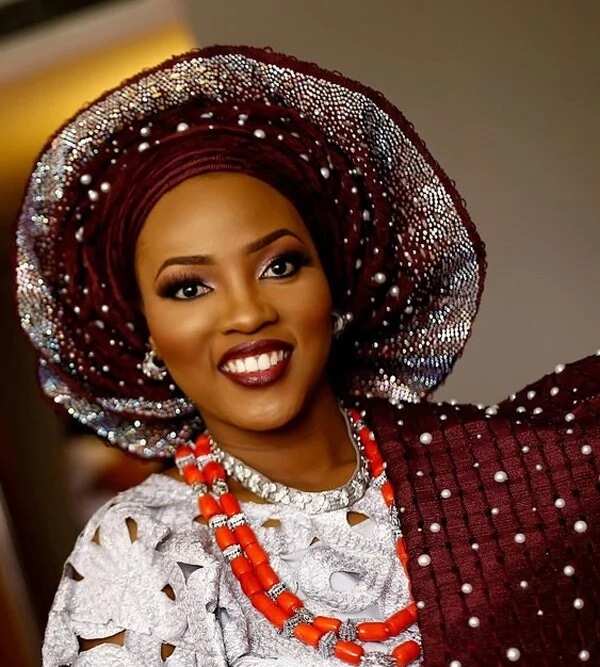 Your Gele may look like a real crown owing to elegant lace.
Despite the fact that Yoruba wedding attires are most often sewn of bright fabrics, nothing prevents you from using white material. It's the color of purity and tenderness.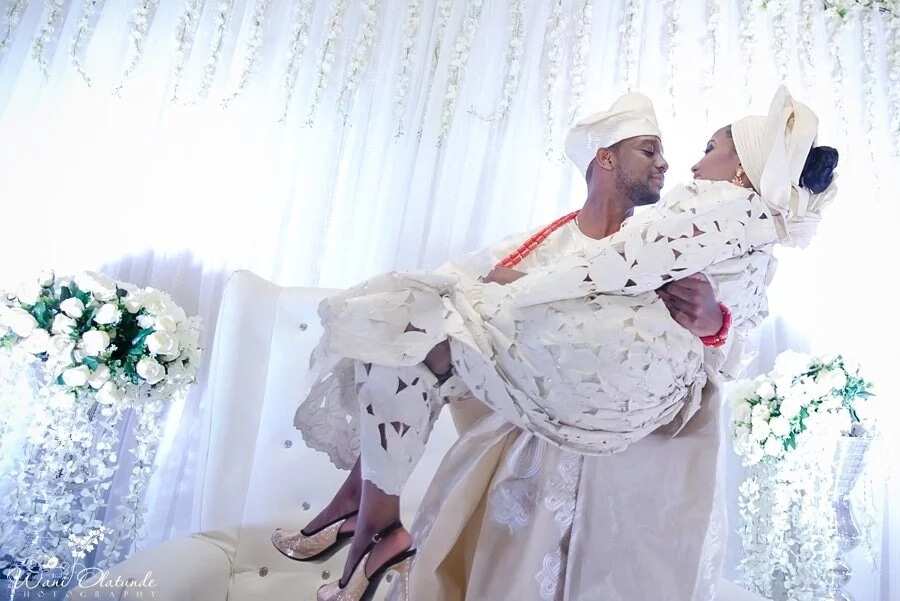 The wedding attires of the Igbo people differ slightly from the Yoruba clothes. Igbo ladies also wear blouses and skirts with beautiful embroidery, shimmering sequins, frills, brooches. Often, an elegant corset sleeveless top is used.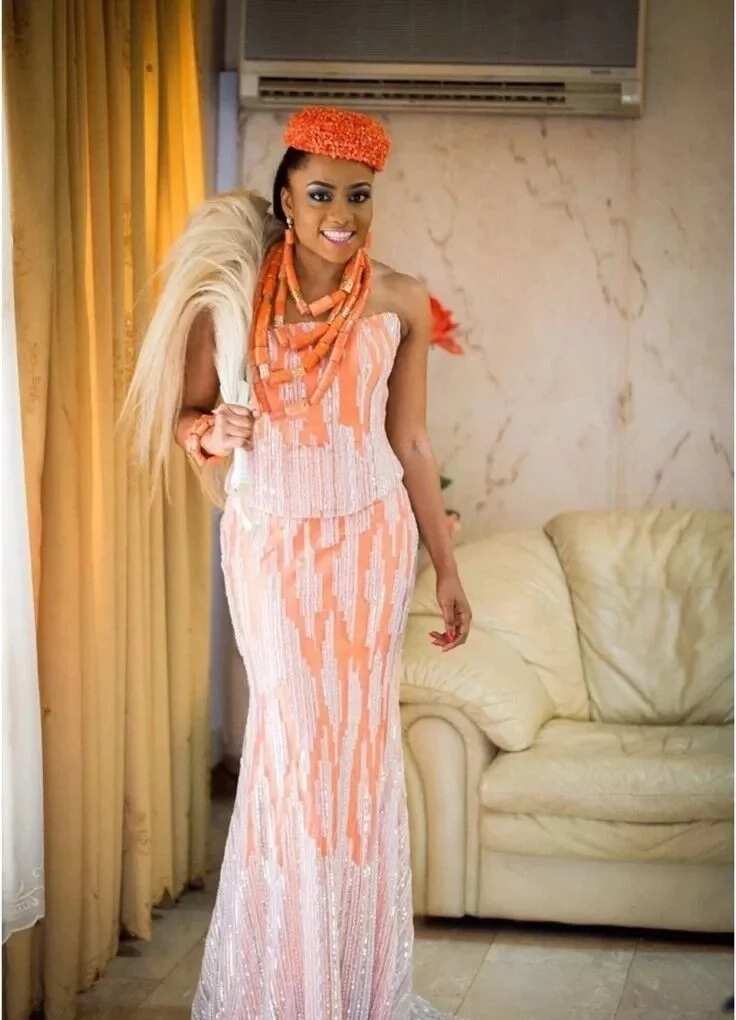 As for colors, most of all brides choose light fabrics of warm and golden shades. A bright coral jewelry is a perfect addition to such materials.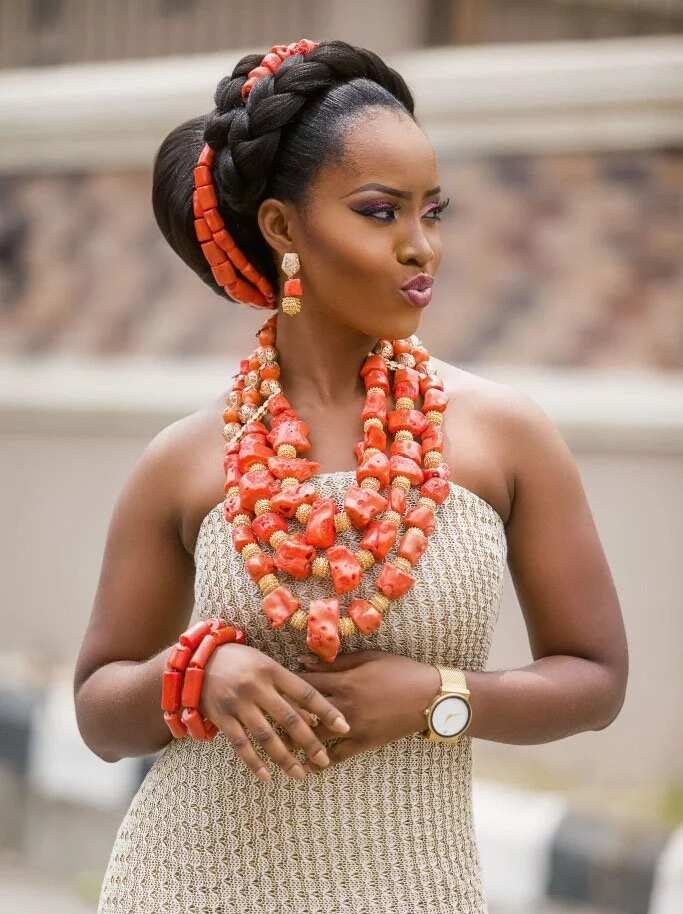 Although clothes can also be blue, red, crimson, green or have any other bright color. So you can experiment. The main thing is not to forget about the harmony.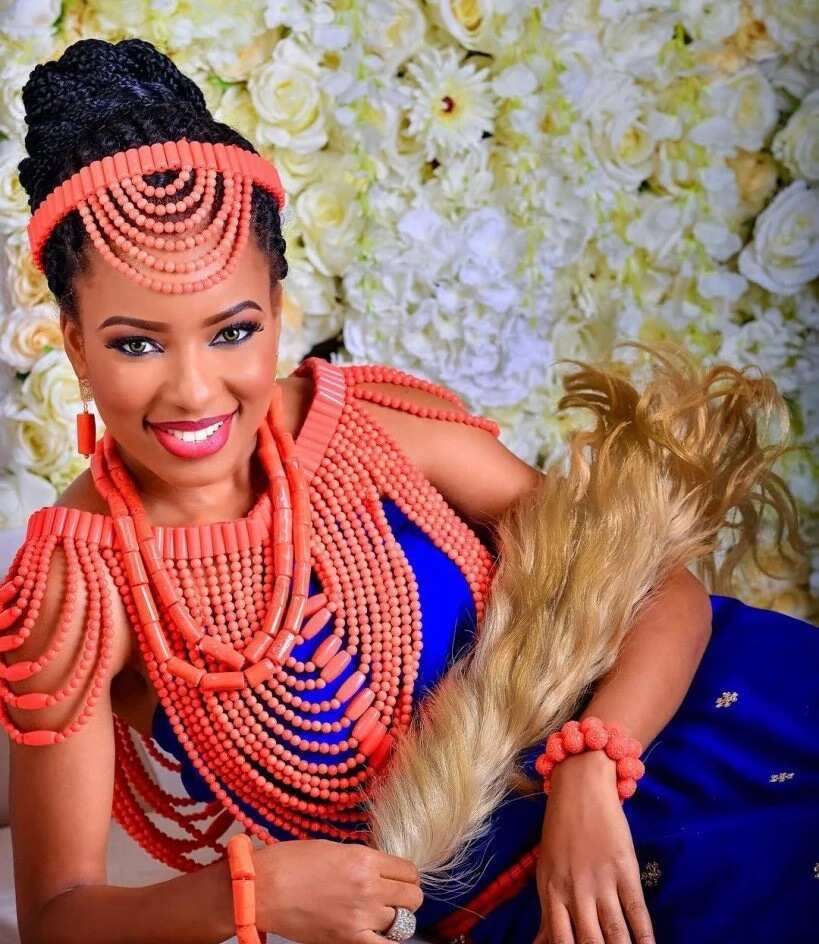 In addition to the aforementioned Gele brides of the Igbo people decorate their heads with beautiful headdresses made of coral beads.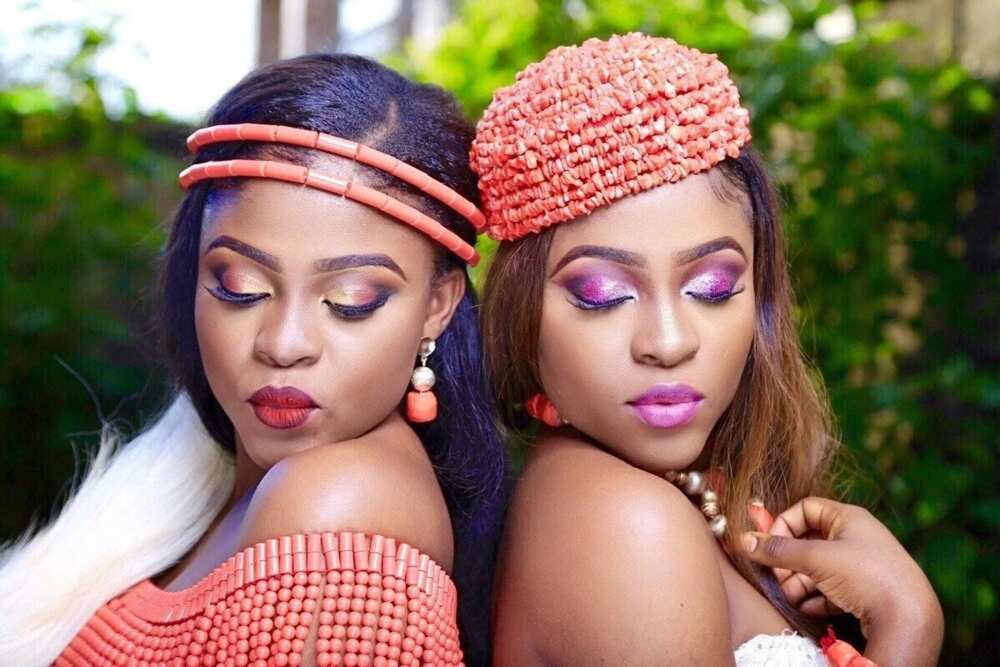 You can ask the hairdresser to create a real crown of your hair and jewelry.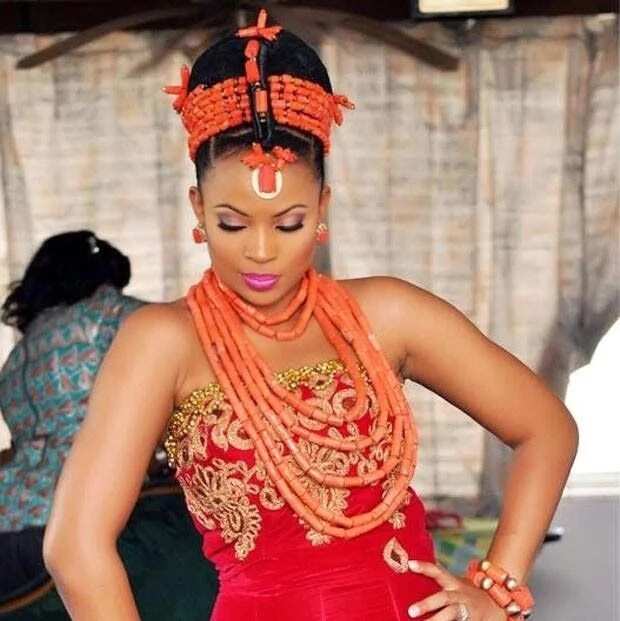 Even if you wear a modern evening dress and complement it with coral beads, the outfit will immediately become traditional.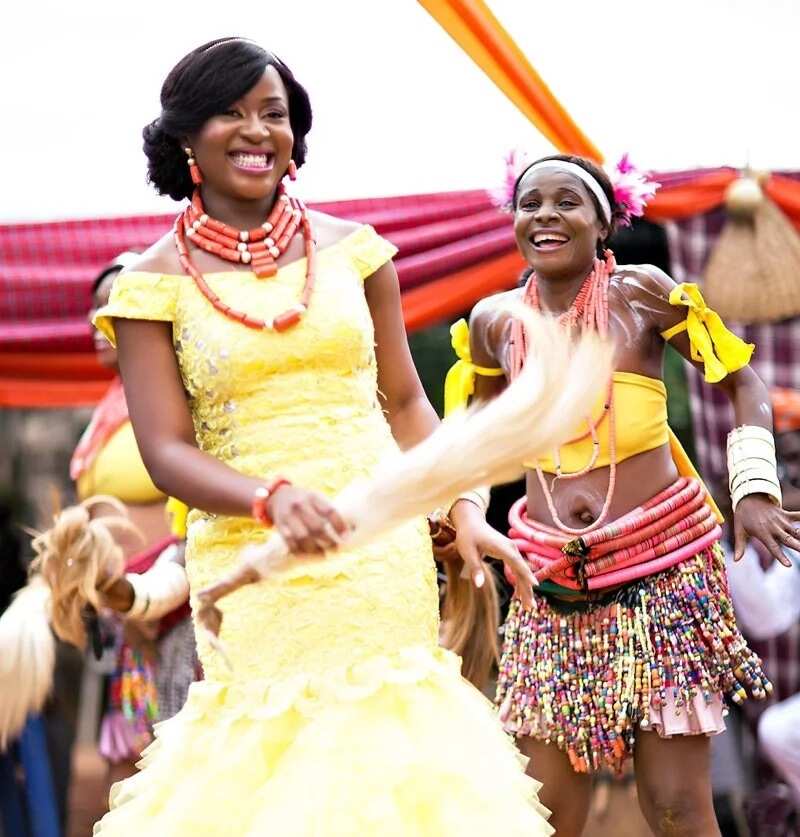 Beads can be not only on the neck but also on the shoulders, chest, back.
This lady even wore the original gloves made of coral beads.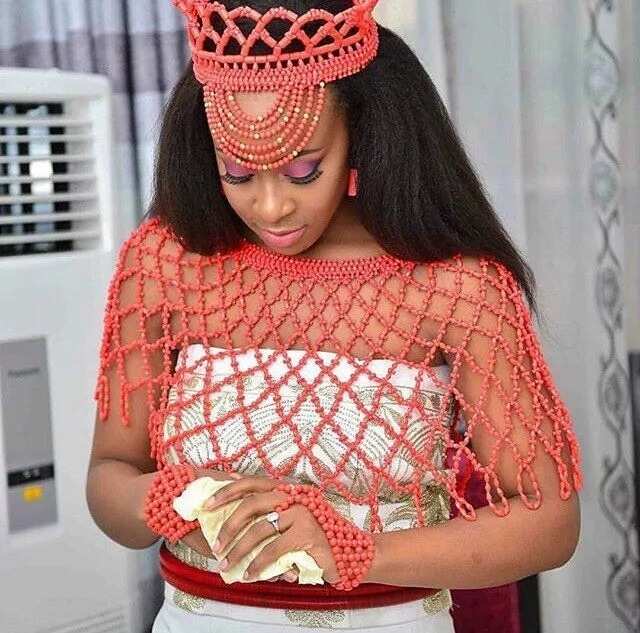 Although the jewelry does not necessarily have to be coral. White accessories also look delicious.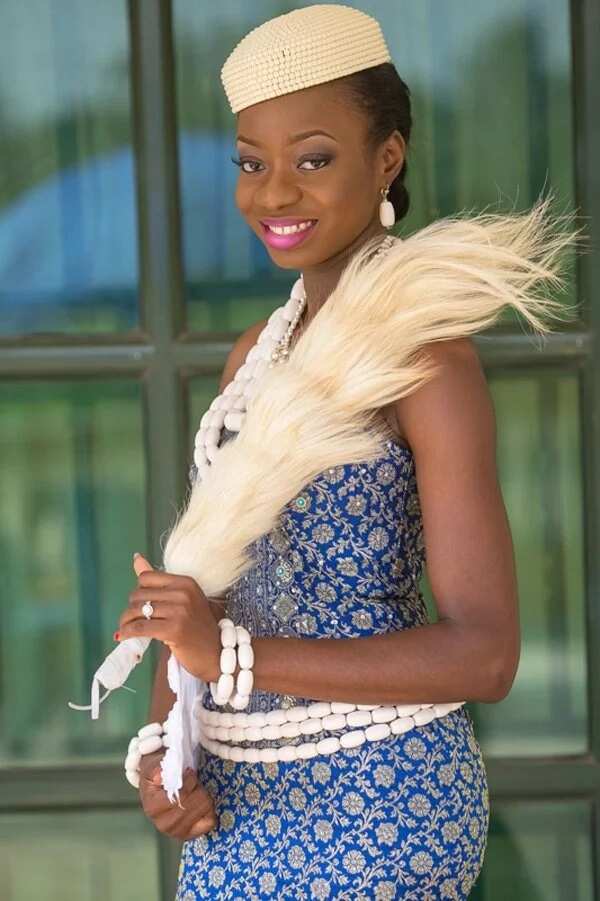 And one more detail - do not forget to prepare a huge white feather. It is also an important accessory for the Igbo bride.
A unique feature of the wedding images of the Hausa people is that brides make traditional body art on their hands and feet. It's called Lalli. Such an artificial tattoo is washed off after a few days.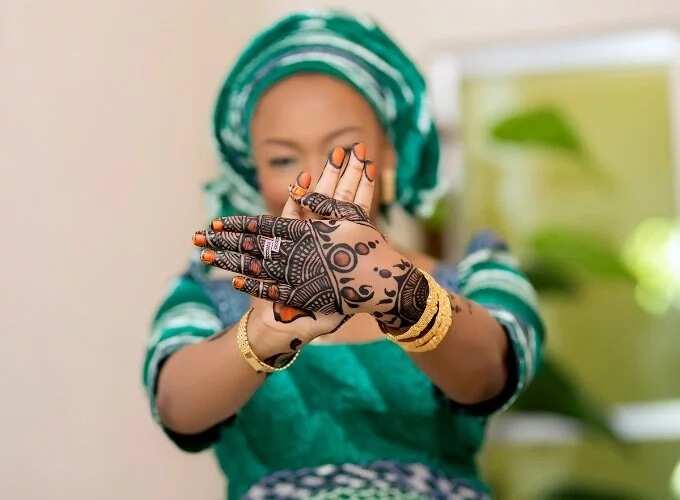 If we talk about modern trends, more and more Nigerian women wear outfits sewn from Ankara on their wedding day. This is a fairly cheap material. However, every fashion lover will agree that it looks delightful.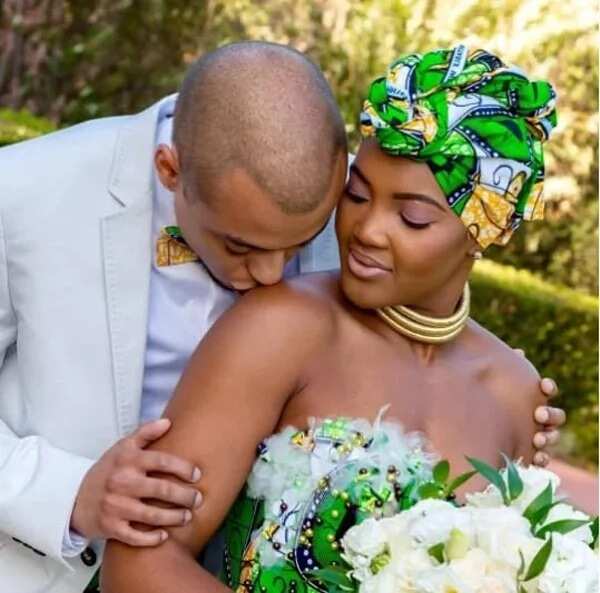 Unlike Aso Oke, this tissue is used both at solemn events and in everyday life. If you choose Ankara for tailoring a wedding dress your holiday is guaranteed to be bright and cheerful!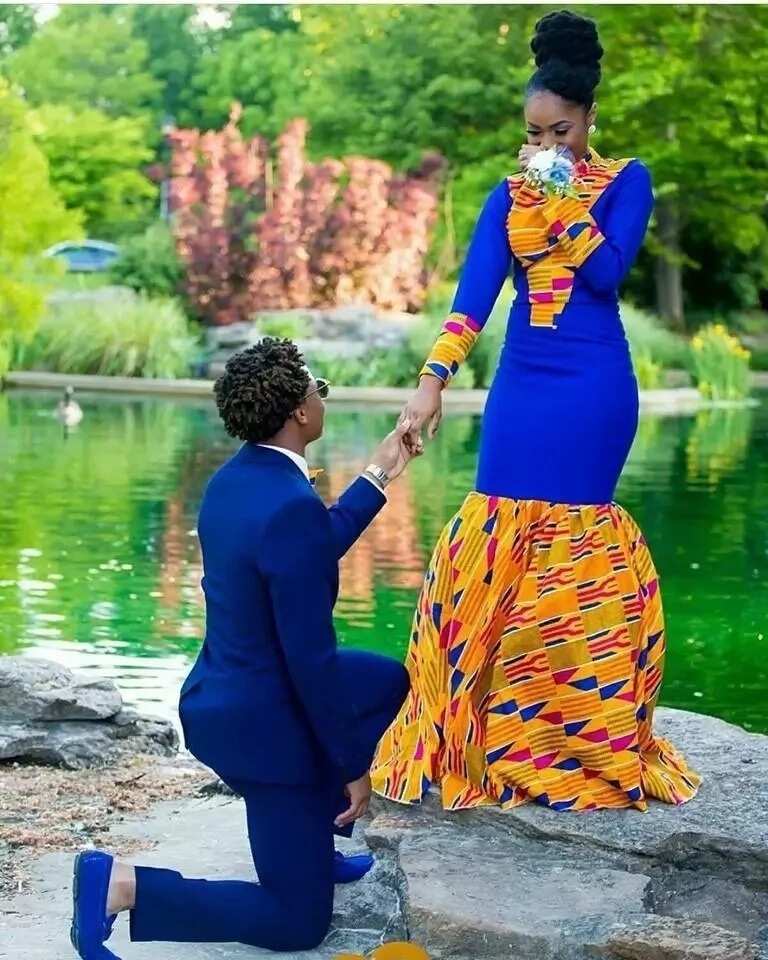 Native styles for male
Nigerian men's traditional fashion styles are also quite diverse and attractive so that a man faces an equally complex choice as his charming bride when he is looking for clothes for his wedding ceremony.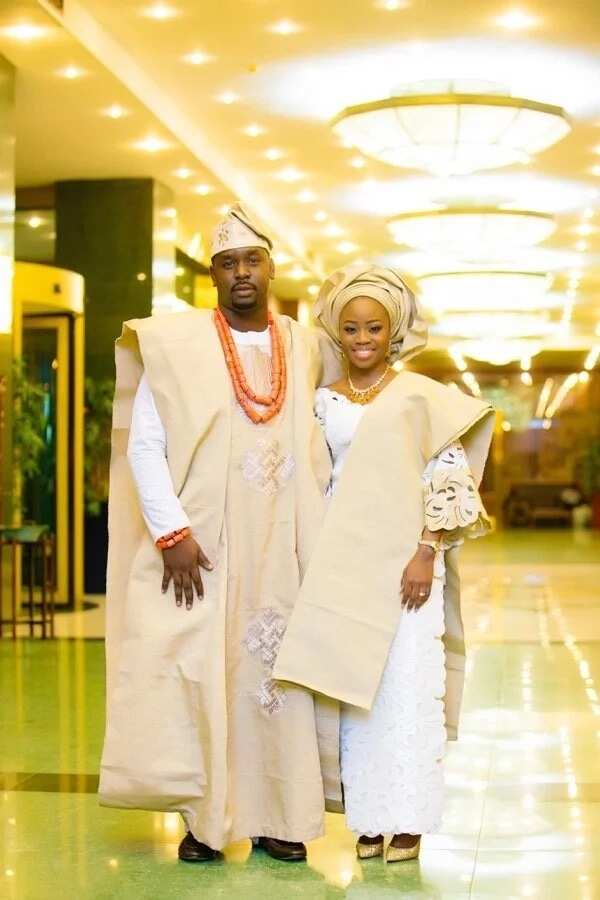 The traditional wedding attire of the Yoruba people consists of the following elements:
Agbada - a two-layer fabric of dense material like Aso-Oke. Very popular are Ankara, damask, cotton. A large, spacious garment covers the body from the neck to the ankles.
Buba - the upper layer of tissue with long sleeves extending from elbow to wrist. Most often the length reaches the knees or even the floor.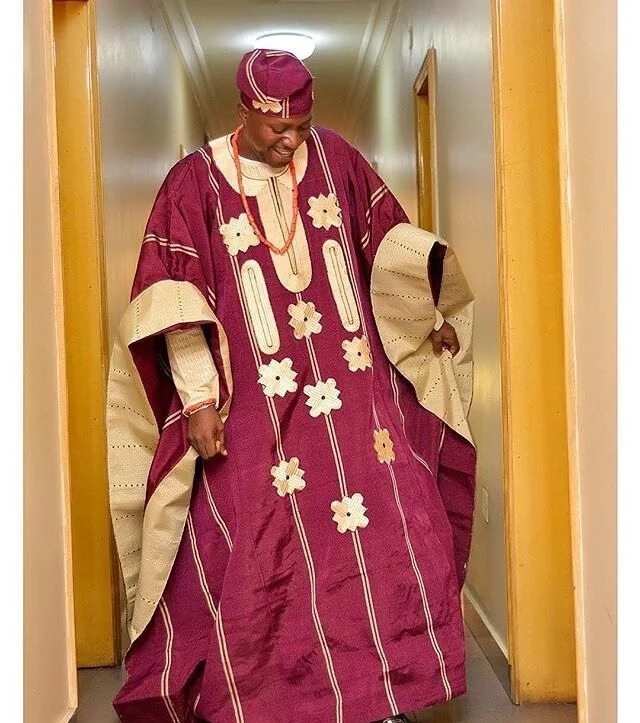 Sokoto is a comfortable pants holding at the waist thanks to the rope.
Fila is the headdress of the canonical form without which the outfit of the Yoruba groom will remain an unfinished composition.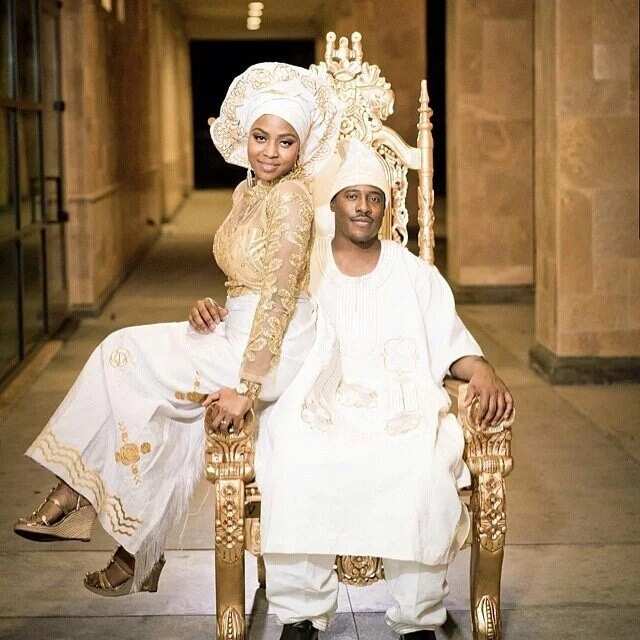 The groom's shoulders look very wide so his image is full of masculinity.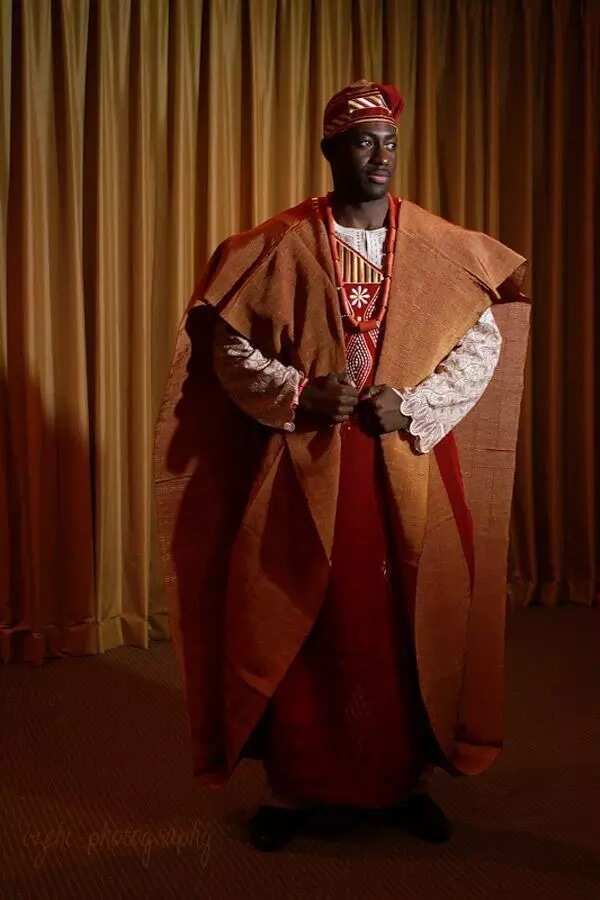 Headgear can have a rather complex and interesting shape.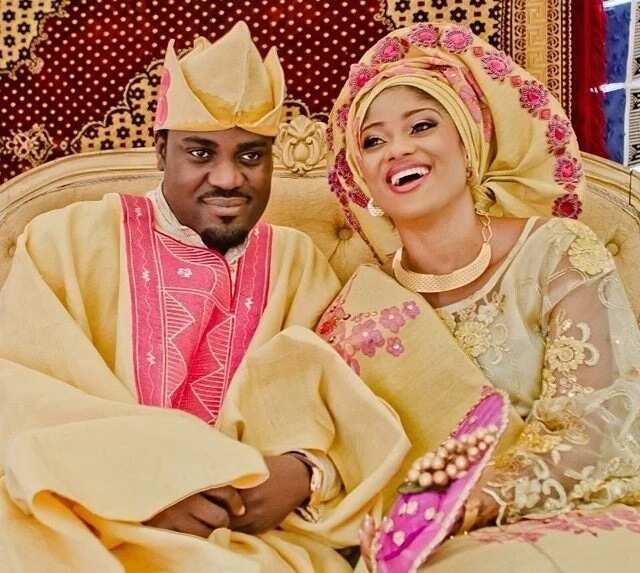 If you do not like bright colors and want to look solid and serious even on your own wedding day, you can sew an outfit of black fabric.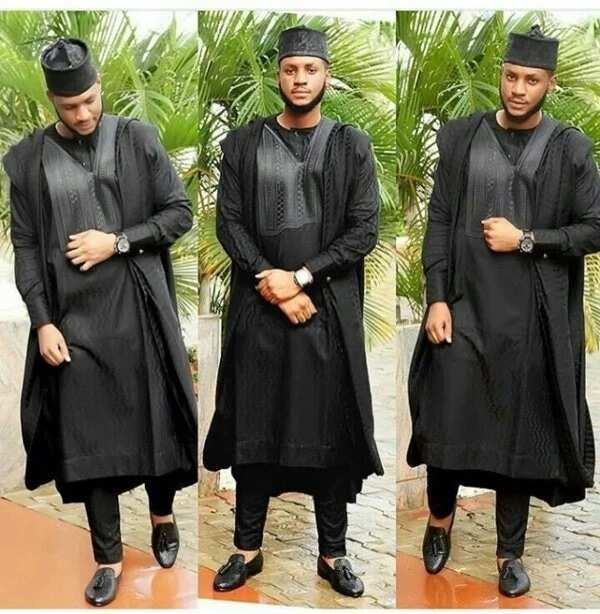 Although there are many grooms with a cheerful character who love to be in the spotlight and sometimes they even surpass the brides in brightness.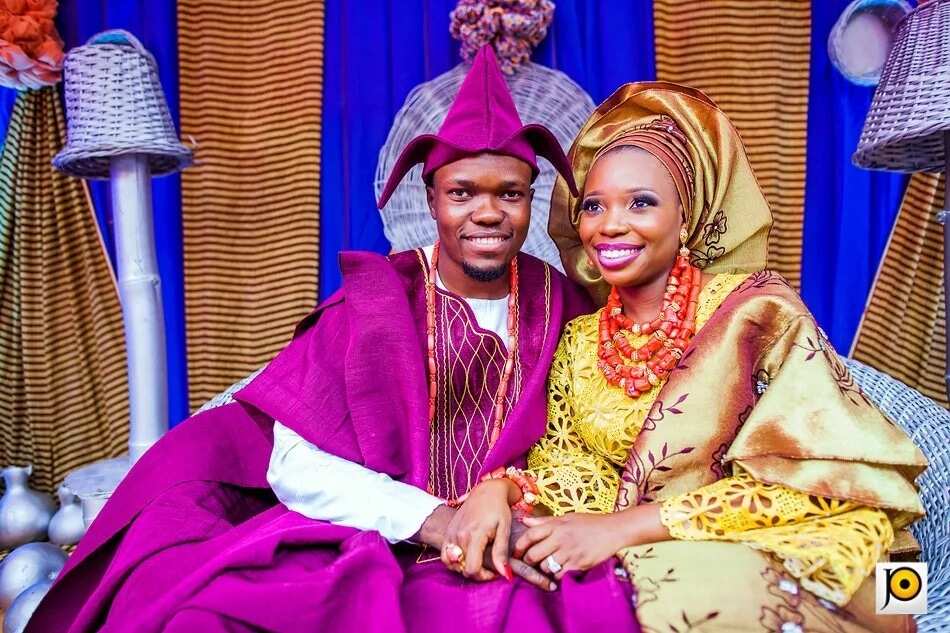 Most couples prefer to sew attires from the materials of one color scheme.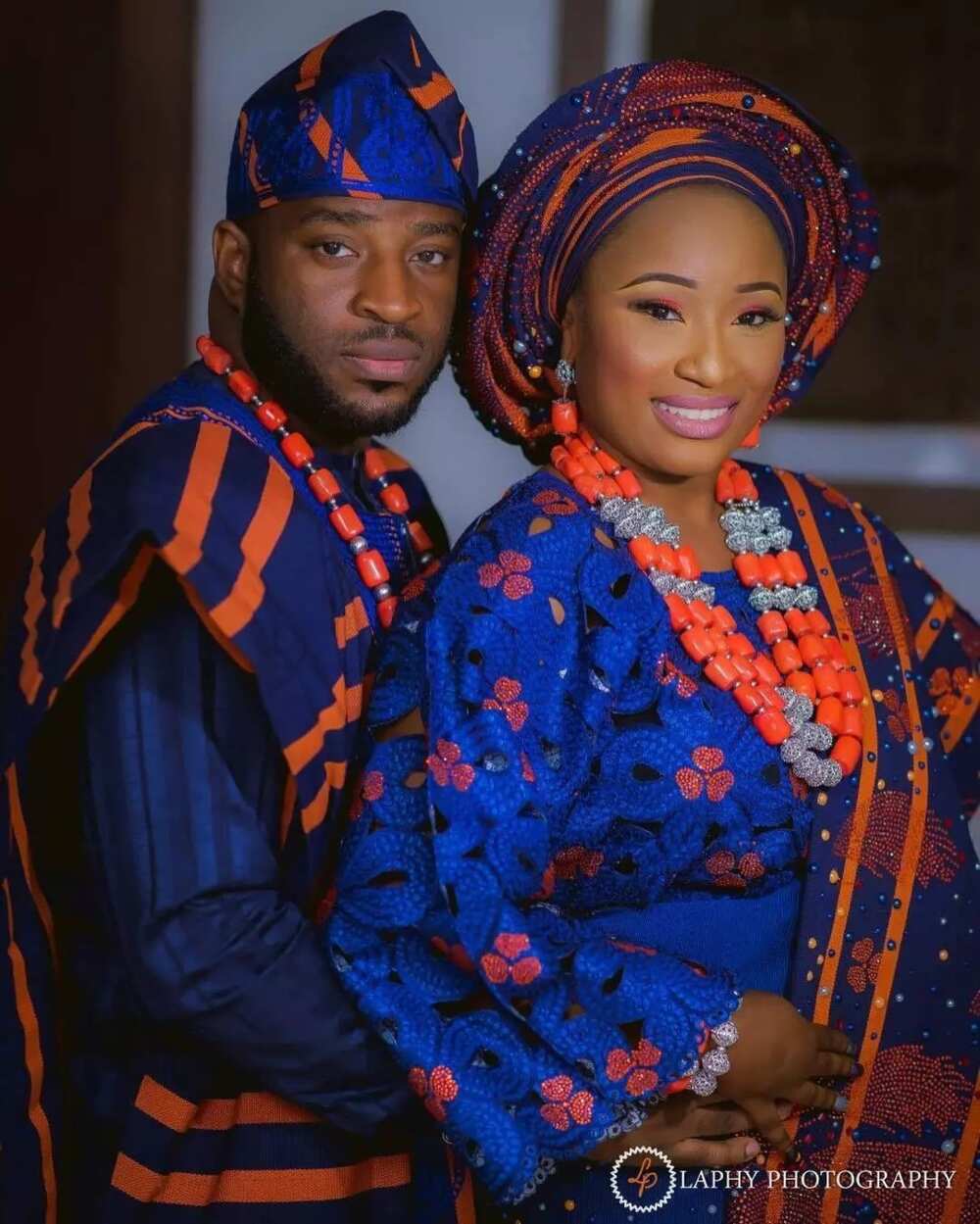 Igbo men wear a special headdress. It may not match with the colors of the rest of the clothes and attract the lively attention.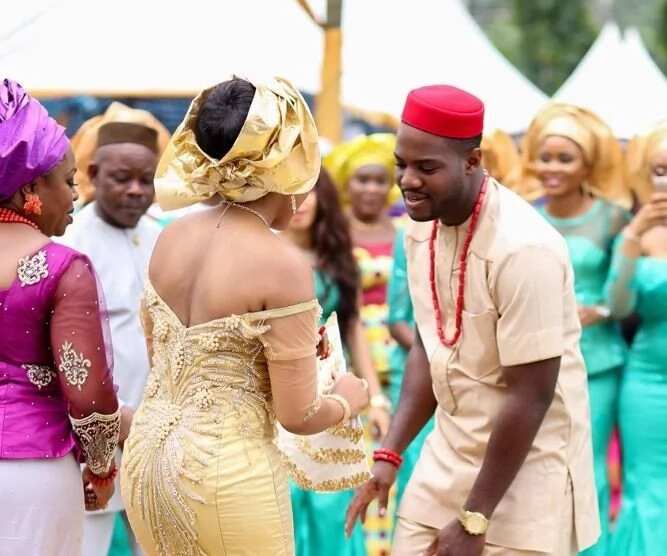 This is a real flash that makes the image memorable and bright. Some of the grooms adorn the hats with big feathers.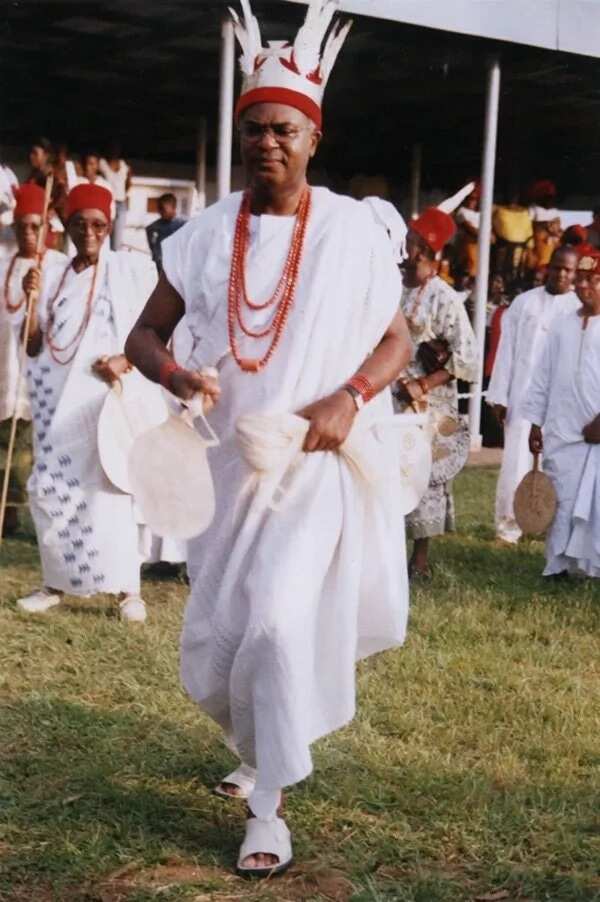 Also, the headdress of the groom can be made of coral beads which are the favorite accessory of Edo people.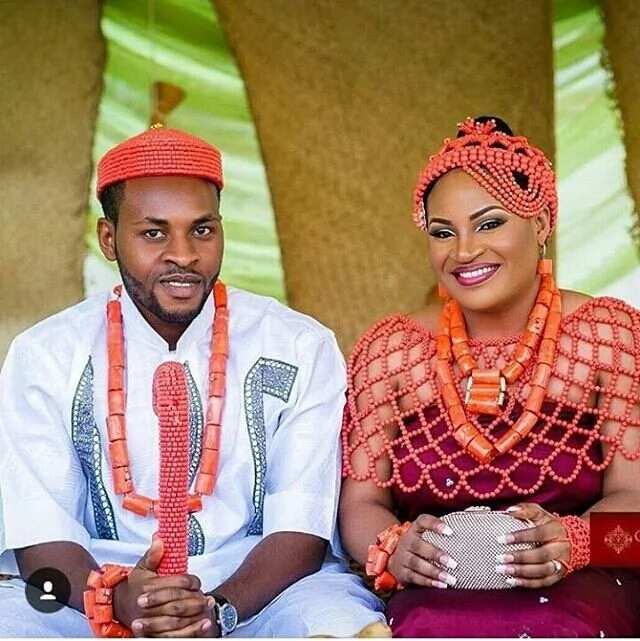 A long striped headgear will definitely allow you to stand out against the background of other men.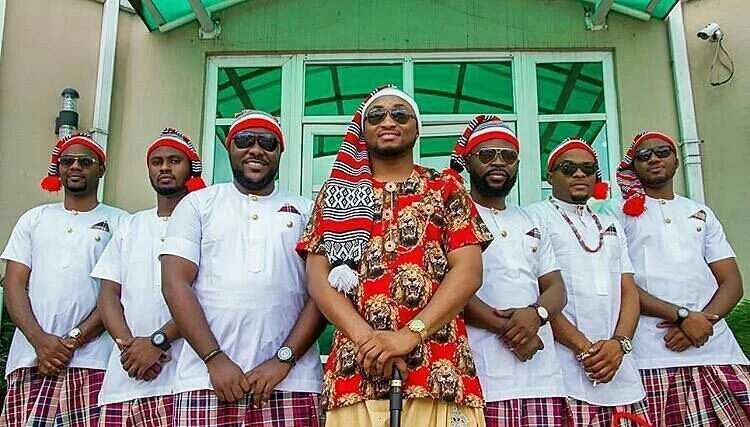 The groom can also wear a standard black hat. Whatever you choose, the headpiece will be the final touch of your image.
Igbo grooms wear white shirts to the knee or clothes made of cloth decorated with beautiful drawings. Usually, these are crowns, lions, other signs of courage.
Prints can be quite abstract, reminiscent the natural motifs. In any case, they are always bright and eye catching.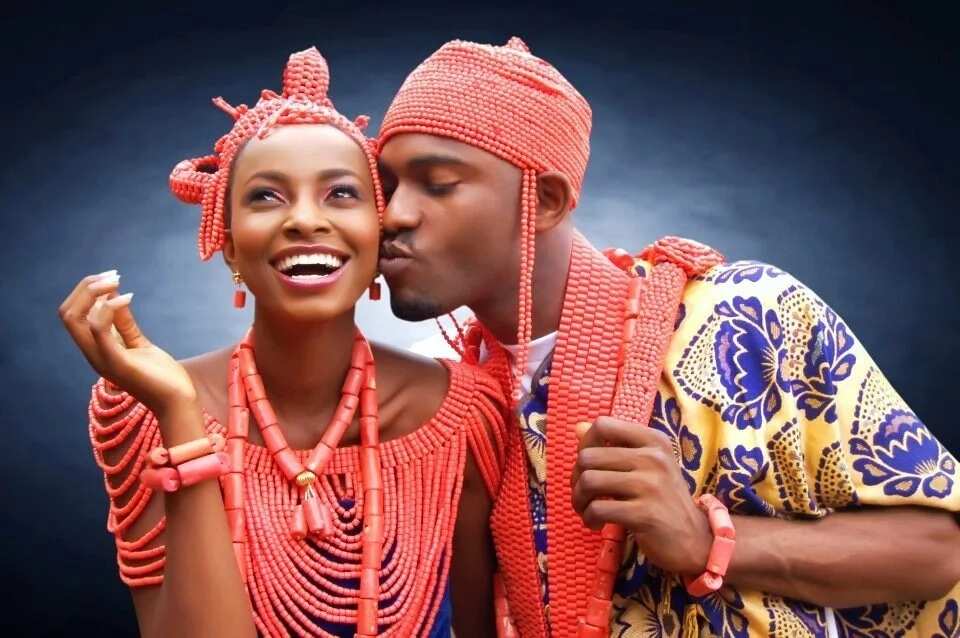 The lower part of the suit is quite modest. Igbo men wear wide and comfortable trousers. Although sometimes they are replaced with a cloth tied at the belt.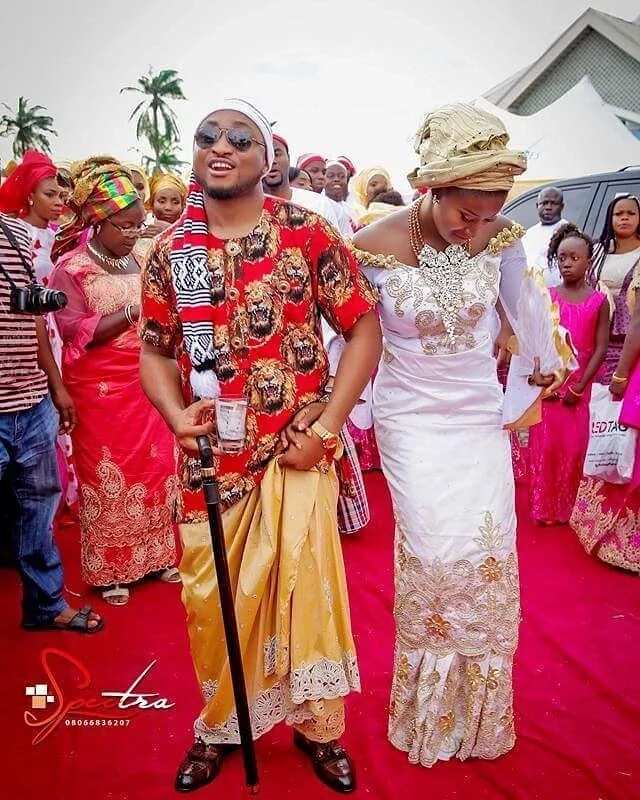 The required part of the attire are accessories: coral necklaces and gold chains, rings. Also, a popular element of the wedding image is a walking stick with complex patterns allowing the groom to look particularly respectable and aristocratic.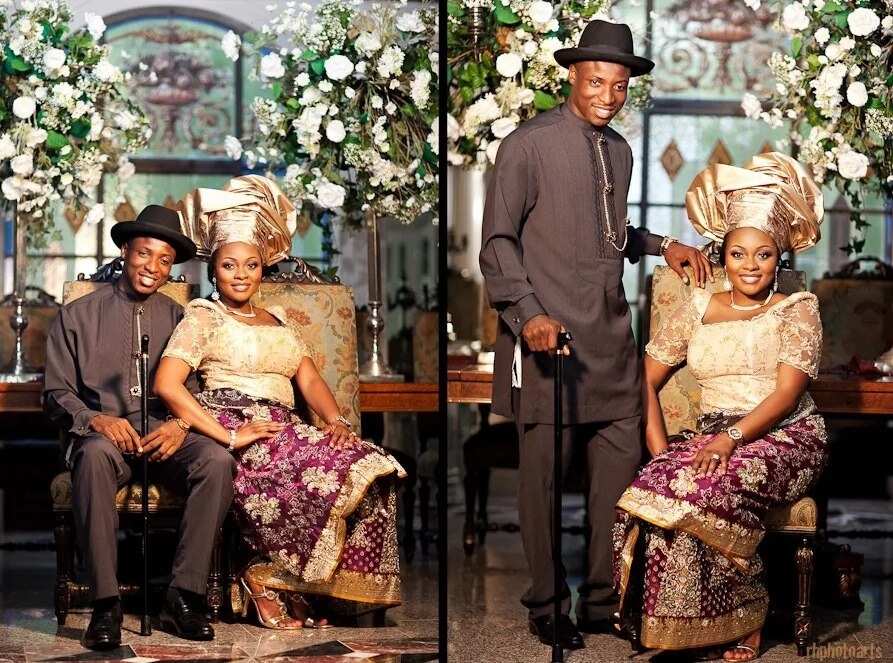 Legit.ng wishes every bride and groom a delightful and cheerful ceremony, long years of love, and mutual understanding!
READ ALSO: 10 Nigerian celebrity weddings that made headlines in 2017
Source: Legit.ng