20 flat top haircut styles for men of all ages
Short haircuts are timeless classics. Among them is the male flat top haircut. It is stylish and bright, but at the same time macho and cool. Its strict and precise lines exude strength and charisma. This is truly one of the best and trendiest men's hairstyles.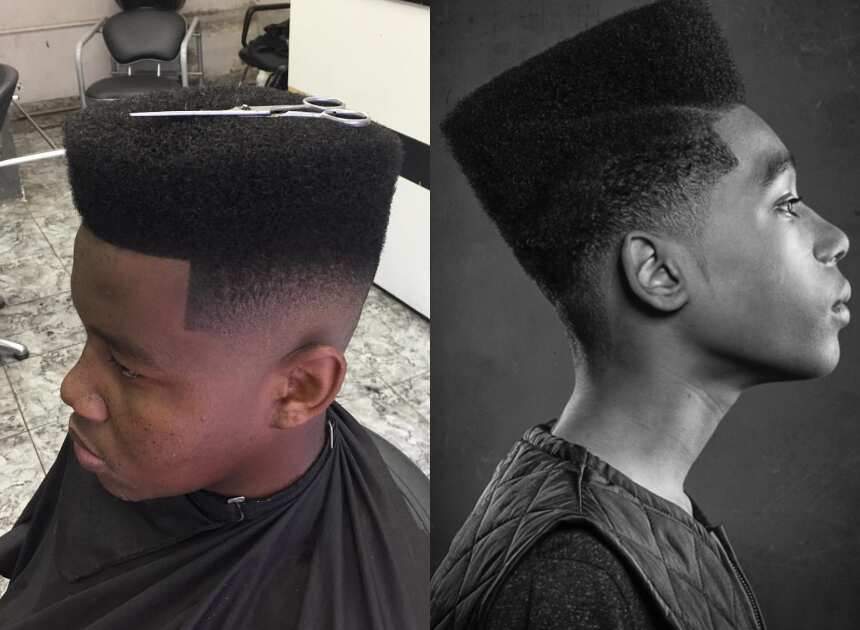 The flat top is a hairstyle which is a type of a bob trimming. The difference is manifested in the hair at the top of the head, which is specially straightened upward.
Trendy flat top haircut ideas
This haircut is quite diligent. So, you will have to make frequent visits to the hairdresser in order to maintain the cleanliness of the hairstyle, but it is worth all the efforts because this hairstyle creates a neat and elegant appearance on almost any man.
1. A half-bleached trimming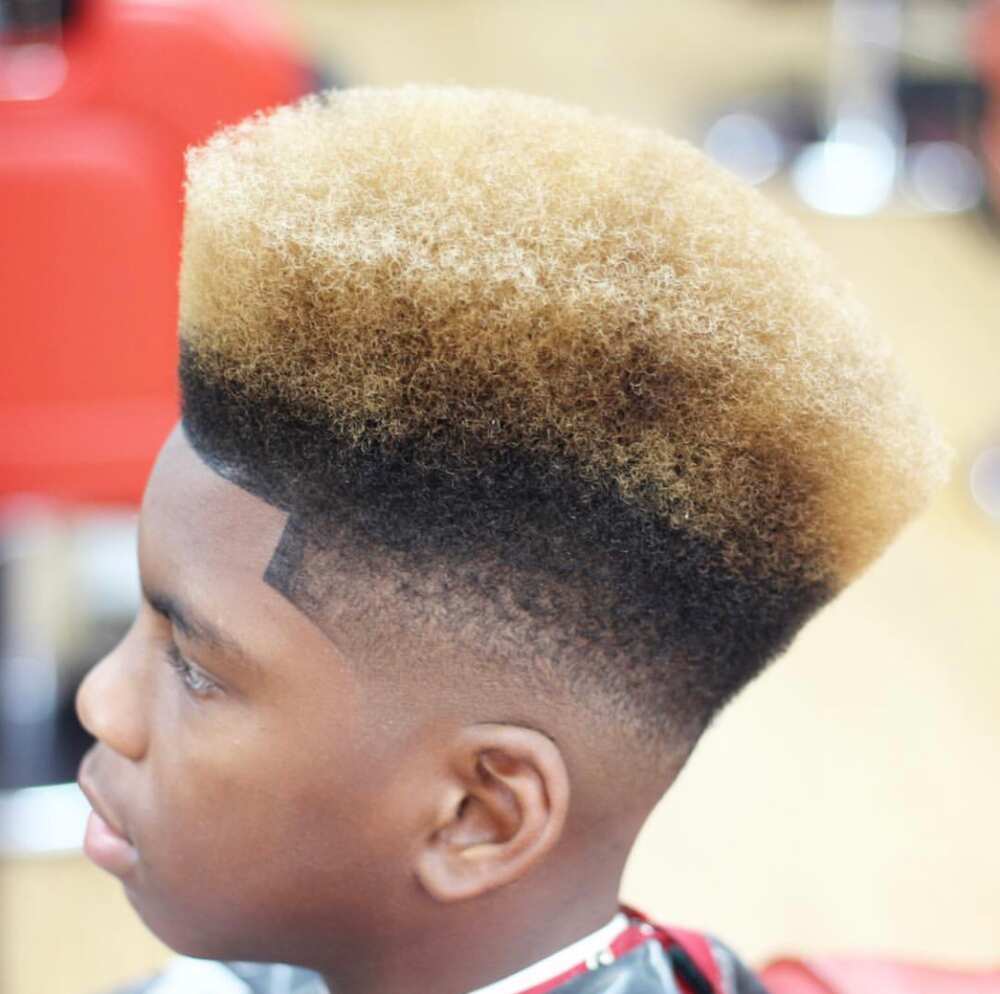 Bleaching is quite popular, even among males. You can try this variant if you want to follow this trend.
2. A rounded flat top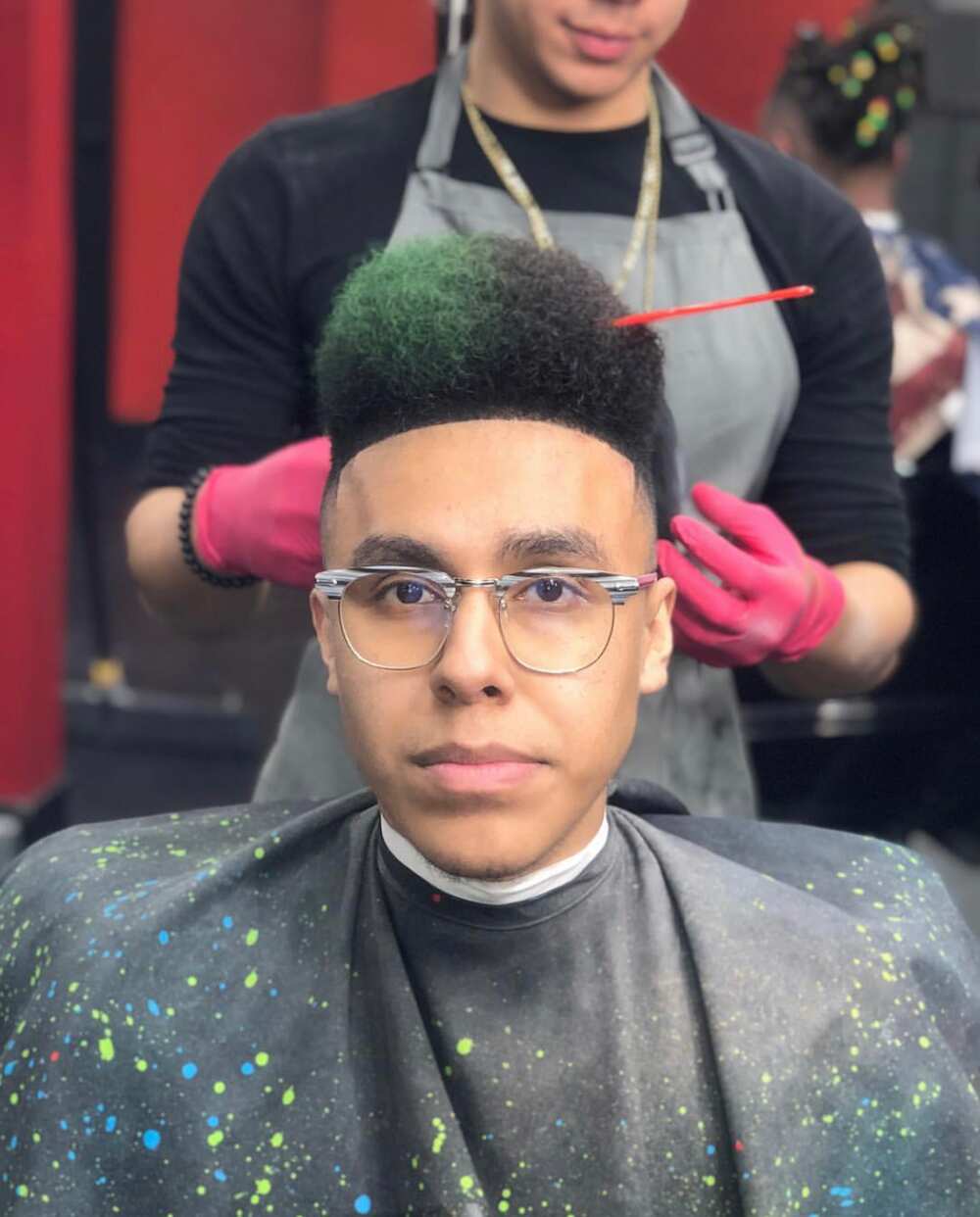 This haircut looks amazing and attractive with its rounded edges. The bright green accent of colour makes the haircut more exclusive.
3. A high flat top for boys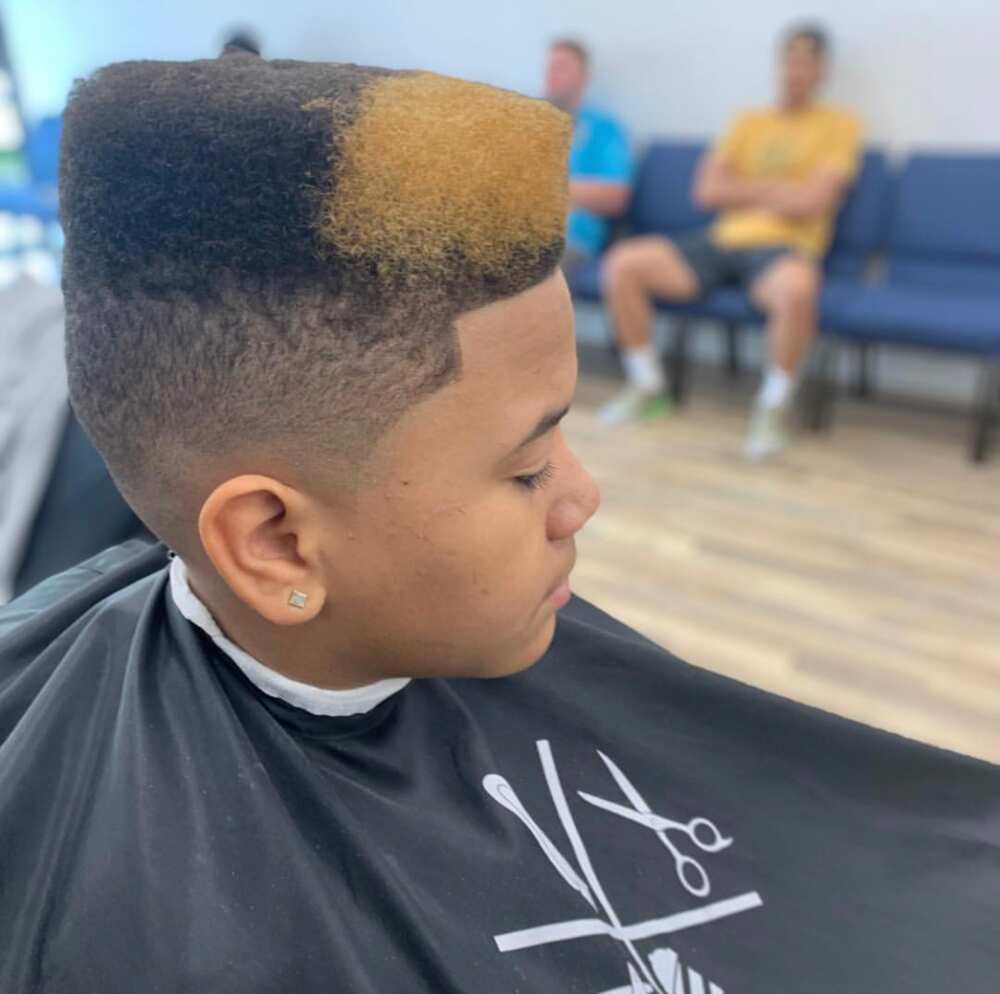 Young boys can also try this haircut to be as trendy as adults. This option with sharp edges and one highlighted quarter of a flattop will make your little boy look like a real hip-hop star.
4. A pink flat top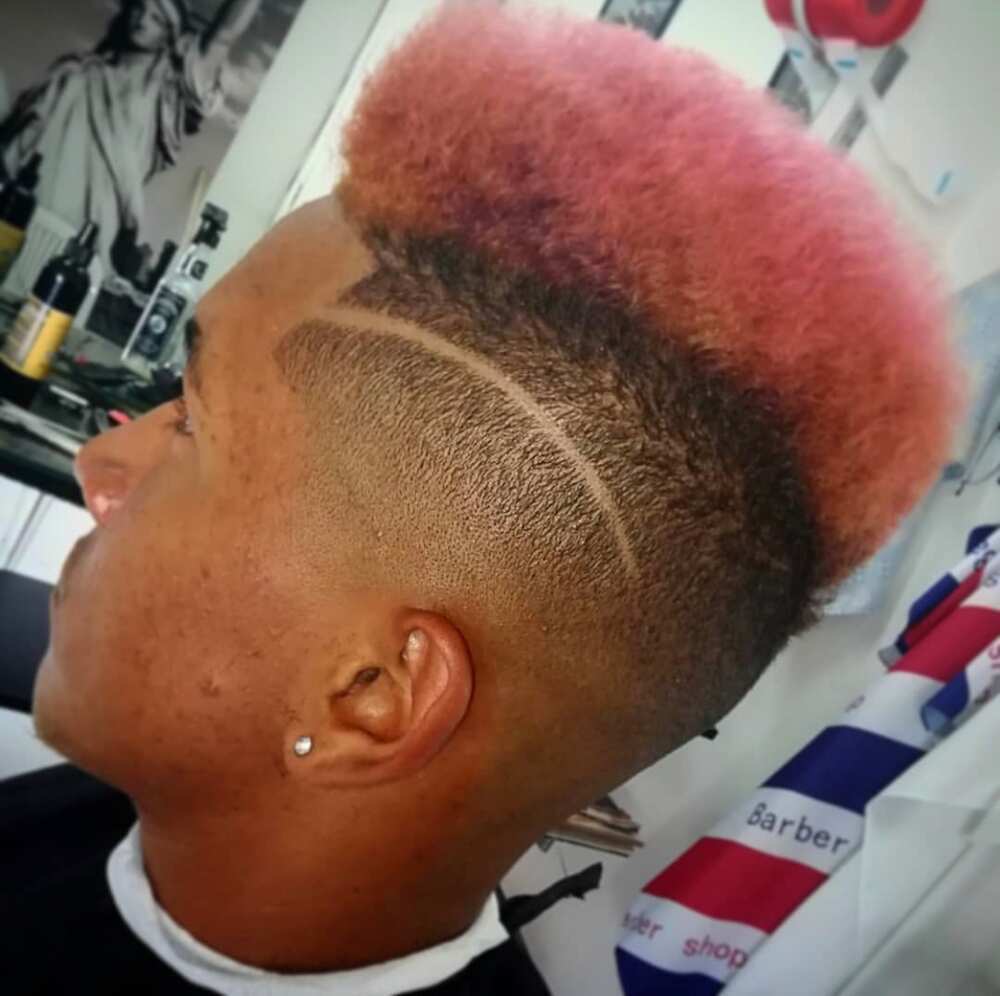 This haircut looks masculine even in its bright pink colour. It is a perfect match for bright and creative personalities.
5. An extra-bleached flattop
Your flattop can look really amazing with some bleaching. This hairstyle is a very comfortable and good-looking one. Such work of a barber will attract a lot of ladies.
6. A crown pattern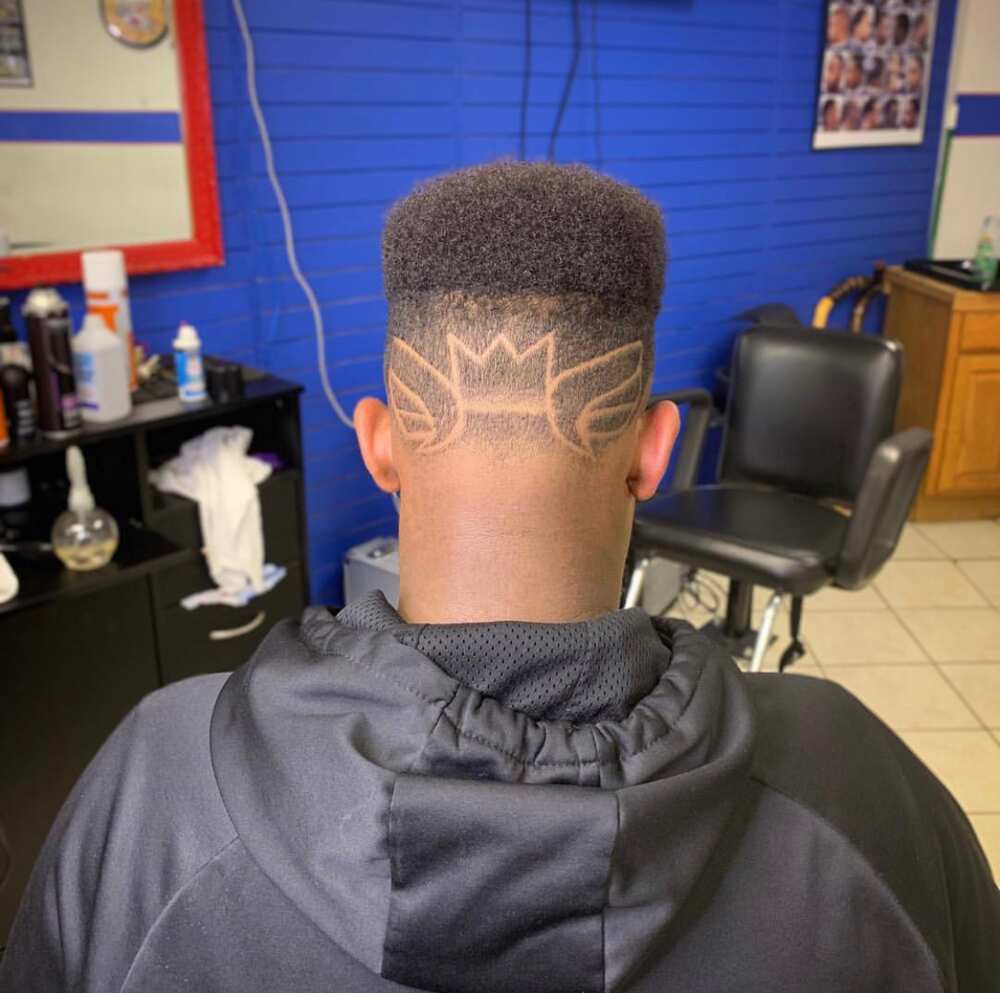 There are lots of ideas for flattops patterns – from simple lines to something quite sophisticated. For example, this look will be perfect for young and bright men, and even for boys.
7. Blue curls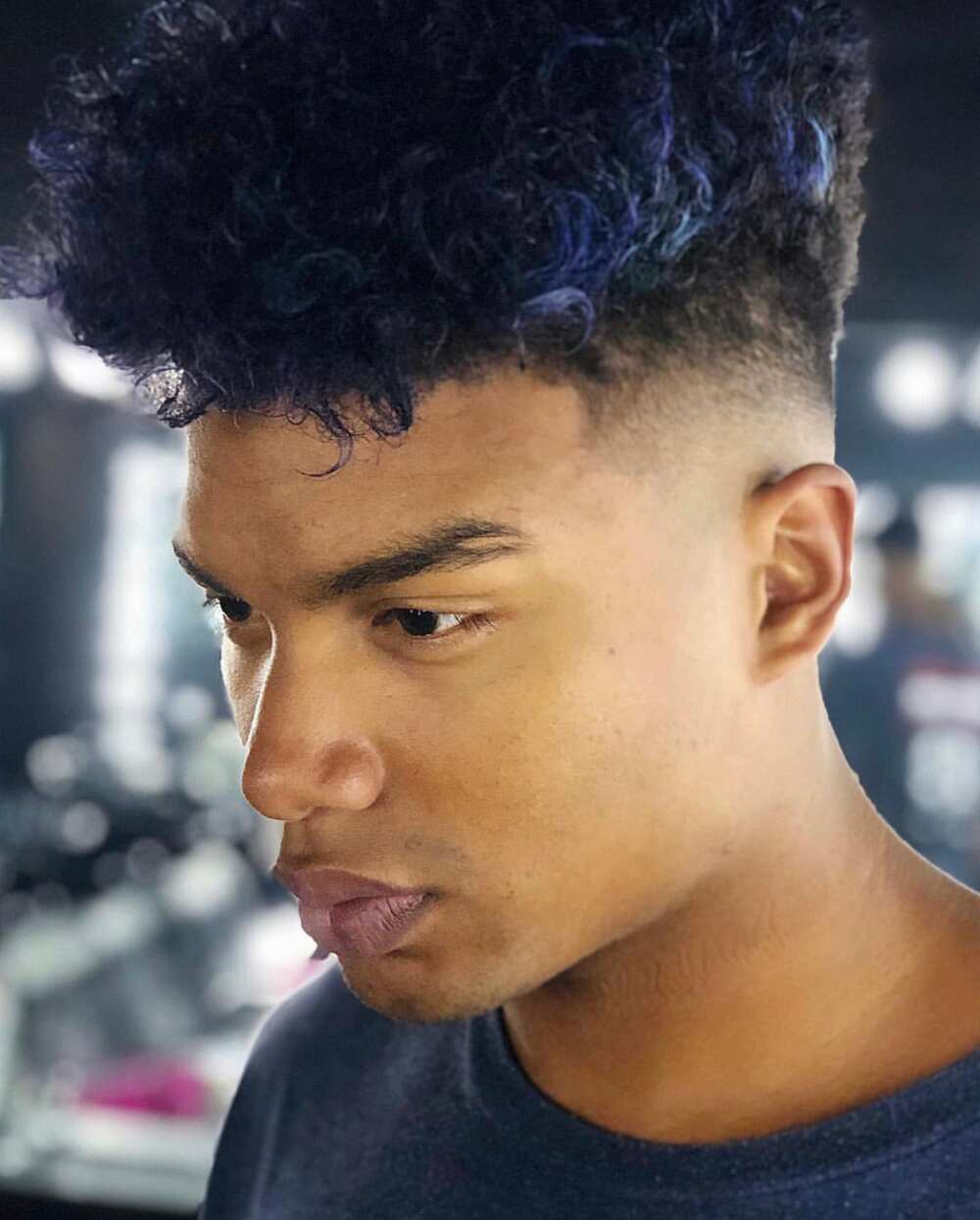 A dyed hair does not look bizarre on men anymore. So you can go for any colour you prefer. Take into consideration this beautiful blue shade. It is not too bright; nevertheless, it will shine amazingly in the sun.
8. A Mohawk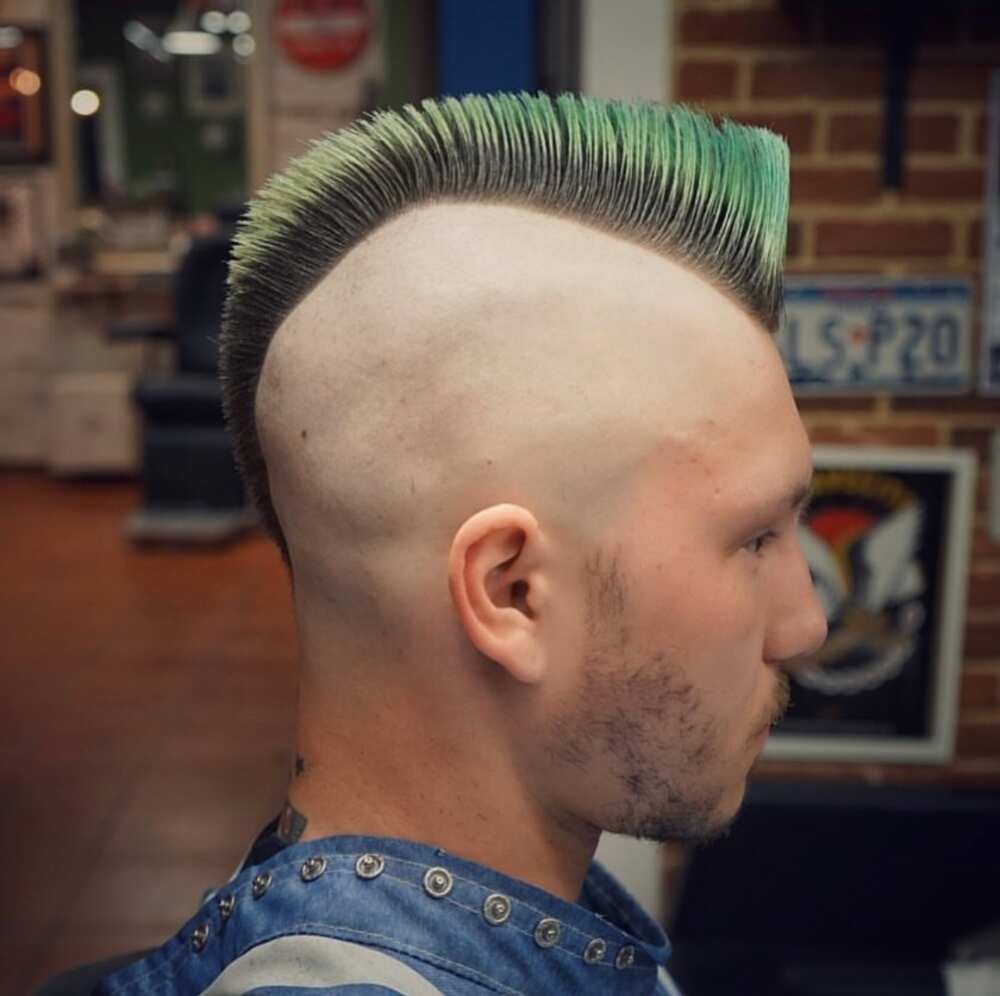 If you have a rebellious and punk soul, this flattop option is what you need precisely. The bright colour and shape of this haircut will match your style and soul perfectly.
9. An acid green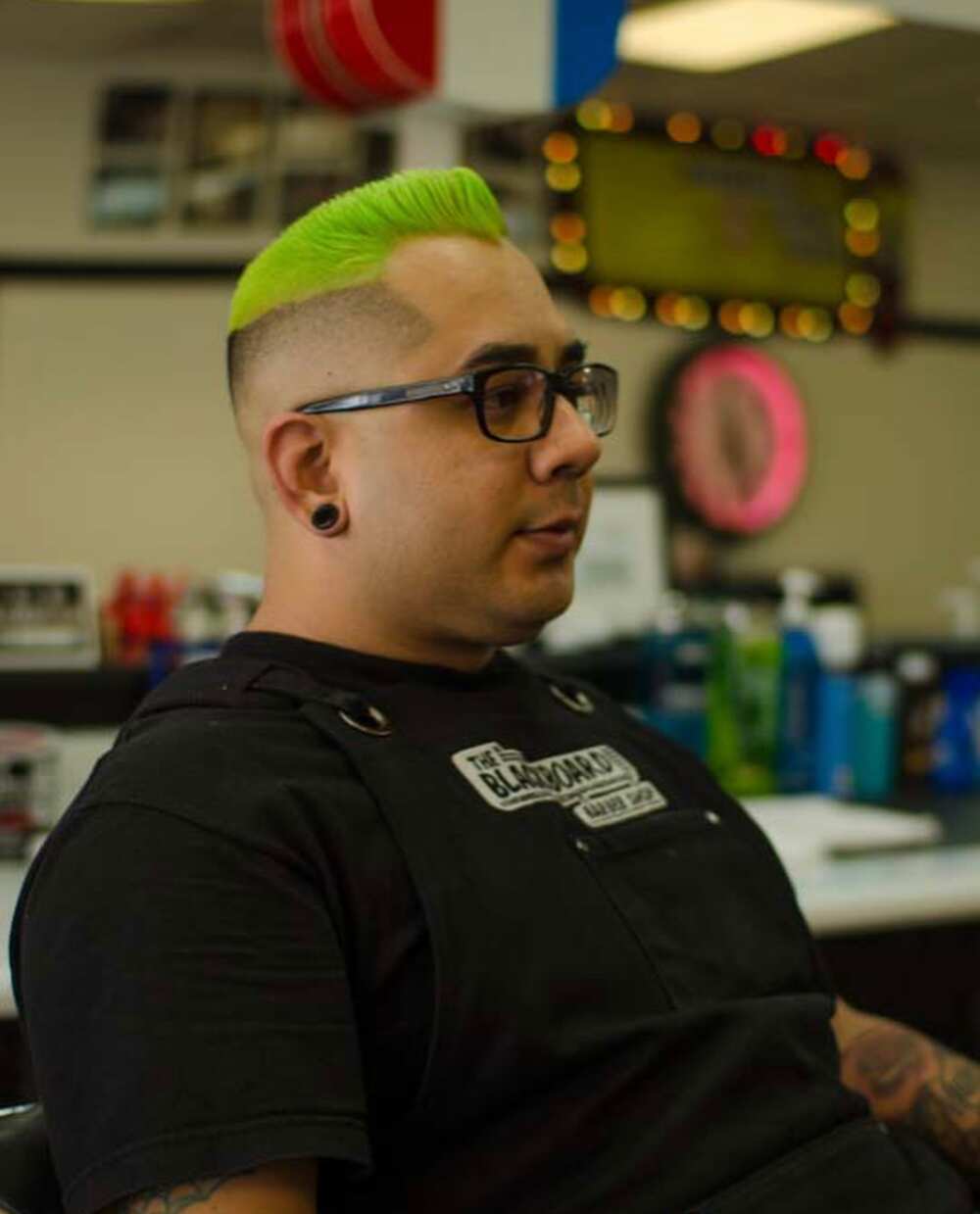 A regular military flattop can look totally different and punk with this acid colour. Such a bright decision for a gorgeous man will help to stand out in the crowd.
10. An ombre flattop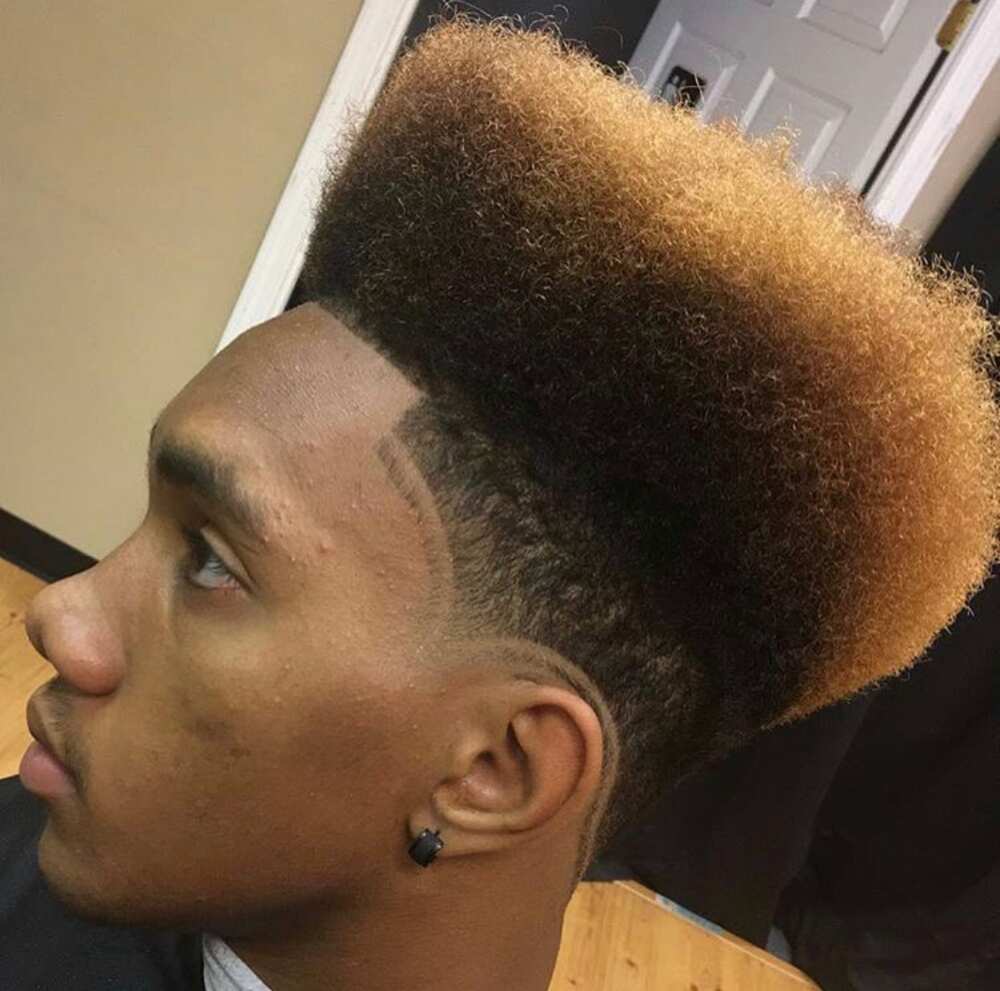 Despite bleaching, this hairstyle looks very natural, and will perfectly suit any young ladykiller. A perfectly razored line down the temple and ears adds more charm to any look.
11. An angled flattop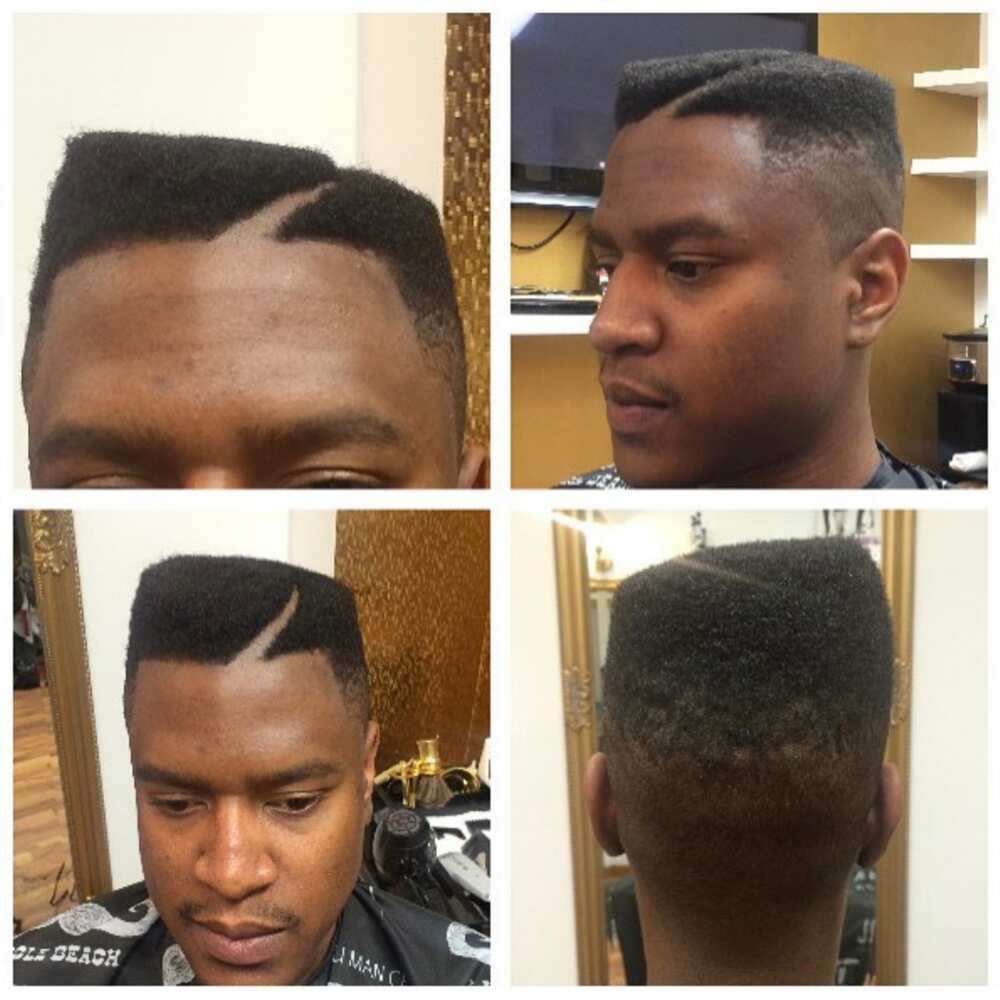 An angled flattop with a gradient part will make a handsome man out of you. This shape looks different from usual straight flattops, so you will be able to be distinguished.
12. A mask pattern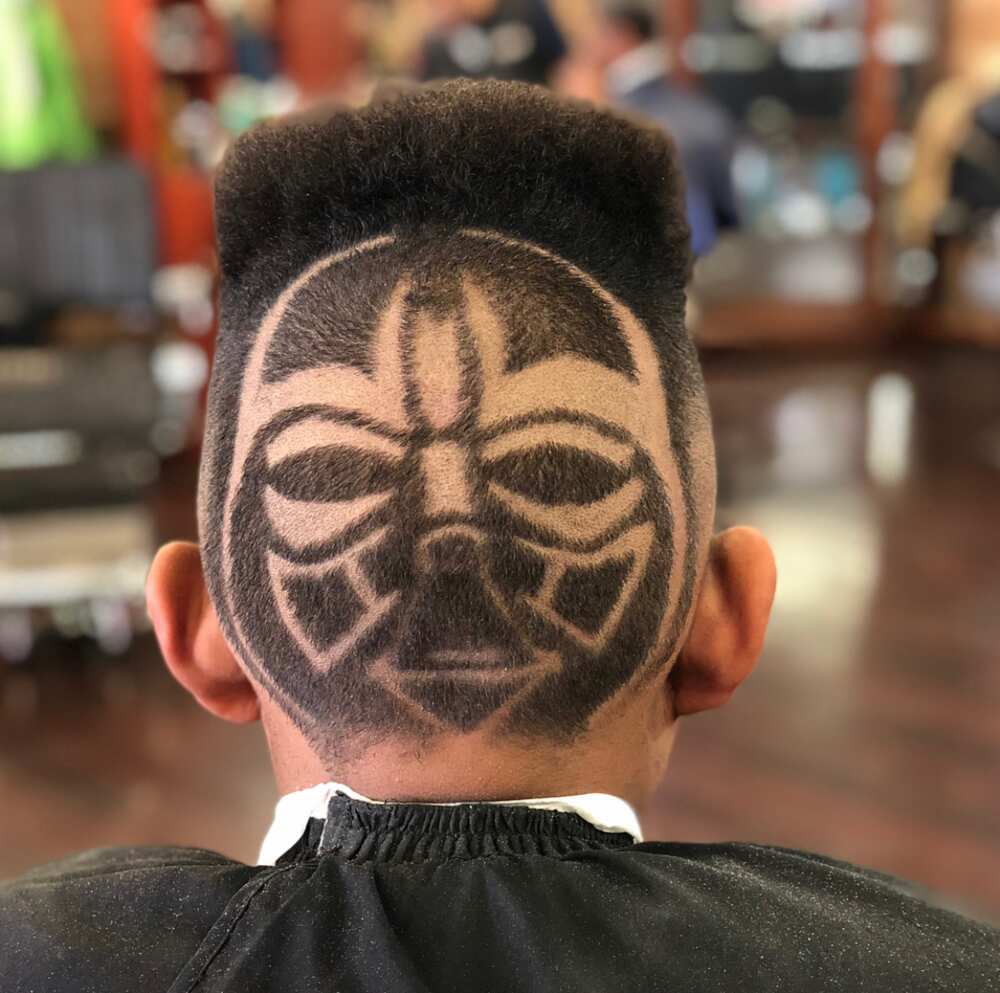 A skilful barber can create a real masterpiece on your head. Just look at this wonderful ethnic mask. It will allow you to be totally original and extraordinary.
13. Boys flat top haircut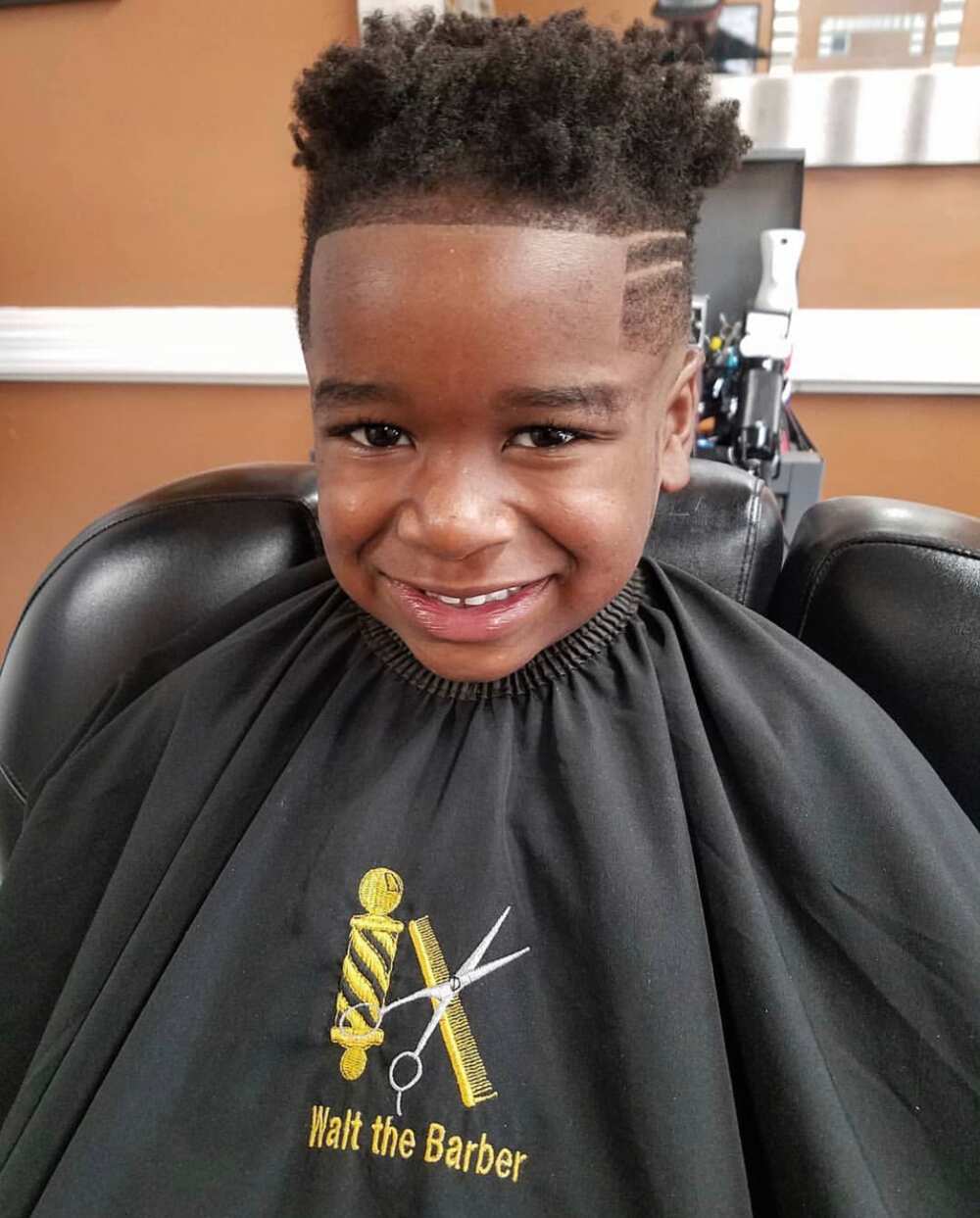 Even the smallest representatives of the stronger gender will be satisfied with this flattop haircut. A square hairline and trendy razored lines will make your little son look like a real man.
14. A branded trimming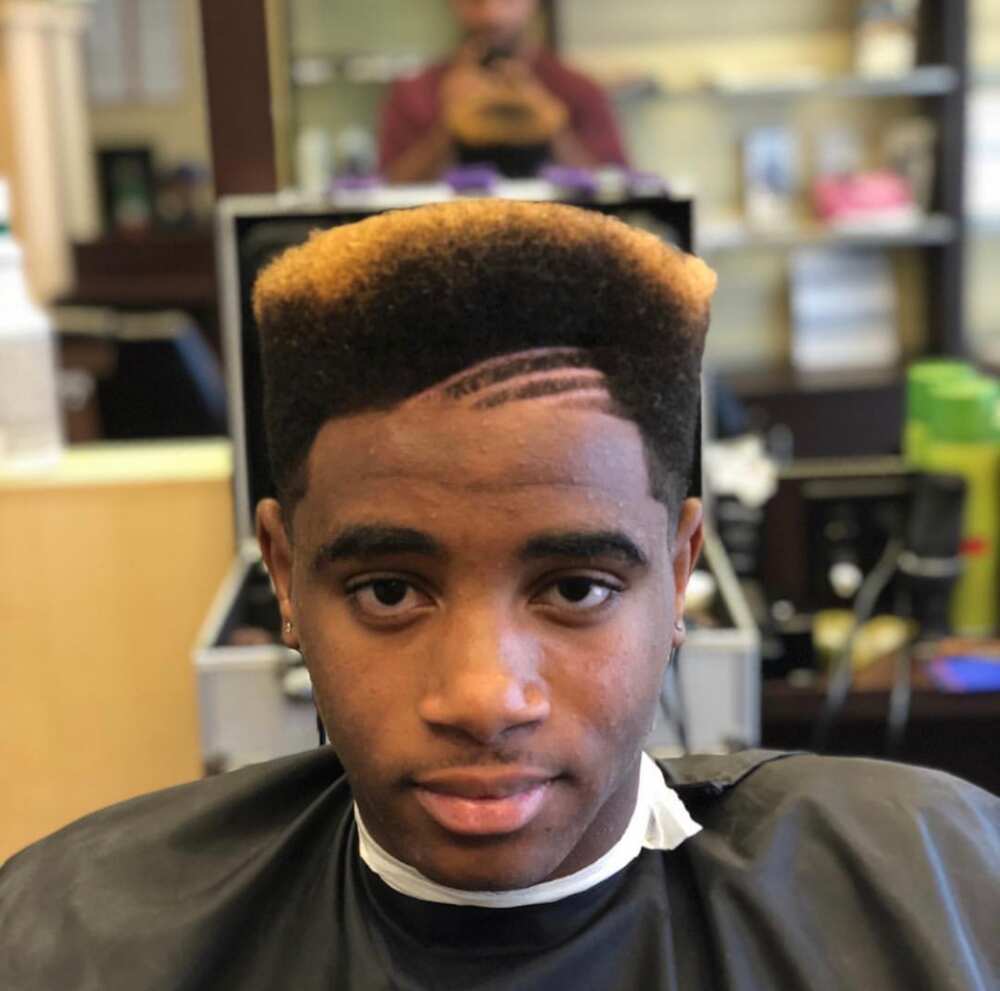 This classic high flattop looks so branded with this Adidas style razored lines.
READ ALSO: Dreadlock styles for ladies and gentlemen
15. A rounded trimming for boys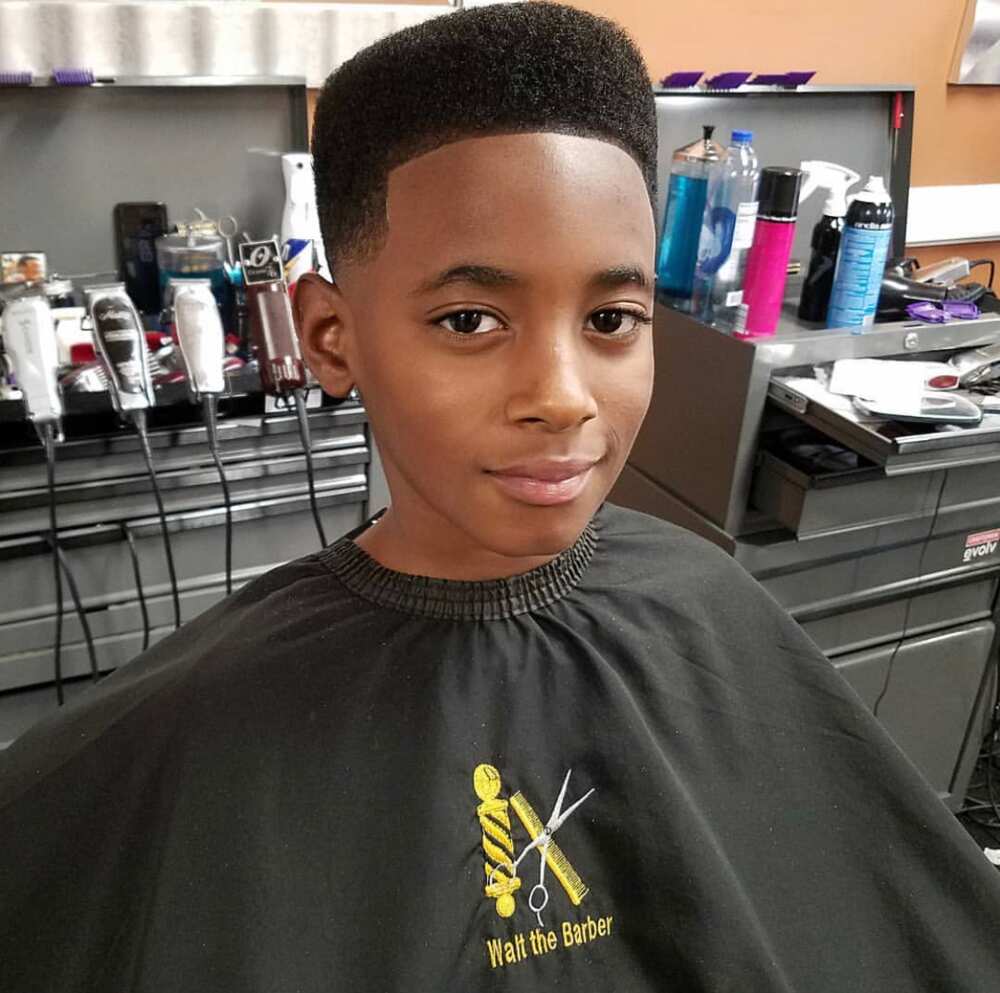 Your boy will love this simple and quite classic haircut. A bit rounded edges and a square hairline look seamless and youth.
16. A haircut with a V-shaped back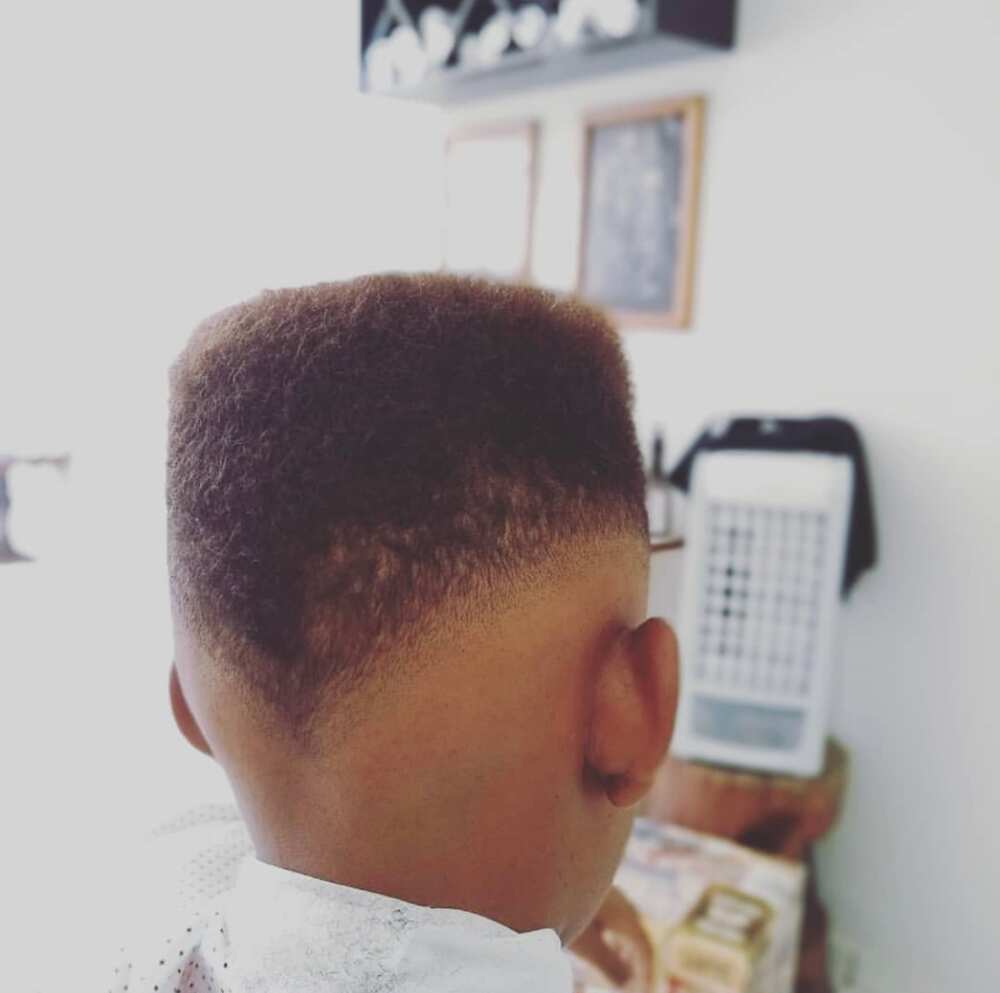 If a regular fade flattop is not an option for you anymore, you can try this V-shaped cut. It is suitable for every man.
17. A flattop with a side part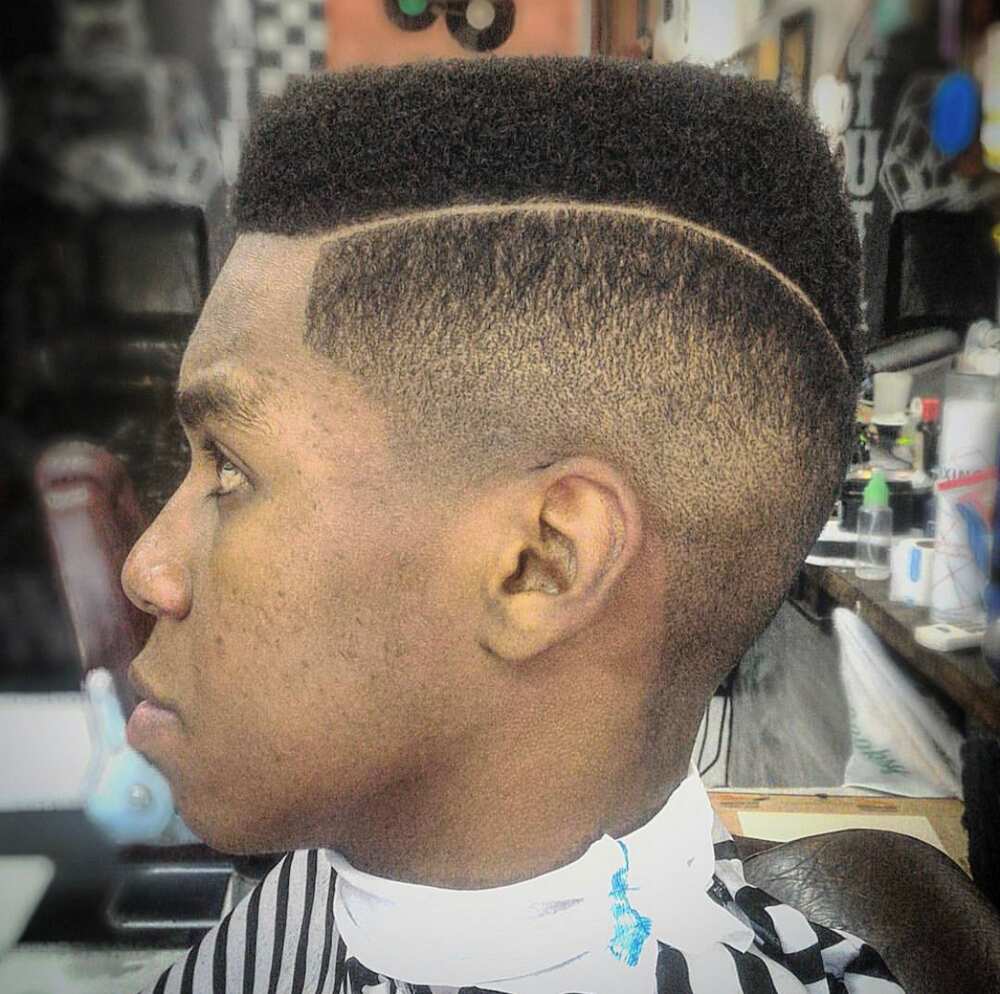 Such variant of a razored side part will make a haircut look sharper and more interesting. Try it, and you will definitely like it.
18. A high flattop with sharp edges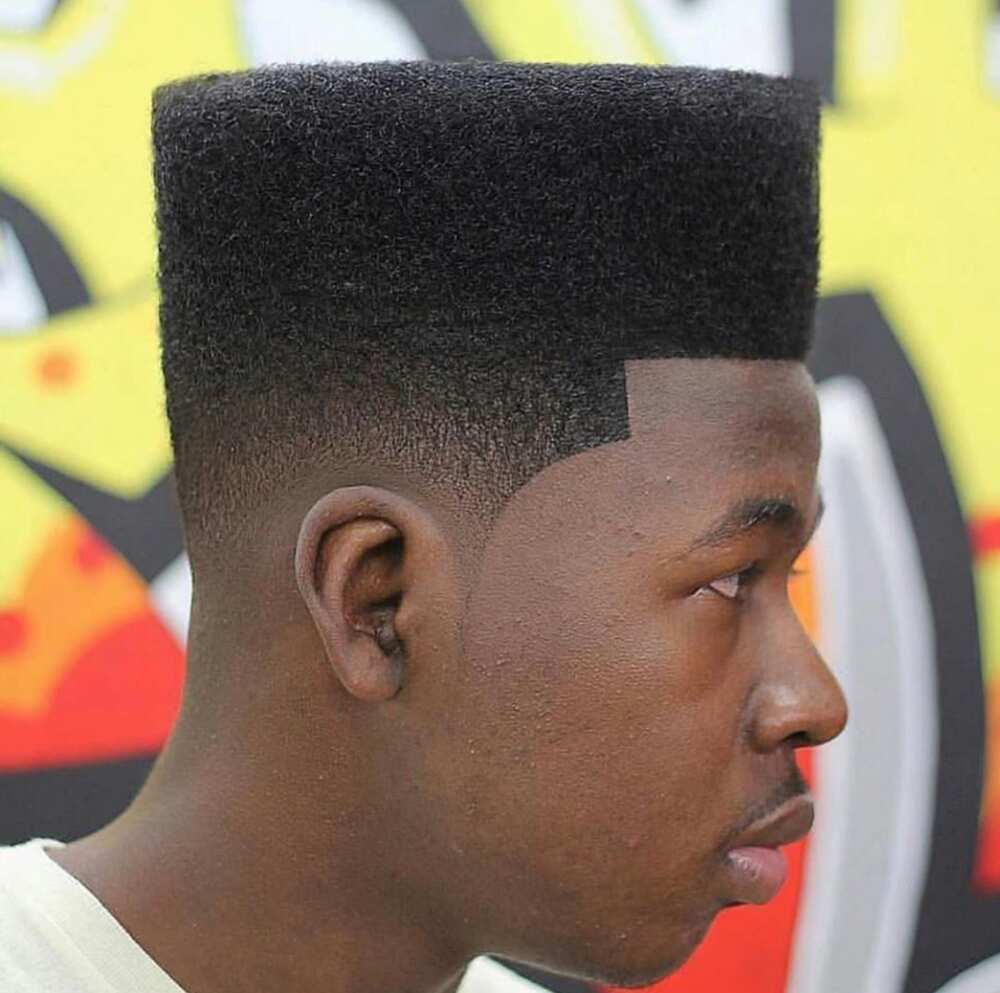 Such high haircut with sharp edges is extremely popular among young men with African type of hair. Its coarse structure allows keeping a perfect shape and looks really handsome.
19. A high flattop with pattern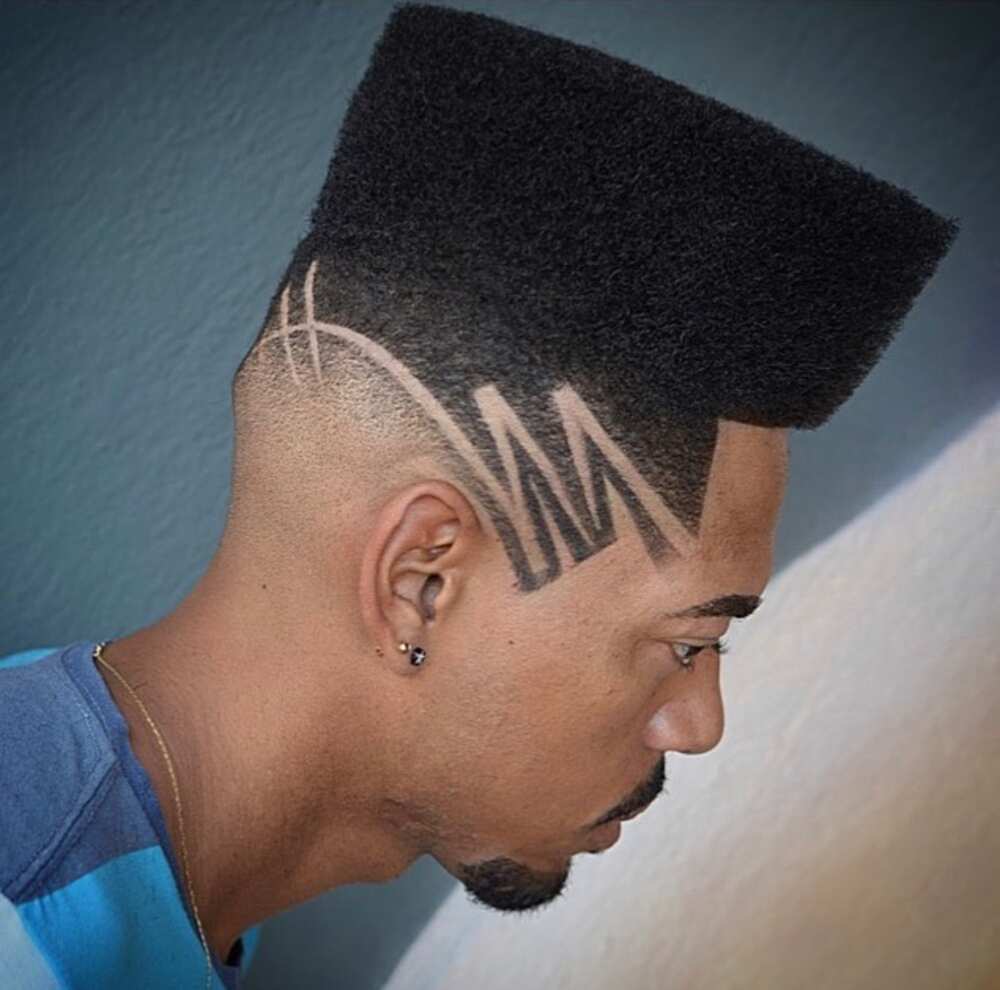 Any similar haircut can be modified with a beautiful razored pattern. Try this one for your flattop and be ready to look as handsome as never before.
20. A military flat top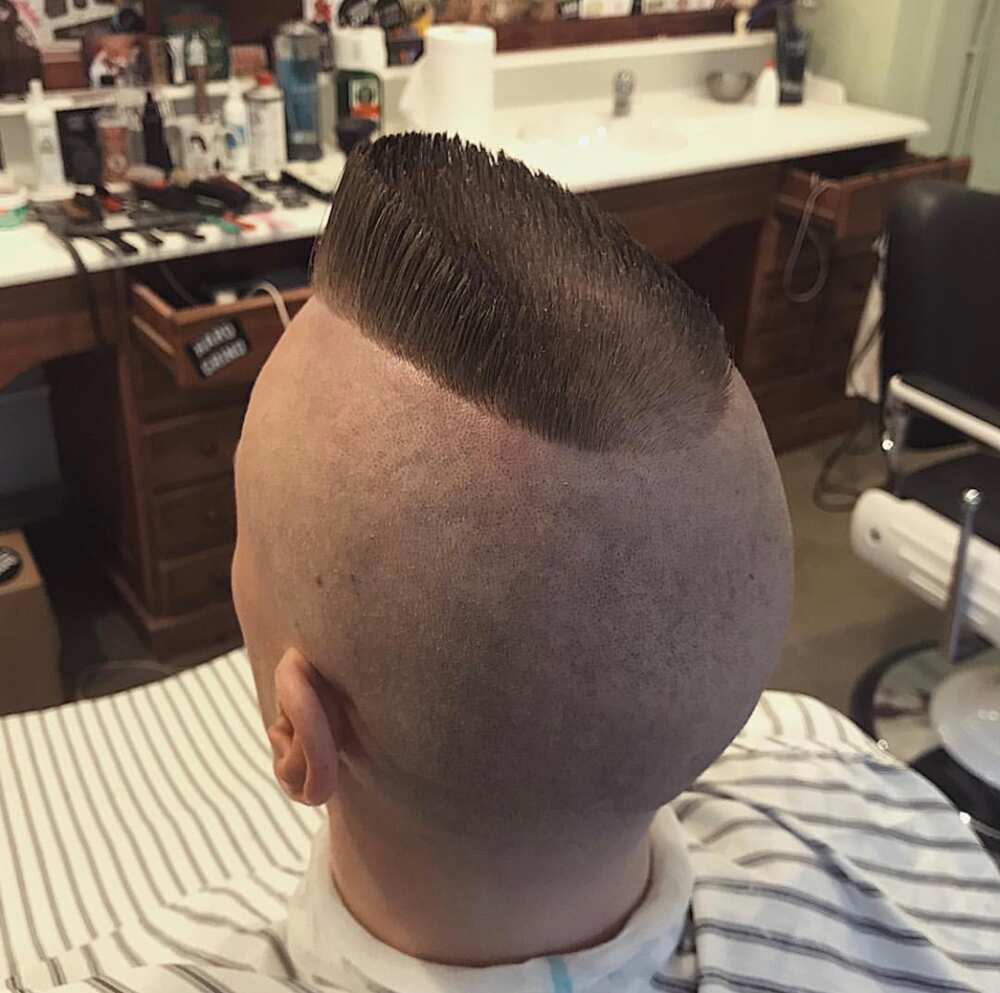 A classic military flattop with a bold head will be a perfect match for you if you do not like too much fashion on your hair.
Any haircut is an external representation of a person's character. This fact concerns not only women but also men. It is necessary to highlight such styling as a flat top haircut from the variety of men's hairstyles. It allows you to create a sense of reliability and strength, charisma and style. Such a set of qualities pushes a gentleman to a leading position and is in demand among lots of ladies.
READ ALSO: Different types of cornrows for guys
Source: Legit.ng