Not all women are endowed by nature with thick, long and shiny hair, but real hair has a great alternative - Nigerian hairstyles with attachment. Popular artificial materials do not damage the structure of natural curls, do not create an additional load, are held on the hairpins and are woven into braids. In addition, they are relatively cheap. This is an excellent option for girls who are not satisfied with their natural hair or like to change their look very often.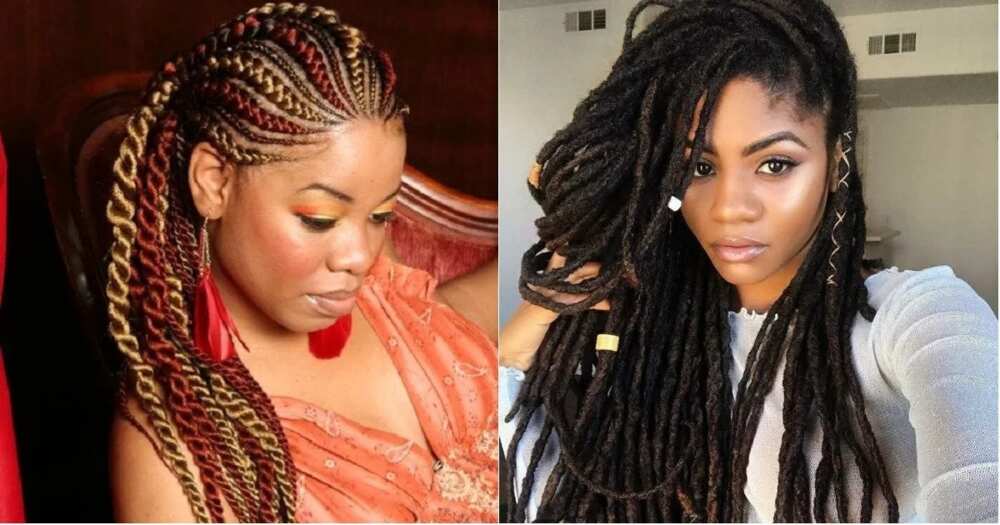 Hair strands
Strands that look like a real hair make the image romantic and feminine. There are 2 options:
Natural hair has a high cost and good quality. It can be washed, straightened and curled.
Artificial strands are inexpensive and have a wide range of colors.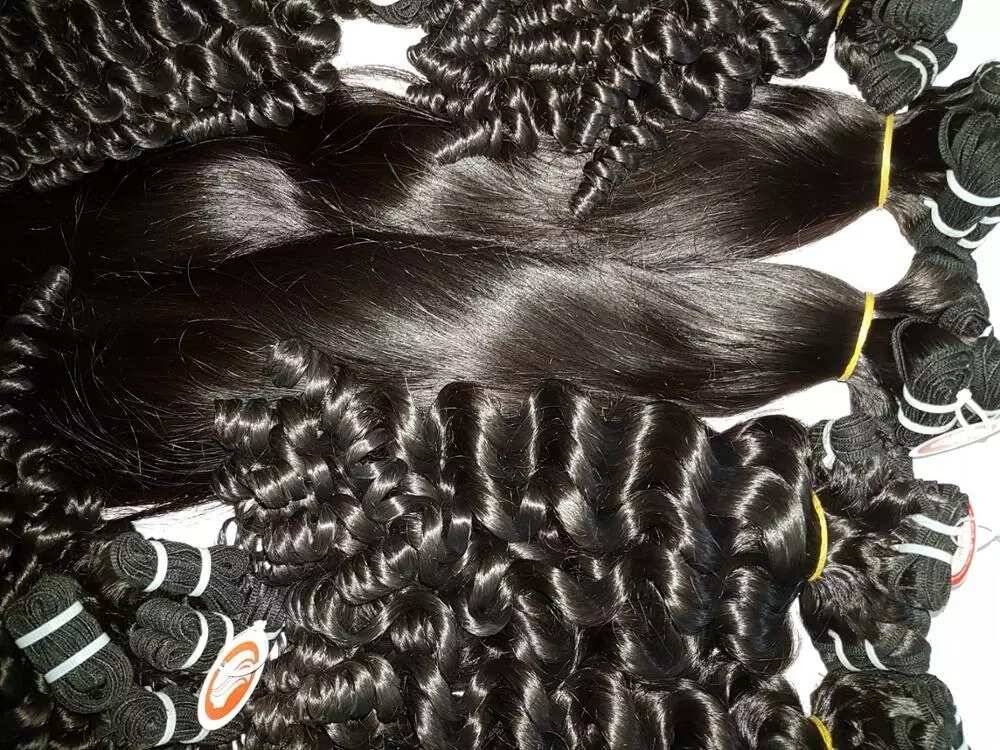 Free hair
There are a lot of Nigerian attachment hairstyles. The first option that you can use for everyday life and at special events is the free hair. Flowing curls fall on the shoulders, look elegant and feminine.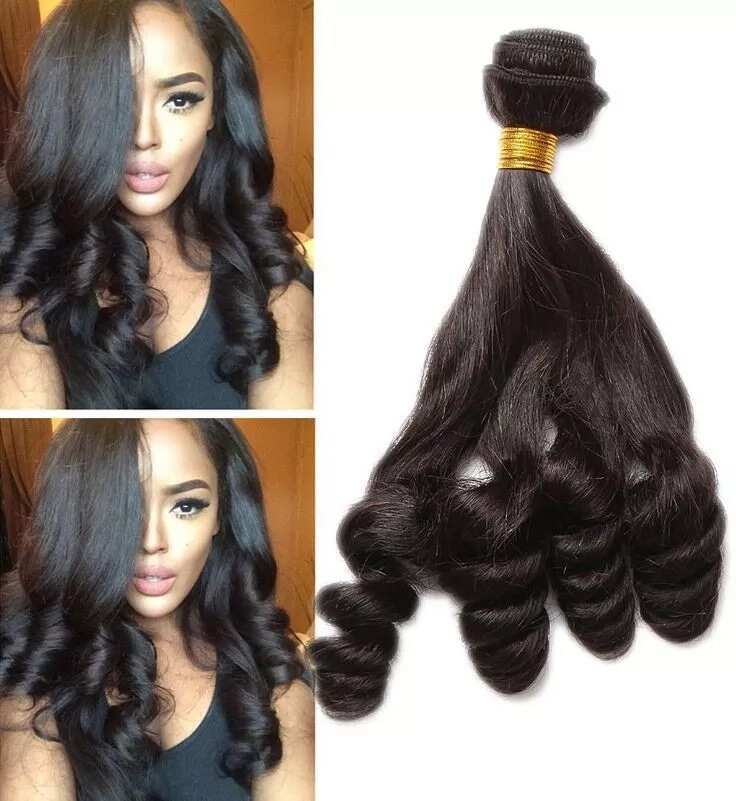 The first thing you need is to attach the strands to your head. The step by step instruction will help you:
Comb the hair along the entire length.
Separate a part of the strands near the top and fix them. They will not be needed yet.
Use the easy fixing hairspray for a horizontal parting and lightly comb your hair.
Attach the first wide layer near the parting.
Raise the attached strands, go down approximately 3-5 cm from the first horizontal layer and repeat the operation.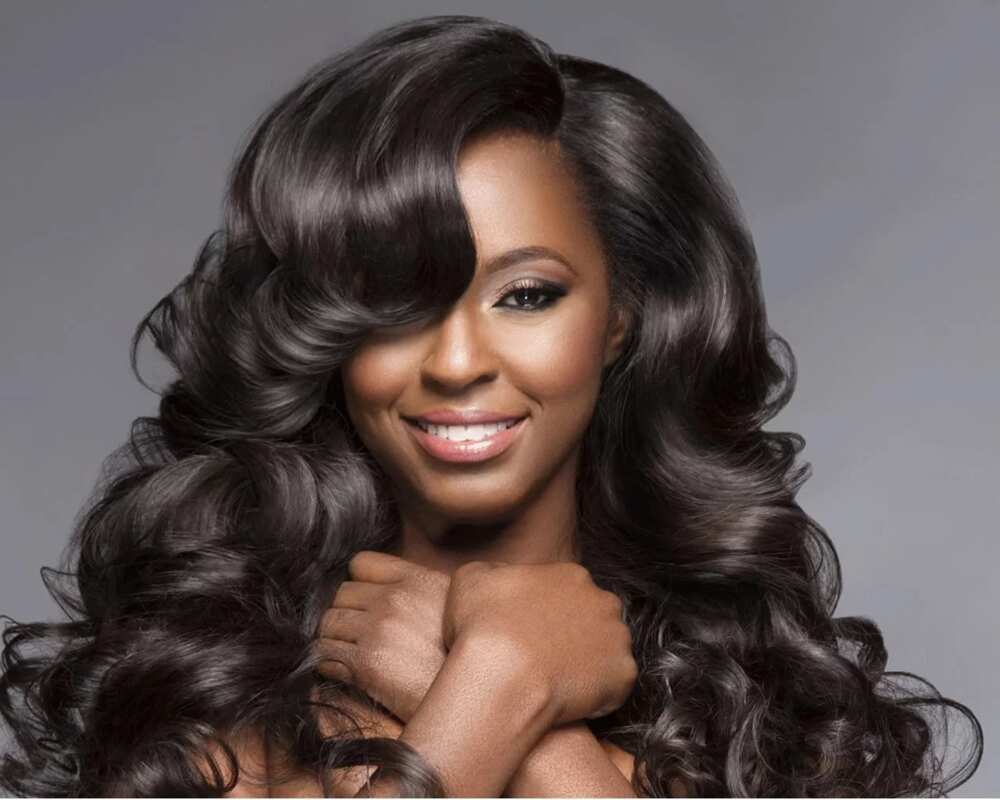 Now you have a long, luxurious hair and can implement trendy Nigerian hairstyles with artificial curls. You can comb your hair to one side. If you want to make an image unusual add a few strips of light shade to the main locks.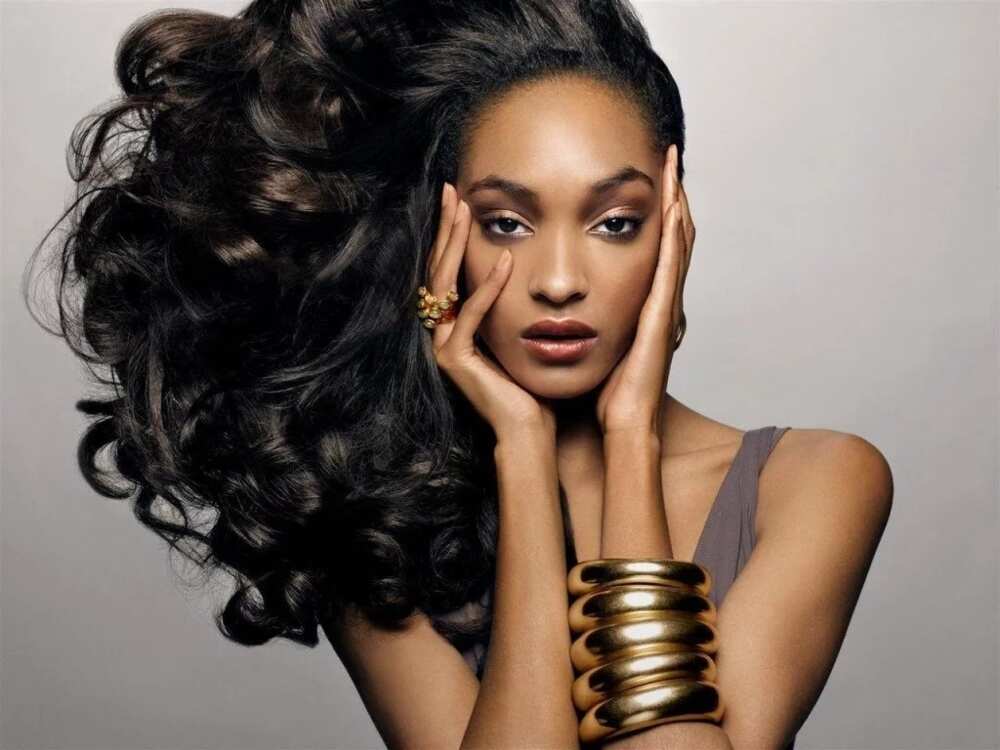 Ponytail
A simple hairstyle with artificial hair is a ponytail. Nigerian women should spend no more than half an hour to create it but you will have to purchase a tail of the required length.
READ ALSO: Nigerian natural hair styles 2017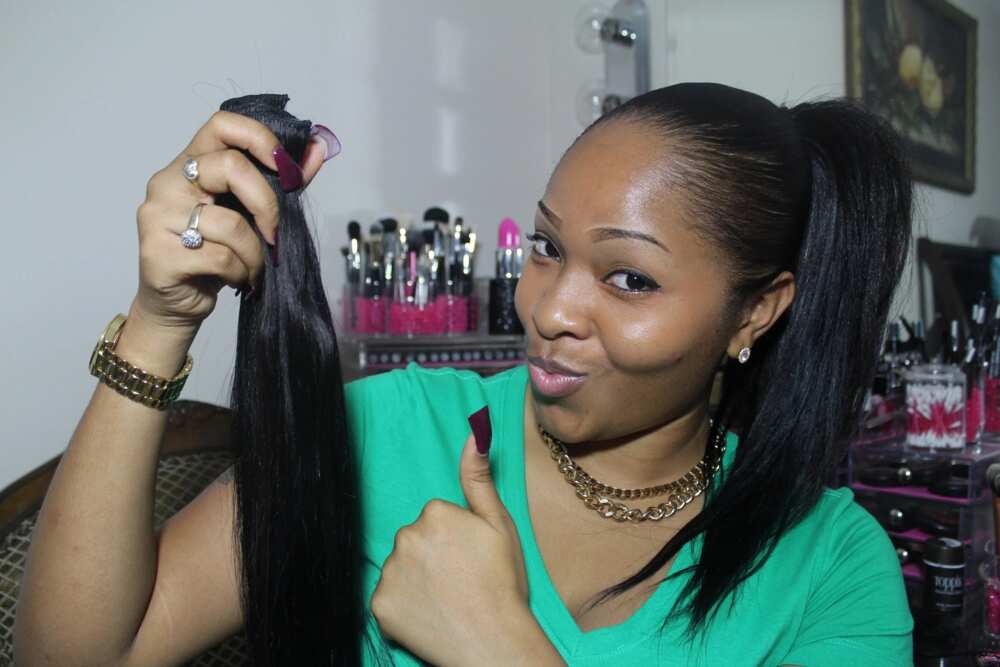 Collect your hair high on the nape and fasten with an elastic band.
Attach an artificial tail to your hair with a hair clip.
To hide the attachment place, separate one strand, wrap it around the rubber band and fix the tip with a hairpin.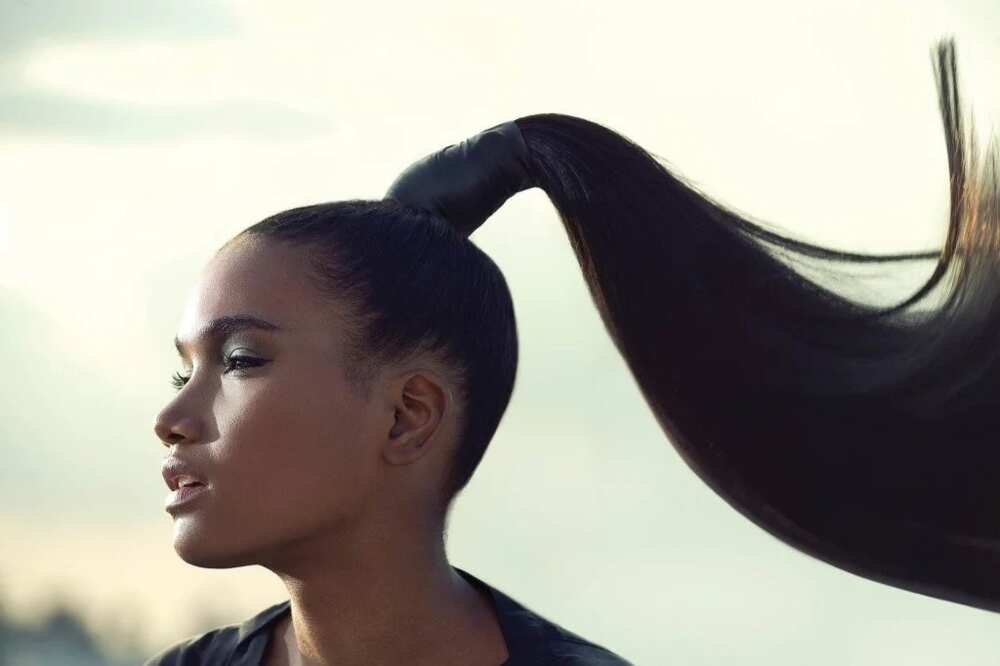 Care for the artificial hair
Comb the strands neatly and carefully holding at the base not to tear out the hairs.
You can expose them to drying with a hairdryer, to straightening and curling at a temperature not exceeding 150 degrees.
Do not wash these accessories too often - no more than twice a month.
To preserve shine and softness, use a shampoo for dry hair, moisturizing balm or conditioner.
Hair may be painted. But keep the paint on strands no longer than 15 minutes. Otherwise, they will become dry and lifeless.
Dry them on the clotheslines attaching by clothespins and pre-combing.

Nigerian braids
Any weaving looks very beautiful on long, thick hair. If you have a medium-length hairstyle or weak hair, you can simply add the artificial strands. Fixing them well, proceed to create the braid of needed style. You can use the above-mentioned artificial hair or kanekolon.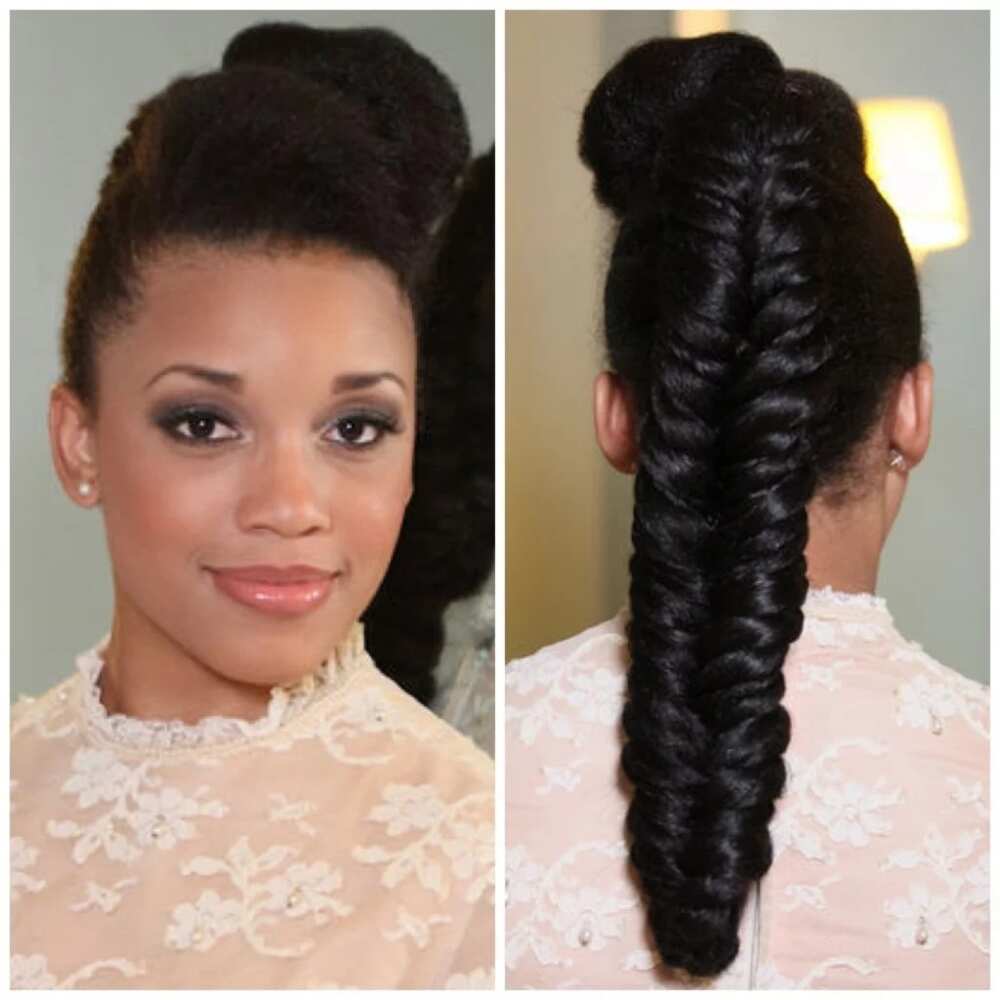 Braids originally were called the small weaved strands of African style. Now this word refers to all kinds of tightly braided hair in quantity from 2 to 2000.
To increase the thickness and length of braids the following materials are used:
Natural hair
Kanekalon
Threads
Wool
Ribbons
Shoelaces
In 2018, the most fashionable and trendy are the braids with a color kanekalon and tight French braids.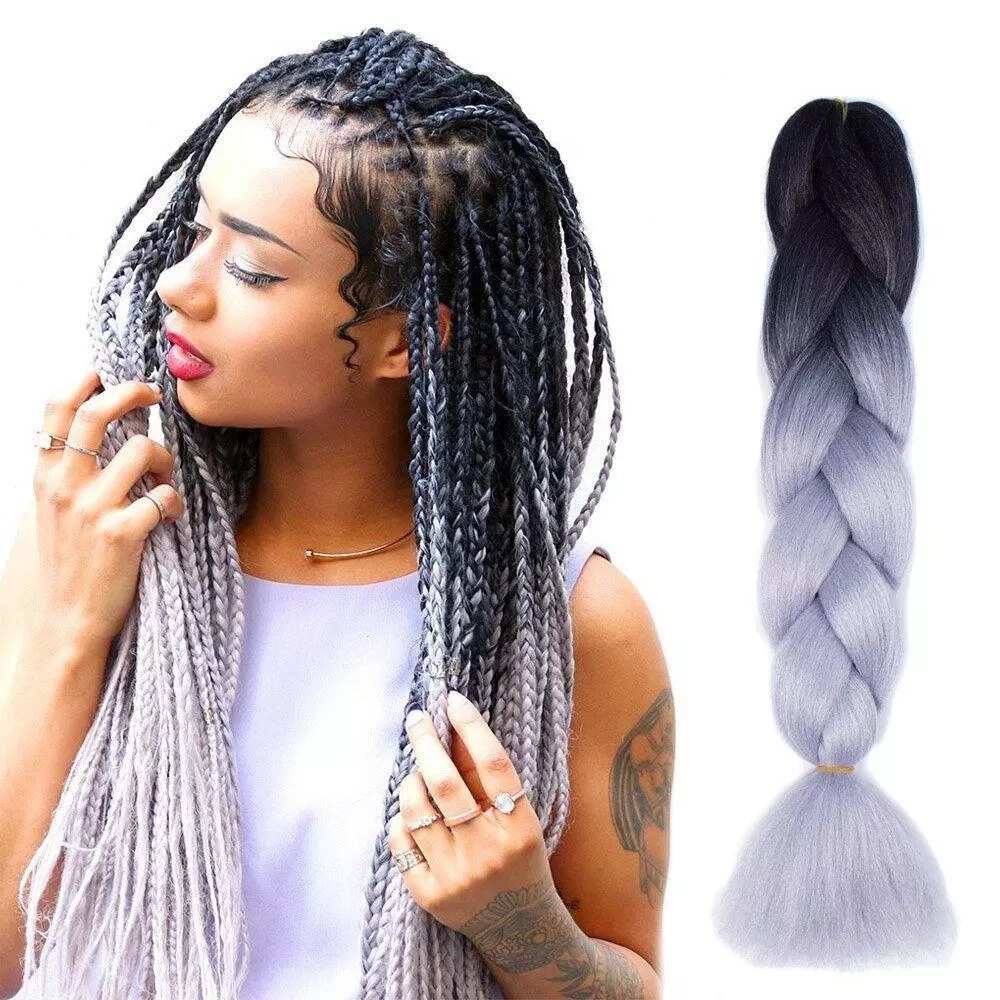 Braids with kanekalon
Instagram is full of bright images of braids with a colorful kanekalon. You can make them on an average length of hair from 10-15 cm. The smaller the length, the more braids you need. Then they will hold on better.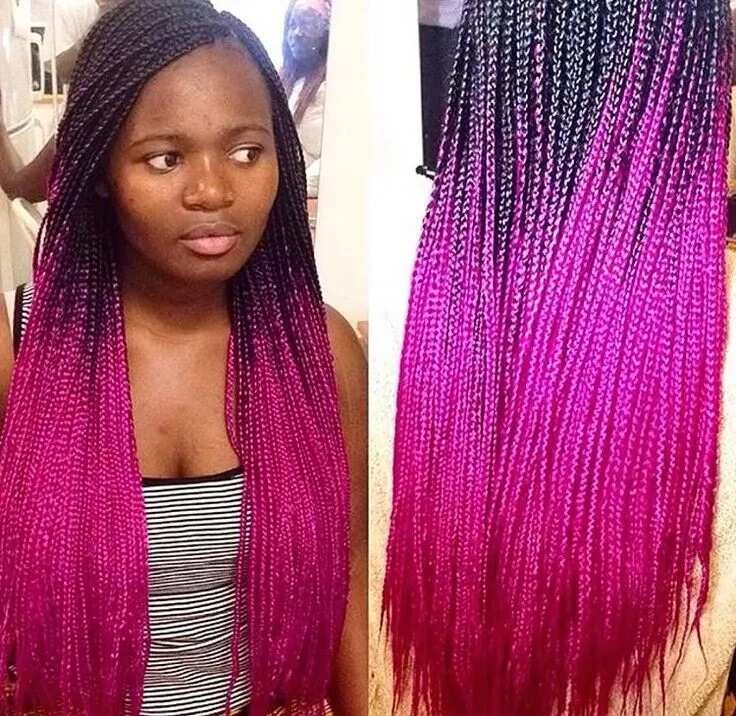 Benefits:
Braids are fashionable and convenient, suitable for a party or an active photo shoot.
With such a hairdo, you can look great many days (ideal for a trip).
You can braid the hair yourself.
Kanekalon can be used several times.
Disadvantage:
With a very tight weaving, the scalp may be slightly sore, so be careful.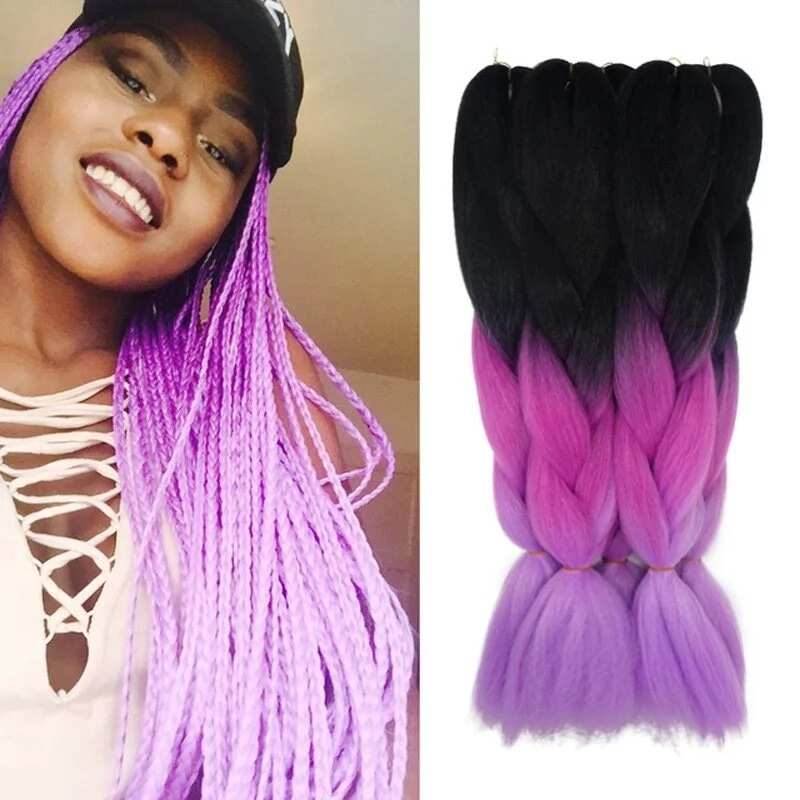 You will need:
Kanekalon. Which to choose? Beautifully look bright and contrasting colors. Very popular are pink, lilac, blue and white.
Hairpins.
Transparent elastic bands.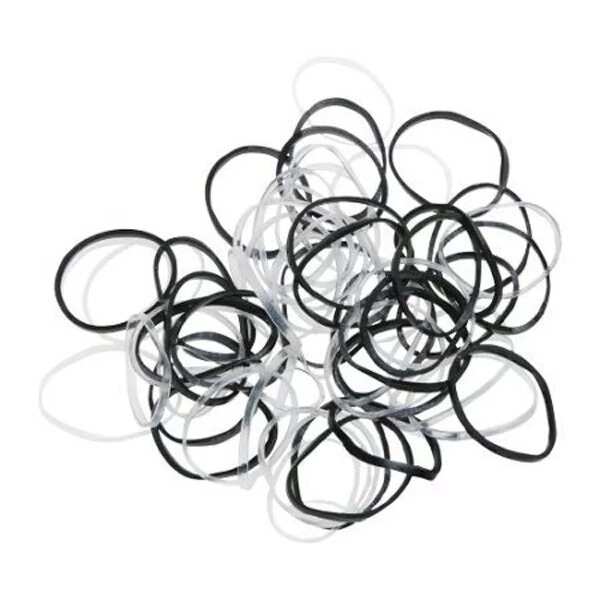 How to weave braids with kanekalon?
Step 1. Divide the hair into strands.
Step 2. For curly hair that is difficult to weave, you need to use a gel for styling to make smooth braids. Treat the hair with it paying attention to fluffy curls. Smooth them with a small brush.
Step 3. Fix the kanekalon on the first strand. There are several ways to do it. You may tie a knot around the strand and fix it with a hairpin so that the kanekalon will not slip. If the kanekalon still slips, then at first weave braid a little and then add the artificial material without the knot.
Step 4. Then go on weaving a tight braid with a kanekalon.
Step 5. Reach untill the end, fasten the tail with a transparent elastic band, wind a small strand around it and spray a remedy for strong fixation.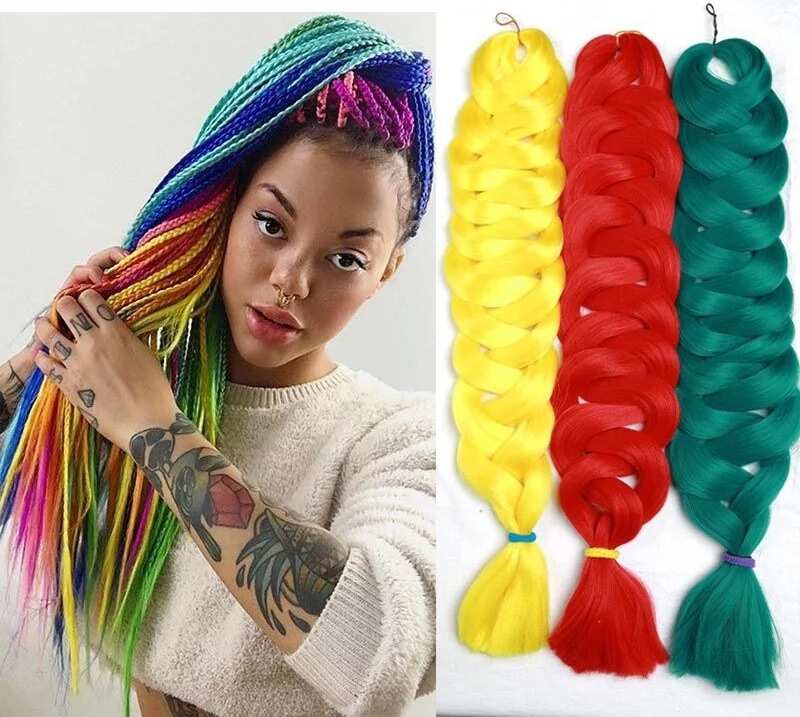 Care:
Wash braids not more than once a week with shampoo. Apply it to the roots, do not foam much, do not rub the braids themselves. Most of dirt is on the skin, so pay most attention to it. Dirt from braids along the length is washed with foam from the roots.
Do not dry the braids hot with a hairdryer.
It's preferable to sleep in a kerchief.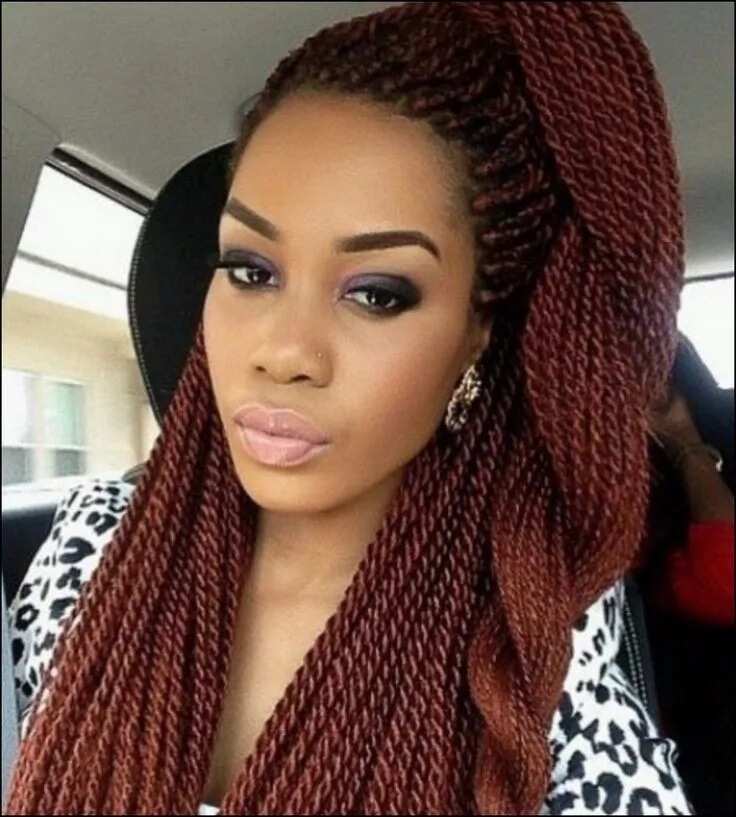 French braids
The simplest everyday option is 2 French braids with a direct parting. Fashion allows to make such a hairstyle not only for sports training but also for work and combining it with a dress, jacket, any other elegant attire.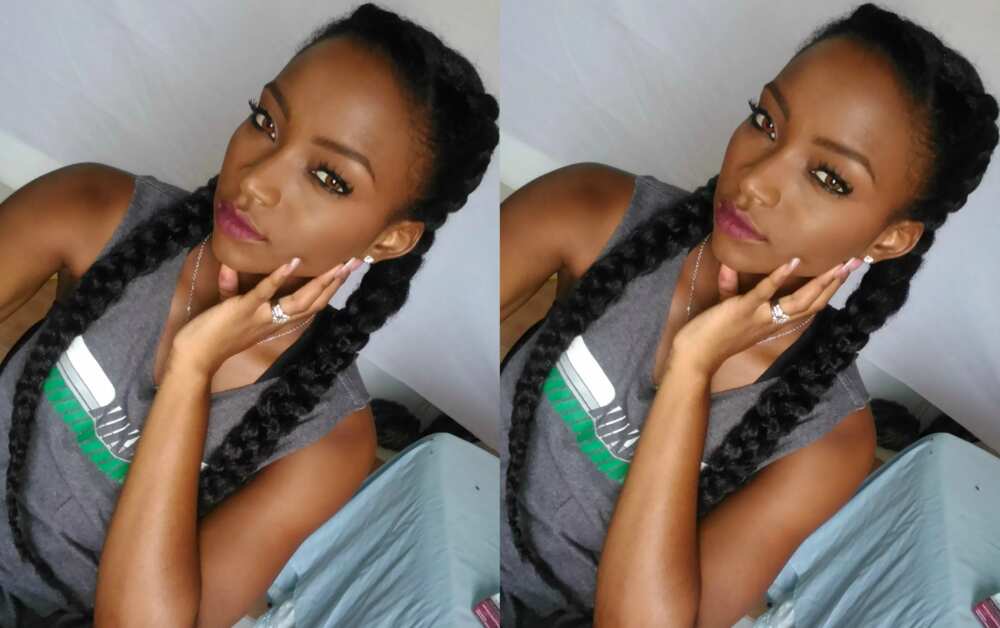 Beautiful and original are different combinations of French braids in thickness and technique of weaving. For example, a combination of small and voluminous braids.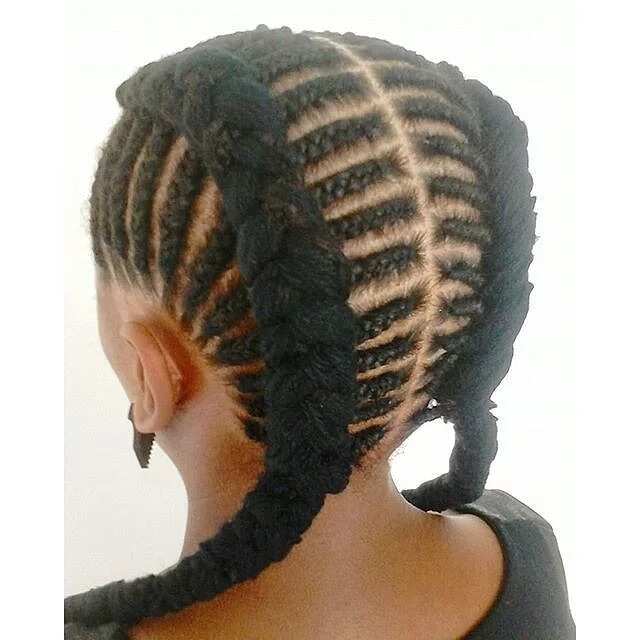 Braids on temples
The braids on the temple stood out in a separate kind of braids called cornrow. As an addition to the hairstyle, such braids have been used for a long time and still remain in fashion. This beautiful element is simple in weaving. You just need to have a certain skill. These are ordinary French braids, only in a mini-size.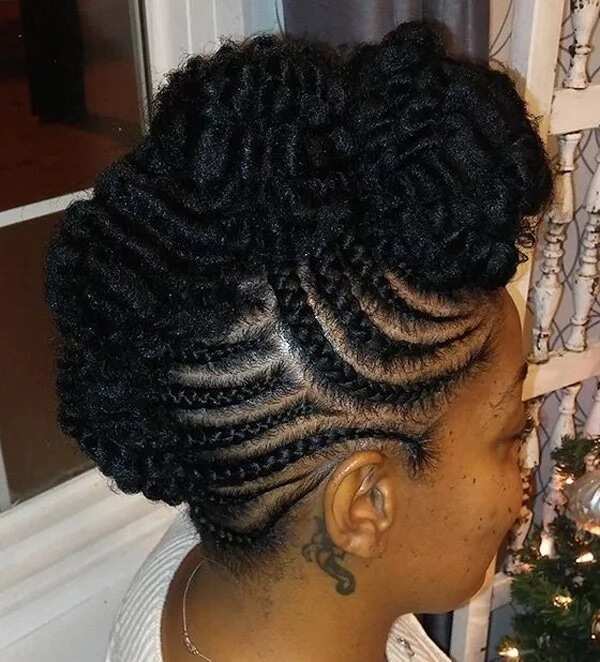 These are far not all hairstyles that can be done with braids from artificial materials. Restrictions are completely absent. You can create fantastic works of art on your head.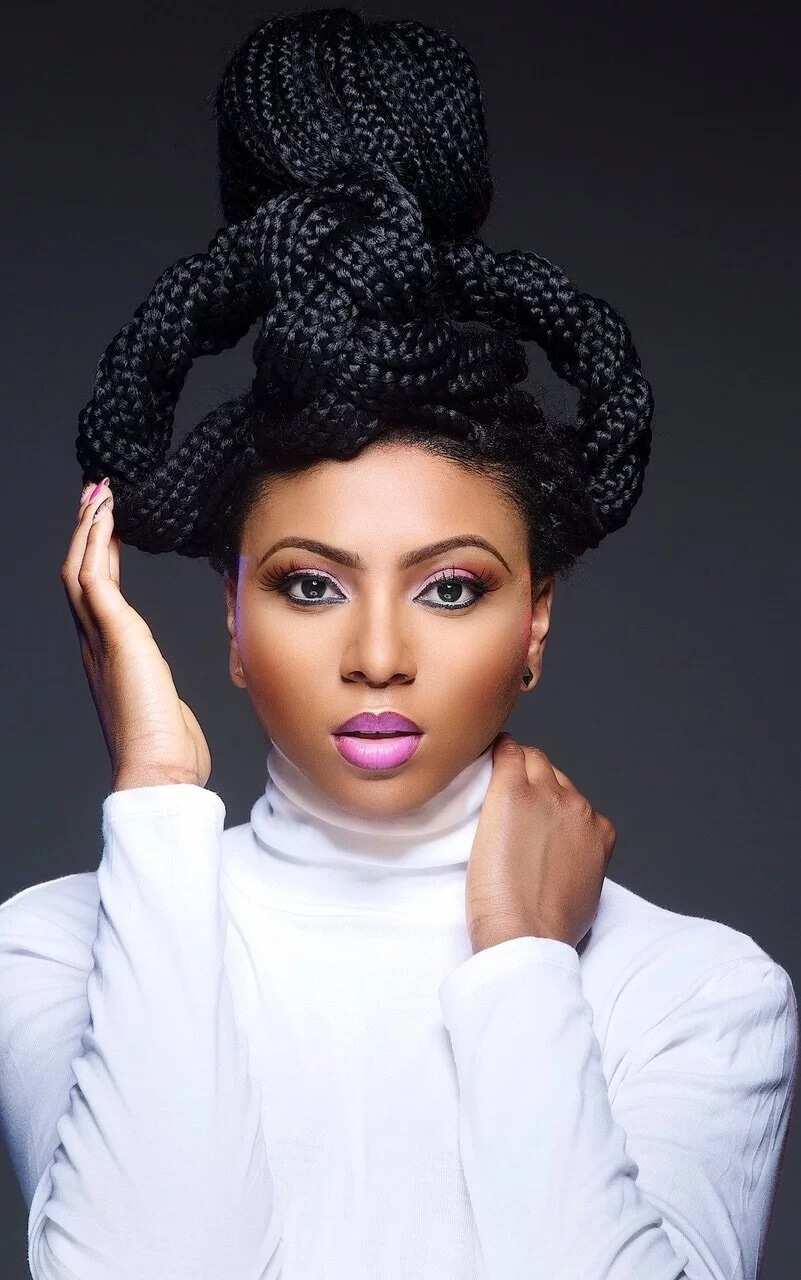 Dreadlocks
Dreadlocks - an unusual youth hairstyle that at first glance seems to a multitude of tangled hairy braids. However, it's not at all easier to weave them than to make a super fashionable styling. A real, well-groomed dreadlocks look neat and avant-garde.
Fashion for an unusual hairstyle was introduced by black people. Our hair structure, thickness, and stiffness make it possible to create the perfect dreadlocks. Europeans, white fans of rap and followers of other youth subcultures also make dreadlocks.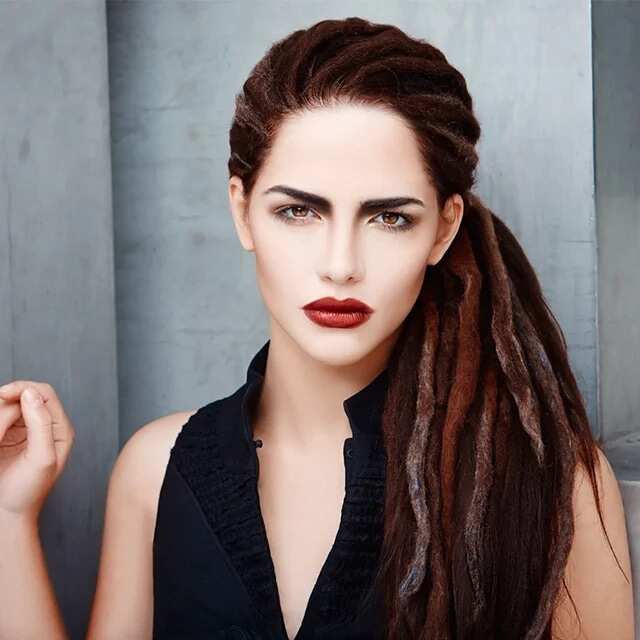 There are natural and artificial dreadlocks. Natural ones are shaped like braids. They are used for several years. It is almost impossible to loosen the dreadlocks, so it will be necessary to shorten your hair. That's why the dreadlocks with kanekalon and other artificial materials were invented for the safety of natural hair.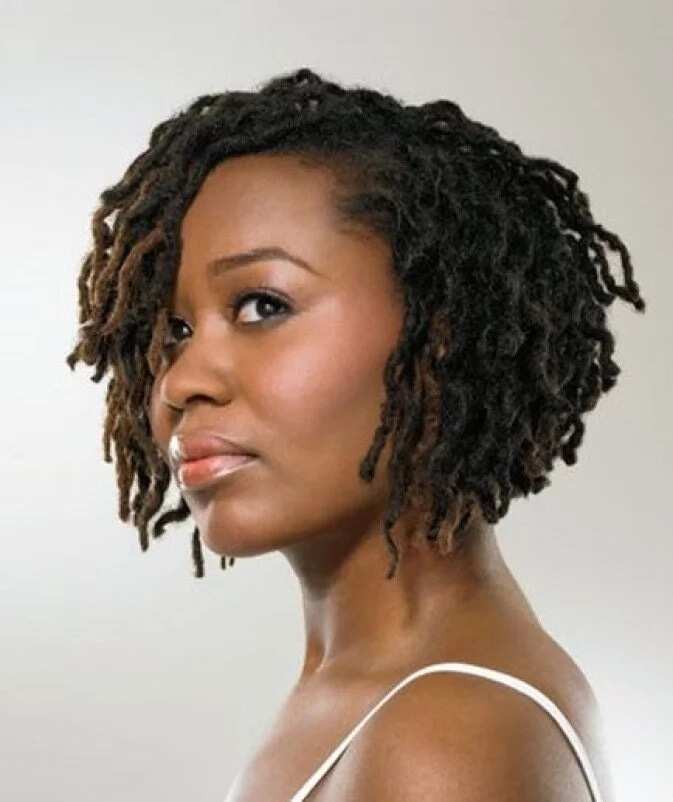 The process of creating artificial dreadlocks is a combing of strands of artificial hair, which then are weaved into your own. Kanekalon is a very light material so wearing such a hairstyle will not be difficult. Although it all depends on the length of the artificial dreadlocks.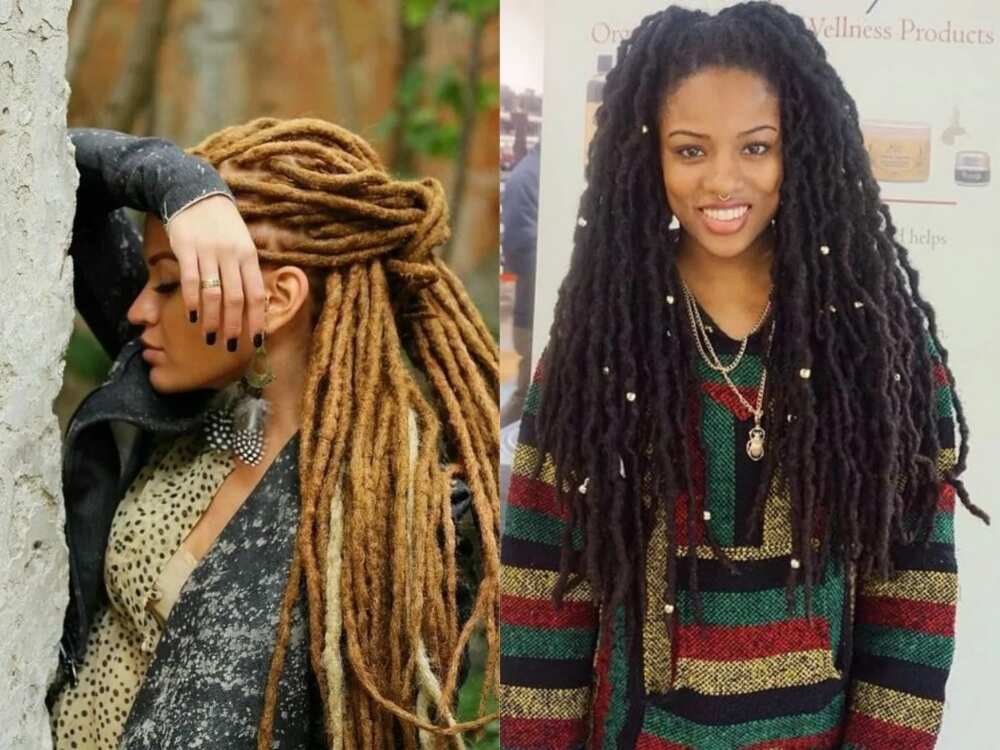 If you have thin and weak hair then you should not overload them. Otherwise, they will begin to "break off" under the weight. If you have a hair longer than 20 cm, then you can use another way to create dreadlocks. Your hair should be braided into pigtails which will be wrapped on top by an artificial fiber.
Or you may buy the ready-made dreadlocks and attach them to the roots of the hair.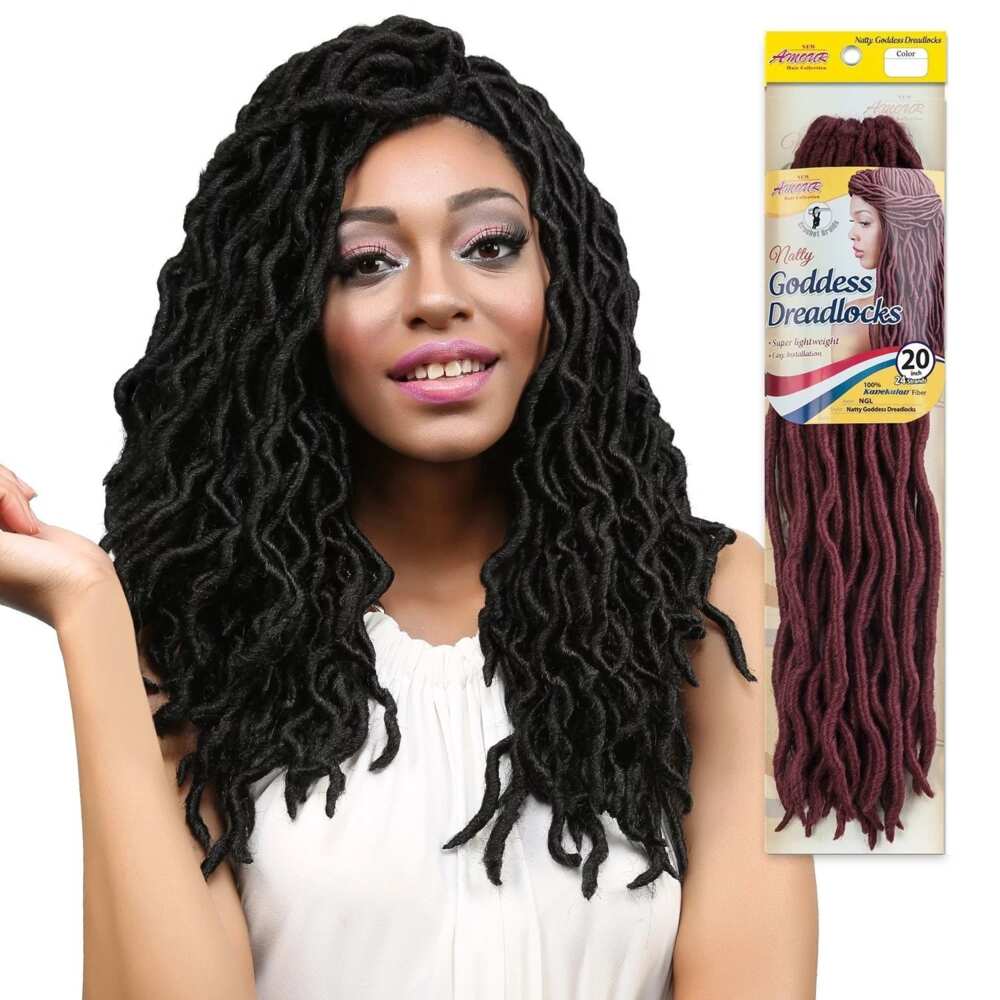 Care for this hairstyle is very simple. It is enough to wash your hair once a week with diluted shampoo. You can wear such a hairdo for about six months correcting it after the hair growth.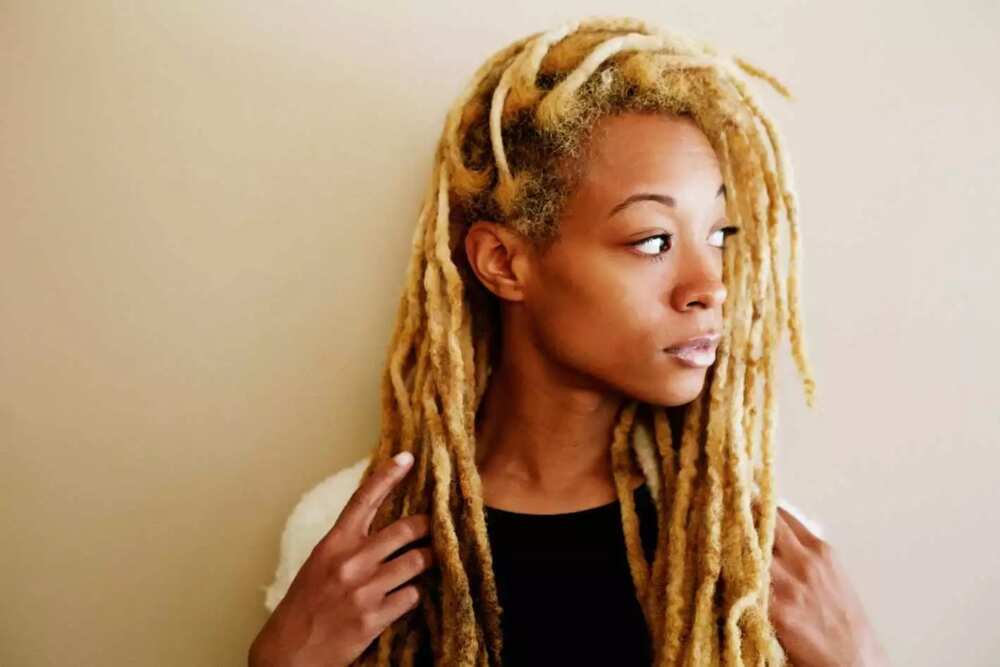 Now you know how to create the latest hairstyles with attachment. If you are ready to change your image radically, then experiment with pleasure, be beautiful, vivid and charming!
READ ALSO: Brazilian wool hairstyles in Nigeria