How to do JAMB regularization
JAMB regularization is a popular feature used by Nigerian students who want to study at higher educational institutions. Let us learn how to do JAMB regularization, what it means, and what benefits it offers to you as a student.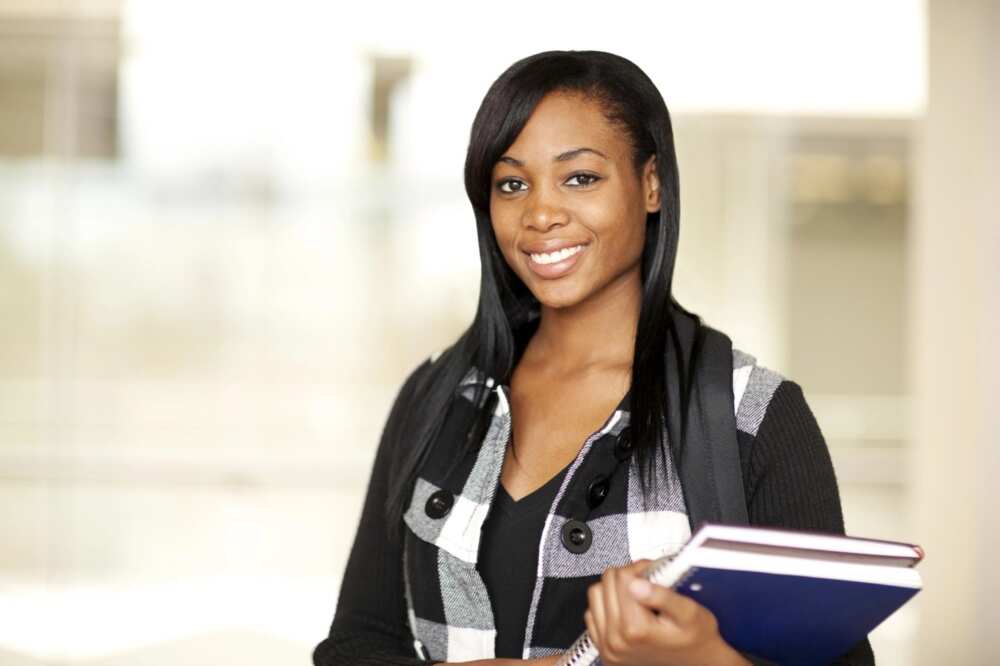 JAMB regularization term
Why do you need regularization by Joint Admissions and Matriculation Board in Nigeria? Should you visit JAMB official site if you wish to do it? What does the term mean?
JAMB regularization is the university application form that is known as 'late' admission or direct entry. Nigerian students have to pass JAMB exams and achieve the minimum cut off mark required by a college or university of their first choice, but many institutions are happy to welcome scholars through direct entries.
Sometimes you can get into big trouble when you don't have your JAMB admission activated, or you forgot to report to JAMB that you are admitted. JAMB regularization is the service that serves both these problems and allows you to study at the higher education institution through direct entry.
The regularization procedure is designed to settle down or regulate ND, HND, OND, and NCE type of admission to the university and clear up the JAMB status of a prosperous student.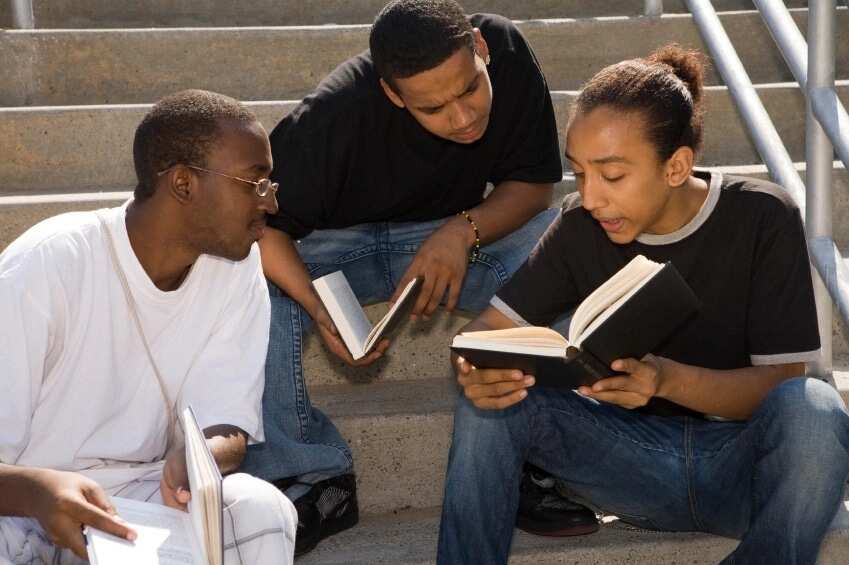 Guide for doing JAMB regularization
Step 1. The first thing you should do is to go to JAMB official site. Its link is easy to remember: www.jamb.org.ng – so head over here now.

Step 2. If you have a JAMB number, you should find 'Check Admission Status' free service and click on it. If you are admitted to the university, you have been found and don't need to do JAMB regularization. If you see something like 'Sorry, no admission is given,' you have to perform the JAMB regularization process 2018.
Step 3. There is 'Late Application' option that is created specifically for students who don't have JAMB registration number and need 'regularization' service. Click on it to continue.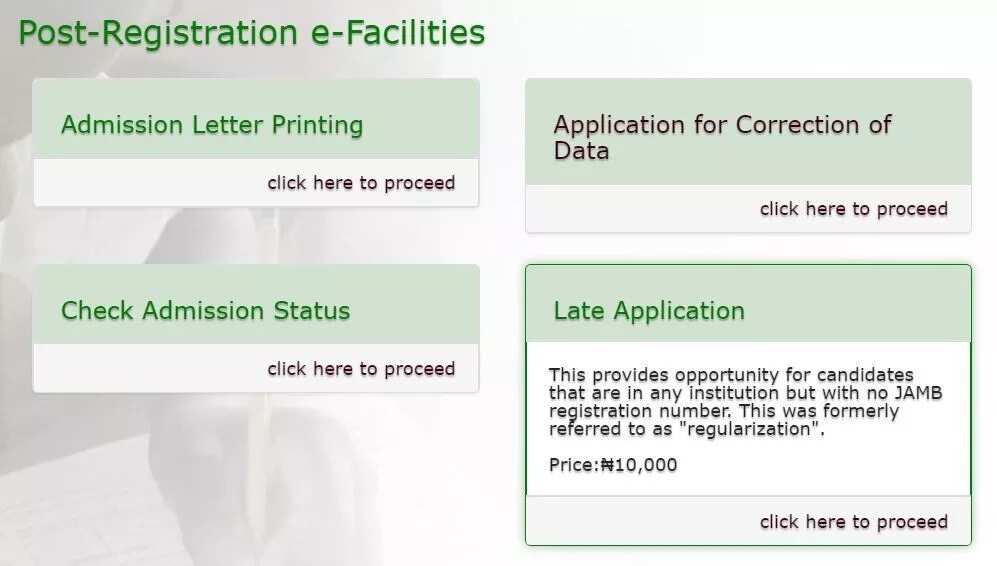 Step 4. You will be forwarded to a new JAMB official site's page that explains what you have to do. Keep in mind that this service costs 10,000 Naira, it is not available for free.
Step 5. Carefully read the instruction. Once you click on the green button 'Click here to begin' at the bottom of the page, you will have to register a profile with JAMB site through 'Sign up' option (provide information about yourself such as full name, email address, state, etc.) or log in to your account (if you already have one). Do not register a second account if you already have one. Each Nigerian citizen is allowed to have only one account with JAMB website.
READ ALSO: Is JAMB change of institution still on sale?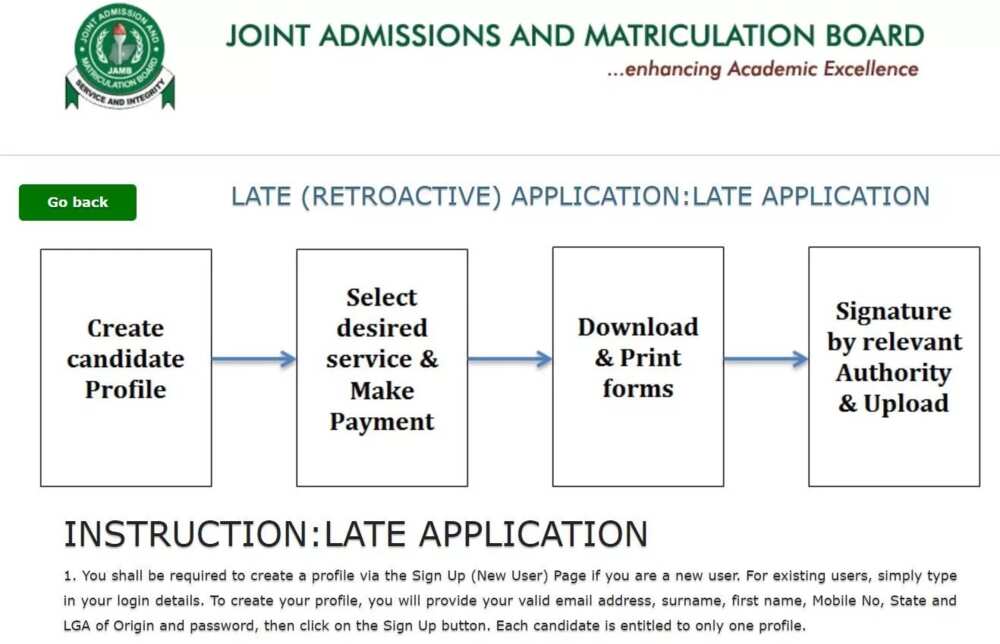 Step 6. While being logged in, you should visit the home page with all the available services listed there.
Step 7. Look at the side menu where there is 'Late Application' option. Click on it.
Step 8. Each student who chooses the 'Late Application' service has to pay for it. The site should automatically generate your Transaction ID that will be seen on the Confirmation Page.
Step 9. Your ID will also be emailed to you, so that you have it in case you have questions or issues with your transaction. Don't delete this message, keep it, just in case.
Step 10. It is possible either to pay online using your Nigerian debit/credit card or pay via other services such as your financial organization, ATM, etc. For the alternative payment methods, you should remember your transaction ID.
Step 11. Once you pay for using JAMB regularization service successfully, you should receive a letter via email and text message via your phone with your new payment status.
Step 12. Now you can enter your JAMB registration number and the date when you took your tests, and fill out the special application.
Step 13. Submit your application through 'Submit' button.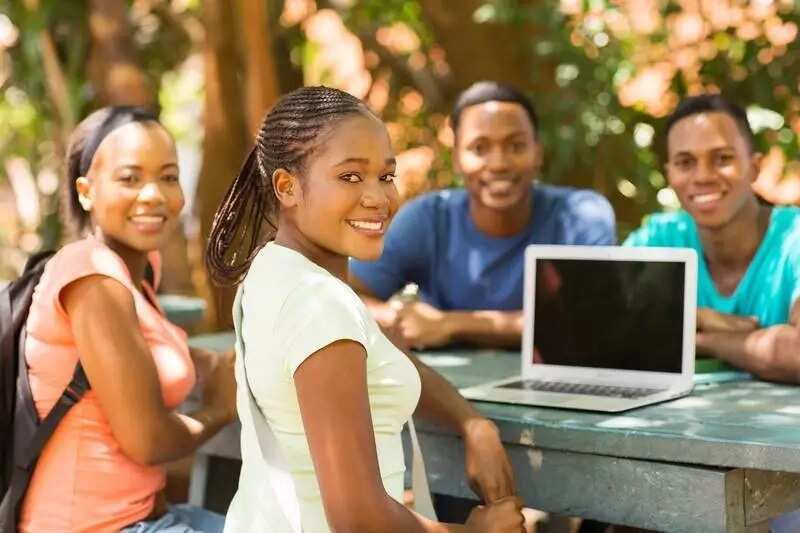 Step 14. You will see the Indemnity Form and print itby you.
Step 15. Complete this new form and take it to the university you are applying to. The university or college has to approve you and report your new status to JAMB organization.
Step 16. After everything is completed, you should get a message that you are approved.
Step 17. You will also get a new JAMB number. Use it to for university direct entry in 2018 or save it for 2019.
Step 18. The deadline for the regularization is not announced, but it is better to complete all steps as fast as possible if you wish to begin your studies this year.
P.S. All Nigerians who are planning to regularize their JAMB status are advised to check out with their chosen university or college for regularization and direct entry closing dates.
Some institutions can admit students without JAMB score, but it is mostly possible for part-time students. Those of you who wish to enter a college or institution in Nigeria as a full-time student should regulate their JAMB admission status in time to not miss a year of studies due to this problem.
READ ALSO: How to check JAMB score online
Source: Legit.ng