50 finger tattoos ideas for men and women
Finger tattoos are getting more and more popular. There are a huge number of styles, ideas and techniques of such tattoos. More and more men and women around the world like to add some more beauty to their hands in such a way.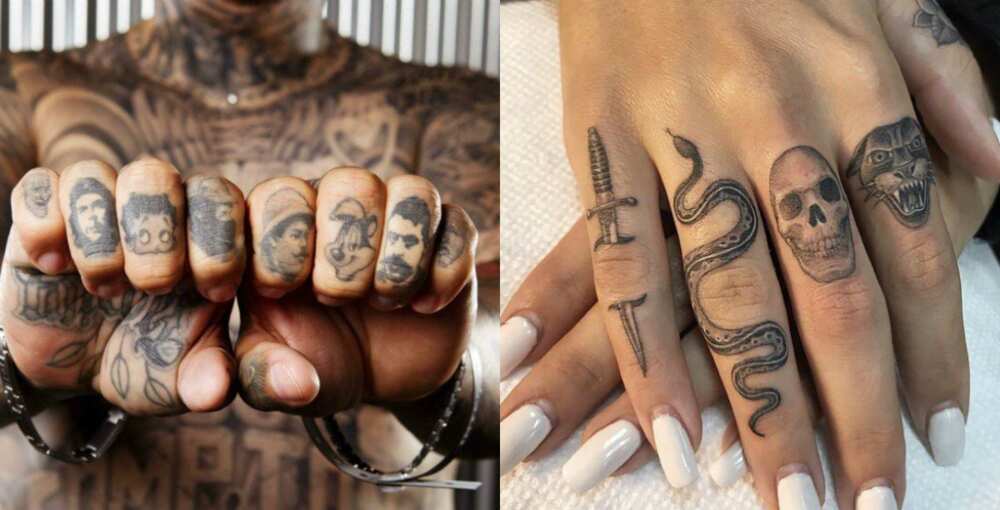 Finger tattoos can become an excellent option for those who want some picture on their body but do not want to attract much attention. Such decorations are also much cheaper than big tattoos because in most cases they require less amount of ink, and working time. Look at these ideas and get inspiration.
Finger tattoos for men
Express all your creativity at your fingers, show who you are! The number of ideas is huge, and here are just several examples:
Time flies
The image may express anything essential for you; all you need is creativity. Here we see a successful depiction of the famous quote.
Your heroes always with you
Your 10 fingers are a great canvas to depict the faces of your favourite characters or persons. As you see in this example, any face may look quite recognisable.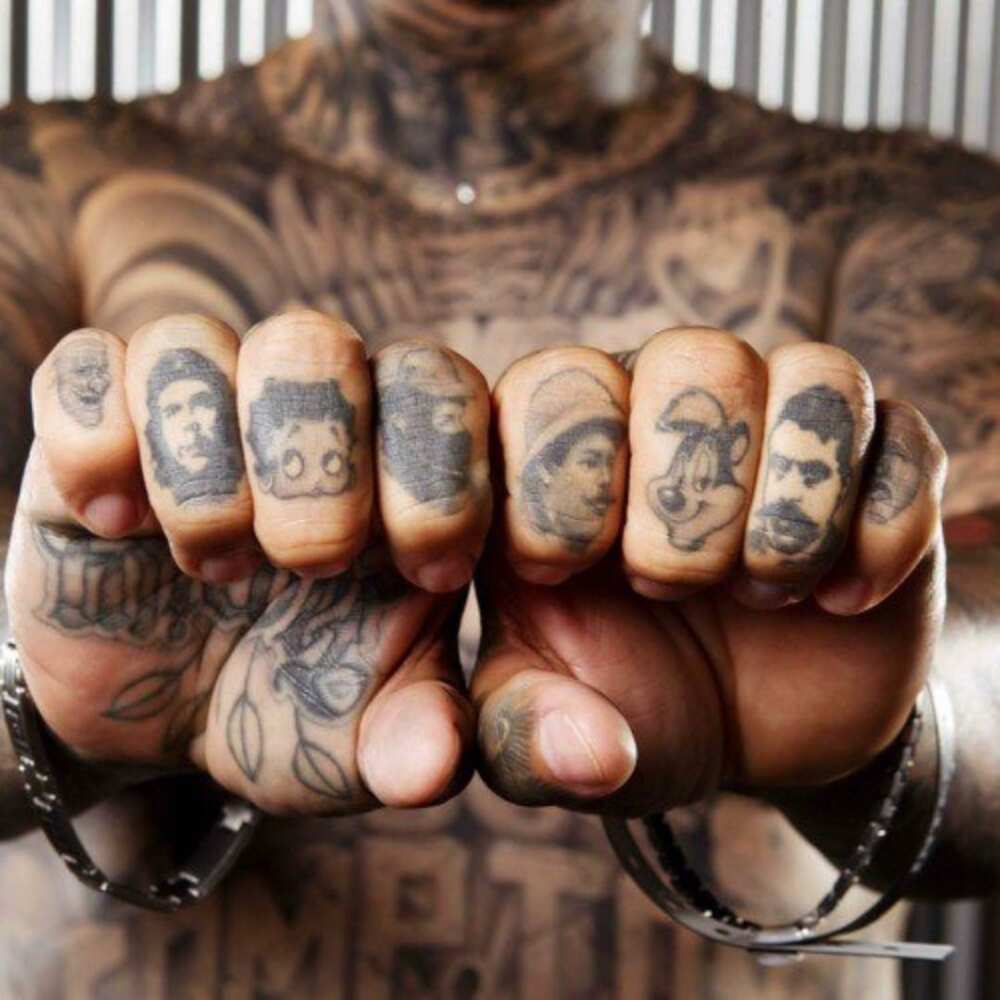 The main words
The words that consist of four letters are perfect for this kind of tattoo. Fortunately, the number of such words is huge so that anyone can find an appropriate option.
Symbols ideas are unlimited
There is a vast number of different symbols, signs and patterns and any of them has its own sense. You can combine these images and create your own story of them.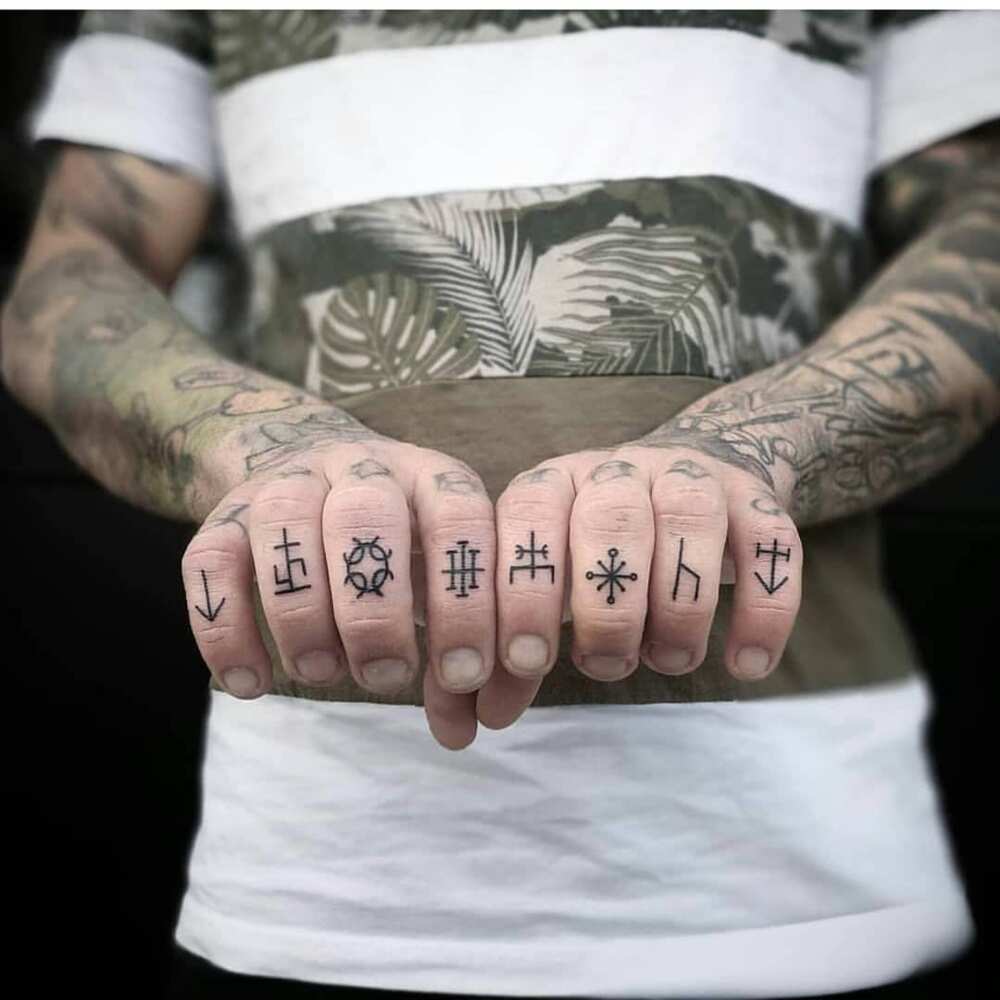 READ ALSO: Bible verse tattoos for guys and females
Dates of life of your beloved person
You can depict the years of life or any other important dates. It is a powerful way to express your love, devotion, and memories of the person.
Japan style
Different cultures have their own styles of art, and you may use some of them. In this case, it is advisable to understand the symbolism and the sense of the chosen picture.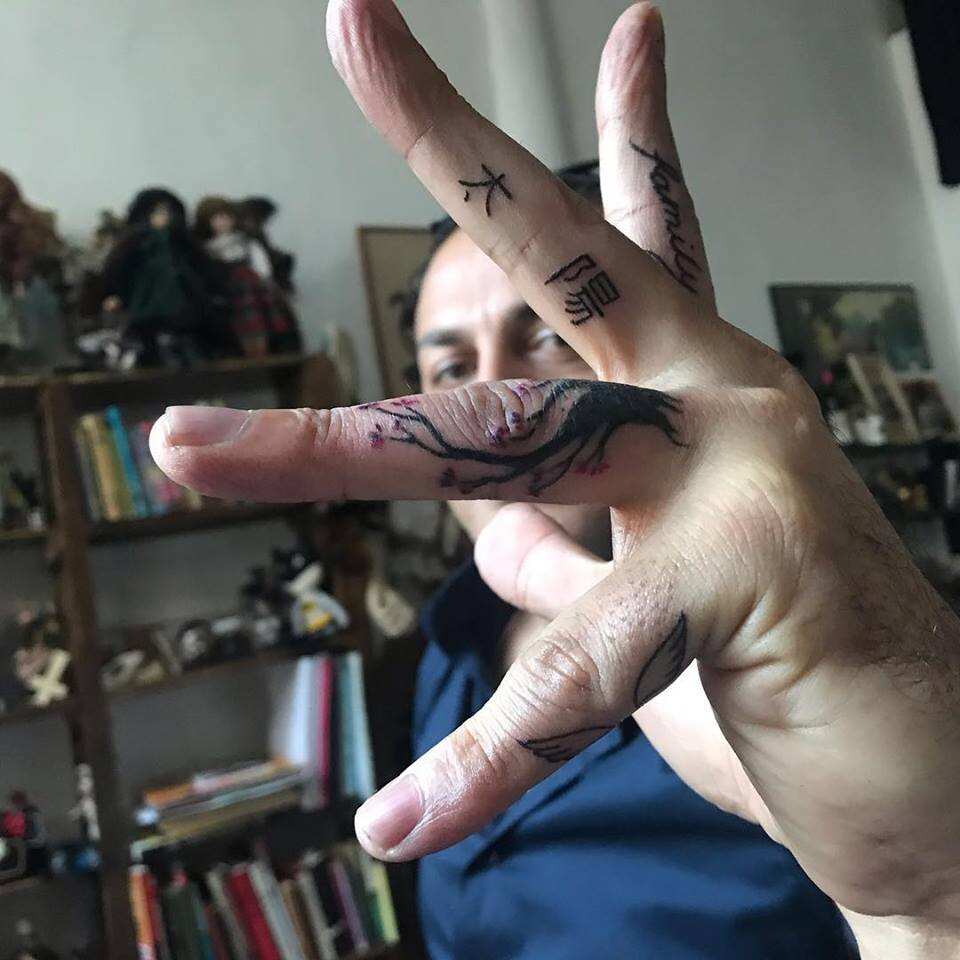 Express your individuality
Sometimes you can create your own symbols, letters or signs. This is your image and your body so that you can express any idea.
Elements and symbols
Did you know that such elements as fire, water and air have their own graphics symbols? Actually, this is an excellent source of images which can help you to express your ideas.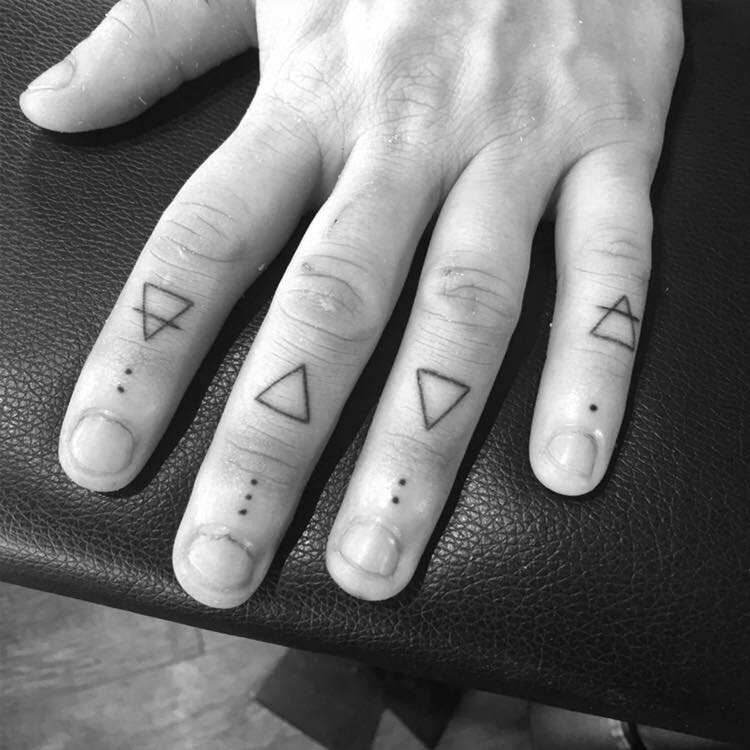 Names and nicknames are also a good idea
Fingers also are a nice canvas for your name or a nickname. This is a way to introduce yourself in an original way.
Experiment with font
You have numerous options not only with different words but also with different fonts. The font is the way to show your unique style.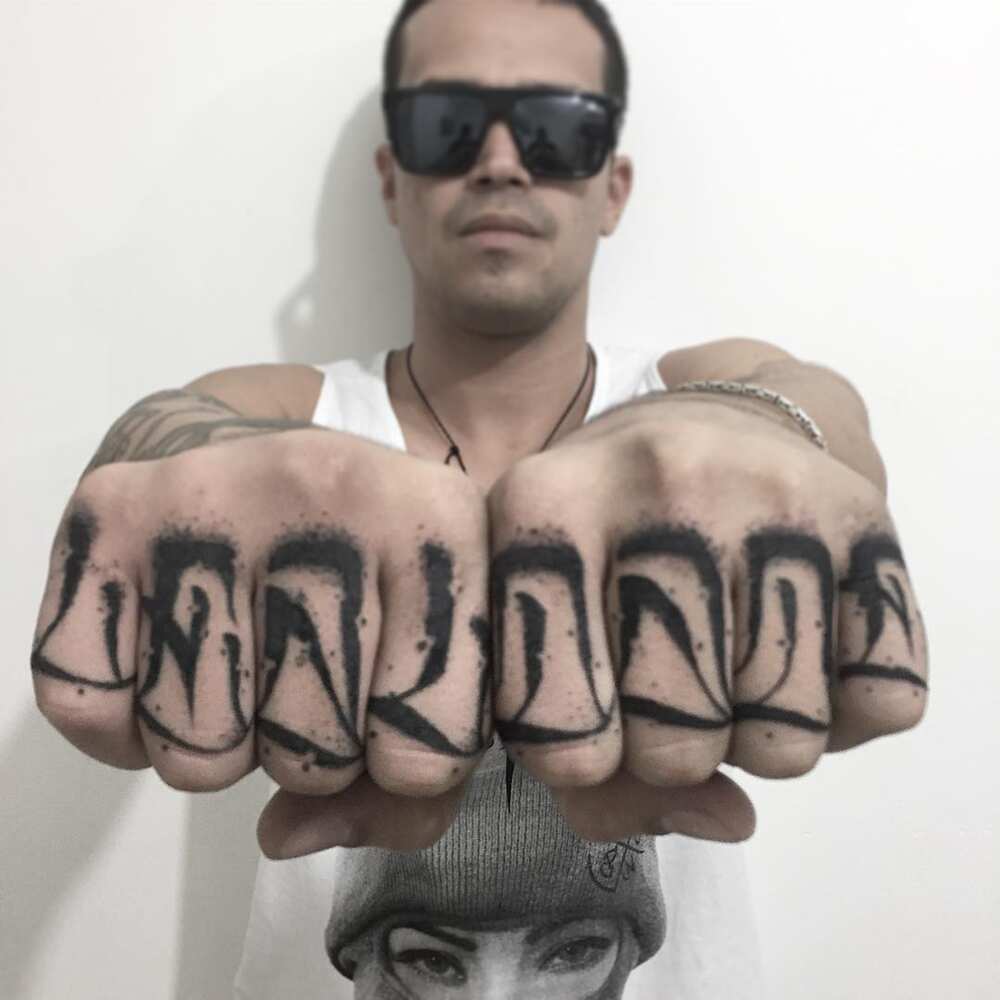 Funny symbols
It is not necessary to be serious, even if it goes about tattoos. Use some funny symbols, and be like no one else.
An idea for barbershop workers
Do what you love, and love what you do. Depict the symbols of your favourite profession.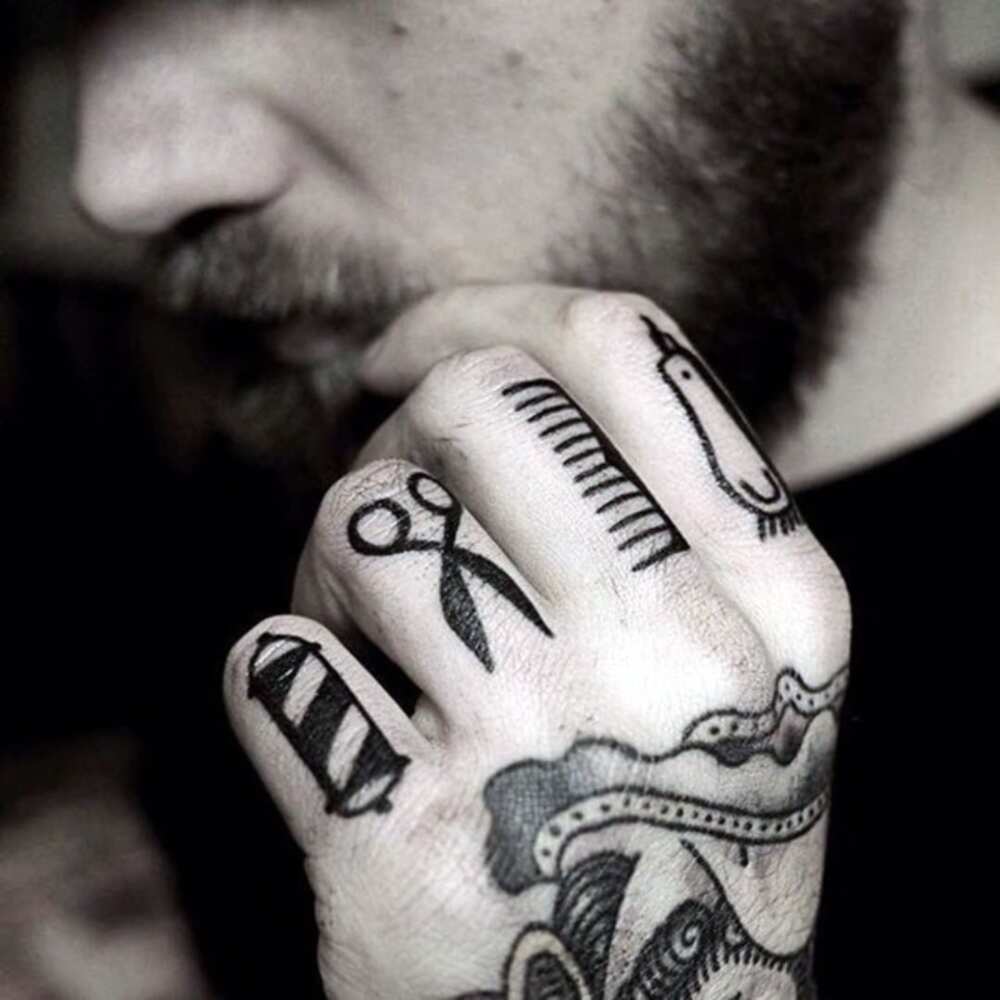 Ring tattoo for men
Rings are a fashionable trend in the world of tattoo. Combine them with other symbols and real ring to show how cool you are.
Depict your motto
Your motto can always be in front of you. An interesting moment is that you can use numbers to shorten some words.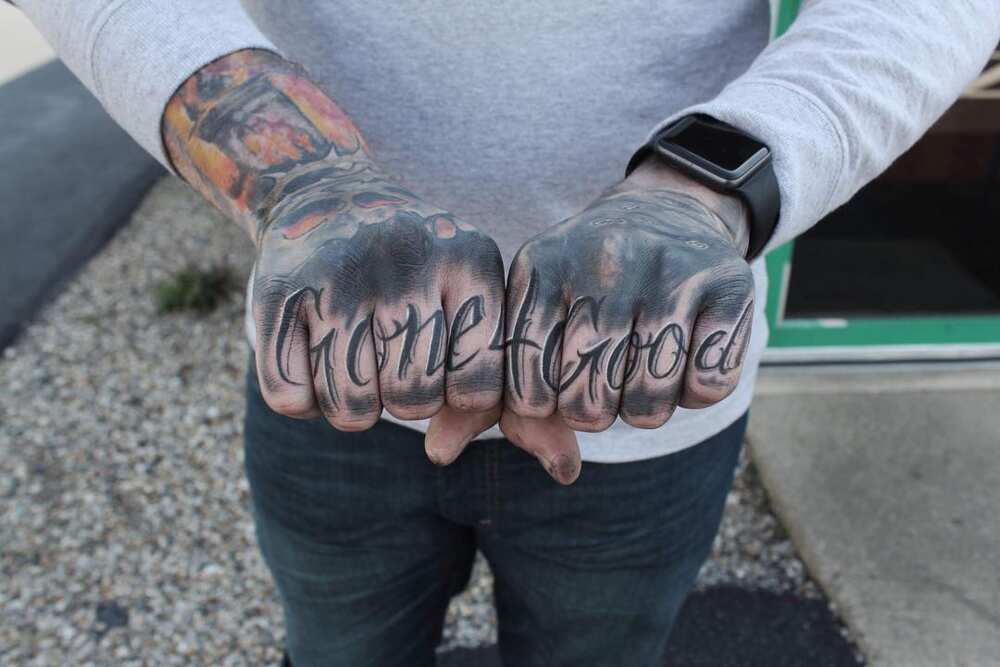 Stylish dots
Here is another trend; simple dots will highlight your modern look. If you like minimalism, this option is exactly for you.
Stylish lines
The line is another idea for those who like the minimalistic style but want something more. Just cover some area of your hand and get a unique visual effect.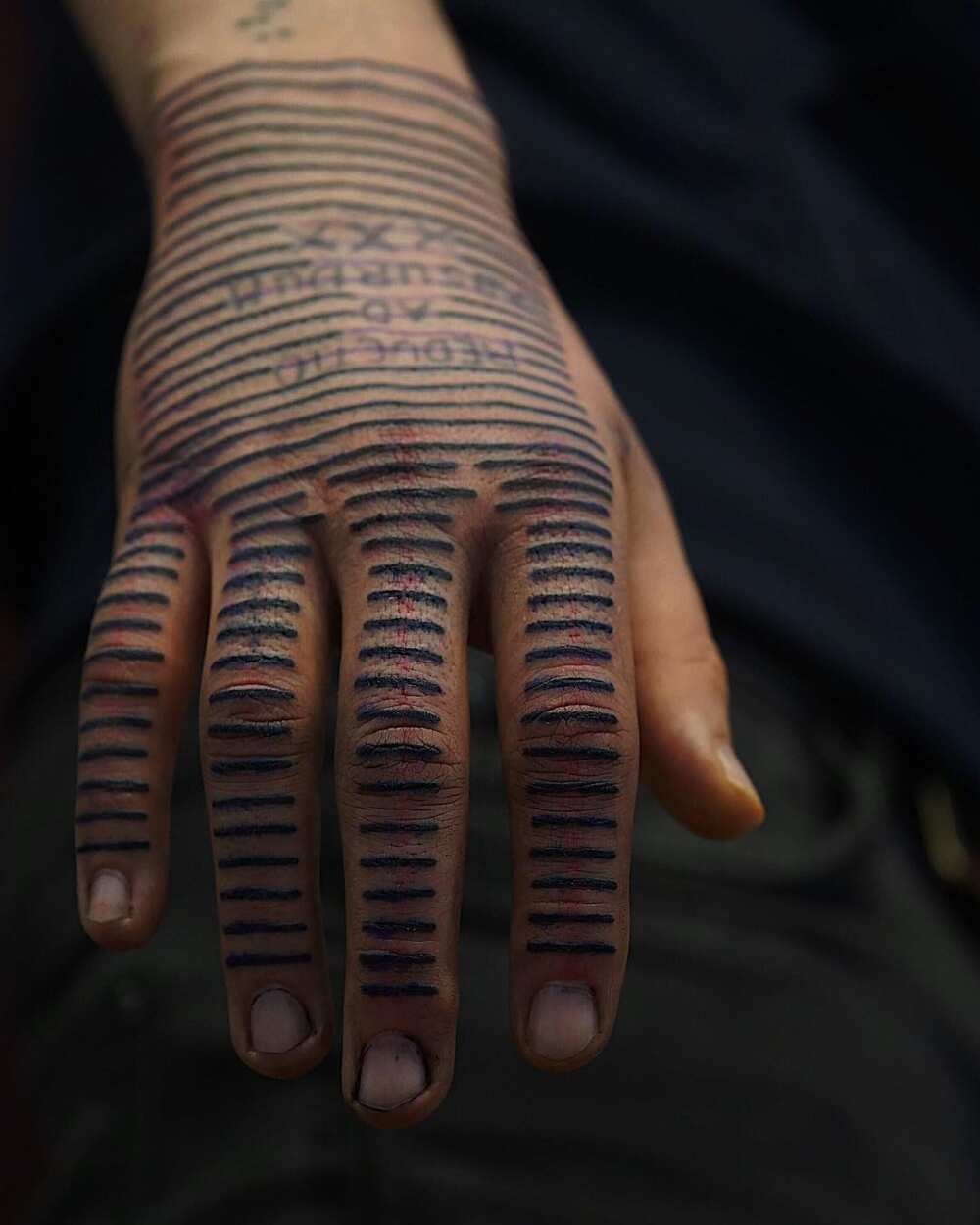 Finger tattoo ideas for women
Women also like to add some ink to their skin, and the list of ideas for women has even more examples:
Simple symbols to express what is important for you
When it goes about the tattoo for a woman, it is good to use fine lines, and simple symbols. All you need is to highlight the beauty of your fingers.
Patterns and figures
Connect different symbols with one style. As you see it creates a kind of pattern that will definitely fit your modern look.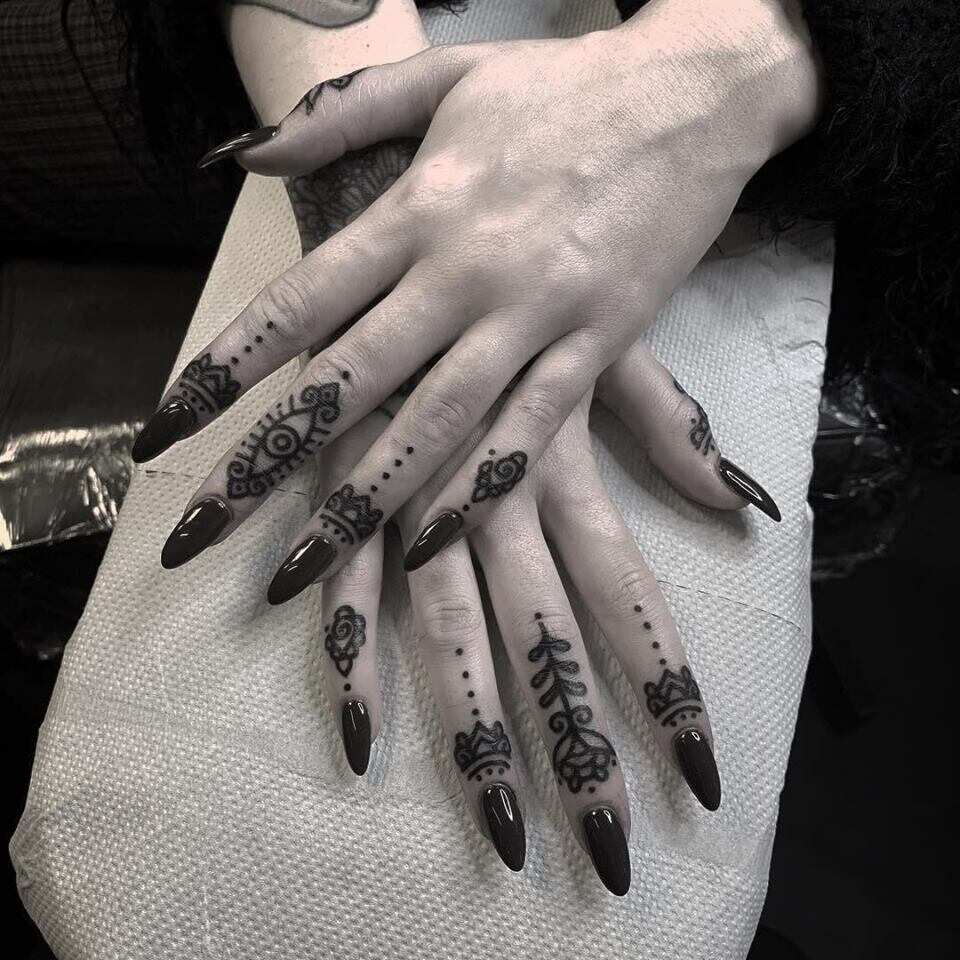 Mark your direction
This is a variation of the ring design. It is just a simple ink image that will make your look more creative.
Create your story of symbols
Again we see the infinite visual abilities of symbols. As you see it is easy to combine symbols from different cultures and ages; all you need is one style.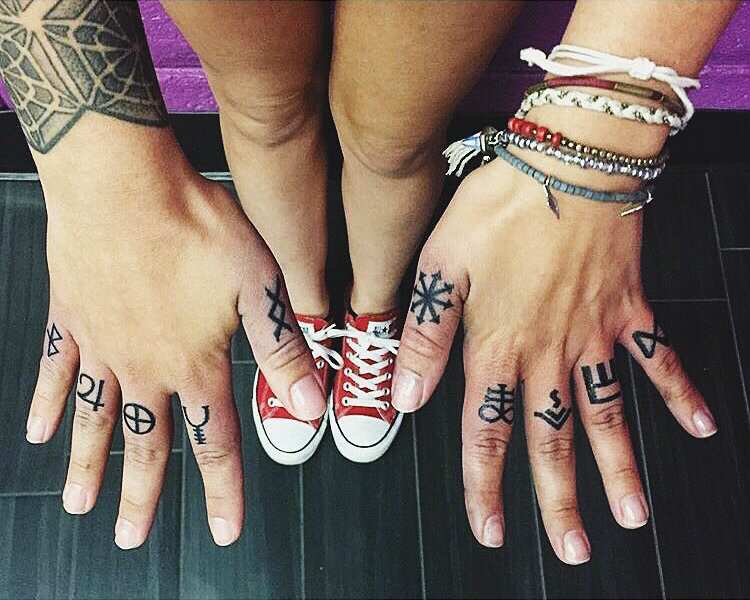 Have some wild mood?
Show all your character with these little images. Lines and dots are the best instruments to express your individuality.
Follow the fashion
A tattoo is good, and a fashionable tattoo is better. Choose the images that correspond to trends.
Express who you are
If some phrase inspires you, and express who you are, then it is a nice idea for your tattoo. The font should correspond to the sense of the chosen phrase.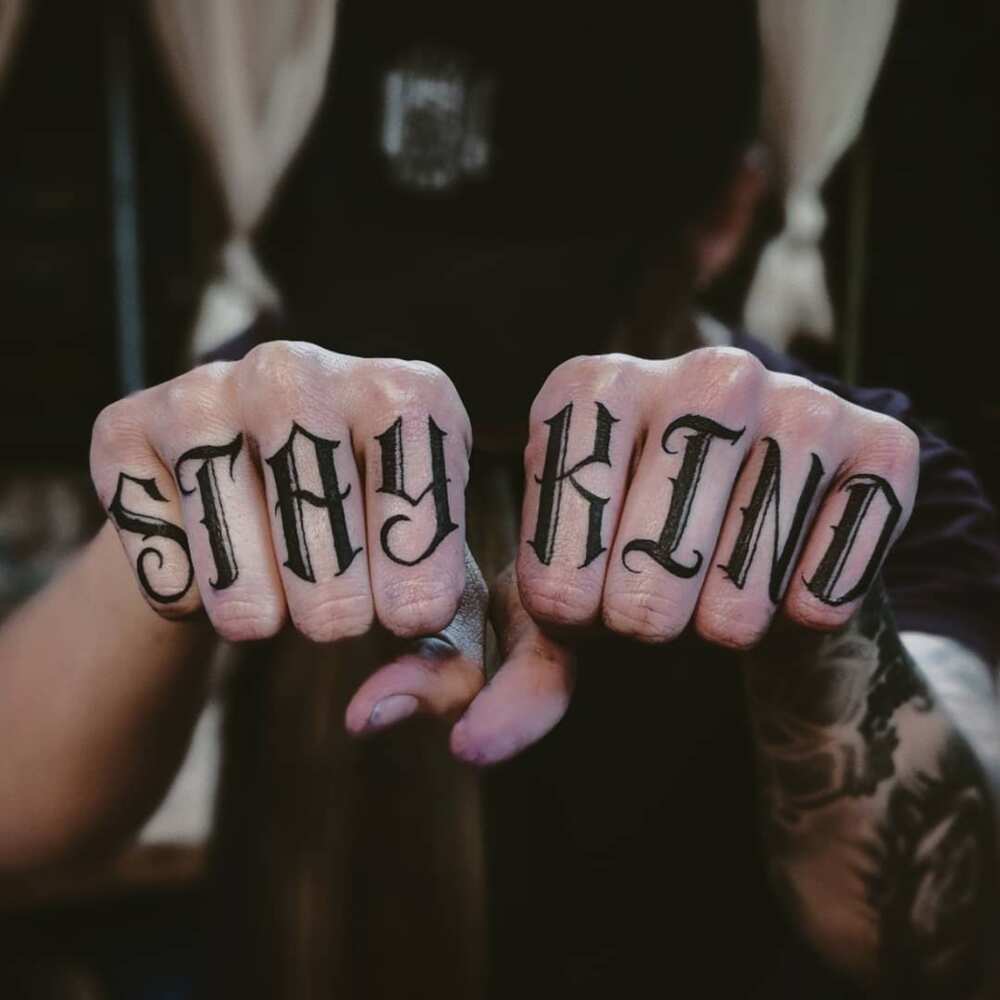 Create your composition
The image on the fingers should correspond to other images on your body. Let it be one picture of your style.
A set for a bad girl
Maybe you want to show how dangerous you are? Try this design to show your bad girl nature.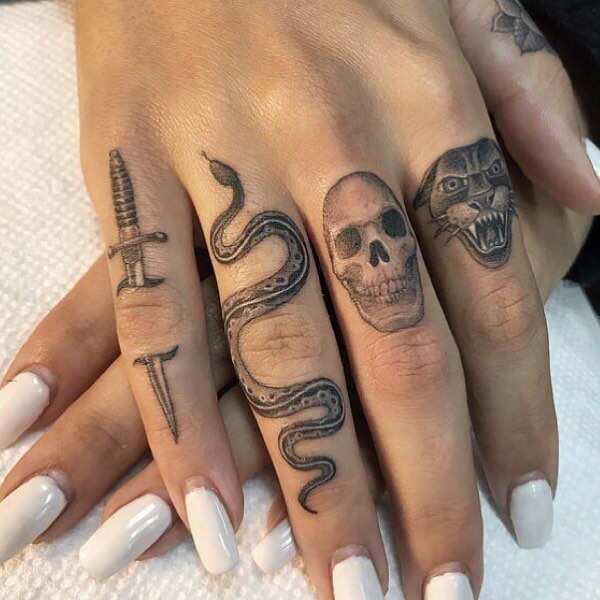 Almost invisible
Sometimes you do not want to attract much attention, but still, you want to depict some image. In this case, it can be the picture or symbol with the sense that is known only to you.
Do you believe in fate?
Fate is something that may be crucially important for a person, and the word on fingers can remind about the most crucial moments of his or her life. Make this important word beautiful.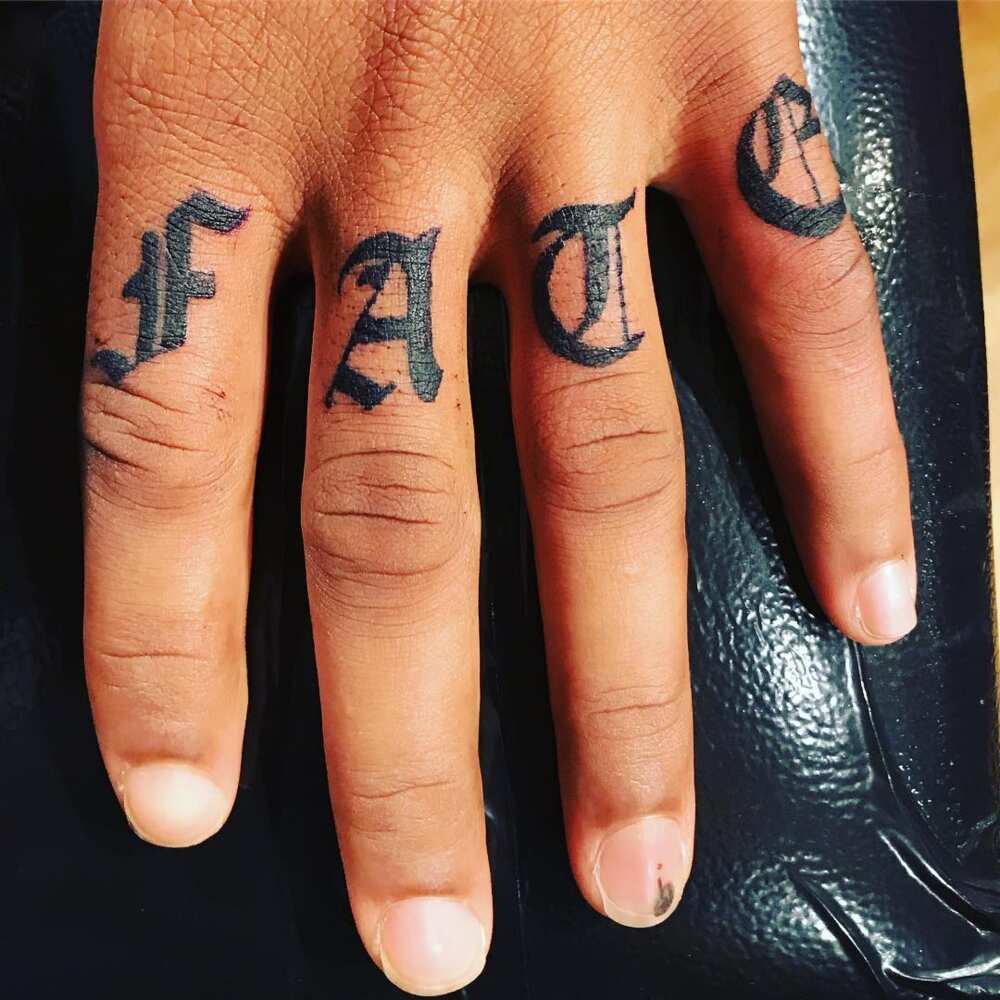 Flower elements are always relevant
Some light flower type pattern and dots create a delicate image. It is a good idea for the girl who wants to express her tenderness.
Details make you brighter
Your look is an expression of your personality, that is why details are important. These small images on your fingers must complement the whole image.
Flowers and ring tattoos
Tender lines and sophisticated dots will highlight your beauty. As you see, this simple design opens a wide range of variations.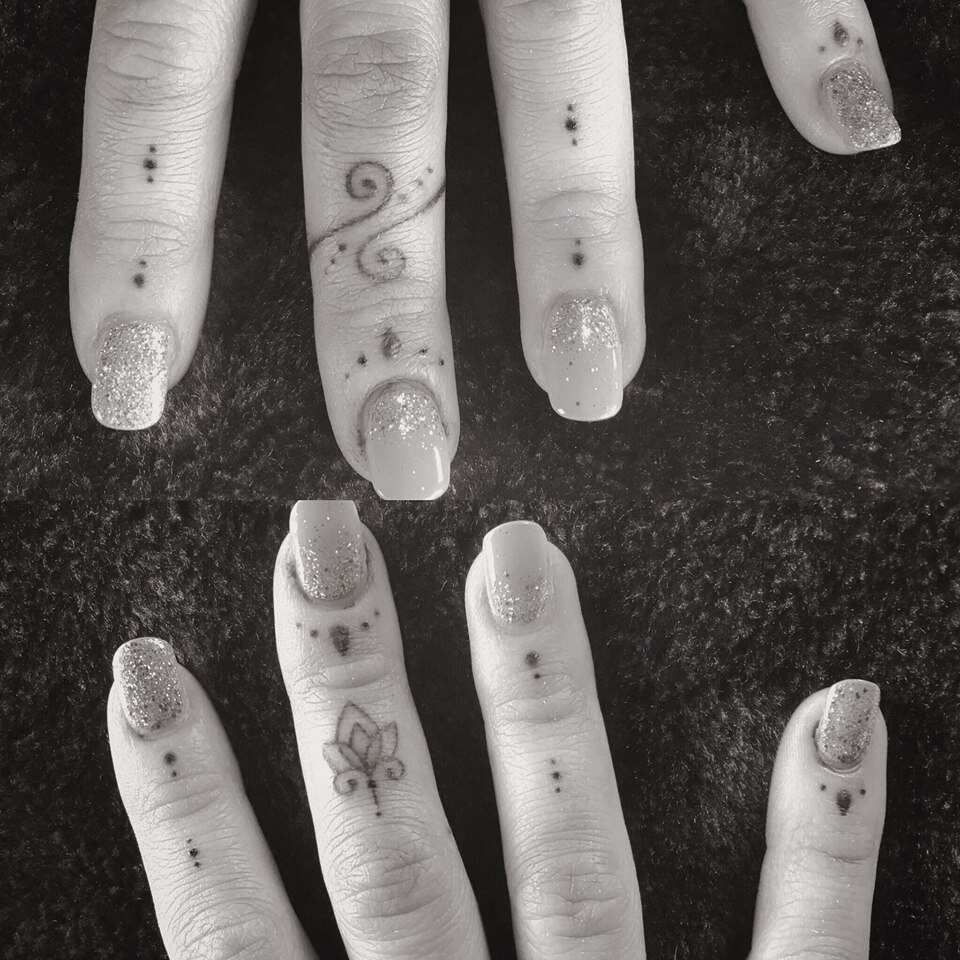 Rose mood
A flower is always a good idea for any woman. Combine the image with other symbols and get an attractive look.
Add some fire
Fire and heart are symbols with a powerful sense, and it makes them a good idea for your tattoo. Combine them with some other images to get new senses.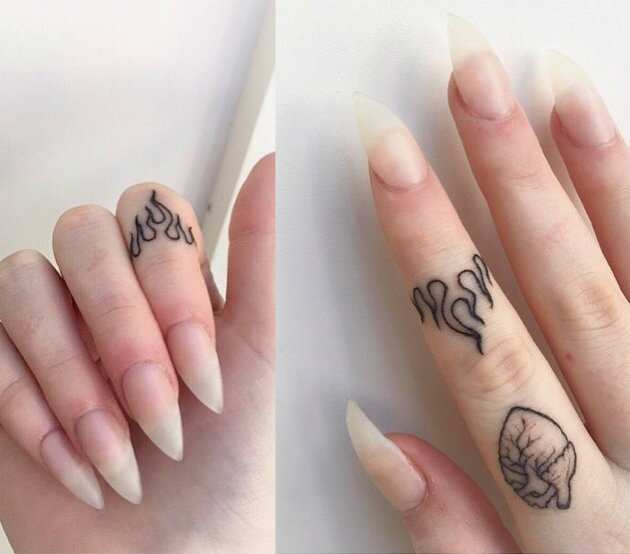 Beautiful words in a beautiful font
Here is one more idea of the font for your motto. It looks luxury, and correspond to the meaning of the words.
Almost hidden
You can hide your secret tattoo at the side of your finger. It will create some intrigue.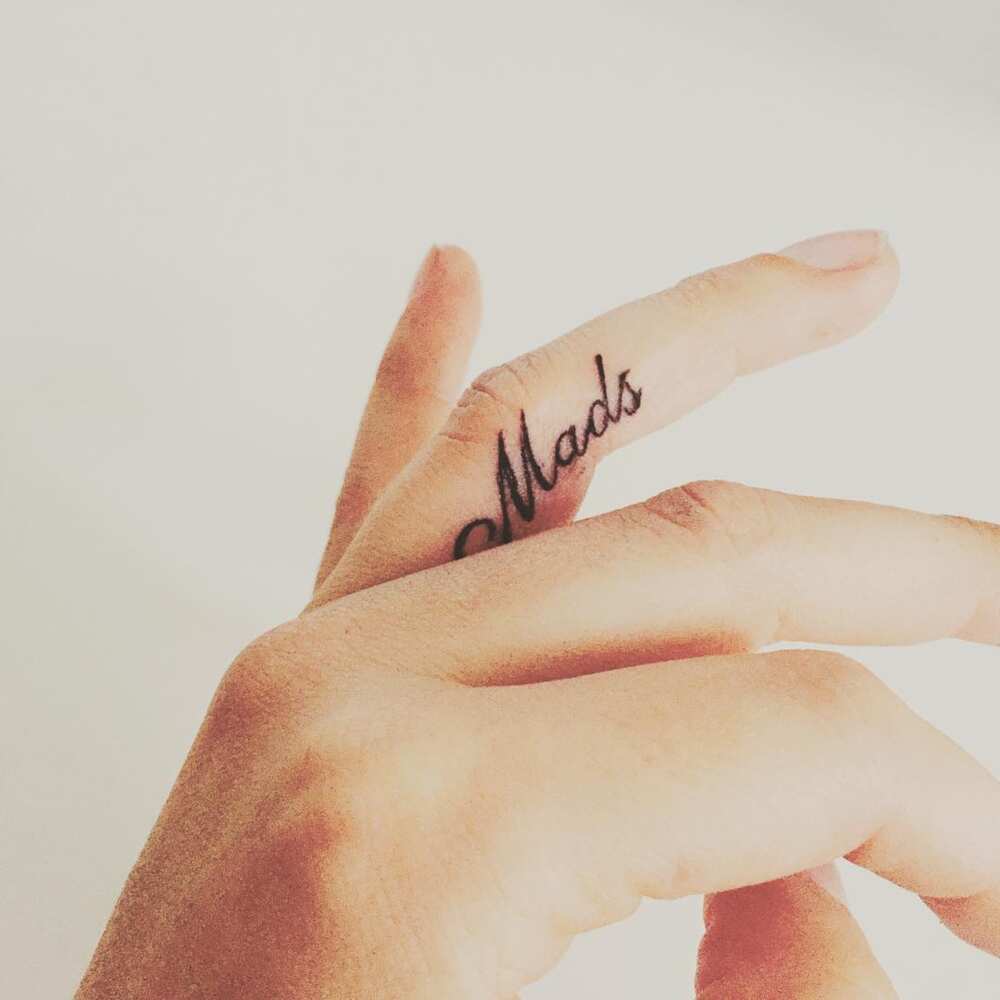 Add some colour
What if you will add some white colour to your black tattoo? You immediately see the contrast and some new level of beauty.
Decorate your nails
A tattoo is an excellent way to highlight any part of your body, even nails. Decorate your fingers with such flower leaves, stress the attention to your perfect nails.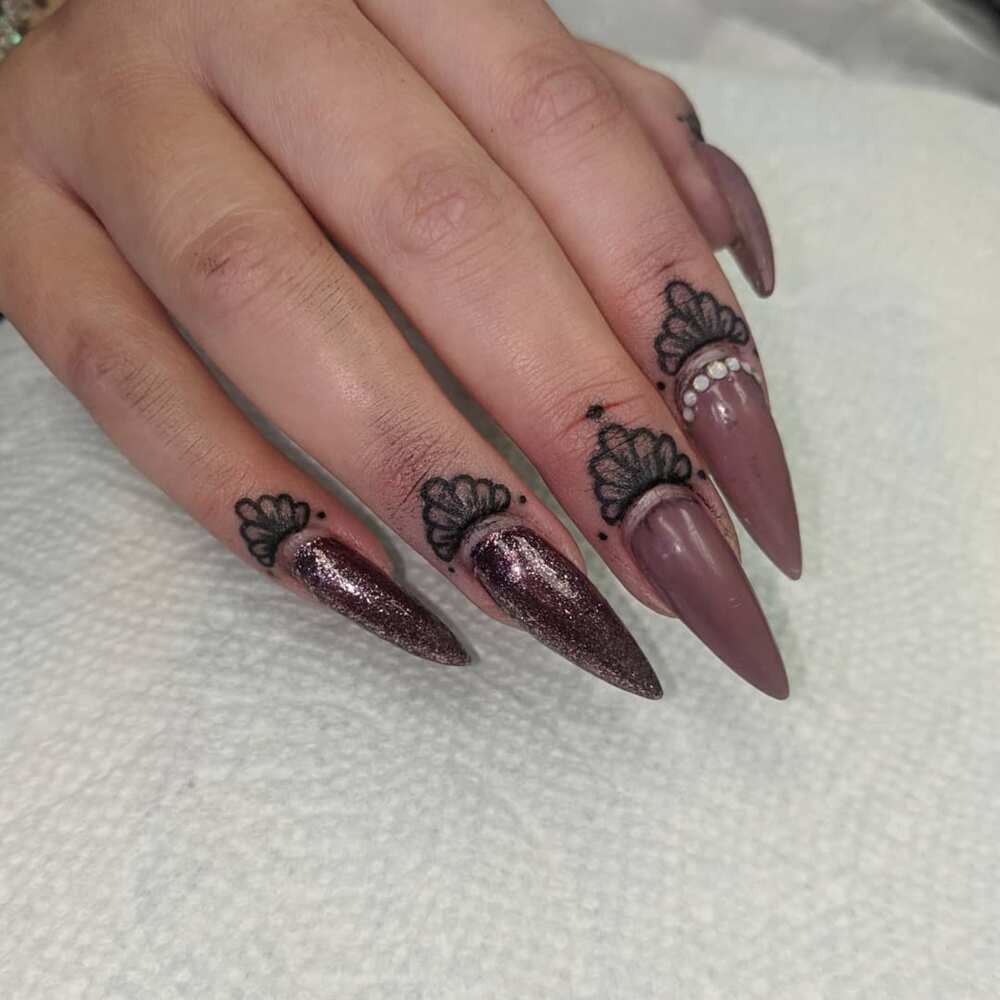 Depict your favourite character
Modern technologies and ink allow depicting any character, use any colour and style. As you see in this picture, the colours are so bright.
The variations of the patterns are numerous
Again we see creative variations of the patterns. Use light patterns that consist mostly of lines and get a light composition.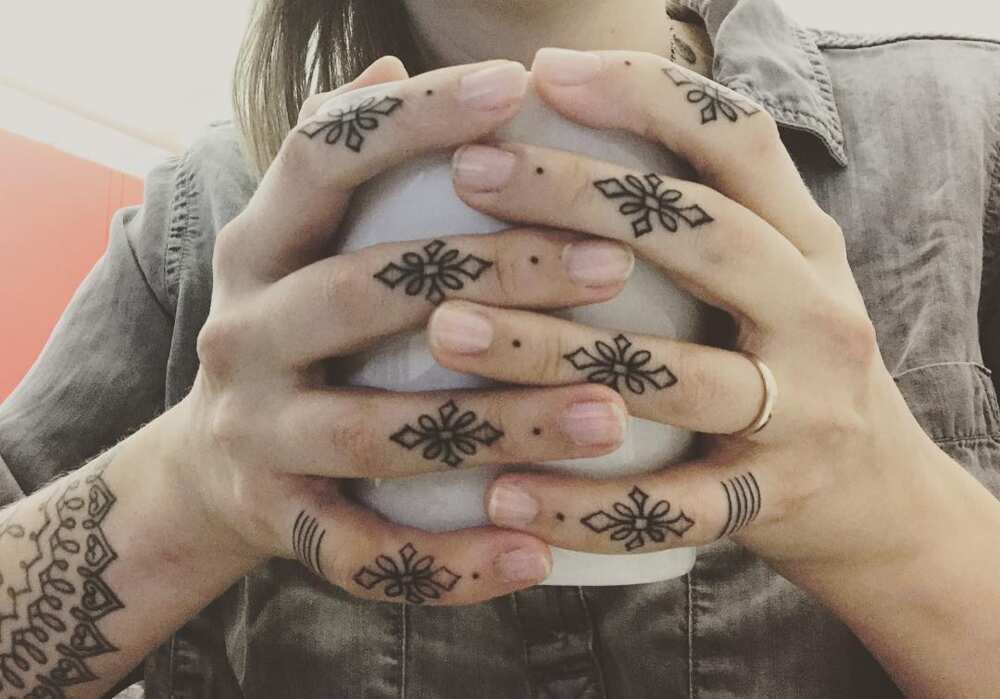 Wedding ring tattoos
These designs are an excellent way to express your love:
Original design
Do not hold your creativity. What about wedding rings in the form of trees? No metal ring can give you such an effect.
You can create any ring
A couple can create a ring design together, and it will make the tattoo even more unique and valuable. It is a great way to express your love.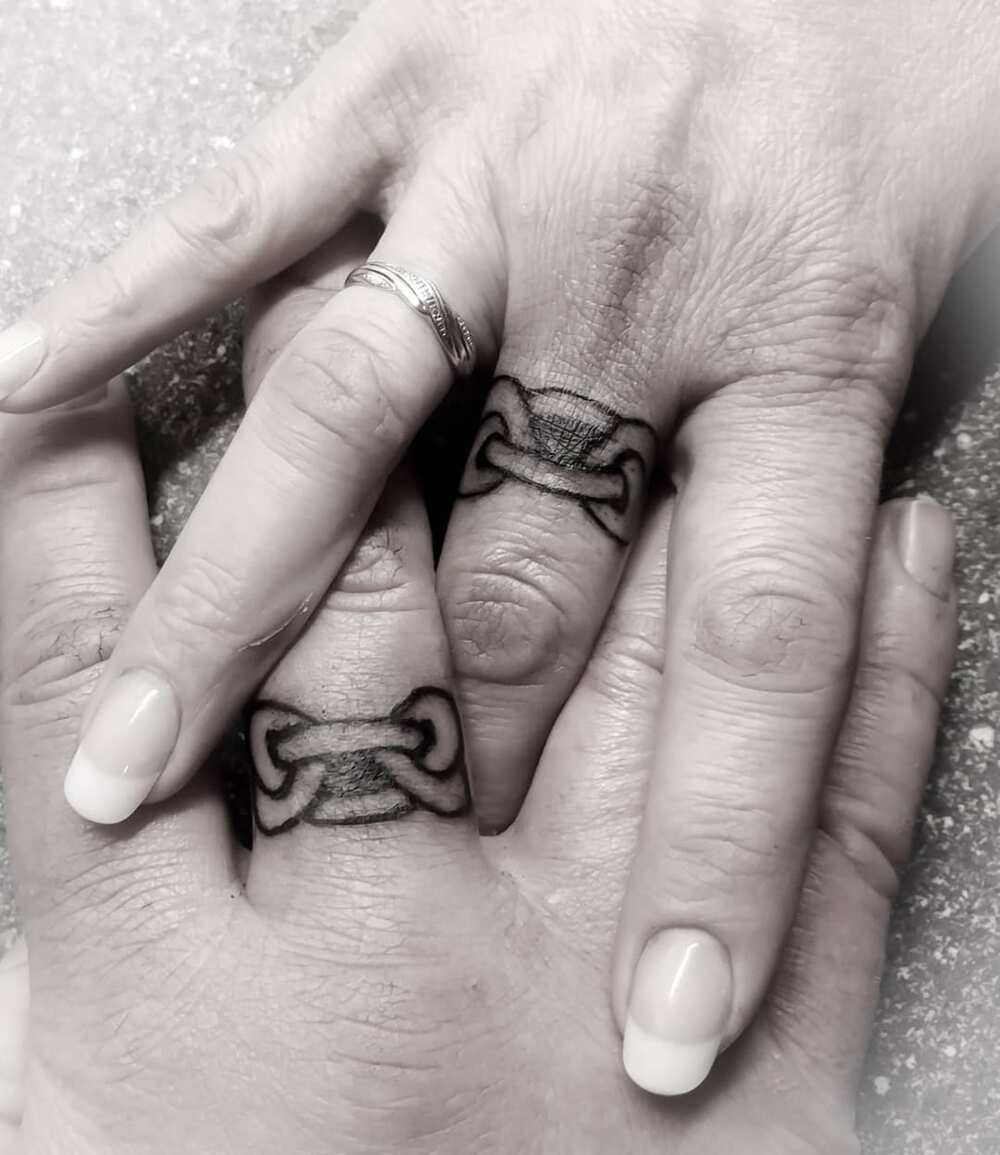 A simple idea with letters
It looks so sweet! Simple letters with hearts and big love.
Be like no one else
Again we see how it is important to create your own design. Just imagine how cool it is when only your couple has such rings?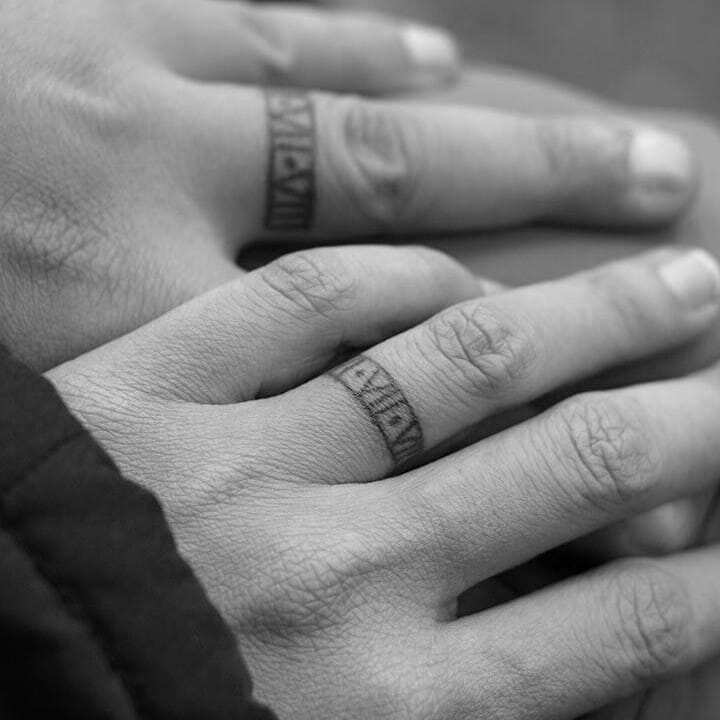 Do you like sharp angles?
When it goes to tattoo rings, there is no need to use round shapes. All your ideas can be depicted.
A minimalistic but stylish look for both of you
Again we see a minimalistic style. There are no extra parts just simple lines to show your love.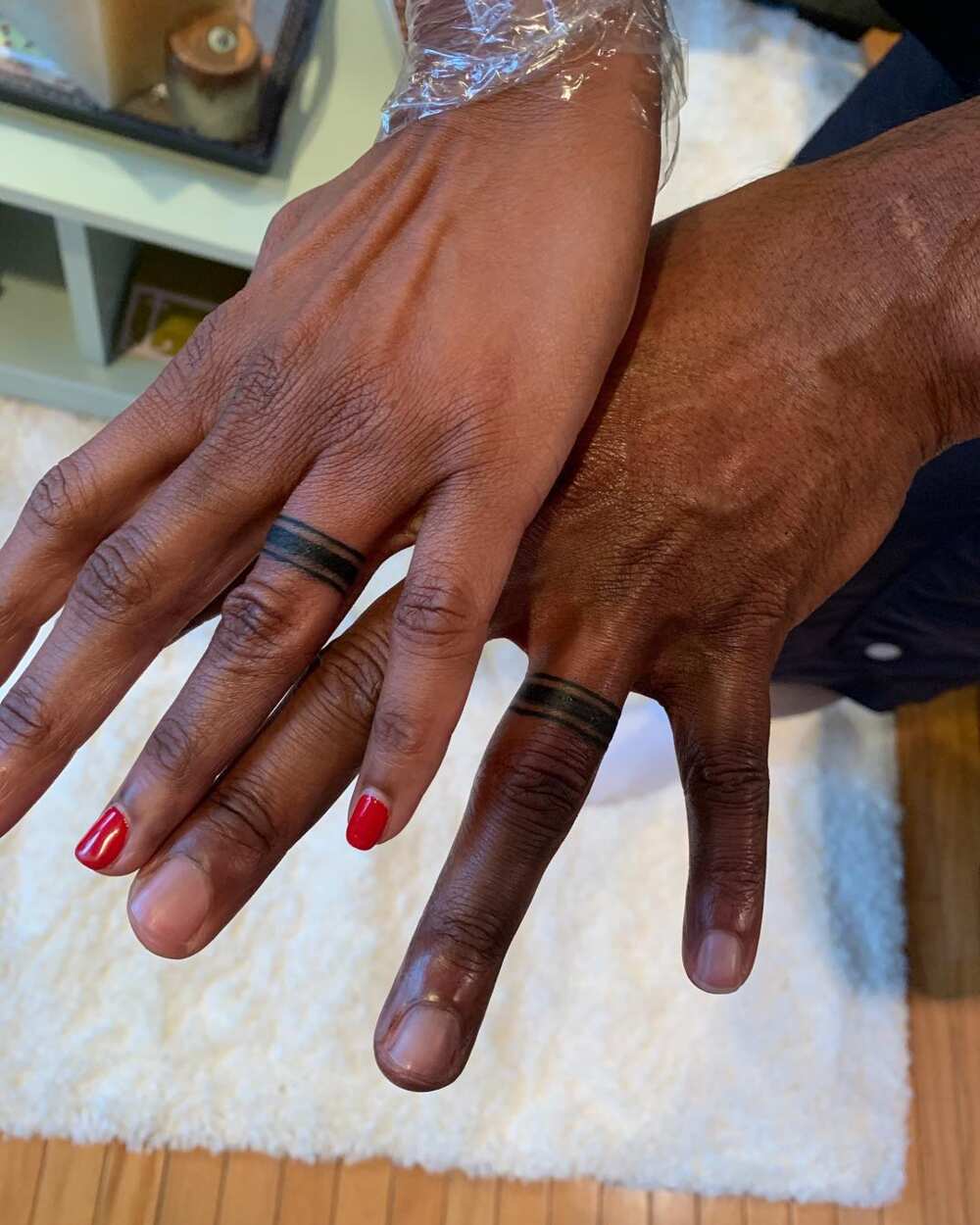 Combine rings and letters
You already know that rings and letters are very suitable for wedding tattoos, so you can just combine these images. The idea is simple but looks gorgeous.
Try unique design
It is not necessary to use any ring form, create your own concept! What about such variation?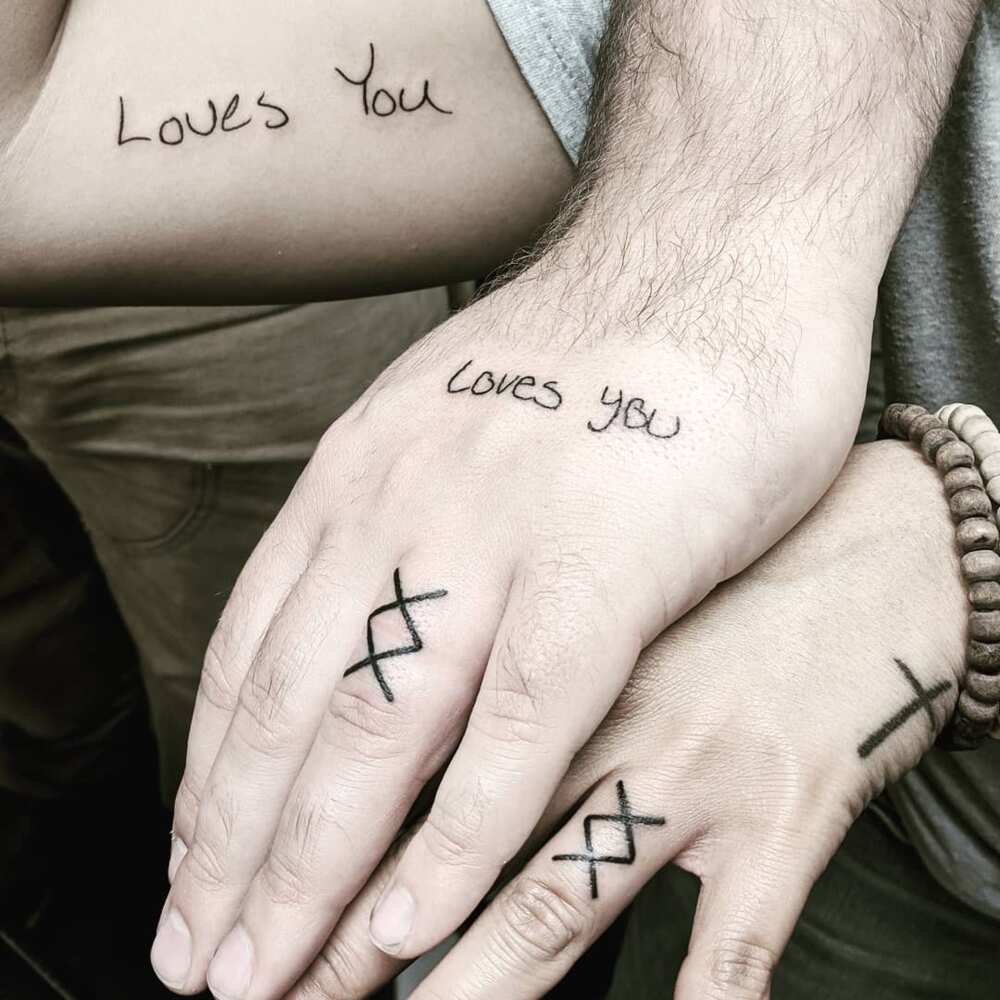 This is an excellent example of small finger tattoos
Your love is the thread between you, so depict it. It is a little, sweet tattoo that expresses your feelings.
Some more ring tattoo designs
You can make a tattoo not only of a wedding ring but any ring that you like. There are no limits in design.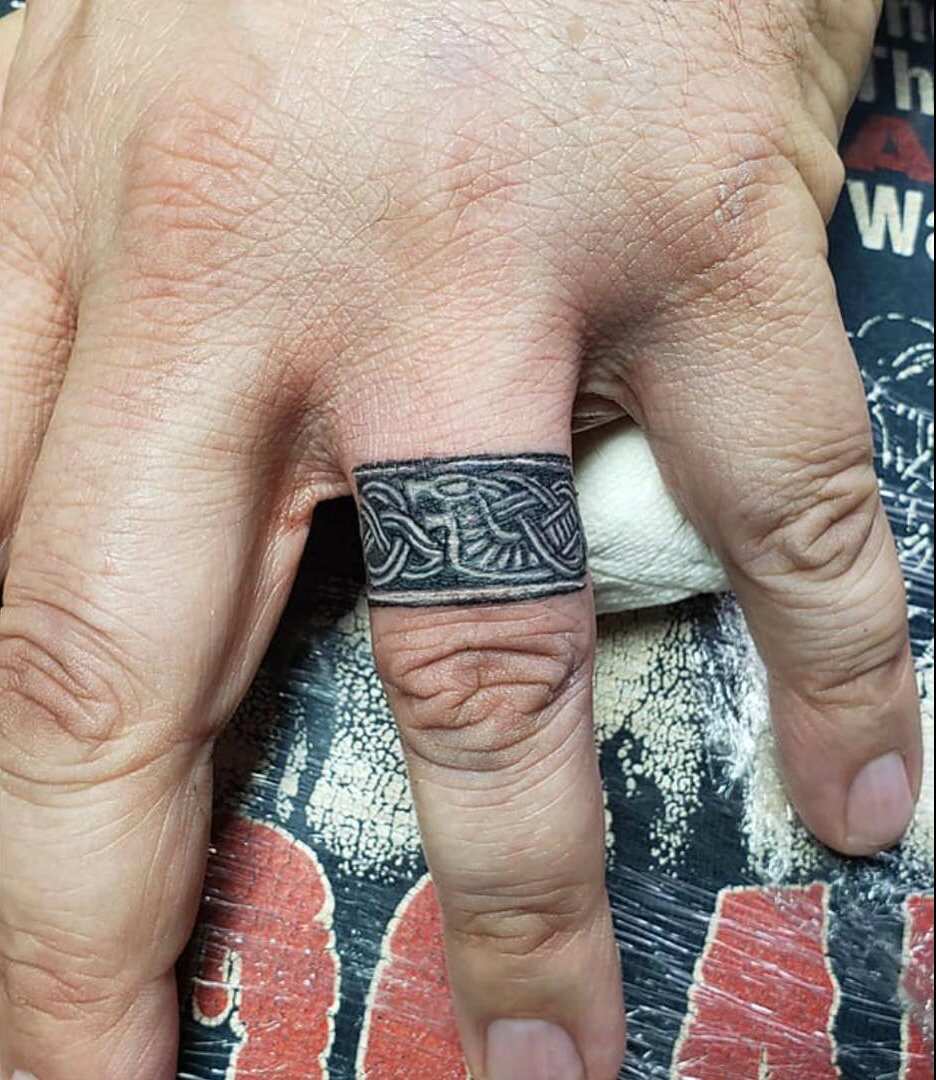 Minimalist ring finger tattoos are very fashionable
One black line adds some zest to your look. Do you like it?
Catch your wave of style
This design can be good as a wedding ring design and as just a ring tattoo. In both cases, it looks stylish.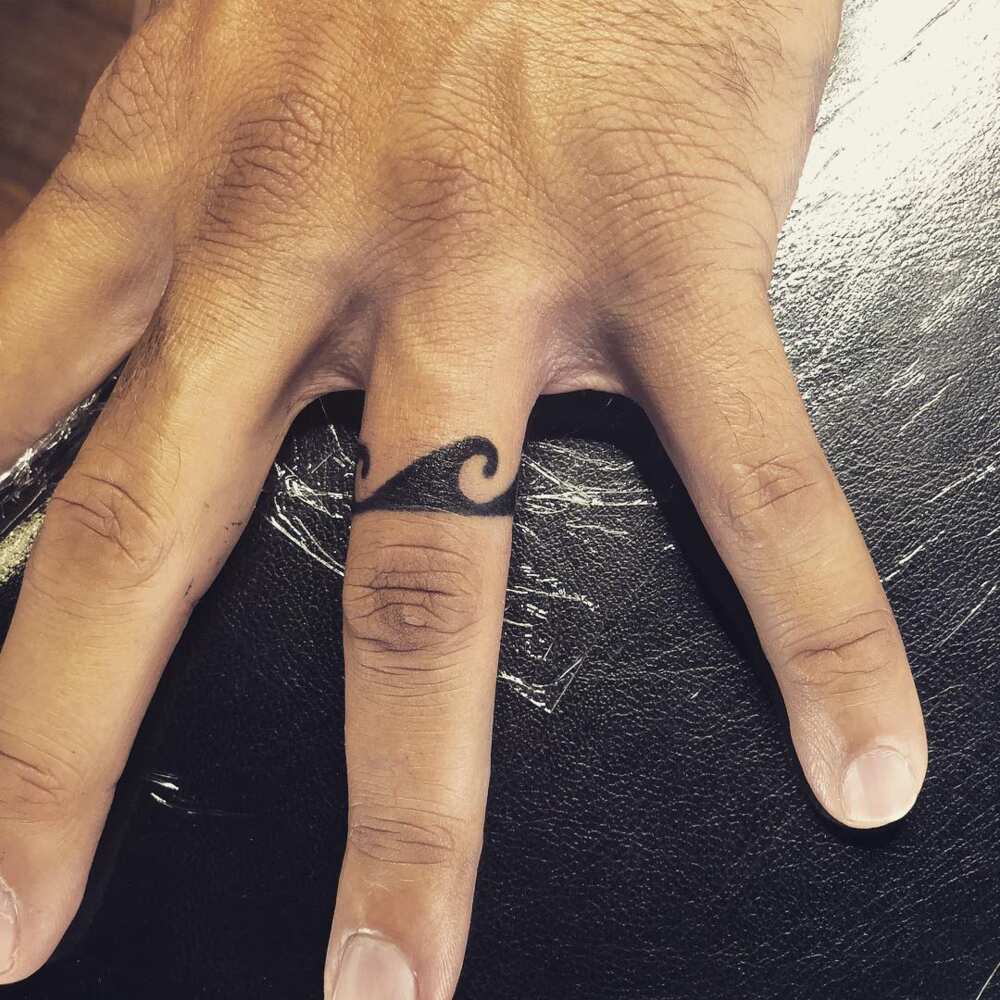 The number of ideas is huge; you can use letters, short words or symbols, little pictures, geometric forms or your own logo – all these are great options when it goes about the decoration of your body. The main rule here is that you should be absolutely sure about the design and image.
Images on the body in the modern age are one of the ways to be fashionable, to show that you have your own style. Today many people have some ink under their skin, but still, there is a huge variety of images and places where one can depict any idea.
Fingers are not a big canvas, but you can create a design that will fit your style. As you see there are many variations of the pictures, shapes, pattern, and so on and everyone can find a good idea for any tattoo. As for wedding band tattoos, they are an excellent way to confirm the strength of your union. If you want to get rid of such inks, you should know that healed finger tattoos are completely invisible in most cases.
You see how various are these designs, one can use some of these examples, but the best option is to create your own design and be unique in your look. Finger tattoos can help you to express your individuality and style. It is a great option for those who want a picture on his or her skin, but do not want to cover big areas of the body. Everyone can find the best image, so choose or create your own skin-inking.
READ ALSO: Eyebrow shapes for different face types
Source: Legit.ng