50 sweet I love my wife messages and quotes
What joy is comparable to the pleasure a man gets when he finds a wife? It is an old proven statement that "Whoever finds a wife finds a good thing and receives favour from the heavens." With that said, every day provides unlimited opportunities for you to compose and send "I love my wife messages" to your better half. It only takes a few minutes for one to come up with romantic love messages that will sweep your wife off her feet and make her feel like the best wife in the whole world.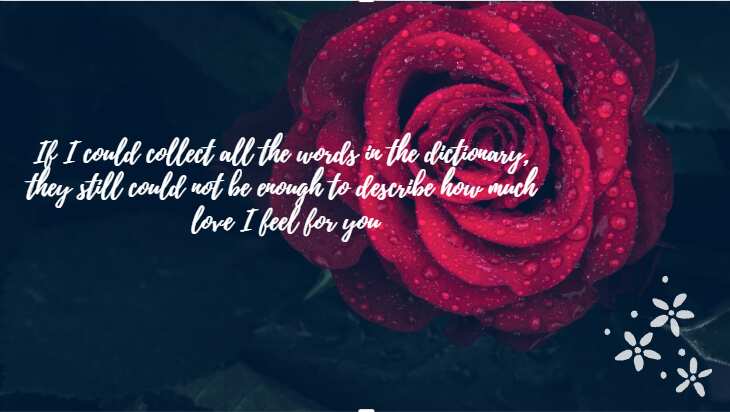 On the contrary, love is a powerful emotion known to leave most people speechless. A slight misplacement of words or delivery tone could turn your "I love you messages" to a normal day-to-day conversation. If you have had trouble expressing how much you love your wife, I have your back. Listed below are 50 sweet I love my wife messages and quotes that will help you rekindle your romance to the next level.
What is the most romantic saying?
If I could collect all the words in the dictionary, they still could not be enough to describe how much love I feel for you.
From the very first moment I glanced at you, I knew that I not only have found life's missing recipe, but a wife to go home to, a friend to lean on to, and a soul mate to keep for eternity.
Every time I look into your eyes, my grey and stormy skies turn into a beautiful blue sky.
Just like the sun rises every morning, your affection rises up in my life and makes me a believer that every day is going to be a good day.
Being a father to our kids and a husband to you is the best loving you message I can ever think of.
READ ALSO: Top 25 love quotes for him from the heart
Deep love messages for her
You are definitely the wind in my skies that blow away any speck of doubt; you are the rain in my garden that makes my hopes sprout and flourish, you are the beat in my heart that makes me live every day to the fullest.
Ever since you came into my life, missing you has become a hobby that I never get tired of, caring for you is my day to day job that I will do without complaints, making you happy is my obligation, and loving you is my life until eternity.
Every morning when I wake up next to you, the sight of you by my side seems like a dream, too good to be true. I go back to sleep knowing that if it is a dream, it is the best dream ever. I want to sleep and wake up by your side until we are both old. Even though our beautiful bodies will not be as young as they are now, I am sure that our hearts will forever be young and energetic.
I love my wife romantic love messages
If I was Aladdin, and the gene could only grant me a single wish, my only wish would be to live longer with you on this earth. I doubt if the number of years I am destined to live on the planet is enough for me to cherish and show you how much a special wife you are to me.
I bet our children count their selves to be the luckiest in the world to have such a sweet mother, I cannot wait for our grand-kids to brag that they have the best grandmother any grandchild could ever ask for, and finally, I count myself to be the luckiest man, father, and future grandfather to share the affection of a wife, mother, and future grandmother all in a single lifetime.
Even before we started making our wedding arrangements, deep down in my heart, I was sure that I was going to make the best decision in my life. Now that we have been married for years, I still feel the love I felt for you during our wedding day. I am very grateful to have you as my wife, and every day I promise to fall in love with you.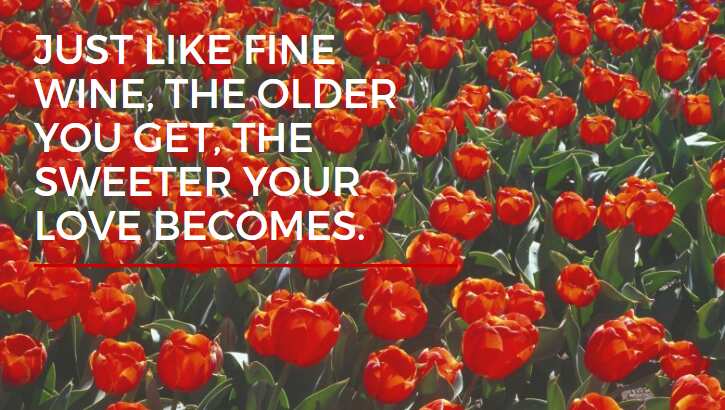 Just as John Lennon sang, all of me wants all of you. Whenever I flashback at our marriage, I get more than enough reason to say that you deserve all of me. You genuinely deserve my time from the moment the sun rises to the moment of sunset. Your constant affection to me is proof that you truly deserve my present and even my future because you complete me. You genuinely deserve my adoration.
Just like fine wine, the older you get, the sweeter your love as my wife becomes even more delightful. The older I get with you, the more I get to love you more and more.
What should I text her in the morning?
The glow that your affection brings to my life is brighter than a thousand sunrises put together.
A little hello and lots of love to start your day off bright, I love you, my wife.
Good morning to the beat of my heart and love of my life.
I do not know what is more romantic, the thought of meeting you soon or the dream I had about you last night.
Good morning wife, may your mornings be bright as your eyes today.
Good morning, gorgeous.
I want you today, tomorrow, next week, and the rest of my life.
I sent you a couple of hugs in my thoughts, good morning.
Talking to you makes my day.
I just want you to know, when I picture myself happy, it is with you.
Good night love message for my wife
Dream your sweet dream and may each of them come true.
Every night I think of you in my bed, with the hope of seeing you in my dreams.
When the nights are cold, stars are few, I close my eyes, and think of you.
If I were to pick between you and my dreams, I would be confused, cause being with you is my dream that has come true.
READ ALSO: These letting go quotes will help you with your ex
How can I impress my wife with words?
Every time I say goodnight, I am saying I adore you.
I may be tired, I may be sleepy, but I will never be able to fall asleep without sending a sweet love message for my wife.
Let's meet in our dreams tonight.
Distance can stop me from giving you a goodnight kiss, but cannot stop me from loving you.
If I had wings, I would fly to you. I miss you to the moon and back.
Goodnight my wife, goodnight my everything.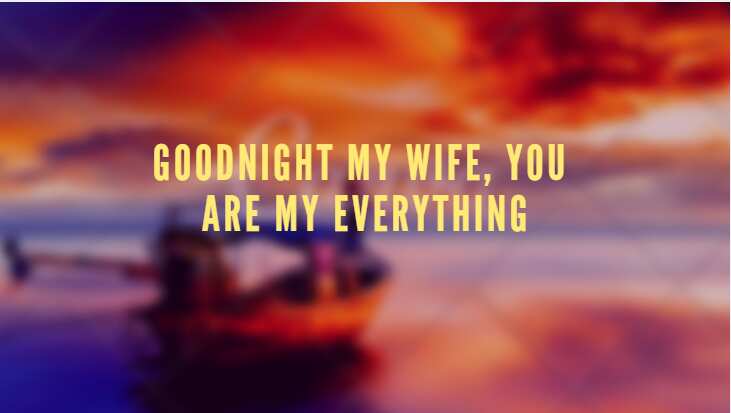 Witty I love my wife quotes
If I did anything right in my life, is giving my heart to you.
You are my favourite reason to lose sleep.
To me, all the romantic songs are about you.
When I first saw you, you took my breath away, you still do.
I fell in love with you, not for how you look, just for who you are.
Please do not doubt my affection for you; it is the only thing I am sure of.
Making memories with you is my hobby.
I am in love with you and all your little things.
When you smile, I smile.
I do not need to add sugar in my coffee, because your kisses are all the sugar I need.
Funny I love my wife quotes
I promise to love you even through football seasons.
Loving you is amazing, but the fact that you love me is a miracle.
When I count my blessings, I count you twice.
My best love was football, but then you came around.
You are my kind of perfect.
Forget the butterflies, I feel the whole zoo when I am with you.
I will never finish falling in love with you.
The above "I love my wife messages and quotes" are the missing ingredient to spice up your love life. Gone are the days when one could wait for Valentines Day to send their wife a love message. Just select the one that perfectly suits you and be the reason why your wife will smile in the morning, nighttime, and every opportunity you get.
READ ALSO: 50 romantic loving you SMS 2019
Source: Legit.ng