5 key reasons why Ambode failed to get APC governorship ticket for second term bid
It is no longer news that Governor Akinwunmi Ambode will not be returned as the Lagos state governor in 2019 as he has lost the governorship ticket of the All Progressives Congress (APC) to his contender at the party's primary held on Tuesday, October 2.
Governor Ambode scored 72,901, while Babajide Sanwo-Olu, his contender, scored 970,851 of the votes cast.
How could a sitting governor lose with such a wide margin to a relatively unpopular aspirant?
Legit.ng highlights five major reasons that worked against Governor Ambode's second term ambition.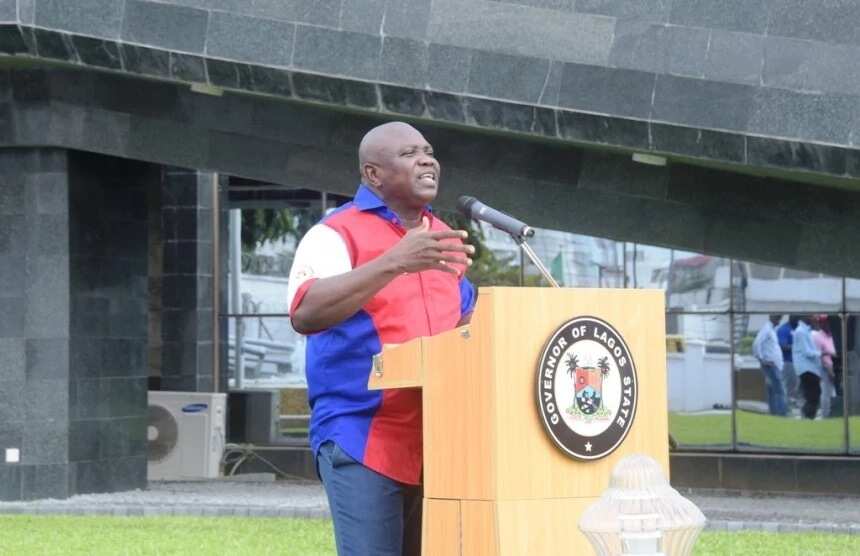 1. Fall-out with his political godfather
Governor Ambode was never a politician but part a (retired) civil servant before Asiwaju Bola Ahmed Tinubu presented him as his preferred gubernatorial candidate in 2015, against the then governor's (Babatunde Fashola) choice.
Thus, he became the governor solely because of his godfather's influence. However, three years down the line, he fell out of favour with him. He failed to get Tinubu's support for the second term bid.
2. Lack of support from political stakeholders in the state
Apart from losing Tinubu's support, Governor Ambode is also not in the good books of relevant stakeholders of the party in the state.
In fact, Tinubu was reported to have said that he did not have any issue with the embattled governor, adding that he withdrew his support for him because other stakeholders did not want him.
According to The Punch, when Tinubu was asked why he withdrew his support for Ambode, he said: "Who did I support in 2014? Ambode. Life is dynamic. It's those who made me the leader of the structure in Lagos who said it was what they want. It's only if you have followers that you're a leader in democracy.
"If I look back and I don't find them again; if I don't respond to them, if I fail to accede to their request, I would have failed the leadership test. This is not personal; it is beyond me as a person. Every democratic constitution is preceded by 'We, the people'. So, I had to submit myself to the wishes and the yearnings of our party."
3. Inactive party politics
Governor Ambode's failure to be actively involved in the politics of the state is also one of the factors that cost him the second term ticket.
His aloofness to the APC's political activities both at the state and federal level made it difficult for him to get the required support he needed for the ticket.
His godfather confirmed that he (Ambode) failed to get the support of the party stakeholders not because of his performance but due to his failure to be a "a good party man".
"This is an elixir for the general election. Ambode Akin, he's doing well, yes; he hasn't been a good party man; not only the glamour, not only about brick and mortar. A talent is determined by character. For you to become an influential person, you have to respond to the yearnings of the people. This is politics; democracy, one man, one vote," Tinubu was quoted to have said.
4. Poor teamwork/failure to carry people along
Governor Ambode's alleged inability to carry people along in his governance also fueled the gang-up against his second term bid.
For instance, a leader of the APC in Mushin area of Lagos who spoke with Daily Times on the condition of anonymity accused the governor of running an exclusive government where the views and opinions of the people are not sought on any issue.
He alleged that Governor Ambode is not receptive to ideas and opinions even when offered. Little wonder, his deputy, Idiat Adebule, also abandoned him to support Babajide Sanwo-Olu.
5. Anti-people policies
Some of the policies initiated by the Ambode-led government angered not only the APC members but virtually all Lagosians. Two of such policies concern the waste management tussle and the controversial increase in Land Use Charge.
The APC leader, earlier quoted, also accused Governor Ambode of deviating sharply from the policies and programmes of his predecessors.
He said: "We now have a dirtier Lagos because of the policy he brought up through Visionscape and he is not ready to listen to advice given to him by leaders. The idea of PSP is to engage people at the grassroots, even though operators of the PSP are leaders of the party at the grassroots, the idea is to engage those people locally.
"Just like the issue of community policing, you cannot properly police an environment if you are not part of that environment, so the issue of carting away of refuse is being done locally at the hinterland and these are the people involved in it.
"Again the issue of road network, there is potholes everywhere; traffic in Lagos at peak hours has increased drastically."
PAY ATTENTION: Read the news on Nigeria's #1 new app
Meanwhile, Legit.ng previously reported that Governor Ambode had finally accepted his loss of the gubernatorial primary election. The governor on Wednesday, October 3, congratulated Sanwo-Olu, the winner of the exercise.
Ambode, who appealed to residents of Lagos to give Sanwo-Olu the needed support in the 2019 election, said the APC remains a great party.
Can Ambode Get a Second Term Without Tinubu's Approval? - Nigeria Street Gist | Legit.ng TV
Source: Legit.ng