Tope Alabi's biography and achievements
Tope Alabi is a Nigerian gospel musician who has blessed us with many great songs. The story of how she has climbed up the career ladder and become a widely recognized gospel singer is truly inspiring for all of us. Dive into this exciting Tope Alabi biography and discover brand new information about her!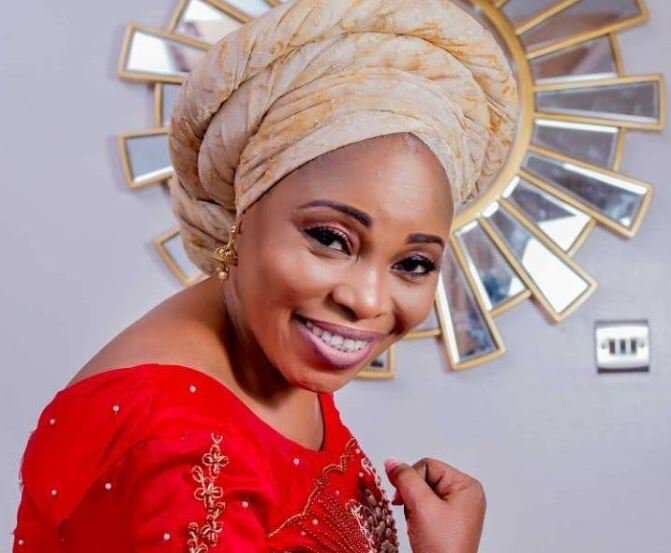 This lady is known all over Nigeria for her enlightening and relaxing gospel songs. She has won many awards for singing and composing numerous songs. Her songs show us that there is always hope for the better.
The singer is also a loving wife and mother. Want to know more about her? We have gathered all the relevant information about her for you.
Profile summary
Date of birth: October 27, 1970
Age: 50 years old (as of 2020)
Birthplace: Nigeria
Birth sign: Scorpio
How old is Tope Alabi?
The talented gospel singer was born on October 27th, 1970. Currently, she is 50 years old (as of 2020). Her birthplace is Lagos State, Nigeria, and this is where her journey to success and fame started.
Early life and background
Her full name is Patricia Temitope Alabi. She was born in Lagos State, but her state of origin is Yewa, Imeko, in Ogun State. She was born into the family of Joseph Akinyele Obayomi and Agnes Kehinde Obayomi and was the only daughter among her siblings – she has two brothers.
The singer's mother always loved singing at home, and Tope often heard her quietly singing to herself, even though she never was a professional singer or a choir member.
Her mother first wanted her to become a Reverend sister because she had a vision about her daughter being God's minister. However, she realized this is not what was meant by these words, and decided not to send Tope to a convent.
Tope has fond memories of her mother, who passed away in 2017. According to the singer, her mother always kept her on the right path and disciplined her. She also gave her very valuable life advice.
Despite the fact that their family was not the richest, her mother always reserved enough money for her children's upbringing and for buying necessary things for them. The singer refers to her mother a wonderful woman and a prayer warrior.
When Tope was little, she often envisioned herself singing in stadiums, with crowds of people listening to her. She started singing when she was very young, and at the age of seven, she joined the choir in her local Catholic church.
She says that she discovered her talent and passion for singing through messages from God in her sleep. She also understood that this is what she has to do in life, even if she has other passions, for instance, acting or comedy.
Education and first career steps
The singer received her basic primary and secondary education in Ibadan, at the Akinyele Memorial High School. She then obtained her WAEC Certificate in 1986. Then, she went on to study at the Polytechnic University in Ibadan, where she received a degree in Mass Communication in 1990.
Between 1982 and 1984, she discovered her interest in music and drama. She joined the group called "Jesters International", who trained her and gave her the drama experience.
She also worked as a correspondent at NTA, supervised by Yanju Adegbite. Later, after her university graduation, she worked at NTA Channel 10. Her next job was at Centerspread Advertising Limited, which was situated in the Ilupeju area in Lagos.
She decided to return to the theatre profession, as she became a part of the prestigious theatre group "Alade Aromire Theatre Group" 1994. She got a chance to express herself as a talented singer and actress and truly started believing in herself.
She got involved in different movie productions along with stage drama and the making of soundtracks. She is still really grateful to the Alade Aromire Theatre Group because this experience helped her to express herself and expose her talent to the masses, as well as find out more about the Yoruba industry of soundtrack production.
Tope Alabi music
The singer's catchy gospel tunes first gained prominence more than a decade ago, and to this day, people consider her one of Nigeria's gospel music geniuses.
Alabi can do everything with her music – she has a unique and recognizable voice and she can even create a few melodies by combining modern and traditional beats. She has released some songs in the Yoruba language to the tunes of salsa, makossa, and hip-hop styles.
She has written a massive number of soundtracks for various movie productions in Nollywood – in total, there are over 350 soundtracks where she is credited as a composer.
Many famous producers and directors in Nollywood always turn to Alabi whenever they need original soundtracks for their movies. In Nollywood, she is considered to be a trendsetter for soundtracks.
Tope Alabi albums
This gospel singer and songwriter released more than a dozen albums, including:
The Spirit of Light (2019)
Yes And Amen (2018)
From the Archive of Tope Alabi - Sound Track Compilation (Version 1) (2015)
Oruko Tuntun (2014)
Alagbara (2012)
Agbelebu (2012)
Angeli Mi (2007)
Ore tio common (2001)
Iwe Eri (2003)
Agbara Ne Ni (2005)
Agbara Olorun (2006)
Kokoro Igbala (2008)
Kabio Osi (2010)
Lowo Olorun Lowa (2020)
Tope Alabi latest album
Tope Alabi new album is Lowo Olorun Lowa, which was released on 16th October, 2020. The album contains three of Tope Alabi latest songs:
Akoko Orun OUN AYE
O N Gbenu MI
Lowu Olorun Lowa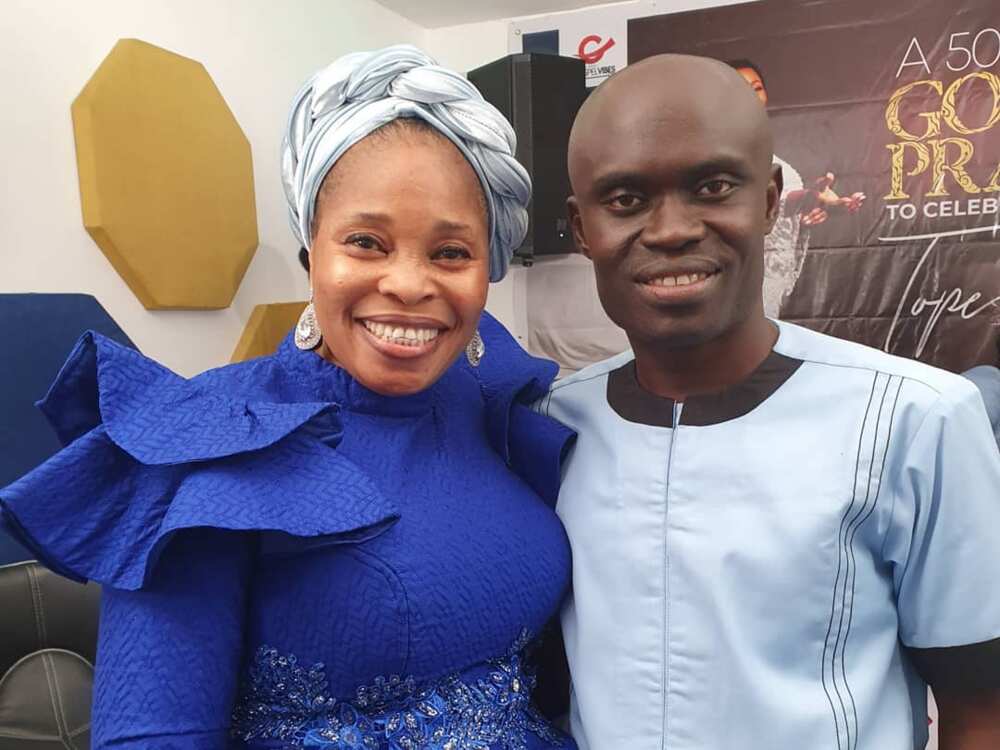 Tope Alabi songs
Some of her most famous hits include:
Iwo lawa o ma bo
You Are Worthy
Halleluyah
Mimo L'oluwa
Awa gbe o ga
Eru Ogo
Yes And Amen
Emi Mimo
Imole De
Kabi o osi
Gratitude
Orun Oun Aye
Adake Dajo
kokoro igbala
War
Ayo
Tope Alabi new song
One of her latest songs is Nothing is Impossible. This Tope Alabi song is a collaboration between the artist and Eben. It was published on YouTube in June 2020.
Tope Alabi's husband
The gospel artiste has been happily married to her husband Soji Alabi for many years. Their love story began in 1994 when Soji was a studio engineer in Lagos and got a chance to produce some movie soundtracks for Tope. The two instantly fell in love, and four years later, in 1998, they got married.
Soji and Tope have a business together, but according to them, they have never quarreled over business issues, and have understood each other perfectly.
They also thank God for making them realize that two people in business are better than one, and when you see the benefits of running your business together with your spouse, it becomes much easier.
Soji also says that he never worries about the rumours about his wife because he knows his wife very well and is certain that the rumors about her are untrue.
Children
The singer has two beautiful daughters – Ayomikun and Deborah- and a son - Boluwatife. Ayomikun, the oldest daughter, is 22 years old. Ayomikun is also into music just like her mother. She studies music in Bowen University. She is the CEO of a Hair Brand known as 'Lilas Hair'.
When talking about her mother, Ayomikun says that she likes the fact that her songs are all genuine and inspired by God. Her favourite song by her mother "Mumi debe, baba mumi debe".
Ayomikun describes her mother as a funny person who can always make everyone laugh.
The second born in the family is Boluwatife Alabi. He is not very social like his other siblings. The last born, Deborah Alabi, is known to be a model and a social media influencer.
Controversies
Since this musician is really famous, controversies surrounding her are almost unavoidable. For instance, Alabi was once accused of having an intimate relationship with pastor Ajanaku, who was her spiritual father at the church that she regularly attended.
Alabi denied the allegations and said that there was nothing more than friendship between them. Besides, a few years before Ajanaku's death in 2013, there was a fallout between Tope and the pastor, and the two were not as they used to be.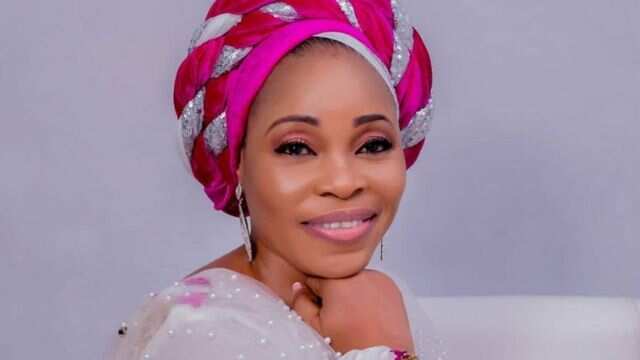 Tope Alabi is an example and inspiration for every person who wants to have an accomplished career and be a good spouse and parent. She has time for everything, from meeting her fans to spending quality time with her family.
READ ALSO: Regina Daniels: Nigerian actress biography
Legit.ng recently reported about the life of Regina Daniels, a Nigerian actress well known for her roles in Broken Chakkels, Hand of Fate 2, and Brave Mind. The actress, who is just 20-years-old (as of 2020), is one of the biggest icons in the Nigerian entertainment industry.
At just 20 years old, Regina Daniels has managed to become one of the biggest and most popular actresses, not only in Nigeria but also all over the world.
Source: Legit.ng