Romantic birthday wishes for lover
Here we have the topic for those who are in love. Read on to see the list of romantic happy birthday wishes for lover. Use the quotes to express your feelings on the special day of your beloved person.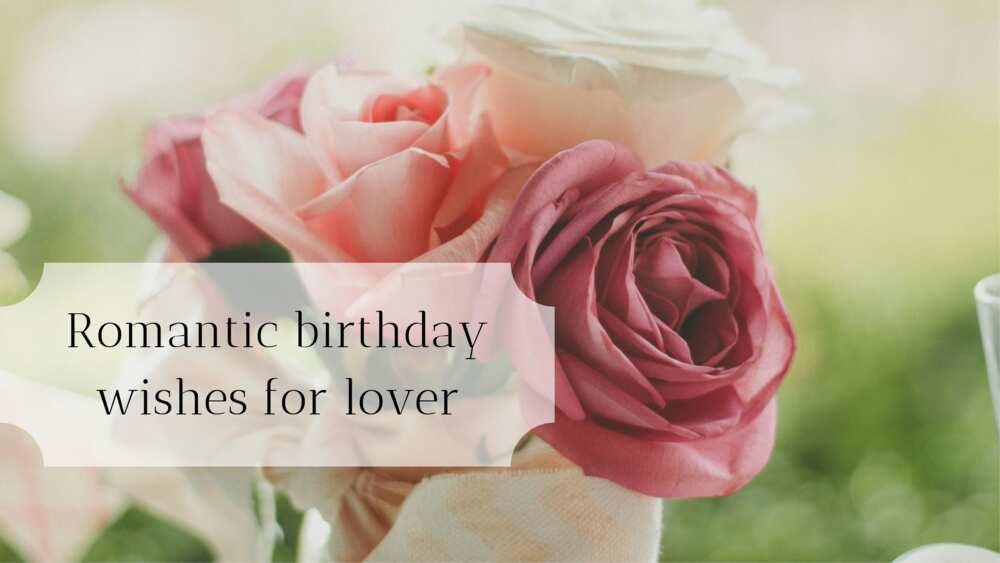 Our selection of the best congratulations will help you to choose the one that will be remembered and which will create an atmosphere of celebration and good mood.
Best romantic birthday wishes for lover
A birthday is a special day for many people because on this day they become the centre of attention among friends, relatives and loved ones, no matter how old a birthday person turns. Sweet messages, lovely and sincere congratulations on birthday play a leading role in the celebration. Sometimes the most expensive and original gifts can fade next to an exquisite romantic wish.
My beloved, do you know that my days and nights start and end with the thoughts about you. It is happiness to spend with you these sunsets and sunrises. Today I want to thank you for the love you gave me. Your birthday is a holiday for me, let you always be as beautiful, and as bright as today.
The most precious thing in life is love, and you show me this miracle. Your sparkling eyes are full of joy today, and I wish you to save this beautiful moment in your heart. My love, let me share with you this evening and celebrate your birthday in the embrace of love.
READ ALSO: Cute birthday wishes for best friends
Your loving heart and soul are the most important things for me. On this special day, and I want to kiss and hug you with all my tenderness. I'm so thankful to you, let's be together for the whole life.
The birthday of my most beloved person is God's gift for me. You came into my life and brought sunshine. I love you and want to give you all my heart on this beautiful day.
My beloved, you are my sunshine! On this wonderful day, we celebrate your personal holiday together. I am very happy about this, and I wish you to be as gentle, refined, intriguing and attractive as you are today. You are dream-women for me. Let your beauty blossom every year, like a rosebud. Happy birthday.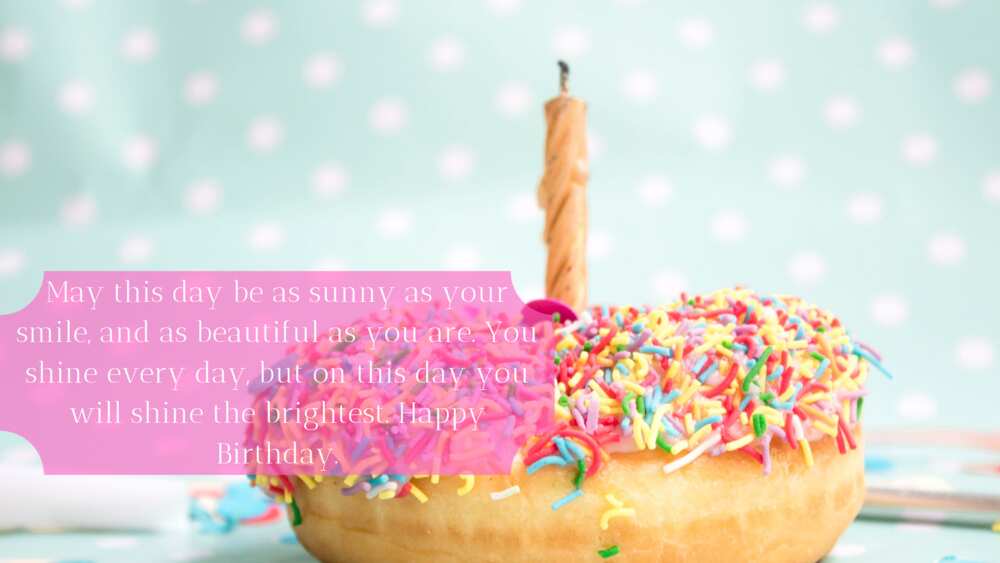 My love, let this birthday stay in your soul. Let's celebrate this holiday together, I want to be with you today and everyday of my life. I can't even imagine how I can live without you. I know that the stars are shining only because of your love. I want to wish you to stay happy and beloved as you are today.
I can't stop thanking the destiny that it gave me such a happy love. I love you, and on your birthday I sincerely wish you inexhaustible health and optimism, unfading youth and beauty, genuine joy, the bright shining of eyes and smiles, let there be a stream of happy moments, days and years!
Today is a wonderful holiday. On this day my love and dream was born. May Heaven protect you at every step of your way. I want to present you these flowers as an embodiment of my love and let us spend this day together. I want to kiss and hug you for all this day.
Let the star of our love shine brightly for us tonight. Let me express my love on your birthday and present you with the main gift which is my heart, and I want you to take it and never let it go. Let it remains in your arms.
Happy birthday my love! Today your eyes glow with happiness, and it's wonderful! I discover new aspects of romantic feelings with you, and this is a miracle for me. I wish our relationships to become more profound, and I will try to make you a thousand times happier!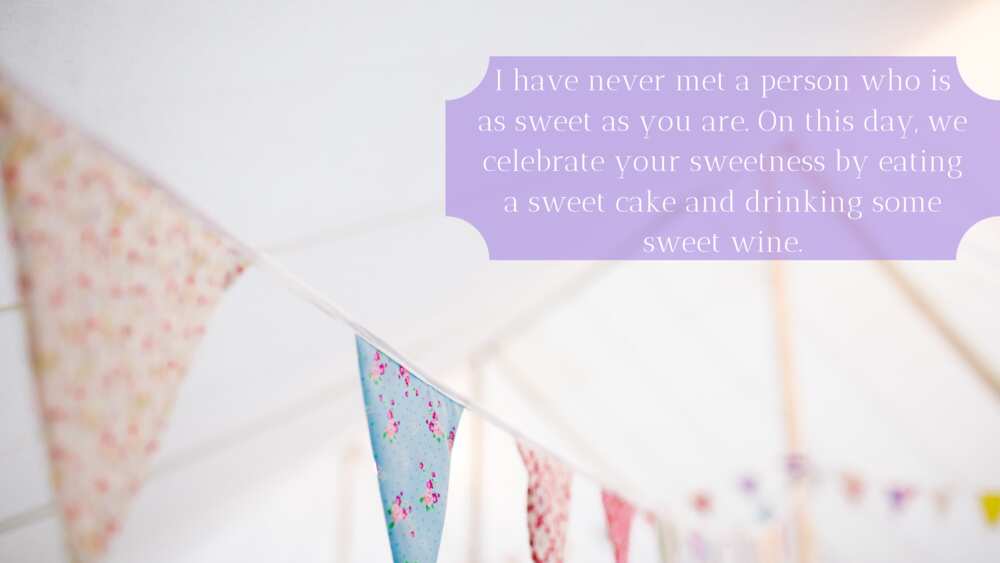 My congratulations on your birthday fly to you together with hot kisses and strong embraces. Let the brightest stars illuminate your way, and warm with the most fervent fire of love. And let happiness be your eternal companion. Happy birthday.
Let the sunrise wake you up with a clear sunbeam, a tender kiss of mine, and new bright hopes. It is your birthday, and today the happiness knocks on your door. I dream of spending this day and night with you. Let our love lead us to the most precious moments.
May happiness come to you with the spring flutter of bird voices, they sing about love. Let joy fills your heart, and love inspires you. It is happiness to love you. Happy birthday.
I congratulate you, the most gentle, and beloved person. I want to see happiness and shining of joy in your eyes, let your heart be open for every new day, and let your soul feel our love. There is always a reason for happiness in my life, and this reason is you and our love. Happy birthday.
Happy Birthday! Let you always feel the wonderful magic of our love. This magic leads us to new horizons of happy days. I dream of spending the whole life with you, and I want to present to you many wonderful gifts today.
How can I say about the happiness of being with you? There is no gift that can express my love, so I want to present my heart, my soul. Our love saves us from evil, and I want our embraces to be strong forever. Happy birthday, my love.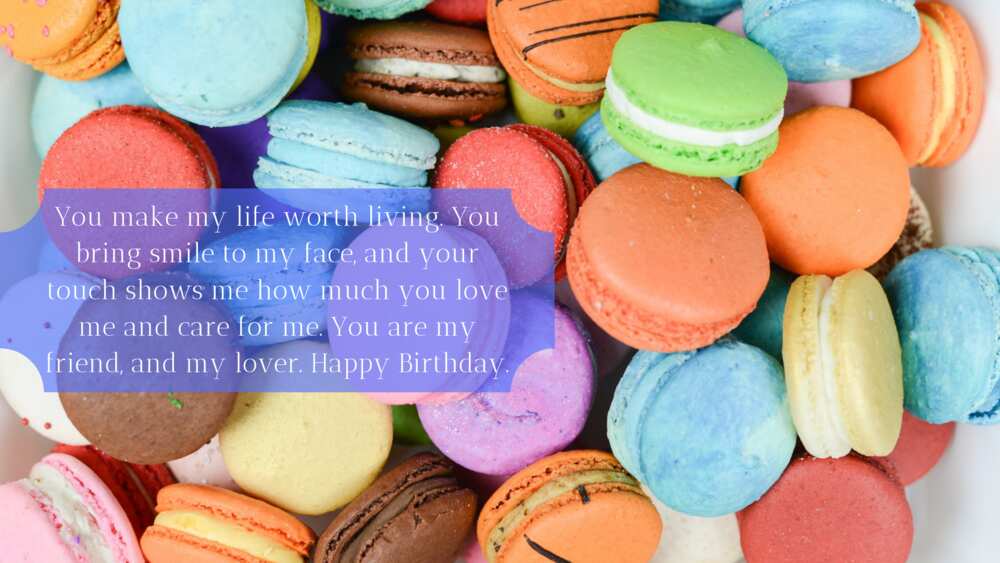 My sweet love, this day is dedicated to you. The sun and sky smile to you. My love, you're the pearl that shines with beauty and purity. Happy birthday to you, my beloved.
You gave me the most precious gift - your love. And on your birthday I want to give you mine. I can't imagine my life without your love and wish you to be happy every day of your life.
Please accept the bouquet of the most sincere compliments! You are the only love for me. I want to wish you the strongest health and happiness in life. You're the best, stay the same and do not change, a woman like you is a real jewel of life!
I wish you, darling, to remain as sunny and beloved, and let your life be a happy and interesting fairy-tale! Today I want to share with you the most romantic moments, take these flowers and let me hold your hand.
I congratulate you, my joy, and I wish all the best. Always stay so cheerful and let your beauty and charm always fascinate me. This is a great blessing for me to be with you, and our love shines a star. It is such a beautiful day, and our love will make it even happier. So, let me hug and kiss you.
You are unique and feminine, and you are beloved. Let there be neither fatigue nor sorrow in your life. Today we are together, and love of our heart is the precious gift.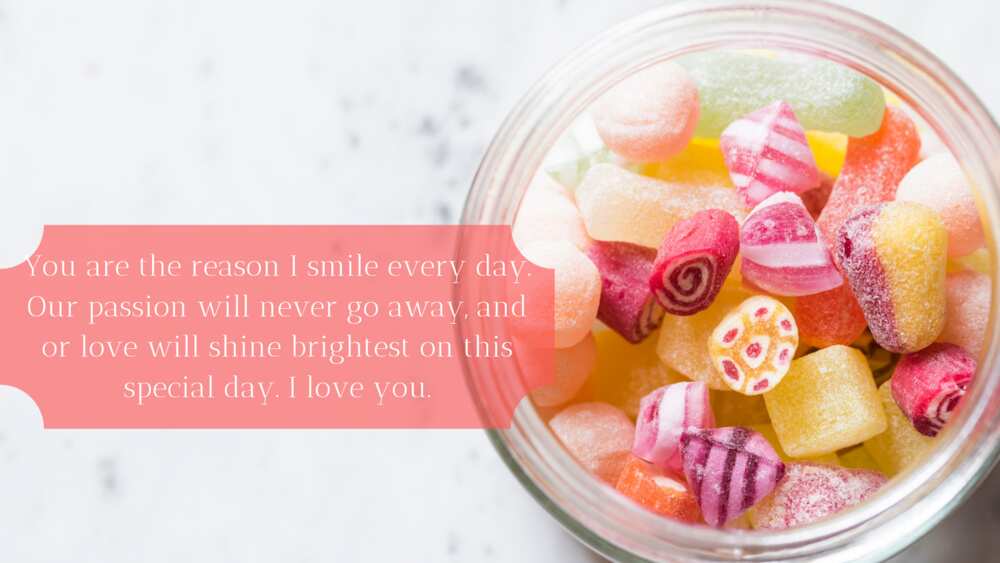 I want to hug you tightly and wish you to be happy. Know that I love you very much and on your birthday there are only you and me. I want to present you a journey to the miracles. Let's share this happy moment in the embraces of love.
You have such a big and kind heart, you are the most tender and beautiful flower in the world. Today I want to congratulate you and spend this beautiful day with you. You are my inspiration and a reason to breath. Happy birthday my the most beloved person.
I remember the day you walked in my life, and it was the happiest moment for me. Today is your birthday, and I'm blessed with your love. I couldn't even dream about such magic of love. You can take my heart, my soul, and I give it to you because I love you, happy birthday my beloved person.
I want to fill your day with joyous moments, fun and true love. My dream is to share with you the most romantic moments of life because you are the brightest star in the sky. My heart belongs to you, and I'm here to congratulate you on this wonderful day.
I know that our love is the blessing of heaven, and on your birthday I thank God for our relationships. I want to see your smile and happy eyes. I want you to know that my love is strong and no obstacle can disturb it. Your birthday is the reason for happiness for me. Let me stay with you for your whole life.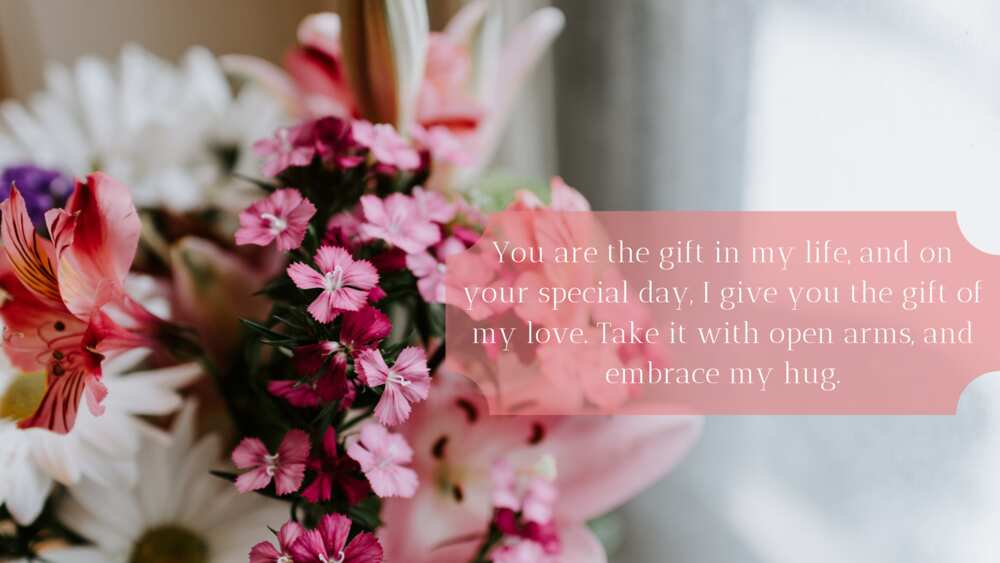 Today I'm the happiest man in the world because it is the birthday of my love. Let me be blessed with your smile. Let me be embraced with your tenderness. Please take my congratulations and let us spend this day and night in the happiness of our love.
When I see your smile, I feel like the happiest person in the world. Today is your birthday, and I want to present to you a thousand reasons to smile. Today this sun shines for you, and I'm in love with you, and all my heart is in your hands. Happy birthday my sweet love.
Your love is God's gift, and your beautiful eyes are the stars of our heaven. My love, I dream of being together with you for all my life and even more. On this special day, I want to present to you the most beautiful flowers, the most romantic moments and my love.
The birthday of your beloved is an important event, and your congratulations will be an excellent charge of vigour and inspiration, a source of warmth and tenderness, a guarantee of a successful day and an unforgettable, romantic evening. Here is our list of birthday wishes for a lover. Romantic birthday wishes are very personal messages or sayings, so fill them with your love and true feelings.
READ ALSO: Birthday wishes for the friend on Facebook
Source: Legit.ng