50 birthday wishes to a mother
It is not a secret that for many people, their mother is the most important person in the world. Of course, every mom secretly dreams about the most beautiful birthday message from her son or daughter. If you feel like you do not have a way with words and would not be able to congratulate her in a lovely way, you should not worry! We are always happy to help you, and we bring you the most beautiful and touching birthday wishes to a mother.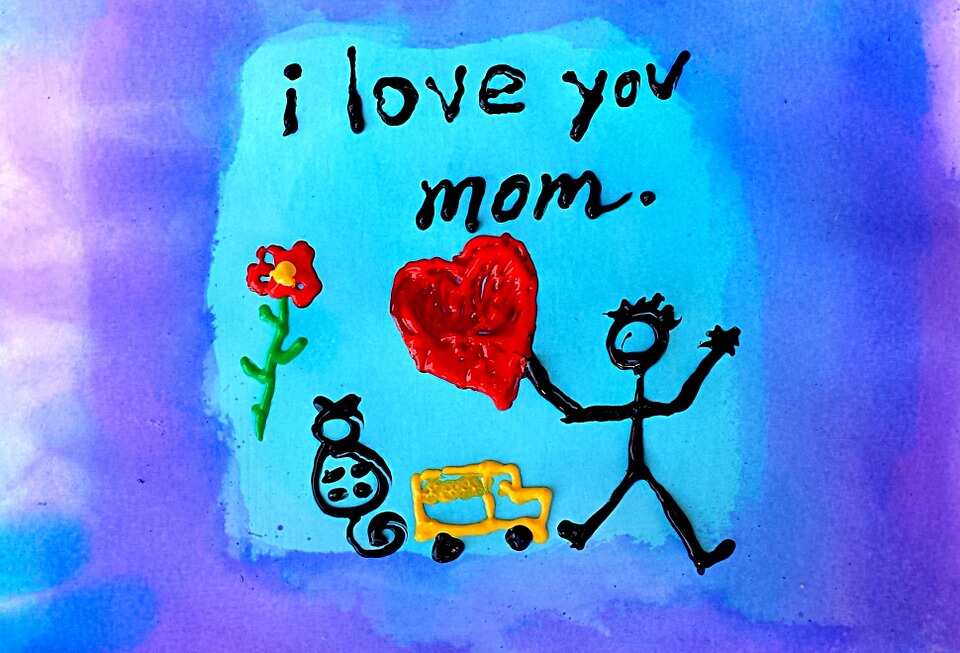 We all want to show the woman that gave us life how much we value and treasure her. Of course, buying her a large cake and some expensive presents would be good, but what would be even better is attaching a personalised card or sending her a sweet birthday message for mom. She will know just how much you think and care about her.
Lovely birthday messages for mom
Sometimes you want to let the most loving and caring woman in your life know how much she means to you, and her birthday seems to be a perfect occasion. Not everyone is brilliant with words, though – there are times when ideas just will not come, no matter what you do. Luckily, you have articles like ours to help you out and suggest some creative birthday wishes for mother. You can go through all of these and choose the ones that represent your relationship with your mom in the best way, no matter if they are serious or funny. We promise that she will be touched once she receives such a wonderful greeting!
Best birthday wishes for mom – top-50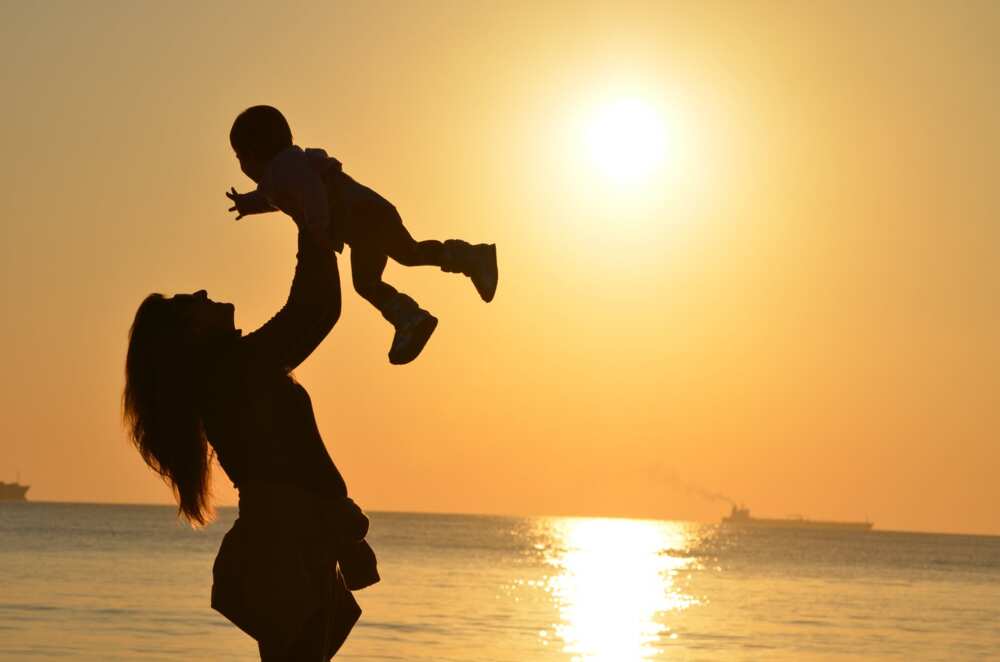 Happy birthday, Mom! Your favourite child (also the most handsome, the smartest and the funniest one) is wishing you the best of birthdays.
It is your special day, and a perfect occasion to ask for whatever you want as a present. I promise to fulfil all of your wishes. Happy birthday to you!
On this amazing day, I want to wish you a lot of smiles, sunny days and new emotions. Just be happy!
Today, your child wants to send you the biggest and most affectionate hug. I wish you to have the most amazing and eventful year of your life!
Let your day and your entire life be full of joy and wonders. I love you so much and thank you for all your support throughout the years.
Your number of candles this year will definitely not trigger the fire alarm, so do not worry about it too much. However, maybe next year... I'm just joking! Have a fantastic day!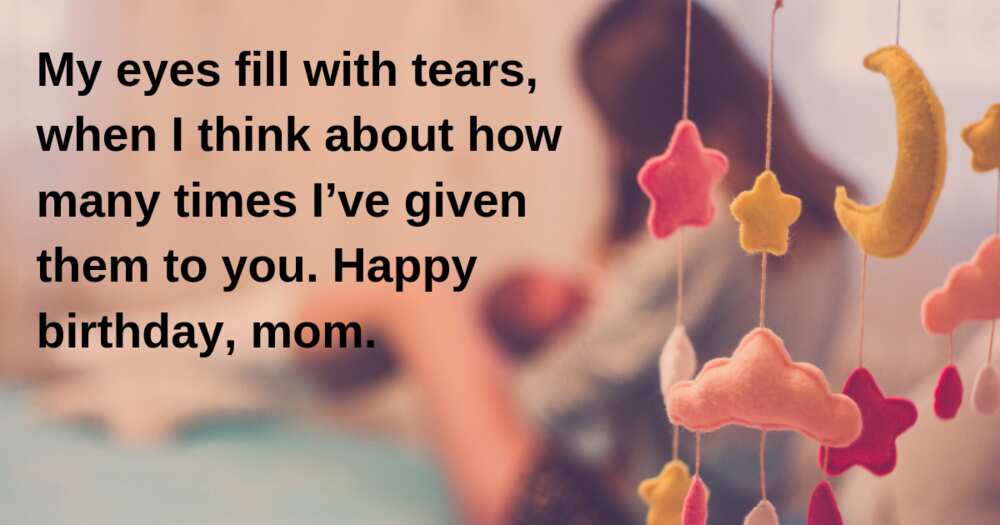 Happy 25th birthday! Yes, it is your countless 25th birthday that you are celebrating every year. Have an amazing time today and enjoy your everlasting youth!
Happy birthday to my strong, hardworking and wise mother. I will always be there for you, just like you were there for me when I was young and impossible!
I promise to shower you with love and presents on this wonderful day! Happy birthday, my dearest mom!
READ ALSO: Happy birthday message to a crush
You have always been a wise mom, and I admired you for my entire life, wanting to be like you. Even if I never am exactly like you, I will still learn wisdom from you. I wish you the happiest of birthdays!
I am a little lazy to give you a gift, so have this message. Just kidding! I would never miss your birthday, so expect gifts!
I will always remember your hugs, kisses, taking care of me when I was ill, and supporting me when I felt sad. Thank you for everything you have done for me!
You are the most gorgeous and amazing woman in the entire world. Dad is really lucky that he met you, and I, as your child, owe you everything that I have today.
Not a day goes by when I do not think of you and appreciate all the wonderful things you have done for me. Happy birthday!
Today, we are going to celebrate the birthday of Wonder Woman, who is also my mother. To this day I do not know how I am so lucky to have an actual superhero as a mom.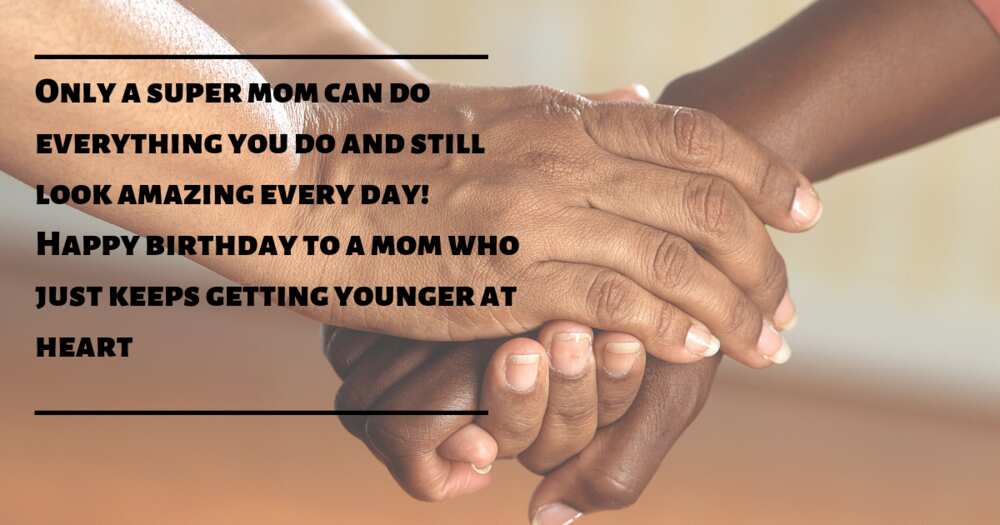 Even though we do not usually have a favourite among our parents, I will let you in on a secret: your birthday budget is usually bigger than Dad's.
Thank you for always making sure I was safe, fed well, and had good grades. Now I grew into a successful person, and it is all because of you.
You are the most special and beautiful mother in the entire world, and I would not want to have anyone else as my closest person.
Happy birthday, Super Mom! You have always been my hero, and today I want you to know that my feelings have not changed.
Roses are red, violets are blue, I have the best mom in the world, and this is you!
Today I will let you know that I love you even more than I love pizza and puppies. This means I love you endlessly! Happy birthday, mom!
Whether I am happy or upset, there is no one else I would rather turn to than you. I hope you have an amazing birthday!
It is a beautiful time of the year – the time when the most wonderful mom was born! Best wishes to you!
For all your patience with me throughout my entire life, you deserve the best party the world has ever seen, so I am going to give it to you!
I want to give you the warmest hugs and kisses today and wish you the happiest of all birthdays. I love you!
The sweetest wishes for your mom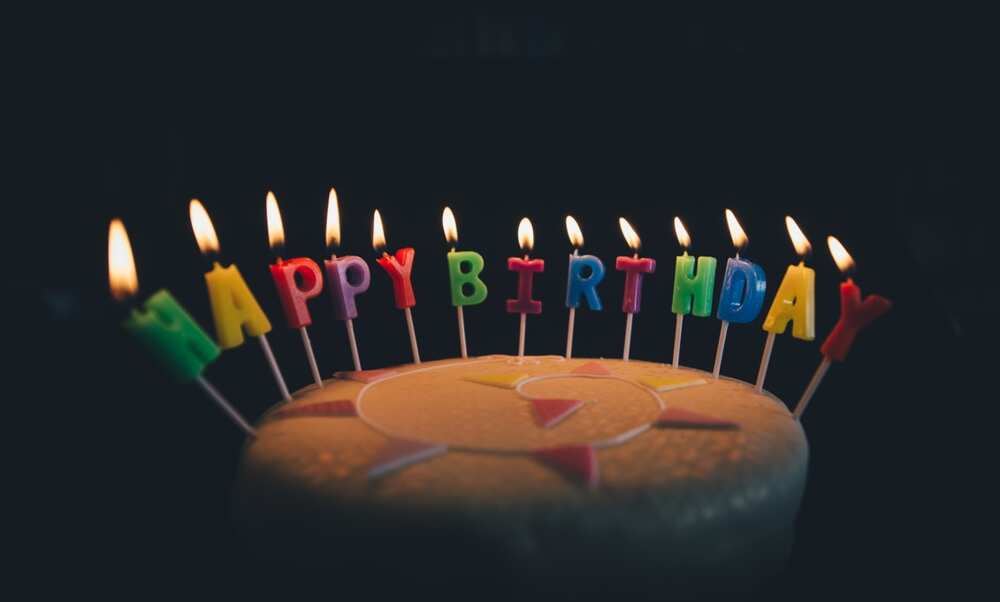 I am so lucky to be the child of such a beautiful woman, inside and out. I want to send you my best wishes on this exceptional day!
Every single day, I thank God for giving me you as a mother. You have been my most important life teacher. Happy birthday to you!
You are not only my beloved mom but also my best friend and the person I can always rely on. Today, I want to thank you for that. Happy birthday!
With you, I always knew what love feels like when I was a child. Now, when I grew up, it is time to give this love back to you. Wishing you the happiest of the birthdays!
You have always been the light of my life and gave the best life advice to me. Thank you for always being there for me, and happy birthday!
Throughout the years, one thing remained constant, and this was your unconditional love and care for us. Now, it is our turn. Happy birthday, mom!
You taught me love, respect, hard work, and never giving up. Today, I want to thank you for everything that you have done for me, and let you know how much it is appreciated. Happy birthday!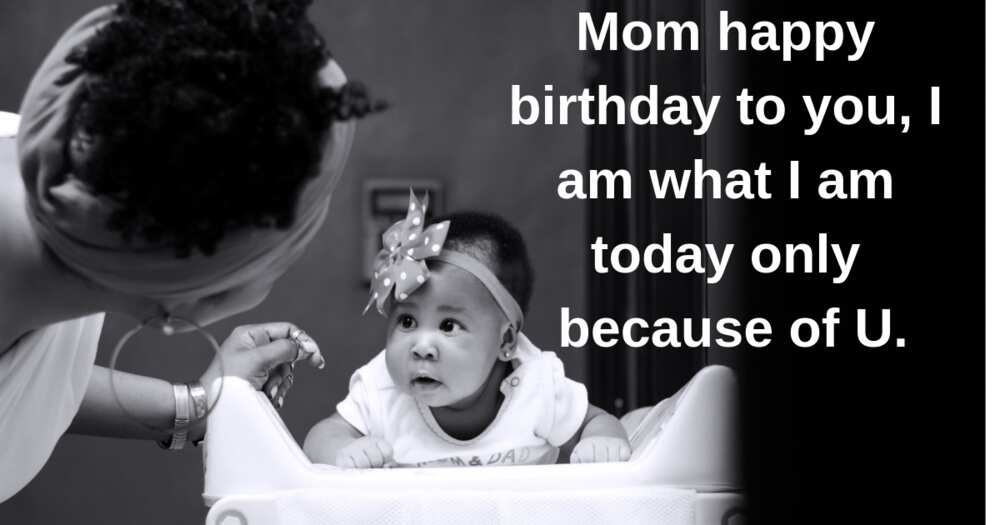 I fear to imagine where would I have been right now in my life if it was not for your support and love. Thank you for all you have done for me, mom!
You constantly encouraged me to be better, inspired to try my best, and cheered me up when I felt down. You sacrificed so much for me, and I wish I could ever repay you for everything you have done. Happy birthday, my hero!
May the spark in your eyes always continue shining, no matter how old you are. I love you and wish you the most amazing birthday!
I am blessed to have a strong and inspirational woman like you in my life. You were the only person who never gave up on me. May the next year be the best in your life!
You are my biggest inspiration. My greatest wish is to be as much of a role model to my children as you were for me. I wish you a happy birthday!
Dear Mom, you age like a fine wine – you only become more beautiful and inspiring with every year. Never change who you are! Happy birthday!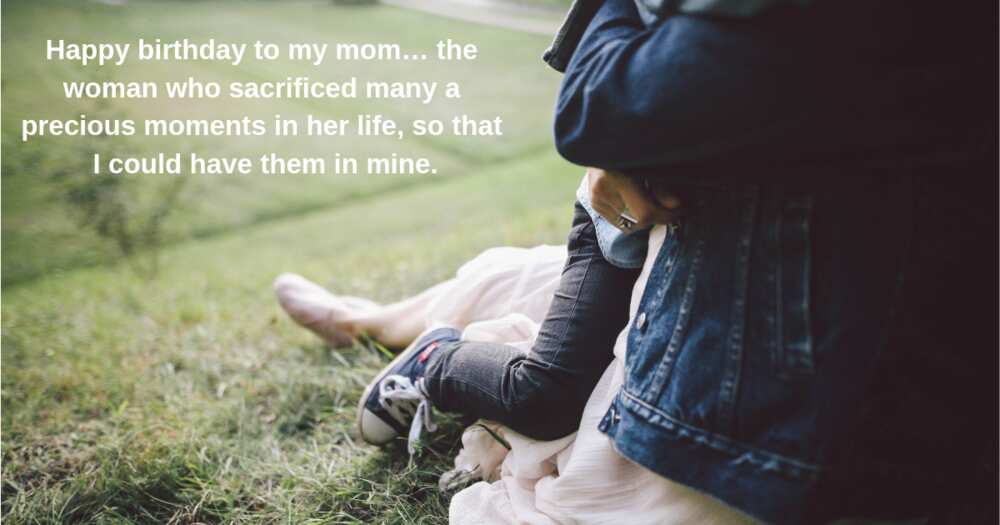 Some children do not have a good relationship with their parents, and today I am thankful that I am not one of them. You are the best mother I could ever wish for. Happy birthday to you!
The world keeps turning, and my love for you just keeps growing. Happy birthday, the most wonderful woman in the entire world!
When I think of the word "beauty", you are the first thing that comes to my mind. And as the years pass by, you only become more and more awesome. I wish you the most amazing birthday!
You are more than a mom. You are the person I trust with my life, someone who will always comfort and motivate me. On this incredible day, I want to send you back all the positive feelings you give me!
You and I had the most exciting journey together and made unforgettable memories. I want to thank you for being the wonderful mother you are. Happy special day!
The best mom's birthday is today! We will celebrate this holiday by remembering all the most thrilling moments from your life.
It is the best feeling in the world to be a child of such a great woman as you. You always helped me to stay on the right way, and it paid off in the end. I wish you to have the happiest day!
I thank the Lord every day for blessing me with such a remarkable mother! You are a true hero and should be extremely proud of yourself. Happy birthday!
Thank you for teaching me to treasure my life and cherish all the wonderful memories. I appreciate every moment of you being in my life! Happy birthday to my dearest mom!
Even if we do not see each other too often these days, I still value every time we talk or message, and I think about you frequently. You are the coolest mom ever!
I love you today, I will love you tomorrow, and my love for you will last forever, just like your unconditional love for me. Happy birthday, mom!
You are such an example for everyone, and I am hoping to follow your steps and become at least half of a person that you are. I wish you the most amazing day! You deserve to spend it happily and treat yourself!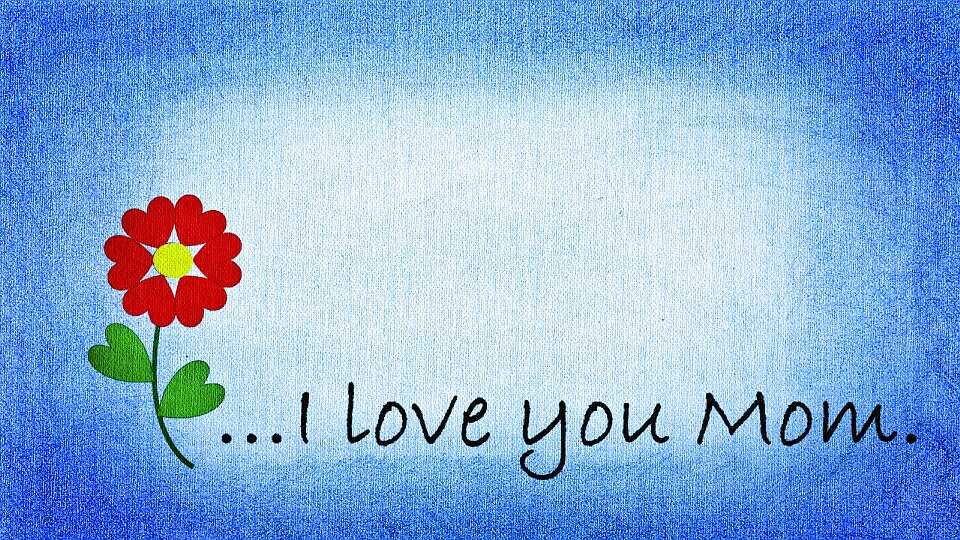 Being a mother is a hard job. We believe that your mom will enjoy these beautiful messages of appreciation. You can modify them however you want and message those birthday wishes to a mother. Send one of them to your mom on her special day and make her heart melt!
READ ALSO: 50 best happy birthday wishes to a boss at work
Source: Legit.ng