Top 50 birthday SMS, wishes and quotes
Do not panic if you cannot create a good message with birthday wishes. Take a deep breath, exhale, sit down and read our article. We know that sometimes, it is so difficult to write one. We are here for you as we want to help you avoid troubles and make someone's birthday even more wonderful with these amazing birthday SMS.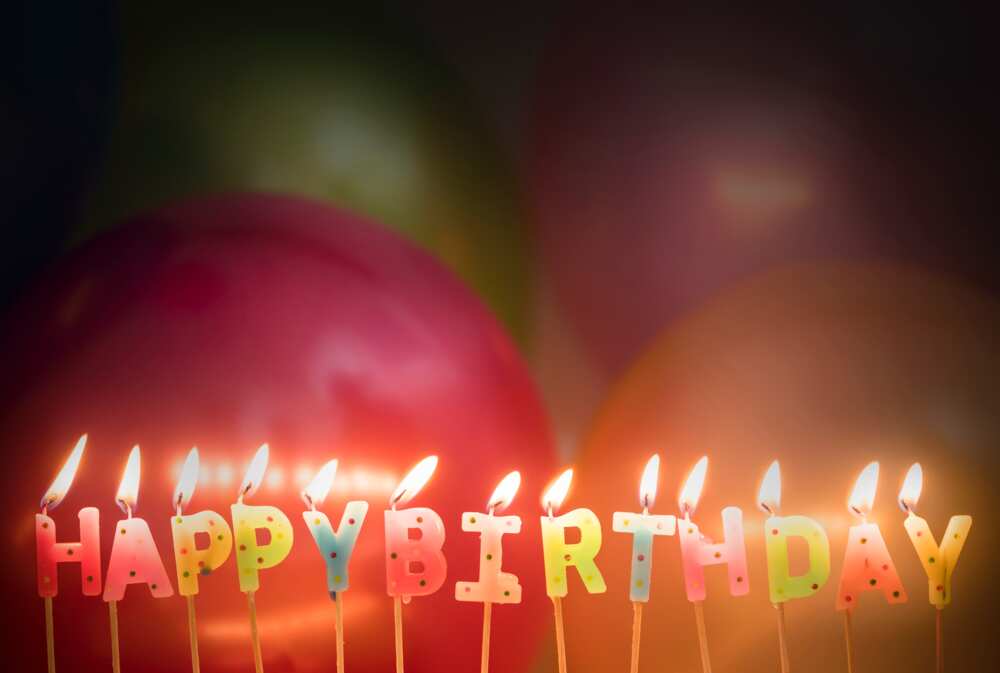 A birthday celebration is a fantastic occasion that makes every person extremely delighted. And beautiful greeting words can make the day even better and also show that you are not indifferent to a person, especially when you are separated with a significant distance. That is why SMS with congratulations will be a great idea.
Inspiring happy birthday messages
A happy birthday wish is such a small text, but it can make a significant impact. Read these messages we have prepared for you and use them later to make the day of the person you want to congratulate even better and inspire his or her mood.
Happy Birthday! Let nothing prevent your dreams from coming true. May there always be a reason for you to smile, and something to encourage your spirit. I wish you to be in harmony with yourself, and always have time for your hobbies and like-minded people who will support you in any attempts, even in odd ones. I wish you good luck, success, love, and health.
Happy Birthday to you, dear! I sincerely wish you loads of happiness, cheerfulness, health, love, many happy and beautiful sunrises and sunsets, eternal youth in the soul and all other best things in the world! Let true friends always be around you. Let money multiply in your wallet. And I wish your house always to be full of comfort, joy, warmth and, prosperity!
I congratulate you on your birthday. Let your soul bloom every day. May only love and joy fill your heart. I wish you lasting and robust health, an unimaginable and immeasurable wealth of the inner world, tremendous and unchanging success on any path you take, and of course, harmony and the most sincere love. And let each moment, each day, and each year bring only happiness to you!

Happy Birthday! I wish you always to keep that unbelievable flux of joy and fun in your soul and bring it to people around you. May you have a lot of money, but don't give in to their temptations. Bring kindness and receive it in return. Let friends always come to help you whenever you need them, and the enemies bypass the side. Let the luck always accompany you on the path of your life. But what is more important, be yourself no matter what. I wish you all the best one more time!
Happy Birthday, sweetheart! I wish you good luck, happiness, health, success in all your endeavours and maintaining. Let only true friends be by your side. WIsh you loads of love and a sunny mood for every day. May every your morning start with a cup of tea and a happy smile on your and significant ones' faces!
I sincerely want to wish you to spend this year the way you will always remember it by something special, unique, perhaps positively unpredictable! So that the memories of this year could warm your soul many, many years later! Also, I wish you robust health and endless opportunities!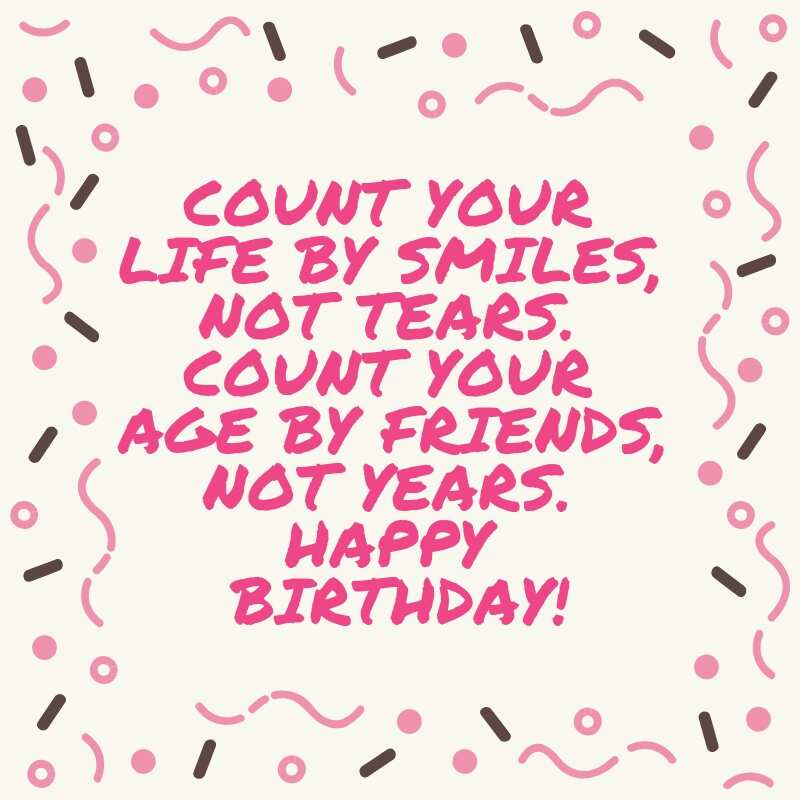 I sincerely congratulate you on your birthday. I wish you to make the most desirable dreams come true. Let the comfort be in the house, in the heart and the soul. Confidently strive towards your goals, never give up, be supportive for seniors and exemplary role model for younger ones. And most importantly, have a lot of love, health, and support!
I want to congratulate you on your birthday and wish you bright emotions, more positive moments, fabulous memories and let only those people, who accept and understand you the way you are, be in your surrounding. Do not be afraid of obstacles that may appear on your way, because you will realise what is worth living for while overcoming them. May your life be full of smiles and happiness. Happy Birthday!
Happy Birthday! May all your cherished dreams and secret desires come true. Let the sun always light your way, and happiness never leaves your life path. May your family always be near you, and prosperity and wealth settle down forever in your cosy home.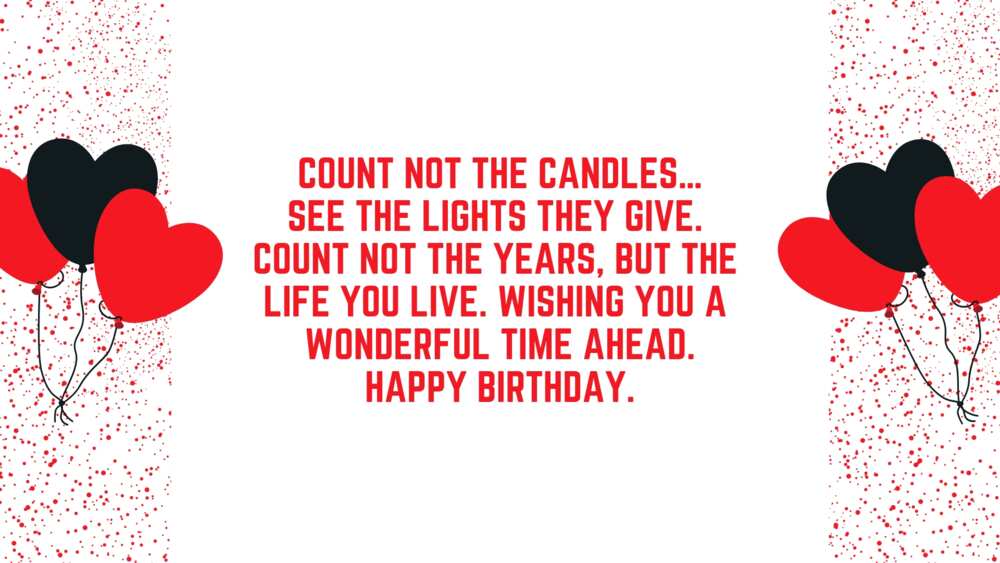 All that I would like to wish you on this beautiful day is to make things about which you think before bedtime happen. May your family and the closest people always be healthy and happy. May your friends support you in difficult times, and rejoice together. May your next year be full of smiles and tears of laughter. I wish you more memorable events and moments of delight. Happy Birthday, love!
Birthday messages for women
If you are unable to call a friend or girlfriend and wish her a happy birthday, you can just send a beautiful birthday SMS with greetings. We will help you find the words that would be most suitable for such a case.
Happy birthday, my dear! I wish you good health, all the luck, well-being, kindness, joy, love, happiness, great mood, smiles, and lots of bright impressions. Let the warmth and comfort always fill your house, may the sunlight follow in any weather, and your wishes come true.
Happy Birthday, my friend! I wish you immense happiness, good health, true love, good luck, prosperity, and wish fulfilment! Let your life be filled with positive emotions, faithful friends, and many joyful days. Have a lot bright, happy, amusing events in your life.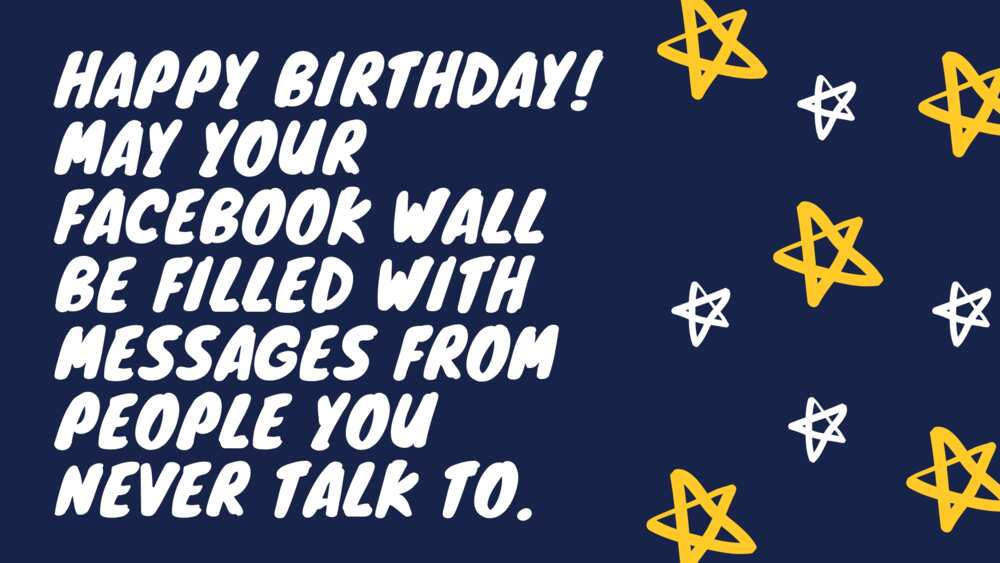 Happy Birthday! I wish you to have a bright and delightful life. Let beloved ones bring you more attention, joy, warmth, and affection. Let your friends surround you with genuine understanding and support, and colleagues give you respect and feeling of being valuable. Let everything that seemed unrealisable come true, and let the most desirable things happen!
Let this day be the funniest and happiest in your life. Stay as good, tender and the most beautiful as you are. May you be the most attentive, the most beloved, simple, charming, and unique. Be kind and strict, and soft and energetic at the same time. Let troubles get out of your way in. May all that you wish come true. I wish you love, faith, hope, and all good! Happy Birthday, dear
Let love and inspiration follow you in the next year. Let your mood be even happier everyday, and let the sadness leave you once and for good. Have lots of good luck and smiles in your life, and let all of this be accompanied by joy, love, and happiness. Happy birthday, my darling!
Today is your birthday, and it does not matter how many years you have reached. Stay young all the time as life is given to us only once after all. We are not going to give it up just because we have got older. I wish you to live a full life so that your mood does not get worse because of bad weather, and I want you to be able to find contentment and happiness in simple things.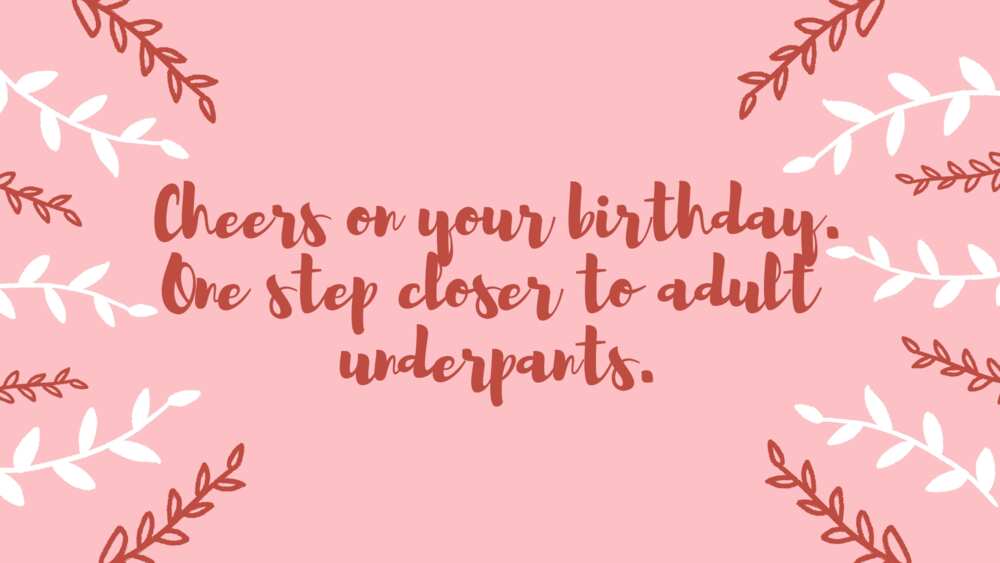 Happy Birthday! I wish you to always be in a bright and positive mood, high achievements, spiritual harmony, prosperity, good health, and of course, success in everything you do! I wish you never to quit whenever you face difficulties on your way. Good luck in learning new ideas, self-development and striving for the best!
Happy Birthday! I wish you to wake up every day with a feeling of happiness and in the best mood ever. Let health and money only multiply, and dreams and desires come true as often as possible, allowing you to enjoy new victories and always smile. And always stay as beautiful and powerful as you are, my lady.
Happy Birthday, queen! I wish you to spend this year full of amenities, surprises, love, memorable acquaintances, travel, shopping, tenderness, romance, and only good news! Become more beautiful, kinder, more intelligent, more productive, more important, more exciting and na of course felicitous! And I wish you a wonderful celebration of your birthday!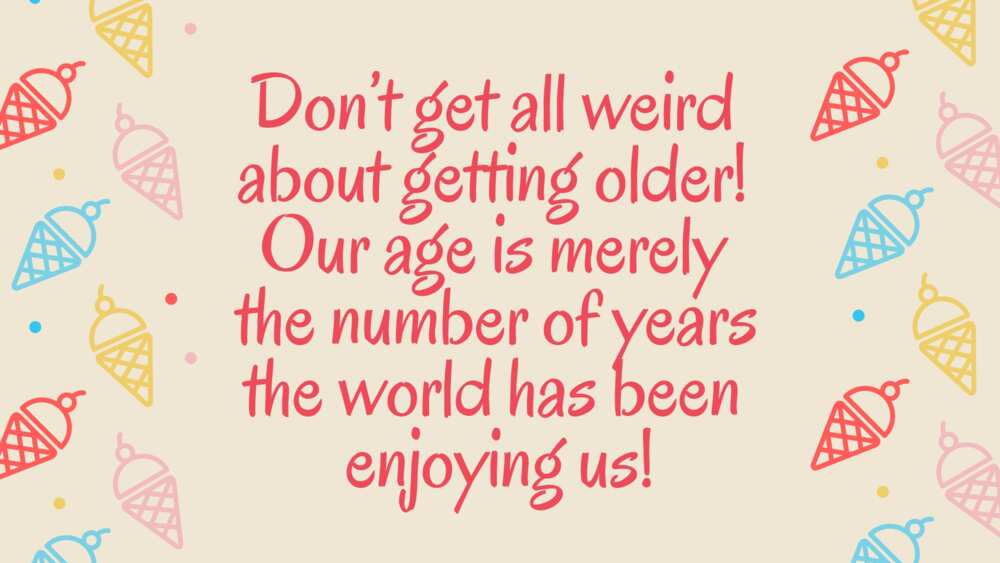 I congratulate you on your birthday, and I want to wish to remain such a soulful, cheerful, sincere and joyful person as you are. Always remember that everything that happens is for the better in the end. Let your life be not only a streak of luck but full of all the colours of the rainbow. And I wish that all your plans end with the expected result and that you always be proud of yourself and people that surround you. May all your hopes and desires come true, turning life into a real fairy tale! Happy Birthday, the most beautiful woman on earth!
Best birthday messages for men - amazing birthday SMS
Do you want to wish a happy birthday to dad, brother, friend or colleague and do not know which words to choose? Especially for you, we have prepared birthday greetings for the man in your own words.
Real courage is a strength of spirit, wisdom, generosity, clarity of thought, the ability to be a reliable friend and husband, the ability to be a backbone and support for loved ones. So congratulations on your birthday as one of the most courageous men! And I hope that your life will be long and you will be the happiest person in the world!
In the best traditions, be full of health, strength, and happiness! Be happy every day and every hour of your life, let your health be in such good condition that you do not even remember about it! May your beloved woman be always with you, may well-being and prosperity reign in the house, let all your plans and dreams come true with ease!
Let each new day be similar to the previous one in only one thing, and it will be just as successful. Let only joy, luck, and inspiration surround you! Let all the things, that you want, come to your life! Let your whole life be full of interesting creative ideas, meetings with friends and like-minded people. And do not forget that no matter how serious life is, it is just a game in which you will be a winner. Congratulations!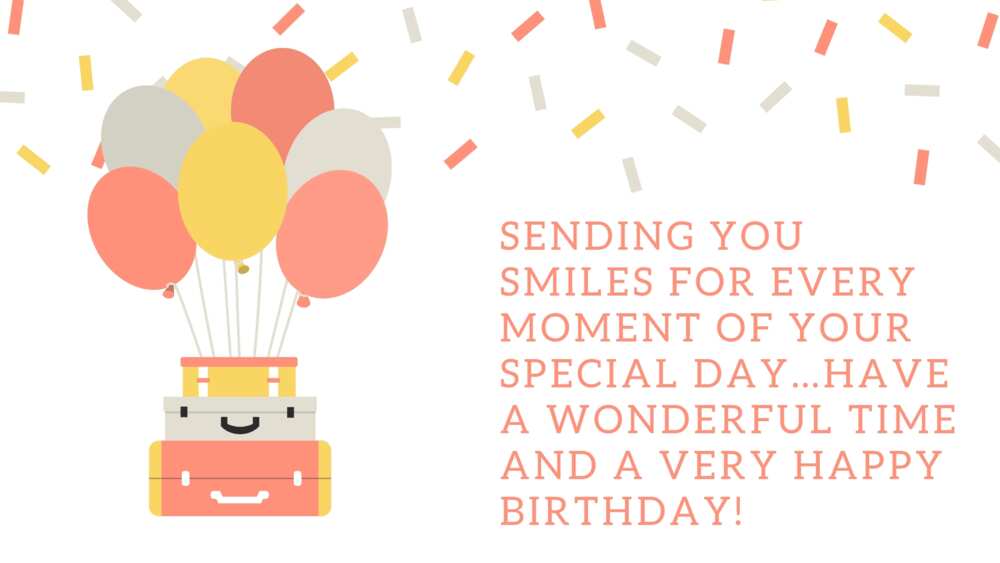 May your home always be full of joy and comfort, and your wife — loving and tender, and children only gratify with their success and inherit only your best features. May life always be full of such a pure but at the same time the very true happiness!
Happy Birthday! Have a stable income, peace in the family, harmony in the soul and, most importantly, excellent health as it is never superfluous. Always be happy about what you already have, but at the same time never stop setting new life goals for yourself. Let the feeling of love always warm you in your heart, and may your beloved lady be reliable support in life. Take a fresh look at the world, improve yourself, rejoice in life, be happy, healthy and love!
Happy Birthday! Let all your dreams come true, your goals to be achieved, and success accompanies your entire life path. Let health never let you down, and the multitude of smiles of children, loved ones and relatives warms your world every day and makes you move forward!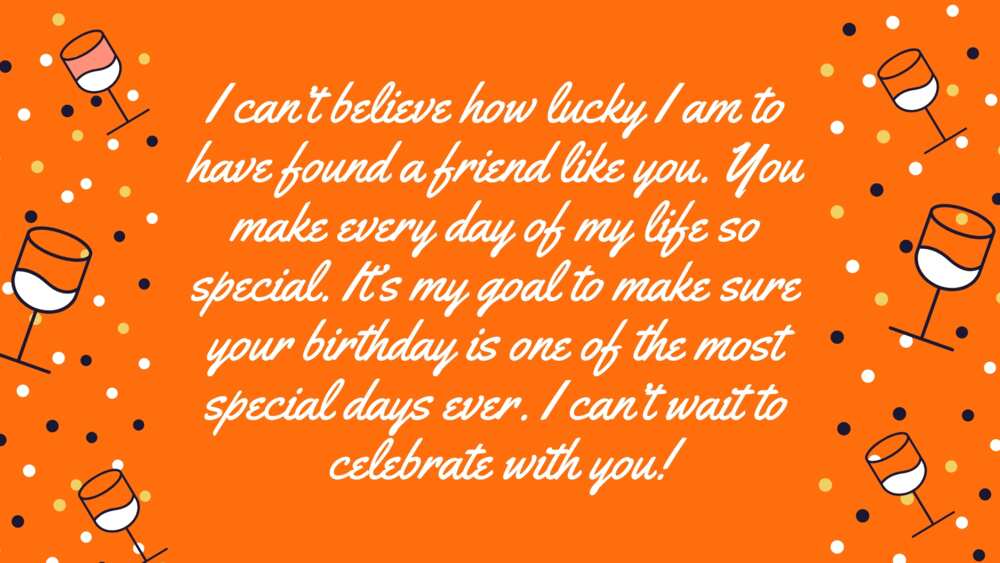 READ ALSO: Happy birthday message to a crush
Today I want to heartily congratulate the wisest, bravest, courageous and strong man I know. You will be able to achieve the realisation of the most secret and most daring plans that can only come to your mind. Accomplish all the goals you are aiming for. Let your family appreciate, love and understand you and everything in your life will be positive, pleasant and kind!
Today I want to congratulate the most handsome and enchanting man in the world on his birthday heartily. Let all your grey days turn into bright, amazing holidays. Let your soul know no offence, but always only sings from a beautiful life. Always remain the same gallant and interesting man!
The most courageous image in my memory is undoubtedly the image of a father. You are my support, mentor, master of the house and the foremost authority and role model. Thank you for always being and remaining with me. Keep a positive attitude and faith in your strength for many years. And let it be with you, let it be what you want, and then life will be filled with joy and meaning. I wish you good health and real friends.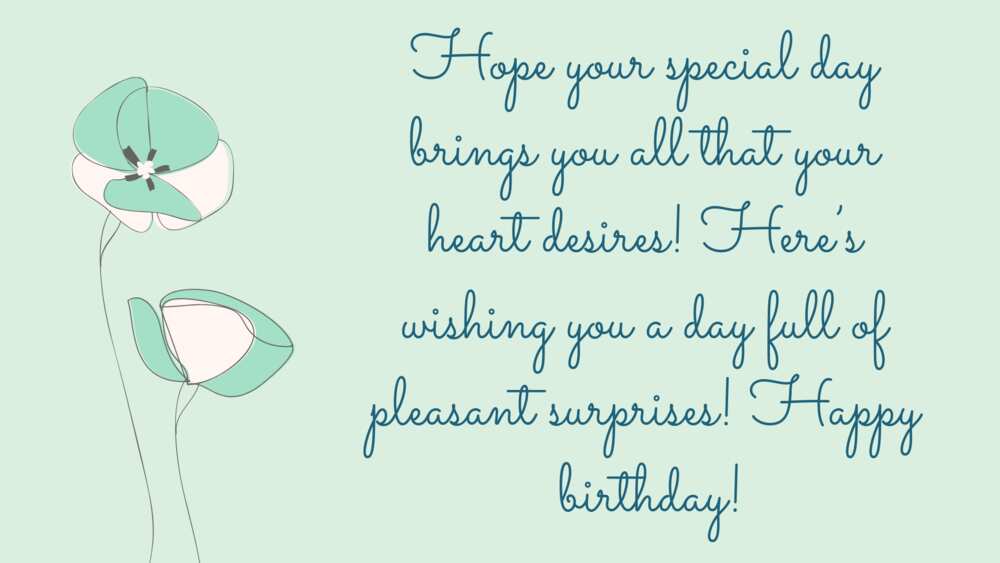 I congratulate you on your birthday! Let you have excellent health, stable income, cosy home, faithful friends, interesting work, let love always surround you, and good luck follow you in everything! Stay, the way you are – courageous, reliable, self-confident in any situation!
Happy birthday quotes from famous people
We think that it is high time to take a little rest from greeting messages and see what famous people of all time and from all around the world have said about ageing, birthdays, cakes and staff.
"They say it's your birthday. We're gonna have a good time. I'm glad it's your birthday. Happy birthday to you." – The Beatles
"And in the end, it's not the years in your life that count. It's the life in your years." – Abraham Lincoln
"With mirth and laughter let old wrinkles come." – William Shakespeare
"Age is an issue of mind over matter. If you don't mind, it doesn't matter." – Mark Twain
"All the world is birthday cake, so take a piece, but not too much." – George Harrison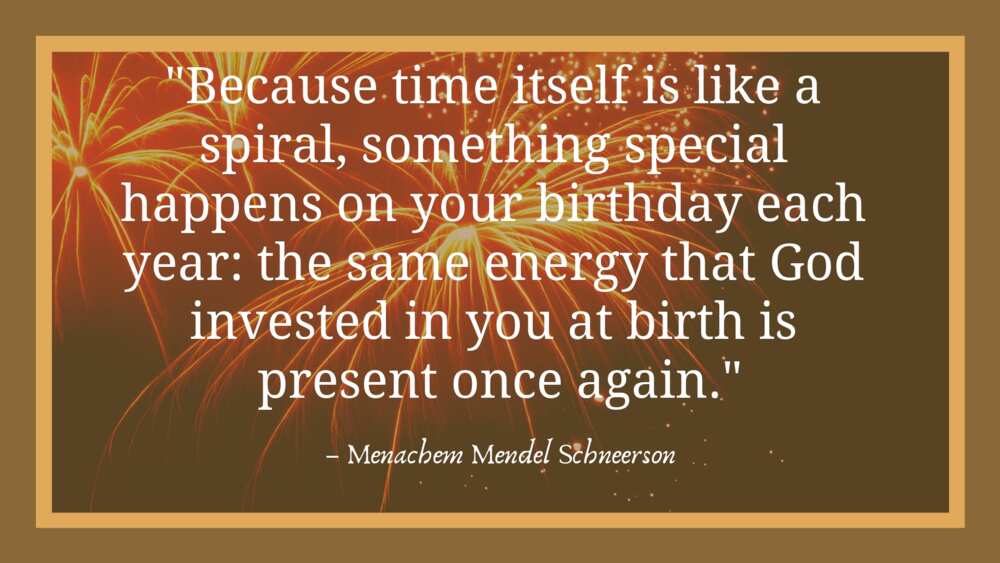 READ ALSO: Funny questions to ask a girl to make her laugh
"At twenty years of age, the will reigns; at thirty, the wit; and at forty, the judgement." – Benjamin Franklin
"Let us celebrate the occasion with wine and sweet words." – Titus Maccius Plautus
"I wanted to buy a candle holder, but the store didn't have one. So I got a cake." – Mitch Hedberg
"There are three hundred and sixty-four days when you might get un-birthday presents, and only one for birthday presents, you know." – Lewis Carroll
"Each ten years of a man's life has its own fortunes, its own hopes, its own desires." – Goethe
Wonderful birthday wishes for children
Happy birthday to a wonderful and incredible child. I want to wish you a happy future and a bright life path, good people on the way and fulfilment of cherished desires, big and small victories, excellent health, cheerful friends, interesting hobbies and reliable protection of the guardian angel.
Happy Birthday, dear child! Always believe in a miracle, dream, create, sing, dance, love, surprise the world with your talents, discover something new for yourself every single day, notice all the good and pass by all the bad. And most importantly, be the happiest and most cheerful child!
Happy birthday, darling! We wish you health, joy, smiles, good and faithful friends, sun, warmth, and many, many gifts. Grow, learn well, and achieve your goals. May all your wishes and dreams come true on this holiday and any other day!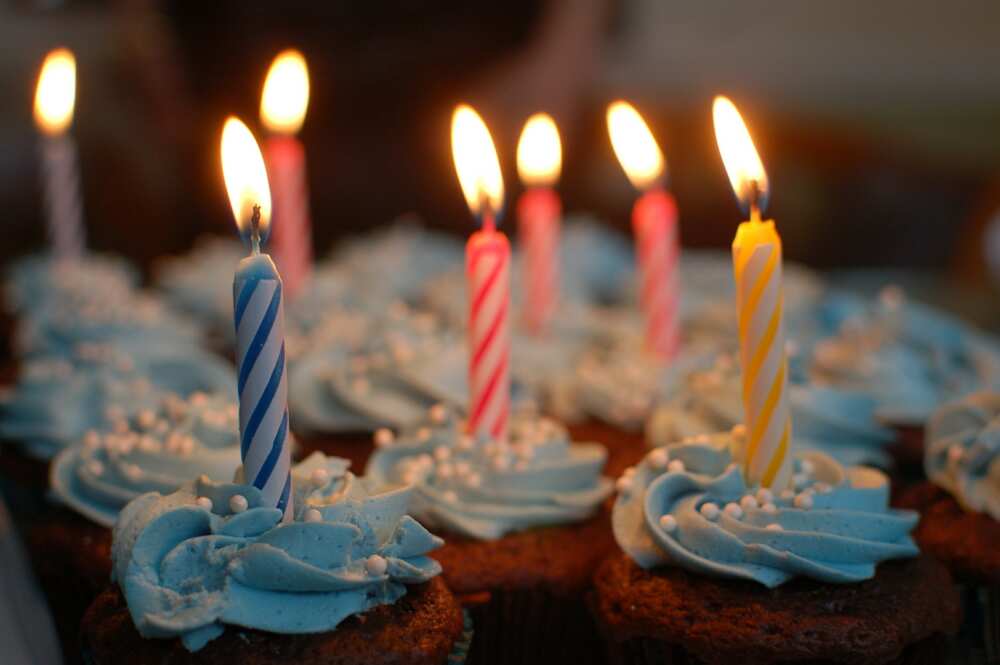 Happy birthday to the best, kindest, and most beautiful child! Let your life be beautiful, sweet and bright, and let your smile shines like the sun's rays, illuminating the hearts, and your eyes burn like stars. Let the days fly like carefree, happy clouds, and dreams become great and excite the imagination.
My beautiful and dearest child, I congratulate you on your birthday! I wish you a lot of positive and sincere smiles, joy in everything and great success! I also wish you good health and good mood!
We congratulate you, our lovely and beautiful child. I wish you a happy and sweet life, like jam, exciting hobbies and big victories, sunny days and cheerful emotions, great friends and undoubted success on the path of life.
Happy Birthday, my sweet baby! I wish you to be a glorious child. I wish you to reveal your talents and achieve tremendous success successfully. Let every day give fun with friends and holidays with your family. Let everything in your life be great and marvellous!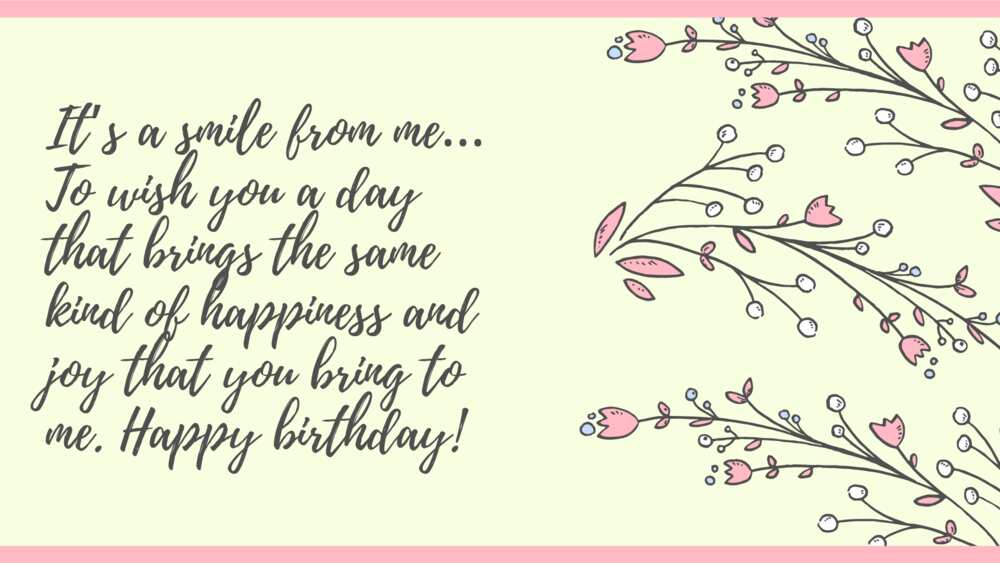 READ ALSO: One year birthday cake ideas for a baby
Happy birthday, honey. May you always have fun, may every day bring you smiles, joy, happiness, and love of your relatives. I wish you health, wonderful friends, and an ocean of ​​beautiful ideas and memorable events.
Today is the birthday of a wonderful child! Congratulations, flower! We wish you activity, development, a million smiles, and good friends. Let the world give you warmth every day and protect you from misfortune. Get to know everything, take the best and know that we love you very much!
We congratulate you on your birthday, sunshine! We wish you health, good luck, loyal friends, many gifts and pleasant surprises. Let all your wishes and dreams come true. Go through life confidently, achieve your goals, and rejoice every moment!
Now you have an option for the message with birthday wishes for any person and can congratulate your friends, children, wife or husband and be sure they will be so happy to hear or read such sweet and lovely birthday SMS from you, especially if they know that this is not typical of you.
READ ALSO: What to text a girl to make her smile
Source: Legit.ng