50+ cute you make me happy message ideas to send to your loved ones
Not everyone can make you feel happy in this life. Only those who love you and care for you can make you happy. Sending your loved ones a cute you make me happy message makes them feel appreciated in all their efforts.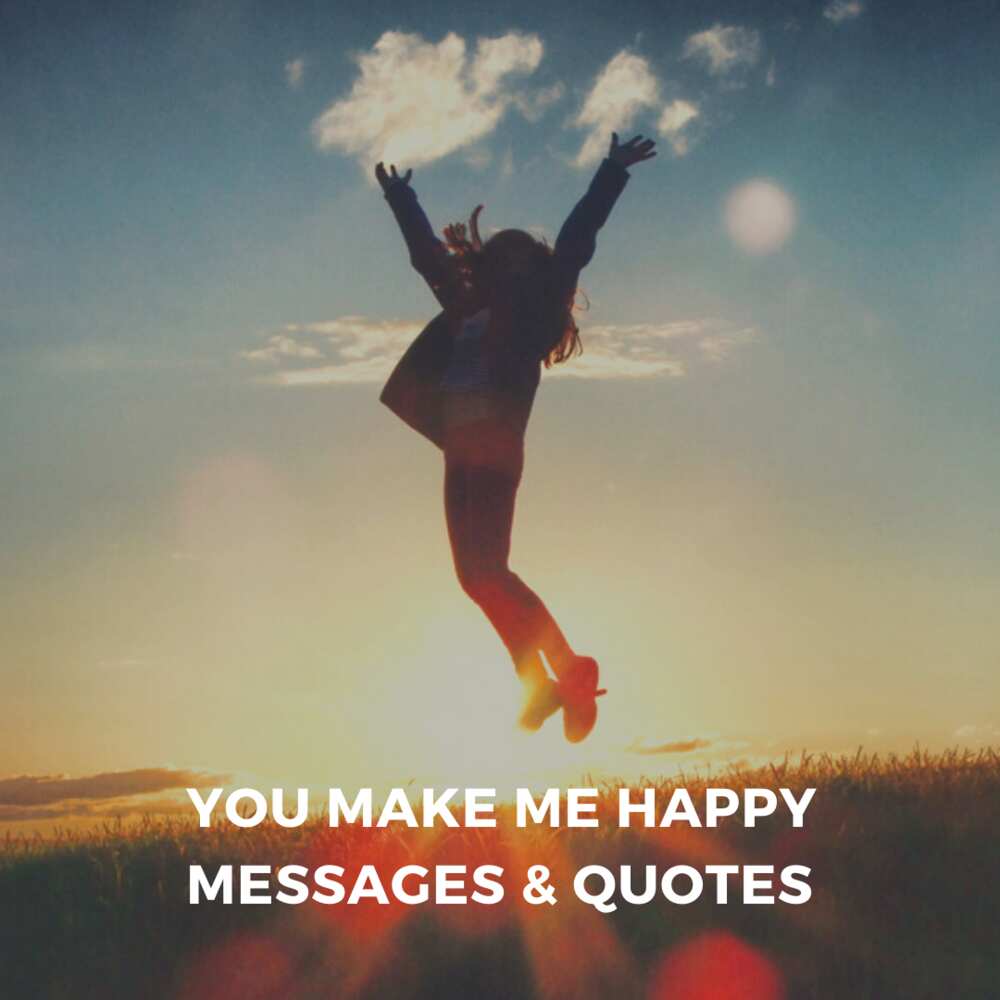 You make me happy messages are for those special people who make your life meaningful every day. It makes them know how much you are thankful to them, no matter if that person is your friend, your girlfriend/boyfriend or your husband/wife.
Cute you make me happy message ideas
Happiness is a feeling, a gift we receive and something that will get greater when we share with others. When someone makes you happy, writing a thank you note is the least you can do.
Here are some beautiful and touching messages and quotes to send to your special ones.
You make me happy quotes
Those that make you happy are worth more than you can imagine in your life. If you lose them, your happiness goes with them. Here are some beautiful quotes to appreciate your loved ones.
The sweetest things about you are the cute ways of yours to make me feel happy. You are just too good at it, dear.
You are such a charming personality. Just thinking of you in my sad moments makes me feel so much joyful.
I always thought about how life was unfair until you came my way. You brought sunshine into my life. You make me happy.
I am grateful for the people who have been part of the best times of my life. I owe you so much.
You have taken away all the pain that I feel to the point that I am left only to smile and laugh.
Happiness comes in many forms and means different things to different people. My happiness for me is you. You make me happy.
You make me happy by the way you care and love me. You are the one who completes my world.
I could stay like this, looking at your eyes forever, because I would know that I would be in my favorite place for eternity. - Ana Vasquez
If it wasn't for you, I would never know what real happiness is. You taught me how to love and how to take care of someone you love. Only you can make me smile in million of ways that no one can ever do.
You make me happy. You make me smile. No you are not my girlfriend. You are my best friend. - Suyash Patel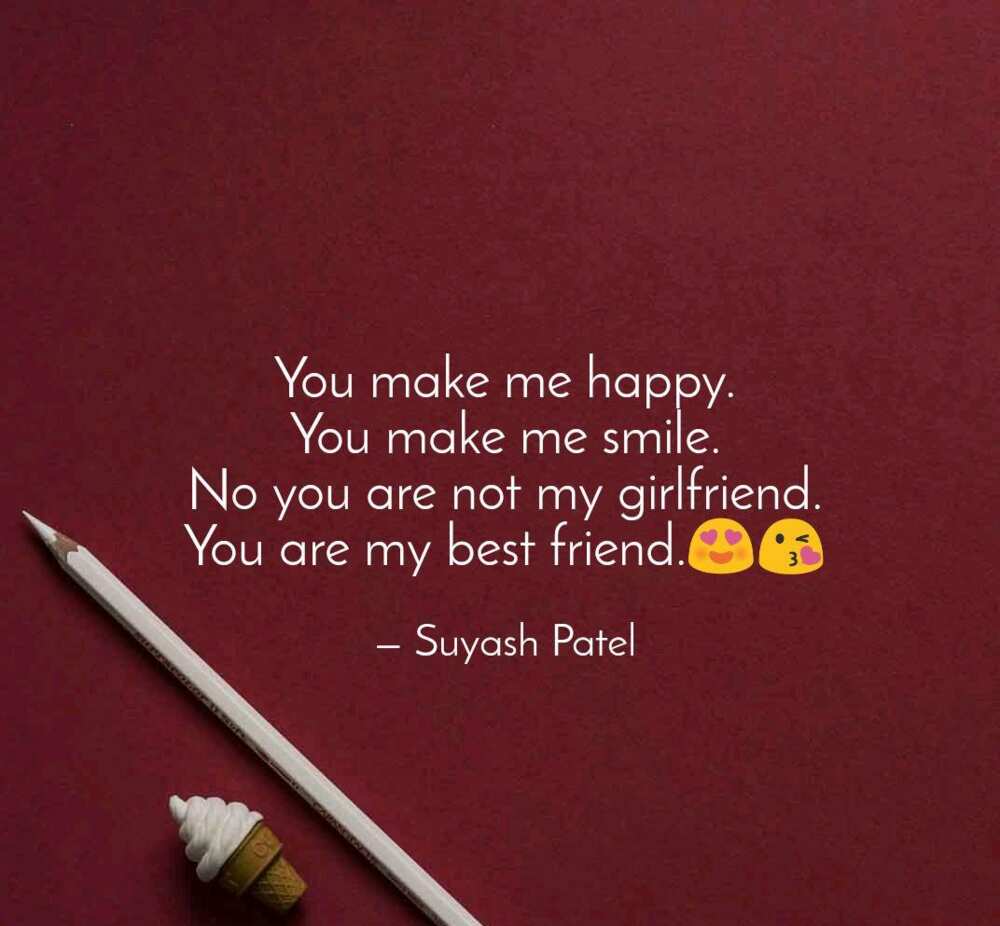 Only you can make me happy quotes
Sometimes we never truly understand how significant someone is to our life. You are so lucky if someone always finds a way to put a beautiful smile on your face.
So you should show them how much you appreciate them just being part of your life. These you make me happy quotes will help you express deep affection and gratitude to your sweetheart.
As a kid, I always dreamt of a soul mate who was beautiful like an angel, and now that I found you, I feel like my dream has finally come true. Thinking of you makes me happy.
Sometimes when life is harsh on me, the only thing that calms me down is your smile. You have no idea how delighted you make me. You are the reason for my success.
Just like the sunflower which blooms only in the sun, I can bloom only in your love. The roots of your love are so deep that it brings me happiness from within. Only you can make me joyful in a way that no one else can.
You open my eyes to new possibilities I never thought about in life. You are the miracle that happened to me.
When I was young and didn't know what love was, I often fantasized about a prince who would rescue me. Now that I found you, I see that you are the living embodiment of the prince I dreamt of. You make me so delighted.
There are so many things that I am grateful for. But the one thing that I am most grateful for is you. You give me a thousand reasons to be contented each day.
Only you can make me happy when I m sad. - Antonio Abou Naser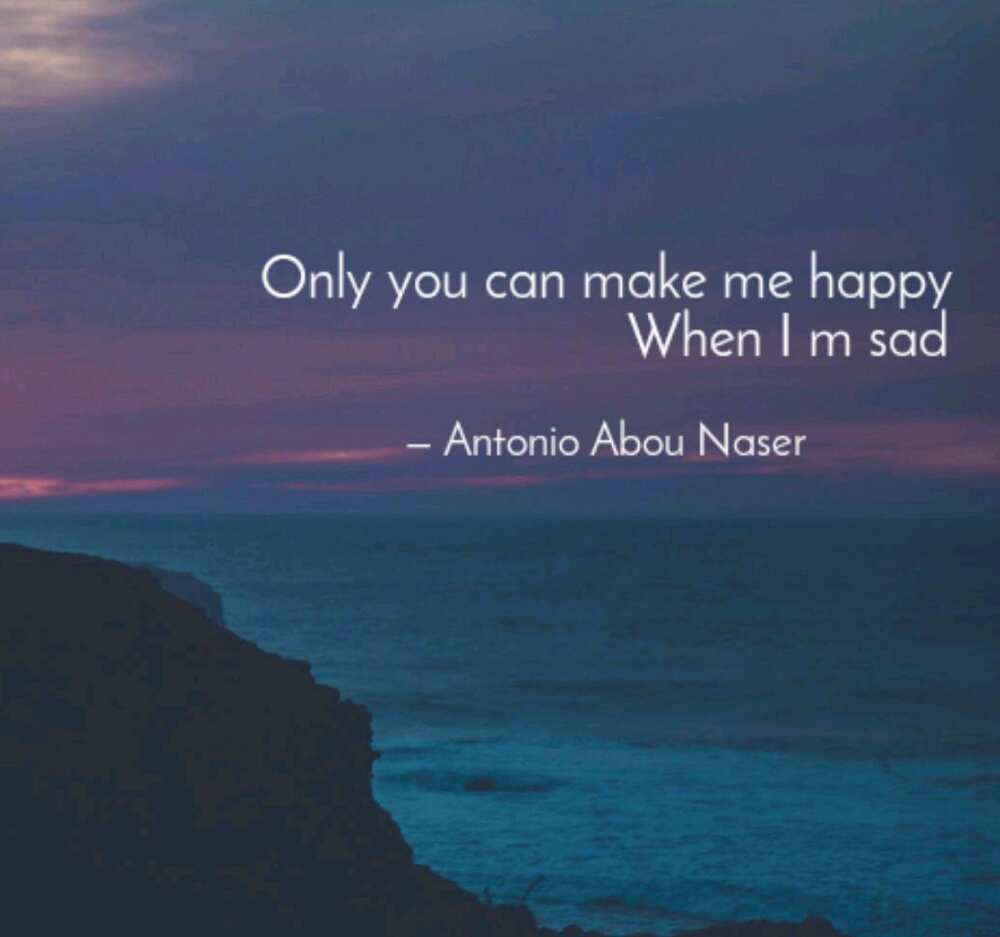 You make me so happy quotes
One of the ways of reciprocating the feeling of happiness is appreciation. Let your spouse and friends know that you are grateful for how happy they make you.
Here are some cute quotes to send them.
When I am with you, there is this special warmth that I feel. You make me so happy.
If I could hold time, I would like to have this feeling forever. Enjoy the happiness in life with you.
You are very dear to me because you have made me smile countless times.
The more you smile in life, the more life smiles on you. - Mark Amend
Even though we are miles apart, you never fail to put a smile on my face. If today's distance can bring us together tomorrow, I wouldn't mind it because you make me smile.
The scary part of life is finding your true match. And I am happy that I found you, my love. You are a perfect match for me because you make me the happiest person alive.
You make me happy when skies are gray.
Every single day I want you to be happy and full of joy, just like you make me happy ny just passing through my mind. - Donna White

Thank you for making me happy quotes
When there are people in your life who fill your heart with happiness, then you should never fail to acknowledge and appreciate them for their efforts to make you happy.
Check out these thank you messages to write to your special ones.
Thank you for dissolving every sadness in my heart with your beautiful friendship.
Thank you for always leaving me with a smile stretching from ear-to-ear! You always know the right thing to say, no matter what the situation. My dream is to be more like you with every passing day.
There is this joy that I feel in my heart. You are the reason for all my smiles. From the moment you came into my life, there is a lot I can't even explain. Thank you my love.
You have the magic my life needs. I can't wait to spend the rest of my life with you because your love is my motivation and inspiration.
I am forever thankful to have you by my side. The smile that you see on my face every single day would not be here without you! Thank you for always making me feel like I'm on top of the world!
Whenever I close my eyes and think about you, there is nothing I won't do to have you as my man because you are everything to me.
You are now like family to me, taking me the way I am and making me happy.
I enjoy every moment spent with you, and my smile shines the brightest when we are together. Thank you so much for your phenomenal magic.
I wish to spend the rest of my life with you because you are the best among the rest.
Thank you for lighting up my world with your beautiful sparks.
Whenever I remember how much you treat and respect me, there is nothing I won't do for the sake of our love. You are essential to my heart.
All I need in life is the touch of your hands and the actions of your emotions. They are the only magic I wish to feel once more.
You make me happy quotes for boyfriend or girlfriend
Happiness is a very beautiful emotion, one you can not explain. It is often attached to finding someone who loves and cares for you or getting something you always wanted.
These quotes will make your partner feel loved.
Not everyone who loves can make you cheerful in life. But you belong to those rare group of people who can do both equally. Thanks for coming into my life dear.
My wish is to be with you forever, for my love for you is endless. You always make me happy.
You brighten up the whole world when I see that smile on your face. It amuses me so bad.
Since I met you, I have forgotten what sadness is. You gave me so much love, took care of me in every single moment, and made me happy even when I was sad. I can only love you so much to say thank you in return.
You may not believe me right now, but one of the reasons for my smile is no one else but you.
The moment I met you, my life completely changed, it is like I was given a new ray of hope. You are where I want to be, and you make me happy.
I think I am the luckiest girl in the world, having found the love of my life makes me happy. You make me jovial my love.
When I forgot how to smile and laugh, you came into my life and made me happy. Thank you for bringing happiness each day of my life.
You make me cheerful by the simple thing you do, and that is what completes every day of mine.
I love making you laugh because for those few seconds, I made you cheerful and seeing you happy, it makes me happy too.
I don't care where I come from or who you are. I can make you happy, and you make me happy. We could have a happily ever after. - Amanda Hocking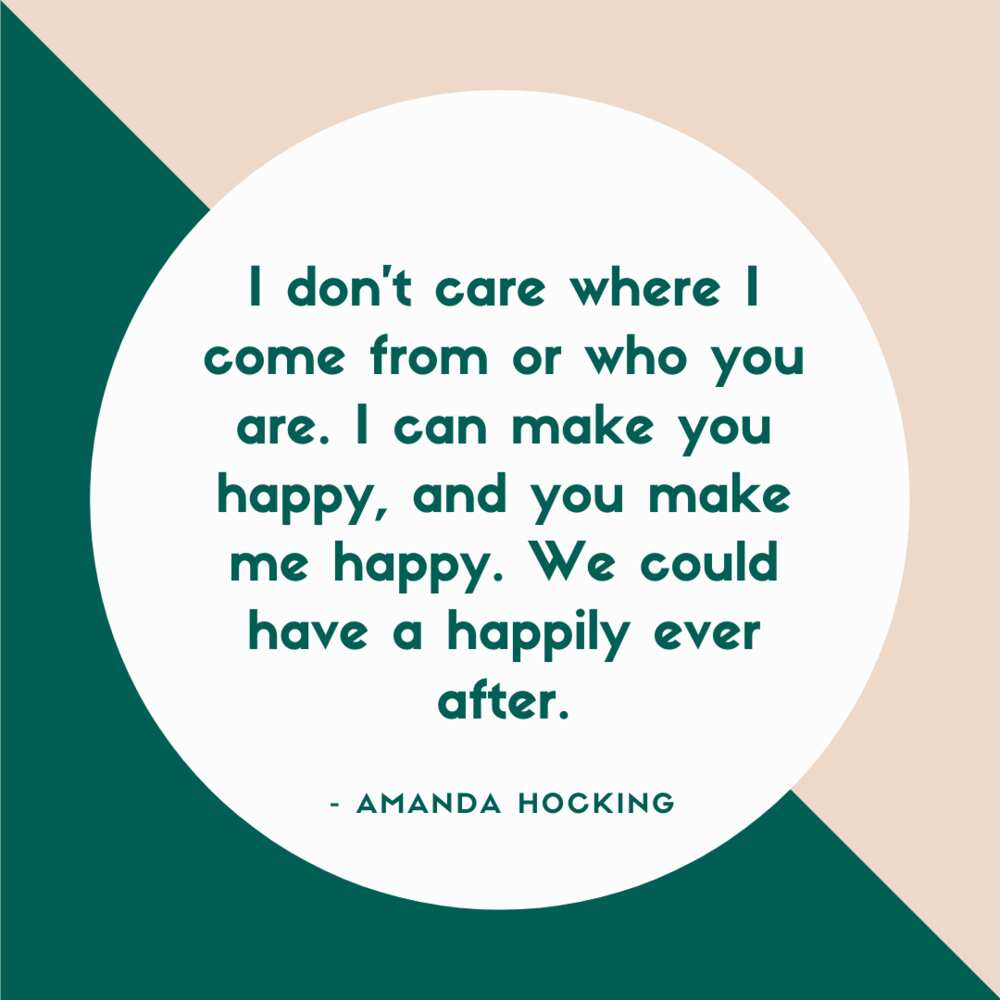 You make me happy messages for husband or wife
Happiness isn't in situations or circumstances. It comes from within and can't be faked. Most times, the people we love are the ones that make us happy and keep us going even when things go off.
A beautiful message to your husband or wife is the greatest thing to do to appreciate their endless efforts in making your home a better place.
Here are some beautiful messages to send to your partner at any time.
All these years together seems like a dream to me. I have never been so happy in my whole life. You showed me how to love unconditionally. Truly dear, you make me happy like no one does.
I am in love with the things you do, and my world has the pleasure of knowing one particular person that makes everywhere beautiful.
I do not get how you do it, but you make me happy so easily that I find it impossible.
Living with you under the same roof made me realize how important you are for my happiness. You've become more than a necessity in my life. I love you and want you to know that you make me joyful like nobody else.
You make me happy just by looking at me, just by smiling at me and I know that I am caught.
The story of you and me is like that movie which never gets old. Even if I have watched this a thousand times, it would still not be boring. It will make me happy every time, just like the way you make me feel happy.
We are united in this union of love. With a kiss, I want you to know that my life became beautiful when you came into my life.
I love your soul more than anything in the world because every other thing may go away, but the tender moments my soul entangles with yours will never go away.
I never thought anyone would ever make me smile, laugh , and capture my heart as fast as you have.
You make me happy memes
Memes allow everyone a quick and easy way to express what they feel. Sharing you make me so happy memes will make your loved ones feel special and put a smile on their faces.
Here are some funny and beautiful you make happy memes to send to your loved ones.
1. If they are a dog lover, this will absolutely make them smile.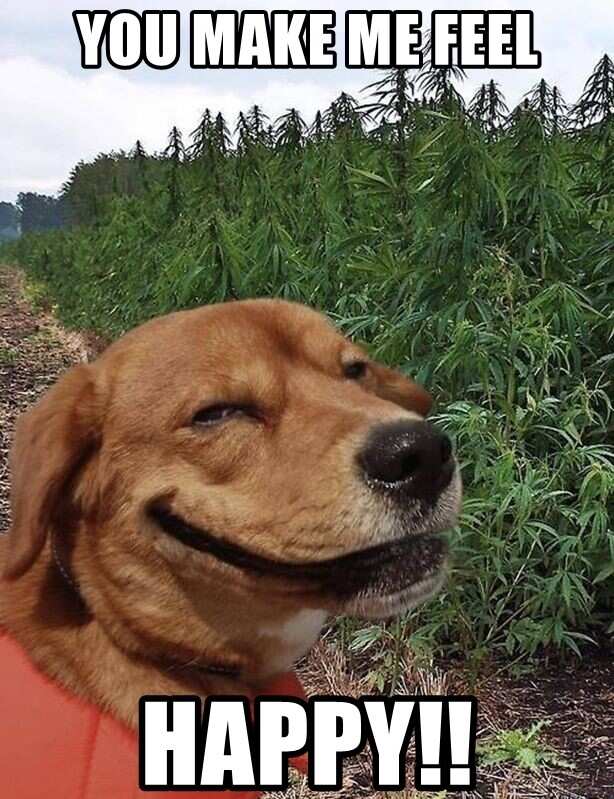 2. When you want them to be happy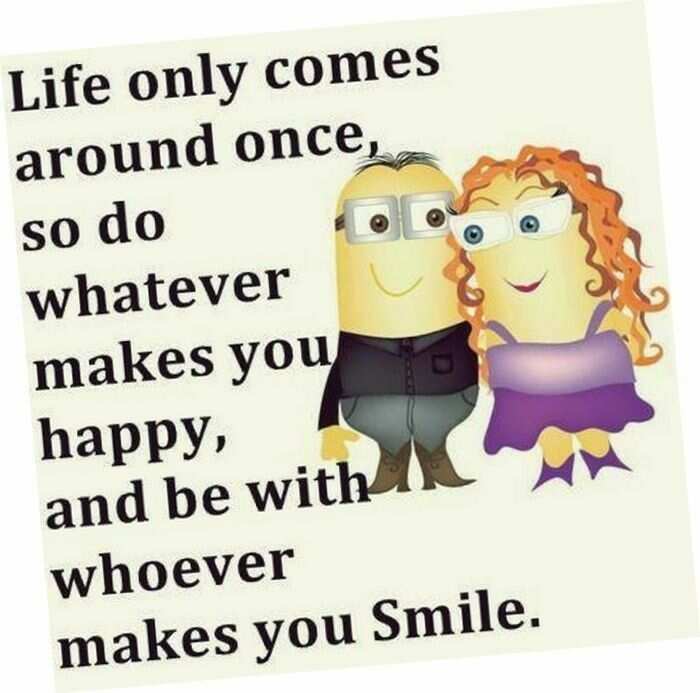 3. When they are your better half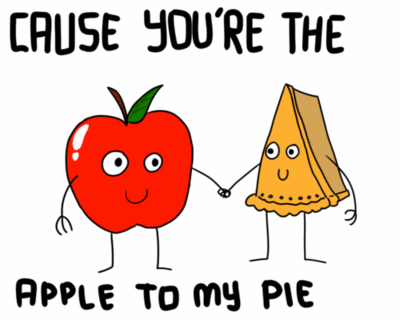 4. When you can't help it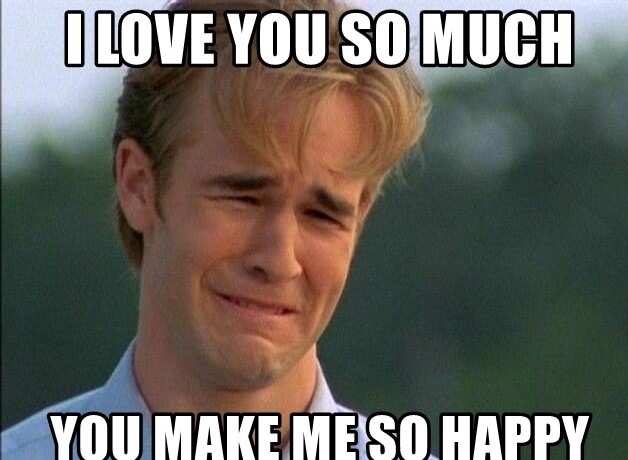 Your declaration of great feelings will say more than a huge bouquet or an expensive gift. Beautiful you make me happy messages and quotes can show your real emotions. They make your loved ones feel special and appreciated.
READ ALSO: Uplifting betrayal quotes to help you get through the tough times
Legit.ng recently published an article about uplifting betrayal quotes to help you get through the tough times. Has someone you trusted failed you? Have they betrayed you in ways you couldn't even imagine?
While they may have done irreversible damage to your relationship, you shouldn't sit there miserable because of them. Here are some uplifting betrayal quotes that will show you that there is life after betrayal and that whoever hurt you has karma coming their way.
Source: Legit.ng