Trendy ankara dresses to wear in 2018
Trendy Ankara dresses should be in the wardrobe of each Nigerian fashionista. Photos, styles, and cutting of fashionable gowns 2018 are of interest to many women who dream of looking feminine and chic. Having considered the fashion tendencies described in this article, you will understand how to choose outfits to create attractive images.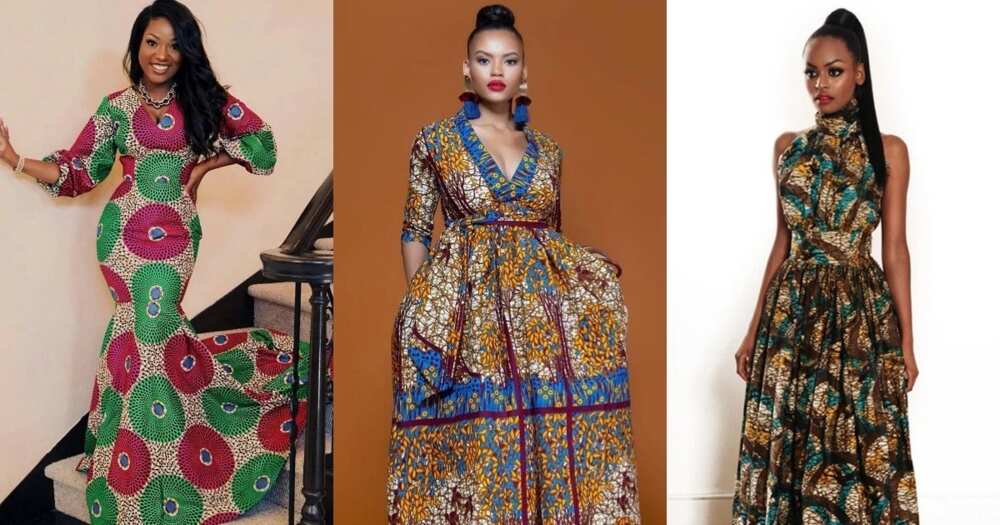 Ankara fashion trends determine the colors, forms, and other characteristics of attires. Each girl should carefully study various options of Ankara gowns for the successful selection of attire, taking into account her image, advantages, and disadvantages of the figure.
Fashionable prints for Ankara dresses in 2018
Ankara is fabric for bright personalities who want to attract the attention of surrounding people. Designers often decorate it with interesting patterns. Choosing the dresses, it is worth paying increased attention to prints which define the overall style of the image. Today, there are several popular options:
floral ornaments;
modern and classic embroidery;
geometric and small abstract patterns;
traditional prints;
strips, polka dots, etc.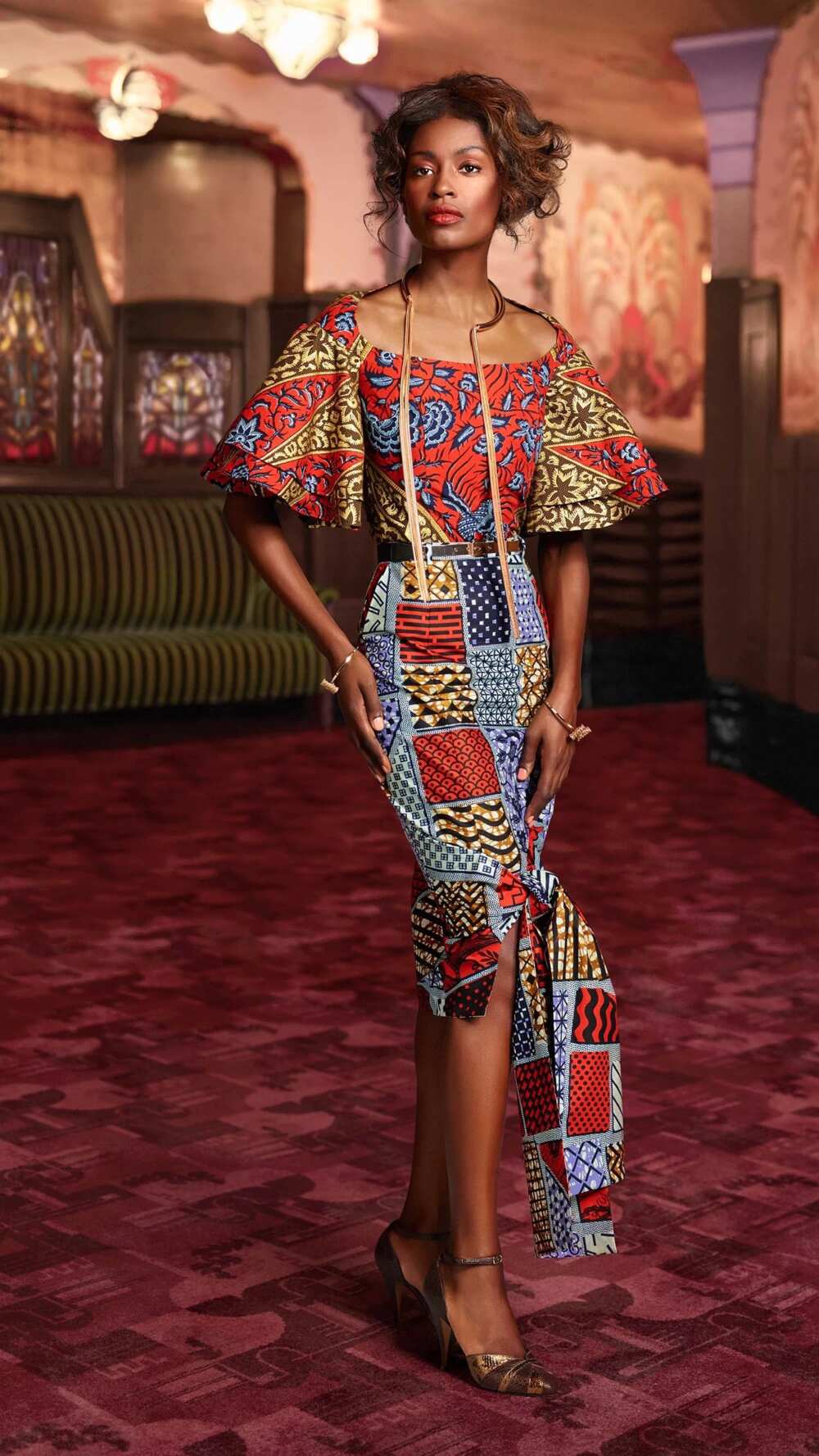 Length of the dress
Ankara short gown styles
Let's start with mini Ankara styles. This is a magnificent length which is relevant in any weather conditions. The relevance of mini dresses is not questioned. Modern designers prefer bright colors, doll styles, and beautiful accessories.
Choosing a mini dress, it is worth following the following rules:
dresses with the free cut will fit the women with wide hips; narrow models should be avoided;
mini dress with a wide belt or peplum will help to emphasize the waist;
a dress with understated or V-neckline helps to visually lengthen the neck;
to increase the volume of the breast, it is recommended to choose unique Ankara styles with decorative elements in this area;
mini dresses are contraindicated to owners of very thin legs.
Medium length dresses
Midi is a universal length, an indispensable classic for all times. This both simple and very diverse style fits everyone. You just need to decide what image you want to create: strict, avant-garde or chic? It is worth remembering that your proportions will look harmonious only with shoes on the heels.
READ ALSO: Ankara styles for breastfeeding mothers - beautiful and comfortable designs
Latest Ankara long gown styles
A long maxi dress is a great option for an evening social event. Also, this length is great for rest at the resort, for a walk around the city.
Although maxi dresses and skirts are associated with hot days, do not forget about them during the rainy season. Preference should be given to dark shades and closed shoes. In this case, you will always look great and enjoy comfort.
Such attires are decorated with accessories, embroidery, sequins. Or you may simply choose the outfits with interesting bright patterns.
The best latest Ankara styles for ladies
Latest Ankara styles with plain cut
Plain dress belongs to the classics of style. It perfectly suits both for celebration and for everyday use. Straight cut, different length, colors, the presence of sleeves, and design of the neckline - all this seems to constructor from which designers collect superior models.
Most gowns have zip on the back. It often serves as a decoration. Another characteristic nuance of the plain dress is the absence of seams at the waist. The neckline is often oval or round, but there are models with square decollete, open shoulders, asymmetrical elements, non-standard decorations.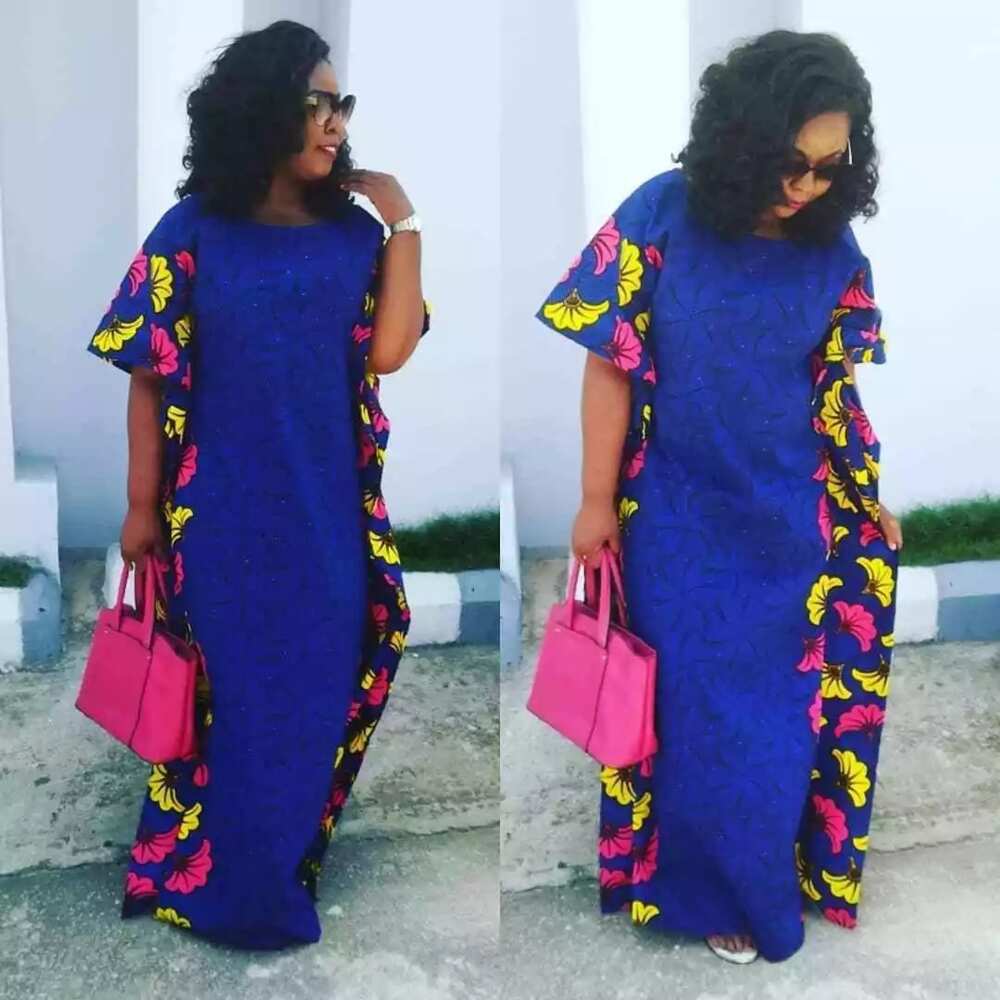 Plain dresses give an opportunity to emphasize a slim figure. They are combined with different accessories and have many color solutions. Regardless of the height, such gowns sit well on slender girls and women who have a clearly visible waist. If the waistline "hides", a thin strap will "find" it with ease.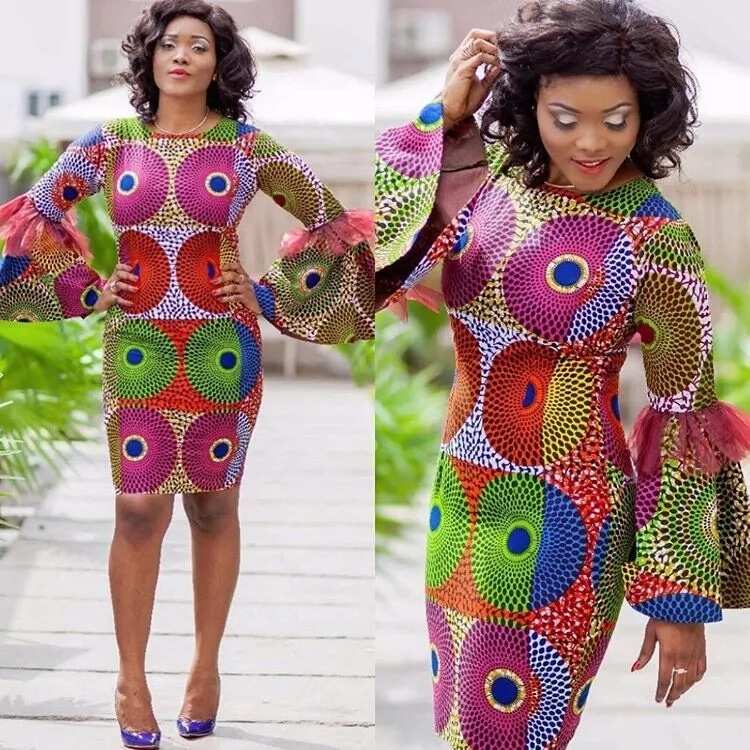 Mermaid gowns
The mermaid dress tightens the figure to the knee and sharply expands at this level. Although the cut of all models seems to be the same, in fact, there is a great variety of options. The only unchanging detail is a tight top that can be supplemented with any elements:
open shoulders;
thin or wide straps;
one strap pulled around the neck.
As for the back, this part of the outfit may become a key detail of the image:
open back;
asymmetric cut;
various interweavings.
The most daring decisions of fashion designers find their embodiment in the cutouts at the waist.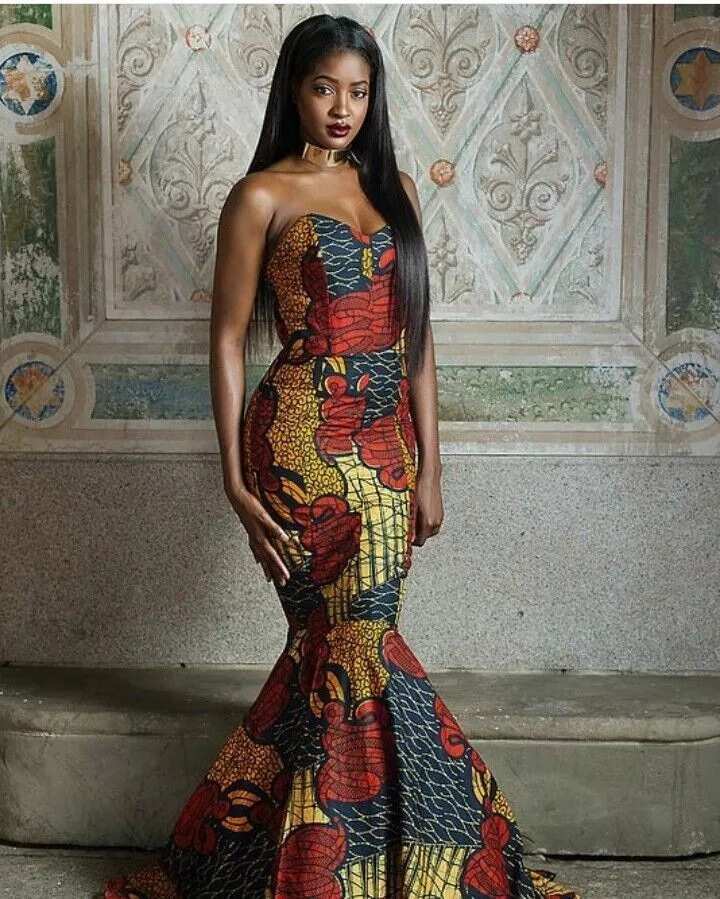 Usually, such dresses are sewn without sleeves. But through experimentation, couturiers created mermaid gowns with long sleeves.
Such dress is not suitable for an everyday image. It is always sewed from quality, expensive fabrics and turns to a great option for celebrations. These outfits adorn low growth girls with a medium figure, visually make them taller and slimmer.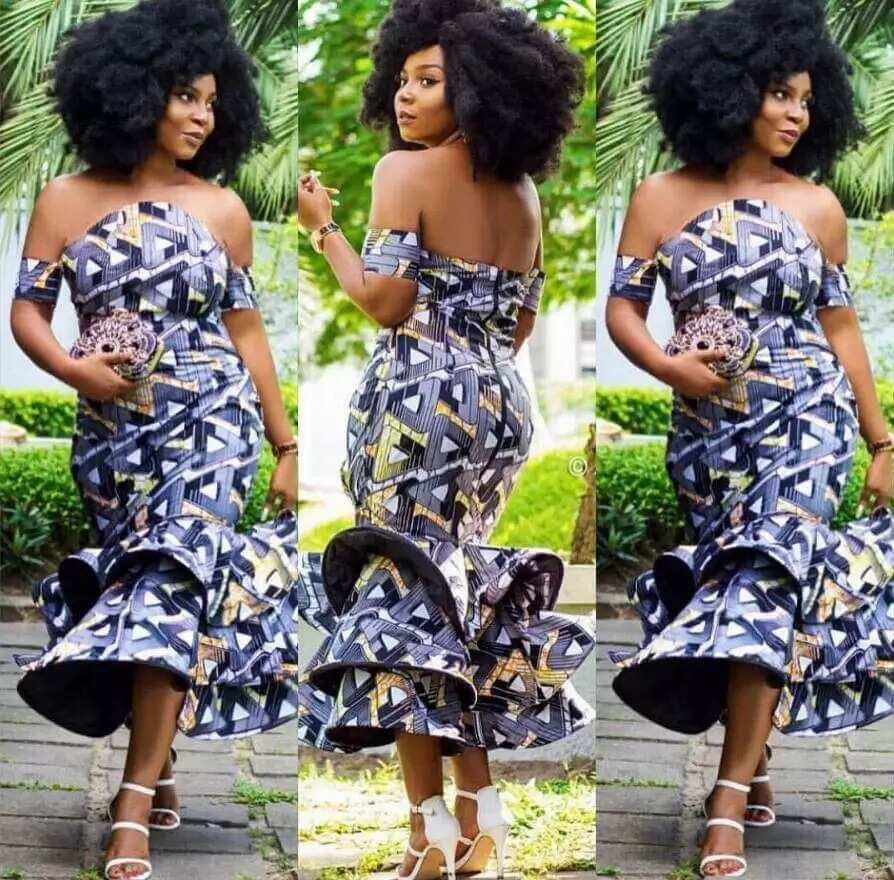 A-silhouette
The dresses of this style are usually long and characterized by the presence of a tight-fitting, rather narrow bodice, an enlarged bottom of the skirt, which resembles the letter "A".
Thanks to this cut, latest Ankara styles in vogue emphasize the waist and add femininity to figure. Most often, A-silhouette models are presented in evening and cocktail fashion.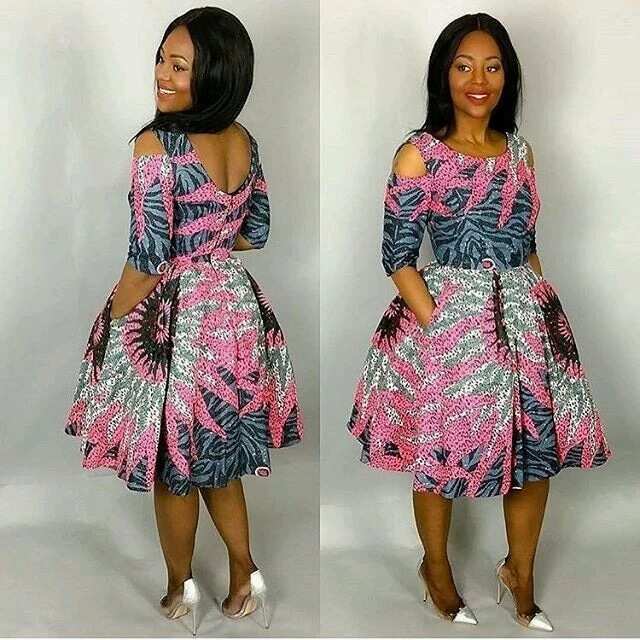 There are no restrictions in length. The dress also can be short in front and long behind.
Trapezium styles
The trapeze dress quickly became one of the most beloved models due to its elegance and simplicity. Narrowed in the shoulders and widening at the bottom, it is almost weightless and imperceptible on the body. This style has a resemblance to the A-silhouette. But the waist is not emphasized here.
Such gowns are called universal because they suit both mature ladies and young girls. Most often, the length of the trapezium dress is short.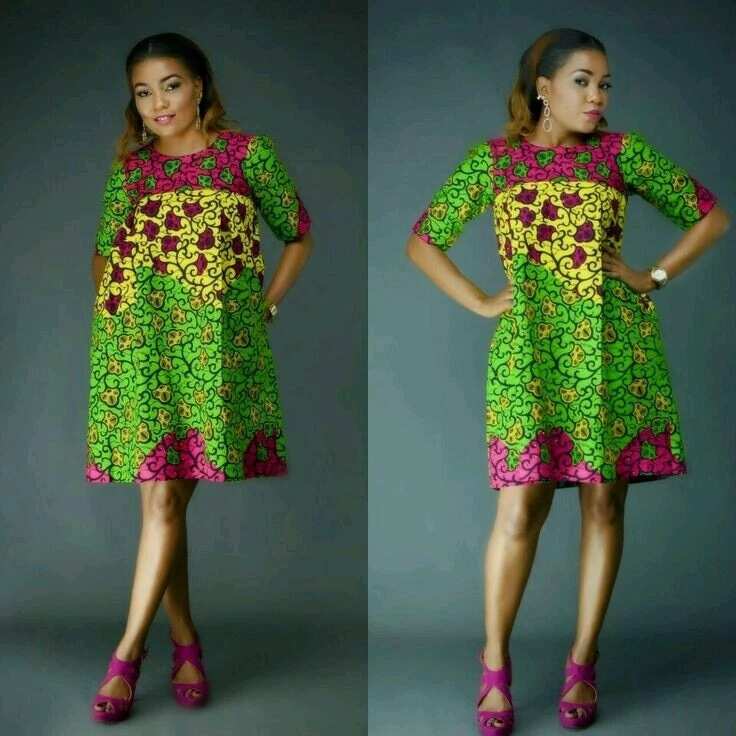 While sewing, manufacturers take into account the fashion season and price policy, as well as the situations for which the attires are intended. That is why it is impossible to enlist all the styles and colors which are used for trapezium gowns.
As for the cut, there are also many options to choose from: sleeves of different lengths or their absence, interesting design of the cutout, collar, pockets, decoration with embroidery, etc.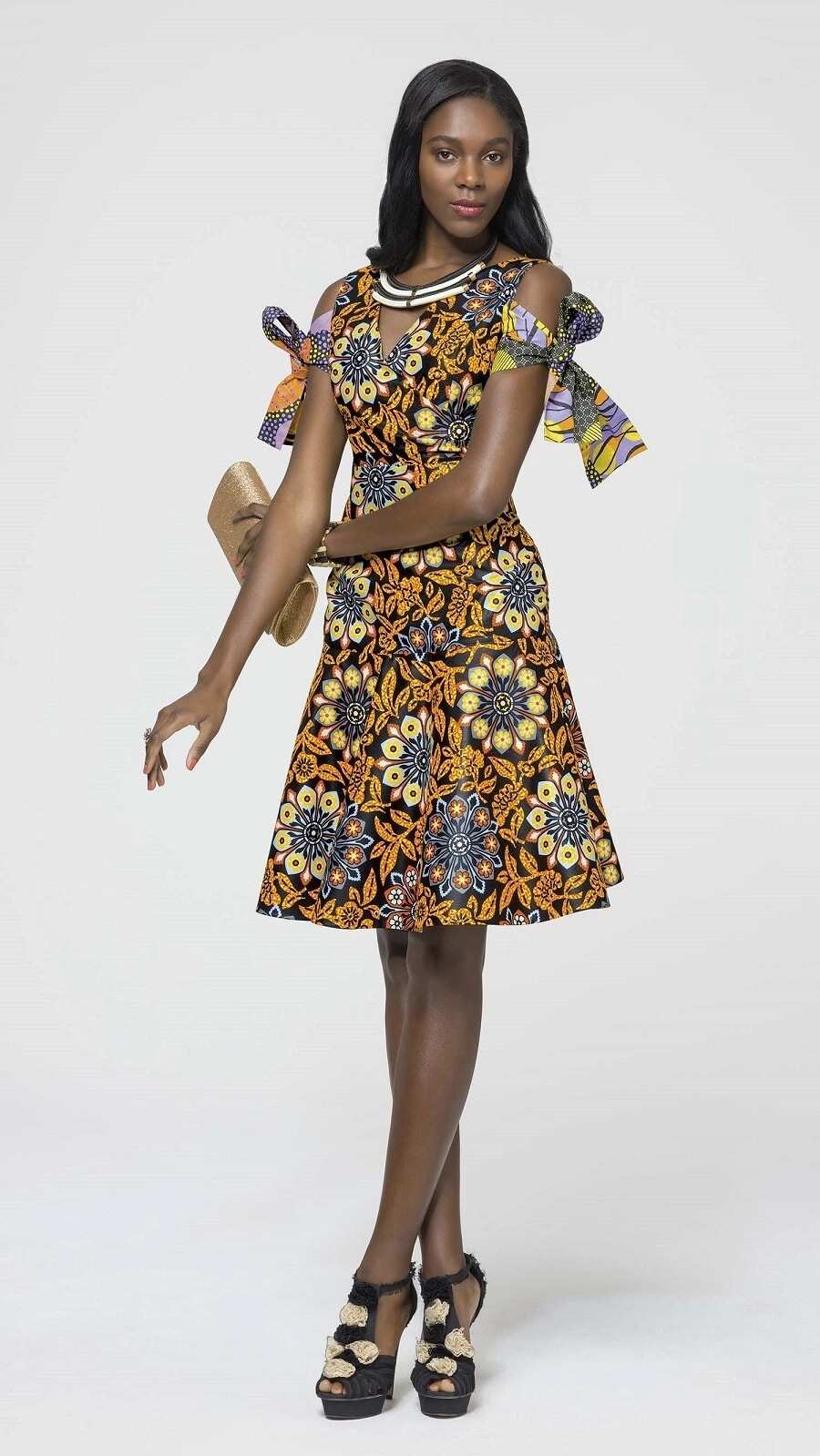 To add a volume, models of such dresses are sewn with multi-layered skirts, drapery or folds. The upper part of most trapezoidal dresses is represented by a wide horizontal neckline.
Shirt dresses
In this style, the female fashion is connected with male elements because the dress is represented by a shirt in the upper part and by a skirt at the bottom. Dresses-shirts were especially popular after 60th of the last century. If earlier this gown always had a collar, it may be absent in modern models. There are straight and slightly widened models. Many of them have a belt. The main advantages are practicality and comfort.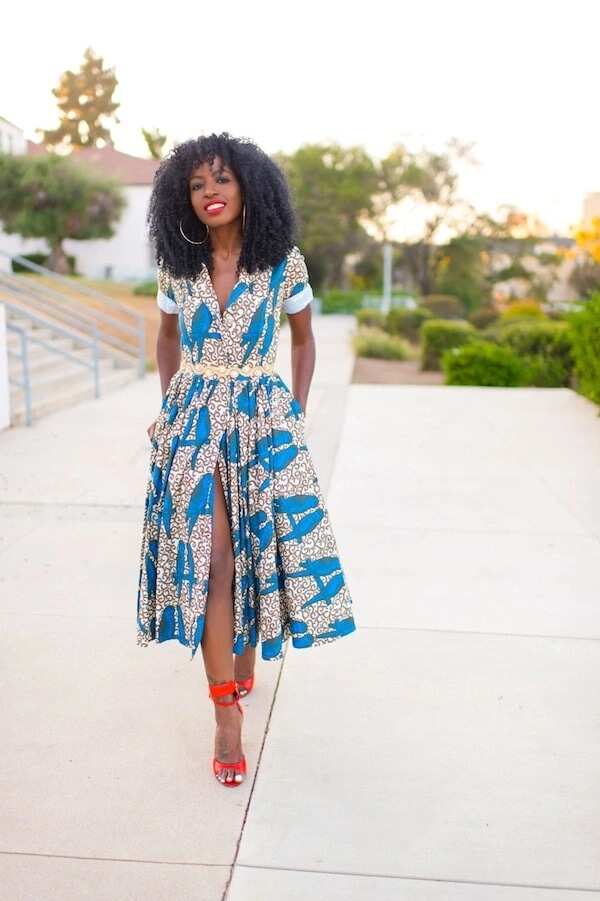 Tunic
The outfits of this style are represented by short dresses with a loose cut and flared sleeves. Since the tunic is not tight attire, it fits women with different types of figure. Mainly light materials are used.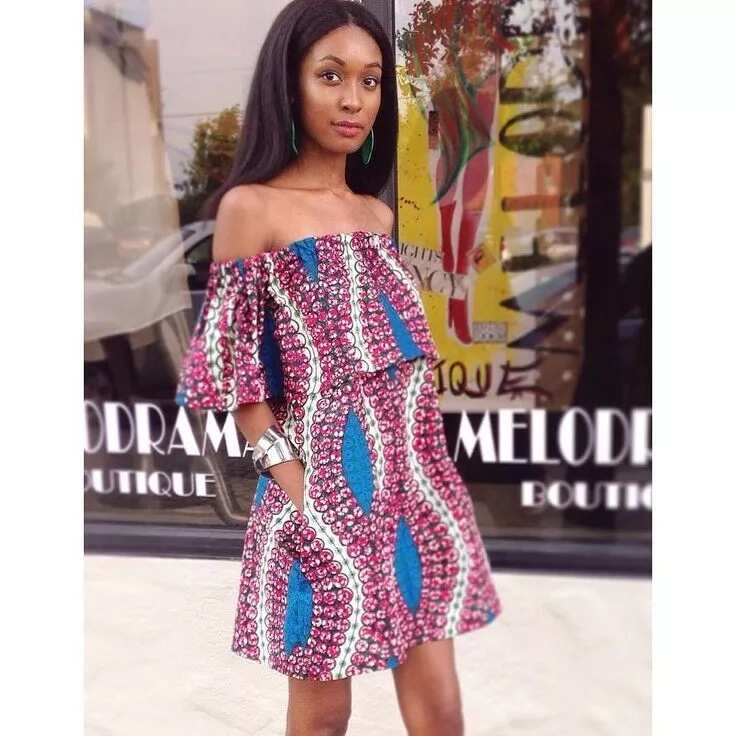 The popularity of tunic is due to the universality of usage. You can put on trousers with such a dress and get a good business ensemble. It's nice to wear light tunic in hot weather. You can go to a party in a bright and elegant dress of this style.
Plus size
Girls with magnificent forms often face the troubles while choosing a perfect outfit because most models are designed for skinny ladies. That's why designers produce collections of dresses for plus size women. We advise you choosing an A-silhouette or a trapeze dress. Tightened at the chest and freely flowing gowns will hide flaws and emphasize virtues. Models with mini length will not fit you. Sportive girls with wide hips can choose tight gowns.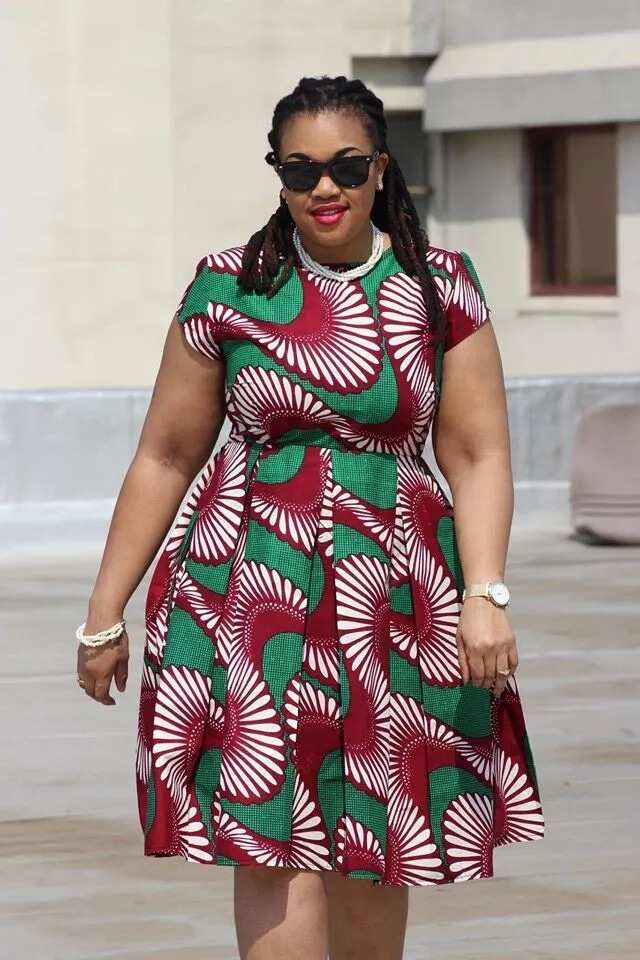 Choose the outfit taking into account not only style but also color scheme. In most cases, tissue should be tinted in classic tones. But you can experiment and wear the bright colored clothes appropriate to your type of appearance.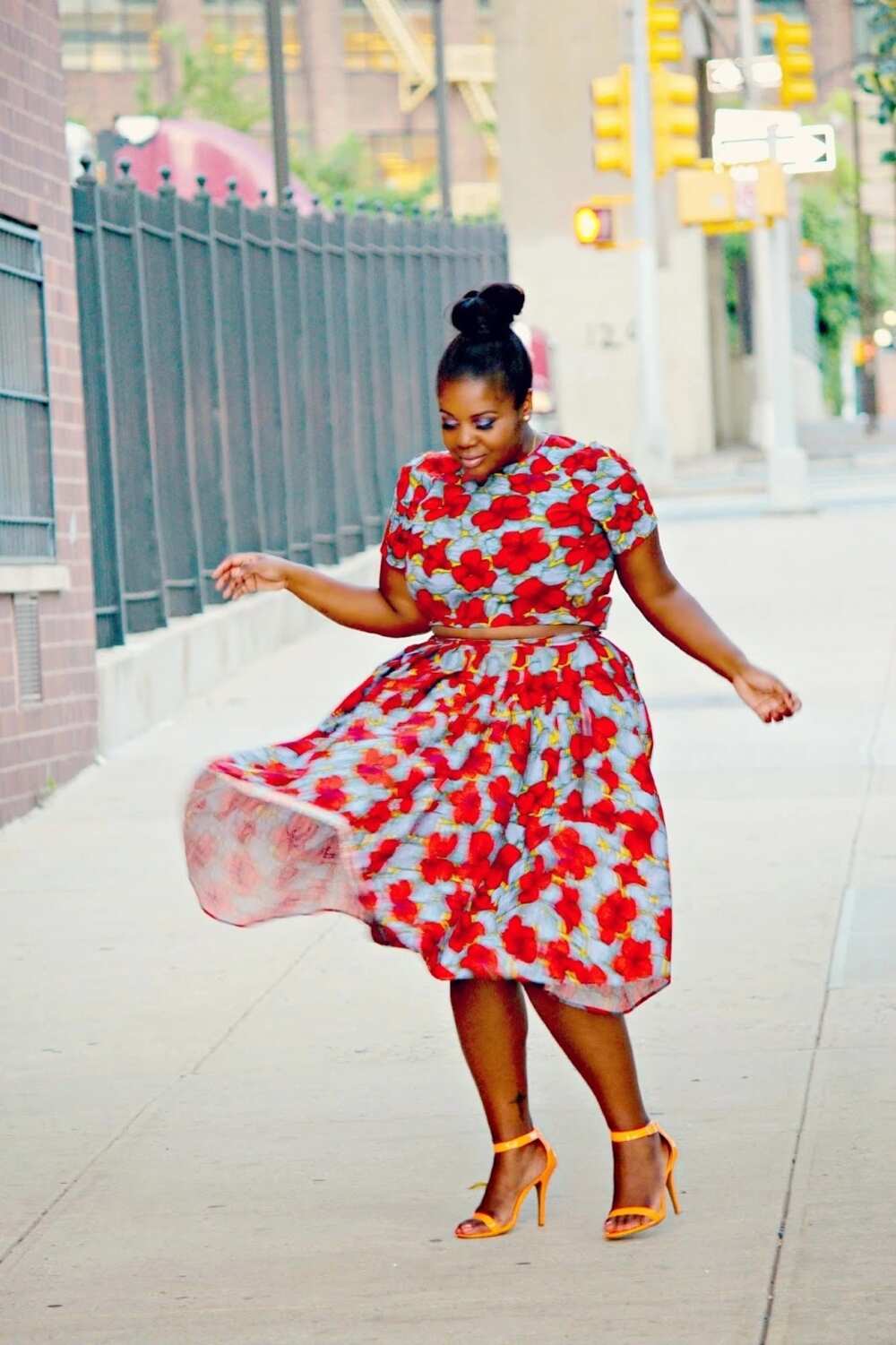 Use the handbags of medium and small size with the color suitable for the general image. As for shoes, massive models are inappropriate, but too light are also inappropriate undesirable. The best option is the "golden mean" - shoes or sandals with heels or medium platform. Neat and elegant jewelry of small size will well complement the overall picture. You can adorn your neck with a light scarf.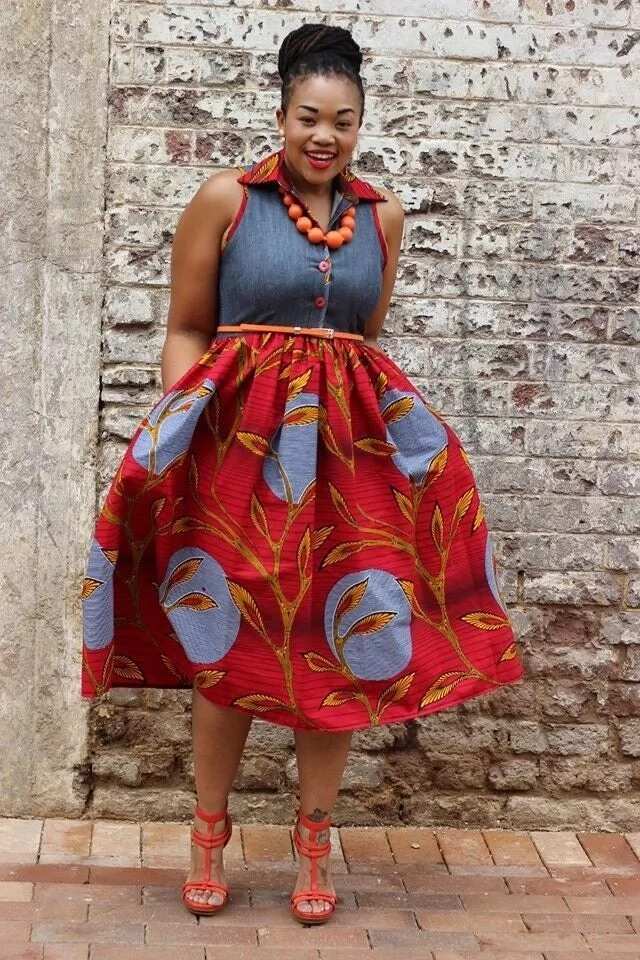 We hope that the tips listed in this article will help you look irresistible in beautiful Ankara dresses. Good luck!
READ ALSO: Trendy Ankara beach wears for ladies to rock in 2018
Source: Legit.ng