Latest Nigerian lace blouse styles
What are the latest Nigerian lace blouse styles? A blouse is one of the basic items of women's wardrobe for creating not only an evening or romantic look but a business look too. Design collections in 2018 amaze us with diversity and charm. Do you want to know more about how to look gorgeous this year? Keep reading to get inspired and learn the latest trends.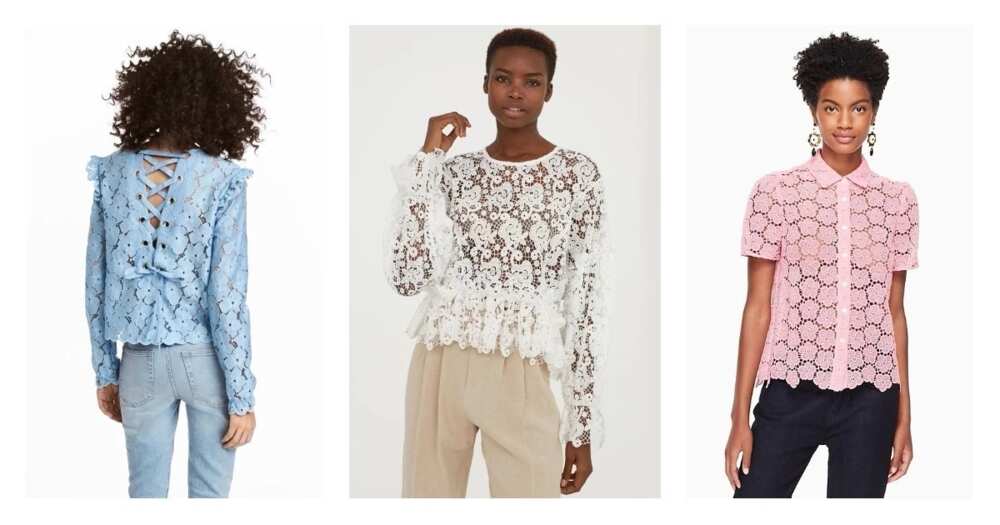 Lace has a centuries-old history. For the first time, lace fabric originated in France. It's created by interlacing the finest threads in a special way to make embossing. The lace looks very gentle, feminine and refined. This season lace outfits are in great demand. Now, we will talk about lace blouse styles in more details.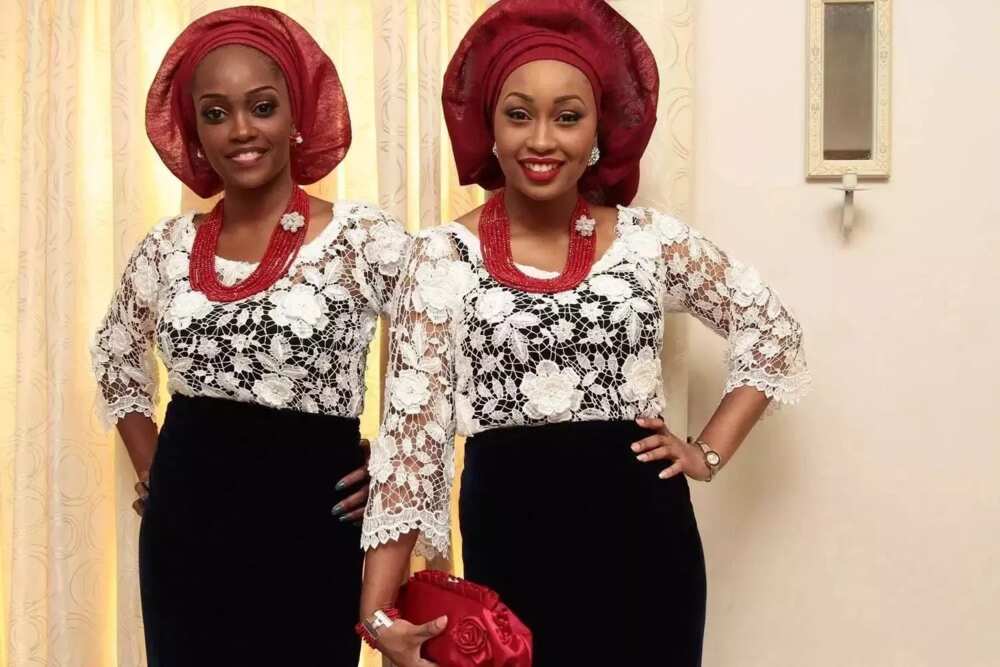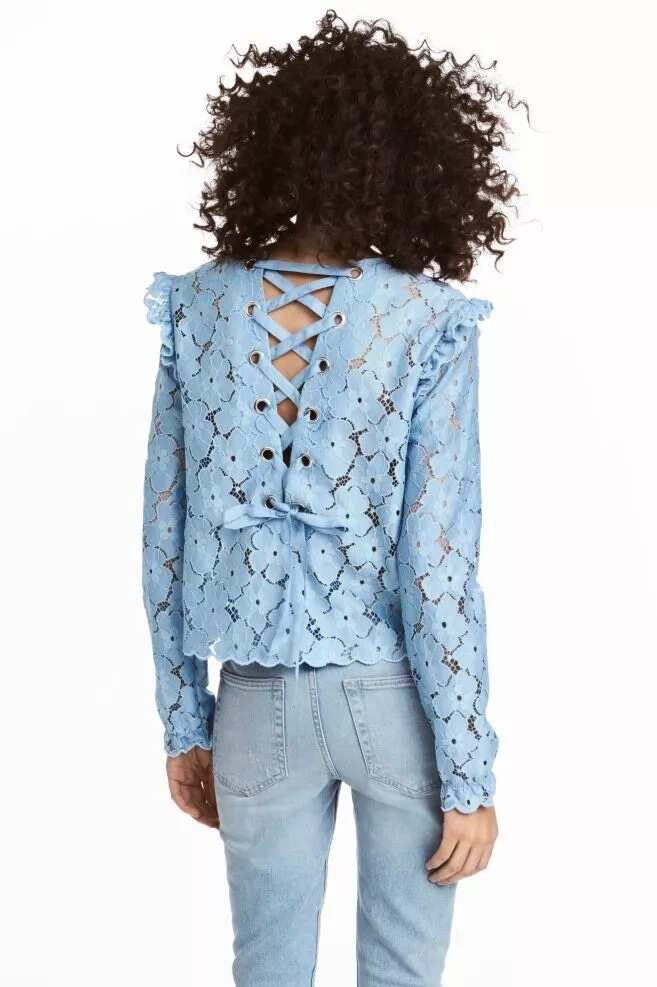 Guipure blouse can be worn almost anywhere and with anything. Another great plus is the versatility of the item. It can be worn for rest, office, club party, birthday, and many other events. Only it's necessary to think carefully about the combination with the rest of the garments.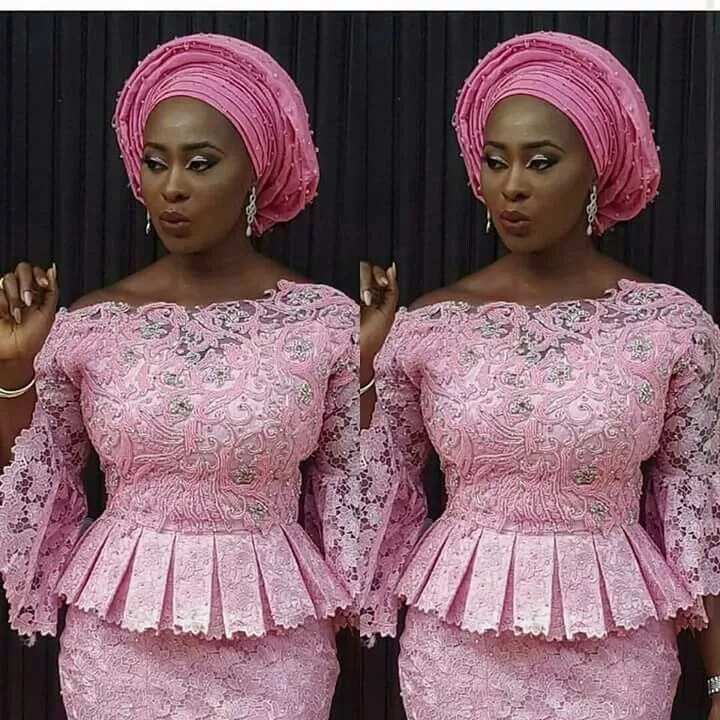 Latest Nigerian lace blouse styles
Blouse styles can be made completely of lace or only have lace inserts or trim.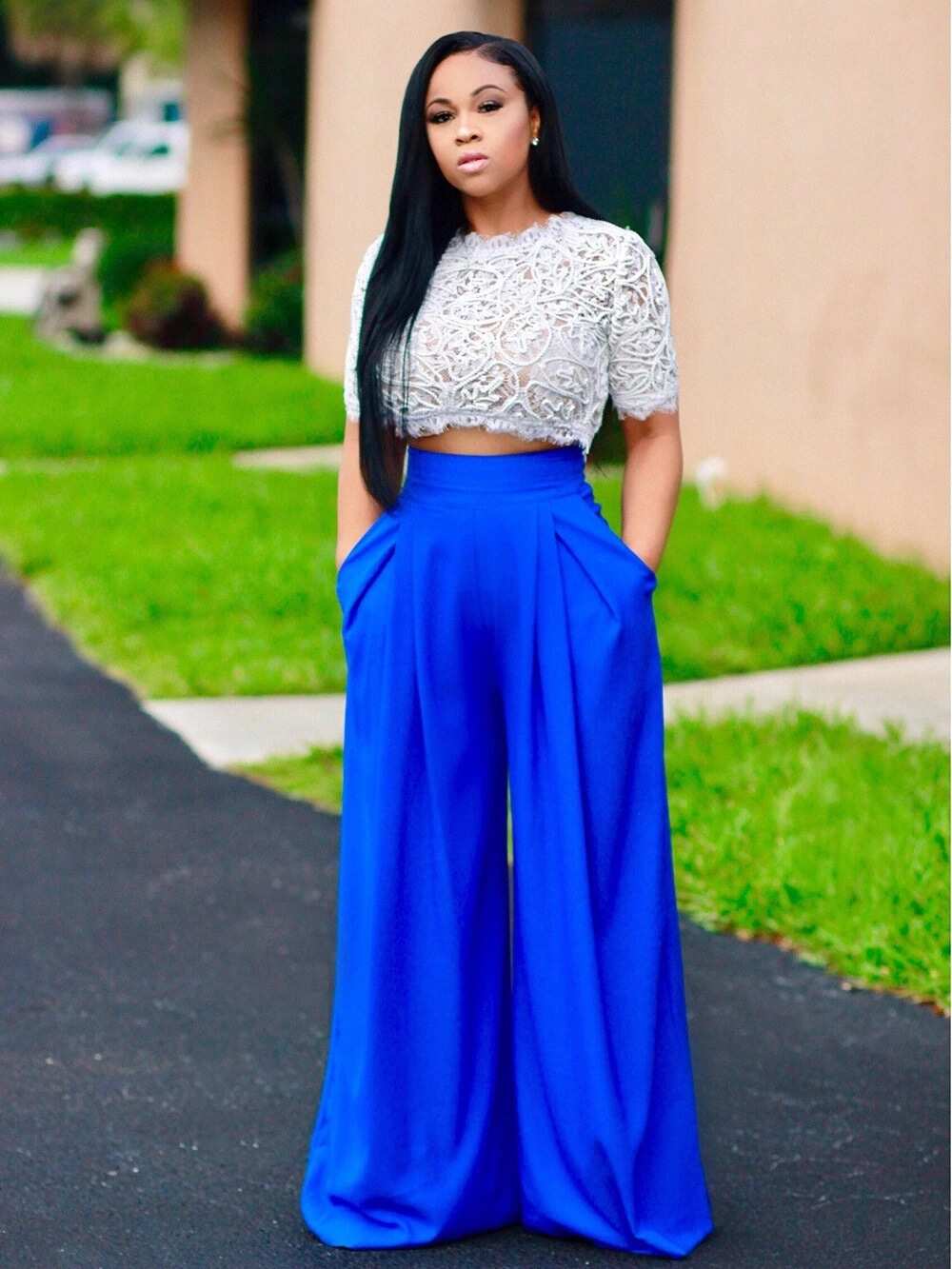 For a blouse entirely made of lace, you need to choose the easiest tailoring. The only decor that would be appropriate is one big frill or a few small flounces. For the evening look, it's allowed to wear a blouse without an opaque underdress. But you have to pick up the appropriate underwear and be in good shape.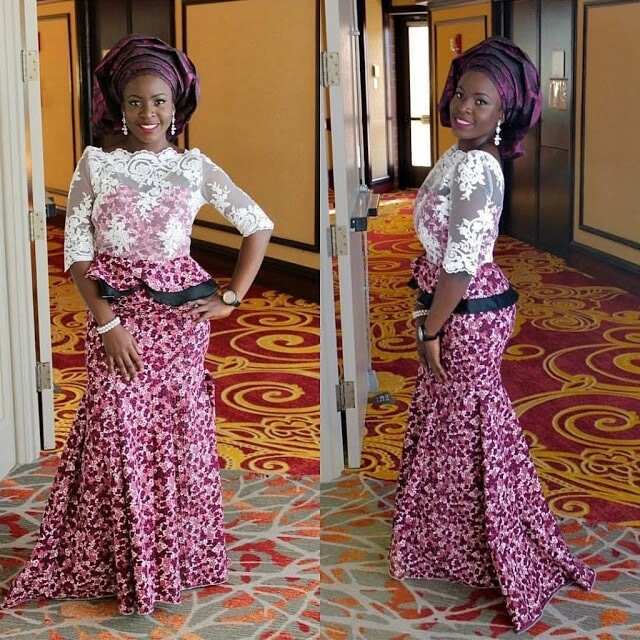 If you have any doubts, then it's better to sew a dense underdress to a lace blouse, especially when using French lace. This fabric is more transparent and delicate. For the underdress, designers usually take satin, silk or other dense fabric of the same color with lace.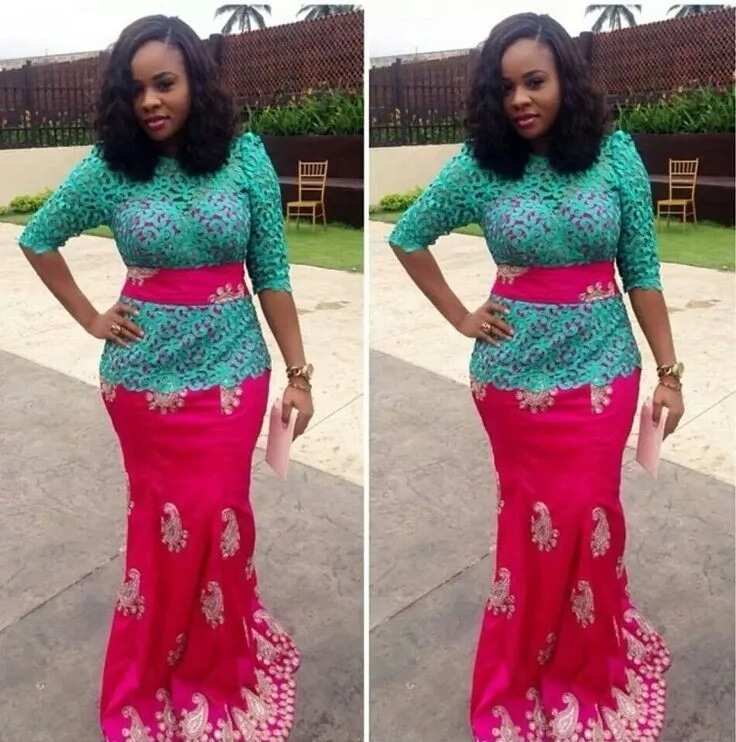 You can choose one tone darker or lighter fabric then lace, or use contrasting colors for the outfit. When sewing the under garment, make it in the form of a top-bustier with straps. A good solution for an evening blouse is the combination of lace and chiffon.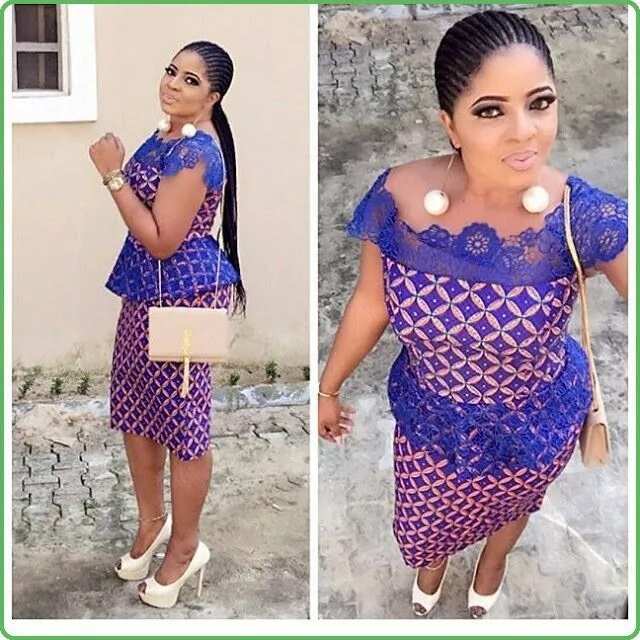 For office and more strict events, it's better to choose a blouse made of opaque fabric and add only lace pieces. It can be wide lace inserts in the décolleté area, narrow lace strips of decor, as well as ruffles or sleeves made with lace.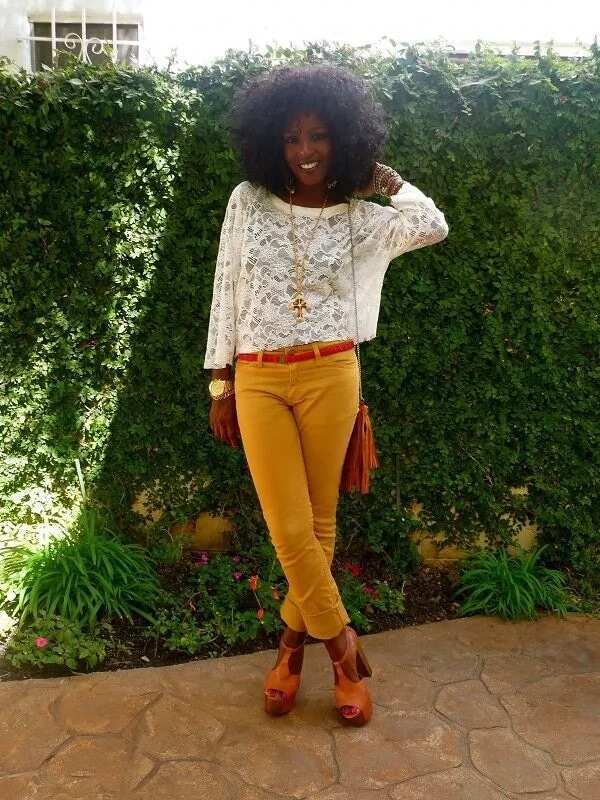 New lace styles for blouses
Today classic variants of black and white lace blouses are in favor. They add grace to any feminine look.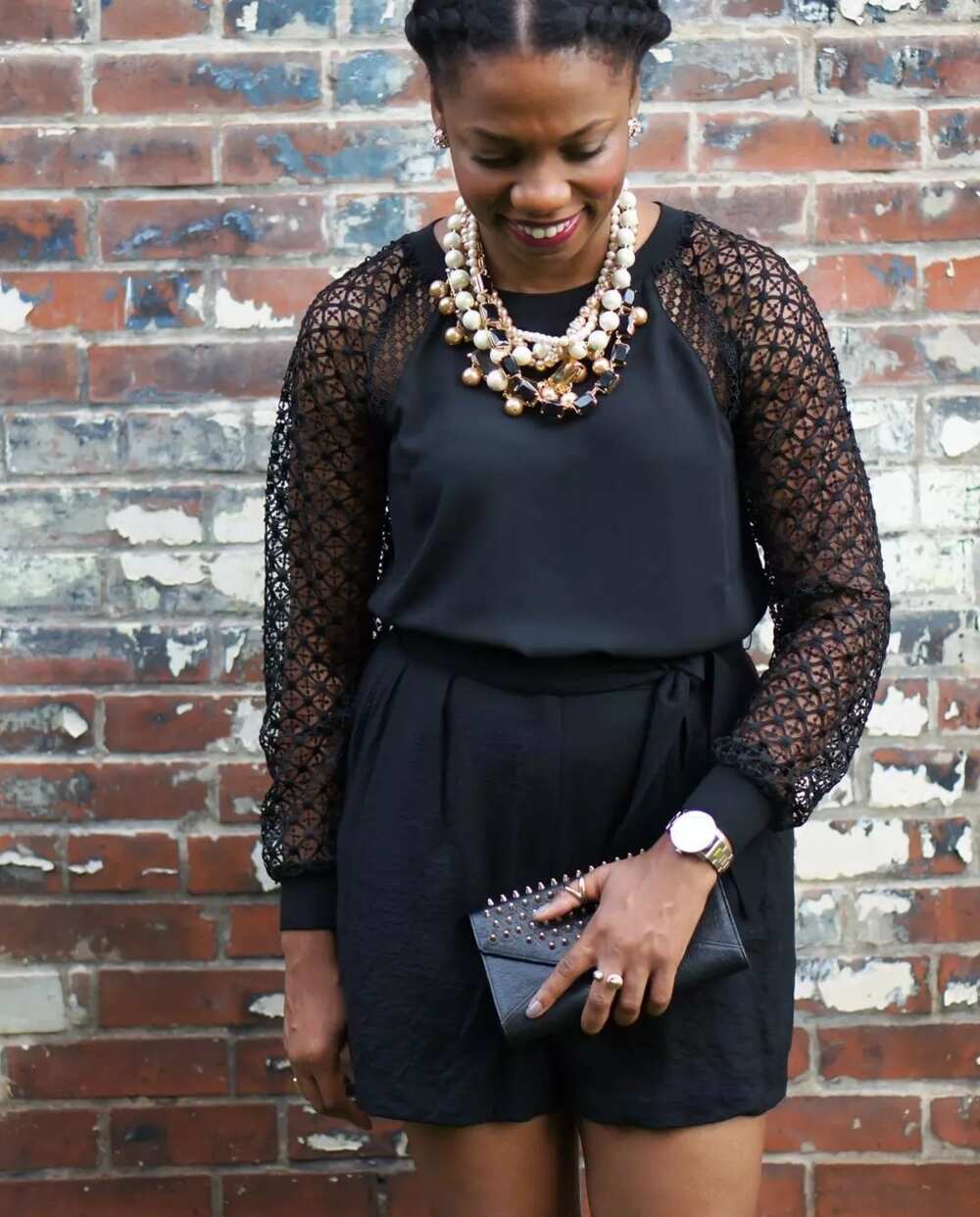 Recently, lace blouses of black color have become very popular among both young girls and ladies. In fact, this item can add special originality to each outfit and make it more harmonious and attractive.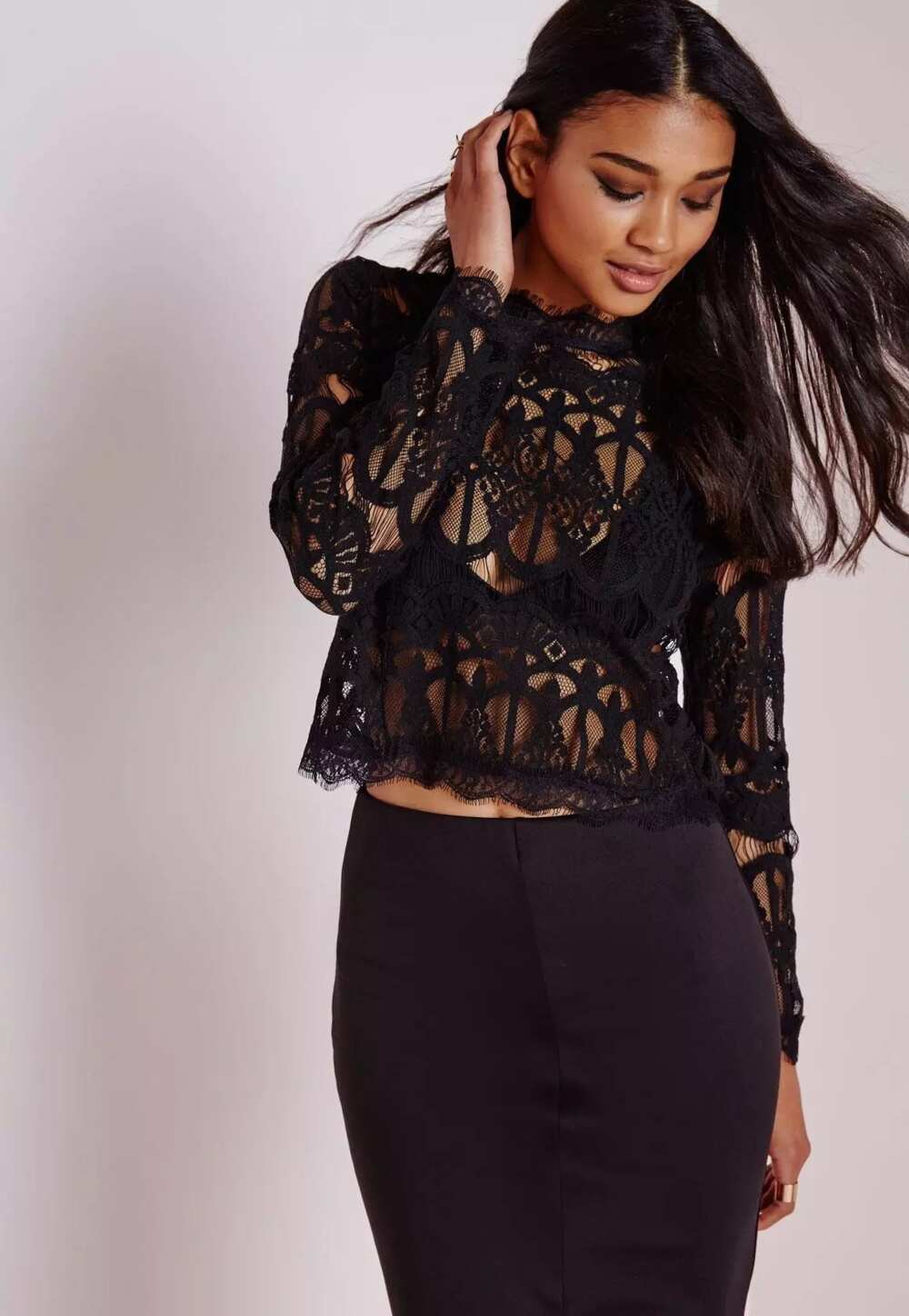 The variety of black lace blouses is very large. The models can have short or long sleeves. Party designs are complemented by beads and sequins or bright embroidery.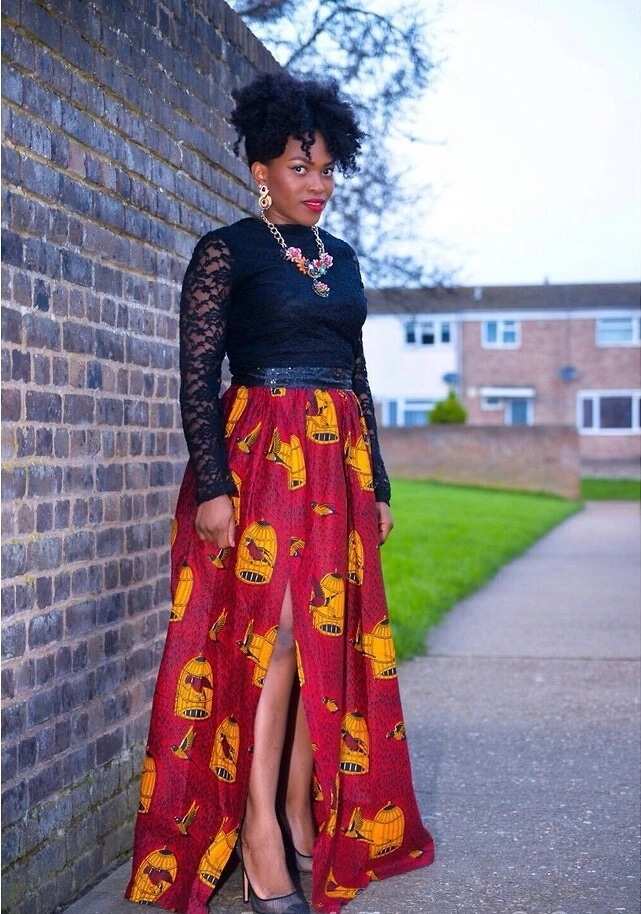 Ladies who want to hide a couple of shortcomings, but want to create an original image should pay attention to black blouses made of silk or satin with long lace sleeves. This outfit can be worn not only for a walk or work, but also for events with semi-formal dress code.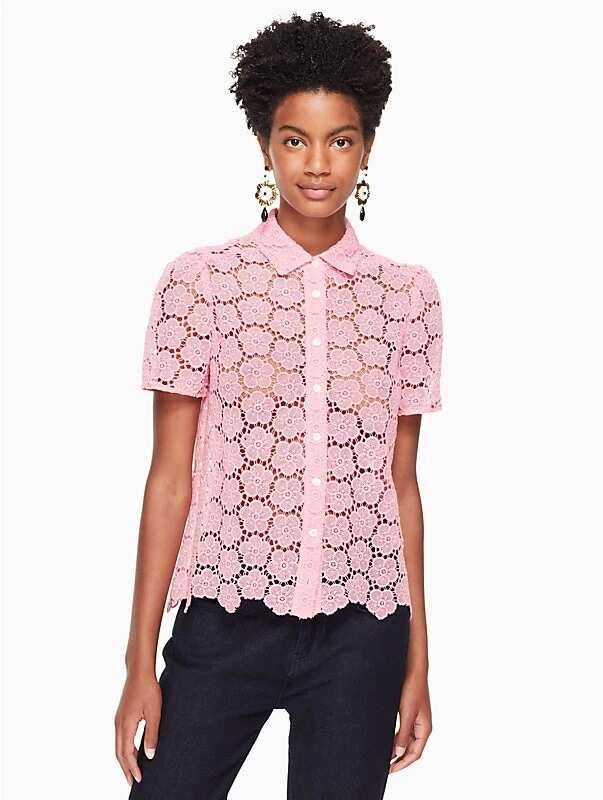 A white lace blouse is ideal for daytime look. If you don't like the white color very much, you can choose ivory option or any shade. Light beige, powder color, and others light natural tones are perfect for a lace blouse.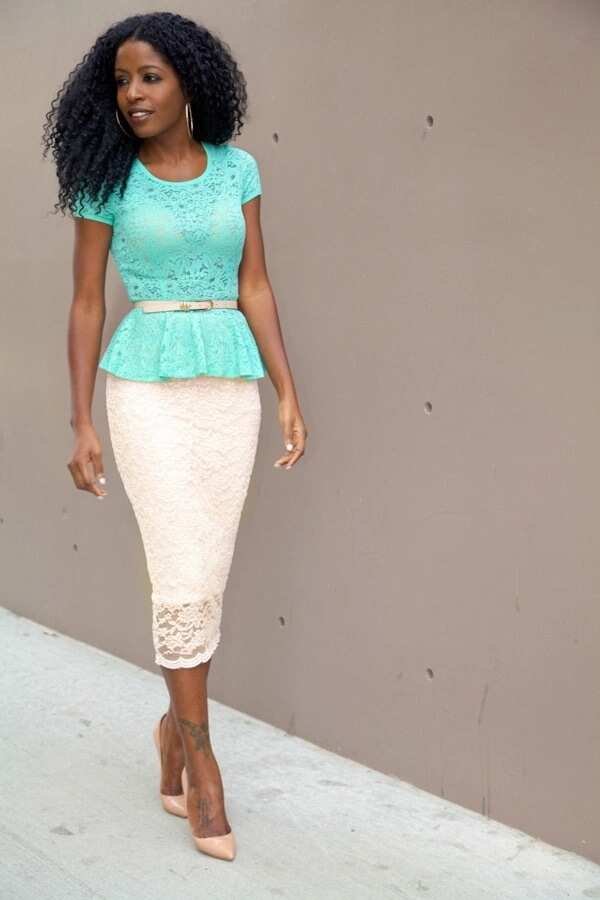 A one-colored midi pencil skirt made of dense fabric is best suited for classic black or white (pastel) lace blouse.
READ ALSO: Best styles for lace materials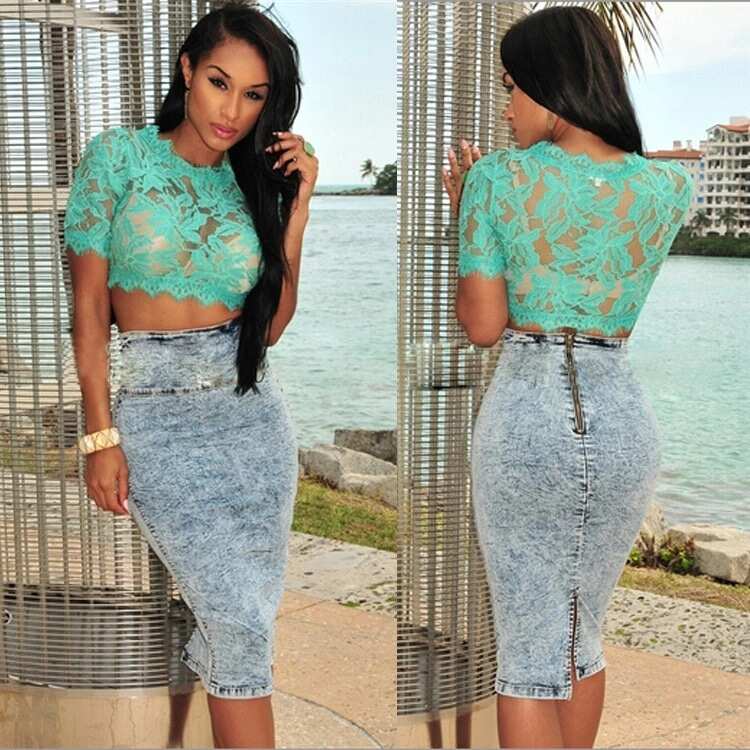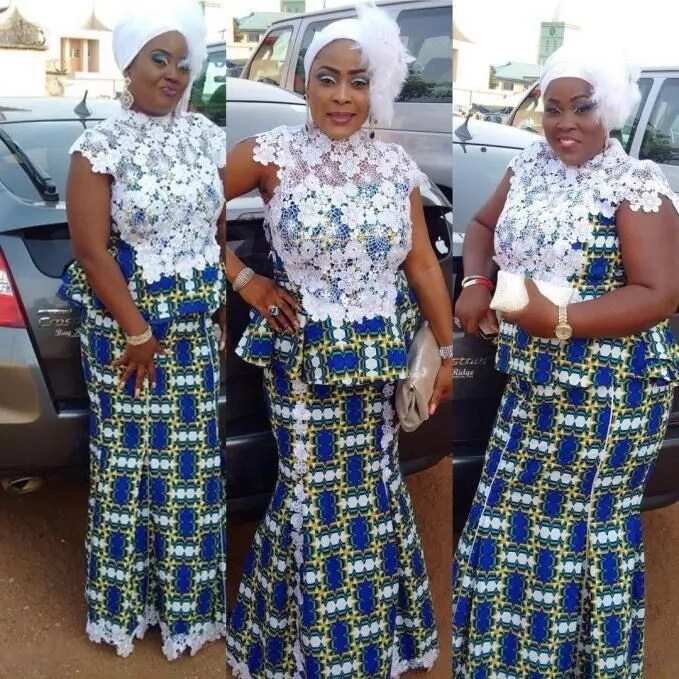 Nigerian lace styles for blouses
Of course, every lady should have classic versions of lace blouses, so blouses made from colored lace are 'must have' for our fashionistas. Lace blouses are used in everyday life and for creating traditional designs. Agree, lace perfectly emphasizes femininity and helps to create delicate and refined looks. Blue, pink, yellow, red, turquoise - all these colors are used with pleasure by Nigerian ladies.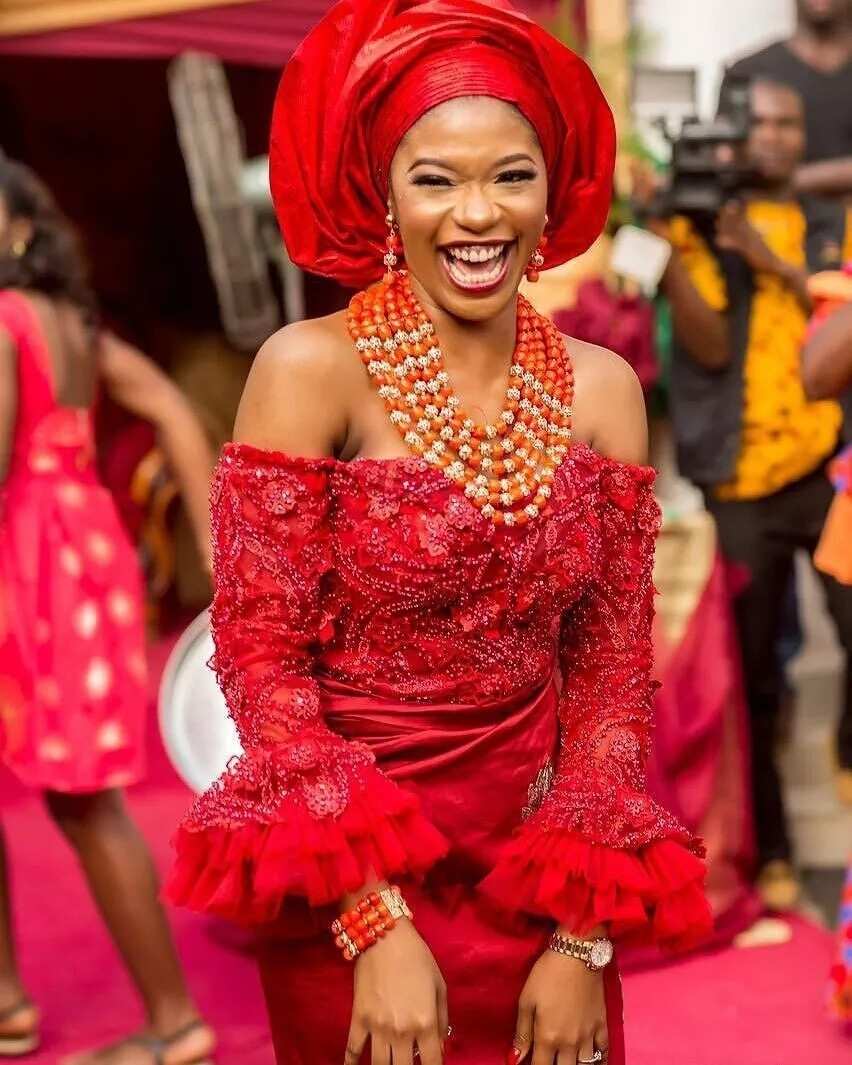 Let's tell a few more words about the tailoring. In traditional outfits, women like to make flared sleeves. They can be long or three quarters. Like short sleeves, it's better to use sleeve-wings in lace blouses.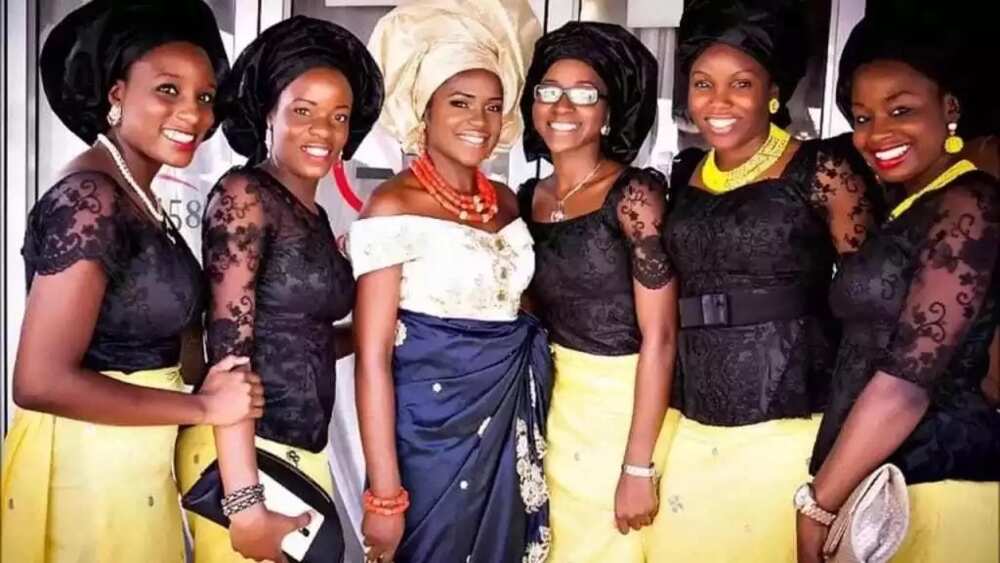 The neckline in a lace blouse can be any. But try to avoid collars, if your blouse is not a closed office version of the latest lace style.
Around deep neckline and open shoulders look feminine. Here, the patterned edge of the neckline serves as additional decor.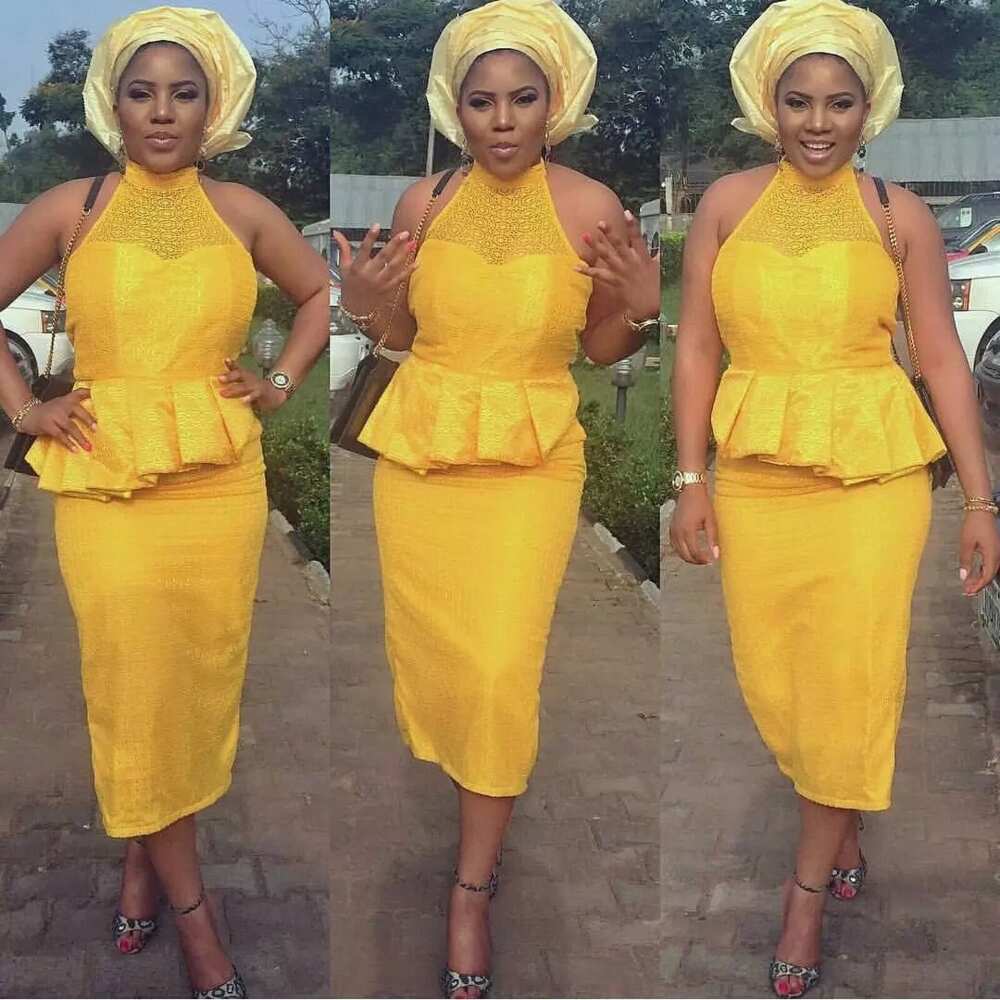 An American armhole is also suitable for a lace blouse. It's better to take a cord lace with a small pattern for such styles.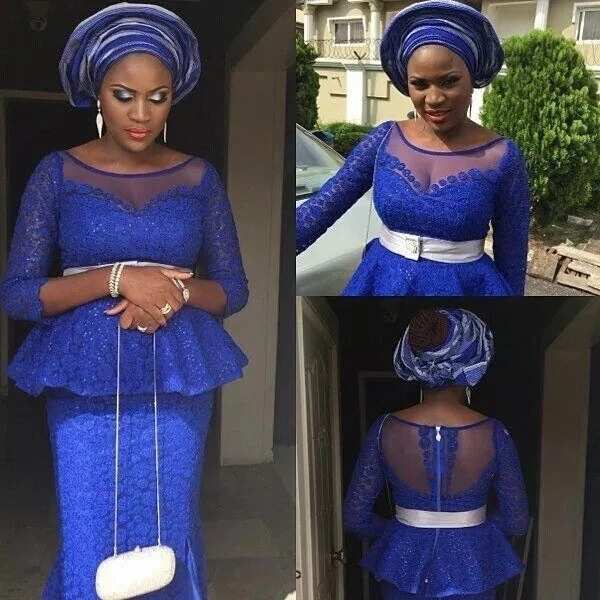 For traditional styles, our ladies prefer to sew blouses of fitted silhouette with a peplum. A classic outfit is a lace blouse and wrapper styles. The peplum for such blouses is made from one or two layers of lace. They are of the same or different lengths. Sometimes the peplum is decorated with opposing folds. Lace blouse is decorated with a thin satin belt or special décor to emphasize the waist.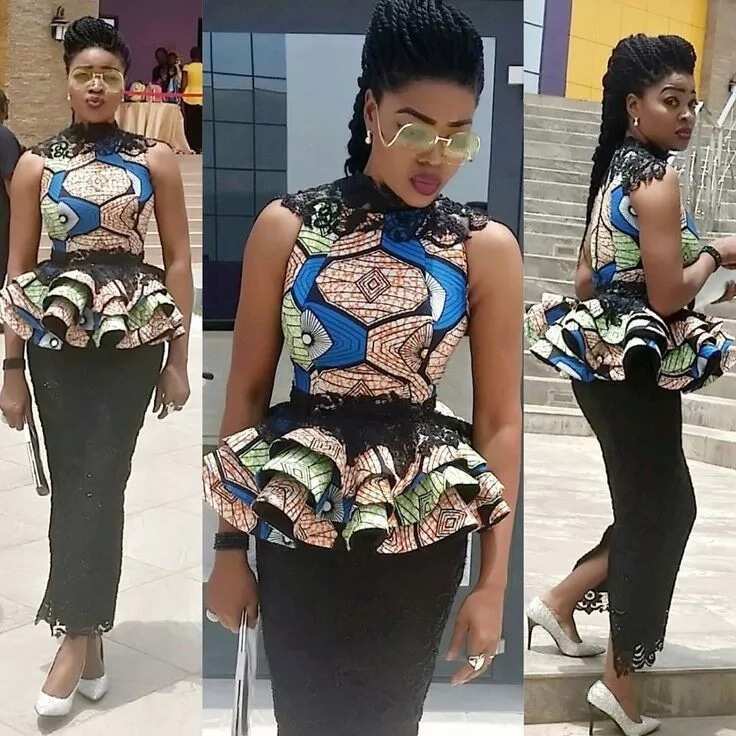 In a mix of lace blouses with Ankara, décolletage are made of lace, and a blouse corset is sewn from bright Ankara.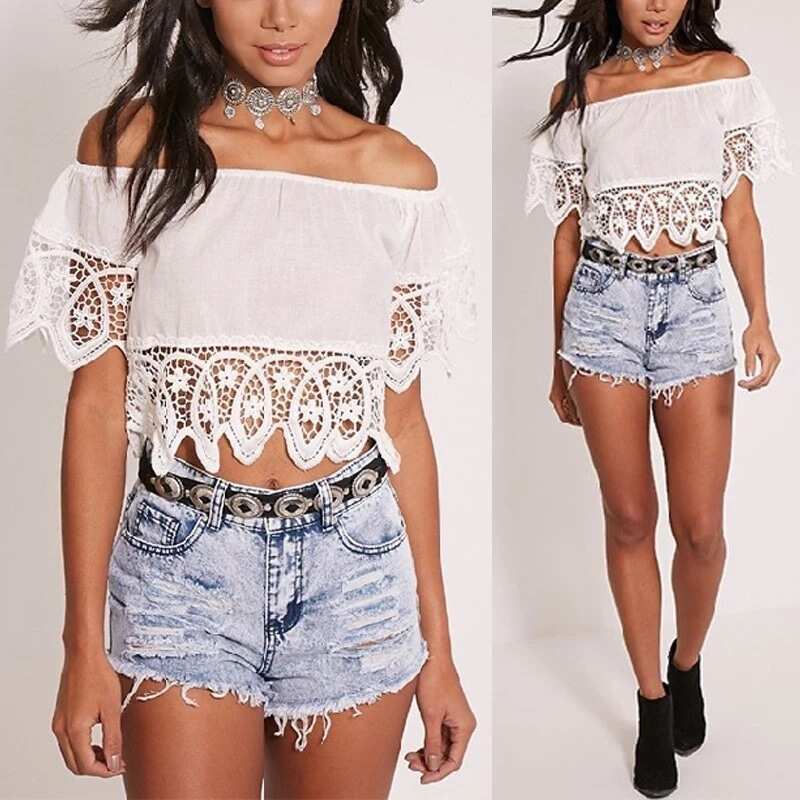 If you are planning to take the item for a rest, the tight-fitting blouse looks very good with bum shorts. You can also create a casual and stylish image, combining a lace blouse with narrow or tight jeans.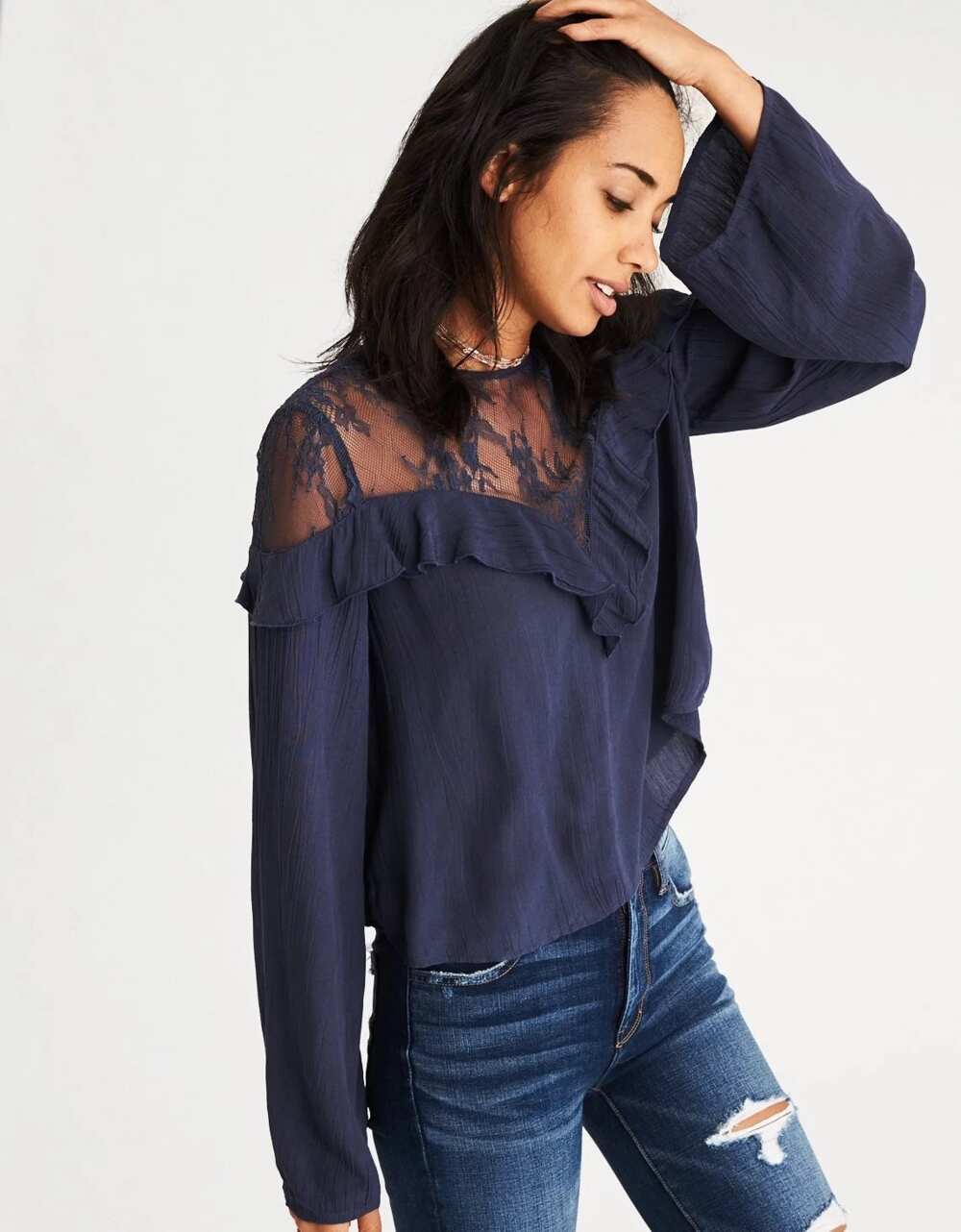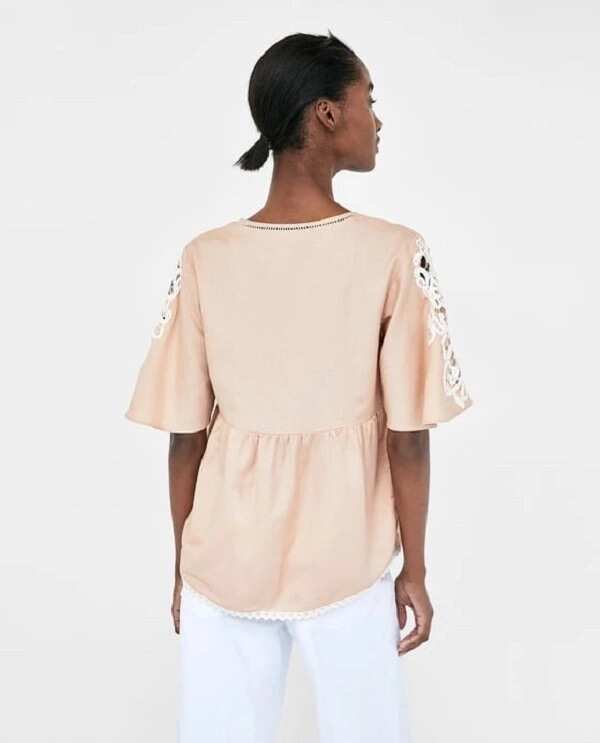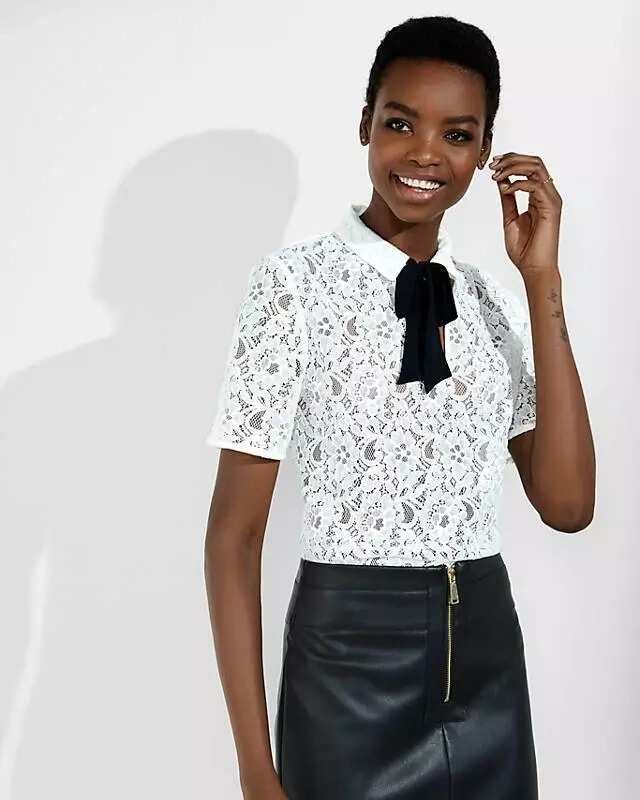 Lace blouses can and should be worn in the season 2018. The designs with short sleeves are better fitted to shorts and skinny trousers, the items with long and slightly flared sleeves are perfect for strict office skirts. Also, black guipure blouse with a pointed silk or satin collar fits well. And bright lace blouses, embroidered with sequins and beads perfectly complement the festive or traditional outfit.
Lace blouses for the new season have become a real breakthrough in the fashion world. Evans and everyday styles; strict and romantic styles - they are all designed to ensure that every girl has the opportunity to maximize her individuality.
READ ALSO: Ankara dresses with lace that are popular this season
Source: Legit.ng