Barbing Hair Styles for Ladies 2017-2018
Short barbered hair has become an overwhelming trend for ladies in 2017 and it's likely to stay here in 2018, too! If you want to look absolutely stunning and luxurious (surely, you do!), you need to know everything about barbering haircuts and ways to choose the one that improves your beauty.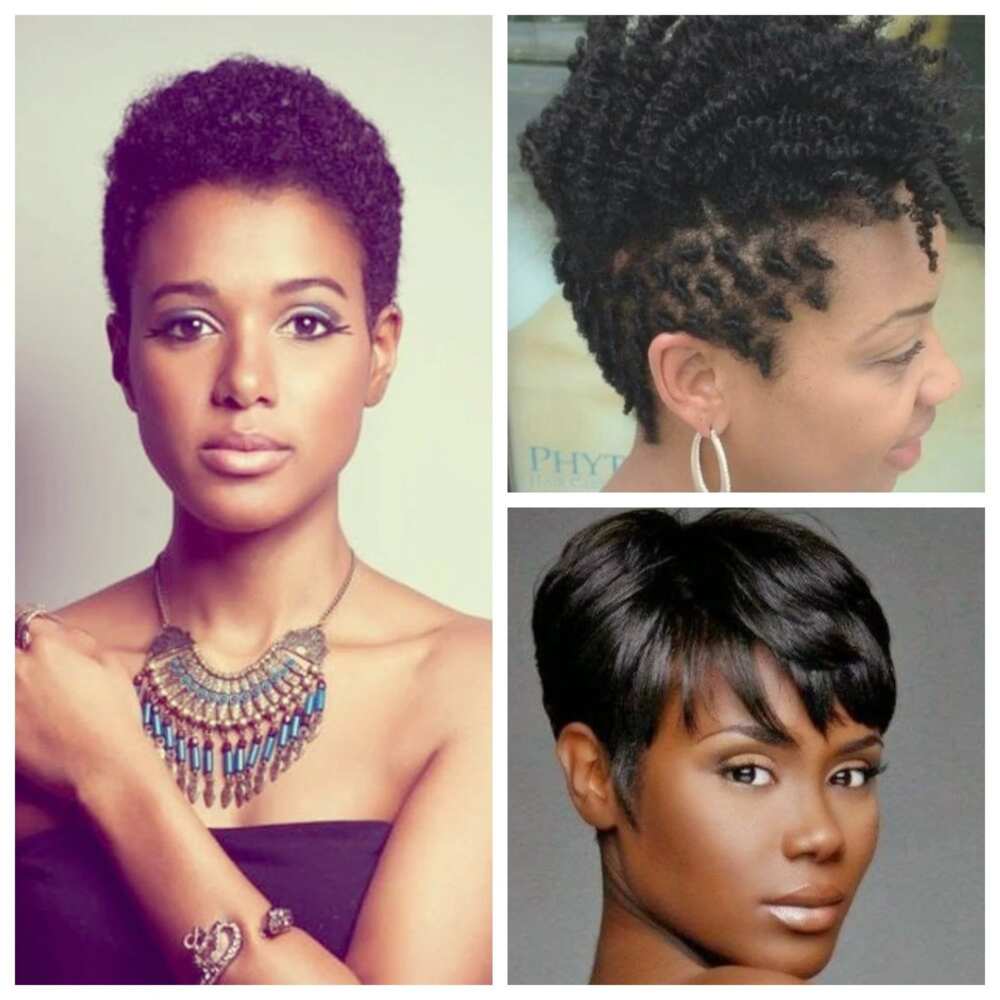 How to Barb Hair? Main Tips and Tools
Barbing one's hair means cutting it in a professional way so that it looks neat and has a definite shape. Barbers use different tools to trim their clients' hair: scissors, clippers, special brushes and combs, razors for extremely short haircuts, and so on. Besides the cutting instruments, they use many tools for dressing the hair, making it straight or curly, and so on.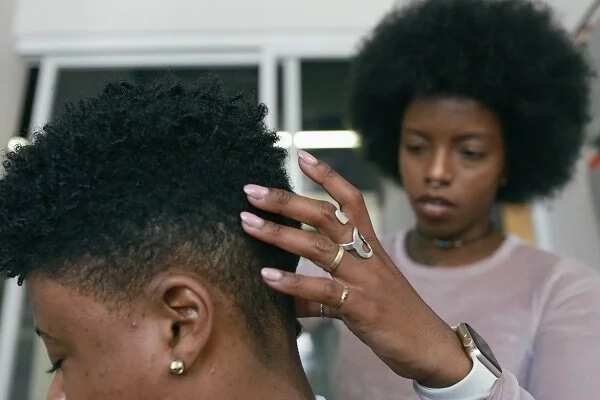 READ ALSO: Kamdora hairstyles 2017-2018 for your inspiration
Having a good barber always means having a neat fashionable hairstyle. If you want, you can have a clipper and trim your hair on your own or ask somebody close to you to help you. It's quite a risky adventure if you want to create a haircut from scratch but if you already have your hair done, you can just trim it slightly every now and then to keep it looking neat. It's very important to remember that gorgeous African hair can sometimes grow inside the skin after being cut very short or shaved clean, so it makes sense to ask a professional for skin care advice after having your hair done.
How to Choose Barbing Hair Styles for Women?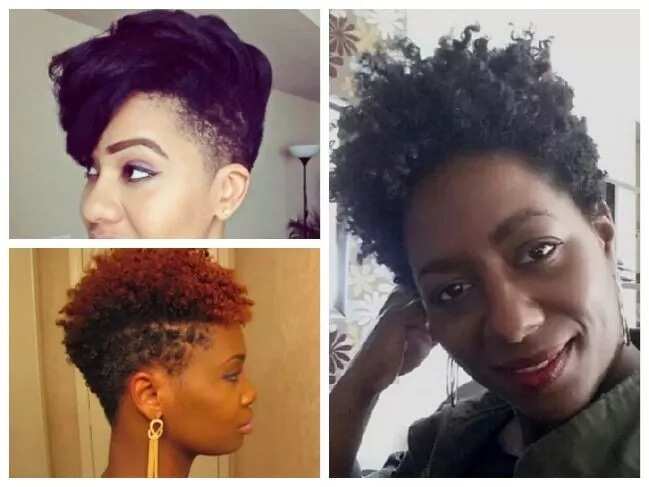 Indeed, having a short haircut gives you a number of advantages.
You always look stunningly stylish and neat without wasting a lot of time on combing your hair and making it keep its shape.
You can change the way you look quite often by simply letting your hair grow a little longer.
It's much easier to take care of short hair and save a lot of shampoo, hair creams, and other things ladies use on long hair.
Still, it's not always easy to pick out a hairstyle: it must match many criteria apart from being just stylish and pretty. The main detail to consider when choosing short barbering haircuts is the shape of your face. Below, you will find several tips on choosing a good hairstyle for different types of faces.
Oval faces. The oval shape is considered the least demanding when it comes to hairstyles. You can wear bangs or have none. In general, having any type of a short haircut with such a face is not a problem.
Round faces. It's better to choose a shape that has some volume at the top of your head to make the face look a little more like an oval. It's great to have asymmetric haircuts with side bangs or simply comb your hair to one side.
Square faces. The same story: you need a haircut with some volume at the top. In addition, you can soften your features with the help of a soft strand of your hair hanging down along one side of your face.
Triangular faces. In such a case, it's better to avoid puffed top or thick bangs, which can add volume to the top of your head. Try combing your locks backward or choose the length that allows your hair to be seen at the sides of your neck lower than your earlobes.
Of course, the shape of your face is not the only thing to consider when choosing short barbing hairstyles for ladies. It's also necessary to keep in mind your body shape and general style. For instance, slender young ladies can have extremely short haircuts while ladies with luxurious curves should add some volume on their heads in order to retain proportions.
Your general style also matters. If you prefer getting dressed in a more classical style, a haircut done in a rather casual or even provocative style will hardly match your general appearance. Something of the two – your elegant outfit or your extreme hairstyle – will look out of place. On the other hand, if you are boyish and active, there's no use trying to comb your hair into Hollywood waves.
At the same time, if you are a tomboy most of the time but want to look more feminine with the help of your hair, it makes sense to choose something in between the exquisite elegance and daring Mohawk styles.
Several 2017 – 2018 Hottest Trends in Ladies' Barbing Hair Styles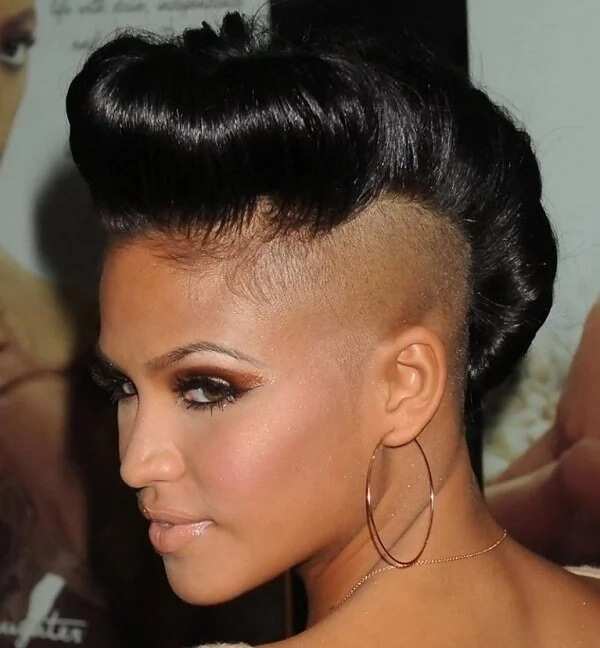 Now that you know qhich shapes and types of haircuts match your body shape and facial features, let's take a look at several trendy, charming, and interesting options of short hairstyles for African women.
Mohawk cuts. This eternally popular haircut remains the main choice for women with rounded facial features because it gives additional volume at the top. Besides that, its daring appearance looks perfect on young girls.
Tapered styles. They also offer more volume at the top and resemble men's hairstyles. They leave only a little hair on the very top of your head, so it's much easier to take care of your hair. This is a perfect style for those who have very thick curls.
A short bob. Bob is a wonderful feminine style that requires some hair straightening. Wearing such a haircut, you will look extremely elegant and neat. Such a hairstyle is perfect for those ladies who have a dress code at work and so on.
Extra short cuts. These cuts leave only a few millimeters of hair on your head. This is a wonderful choice for those who are sick and tired of combing their super curly and super thick locks every day.
A pixie haircut. Typically, such cuts look better on straight hair because it can show the shape of this style, but curly pixies with a side parting can be a great alternative.
Natural short afro. Such a hairstyle looks cute and shows all the beauty of your natural curls without causing you much trouble.
Super short slick styles. Super short locks also look great when they are sleek and silky. The style adds some touch of power and courage but when accompanied by bright accessories, it can be super feminine.
A curly bob. Natural curls look super cute and charming when they are cut into a bob with short bangs.
Shapes, Colors, Styles and Whatever You Like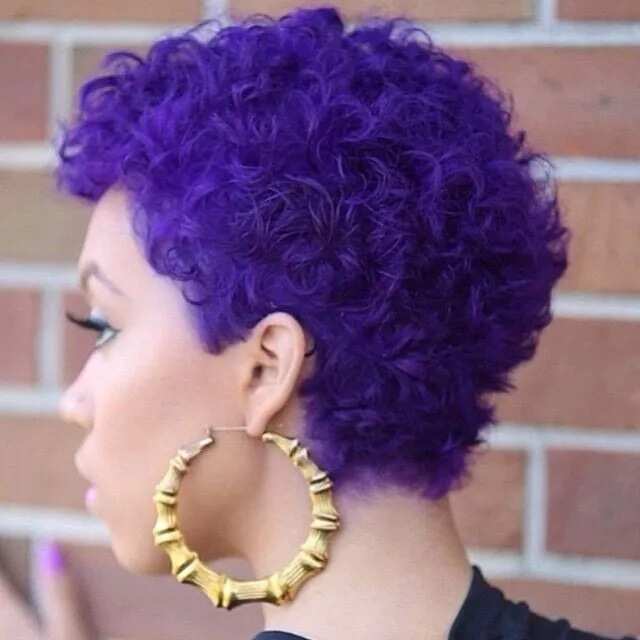 Having a short haircut means attracting a lot of attention. You can increase it by coloring your hair just as trends of 2017 – 2018 show. Bright colors that match your style and mood will look amazing combined with a stylish makeup and fashionable accessories.
If you are still unsure about the style of haircut to choose, find one you really like.
READ ALSO: Trending hairstyles in Nigeria 2017-2018
Source: Legit.ng