Rapper Rick Ross' weight loss secret: How did he lose weight?
American rapper Rick Ross struggled with his weight for many years. His weight caused many life-threatening problems, including seizures in 2011. Nonetheless, the rapper did not give up on himself until he dropped over 100 pounds. Surgery was part of Rick Ross' weight loss journey, but he did not entirely rely on medical options. This article sheds more light on how the hip-hop star lost weight.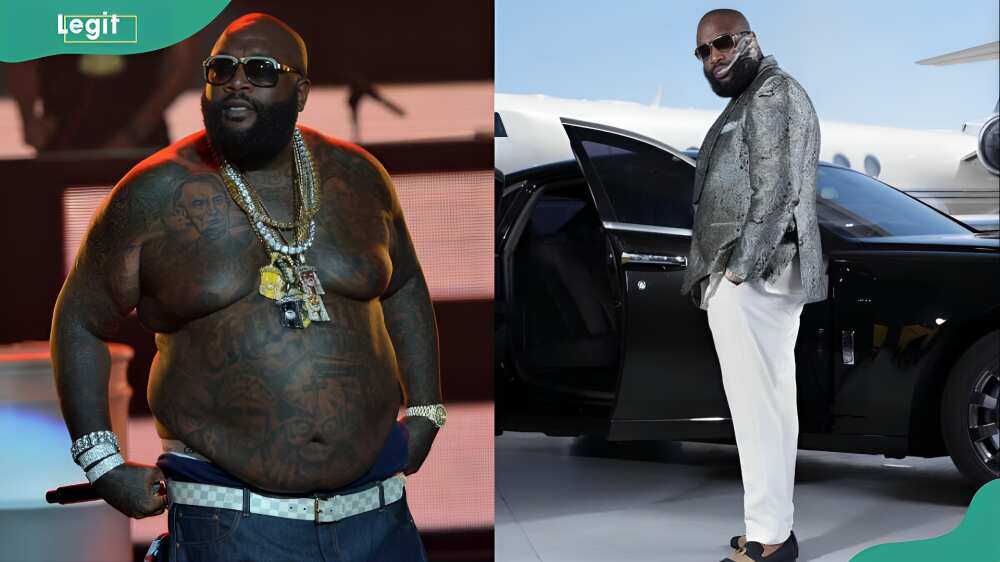 William Leonard Roberts II (alias Rick Ross) was born on 28 January 1976 in Clarksdale, Mississippi, USA. He was 30 when his debut album, Port of Miami, made him a global superstar in August 2006. The album was certified platinum and sold 187,000 units in the first week. Currently, Rick's discography consists of 11 albums, of which nine earned RIAA certifications (4 platinum and 5 gold).
Insights into Rick Ross' weight loss and transformation
With all the fame and money that came with his successful career, the only thing the rapper wanted was to enjoy life to the fullest. So, despite weighing 350 lbs., he would only sleep three hours a night and have steaks at 4 a.m. The hip-hop star often rapped about his love for luxurious living, which included extravagant meals, lavish drinks, and high-fat foods.
Why did Rick Ross lose weight?
Life seemed rosy until two seizures hit the rapper within 24 hours in 2011. The two emergency trips to the hospital in his private jet convinced Rick to work on his weight.
Was Rick Ross diabetic?
After a check-up, the doctor discovered he did not have diabetes. The seizures were allegedly caused by inadequate sleep, exhaustion, and his unhealthy diet.
Does Rick Ross have high blood pressure?
After the seizures, the doctor assured Rick Ross that he did not have high blood pressure but was hypertensive. He also explained that hypertension was a phase under high blood pressure.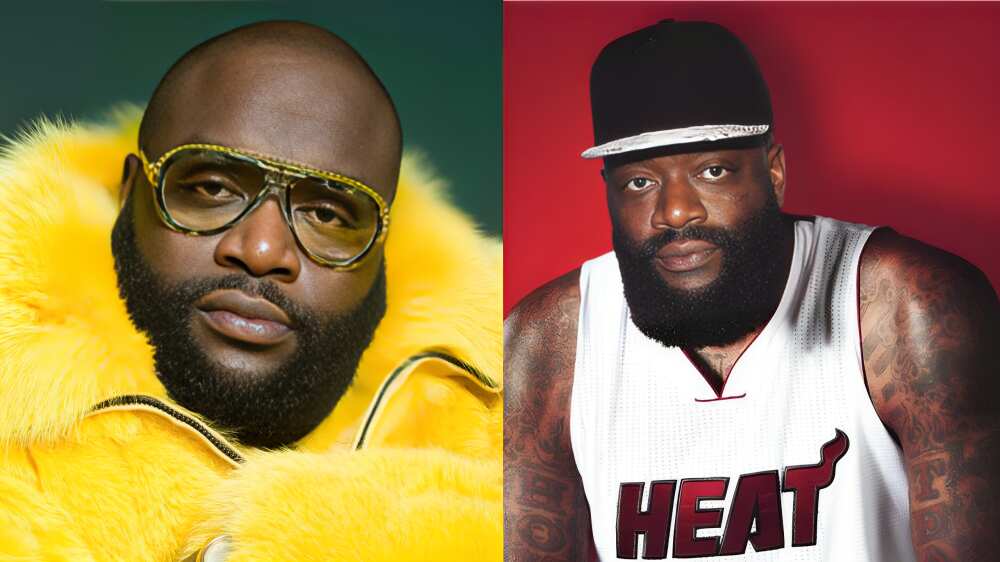 How did Rick Ross lose weight?
The doctor's recommendation to exercise and change turned his life around. With determination, commitment to a healthier lifestyle, surgery, and incredible mental resilience, Rick Ross eventually lost lots of pounds.
What surgery was beneficial in Rick Ross' weight loss journey?
Rick dropped a lot of weight rapidly after getting an RNY gastric bypass surgery in 2014. This was two years after a futile lap band. Unlike most celebrities who keep their surgery procedures private, the rapper was open and honest about it.
After a fruitless lap band procedure, most patients chose a more effective surgery like the Gastric Sleeve/Gastric Bypass. Gastric Bypass curbs a person's appetite by making the stomach pouch small. The rerouted small intestine digests food faster while absorbing fewer calories into the body.
How much weight did Rick Ross lose?
The American rapper used to weigh over 400 lbs. He lost over 100 pounds after undergoing an RNY gastric bypass surgery and embracing a healthy diet and lifestyle. He now weighs a little over 200 pounds after his weight loss in 2014.
Dropping unhealthy habits and adopting a new lifestyle took some time. Nonetheless, Rick was determined to make sacrifices because this was a long-term solution to his weight problem.
The rapper quit cold turkey and only had fast food from Checkers and Wingstop twice or thrice a week between noon and 5 p.m. On top of that, Rick and his chef agreed on healthy recipes he would eat while keeping portion control in mind.
Documenting his weight loss journey on social media inspired fans to share his progress. Media outlets pointed out Rick Ross' new look when he first appeared at award ceremonies after losing weight. The rapper looked healthier, slimmer, and happier.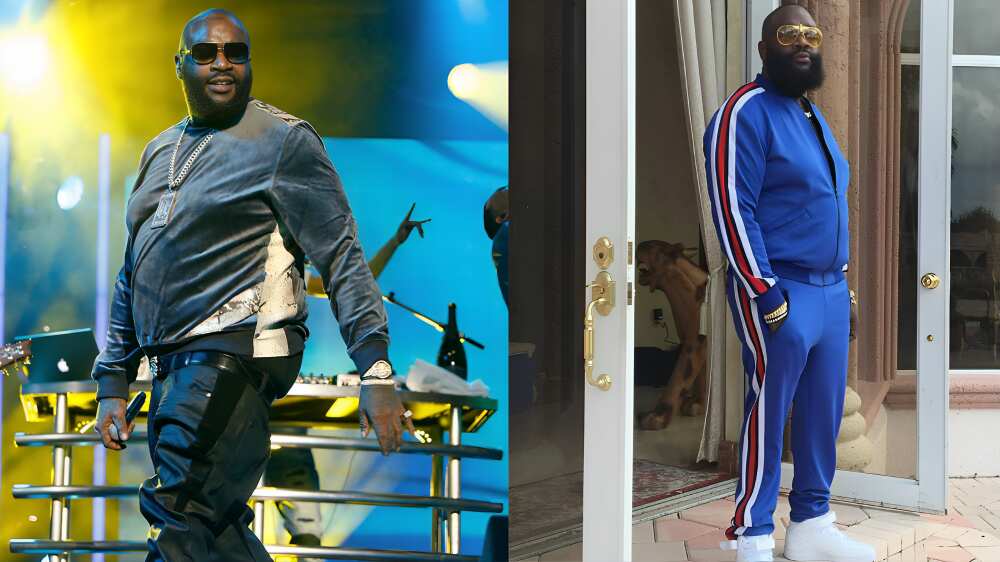 What dietary routine did Rick Ross use when he loss weight?
Along with the fitness mantra, "Stay alive, stay healthy," Rick believes in portion control nowadays and maintains a daily dietary routine. He enjoys salmon, fruits, and vegetable salads.
He gets natural sweetness, vitamins, minerals, and antioxidants from fruits. Salmon gives him omega, proteins, and healthy fats. Meanwhile, leafy green vegetables like kale casserole are rich in fiber, vitamins, and minerals and have low calories. They also help him avoid junk eating by making him feel full for a long time.
The rapper calls the workout approach he used with his friends "RossFit." He goes for a warm-up jog with friends four days a week, and when exercising, Rick sets up five exercise stations for pushups and deadlifts and works through them for 30 minutes.
You can get fit just like Rick Ross through cardio exercises and weightlifting — something fans have spotted him doing at the gym regularly. Like him, set a workout routine that fits your preferences, fitness goals, and physical capabilities.
Cardio workouts include running, cycling, or using an elliptical machine. They boost cardiovascular health, burn calories, and promote weight loss.
Meanwhile, strength training and weightlifting build muscles, increase metabolism, promote fat loss, improve muscular growth, and tone/sculpt the body.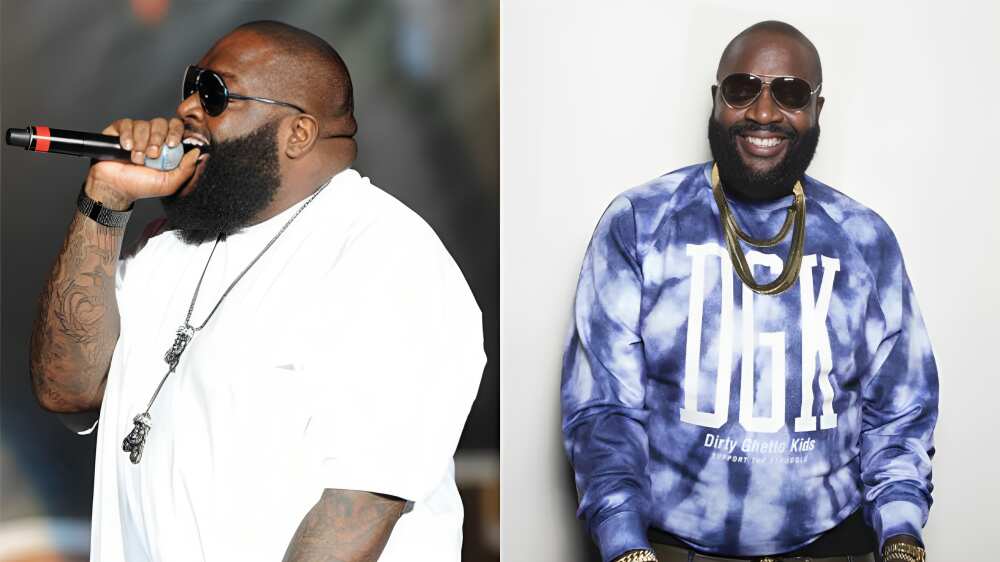 Weight loss tips from Rick Ross
Follow these beneficial principles that helped the rapper lose weight and regain his health. Below are some general weight loss tips one can draw from Rick Ross' weight loss journey:
Limit your frequency of eating junk and high-fat foods to avoid consuming many calories.
Treat yourself to junk and high-fat foods less often if you have to eat them.
Avoid soda or drink diet soda if you have to. It has fewer calories than the regular one.
Have a healthy diet plan daily and follow it strictly.
Eat lots of leafy green vegetables and fruits to get vitamins, minerals, and fiber.
Limit your carbs and eat more seafood for proteins. The rapper gave up bread and rice.
Avoid heavy meals when going to bed or at night because the body will store excess calories.
Regulate the portions of food you consume.
Restrict the amount of alcohol you take. The rapper no longer drinks eight root beers daily.
Drink a lot of mineral water throughout the day to refresh and wash out toxins from your body.
Work out with people for fun and inspiration. Rick exercises with friends to make time pass quickly.
Get enough rest and sleep.
Rick Ross' weight loss and transformation highlight the importance of self-care. He has inspired many to protect their health by embracing healthy lifestyles. Eating healthy food, exercising, and resting/sleeping well despite having a busy schedule are some of the things the rapper implemented during and after losing weight.
Legit.ng listed the best fruits for fertility when trying for a baby. Although no specific food or fertility diet can magically boost your conception chances, having a nutritious and well-balanced diet supports your overall health, including your reproductive health.
It is recommended that both the man and the woman should keep a nutritious diet and make positive lifestyle changes to boost their fertility. The process can be exhausting and demoralizing if only one partner does all the work.
Source: Legit.ng