How to make vegetable soup with ugu and waterleaf
How to make vegetable soup with something you have never tried before? Well, there are some handy recipes and instructions. They can guide you through the preparation process and help you handle the cooking properly. Let's see what can be done with waterleaf and ugu so that there is a tasty lovely soup.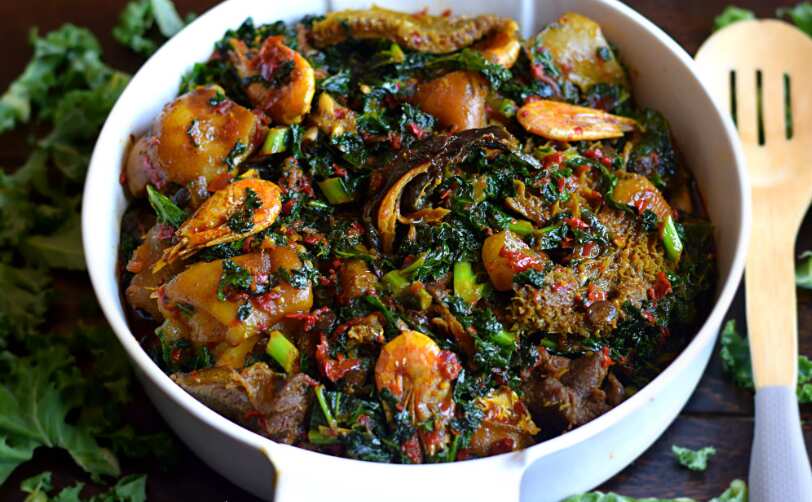 The most popular vegetable soup with ugu and waterleaf recipe
If you have never yet tried cooking this perfectly Nigerian meal, try it right now. Here we have several variations of this extremely popular edikaikong soup, and it will leave you wanting more and more of it!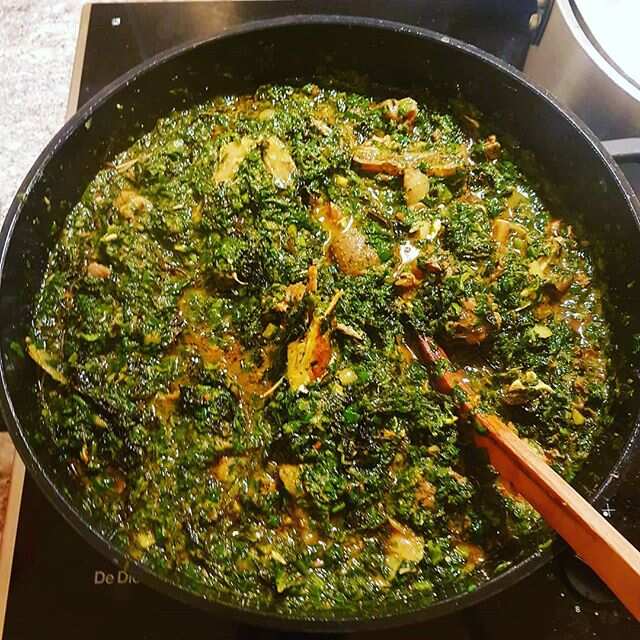 READ ALSO: Top Yoruba soup recipes
Ingredients:
2 pounds of different types of meat
1 onion of medium size
2 cups of meat stock (or fish, whatever you like)
Ground hot pepper (to taste)
4 snails
Lemon juice
1 pound of dried smoked fish
1 pound of stockfish (this needs to be soaked for a night)
1 pound of periwinkles
8 ounce of dry prawns (whole)
8 ounce of crayfish (ground)
3 pounds of fresh ugu leaves (you can take dried ugu leaves and so you will need 6 packs)
2 pounds of fresh waterleaf
Palm oil
Salt
To cook this soup, wash the meat (all the sorts that you have chosen for this soup) under running water and place them into a big pot. As a rule, the types of meat used for this soup include beef, chicken, goat meats, ox tails, and some tripe.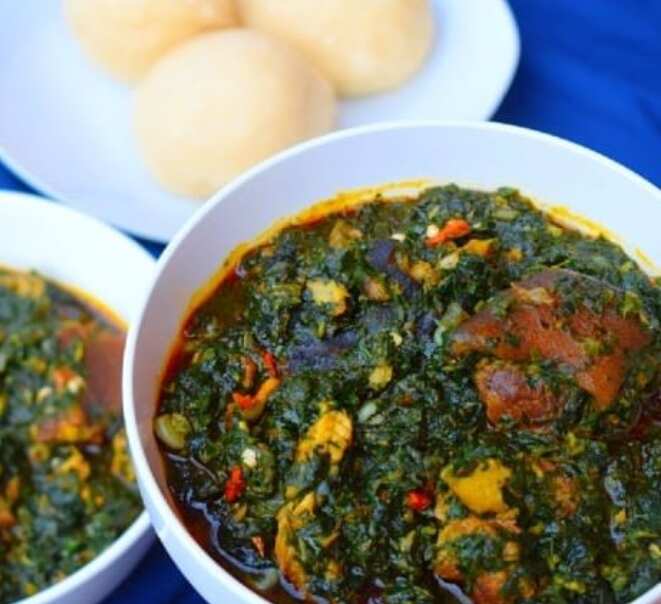 When the meat is there, add the stock and finely chopped peeled onion. Then, add the pepper to taste. If you like spicy meals, add more. This content of the pot should be cooked for 30 minutes on a medium fire.
Now, take the snails and periwinkles and wash them carefully under running water. Then, rinse the dried fish and put it into a vessel with properly salted water to let the dirt soak and peel off, and to kill possible insects. This should take about 5 minutes. Then, take the fish out and rinse with cold water. Do the same to all the other seafood pieces.
Add them to the pot with the meat and other ingredients. If you see that there's not enough liquid, add more stock. Cook for 10 minutes more.
Now it's time to get down to vegetables. Use the running water to rinse clean the waterleaves and ugu leaves that you have and then slice them into thin strips with a sharp knife. Then, add them to the pot and keep on cooking the mixture for 15 minutes more, stirring it from time to time.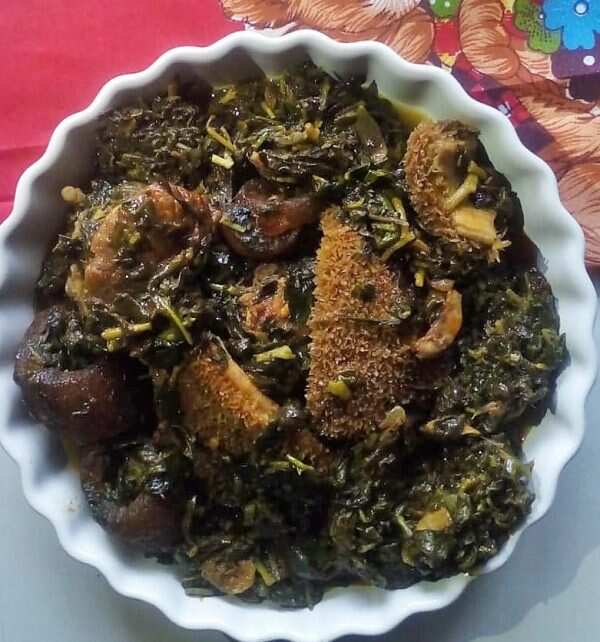 READ ALSO: Idoma traditional food: Okoho soup
This done, add crayfish and simmer for 10 minutes more. Stir well to mix the ingredients properly. At this stage, it's time to taste the soup and add some salt if you want it. finally, add several teaspoons of palm oil but if you want the soup to be less nourishing, you can do with the fats the stock, meat and fish have given.
The soup is ready, you can take the pot away from the fire and serve. This soup is traditionally served with fufu or pounded yam. Sometimes, some other side dishes like rice are offered to match with this soup.
Another variation of the ugu and waterleaf vegetable soup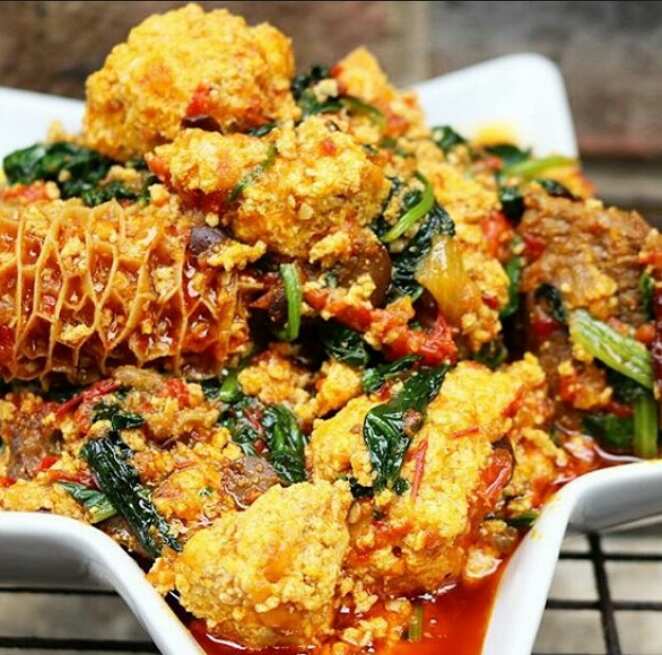 Here's another way to cook this soup and make it perfect and incredibly tasty. Check it out and maybe try both these variations some day.
Ingredients:
1 cup of pure palm oil
6 cups of prepared ugu leaves
Chicken meat, beef meat, fish
2 spoons of ofor to thicken the soup
12 cups of waterleaf
2 or 3 onions
500g of dried fish
1 cup of grounded crayfish
Salt and pepper to taste
1 cup of periwinkle
Fish heads (for stock)
Cut the meat into cubes and prepare it for the cooking process. It's necessary to parboil the meat with 2 onions and any spices that you like. The meat should be cooked until it's almost ready to be eaten.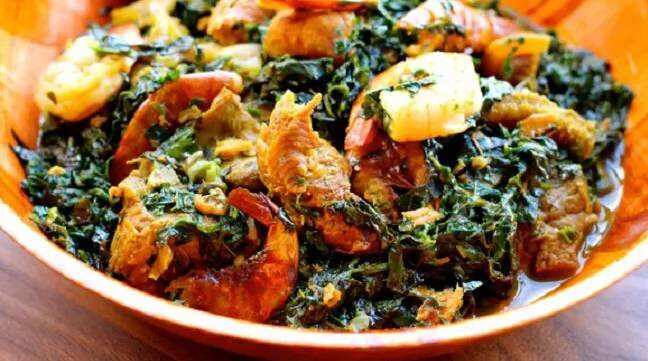 READ ALSO: Сan you eat pepper soup during pregnancy?
In the meanwhile, boil enough water and wash the stock fish heads properly to remove the possible dirt. Add the fish to the meat together with water.
Use cold running water to wash the vegetables. Then, take two separate bowls and slice the waterleaves and ugu leaves separately. Now, pour out the boiling water over the vegetables. In 3 to 5 minutes, remove the water and sieve the vegetables out. Repeat the procedure until there's no more dirt or sand on the leaves.
Add the oil (the whole cup) to the meat. Then, add salt and pepper to taste and stir the mixture properly, so that each piece of meat is wrapped into the oil and spices.
Keep on cooking the meat for 6 to 10 minutes more until there's only a little water. Then, add crayfish and periwinkles, and a spoon of ofor. Stir the mixture well to see if it's dense enough. Keep on cooking for 4 to 5 minutes more. It's time to add the waterleaf. When it's there, stir the mixture so that the strips are spread evenly. Cook for 2 to 3 minutes more and add ugu leaves. Leave on fire for 3 minutes more and that's it.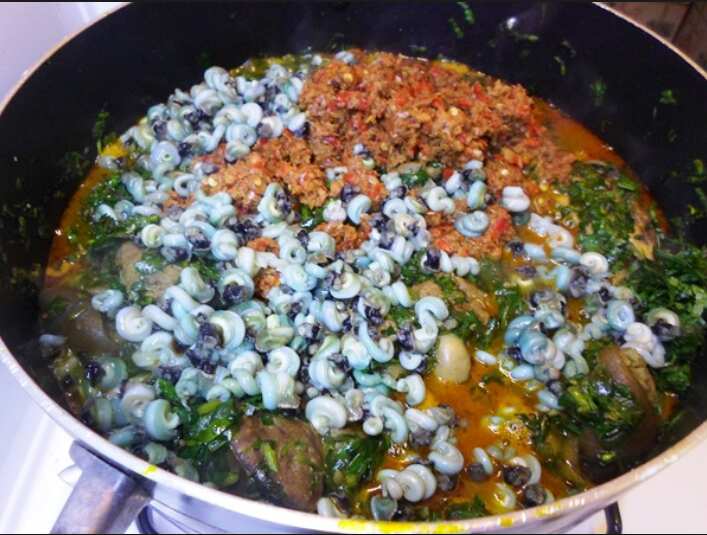 Let the soup cool down a little and serve as you prefer.
Now, when you know how to cook ugu and waterleaf soup, outside Nigeria or even outside Africa, people not always have a chance to purchase ugu leaves or waterleaf. This is why they often take collard greens instead of ugu leaves and spinach instead of waterleaf.
Even though it will no longer be the authentic Igbo soup, it will still remain a delicious meal to taste. Sometimes, it's a good idea to change something and try new flavors and approaches.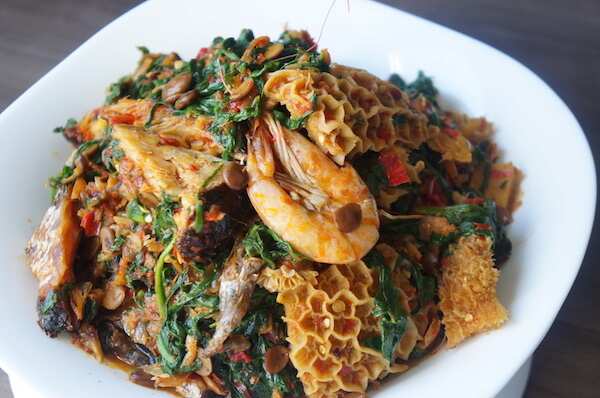 A lot of ingredients are often added to the traditional recipe just because the people who are going to eat the soup like these ingredients. For instance, some people don't like crayfish and don't put it into the soup. Other people prefer the taste of seasoning cubes and add plenty of them. It's up to you whether you would prefer to feel the flavor of the ingredients or the taste of the seasoning cubes.
Sometimes, some cooks add a lot of palm oil and it seems that the ingredients are simply floating in it. You are not obliged to do it even if you have tasted only this version of the edikaikong soup. Just make it as you want it to be and be sure that you will like it.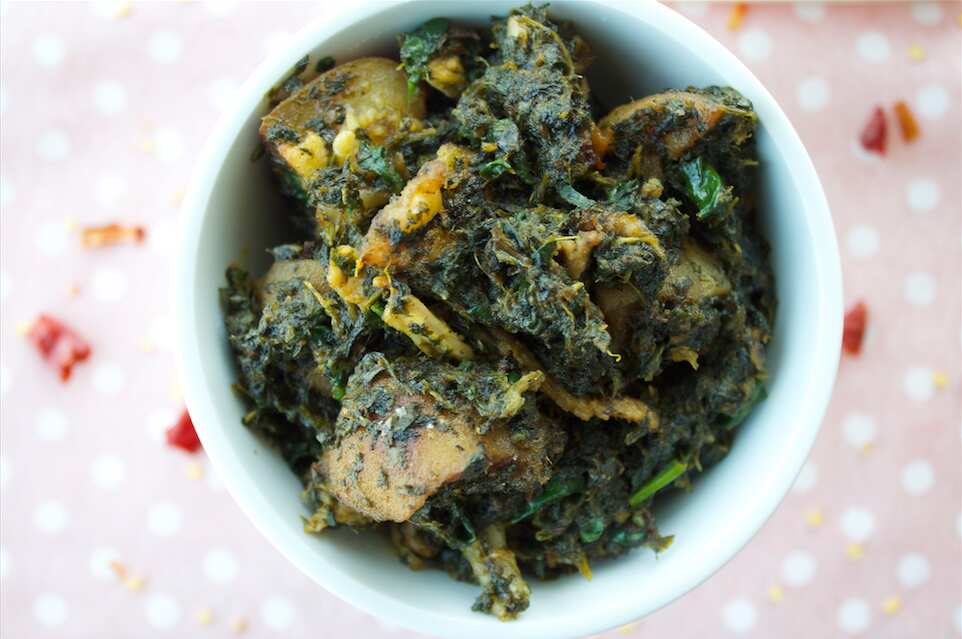 Share these recipes with others and enjoy your delicious and home-prepared vegetable soup!
READ ALSO: Nigerian dishes and snacks everyone should taste
SOURCE: livestrong.com
Source: Legit.ng