Kinky braids hairstyles in Nigeria
It's no secret that more women are leaving behind relaxers and embracing their natural hair. This has become a modern trend that is being widely accepted worldwide, particularly by females. It promotes self-acceptance and is very popular, especially among women of African descent. As full bred Africans, our hair texture is naturally kinky. It means that our curls are very tight. It can be very difficult and time-consuming to style our hair. Sometimes the process may even be frustrating. Instead of combing hair every morning, a lot of females opt for styles that could last for weeks or even months. In this article, I have gathered stylish kinky braid hairstyles for inspiration.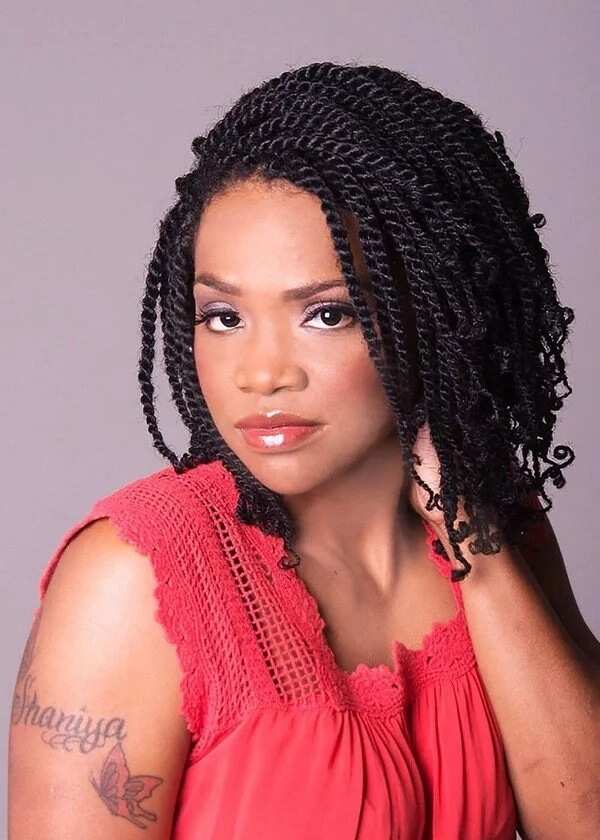 What are Kinky Braids?
Unlike regular braids or straight attachments, kinky braids look and feel like natural afro hair that has been deep conditioned. This kind of braids is popularly used on women with a natural kinky hair texture so that it can blend and look as realistic as possible. Some popular brands of this kind of braids are X-pression, Kanekalon, Marley Hair, and Havana. These attachments are very versatile and allow a myriad of different kinds of kinky braid styles.
READ ALSO: How to pack braids in different hairstyles?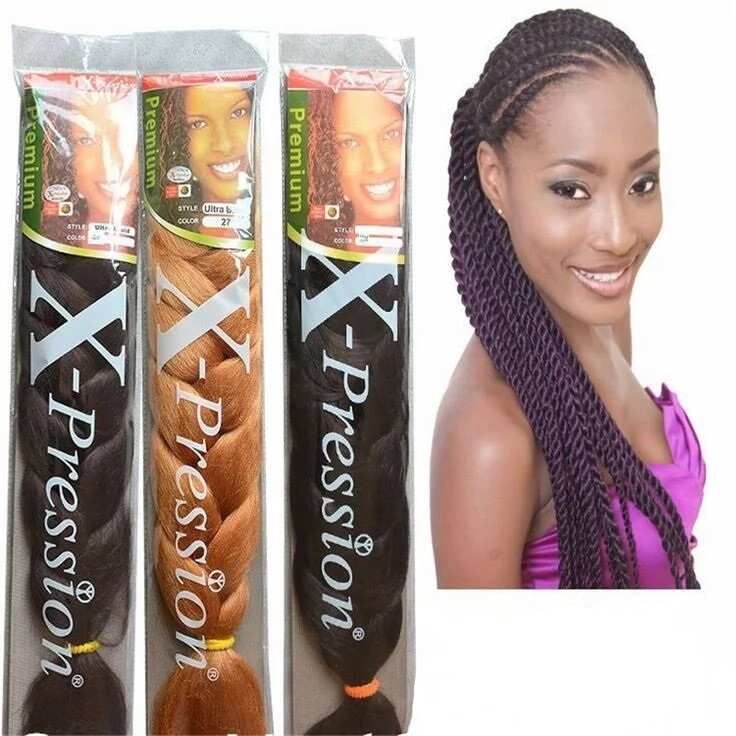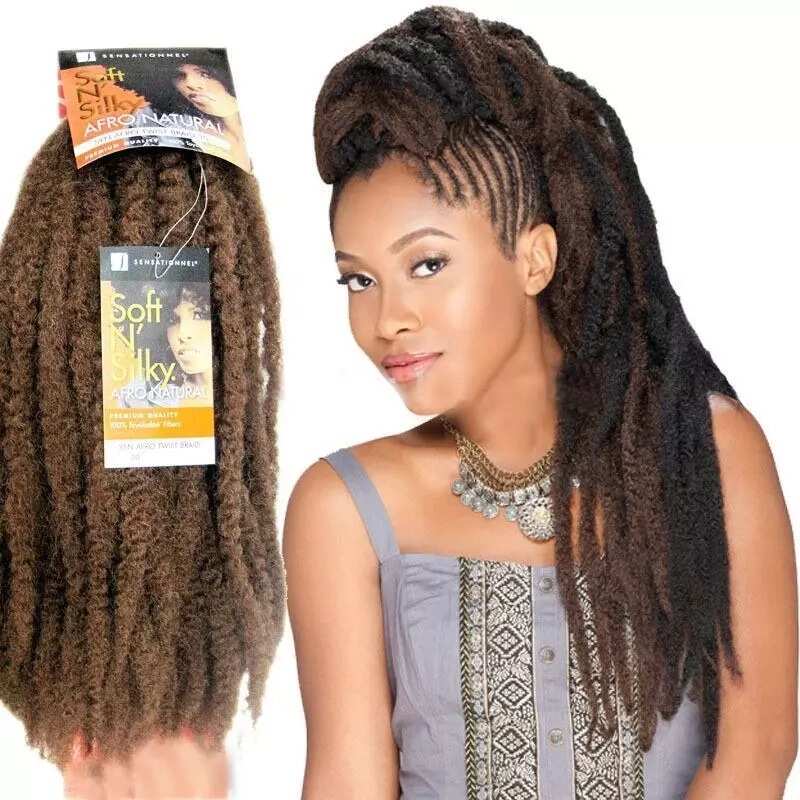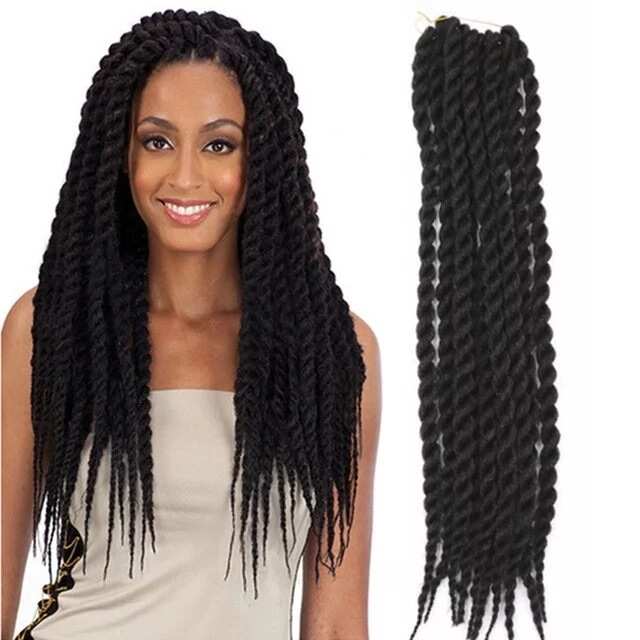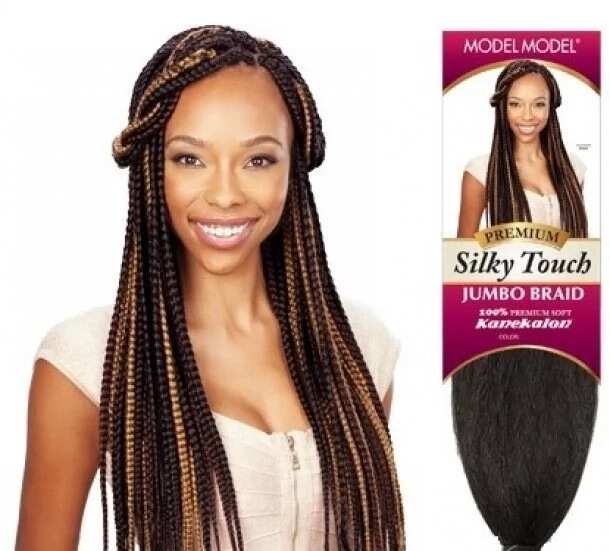 You should know this!
When choosing hair attachment for braiding it is ideal that you determine the texture, color and the amount of hair you intend on using. The amount of hair will determine its thickness. If you are going for a more realistic and natural look then you should choose a color that is close to your own natural hair. After you have done that then the next step is braiding the hair. Styling braids are not as hard as you may think, you can either do it yourself or seek professional help to save time.
Below I have collected some of the most popular Nigerian hairstyles for attachment that will inspire you. Included are instructions you can follow to achieve them yourself. Remember, before you begin you should always use a paddle brush to remove any possible tangles. They are as follows:
Box Braids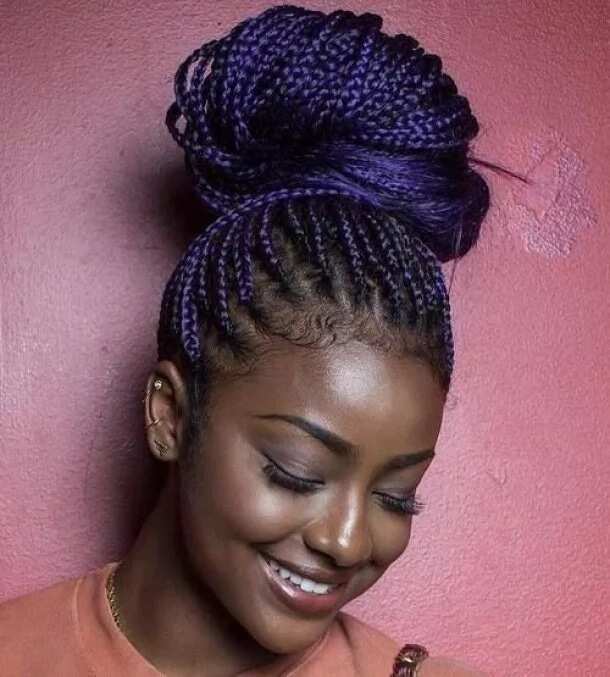 Want to achieve beautiful box braids? Here are some simple steps that you can use as your guide:
• First, begin with clean and dry hair.
• Then start sectioning your entire head of hair into four sections. Use an elastic to tie the hair/ sections separate from each other.
• Take a pinch of your hair with either your fingers or a comb. This amount of hair would be the size of your braid.
• Divide this pinch of hair into three parts.
• Take two pieces of attachments and loop them around each other to form three strands.
• Wrap the hair attachments around the strand of hair. Each strand of hair should be paired with attachment.
• Now cross the left pair of hair under the middle pair, then cross the right pair of hair under the middle pair. Do this continuously until you have reached the tip or the end of the hair. Now you have achieved your first box braid.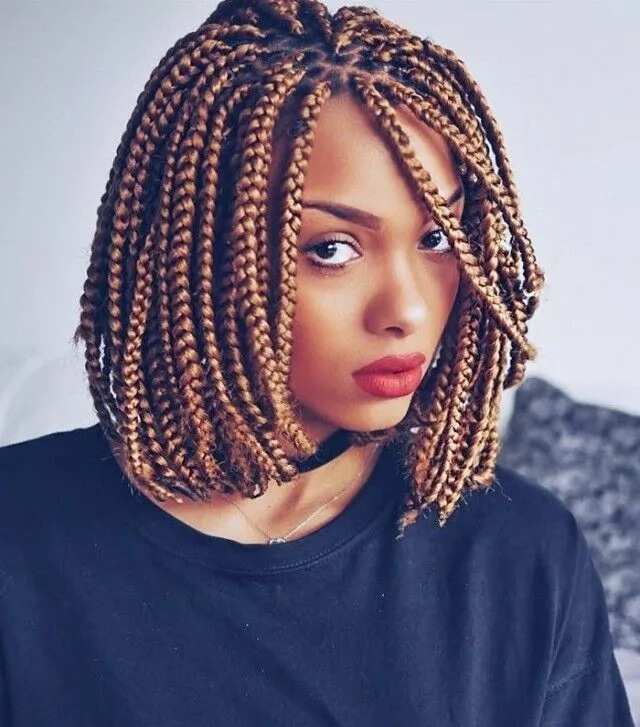 • Repeat this process until your entire head is complete.
• After you have finished, use scissors to cut away stray strands.
• Heat up some water and place your hair into it, this should help secure the hair and make it look neater. Remember to be careful not to burn yourself. Use a towel to dry your hair.
• Now you can style it as you wish and spray the finished product with braid spray. You could also use a braid oil on your scalp to prevent itching.
Faux Locs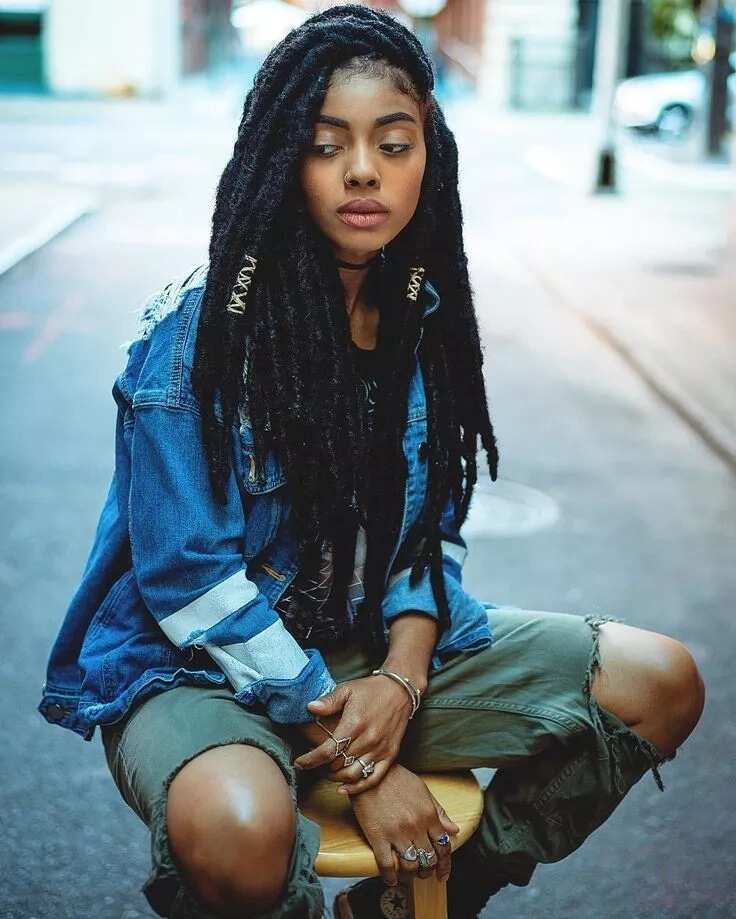 Faux locs is an easy hairstyle to achieve. To accomplish this on your own just follow these simple steps:
• Follow the steps above to braid your hair with attachments. You can also determine the length you want your locs to be, your natural hair can also be braided by itself, without attachments.
• After completing the braids, take a strand of your attachment, make a loop at one end and hold it firmly against the root of the braid.
• Now use that same attachment to wrap the braid from the root to the tip.
• To secure this loc, fold the tip and wrap from the tip upwards. It is not necessary to wrap all the way to the root. Just at a small distance from the tip.
• If there is not enough hair to secure the loc, add more attachment and repeat from step two.
• After doing this, use a lighter to prevent unraveling. Hold it, for a short amount of time close to the hair then roll it in the palm of your hands. Be careful not to burn yourself or the hair.
• Repeat these steps for all the braids.
Kinky Twist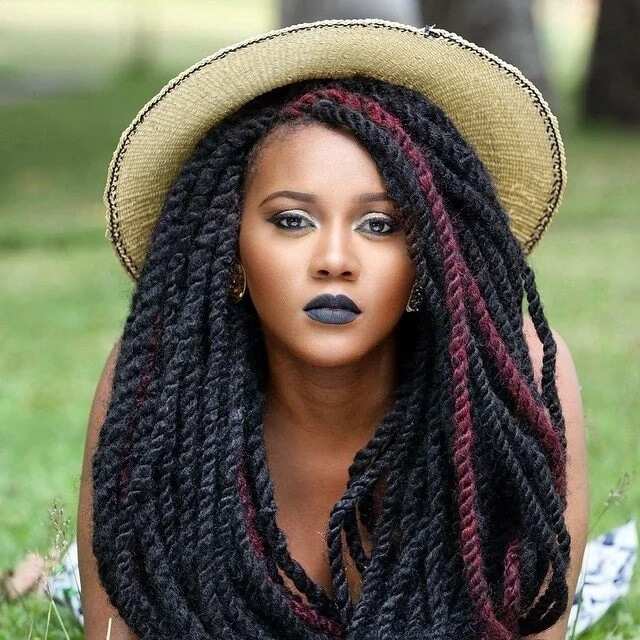 Kinky twist uses kinky or nappy hair, the steps to achieve this look is similar to braiding except that we use two strands instead of three.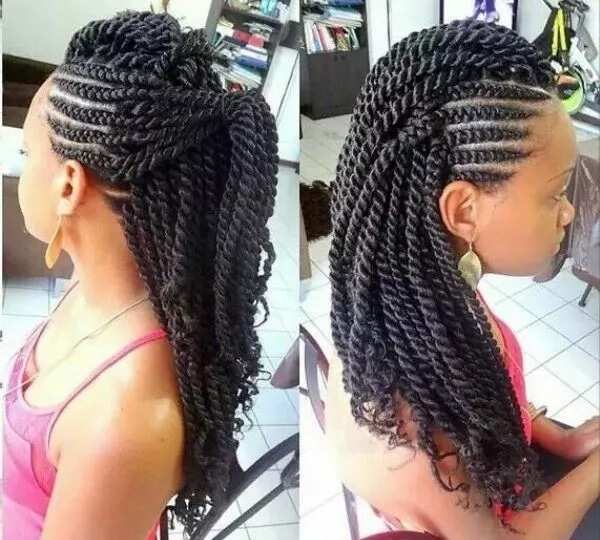 Havana Twist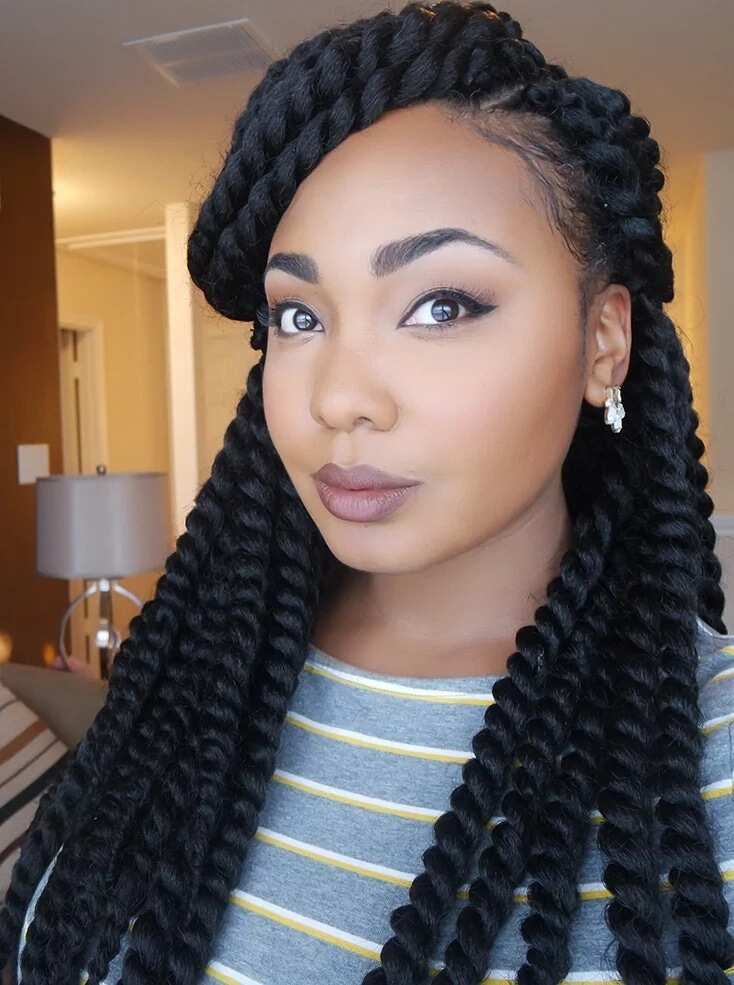 This is achieved in the same manner as the kinky twist, except that these twists are much thicker.
Simple kinky twist with an Up-do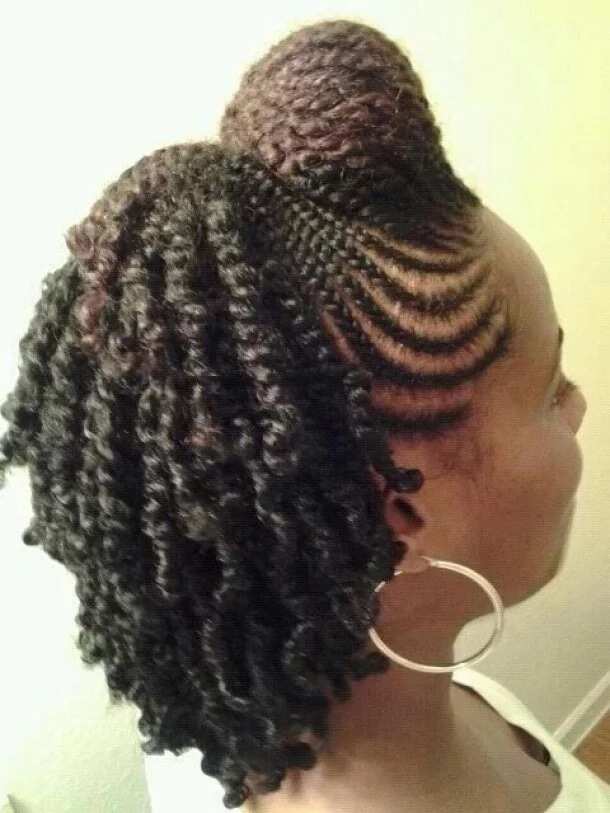 To achieve this kind of cornrow, follow the instructions below:
1. Part your hair according to the direction and style you want your braid to be.
2. Begin by taking a small section in front of the hair you just parted. Separate the remainder of the hair that won't be included into the cornrow, to prevent it from getting in your way.
3. Divide the first section of the hair into three strands.
4. Take the hair attachment, the amount depends on how thick you want your cornrows to be.
5. Tilt your head to the opposite side from which you will intertwine the attachment and begin braiding. Use the upward hand motion.
6. Begin by passing the right strand under the middle then the left strand under the middle, repeat one more time as if you are making a normal braid.
7. Now add braid in a continuous fashion. To do this add more hair to the braid by holding on to the two outer strands and taking a small amount of hair beneath the initial braid. Add this new strand of hair to the middle strand. This addition would result in a merger and three strands.
8. Repeat points four and five until you have no more hair left!
9. The twist above is bouncy and tight, to acquire this same type of twist you just need to dampen your hair by using a hair gel or curl pudding.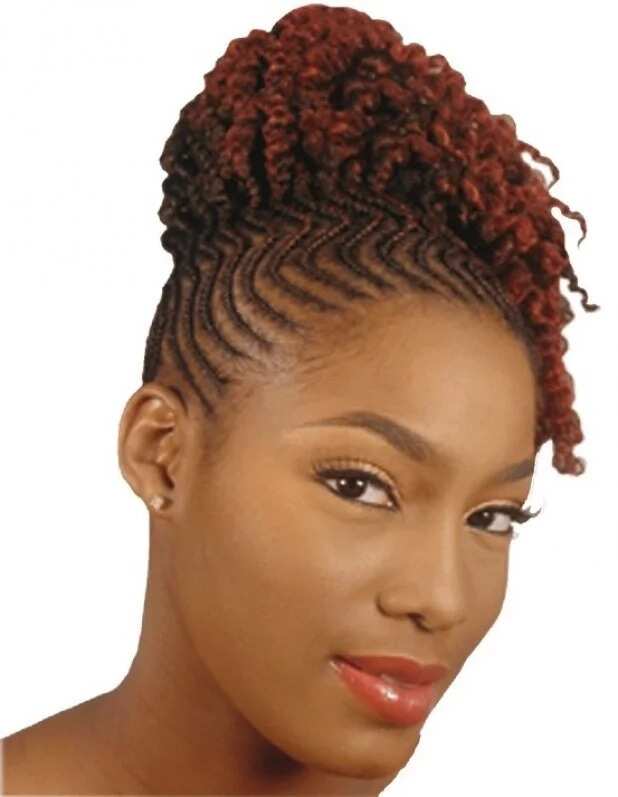 Here is something you should know!
If you begin to add thin strands of attachment at the root then increase the size as you continue, your braid would look more realistic and neat, as if it was your own natural hair.
Kinky Braids Cornrow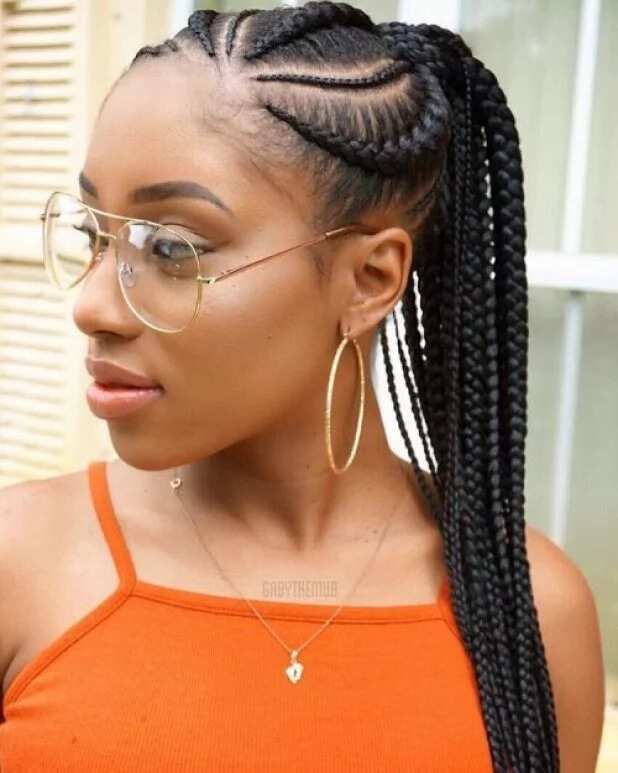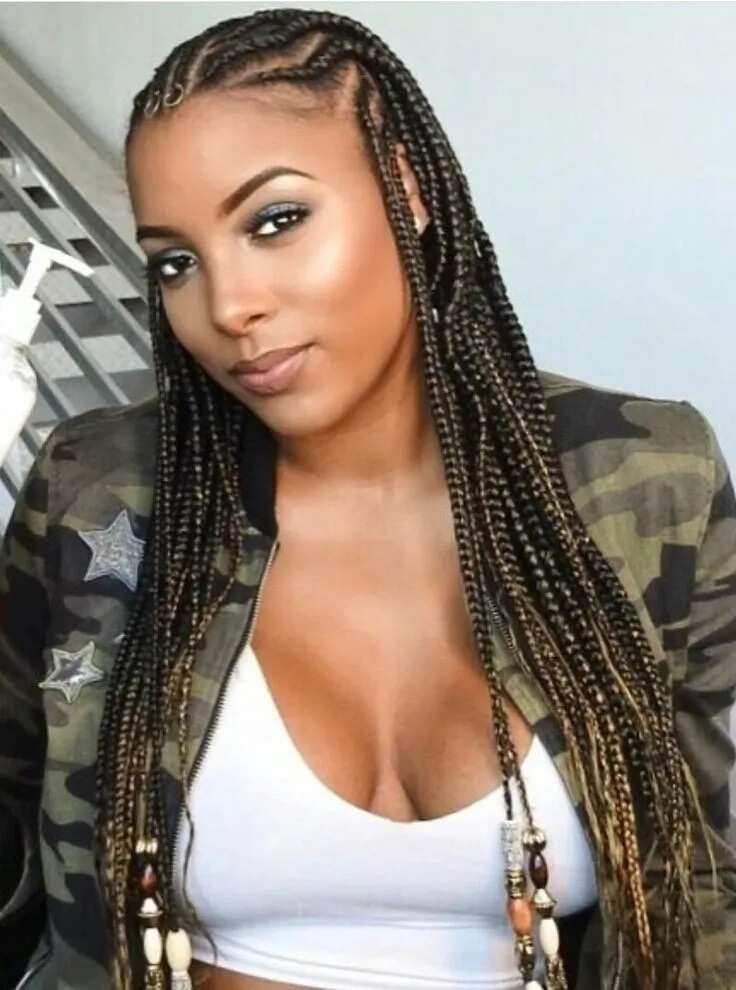 These styles above can be achieved by following the same steps given.
Curly Afro or Braid Twist Out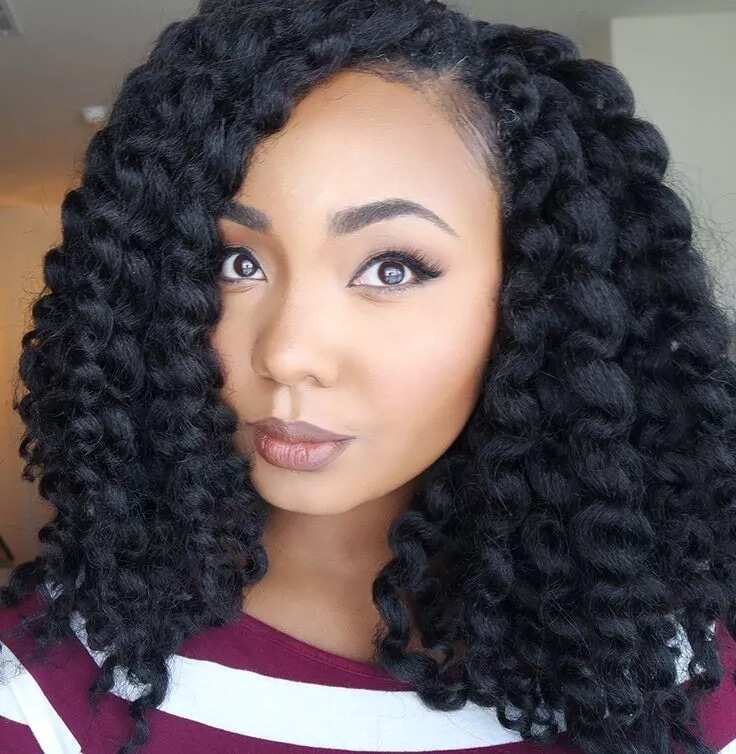 This style is very simple. After twisting your hair as Havana twist or kinky twist, instead of removing it completely, you can unravel the twist for this style.
All the styles above are trending and suitable for any occasion. It can be appropriately styled and worn to school, work, parties etc, the list is endless.
READ ALSO: Brazilian wool hairstyles in Nigeria.
Source: Legit.ng