List of African Presidents Who Succeeded Their Fathers To Rule Their Countries
Some African leaders have records of grooming their sons to immediately succeed them or take over power in the near future.
From Togo to Gabon, Chad to Ghana, the story is the same and the families are well known.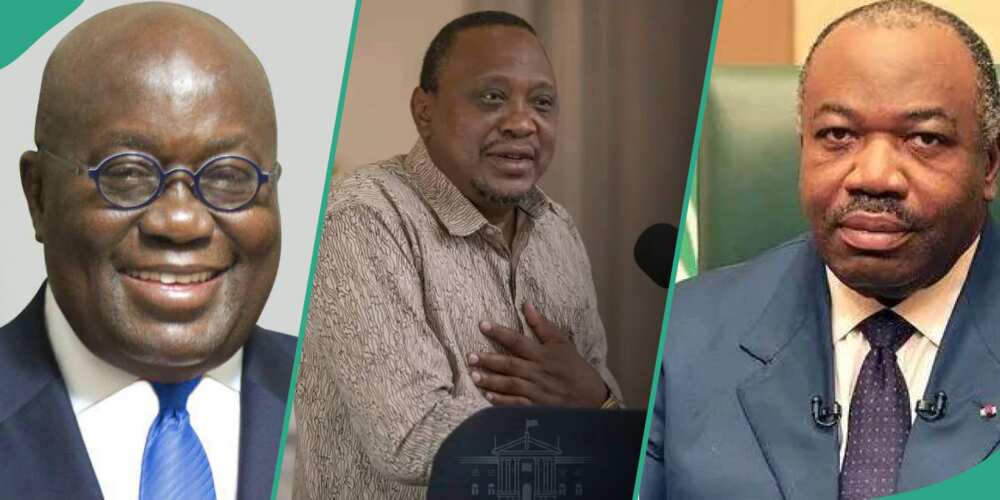 As reported by Nile Post, here is the list of African presidents who succeeded their fathers.
Mahamat Idriss Dèby Itno – Chad
Chad's transitional president, Mahamat Idriss Déby Itno took over from his father, Late Dérby Idriss, who died of injuries days ago while battling rebels on the frontline in 2021.
The late Déby was in power for 30 years and his death was announced a day after provisional presidential election results put him ahead in the race for his sixth term in office with 79.3%.
Faure Gnassingbé – Togo
Faure Gnassingbé took over power in Togo after the death of his father Étienne Eyadéma in February 2005.
The late Eyedema was the president of Togo from 1967 until his death in 2005, after taking over power through a military coup.
The military named Gnassingbé a successor to his father but his appointment was denounced by the international community for violating Togo's 1992 Constitution.
Gnassingbé stepped down and agreed to a diplomatic election which he later won and was installed as president in May 2005.
Joseph Kabila – DRC
Joseph Kabila succeeded his late father, Laurent as President of the Democratic Republic of Congo (DRC) in 2001.
Kabila became president 10 days after his late father was reportedly assassinated by a young member of his presidential guard in January 2001
He ruled DRC for over 18 years (January 2001-Jan 2019).
Ali Bongo Ondimba – Gabon
Ali Bongo became the president of Gabon in October 2009 after succeeding his father, Omar Bongo who had ruled the country for nearly 42 years.
His reign came to an end on Wednesday, August 30 when the army took ovr power from him through a military coup.
Nana Akufo-Addo -Ghana
Ghanaian President, Nana Akufo is the son of Edward Akufo-Addo, who served as a ceremonial president between 1970-192.
Edward, one of the founding fathers of Ghana was the Chief Justice of the Gold Coast nation (1966–70), before assuming the position of the president.
Hi son, Nana became the president of Ghana on 7 January 2017.
Uhuru Kenyatta – Kenya
Uhuru Kenyatta is the son of Kenya's first president, Jomo Kenyatta, who ruled from 1964 to his death in 1978.
Jomo was also the Prime Minister of Kenya between 1963 and 1964.
Uhuru became Kenya's president in 2013 and was re-elected for his second in 2017.
Khama Ian – Botswana
Seretse Khama Ian, the son of the first President of Botswana Sir Seretse Khama, ruled Botswana for 10 years from 2008 to 2018.
Khama had also served as the Vice President of the country before taking assuming the office of the president.
His father was President of Botswana from September 1966 to July 1980.
Navinchandra Ramgoolam- Mauritius
The former Prime Minister of Mauritius, Navinchandra Ramgoolam, followed the footsteps of his father, Seewoosagur Ramgoolam, who served as Prime Minister from 1968-1982.
Just like his father, Navinchandra served as the island's PM from 2005 to 2014.
His father was Mauritius's first Chief Minister between 1961 and 1968 and Governor-General from 1983-1985.
5 interesting facts about Gabon as army takes over
Meanwhile, Legit.ng has reported that the military has finally taken over power from President Ali Ben Bongo in Gabon after a failed attempt in 2019.
The coup d'etat in Gabon is coming about six weeks after the military junta in the Niger Republic ousted President Mohamed Bazoum from office.
Here are five interesting facts to know about Gabon
Source: Legit.ng