What Abuja Residents are Saying About Wike's Appointment As FCT Minister
Reactions have begun to trail the first press conference of the Minister of the Federal Capital Territory (FCT), Nyesom Wike
During his press conference on Monday, August 21, Wike vowed to revitalise the master plan of Abuja and enhance developmental projects across the FCT
Meanwhile, residents of Abuja spoke to Legit.ng and expressed their opinion on the appointment of Wike as Minister of FCT
FCT, Abuja - Residents of Abuja have started expressing their thoughts on the appointment of Nyesom Wike as the minister of the Federal Capital Territory (FCT) less than 24 hours after President Bola Tinubu inaugurated him.
On Monday, August 21, Wike informed Abuja residents of his plans to revitalise the city and return it to its status as a model metropolitan city.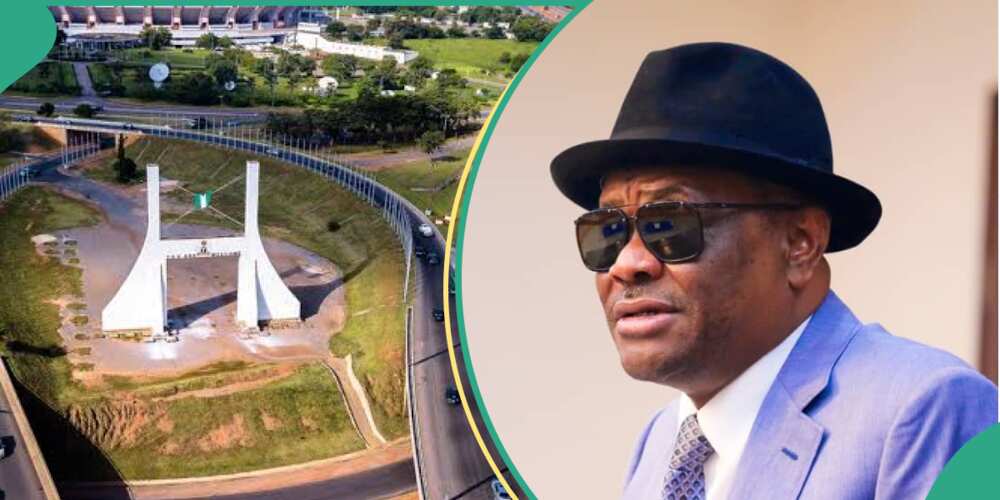 The former Rivers State governor reeled out his plans which range from demolishing structures distorting the master plan of Abuja, revitalising the urban transport system, ban on motorcycles and tricycles, among others.
Meanwhile, residents of Abuja in a chat with Legit.ng held separate views on his agenda and what the appointment of Wike means to the FCT in the coming years.
Abuja residents react
Dr Olorungbemi O.I., a director principal at the Junior Secondary School (JSS) Jabi 2, gave credence to Wike's antecedents and expressed optimism about his influence and impact.
She said:
"Personally, from the records of his activities as a governor in Rivers State, I believe he will record greater achievements in FCT."
In contrast, Kehinde Imasuen, a fashion designer who lives in the Kuje area council of FCT, said the appointment of Wike would have several impacts on Abuja residents.
He stated that Wike's press briefing on Monday indicated that his administration would have both positive and negative impacts.
Mr Imasuen said:
"I think the appointment of Wike as the new minister of the FCT is of two phases...in the sense that it will have both a positive and negative impact base on his speech yesterday.
"Positive in the sense that the city plan will be followed as it is supposed to be and all shanties in the city will be pulled down, which serves as hideout for petty thieves, and it will help the security aspect of the city and other positive things he said during his press conference yesterday.
"Coming to the negative part, the country's economy is in bad shape. If demolition must be carried out, he should try as much as possible to ensure that proper measures are put in place to help those that will definitely lose their homes."
Complains over Wike's temperament
Meanwhile, Dr Abubakar Sani, a security expert and public affairs commentator, described Wike as a man of action whose experience in infrastructural development knows no bounds.
He, however, expressed his fears about Wike's tendencies to be radical with his decisions which will, in turn, lead to the violation of human rights.
Dr Sani said:
"...this man has no capacity to tolerate contrary views and opinions. He can be violent sometimes. His score on human rights is very low.
"Now that he is the FCT minister, which is just like the mayor, I hope he won't violate the rights of Abuja residents in the process of carrying out his mission as minister."
Wike as political bait for opposition
Another resident of Abuja, Mr Adeyinka S. Adedigba, described Wike's appointment as more of capabilities than political.
He said:
"What we all saw that happened during his eight years tenure as Rivers state Governor, he will bring that wealth of experience to functions in FCT."
He, however, did not rule out the possibility of Wike being used as political collateral to tackle opposition threats.
Meanwhile, Olorungbemi Elijah, a post-construction finisher, said:
"As much as the FCT needs a new face and structure and that Wike is somewhat capable of handling this position, his apathetic nature might be a pain in the neck.
"With a soothing approach to things, I believe Wike could succeed in the FCT."
FCT: 6,000 buildings risk demolition as Wike maps 30 Abuja areas
Meanwhile, the Federal Capital Territory Administration (FCTA) has revealed that 30 areas in Abuja might be affected by demolishing illegal structures.
The FCT Minister, Nyesom Wike, had also vowed that illegal structures in green areas of Abuja would be flattened.
According to the FCTA, 6,000 buildings had been mapped out in their last survey for demolition, and more might still be affected.
Source: Legit.ng