BREAKING: Vice President Shettima Inaugurates NEDC Board, Details Emerge
The vice president of Nigeria, Kasim Shettima has inaugurated the North East Development Commission (NEDC) board
The governor of Borno state, Babagana Zulum and the NDLEA chairman, Brig-Gen Buba Marwa (rtd), were among those present during the ceremony
General Paul Tarfa (RTD) and Alhaji Mohammed Goni Alkali were among those on the board of the NEDC
State House, Abuja - On Wednesday, August 9, Nigeria's Vice-President Kashim Shettima inaugurated the reconstituted Board of the North East Development Commission (NEDC).
Gov Zulum, Marwa present as Shettima inauguartes NEDC board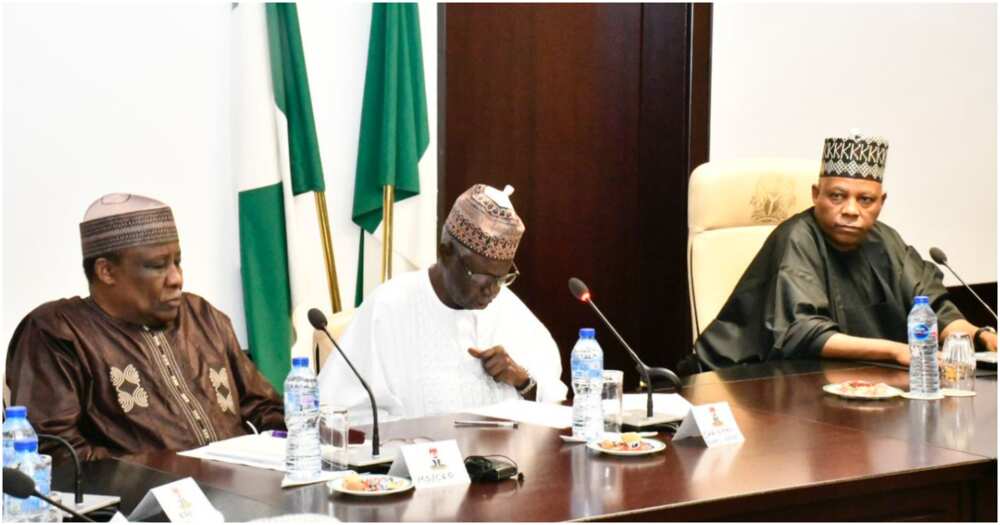 As reported by Channels TV, the event was held at the Conference Hall of the Vice President's Office at the State House in Abuja.
Present during the ceremony was Governor Babagana Zulum of Borno State and the Executive Chairman of the National Drug Law Enforcement Agency (NDLEA), Brig-Gen Buba Marwa (rtd).
Shettima inaugurated General Paul Tarfa (RTD) and Alhaji Mohammed Goni Alkali as chairman and MD/CEO respectively and members of the board of the NEDC.
President Tinubu inaugurates new committee, details emerge
Similarly, the presidential committee on fiscal policy and tax reforms has been inaugurated.
Legit.ng reported earlier that President Bola Ahmed Tinubu inaugurated the committee and hinted at what was expected of them.
The inauguration ceremony was held at the State House in Abuja on Tuesday, August 8.
President Tinubu, during the unveiling, said, "We cannot continue to tax poverty when we are supposed to promote prosperity."
Tinubu, Shettima, Akpabio attend APC's NEC meeting as Ganduje elected chairman, photos emerge
Nigeria's President Bola Ahmed Tinubu and Vice President Kashim Shettima, on Thursday, August 3rd, attended the 12th National Executive Committee (NEC) meeting of the All Progressives Congress (APC) at the Congress Hall of the Transcorp Hilton in Abuja.
Tinubu, who is the party's leader, arrived at the venue in the early hours of the day, to signal the start of the meeting.
A media aide to President Tinubu, D. Olusegun confirmed the development on Thursday evening, via Twitter.
Source: Legit.ng