Doguwa in Trouble as New Kano Governor Abba Yusuf Vows to Revisit Alleged Murder Trial
Governor Abba Kabir Yusuf has vowed to revisit the alleged murder case against lawmaker Alhassan Doguwa
In the build-up to the general election, Doguwa was arrested for allegedly killing three members of an opposition party
Last week, the immediate past Kano state government exonerated him from all charges
Kano, Kano - The newly inaugurated governor of Kano state, Abba Kabir Yusuf, said the alleged murder case against the former majority leader of the lower chamber, Alhassan Doguwa, will be revisited.
Governor Yusuf made this known on Monday, May 29, shortly after his inauguration, stating that Doguwa would be re-arraigned before the court of law.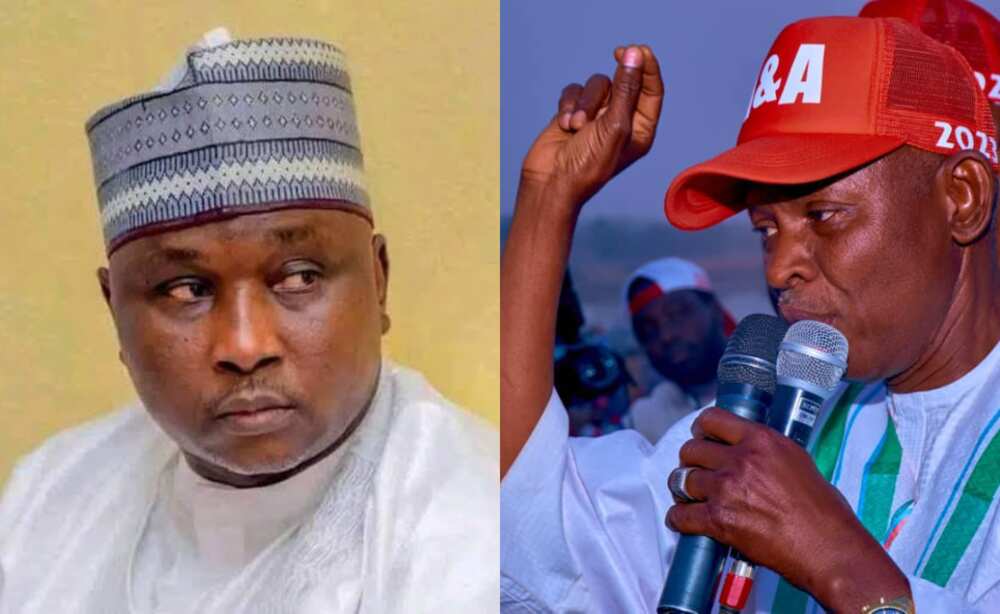 Recall that Legit.ng earlier reported that the immediate past government of Kano state declared Doguwa freed from all charges levelled against him due to lack of substantial evidence and the mixed testimonies from the suspects arrested by the Nigerian Police Force.
Doguwa, before his ordeal with the Kano state government, was arrested for allegedly ordering the killing of three persons from the opposition party (New Nigerian Peoples Party) in the Tudun Wada local government area of the state in the build-up to the general elections.
The incident led to his arrest and arraignment by the Kano State Ministry of Justice, and he was tried for charges of criminal conspiracy, mischief by fire, and culpable homicide.
Weeks later, the immediate past commissioner of justice in Kano, Musa Lawan, announced that the state government would be dropping the case against Doguwa.
He said:
"Based on the contradicted witnesses received, those that indicted were full of contradictions while others exonerated him (Mr Doguwa) according to the police investigation report submitted to the Kano State government.
"After scrutiny, we cannot establish a murder charge against Alhassan Ado Doguwa and other accomplices, including the police officers whose ammunition was intact after the incident.
"By law, if you have a contradiction in evidence against a suspect, you can pick the one that exonerates him against the ones that have contradictions, this made us arrive that we cannot charge them in court."
Meanwhile, the current Kano state government have resolved to resume the case and approach it logically before concluding.
As reported by Premium Times, Governor Yusuf said:
"In the same vein we shall investigate all cases of political violence that led to loss of lives and properties across the state in the last eight years.
"The infamous case of Alhassan Ado Doguwa, who allegedly sponsored the maiming and murder of over 15 innocent souls in Tudun Wada Local Government will be pursued to its logical conclusion."
Abba Gida-Gida makes fresh appointments, details emerge
In another development, the newly sworn-in governor of Kano state has made the first set of appointments with Hon. Shehu Wada Sagagiis as his Chief of Staff.
The appointments, conveyed in a statement by his chief press secretary, indicated that Governor Abba Kabir Yusuf also named Abdullahi Baffa Bichi the new Secretary to the State Government.
Other appointed officials are Farouq Kurawa, the principal private secretary, and Hon. Abdullahi Ibrahim Rogo, who will serve as the chief protocol.
Source: Legit.ng