New Kano Governor Abba Gida Gida Fires Another Shot at Ganduje
The newly inaugurated governor of Kano state, Abba Gida Gida, has fired the second shot at his predecessor, Abdullahi Ganduje, within 24 hours that he resumed office
Abba Gida Gida sacked all political appointees heading the state government's MDAs and companies with immediate effect
The governor earlier in the day, refused to seat on the chair Ganduje used to sit in and ordered another one after pulling a drama on resumption
Kano, Kano - Abba Kabir Yusuf, the newly sworn-Kano governor, popularly referred to as Abba Gida Gida has ordered the sacking of all government appointees from former Governor Abdullahi Ganduje's administration.
Daily Trust reported that the governor in a statement he personally signed on Monday, May 29, the day he was sworn in, gave the executive order that "all political appointees heading government MDAs and companies are hereby relieved of their appointment with immediate effect."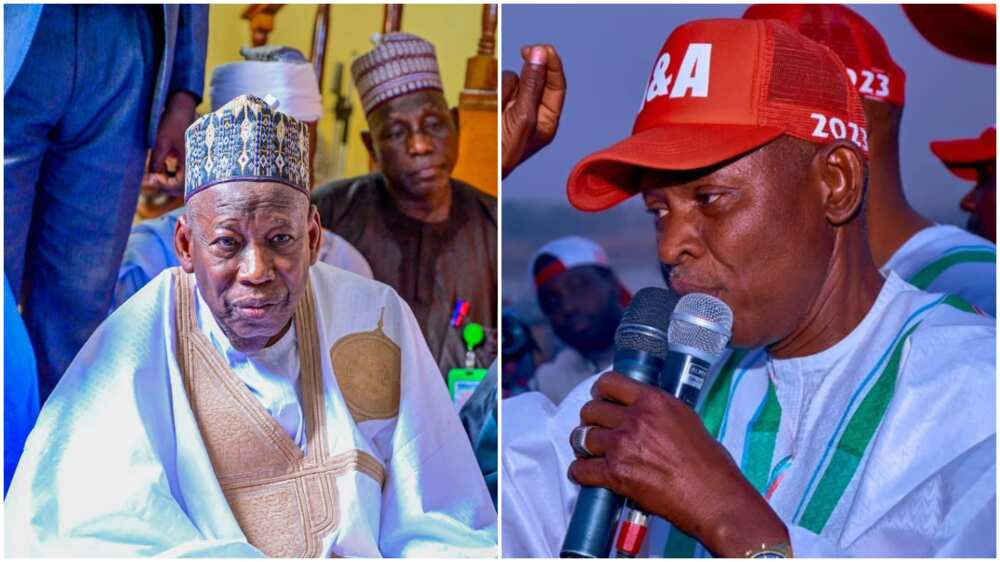 Why Kano governor, Abba Gida Gida, sacks all Ganduje appointees
Abba Gida Gida also directed all security agencies to take over all public properties that Ganduje's administration had sold with immediate effect.
He added that the security agencies, including Hisbah police, should take over the properties until his government took a final decision on them.
"I am announcing, today, that all these public places and assets that were immorally plundered and sold by the Ganduje administration should be taken over by law enforcement agencies, led by the Police, the DSS, Civil Defense, and Hisbah pending the final decision of the government."
Latest about Abba Gida Gida, APC, NNPP, Abdullahi Ganduje, 2023 Election
The governor further clarified that the properties he was referring to included graveyards and green areas, lands in and around schools, along the city wall of Kano, and religious and cultural sites, hospitals, and clinics.
He added that other assets and landed properties of the state government within and outside Kano that have been sold to the ex-governor's cronies and agents.
The move by the governor would be his second shot against his immediate predecessor within 24 hours as he was reported to have rejected the notion of sitting on the chair Ganduje was initially using.
Legit.ng earlier reported that Ahead of May 29, when their tenure would be officially ended, they are expected to hand over to their successor as stipulated in the constitution, but some outgoing governors may not do the proper thing in handing over.
This is because these governors have been accused of not cooperating with the transition committee of the governors-elect in their state.
Source: Legit.ng