The End of an Era: Watch Moment Buhari Flies Home to Daura After Handing Over to Tinubu
Former President Muhammadu Buhari has handed over the helms of affairs to the new present of Nigeria, Bola Ahmed Tinubu
After handing over to Tinubu, Buhari and his wife, Aisha left Abuja and thereafter boards the Nigerian Air Force Jet 001 to Katsina en route to Daura, his hometown in Katsina state
After shaking hands and exchanging pleasantries with some of them, Buhari waved goodbye to his lieutenants before his aircraft took off
Former President Muhammadu Buhari and his wife, Aisha have left the nation's capital, Abuja, after handing over to his successor, President Bola Ahmed Tinubu, on Monday, May 29, 2023.
Buhari and his wife were accompanied by some of the top government officials of his administration to the Nnamdi Azikiwe International Airport, Abuja.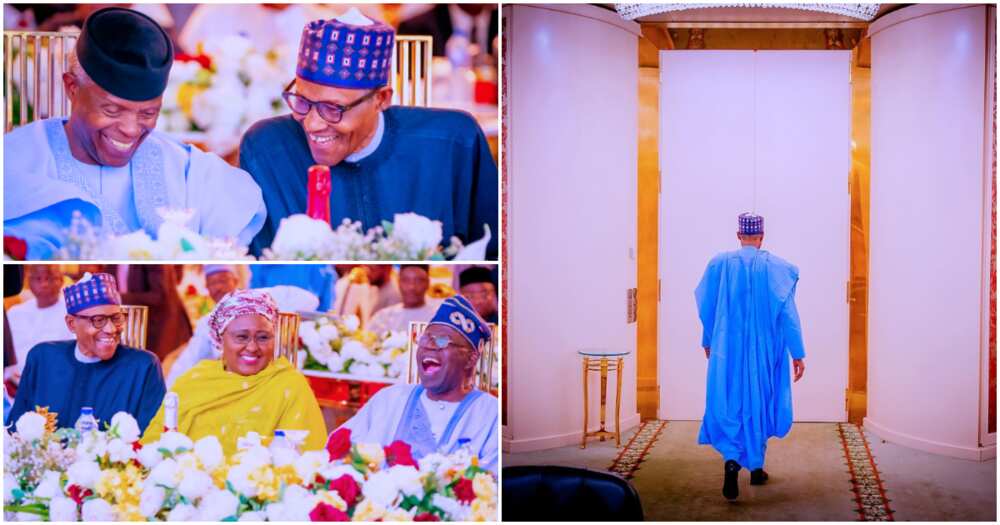 Buhari jets to Daura
Nigeria's former president departed Eagle Square, Abuja, after handing over to Nigeria's 16th president, and thereafter boards the Nigerian Air Force Jet 001 to Katsina enroute to Daura hometown.
Video as Buhari flies home to Daura after handing over to Tinubu
An emotional video shared by Bashir Ahmad on Twitter captured the moment the former president boarded the plane and was bid farewell by members of his cabinet.
Watch the video below;
"I look forward to meeting my cows": Buhari reveals funny reason for eagerness to return to Daura
The immediate past former president of Nigeria, Muhammadu Buhari has said he cannot wait to get back to his hometown in Daura, Katsina state.
Buhari spoke at a dinner held on Sunday, May 28, in Abuja.The 80-year-old stated that his cows are easier to control than Nigerians.
Buhari thanked the heads of state and representatives that were in attendance for the handover for their support and wished them well.
National debt: Each Nigerian owes N217,136 under Buhari as Tinubu takes oath of office
Legit.ng also reported that Buhari is leaving Nigerians with a debt burden per head that is more than the combined spending on education and health.
Reports say Nigeria's debt burden per citizen grew faster than other sectors, such as health and education, for a country of over 200 million people with multi-dimensional poverty.
Nigeria's debt per citizen increased by 215% from N68.852 in 2015, when Buhari became Nigeria's president, to N217,136 IN 2022, according to data from the Debt Management Office (DMO).
Source: Legit.ng