Just In: President Tinubu Meets US, UK, Saudi Arabia Envoys, Makes 1 Strong Pledge
Nigeria's new president, Bola Tinubu, has reassured the people of his commitment to making the country great and united
After taking the oath of office on Monday, May 29, UK, US, Saudi Arabia envoys, and others had a bilateral meeting with Tinubu to pledge support and seek increased relations with Nigeria
Tinubu, after the meeting with the envoys, maintained that the country will not divide, but will stand strong, unshaken against all odds
President Bola Ahmed Tinubu, on Monday, May 29, in Abuja, took the oath of office and allegiance as the 16th president of Nigeria with a vow that the country would not break up.
In his inaugural address at Eagle Square, Tinubu also unveiled a series of steps he would take to position the country on the path of economic development, stability and prosperity.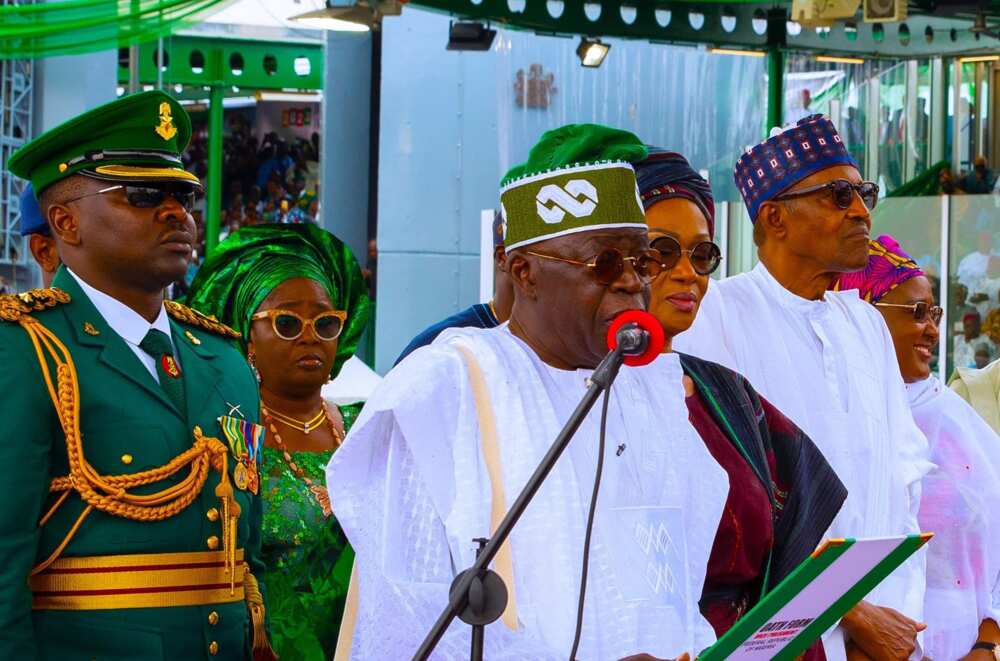 Tinubu meets delegates, reveals what Nigerians stand to gain going forward
Shortly after his inauguration, the president met with envoys from the United Kingdom, United States, Saudi Arabia, Japan, Brazil, South Korea, Israel, Cape Verde, Somalia and Nicaragua at the Presidential Villa, Abuja, The Punch reported.
The diplomats presented their goodwill messages and letters of support and solidarity to Tinubu, The Cable report added.
Nigerians berate Tinubu's subsidy removal, says Dangote won't subsidise petrol for Nigeria
The petrol subsidy removal announced by President Bola Tinubu on the day of his inauguration has drawn backlash from Nigerians.
Nigerians have said that the petrol subsidy removal was thoughtless and that no adequate plans have been put in place by the government to cushion the effect of the removal.
The co-founder of BudgIT, a Nigerian civic platform, Seun Onigbinde, said the government could not remove subsidies without offering to reduce the waste in government.
"Shege Banza": Nigerians reveal what they will remember Buhari's administration for
Legit.ng had earlier reported that just a few hours after former President Muhammadu Buhari, handed over power to President Bola Ahmed Tinubu, Nigerians took to social media to reveal what they will remember the Buhari's administration for.
Reacting to a question on Legit.ng post, a Facebook user, Mega Witty, said he would remember the former president for the insecurity, unemployment, and hunger, amongst others.
Another Nigerian, Temidayo Adewale, mentioned insurgency, herdsmen invasion, and coronavirus lockdown, as some of the things, he will remember Buhari for.
Source: Legit.ng