May 29 Handover: 6 Failed Promises of Outgoing President Muhammadu Buhari, APC Govt
FCT, Abuja - President Muhammadu Buhari; top members of the ruling All Progressives Congress (APC); and public officials made lots of promises to Nigerians upon which they rode to power in 2015.
Buhari will leave office on Monday, May 29, but his party stays in power.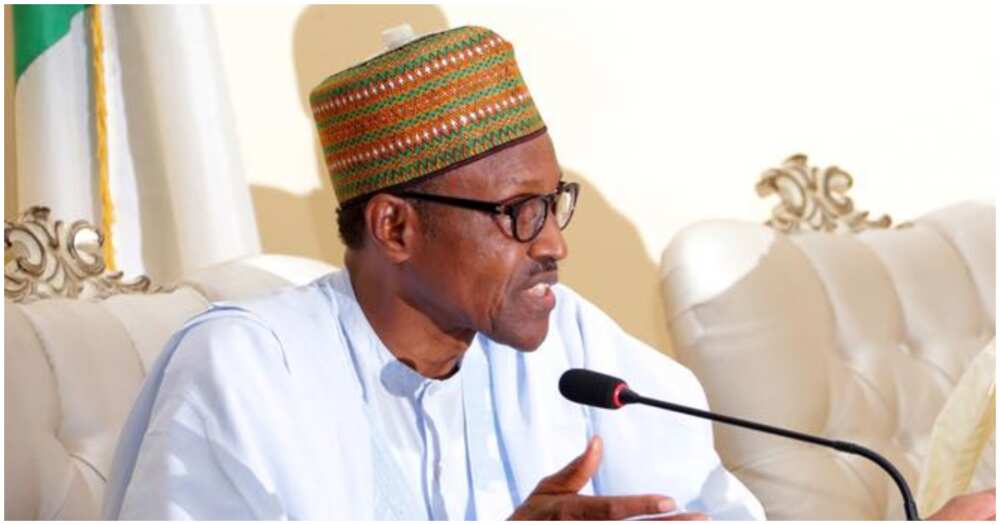 Legit.ng reports that the ruling government's promises cover pledges on specific and general issues of poverty alleviation, the much-emphasised fight against corruption, and insecurity.
While some of the promises made by Buhari and the APC were fulfilled, others remain empty.
It is noteworthy that some of these failed campaign and government promises outlined in this article were collated from live broadcasts, public functions, the APC's policy document and manifesto, Buhari's 100 days covenant, speeches at campaign rallies and town hall meetings nationwide.
PAY ATTENTION: Share your outstanding story with our editors! Please reach us through info@corp.legit.ng!
Which promise did Buhari and the APC renege on?
In the spirit of accountability, Legit.ng has compiled a list of Buhari and APC's promises to Nigerians, as these will undoubtedly form the stake against which the next government would be further assessed when the tenure ends on May 29, 2027. Afterall, the incoming administration of Bola Ahmed Tinubu vowed to build on Buhari's legacy.
1. Promise to prohibit government officials from seeking medical care abroad
Buhari, in a speech delivered on his behalf to the Nigeria Medical Association (NMA) in April 2016, said the government's 'hard-earned' fund would not be spent on treating officials overseas, especially when Nigeria had the expertise. But he broke his promise to end medical tourism in the country.
Nigerian politicians - including President Buhari - are mostly treated by doctors in the United Kingdom (UK). Buhari has treated both ear infection and teeth problem in the UK.
The outgoing president failed to lead by example. Instead of using Nigerian doctors and facilities, and ensuring government officials do the same, he flies abroad on medical trips.
2. Eradication of state of origin
The Buhari administration promised to eradicate 'state of origin' and replace it with 'state of residence'.
This proposed move was to ensure Nigerians are Nigerians first, before anything else. But it was unaccomplished.
3. Mambilla power project not completed as promised
The Buhari administration promised to ensure the completion of the Manbilla Dam before leaving office on Monday, May 29.
A project as important as the Mambilla hydro project, which promises 50,000 skilled jobs, enormous economic spillovers and 3,050 megawatts of electricity, has not seen the light of day since 1972 when the project was conceived.
4. 'I will end insecurity': Buhari
Buhari, a retired army major general, attained democratic power thanks largely to his electoral promise to clear the Boko Haram terrorist group in northern Nigeria, but he was confronted with a greater headache in the form of "bandits".
While the Global Terrorism Index (GTI) didn't list them in its last report, available data show that bandits are as deadly as Boko Haram and its splinter, Islamic State – West Africa Province (ISWAP).
Apart from banditry and insurgency, kidnap-for-ransom, separatists-linked violence were noticeable, as Buhari struggled to find effective solutions.
5. No winner in FG's N-Power Impact Series
Three months to the 2019 general elections in Nigeria (in November 2018), N-Power launched an impact series where beneficiaries under the FG's programme can win up to N1 million.
The competition – open to all N-Power beneficiaries – was a social media competition for enrollees to share the impact the scheme has had on them and on their respective communities.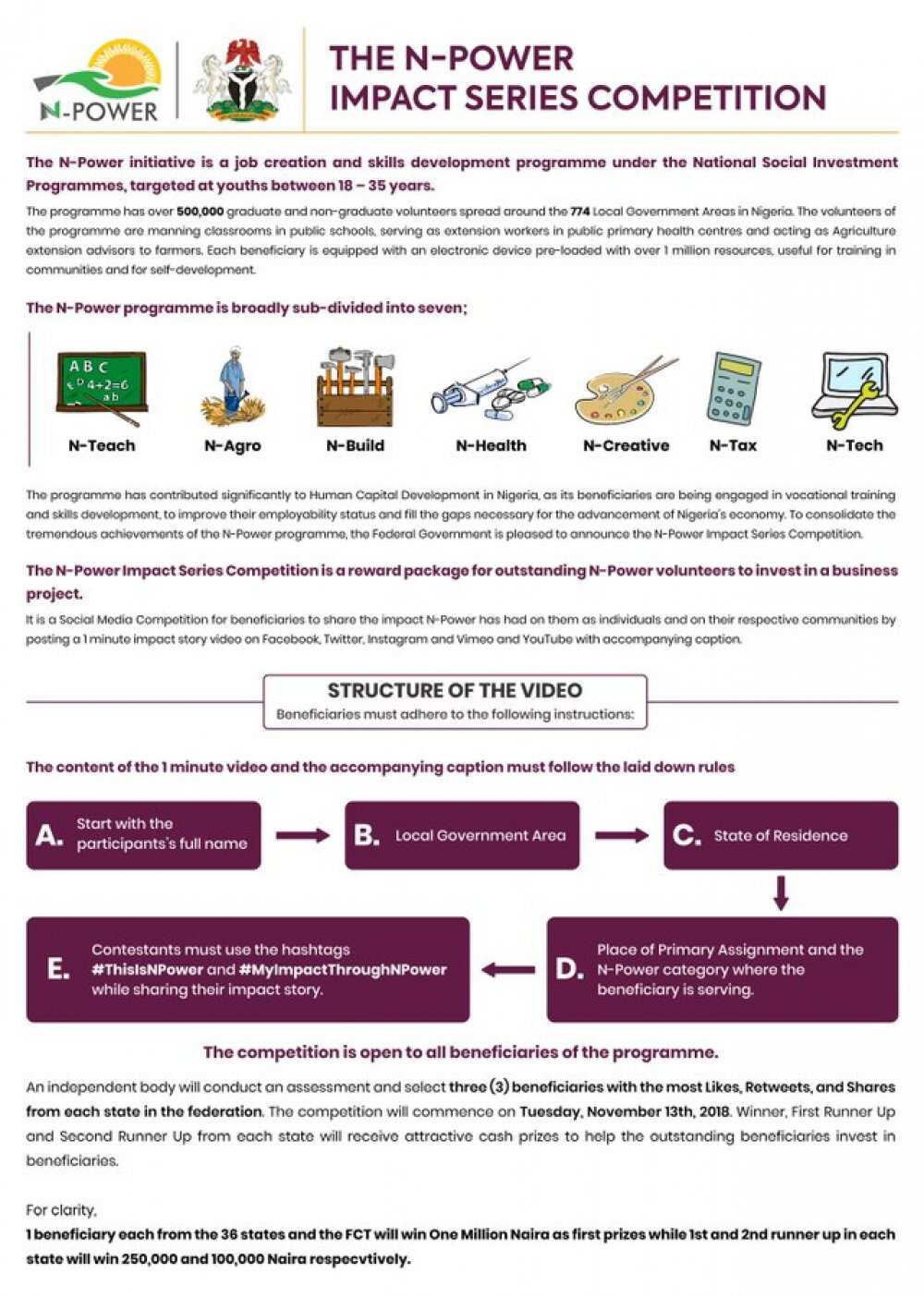 According to the handlers of the famed scheme, the winner, 1st, and 2nd runner-ups from each state will receive attractive cash prizes.
One beneficiary from the 36 states and the FCT was expected to win one million naira each as first prizes while the 1st and 2nd runner up in each state were promised 250, 000 and 100, 000 naira each respectively.
Numerous beneficiaries obliged to the call at the time. However, checks by Legit.ng revealed that to date, winners have not been announced.
6. Govt official promised N-Power beneficiaries permanent appointment -- but swallowed his words
Afolabi Imoukhuede, the ex-Npower-Job Creation Cluster Lead of the National Social Investment Programme (NSIP) once promised beneficiaries permanency if they ensure the successful reelection of his principal, President Buhari.
Prior to the 2019 general elections, Imoukhuede pleaded with Batch A and B beneficiaries to once more vote for President Buhari to enhance their continuity in the Npower programme.
His words:
"Your quest for permanence is directly tied to the continuity of Mr. President in office. So, I wanna turn the table to you.
"So, you can be sure that in his continuity, your quest for permanence will also be taken care of."
Post the election, Imoukhuede backtracked, saying federal authorities are in talks with state governments for an exit package for beneficiaries because the Buhari government giving permanent employment to 500, 000 beneficiaries is "impracticable".
President Buhari grades his performance
Earlier, Legit.ng reported that President Buhari scored the performance of his administration high, stating that he has run a good race and finished his work.
The President said its time for him to hand over the baton to the incoming administration of the President-elect, Asiwaju Bola Ahmed Tinubu.
Source: Legit.ng