In Farewell Speech, President Buhari Sends Important Message to Peter Obi, Atiku, Others
President Muhammadu Buhari, in his farewell speech, has urged opposition parties and their candidates to accept the court's verdict as the election tribunal continues its hearings
The president called for unity and cooperation, regardless of the outcome of the ongoing cases, emphasising the need to work together to build a better Nigeria
Buhari commended the resilience and commitment of all the presidential candidates and their parties for trusting in the judicial system and seeking legal redress regarding the election results
State House, Abuja - President Muhammadu Buhari has urged opposition parties and their candidates to accept the court's verdict even as the election tribunal continues hearing.
The president made the plea on Sunday, May 28, during his farewell speech to Nigerians.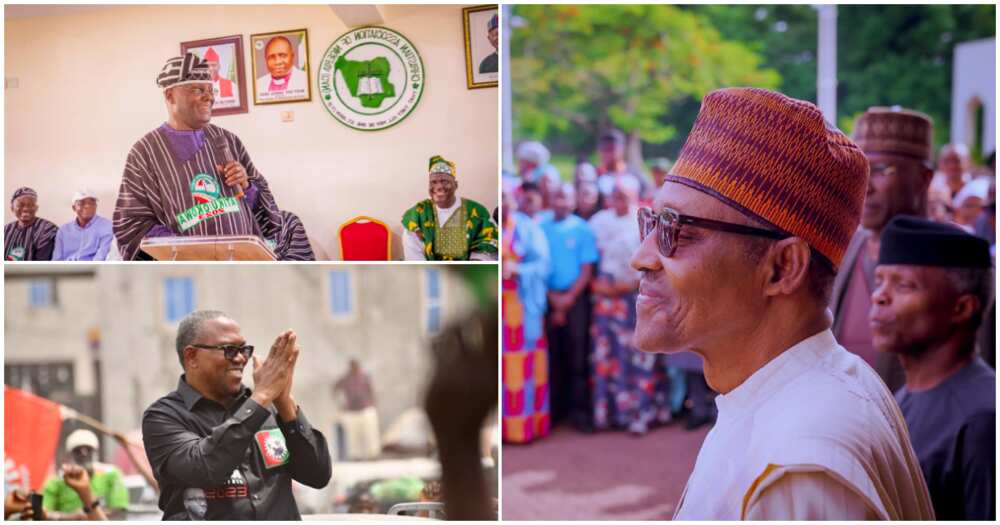 "Irrespective of the outcome of the various cases, I urge all parties involved to accept the decision of our courts and join hands to build a better Nigeria," Buhari said.
How Tinubu won 2023 presidential election
On March 1, 2023, the Independent National Electoral Commission (INEC) declared Bola Tinubu of the governing All Progressives Congress (APC) as the winner of the Presidential polls held a week earlier, having polled 8,794,726 votes.
The commission declared that Atiku Abubakar of the Peoples Democratic Party (PDP) came second with 6,984,520 votes, while it announced Labour Party's Peter Obi as the second runner-up with 6,101,533 votes.
But Atiku, Obi and some other parties rejected the results announced by INEC and had approached the Presidential Election Petition Tribunal to annul Tinubu's victory.
In his farewell speech, Buhari said he saluted the "doggedness and resilience" of all the presidential candidates and their political parties for believing in the country's judicial system by taking their grievances with the election results to the court.
His words:
"In the course of the campaigns, we had argued and disagreed on how to make Nigeria better but we never disagreed or had any doubts that Nigeria has to be better.
"As your President, I call on all of us to bring to bear the strength of our individualism, the power of our unity, the convictions of our beliefs to make Nigeria work better and together with one spirit and one purpose."
Farewell speech: Buhari reveals why Tinubu won 2023 presidential election
Meanwhile, President Buhari also, in the farewell speech, said Nigerians were right to elect Tinubu as the country's next president, noting that he was the best among the presidential candidates who contested the 2023 election.
On Monday, May 29, Tinubu, the February 25 presidential election winner, will be sworn into office.
In his speech, President Buhari congratulated Tinubu for achieving his dream of being the country's president.
Source: Legit.ng