BREAKING: Peter Obi 'Detained' in UK Airport Over Impersonation Offence
The ObiDatti media office has reacted to the detention of Peter Obi, the 2023 presidential candidate of the Labour Party by some United Kingdom immigration officers
Diran Onifade, the head of ObiDatti media office said Obi was detained over allegations of impersonation
According to Onifade, officials at Heathrow Airport asked Obi to step aside and subsequently questioned him for a long time
The 2023 flag bearer of the Labour Party, Peter Obi, was detained by the United Kingdom immigration officials at Heathrow Airport in London over a claim of impersonation.
The head of the ObiDatti Media office, Diran Onifade, who disclosed this said that Obi was held by immigration officials at the airport on his way back from the UK where he spent his Easter celebration.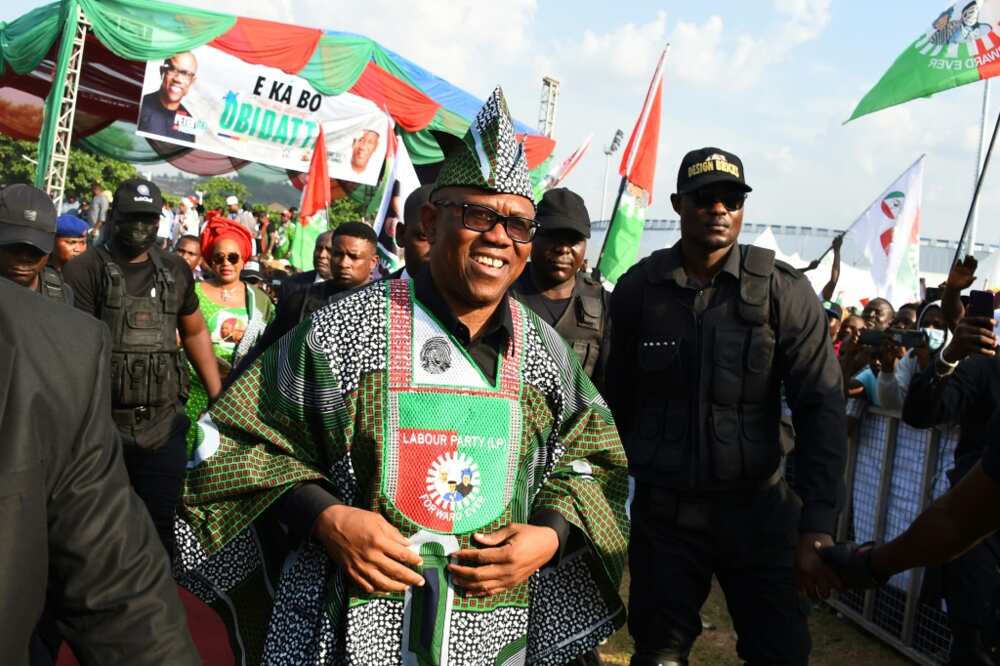 Onifade in a statement seen by Legit.ng said Obi was harassed by London immigration officials and placed in detention but for the spontaneous reaction of Nigerians at Heathrow Airport.
He added that Obi had arrived the Heathrow Airport in London from Nigeria on Good Friday, April 7, where he joined the queue for the necessary immigration protocols but was accosted by officials who handed him a detention note.
According to Onifade, the UK immigration officials told Peter Obi to step aside and subsequently questioned him for a long time.
Describing the situation as "very strange for a man who lived for over a decade in that country", Onifade said the immigration officials who were also taken aback at the reaction of the people were forced to reveal that Obi was being questioned for a duplication offence.
He said also claimed that someone has been impersonating Peter Obi in London with an implication that the person may have been committing all kinds of crimes and engaged in dubious acts in the name of the former Anambra state governor.
He said:
"Since the impersonator is still at large, the scenario is unimaginable as Obi could be implicated in a series of forbidden acts and even be framed in a manner that could be a huge embarrassment to him, his family, his party, the Obidient Movement, and indeed Nigeria, where he currently and indisputably remains the conscience of the people.
Obi-Datti Media office recalls that our principal has been under all kinds of attack, since the February 25th, 2023 Presidential election in which as the standard bearer of the Labour Party, he put up an outstanding showing coming third out of 18 contestants as announced by the Independent National Electoral Commission, INEC, even though his supporters and many other election watchers including international observers believe very strongly that he won the election but was manipulated out."
Obi's telephone bugged
Onifade's statement further alleged that Peter Obi has been under various attacks since he decided to challenge the outcome of the 202 presidential elections.
He said:
"Obi's telephone line was also bugged when they were possibly looking for information to portray him badly before a section of the country who had voted for him massively.
"As if they were not getting the desired results of denting his image, and possibly placing the traducers under a heavier conscience load, they tried to persuade him to leave the country and go take a rest.
"It's also not impossible that those urging him to leave the country may have planted the impersonators ostensibly to tar the Eagle's immaculate appearance."
2023 Polls: "I Admire Wole Soyinka But Disagree With Him About Obidients": Chimamanda Adichie Breathes Fire
Chimamanda Adichie has expressed her displeasure in the use of fascists to describe Obidients activities during the 2023 electioneering period.
Obidients - Peter Obi's supporters were described as fascists by Nobel Laureate Wole Soyinka in a recent interview.
According to Adichie, she does not see any reason why anyone would term Obidients or the Labour Party's vice-presidential candidate fascists.
APC chieftain leaks top secret, tells INEC what to do about Chimamanda's letter to US President Biden
Meanwhile, the chairman of the Independent National Electoral Commission (INEC) has been urged to ensure he presses charges against Chimamanda Adichie over allegations of crime during the 2023 poll.
The call was made to INEC chairman, Mahmood Yakubu, by a chieftain of the All Progressives Congress (APC) in Edo state.
Johan Mayaki urged Yakubu to prevail on the court to mandate Adichie to provide evidence of her claim against the INEC chairman through legal means.
Source: Legit.ng