PANDEF Leader Edwin Clark Calls for Lai Mohammed's Arrest, Prosecution, Gives Reason
The minister of information and culture, Lai Mohammed, has been slammed with a fresh accusation
Elder statesman and leader of PANDEF, Edwin Clark, demanded the arrest of the minister for spreading fake news against Peter Obi of the Labour Party
Clark urged the federal government to call Mohammed to order while noting Alhaji Lai's comment might lead to a fresh crisis in the country
Elder statesman and leader of the Pan Niger Delta Forum (PANDEF), Edwin Clark, has called for the arrest and prosecution of the minister of information and culture, Lai Mohammed.
According to Clark, the minister has been spreading what he called fake news against the presidential candidate of the Labour Party (LP), Peter Obi, and it does not speak well of the office he represents in the polity.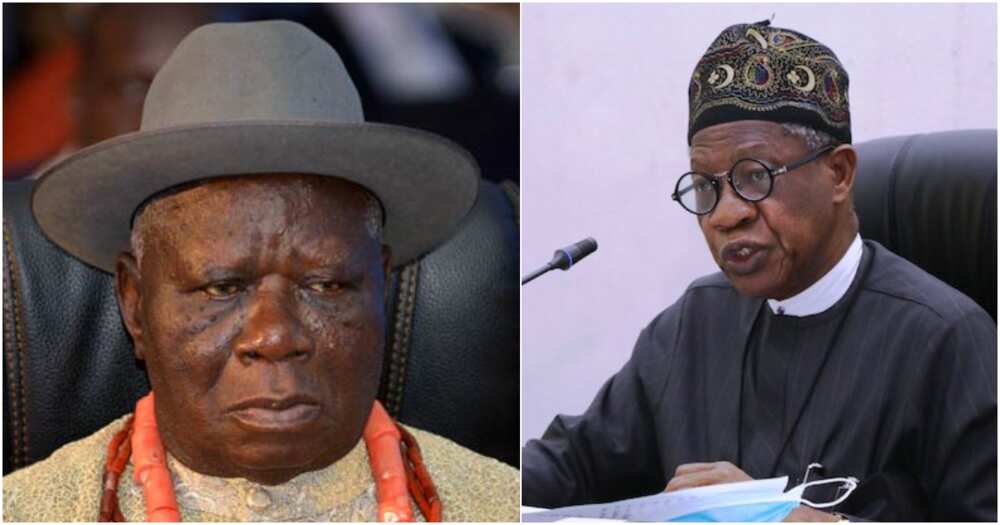 Why Lai Mohammed should be handed to the police, Clark reveals
Clark, the former federal commissioner for information and leader of the Southern and Middle Belt Leaders Forum (SMBLF), described the minister's job as disappointing, Daily Independent reported.
"Therefore, I am of the opinion that he should be charged for spreading unhealthy information and fake news against an innocent Nigerian"
He claimed that rather than uniting the country as his job implies, the minister has caused divisions in the country instead.
Clark urged the president to call Mohammed to order, noting that the nation is already too tense and those whose responsibility it is to douse the tension should not be the ones stoking the embers of fire that will flame up the country, The Cable added.
"The question that Lai Mohammed needs to answer is to tell Nigerians on what platform, at what time and in what manner did Peter Obi make the Supposed treasonable or seditious remarks?"
Soyinka's Comment: Peter Obi sends powerful message to obidients amid backlash
Peter Obi, presidential candidate of the Labour Party for the February 25 election, has sent comforting words to his supporters.
Obi asked the 'Obidients', which he leads, to see the incessant attacks on them as a huge sacrifice needed to rescue and build a new Nigeria that is possible.
The former Anambra governor, in a series of tweets, on Easter Monday, April 10, said he identified with his supporters who have been under attack over their comments and counter comments, especially on social media.
Peter Obi knocks Lai Mohammed over incitement comment
Meanwhile, Peter Obi attacked Lai Mohammed over an allegation of making inciting comments on the outcome of the 2023 presidential election.
In his engagement with international media, Mohammed accused Obi of seeking redress in court on the one hand and inciting his followers against the court and INEC on the other hand.
In his reaction, Obi said he has never spoken against the Nigerian state and described Lai Mohammed's comment as a calumny campaign against his personality.
Source: Legit.ng