"Fani-Kayode's Comment Disturbing," Save Nigeria Group Warns, Calls for Former Minister's Arrest
The Inspector General of Police and the State Security Services have been urged to take steps to arrest a former minister of aviation
The call was made on the heels of remarks by Femi Fani-Kayode for the arrest of Peter Obi and Atiku Abubakar of Labour Party and the Peoples Democratic Party respectively
According to Free Nigeria Movement, failure to do so would imply that the former minister is doing the bidding of the ruling party with his utternaces
Save Nigeria Democratic Movement (SNDM) has described comments by a former minister of aviation, Femi Fani-Kayode against supporters of Peter Obi and Atiku Abubakar as disturbing.
The group in a press conference jointly addressed by its president, Danjuma Garba and secretary, Olubankole Adeniyi, indicated that remarks made by the director of new media for the All Progressives Congress (APC) are capable of setting the country on fire.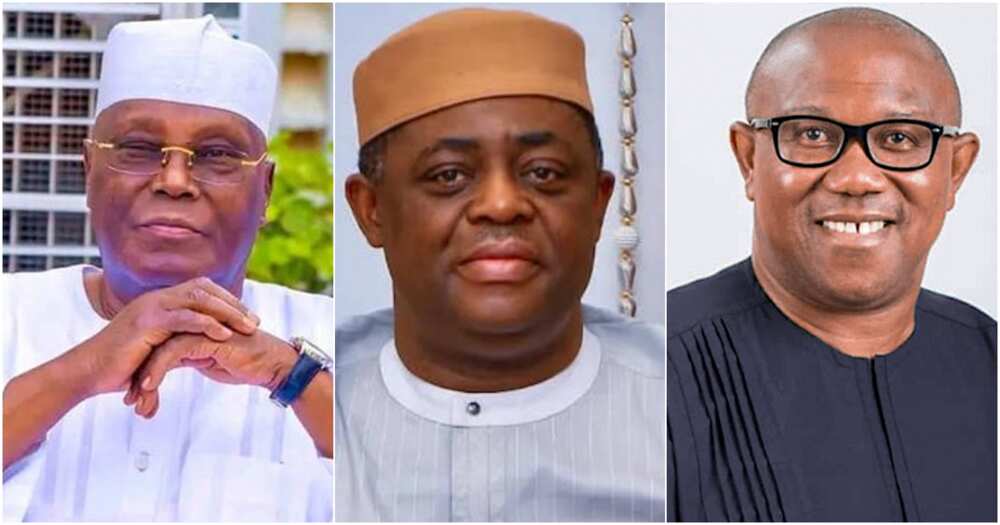 Also, the group called on the inspector general of police and the State Security Service (SSS) to swing into action and arrest the former minister for alleged ethnic profiling in the heat of the outcome of the just-concluded Lagos state governorship election on March 18.
Fani-Kayode had in a release on Saturday warned that the country would be made ungovernable if supporters of Atiku Abubakar and Peter Obi did not stop their protests against the result of the 2023 election.
The former minister said:
"Let this serve as a timely warning. We cannot be a punching bag for the opposition forever and soon we will react. Trust me when I tell you that if there is any foul play in this matter or any conspiracy to thwart the people's will, we will make this nation ungovernable."
However, reacting to FFK's outburst, the group called on the ruling party to amend their initial mistake of appointing Fani-Kayode into their campaign council by distancing themselves from his inciting and bigoted comments.
The group said:
"Recall that his ethnic profiling and inciting statements fuelled unprecedented violence against non-Yoruba voters in Lagos State at the just-concluded governorship poll.
"We find totally unacceptable, his recent threat to make the country ungovernable should Bola Ahmed Tinubu not be sworn in. This is a threat against national peace and security and should not be ignored by all relevant security agencies.
"Femi Fani-Kayode is infamous in Nigeria for his opportunistic political misadventures. He is a rabble-rouser whose only political value is the noise he makes and the ripples of disaffection it causes."
A political liability
Further describing the former minister as a political liability, the group said Fani-Kayode should not be appointed to any public office in both the nearest and distant future.
SNDM said:
"We would be forced to believe that Femi Fani-Kayode is doing the biddings of the ruling party to destroy Nigeria if drastic punitive actions are not taken against him.
"Finally, we call on the Inspector General of Police, and the directorate of State Security (DSS) to arrest, within 48 hours, Femi Fani-Kayode for posing a grave threat to national security with his ceaseless inciting statements and ethnic profiling. This is to serve as a deterrent to other tribal bigots, and overzealous politicians."
Interim government plot: Fani-Kayode urges SSS to arrest Atiku, Peter Obi, gives reason
Reactions have continued to trail the DSS' recent disclosure regarding the plot for an interim national government in Nigeria.
Reacting to the secret police warning towards misguided politicians, Femi Fani-Kayode called for the arrest of PDP's Atiku Abubakar and Labour Party's Peter Obi.
The APC chieftain urged the SSS to arrest and charge to court some Nigerians that participated in Tuesday's protest in Abuja and allegedly called for a coup d'etat.
Security alert: SSS rolls out nationwide precautionary advisory
Meanwhile, fake news mongers and violent perpetrators will meet their waterloo in a few days.
According to a statement by the Department of State Service (DSS), plots are being orchestrated by political elites.
The SSS warned desperate politicians to go about their daily routine or risk being condemned by the law.
Source: Legit.ng