Your Call for Reconciliation Smacks of Hypocrisy, Atiku Tells Tinubu
Atiku Abubakar has dismissed Asiwaju Bola Tinubu's call for healing after the 2023 general elections
The PDP presidential candidate said the call by his APC counterpart was hypocritical because his thugs attacked voters
Reports that many voters of Igbo extraction were attacked in Lagos by thugs loyal to the ruling party dominated headlines on election day
FCT, Abuja - The presidential candidate of the Peoples Democratic Party (PDP), Atiku Abubakar, has dismissed Bola Tinubu's call for healing after the elections as the height of hypocrisy.
Tinubu had, in a statement, said he was saddened by the infractions in some states and the divisive rhetoric that characterised the polls.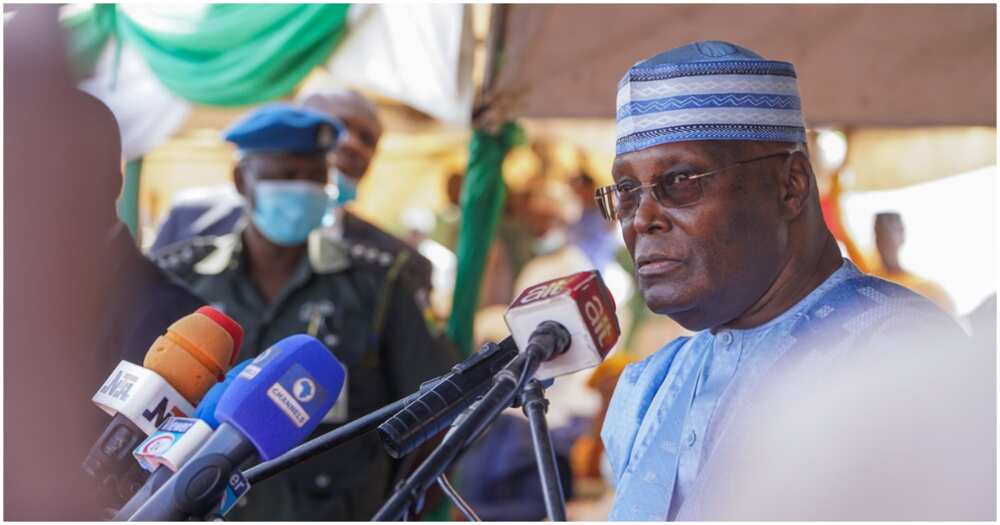 Atiku's special assistant on public communication, Phrank Shaibu, in a statement on Tuesday, March 21, however, described Tinubu's statement as an after-thought and hypocritical garbage.
He said it was curious that Tinubu was talking about reconciliation after his minions attacked Igbo voters in Lagos to give his party, the All Progressives Congress (APC), an advantage during the governorship election.
Shaibu said Tinubu had continued to protect transport hooligans, politicians and even traditional leaders in Lagos who were seen on video threatening non-indigenes.
Part of the statement read:
"Tinubu's latest statement is laced with hypocrisy and lies. For a month, traditional leaders, transport hooligans and politicians in his camp threatened non-indigenes, but Tinubu kept mute.
"His lackey, MC Oluomo, a member of his Presidential campaign council, was seen on video threatening Igbo people, but Tinubu said nothing.
"His campaign spokesmen, Bayo Onanuga and Femi Fani-Kayode, went on social media to warn Igbo people against exercising their franchise, but Tinubu looked the other way.
"On the day of the election, many people who looked Igbo were beaten and prevented from voting, but Tinubu kept mute. Now that his party has stolen the election, he has found his voice and is preaching reconciliation. He should tell that to the marines.
"If Tinubu is serious, he should ensure that all those found guilty are arrested and prosecuted. But we know he cannot do this because he is their godfather."
Shaibu also described the statement by the US Embassy in Nigeria condemning the violence meted out to the Igbo as a welcome development.
He maintained that there could be no reconciliation without restitution. He said anything short of this would not heal any wounds.
He further stated that Tinubu had shown from his electioneering that he had no plan to unite Nigeria but was only after one thing – power and the resources of Nigeria.
Tinubu has reversed gains made in Nigeria's democracy, says Atiku
Atiku had earlier declared that Nigeria under a Bola Tinubu presidency would be reminiscent of Germany under Adolph Hitler, where Jews were targeted and rights to vote and speak were suppressed.
The former vice president stated that the governorship election in Lagos, where thugs asked those not planning to vote for the APC to return home, was just a tip of what to expect under a Tinubu administration.
He added that it was even more disheartening that the thugs were profiling voters and beating up those who were of Igbo extraction.
MC Oluomo issues threat to Non-APC supporters in Lagos
Legit.ng had earlier reported that APC chieftain Musiliu Akinsanya, also known as MC Oluomo, had, before the election, warned those who won't vote for the party in Lagos to stay at home.
Oluomo, the Lagos State Parks Management Committee chairman, issued the threat in a viral video.
Nigerians who reacted to the threats alleged that security agencies had been compromised in the state for not arresting the ruling party's chieftain.
Source: Legit.ng