Lagos governorship election: A closing argument for Sanwo-Olu by Temitope Ajayi
Editor's note: Political intrigues have continued to play out after the outcome of the Saturday, February 25, presidential election, especially in Lagos, Kaduna and Katsina. Some political analysts have predicted victory for the ruling All Progressives Congress (APC) and its candidate, Babajide Sanwo-Olu despite the party's loss to the Labour Party two weeks ago.
In this article, a social commentator and member of the APC presidential campaign council, Temitope Ajayi, explains why Lagosians will reelect Governor Babajide Sanwo-Olu for a second term in office.
The choice before Lagosians next weekend will be very simple to make, as they go out to vote in the governorship and House of Assembly elections. Before the residents of the 5th largest economy in Africa are one major candidate, the incumbent governor, Babajide Sanwo-Olu, who is seeking re-election; and two otherwise fringe candidates who seem to have gained sudden momentum and confidence after the Peter Obi-driven shock capture of Lagos in the presidential election.
Let me state upfront that I may not have been fair in my assessment of Olajide Adeniran (Jandor) since he started his Lagos4Lagos chicanery about three years ago. The whole idea of condensing the country's most cosmopolitan, the most socially and culturally diverse state that holds together Nigeria's entire socio-economic fabric to his Lagos4Lagos idea is embarrassingly reductionist to me.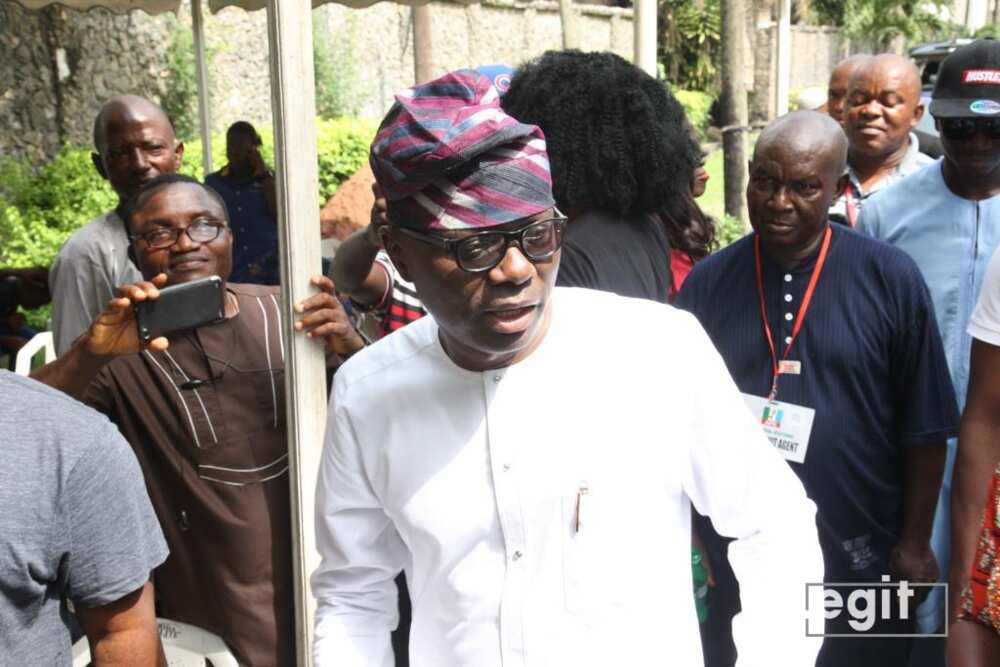 It clearly shows his grossly limited worldview and poor understanding of the state he aspires to lead, even when it is obvious that nothing recommends him to even become a Local Government Chairman in the state. I have never had any difficulty in dismissing Jandor as a joke that has gone too far.
My view of the PDP candidate remains unchanged. I consider it an insult that in this time and age, a sparsely educated young man, who goes about with a procured doctorate degree title from an institution in the tinsel degree mill that is Benin Republic, is asking us to replace Sanwo-Olu with him. How? Jandor does not have the discipline and mental aptitude to be a councilor anywhere.
That Jandor is even the candidate of the Peoples Democratic Party sure reflects how standards in the party have imploded. It is the situation in which the PDP has found itself, with Jandor as a gubernatorial candidate, that makes Yoruba people introspect in "ko si eeyan mo ni", meaning is there no other worthy person? In a state it has always struggled to put up a fighting chance since 1999, PDP must really be at the nadir of its hopelessness to present Jandor as flagbearer.
The seat of Lagos State governor in Alausa is not one for cartoon characters the PDP ticket symbolises. On 11 March, we are not auditioning for 'Who Wants To Be A Governor' as a new season in Jenifa's Diary.
Lagosians will be electing a governor who will approximate the collective aspirations of over 20 million people, who want to live in a modern, better-organised, functional and more prosperous city-state.
Nobody paid attention to the candidate of the Labour Party, Gbadebo Rhodes-Vivour, until a few days ago. He is currently riding the wave of OBIdiency that swept through Lagos on February 25th. A formerly inconsequential candidate without any prospect has suddenly been emblazoned on the Lagos political firmament as the new kid on the block.
His candidacy is somehow unique because of his dual parentage of Yoruba father and Igbo mother in a political season that is heavy on identity politics. The Labour Party candidate has picked the Chinedu part of his name to harvest the strong Igbo sentiments that propelled the Peter Obi wave in Lagos. What is not in doubt is that Igbos have organised themselves as a powerful voting bloc in Lagos. It remains to be seen how this voting bloc will carry the Labour Party candidate to the Government House.
Nothing projects Gbadebo's capability and preparedness for the job of a governor of the least state in Nigeria. There is nothing in his profile. Almost no real-life work experience apart from his Ivy League education at the Massachusetts Institute of Technology. Lagos is too important to be handed over as a guinea pig to an inexperienced and angry young man, who thinks the established development template that is delivering visible and sustainable results must be ripped up.
If Nigeria is a more politically sophisticated society where every word uttered or written matters, Gbadebo would have withdrawn honourably from the race with the volume of his toxic tweets exhumed in the last few days. The Labour Party candidate's support for the proscribed IPOB terror group is concerning.
Lagos, the commercial nerve centre of not just Nigeria but the whole of West and Central Africa cannot, by any means, have a governor that harbours strong sympathy for a terror group and its violent agenda. Gbadebo's active participation and collaboration in the execution of the ENDSARS insurrection that led to the large-scale destruction of properties and investments, put at over N2trillion, by insurers, does not show him as having the necessary maturity and emotional intelligence required for political leadership. For me, Gbadebo is a fairytale candidate, who will fizzle out with the OBIdiency charade after March 11.
In Governor Sanwo-Olu and his Deputy, Dr Obafemi Hamzat, Lagos has a strong, stable, experienced and competent ticket that should be re-elected by all who truly desire progress in a fast-rising greater Lagos that is unfolding before our very eyes.
In almost four years in office, Sanwo-Olu has demonstrated an unwavering commitment to sustaining the development agenda of the state by ensuring the completion of many inherited projects across sectors, especially in housing, where he has completed 16 projects. In education-primary, secondary and tertiary-the state got a fresh shot in the arm with huge capital allocation to rebuild broken down infrastructure and revamp the curriculum.
The administration, during the about-to-end tenure, revamped the healthcare delivery system with an upgrade of Primary Health Centres, completion of more General Hospitals and employment of over 3000 medical professionals to bridge manpower gaps. Nothing attests to the robustness of the health system in Lagos better than the precision management of the COVID-19 pandemic under Governor Sanwo-Olu as the Incident Commander.
COVID-19 was a global public health war that claimed millions of lives. Sanwo-Olu acquainted himself well as a wartime leader. He showed courage under fire and extreme situations that demanded leadership. That is the man Lagosians should re-elect as the governor, not either of the experience-deficient rivals.
In the physical and integrated transportation infrastructure in Lagos, Sanwo-Olu has been an extraordinary performer. I can't possibly list the number of ongoing major road projects across the state and the regular rehabilitation of existing ones. While campaigning before the 2019 election, Sanwo-Olu promised to complete the Blue Line Rail project.
He kept that promise and even took on the humongous Red Line Rail Project that will run from Agbado-Ikeja, Yaba- Ebute-Meta-Marina. The project, designed to move 500,000 passengers per day as a game changer in public transportation, has reached 85% completion with five mega train stations. The test run on the Red Line will start before May 29, 2023.
As Lagosians, we have a clear choice to vote for a man and his deputy governor, who are leading the transformation of Lagos that started in 1999. I have no doubt we will make a rational and the most pragmatic decision. Let us re-elect Babajide Olusola Sanwo-Olu and Obafemi Kadiri Hamzat.
Source: Legit.ng