2023 Election: Will Peter Obi's "No Shi Shi" Survive "Money Bags" Politics
The build-up to the 2023 presidential elections has reached a feverish pitch, and all hopes lie on electorates to decide Nigeria's next leader
However, there are concerns that political money bags might attempt to jeopardise the election's credibility
The trio of Bola Tinubu, Peter Obi and Atiku Abubakar have long been pointed out as the three forces jostling for a chunk of the valid 87.2 million voters' votes
The 2023 presidential election is only a day away, but unlike past elections, it's a challenging task to predict the outcome of what appears like a four-horse race.
Going formidably to the poll are the Labour Party's Peter Obi, PDP's Atiku Abubakar, Bola Tinubu of the APC and Rabiu Musa Kwankwaso of the NNPP.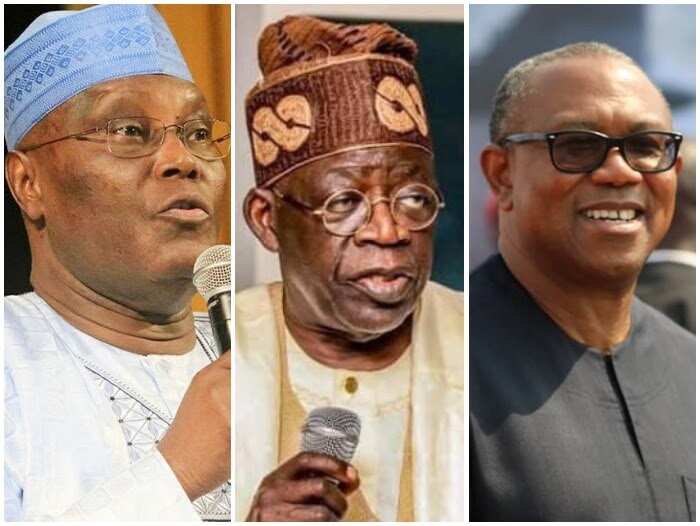 Youths sacrificing for Obi
The Labour Party and Peter Obi have, since the beginning of the presidential election campaign, continued to ride on the goodwill of Nigerian youths who have volunteered to campaign for the LP candidate with their resources, spending hours on social media and making themselves available at rallies without being hired, unlike what used to be the case during campaigns.
PAY ATTENTION: Сheck out news that is picked exactly for YOU ➡️ find the "Recommended for you" block on the home page and enjoy!
The youths and other Nigerians who believe that the status quo must change this time, formed the Obidient group to take power from career politicians and hand it over to those they believe, can turn things around for the country.
But despite being a billionaire and top industrialist, Peter Obi has continued to promote a political ideology of getting a fair mandate without inducing voters financially. With his influence, the LP under whose platform he runs is generally known as a party that does not give money in exchange for votes with the slogan, "we no dey give shi-shi".
Labour Party leveraging on internet popularity/ youths demography
While other parties believe they have the required structure to win Saturday's poll, Labour Party believes its structure cuts across dejected and poor Nigerians who had allegedly suffered under the PDP and the APC.
It prides itself as the new wine that can change the nation's political history through the Obi-Datti presidential ticket.
A party barely known in past elections has now been seen as a dark horse in the race that could deprive the two dominant political parties of the opportunity of remaining dominant political parties.
Apart from its social media presence, poor Nigerians and the youths have continued to sing Obidients nationwide.
Obi's structureless party
In the early half of the presidential campaign, PDP and the APC members had argued that the party may not even come 3rd in the race to the Aso Rock. The notion has since changed following the recent activities of the party at the grassroots.
Speaking exclusively with Legit.ng, Rev. Amos, a pastor with the Redeemed Christian Church of God in Askira Uba in Borno State, said the Labour Party is famous in Borno South.
He told our correspondent that the people of Borno South had been abandoned for years and that it was time to go for a party that could respond to their plights.
He said:
"Among all the political parties, it was only Peter Obi who came to see us amid our numerous problems. And we were happy with him. The truth is that we have tested all the major political parties. We have resolved that it's now time to try something new."
Despite Rev. Amos' position, Nigeria's political space is dominated by billionaires ready to spend their money to sway votes and influence voters. And it's generally believed that campaigns do not go smoothly without incentives.
Obi's supporters lament poor incentives
Though Peter Obi's mobilization is organic, Legit.ng had observed during one of the grassroots campaigns where his supporters had murmured about not being supported by the team financially.
Mr Abubakar Audu said:
"Some of us came all the way from Gwoza. We have exhausted all the money we had. Now it is time to return home.
"Usually, after every campaign, you just need to give people, at least N500 each to be able to return home. This "we don't give shi-shi" is not helping us.?"
Why vote-buying succeeds
According to Mr Alex Inyanda, "the weaponization of poverty on the land is the reason election is usually for the highest bidder. Alex, an activist, said:
"Because poverty had been weaponized, political campaigns are usually mobilized with money just as votes are bought with money."
He, however, argued that the 2023 election appears to be different because Nigerians have a growing awareness of the evil of vote-buying. He contended that Peter Obi's "No shi-shi" style had set a new standard in the polity.
The campaign against vote-buying has continued to gain ground with the message that vote-buying can destroy the fortunes of Nigeria as a country.
Media advertorial
In contrast to the massive TV advert by Atiku and Tinubu ahead of the Saturday election, Peter Obi ignored the TV medium. Analysts believe certain demography may have been left out of his campaign in favour of the other top contenders. But his supporters think that he would be able to cover the loopholes through his social media presence.
It's, however, yet to be seen if his presence on social media will do the job for him and his teeming supporters. '
This may not be unconnected to his refusal to release funds for an advert. Meanwhile, in the last hours, legit.ng has noticed his advert on TV.
Vote-buying - Obi at advantage
The "We no dey give shi-shi" concept may have worked for Obi ahead of the poll as the Nigerian government, in an effort towards delivering a credible election, has waged war against vote-buying. Analysts believe that the Naira redesign is targeted at stopping vote-buying and other illicit financial transactions.
Recall that the Economic and Financial Crimes Commission, EFCC, and the Independent Corrupt Practices and other Related Offences Commission, ICPC, have been deployed nationwide to monitor vote-buying.
Similarly, it has been reported that banks may shut down their mobile and internet networks from Friday to frustrate candidates opting for transfer as another method to buy votes.
Whichever way, findings by Legit.ng reveal that despite the scarcity of the Naira and all other efforts by the government to discourage vote-buying, it will be difficult for Nigerians to completely ignore cash or transfer when they are being pushed to them.
A top politician from one of the two most pronounced political parties, said:
"Despite the effort to curb vote-buying, money will still exchange hands on the election day."
2023 Elections: PVC verification, Voter Accreditation and 3 Other Key Things Voters Should Know About BVAS
Ahead of the 2023 polls, electorates have been urged to equip themselves with the correct information before heading to the polling units.
INEC has, over the past few months, continued its sensitisation and awareness schemes in conjunction with civil society groups to keep voters up to date.
One of the various information a voter need to know is how the Bimodal Voter Accreditation System (BVAS) functions.
Source: Legit.ng