PDP Crisis: G5 Governor Speaks on Endorsing APC's Tinubu
The Abia state governor, Okezie Ikpeazu, has denied a claim that he is standing behind Asiwaju Bola Ahmed Tinubu
Ikpeazu made the rebuttal on Tuesday, February 21, in reaction to Orji Uzor Kalu's claim that he has endorsed the APC presidential candidate
Governor Ikpeazu noted that he cannot at this time go against the wish of his people who are committed to the PDP
Abia - Governor Okezie Ikpeazu of Abia has reacted to a recent claim by the chief whip of the Senate, Senator Orji Uzor Kalu, that he has endorsed the All Progressives Congress (APC)'s presidential candidate, Asiwaju Bola Ahmed Tinubu, ahead of the February 25, election.
In his conversation with journalists in the state on Tuesday, February 21, Governor Ikpeazu noted that Kalu's claim is merely wishful thinking, Nigerian Tribune reports.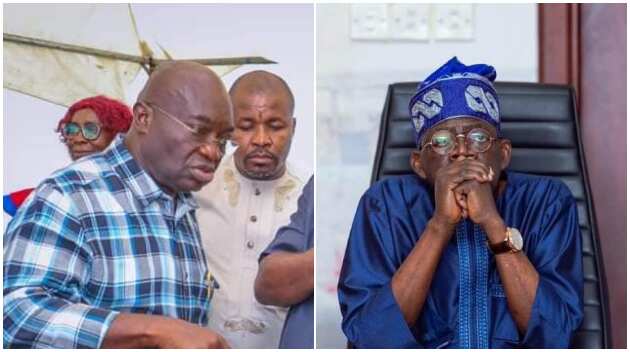 The governor affirmed that "no member of G5 can railroad another member into supporting anyone against his will as suggested by Senator Kalu".
This position by Ikpeazu is in line with an earlier statement by the director of strategic engagement, Abia state PDP campaign council, Chief John Okiyi Kalu, where it was stated clearly that he remains a committed party man who will not betray the wish of his people.
Okiyi Kalu, in the statement, noted:
"Ikpeazu is in touch with Abians and will not derail from the decision of a majority of his people which does not presently incline towards APC or its presidential candidate, Senator Bola Tinubu.
"It is noteworthy that in the field, APC structures in Abia South Senatorial District have completely collapsed into the PDP as was seen during the PDP rally held at Ahiaba in Obingwa LGA. So it is laughable for anyone to imagine the Governor working for the same party that has collapsed as a result of the good work the Governor has been doing in the state.
"For the avoidance of doubt, Governor Ikpeazu has not endorsed Tinubu and will not endorse him because he is a leader that is guided by the feelings of his people. PDP remains formidable and all our candidates in the forthcoming elections hold very strong prospects of winning, in Abia."
2023 election: Wike, Ikpeazu's preferred presidential candidate revealed
The preferred candidate of Nyesom Wike and Okezie Ikpeazu, governors of Rivers and Abia states, had been revealed by Orji Kalu, chief whip of the Senate.
According to the former Abia state governor, the governors of Rivers and Abia states will support Bola Tinubu of the APC.
Kalu said Tinubu is "well-liked" in the northern part of the country, adding that the former Lagos governor is a "good administrator"
Source: Legit.ng